Traditional Dumplings for the Chinese New Year
This post may contain affiliate links. Please read my disclosure policy.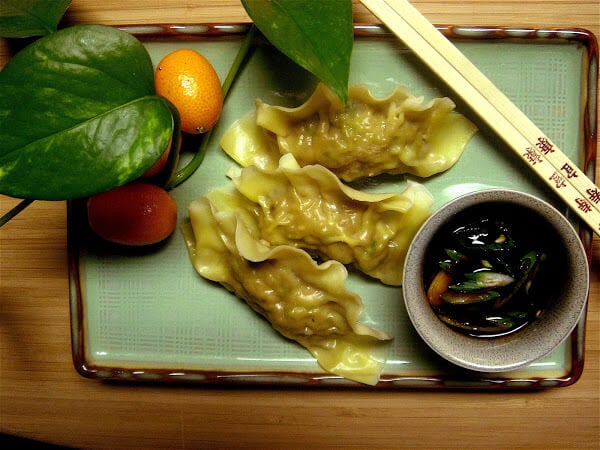 This past weekend celebrators of the Chinese New Year welcomed the Year of the Pig while consuming crescent-shaped steamed dumplings. The dumplings, or jiaozi, resemble ancient Chinese gold ingots and symbolize prosperity and good fortune. By eating the jiaozi at midnight, New Year's participants hope to transfer wealth from the previous year into the next. The dumplings are traditionally steamed or boiled, as described below, but can be prepared as potstickers as well. While the initial celebrations have ended, many days remain in this two-week long Spring Festival to enjoy these tasty treats. For a fun, simple Oscar Night hors d'oeuvre, steam the jiaozi and serve with the scallion dipping sauce. Enjoy!
New Year's Eve Dumplings
Yield = 30 Dumplings
3 cups minced Napa cabbage
¾ teaspoon kosher salt
¾ lb ground pork
5 scallions, minced
4 teaspoons soy sauce
½ teaspoon sesame oil
2 teaspoons grated fresh ginger
1 clove garlic, minced
2 egg whites, lightly beaten
freshly ground pepper to taste
24 round dumpling wrappers
Scallion Dipping Sauce
Yield = ½ cup
¼ cup soy sauce
2 tablespoons rice vinegar
2 tablespoons mirin
1 tablespoon water
1 teaspoon hot chili sauce or Sriracha
½ teaspoon sesame oil
1 teaspoon sugar
1 scallion, thinly sliced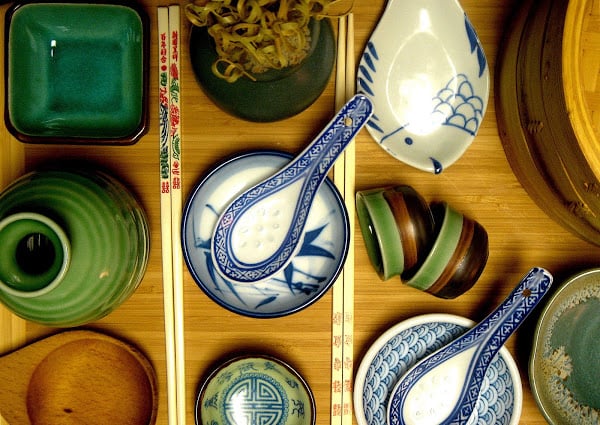 Toss the cabbage with the salt in a colander set over a bowl. Let sit 20 minutes. Meanwhile, mix pork, scallions, soy, sesame oil, ginger, garlic, egg whites and pepper. After the 20 minutes, gently squeeze the moisture out of the cabbage using a rubber spatula, then add to pork mixture. Mix thoroughly, cover with plastic wrap and chill 30 minutes.
Meanwhile, make the sauce: combine all ingredients except the scallions. Store in refrigerator until ready to serve. Add the scallions just before serving.
Fill a large, wide-mouthed pot with water and bring to a boil. Lightly dust a cookie sheet with flour. Fill a small bowl with water. Lay 5 wrappers on a work surface. Keep the remaining wrappers covered with plastic wrap. Place one tablespoon of filling in the center of each wrapper. Using your fingertip moisten the edge of one wrapper with water. Fold the wrapper in half. Pinch the center and work toward the outside edges, pressing out air pockets. When dumpling is sealed, place on floured pan and cover with plastic wrap or a towel. Repeat with remaining dumplings.
When all the dumplings are prepared, add 8-10 to the boiling water. Make sure none is sticking to the bottom of the pan—use a rubber spatula to release dumplings from bottom of pan if necessary. Boil for 4 minutes, check one, and cook for 1-2 minutes longer if necessary. Times will vary depending on the size of the pot and how many dumplings are being cooked at one time.
Remove dumplings from water with slotted spoon or spider, and let drain and dry briefly before serving. Serve with Scallion Dipping Sauce.
This post may contain affiliate links. Please read my disclosure policy.