Coeurs à La Crème
This post may contain affiliate links. Please read my disclosure policy.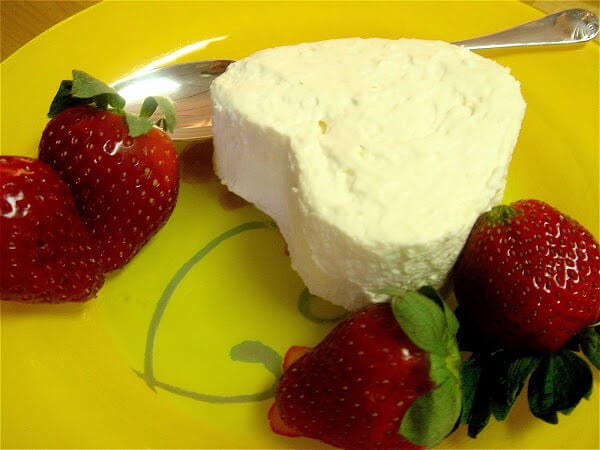 Happy Valentine's Day!
Coeurs à La Crème
Yield = 6 individual hearts (4 oz)
1¼ cups heavy cream
½ cup sifted confectioners' sugar
8 ounces mascarpone cheese, softened
1 teaspoon vanilla extract
1 tablespoon fresh lemon juice
1 tablespoon Grand Marnier
fresh strawberries
Special Equipment:
cheesecloth
6 (4-oz) perforated heart-shaped coeurs à la crème molds
Cut a double-layer of cheesecloth into six 8-inch squares. Dampen and wring out lightly. Press one square into each of the heart-shaped molds and set aside.
In a large bowl, whip 1 cup of the cream with an electric mixer until soft peaks form. Add the confectioners' sugar and beat until stiff peaks form. Transfer mixer to a separate bowl and store in the refrigerator.
In the same bowl used to beat the cream, whip the remaining ¼ cup of cream with the mascarpone cheese, the vanilla, lemon juice and Grand Marnier until thoroughly blended. With a rubber spatula, gently fold the chilled whipped cream mixture into the mascarpone cheese mixture. Spoon the finished mixture into the prepared molds and fold the edges of the cheesecloth over the tops. Lightly tap the bottoms of the molds on the counter to remove any air spaces between the mixture and the molds. Refrigerate on a baking sheet for a minimum of 2 to 3 hours.
When ready to serve, invert onto dessert plates, remove cheesecloth and serve with the fresh strawberries.
Note: Coeurs can be prepared up to 2 days in advanced.
This post may contain affiliate links. Please read my disclosure policy.