A St. Patrick's Day Feast
This post may contain affiliate links. Please read my disclosure policy.
Celebrate St. Patrick's Day with a feast featuring three of Ireland's most renowned products: Guinness, Cashel Blue cheese and McCann oats. While I have been familiar with Guinness and steel cut oats for years — I prepare the oatmeal recipe below almost every morning — I only learned of Cashel Blue these past few weeks while researching Irish cheeses. For the past month at DiBruno Brothers, the cheese mongers have been luring customers to a table showcasing five Irish cheeses: Gubbeen, Durrus, Coolea, Adrahan and Cashel Blue. I happily tested all of them, and although I must admit that I am easily pleased by any variety of a cheese, each was truly delicious. I am partial to blue cheese, however, and the Cashel was my favorite: it melts nicely, and makes a nice snack on crisp toasts, as in the recipe below, but is also wonderful on its own, at room temperature, spread onto soft bread or crackers.
Happy St. Patrick's Day!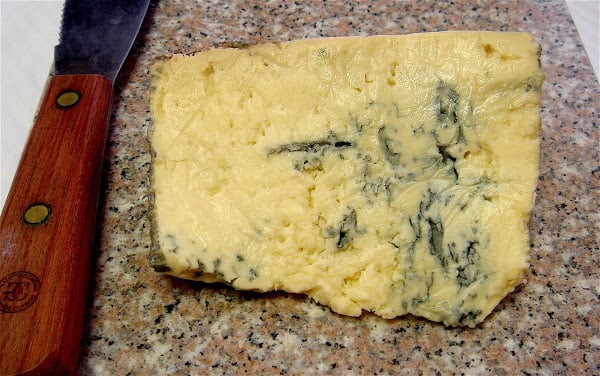 Cashel Blue
In the late 18th century the Grubb family, members of an Anabaptist sect, fled to Ireland from England, to avoid persecution. They settled in Tipperary, a town in south-central Ireland, and became millers and buttermakers. A descendant of the family, Louis Grubb, and his wife Jane continued the dairy tradition with their creation of Cashel Blue cheese in 1984. Made from the highest quality milk taken mostly from the cows on their farm, a herd of Friesian dairy cattle, Cashel has received countless honors and awards. Creamy, tangy, salty and sweet, Cashel Blue is truly a treat.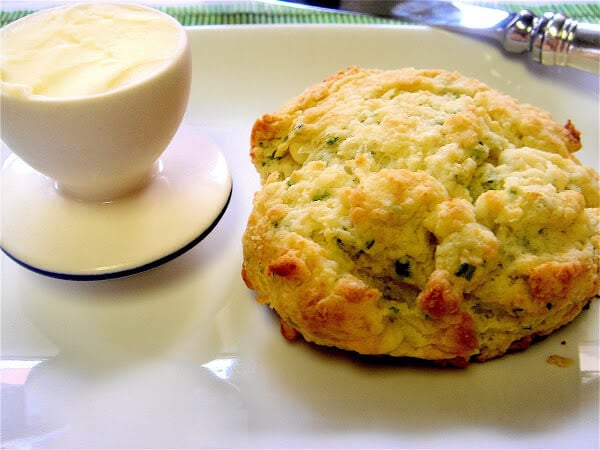 These biscuits take only minutes to make and freeze beautifully. (Place unbaked biscuits on a cookie sheet and place in the freezer for 30 minutes, then transfer to a Ziplock bag. It may be necessary to increase baking time by 2-3 minutes.) Also, for a simple plain buttermilk biscuit, omit the cheese and herbs, increase the salt to ½ teaspoon, and increase the sugar to 2 tablespoons. For a festive treat, however, the Cashel Blue and chives are a wonderful addition.
Buttermilk Biscuits with Cashel Blue Cheese and Chives
Yield = 10 biscuits
2 cups all-purpose flour
2¼ teaspoons baking powder
¼ teaspoon baking soda
¼ teaspoon kosher salt
1 tablespoons sugar
8 tablespoons cold unsalted butter
3¼ oz (a scant cup) Cashel Blue cheese
¾ cup + 1 tablespoon buttermilk
3 tablespoons finely chopped chives
2 tablespoons melted butter for brushing
Preheat the oven to 400ºF.
In a large bowl, whisk together the flour, baking powder, baking soda, salt and sugar. Cut the butter into the flour and using a pastry cutter or fork, mix the butter and flour until the butter has broken into small bits and flakes. Crumble the blue cheese into the mixture and toss to coat.
Whisk the ¾ cup buttermilk with the chives then pour mixture into flour mix. Stir just until the dough comes together to form a mass — Do not over-mix. With lightly floured hands, gently knead the dough in the bowl to bring together, adding the extra tablespoon of buttermilk if necessary, then turn out onto a lightly-floured work surface. Pat the dough into a ¾ – inch thick rectangle. Using a 2½ -inch round cutter, cut the biscuits and transfer to an ungreased baking sheet, spacing the biscuits 2-inches apart.
Brush each biscuit with melted butter and transfer sheet to the oven, immediately increasing the temperature to 425ºF. Bake the biscuits for 15 minutes or until golden. Remove from oven, transfer biscuits to wire rack for 2 minutes before serving.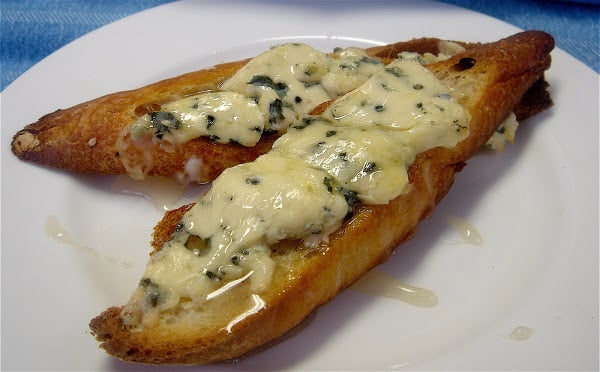 A nice snack: Blue Cheese Toasts Drizzled with Lavender Honey
To make the toasts, cut a baguette into ¼ – inch thick slices, place on a cookie sheet, drizzle with olive oil and bake at 400ºF for 8-10 minutes until golden. Remove from the oven, top with a generous portion of Cashel Blue and return to the oven for 3-5 minutes until melted. Meanwhile, place 1 tablespoon of lavender honey in a shallow bowl and submerge bowl into another bowl filled with hot water to help loosen the honey. When the cheese has melted, remove toasts from the oven, drizzle with honey and enjoy immediately.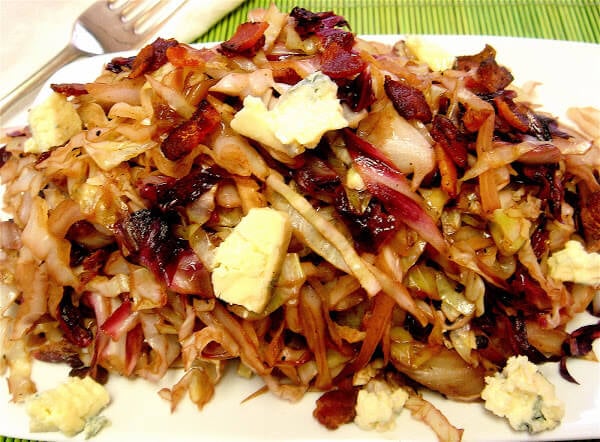 Sautéed Cabbage and Radicchio with Bacon and Cashel Blue Cheese
Serves 4 as a side dish
1½ oz bacon, cut into ½-inch pieces
1 small head cabbage, halved, cored and thinly sliced
kosher salt and pepper to taste
1 small head radicchio, halved, cored and thinly sliced
3 tablespoons balsamic vinegar
1 teaspoon sugar
2 oz Cashel Blue cheese
Place the diced bacon in a large nonstick skillet, cover, and cook over low heat for five minutes. Remove the cover, stir and raise the heat to medium-high. Cook for another five minutes or until the bits of bacon are beginning to crisp and brown. Remove bacon with a slotted spoon and transfer to a plate. Add the cabbage, and season with salt and pepper to taste. Cook for about five minutes or until the cabbage is slightly tender. Taste to test its texture, and cook a few minutes longer if necessary. Add the radicchio, and using tongs, mix it with the cabbage. Add the balsamic and sugar and cook until the vinegar has reduced and the radicchio has wilted, about 2 minutes longer. Remove from the heat, stir in the reserved bacon bits and serve. Sprinkle the Cashel Blue evenly on individual servings.

Guinness Draught
In 1759, shortly after signing a 9,000-year lease at £35 a year, Arthur Guinness began brewing ales from St. James's Gate Brewery in Dublin, Ireland, a site that has since become Dublin's most popular tourist attraction. Today, Guinness is Ireland's best selling alcoholic drink and is one of the most successful beer brands in the world.
A dry stout, based on the porter style that originated in London in the early 1700s, Guinness is recognized by its thick, creamy, tan-colored head and its distinct roasted-barley flavor. A versatile beverage, Guinness complements both sweet and savory dishes as illustrated by these two recipes for Chocolate Guinness cake and Guinness-braised short ribs.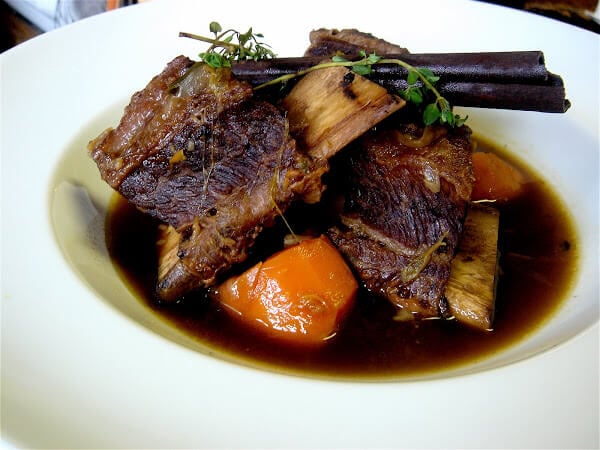 Guinness-Braised Short Ribs
Serves 4
3 lb short ribs (long cut), cut into 2-inch pieces
kosher salt and freshly ground black pepper
2 tablespoon olive oil
1 leek, stem removed
1 medium onion, peeled
2 medium carrots, peeled
1 cinnamon stick
1 tablespoon tomato paste
2 11-oz bottles of Guinness
2 cups chicken stock, preferable homemade
zest of one orange
zest of one lemon
4-5 sprigs of thyme
1 bay leaf
Preheat the oven to 300ºF.
Place a large oven-safe soup pot or Dutch oven over high heat. Season short ribs generously with salt and pepper. Add 1 tablespoon of the oil to pot, let heat for a few seconds until almost smoking, then add the meat skin side down. Let brown for about five minutes, flip, and brown other side for another five minutes.
Meanwhile, cut the leek into big chunks and soak in a bowl of cold water, separating the layers to make sure each is well cleaned. Roughly chop the onion and the carrot into medium-large pieces. This should yield about 3 cups leeks, and 2 cups each of carrots and onions.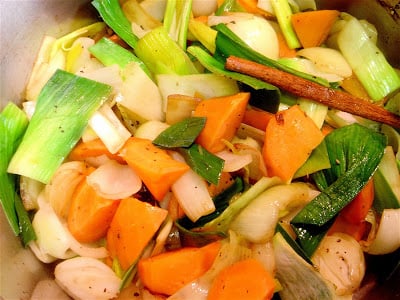 When the ribs have finished browning, remove from pan and place on a plate. Drain off all fat and discard. Heat remaining tablespoon of olive oil over high heat and add the vegetables and cinnamon stick. Season with salt and pepper to taste and let cook undisturbed for 2 minutes, then stir. Let vegetables sauté for 8-10 minutes. Add the tablespoon of tomato paste and stirring to coat the vegetables.
Deglaze the pan with the Guinness and the chicken stock, scraping browned bits from bottom of pan. Add the zests, thyme sprigs, bay leaf and short ribs, and bring pot to a boil. Reduce the heat so that the liquid is just simmering, cover and place in the oven.
Braise for 2 hours. Remove pan from oven and test one of the short ribs. If the meat is very tender and nearly falling off the bone, the ribs are done. If not, return the pot to the oven, testing every 15 minutes until done.
Remove the ribs from the liquid to a bowl or plate. Strain the braising liquid, discarding the solids. Pour liquid into tall narrow vessel and let chill in refrigerator for at least 10 minutes. Skim fat from surface and discard. Return ribs to pan, cover with liquid and bring back to a simmer. Serve immediately.
Note: Can be made three days in advance.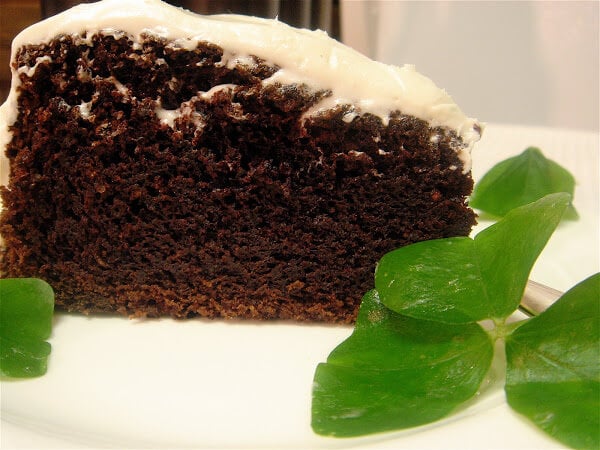 Chocolate Guinness Cake
Adapted from Nigella Lawson's "Feast"
Hyperion (2004)
1 cup Guinness
1 stick + 2 T. butter
¾ cup unsweetened cocoa powder
2 cups sugar
¾ cup sour cream
2 eggs
1 T. vanilla extract
2 cups all-purpose flour
2½ teaspoons baking soda
1 teaspoon kosher salt
8 oz cream cheese, softened
1¼ cups confectioners' sugar
½ cup heavy cream
Preheat the oven to 350ºF. Butter a 9-inch springform pan.
In a medium saucepan, heat Guinness with butter until butter is melted. Remove from heat and whisk in cocoa powder and sugar. Whisk sour cream with the eggs and vanilla, then pour into Guinness mixture and stir until smooth. Whisk together flour, baking soda and salt, then add to batter, stirring just until combined.
Pour into prepared pan, and bake for 45 minutes. Test cake with a toothpick or paring knife. If utensil comes out cleanly, remove cake from oven. Let cool completely in pan.
Beat cream cheese until light. Add sugar. Add cream and beat until thick. If cream cheese mix is too soft to spread onto cake, let chill for 10 minutes or until firm
Spread cooled cake with cream cheese frosting.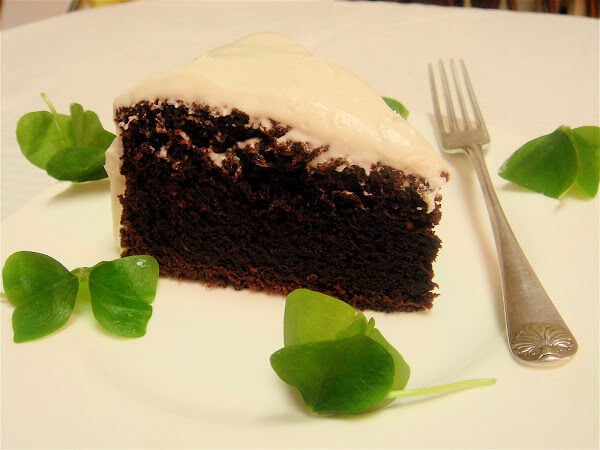 John McCann's Steel Cut Oats
Ireland's fertile plains, humid climate and clean rivers have enabled it to grow high-quality oats since the fifth century. In 1800, John McCann built a mill on the east coast of Ireland in the town of Beamond, and began making steel cut oats. Several years later, in 1851, his product received two quality of excellence awards from exhibitions in London and Dublin, followed by first prize at the Philadelphia Exhibition in 1876 — an honor still proudly printed on its old-fashioned tin can.
Steel cut oats are whole grain groats that have been cut into small pieces. They are an excellent source of complex carbohydrates and protein, containing twice as much protein as brown rice, and 50 percent more than bulgur. Moreover, steel cut oats are nuttier and chewier than rolled oats, and create a creamier, more flavorful oatmeal. Low in fat and a great source of cholesterol-lowering soluble fiber, steel cut oats make a delicious and nutritious breakfast.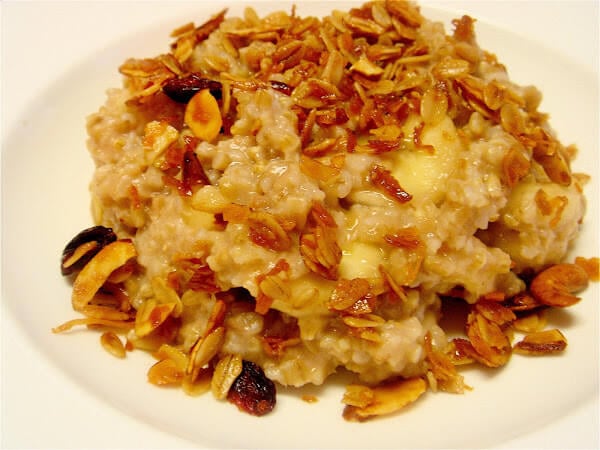 Steel Cut Oatmeal with Medjool Date and Cinnamon
Serves 1
¼ cup skim milk
¾ cups water
pinch of kosher salt
¼ teaspoon cinnamon
¼ cup steel cut oats
1 Medjool date
1 banana
granola for crunch (optional)
In a medium saucepan, bring milk, water, salt and cinnamon to a boil. Reduce heat to low, add oats and stir. Gently simmer, stirring every five minutes for about 21-23 minutes. Watch closely at the end — add a splash of water or milk if oatmeal sticks to bottom of pan.
While oatmeal cooks, finely dice the date and slice the banana. Place fruit in a bowl, top with the cooked oatmeal and stir to combine. The date and the banana should sweeten the oatmeal sufficiently, but add a touch of sugar, brown sugar or honey if necessary. Top with granola if desired.
This post may contain affiliate links. Please read my disclosure policy.