Almond Scones with Strawberry Jam
This post may contain affiliate links. Please read my disclosure policy.
So many goodies arrived today in my CSA basket, but most notably, a jar of homemade strawberry jam from Countryside Produce in Paradise, PA. Last week we received a quart of strawberries, this week jam — heaven! Sadly, we may already have reached the peak of strawberry season: This past Tuesday, at the South and Passyunk Farmers' Market, Gloria from the Rineer Family Farmstand doubted she would bring any more strawberries this summer. Although I will miss the fresh strawberries, I will happily savor this jam. For a wonderfully sweet breakfast, serve the jam with these buttermilk-almond scones.

CSA Week 5:
1¼ lbs sugar peas
1 head cabbage
1 crown broccoli
3 zucchini
1 bunch scallions
1 head green leaf lettuce
1 head red leaf lettuce
1 kohlrabi root
1 bunch cilantro
1 bunch garlic scapes
1½ lbs kale
Almond-Buttermilk Scones
Yield=6
a scant 2¼ cups (10 oz.) all-purpose flour
¼ cup plus 1 tablespoon (2.33 oz) sugar
1½ teaspoon baking powder
¼ teaspoon baking soda
½ teaspoon kosher salt
1 cup sliced almonds
2/3 cup buttermilk
1 teaspoon vanilla extract
1 stick cold unsalted butter
2 tablespoons milk
turbinado or demera sugar for sprinkling
Set oven to 375°F.
In a medium to large-sized mixing bowl whisk together the flour, sugar, baking powder, baking soda and salt. Add the almonds and stir to combine. In a small bowl, whisk together the buttermilk and the vanilla. Cut the cold butter into the flour mixture and stir to combine. Add the buttermilk mixture to the flour mixture and stir to combine. Gently knead the dough together in the bowl until it is just combined. Be careful, however, not to mix and knead the dough too much—you just want to combine the ingredients. If you have to add a tablespoon more of buttermilk, do so, but otherwise just gently pack the mixture into a ball and then turn dough out onto a work surface.
Gently pat and shape the dough into a rectangle approximately ¾ to 1 – inch thick. With a knife or bench scraper, cut the dough into six triangles. At this point, either freeze the cut scones in a zip lock bag or place them on Silpat or parchment paper-lined cookie sheet.
Brush the scones with the milk and sprinkle with the sugar. (Note: you can brush the scones with anything you like: eggs, egg whites, cream, even water. If you don't have turbinado or demera sugar, regular granulated sugar is a fine substitute.) Bake the scones for approximately 15-18 minutes. (When you bake frozen scones, remove them from freezer while oven preheats. Brush with wash just before baking and bake 18-23 minutes.) Serve immediately with strawberry jam.
Unfortunately, as of now, I have no recipe for strawberry jam, but will post one as soon as I find one. These and the strawberries above are from the Rineer Family Farmstand.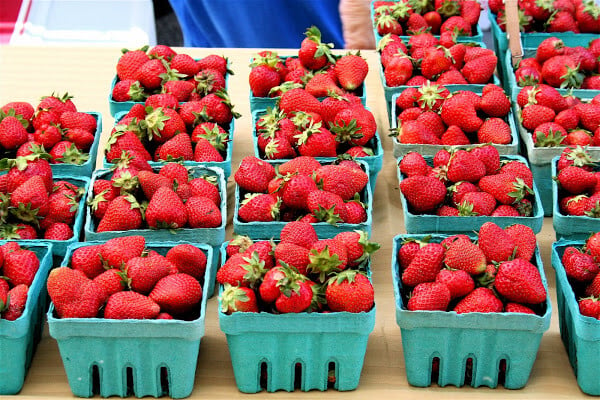 This post may contain affiliate links. Please read my disclosure policy.