Grass-Fed Beef
This post may contain affiliate links. Please read my disclosure policy.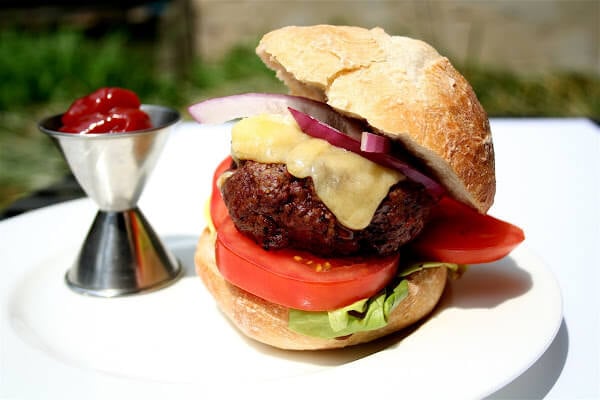 When I stopped by the Fair Food Farmstand last Thursday to pick up my CSA, I picked up a package of grass-fed ground beef as well. Before reading Michael Pollan's The Omnivore's Dilemma, I didn't know that cows are herbivores and that until recently ate grass primarily.
The switch from feeding cows grass began in the 1950s, after farmers discovered how to grow corn cheaply and efficiently with the help of artificial fertilizers. When this discovery led to the creation of large surpluses, however, the excess corn traveled to ranches. And when ranchers discovered how quickly cows could grow on a corn-based diet, they moved cows from the pastures into feedlots and fed them this energy-packed grain. Both parties profited: farmers from solely growing corn; and ranchers, by raising cattle indoors with that corn.
Although grain-fed cows produced well-marbled meat — a highly desired product by all meat-lovers — the meat also became less healthy, and the practices employed to create the meat, less humane. The ethical and environmental concerns surrounding feedlots have been widely voiced, particularly because cows, living in cramped quarters on unfamiliar grain diets (which their ruminant stomachs have difficulty digesting), receive hormones, supplements and antibiotics to promote growth and protect against diseases — drugs never needed when cows fed on grass. Furthermore, when manure is not spread across the land by grazing cattle, but instead dumped in large quantities, the soil becomes overloaded with nitrates, which in turn run off and pollute nearby waters.
Grass-fed meat is far superior nutritionally than grain-fed meat. Grass-fed meat not only is lower in total and saturated fat, but also contains 75 percent more omega-3 fatty acids, 78 percent more beta-carotene, 300 percent more vitamin E, 400 percent more vitamin A and 500 percent more conjugated linoleic acids (CLA) than grain-fed cows.
To read more about the health benefits of grass-fed beef and the practices of raising cattle on corn visit Eatwild.com.
Grass-fed beef has been dismissed as bland and oddly textured by many meat lovers. Although I haven't tasted many cuts of grass-fed meat, I love the grass-fed ground beef I buy from the Fair Food Farmstand. My friend and I enjoyed delicious grilled burgers last Thursday evening. We seasoned the meat with kosher salt before forming the patties and mixed in a finely chopped onion as well. On a crusty roll with lettuce and tomatoes, these pasture-perfect patties are pleasantly pleasing.
Grass-Fed Beef
I've shared my thoughts on grass-fed beef a number of times before, so I've rounded up a few links to past posts and articles if you are interested in reading up on this matter:
Grass-fed Beef
Pasture-Perfect Patties
Anxious to Purchase a Steer
Hearst Ranch Grass-fed Beef
When Searching for Solutions, Don't Forget the Farm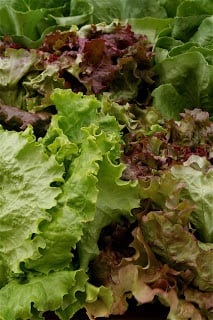 CSA Week Three:
1 lb. baby lettuces
1 bunch French breakfast radishes
2 heads baby bok choy
1½ lbs red Russian Kale
1 bunch dandelion greens
1 head Jericho Romaine
1 bunch scallions
1 head green leaf lettuce
Grass-fed Burgers
Yield = 3 burgers
1 lb. grass-fed ground beef
½ medium onion finely chopped
kosher salt
freshly ground black pepper
buns, lettuce, tomato, cheese as needed
Spread the ground beef out in a large bowl. Season evenly with kosher salt. Spread the onion across the meat evenly as well. Gently mix the mixture, then form into 3 patties, being careful not to pack the meat or mix the meat too much. Chill the patties until you are ready to grill.
Preheat a grill to high. Season patties on both sides with kosher salt and pepper. Grill to desired doneness.
This post may contain affiliate links. Please read my disclosure policy.