Gluten-Free Cooking Spree
This post may contain affiliate links. Please read my disclosure policy.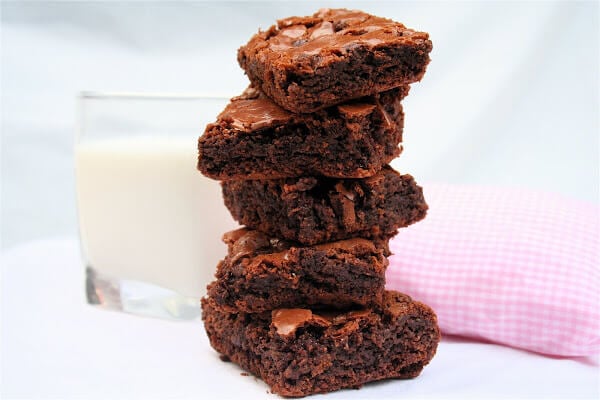 I've borrowed this "Gluten-Free Cooking Spree" slogan from the National Foundation for Celiac Awareness (NFCA), an amazing organization started by Alice Bast, a Philadelphia woman full of energy and initiative. I spoke with Bast over the phone a few days ago and listened to her recount her tragic yet inspiring story.
Bast, after suffering the trauma of delivering a stillborn baby followed by several miscarriages, visited 23 doctors before learning she had celiac disease. When she discovered that all of her health complications could have been prevented had she changed one aspect of her life — her diet — she quit her job (a top executive at a tech firm), started the NFCA, and resolved to devote her life to raising awareness about this debilitating digestive disease. Read Alice Bast's whole story on the NFCA's Web site.
One out of every 133 people has celiac disease — 3 million Americans — yet 97 percent of celiacs don't know they have it. Through the efforts of Bast, the NFCA and other organizations sharing the same goal, more doctors are recognizing the prevalence of the disease, and fewer people as a result are suffering. Currently the only cure for this disabling disease is to eliminating gluten, a protein found in wheat, barley and rye, from the diet.
While Bast told me a half dozen or so stories about celiacs restoring their health and reclaiming their lives after adopting a gluten-free diet, one is particularly poignant. Last August, a woman who had been trying to get pregnant for 10 years without success, read Bast's story in Good Housekeeping. The woman sensed she had celiac disease, began the diet, and within 6 months became pregnant.
Other celiacs have seen their migraine headaches, incessant stomachaches, diarrhea and nausea — stresses they have suffered their whole lives — disappear within days of beginning the gluten-free diet.
The "Gluten-Free Cooking Spree" is the name of an event the NFCA is bringing to cities across the country. This past June, 10 chefs and doctors in Philadelphia teamed up to prepare tasty gluten-free dishes in a competition judged by George Perrier of Le Bec-Fin and Christina Pirello of Christina Cooks. Read more about the event on the NFCA's Web site.
I decided to see for myself what gluten-free cooking entails. I've now introduced my pantry to a host of ingredients I never thought it would meet — brown rice flour, buckwheat flour, tapioca flour and xanthum gum. And, I have to say, the two recipes I tested were delicious. I have been slathering fresh ricotta on the focaccia for breakfast, and enjoying a brownie each night after dinner.
I am not in any way trying to prove that anyone can easily conform to this diet by simply purchasing the necessary ingredients. This diet requires celiacs to inspect all food labels thoroughly and question restaurant wait staff and chefs exhaustively, because even the tiniest trace of gluten — present in soy sauce, vinegars, lunch meats, panko (Japanese breadcrumbs) and most soups — can trigger an adverse immune response.
While I'll likely never know what life as a celiac is like, I have a better understanding after speaking with Alice Bast and reading other personal stories on the NFCA Web site. I greatly admire Bast's many noble efforts to prevent others from suffering the same tragedies she unnecessarily endured.
5 Secrets to Foolproof Bread Baking
See how easy bread baking can be in my free ecourse!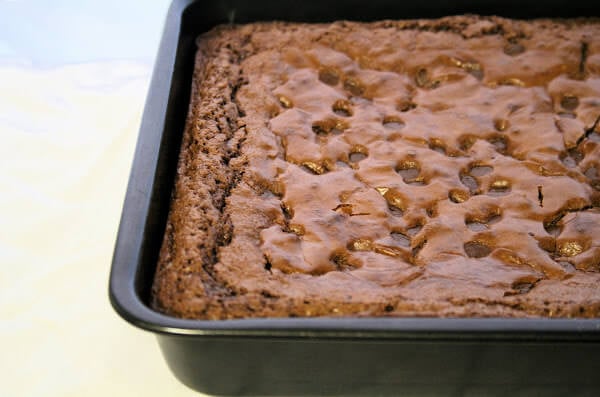 Gluten-Free Brownies
Adapted from Karina's Kitchen: Recipes From a Gluten Free Goddess
www.glutenfreegoddess.blogspot.com
Yield = 16
5 oz. dark chocolate chips (gluten-free) + more for topping
½ C. butter
2 eggs
1 C. packed light brown sugar
1 tsp. vanilla extract
½ C. almonds, processed into a fine meal (or ½ C. almond flour)
¼ C. brown rice flour
½ tsp. fine sea salt
½ tsp. baking soda
Preheat the oven to 350ºF. Butter an 8-by-8-inch square baking pan.
Microwave the dark chocolate and butter in a Pyrex bowl for 45 seconds, stirring once halfway.
In a stand mixer using the whisk attachment, beat the eggs on medium-high speed until frothy. Add the brown sugar and beat until the mixture is smooth.
Add the melted chocolate mixture to the egg mixture and beat well for 1 minute. Add the vanilla and whisk until blended. The chocolate will look smooth and glossy. Remove bowl from stand and set aside.
In a large bowl, whisk together the ground almonds (or flour), rice flour, salt and baking soda. Add this dry mix to the chocolate mixture and stir until just combined. Pour batter into prepared pan. Sprinkle another 2 to 4 tablespoons of chocolate chips evenly over the batter if desired. Place in the oven and bake for 32 to 34 minutes. Test with a paring knife or a toothpick.
Cool completely on a wire rack, about 1 hour. Run a butter knife around the edges of the pan. Turn pan over quickly and slam onto a cutting board. The whole block of brownies should come right out. Leave the brownie block face down and cut into 16 squares, wiping knife in between cuts. Serve or store in an airtight container.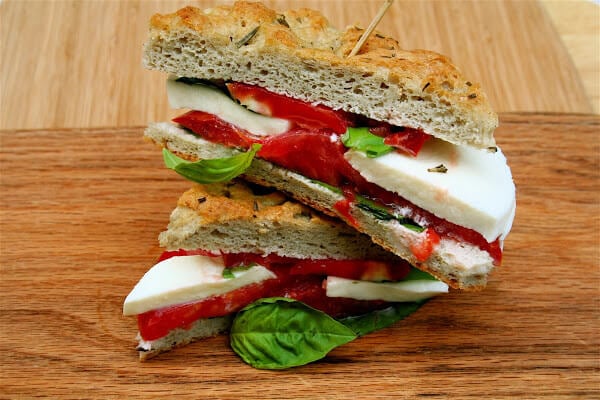 Gluten-Free Focaccia
Adapted from www.celiac.com
Yield = 8 sandwiches
¼ cup olive oil, plus more for greasing
1½ C. brown rice flour
½ C. buckwheat, amaranth or teff flour
2 C. tapioca flour
2/3 C. instant non-fat dry milk powder
3 tsp. xanthan gum
1 tsp. kosher salt
2 T. active dry yeast
1 T. sugar
1½ C. lukewarm water
4 egg whites at room temperature
2 sprigs rosemary, leaves removed and finely chopped
sea salt for sprinkling
Grease a parchment paper-lined or Silpat-lined sheet tray with 1 tablespoon of the olive oil. In the bowl of a stand mixer fitted with the dough hook, combine the flours, milk powder, xanthan gum, salt, yeast, and sugar. In a large bowl, combine the water and remaining 3 tablespoons of olive oil. Add olive oil-water mixture to dry ingredients, and mix on medium speed. Add the egg whites one at a time, mixing well after each addition. Beat on medium-high speed for 4 minutes.
Preheat the oven to 450ºF. Transfer dough — it will be very sticky — to the prepared sheet tray. With greased hands, gently spread dough out, dimpling the dough slightly with your fingers — dough will not fill the entire tray. Cover loosely with plastic wrap and let rise for 40 minutes.
Remove plastic wrap, gently dimple dough again with your fingers, being careful not to deflate. Lightly drizzle olive oil over top, sprinkle with the rosemary and salt to taste. Place in the oven, close the door and reduce the heat to 400ºF.
Bake for 15 minutes, rotate the pan and bake for 10 to 15 minutes longer until the focaccia is nicely golden. Remove from the oven and transfer bread from pan to a cooling rack. Let cool completely before slicing and using for sandwiches.
This post may contain affiliate links. Please read my disclosure policy.