Peach Ice Cream
This post may contain affiliate links. Please read my disclosure policy.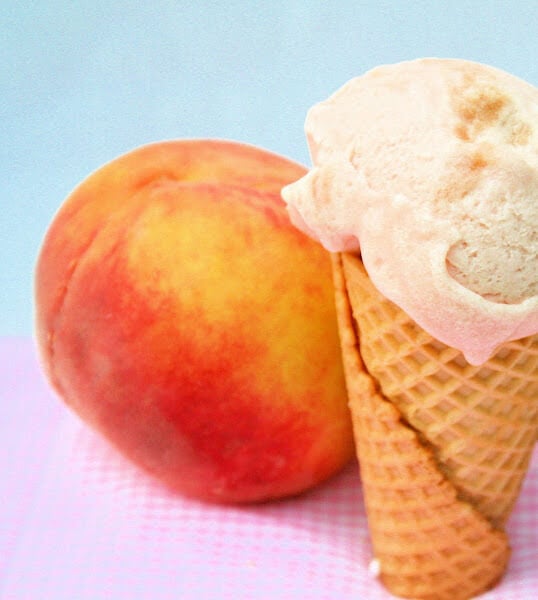 Last Wednesday afternoon, with the temperature climbing to 98 degrees and the heat index steady at 105, I couldn't help but join the masses in Capogiro for a tasting spree. Welcomed by a case teeming with colors and custards flowing in ribbons out of countless tubs, I happily joined the 15 other customers huddled around this oasis on 13th Street, entranced by its myriad flavors.
I knew what I wanted before walking in, but like the others, sampled away, contemplating each spoonful, searching — pretending to search — for that one irresistible flavor, until I sensed my server knew what I was up to.
"I'll have the pesche con panna, please." I paid my $4.55 for the small, claimed a table and savored every bite of my Lancaster County peaches and cream gelato and every moment out of that oppressive heat.
This time of year I can't get enough of the local peaches, both Jersey and Lancaster, which have been particularly delicious this season. Inspired by this sweet, juicy fruit and Capogiro's creation, I've made a peach ice cream, which to be quite honest, is best eaten straight out of the machine. Enjoyed the day of, like fresh peaches and cream, this ice cream is nearly irresistible. A day later, unfortunately, it firms up considerably and requires a good 10 minutes at room temperature before scooping is even a possibility.
Peach Ice Cream
Yield = 1½ quarts
2 cups whole milk
1 cup heavy cream
¾ cup sugar
pinch of salt
½ vanilla bean
8 egg yolks
2 peaches
Combine milk, cream, sugar and salt in a small saucepan. Scrape seeds from vanilla bean into pot and drop remaining bean in as well. Heat over medium until sugar is dissolved and mixture is hot but not boiling. Place egg yolks in a large bowl. Slowly ladle hot milk into egg yolks, whisking constantly. When about three quarters of the milk has been added to the pot, return the milk-yolk mixture back to the pot and turn the heat to medium. Stir constantly with a spoon or spatula until mixture thickens and coats the back of the utensil. Remove from heat, strain into a shallow vessel such as a Tupperware, cover with plastic wrap (placing wrap directly on custard) and chill in the refrigerator until completely cold.
Meanwhile, bring a small pot of water to a boil. Make a small slit in the bottom of each peach, add to the water and boil one minute. Drain, run the peaches under cold water and gently rub off their skin. Let cool slightly, then cut into large pieces and purée in a blender until smooth. Set aside.
Transfer custard to an ice cream maker and freeze according to the manufacturer's instructions. When custard is just about done, add peach purée and churn for 1 to 2 more minutes, until incorporated. Transfer ice cream to storage containers and freeze until ready to serve.
This post may contain affiliate links. Please read my disclosure policy.