Trader Joe's Grass-Fed Ground Beef
This post may contain affiliate links. Please read my disclosure policy.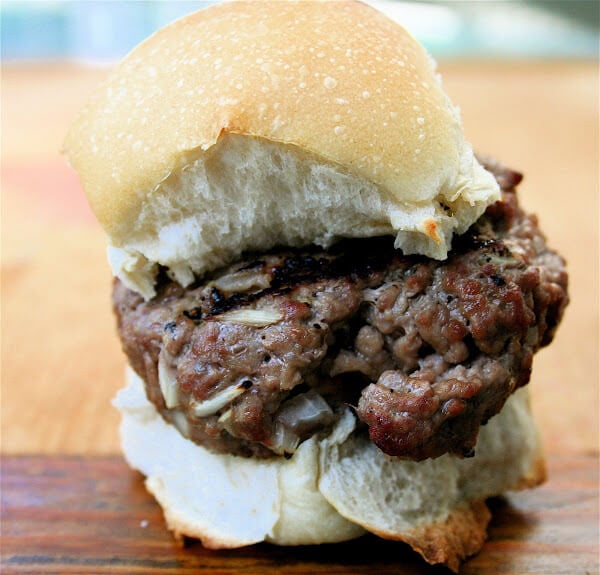 As soon as Ben and I have space to fit one, we're going to buy a freezer, one of those large, freestanding jobs that opens like a chest. And then we're going to buy a steer or maybe half a steer, and come harvest time, we're going to fill our box with all of its butchered parts, which we'll subsist on until we run out.
This is the ideal, of course, and one of Michael Pollan's suggestions in In Defense of Food. Pollan writes, "If you have the space, buy a freezer." Pollan lives in Northern California, subscribes to a CSA, and purchases meat and dairy from local farms that raise their animals on pasture. He purchases by the ½ steer, whole hog and ½-dozen chickens. I'm sort of guessing about this last detail, but that's the idea I get after reading the last part of this book.
Like many people, I began eating grass-fed beef after reading Pollan's The Omnivore's Dilemma. I have posted several times about animal treatment in feedlots, the health benefits of grass-fed meat, and several dinner parties with friends starring grass-fed burgers.
My reasons for seeking out grass-fed meats revolve more around animal welfare than health benefits. A passage in Barbara Kingsolver's Animal, Vegetable, Miracle: A Year of Food Life says it best. Kingsolver quotes Wendell Berry. In his book, What Are People For, Berry writes:
"I dislike the thought that some animal has been made miserable in order to feed me. If I am going to eat meat, I want it to be from an animal that has lived a pleasant, uncrowded life outdoors, on bountiful pasture, with good water nearby and trees for shade."
The U.S. Department of Agriculture recently shut down a Chino-based supplier of beef after a video showed slaughterhouse workers using inhumane and illegal practices on weak and sick cows. After watching the footage on the news, I find it hard to justify purchasing feedlot meat processed in these types of facilities. And after visiting farms (such as Joel Salatin's Polyface Farm) where animals live just as Berry describes, I find it difficult to support any other type of farming.
Now, until Ben and I acquire the space to fit a steer in our kitchen, or until we start our own farm and have animals living on our front lawn, we'll have to settle with purchasing grass-fed meats buy the pound. As far as I can tell, purchasing local, pastured meats is relatively easy in Northern California, as it was in Philadelphia — the Fair Food Farmstand in Reading Terminal Market is an unbelievable little stand. I am just realizing how spoiled I was to have, in walking distance from my apartment, a place to buy local, humanely raised beef, pork, chicken and lamb as well as raw milk and raw-milk cheeses.
So far I have found few sources in Southern California for pastured meats. Though I have not researched extensively, Trader Joe's seems to be the closest source to me for grass-fed beef. I've now purchased their grass-fed ground beef twice and have been very pleased both times. I called the customer service line (for future reference: 626.599.3817) to find out where the cows were raised and where the meat was processed. While the woman wouldn't give me the name of the farm or processing plant, she told me the cows are both raised and processed in Northern California.
Now, I suppose for the real purists — extreme locavores — Northern California might be too far. As I weigh my two options, however — grass-fed beef from Northern California or corn-fed, abused beef from nearby — food miles seem like a trivial criterion.
Print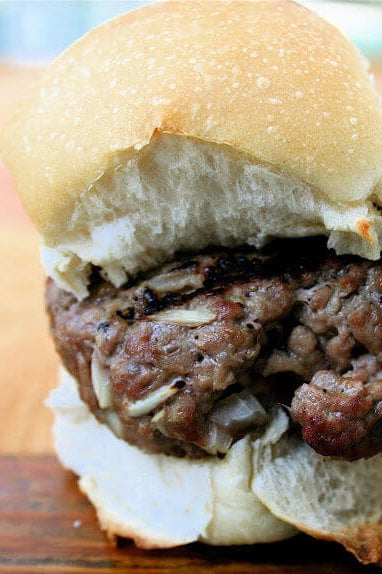 Trader Joe's Grass-Fed Ground Beef
---
1 to 1.25 lbs. grass-fed ground beef
1/2 white onion, finely diced to yield a scant 1/2 cup
kosher salt and freshly ground black pepper
buns
lettuce, tomatoes, ketchup, cheese, etc., if desired
---
Instructions
1. Spread the meat out in a large bowl as pictured above. Sprinkle evenly with kosher salt. Sprinkle the onion over top. Form into patties about 5 to 6 ounces each. Refrigerate until ready to cook.
2. Preheat the grill to high. Spinkle the burgers on both sides with kosher salt and freshly ground black pepper to taste.
3. Place burgers on the grill. Cover grill. And turn heat to medium. Now, every grill is different, all meat is different, and everyone has different opinions about what rare, medium rare, etc. looks like. I cooked these for about three minutes a side and was happy with their doneness — just slightly pink on the inside and still very juicy. I have overcooked these burgers before too, however, and found the meat to be less forgiving than traditional burger meat, so be careful and enjoy!
This post may contain affiliate links. Please read my disclosure policy.