Backyard Chickens & Thin-Crust Pizza
This post may contain affiliate links. Please read my disclosure policy.
A few months ago, I mentioned I was looking forward to the day when Ben and I have room in our place to fit a freestanding freezer, (one large enough to fit a half or quarter steer.) Well, I've added something else I'm looking forward to getting as soon as space permits: chickens. I can't believe I never thought about this before. And, as far as I can tell from this new cookbook I've been reading, chickens don't seem like that much work. I guess I'll find out.
So, this cookbook is called Blue Eggs & Yellow Tomatoes. I've now tried several recipes from it including penne with asparagus, meyer lemon scones, and thin-crust pizza with brie, prosciutto and watercress. The penne was good, but way too cheesy — the recipe called for 15 ounces of ricotta and a half cup of parmesan cheese for one pound of pasta. The scones were good, too, but not as good as almond-buttermilk scones. The pizza, pictured above, however, was delectable. The dough recipe yields three eight-ounce balls and freezes well. Tonight, I thawed one of the balls at room temperature for three hours, as instructed, rolled it out and baked it topped with sautéed Swiss chard, Parmigianno Reggiano and smoked Gouda. I actually preferred this pizza to the one with brie and prosciutto. Call me crazy, but as I was eating the one topped with watercress, I kept thinking it needed something else, maybe a poached or fried egg on top.
Anyway, despite a few so-so recipes, I am still very happy to have stumbled across this book. Why? It inspired me to plant a garden. The author, Jeanne Kelley, an L.A. resident briefly describes a way of gardening — in raised beds made from plywood — that she says vegetables grow best in. I had just read an article in Acres U.S.A about a woman in Colorado doing the same sort of thing but with cinder blocks instead. I went to the Web site, The Living Farm, noted in the article and downloaded the author's E-book called Cinder Block Gardens. It cost $19.95. Over the weekend, I went to Lowe's and Plant Depot and purchased everything I needed for my garden. I still need to figure out what I want to grow, but the blocks have been laid, the soil mixed and the ground watered. I cannot wait to start planting.
Once I get some seedlings in the ground, I'll post some pics. You don't need a perfect patch of land — we built ours on a slightly sloped, rock-hard area measuring about seven feet by four. The author, Lynn Gillespie, has painstakingly detailed the process — the book is worth every penny.
And, once I have the space, 10 or 20 years from now, I will consult the final chapter of Blue Eggs and Yellow Tomatoes, which describes in detail how to raise backyard hens.
I think one reason why I preferred the Swiss chard pizza to the prosciutto is that I didn't have enough Brie to cover the surface and make it really tasty. This emerged from the oven looking a little freaky.
Pizza Perfected
7 Secrets to Mastering Pizza at Home
Always Free. Unsubscribe Anytime.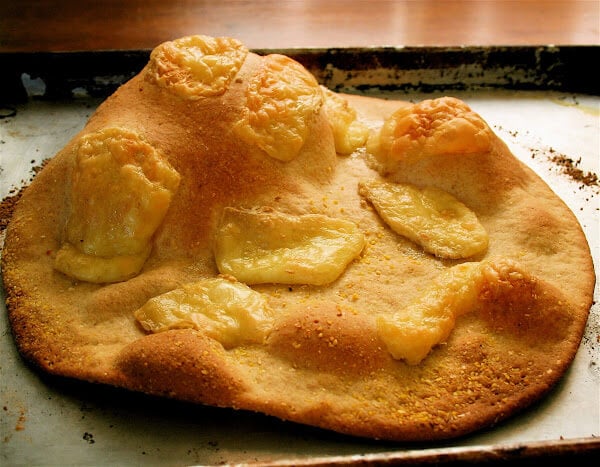 Brie and Prosciutto Pizza with Watercress
Adapted From Blue Eggs & Yellow Tomatoes (Running Press, 2008)
Yield = One 12-inch pizza
8 oz. Pizza Dough (recipe below)
8 oz. double-cream Brie (any type of Brie works fine, too)
Cornmeal
3 to 4 thin slices prosciutto
2 cups watercress or arugula leaves
1 tablespoon fresh lemon juice
2 teaspoons extra-virgin olive oil
1 garlic clove, pressed
pepper
1. Prepare the pizza dough as directed in the recipe.
2. Place the Brie in the freezer until it is firm but not solid, about 15 minutes. Trim off the rind and cut the Brie into ¼-inch-thick slices. Arrange the slices on a waxed-paper-lined pan and refrigerate. (I didn't do this. I think if you use the really good stuff, this step might be necessary, but for regular Brie, leaving it at room temperature should be fine.)
3. Position one rack in the bottom third of the oven and preheat it to 400ºF. Sprinkle a large, heavy baking sheet baking sheet lightly with cornmeal (about one tablespoon).
4. Roll the pizza dough out on a lightly floured surface to a 12-inch round. Transfer the dough to a prepared sheet. Distribute the Brie evenly on top of the dough. Bake the pizza until the Brie melts and the crust is golden brown on the bottom, about 15 minutes. Transfer the pizza to a cutting board. Distribute the prosciutto evenly on top of the pizza.
5. Toss the watercress with the lemon juice, olive oil, and garlic in a medium-sized bowl. Top the pizza with the watercress and season with pepper. Cut into wedges and serve.
Pizza Dough
Adapted From Blue Eggs & Yellow Tomatoes (Running Press, 2008)
Yield = Three 8-oz. Balls Pizza Dough
1 cup lukewarm water
1½ teaspoons active dry yeast
2¼ cups unbleached all-purpose flour
½ cup white whole wheat flour (regular whole wheat flour works fine, too)
3 tablespoons vital wheat gluten
1½ teaspoons kosher salt
¼ cup extra-virgin olive oil
1. Whisk the water and yeast together in a two-cup measuring cup and let stand for 5 minutes.
2. Combine the flours and salt in a food processor and pulse to blend. Whisk the olive oil into the yeast mixture. With the food processor running, pour the yeast mixture through the feed tube and process until the dough forms a ball, about 1 minute. (If the dough does not form a ball, add lukewarm water by the teaspoons until the dough comes together.)
3. Knead the dough briefly on a lightly floured surface for about one minute. Brush a large bowl with olive oil. Transfer the dough to a bowl and turn the dough to coat it with oil. Cover the bowl with a clean towel and let the dough stand until it doubles in volume, about 1½ hours.
4. Punch the dough down. Divide the dough into three even balls, about eight-ounces each. (Refrigerate up to two days or freeze for one month. Let refrigerated dough stand for one hour and frozen dough thaw four hours at room temperature before rolling.)
Same dough as pictured above, but topped with sautéed Swiss chard, Parmigiano Reggiano and smoked Gouda:
This post may contain affiliate links. Please read my disclosure policy.