Delaney's Cannelloni & Orange Coast Magazine
This post may contain affiliate links. Please read my disclosure policy.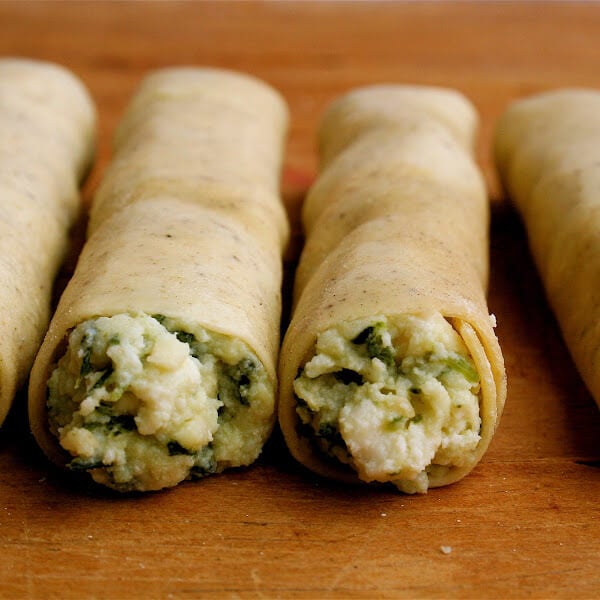 Now, before I begin five days in a row of muffin posts, I must first describe my latest discovery at Delaney's Culinary Fresh, (you know, the fresh pasta I am obsessed with.) I'm not sure how long owner Jordan Stone has been selling cannelloni, but last Sunday, after spotting them at the farmers' market, I couldn't resist breaking my red pepper-linguini routine. And when these spinach- and ricotta-stuffed cigars emerged from the oven bubbling beneath a layer of crispy parmesan cheese, I wasn't sorry I had.
DCF products make dinner preparations so simple: Preheat the oven to 375ºF. Spread some tomato sauce on the bottom of a baking dish and lay the cannelloni on top. Spread a little more sauce on top of the cannelloni and place them in the oven. After 20 minutes, add a couple handfuls of freshly grated Parmigiano Reggiano. A sprinkling of chopped parsley at the very end adds a nice, though uncritical, touch of freshness. Serve with bread and a little salad.
Unlike most filled pasta dishes, particularly the cheese-laden ready-made varieties, these cannelloni taste light — or as light as a cannelloni can taste. And the women at DCF have somehow accomplished this without sacrificing any flavor: From the thin, semolina dough to the subtly flavored spinach filling, these cannelloni are a real treat. Ben made a really good point, too, noting that "The cannelloni aren't sloppy." Filled pastas such as manicotti and lasagna — think school lunch line — so often are overly cheesy and watery and heavy. These are not.
Also, just a quick note on parsley. The trend these days, it seems, is to use Italian parsley — the flat leaf variety. I've gotten so used to using it, I forget to even consider curly parsley. The other day, however, I remembered some words of wisdom from my grandmother. Sometime last year, my grandmother started buying curly parsley again, preferring its flavor to Italian. And I think, (correct me if I'm wrong, Gramma), an episode of the Barefoot Contessa on the Food Network inspired her to make the switch. In any case, the other day at Trader Joe's, all that remained was a carton of the curly variety, and so, I bought it — it was delectable. Very flavorful. I used it all week, even in a recipe for cottage cheese muffins which I cannot wait to share with you. So, I guess all I'm saying is not to overlook curly parsley if you cannot find Italian.
And lastly, if you are interested, check out the article, "Linguini Lust," in Orange Coast Magazine. Though you may feel you've heard enough from me about Delaney's Culinary Fresh, here you'll get a little more insight into Stone's background. She began her fresh pasta business by making compound-butters and selling them in front of her local grocery store. As a single mother, she spent many years working two jobs to support her three daughters — it's quite an inspiring story.
Now, while a purchased tomato sauce will work just fine for these cannelloni, a homemade sauce can be prepared with little effort: Sauté an onion in a mixture of oil and butter over medium heat until translucent, about five to 10 minutes. Add a jar of peeled, crushed tomatoes such as San Marzano or Pomi brand. Season with salt and pepper and let simmer 20 minutes over low heat. Add a pinch of crushed red pepper flakes or oregano or any seasonings you like. Taste and add a pinch of sugar if necessary.
This post may contain affiliate links. Please read my disclosure policy.