Weekend Baking: Blueberry Crumb Coffee Cake
This post may contain affiliate links. Please read my disclosure policy.
I have been wanting to make rhubarb coffee cake since seeing a recipe posted on the blog Smitten Kitchen in February. I waited and waited to see rhubarb at the farmers' market, but it seems I either missed it or it never arrived.
In any case, I woke up Saturday morning dying to do some baking and craving a piece of coffee cake. I pulled up the SK recipe for Big Crumb Coffee Cake — first printed in Melissa Clark's NY Times' column "Big Appetite" — and decided frozen blueberries would be an acceptable substitute for the rhubarb.
I decided, too, that I wanted the cake to be baked before Ben woke up. I could hear him stirring in the other room and knew I didn't have much time. I set to work, frantically pulling bowls from the cupboards, measuring cups from the drawers and ingredients from the pantry, hoping the thrashing wouldn't expedite his emergence. Before long, the various components of the cake — the sugar-coated berries, the thick, buttery batter and the big-crumb topping — had been prepared and the cake assembled. Before long, too, the smell of warm, stewing blueberries pervaded the apartment, gently tapping on the bedroom door.
As I pulled the cake from the oven, the love of my life — sorry to be such a cheese, but I've been gone for two weekends in a row — walked into the kitchen. Perfect timing. I switched on the coffee, let the cake cool briefly and then tucked in. Yum!
Now, when I make this cake again, I will follow the instructions, and I know the results will be even more pleasing. Where I messed up most was in step two. Step two should result in the creation of a solid dough — the foundation of the "big crumbs" — but instead resulted in a crumbly, small-clump mix. In the end, the topping baked just fine, but the "big crumbs," a critical component to the cake, were few and far between. Yay for next weekend, I'll be home again, likely without rhubarb but with a freezer full of berries, a slightly unsatisfied hunger for coffee cake and hopefully a bit more patience.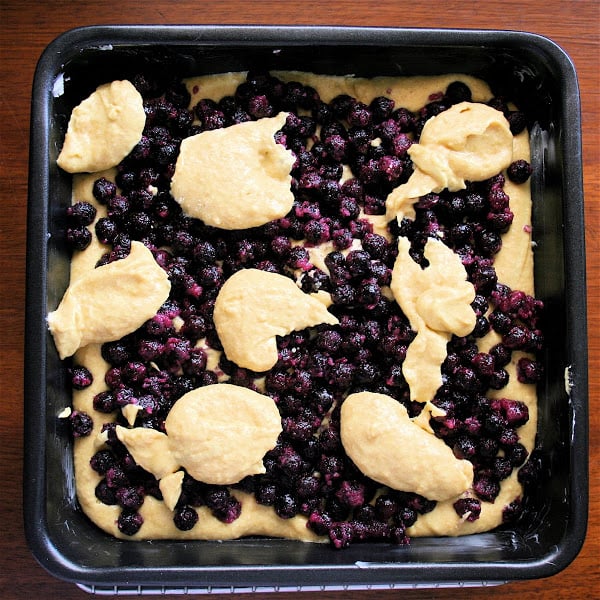 Blueberry Crumb Coffee Cake
Adapted from the NY Times' column "Big Appetite" by Melissa Clark via the blog Smitten Kitchen
Yield: 8 to 10 servings
Butter for greasing pan
For the filling:
½ lb. blueberries
2T. sugar
2 tsp. cornstarch
For the crumbs:
1/3 C. dark brown sugar
1/3 C. granulated sugar
1 tsp. ground cinnamon
1/8 tsp. salt
½ C. melted butter
1¾ C. cake flour or all-purpose or whole-grain pastry flour (I used a mix of all three)
For the cake:
1/3 C. sour cream
1 large egg
1 large egg yolk
2 tsp. vanilla extract
1 C. cake flour or all-purpose flour
½ C. sugar
½ tsp. baking soda
½ tsp. baking powder
¼ tsp. salt
6 T. softened butter, cut into 8 pieces.
1. Preheat oven to 325ºF. Grease an 8-inch-square baking pan. Toss blueberries with sugar and cornstarch. Set aside.
2. To make crumbs, in a large bowl, whisk together sugars, spices, salt and butter until smooth. Stir in flour with a spatula. It will look like a solid dough.
3. To prepare cake, in a small bowl, stir together the sour cream, egg, egg yolk and vanilla. Using a mixer fitted with paddle attachment, mix together flour, sugar, baking soda, baking powder and salt. Add butter and a spoonful of sour cream mixture and mix on medium speed until flour is moistened. Increase speed and beat for 30 seconds. Add remaining sour cream mixture in two batches, beating for 20 seconds after each addition, and scraping down the sides of bowl with a spatula. Scoop out about ½ cup of the batter and set aside.
4. Scrape remaining batter into prepared pan. Spoon blueberries over batter. Dollop set-aside batter over berries; it does not have to be even.
5. Using your fingers, break topping mixture into big crumbs, about 1/2 inch to 3/4 inch in size. They do not have to be uniform, but make sure most are around that size. Sprinkle over cake. Bake cake until a toothpick inserted into center comes out clean of batter, 45 to 55 minutes. Cool completely before serving.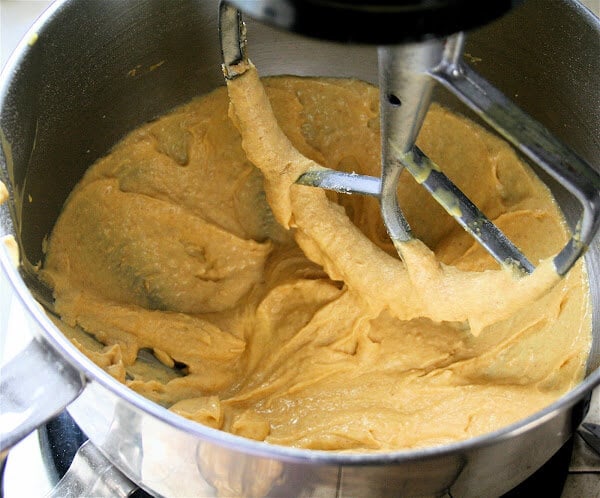 This post may contain affiliate links. Please read my disclosure policy.