Pan Con Tomate with Prosciutto di Parma
This post may contain affiliate links. Please read my disclosure policy.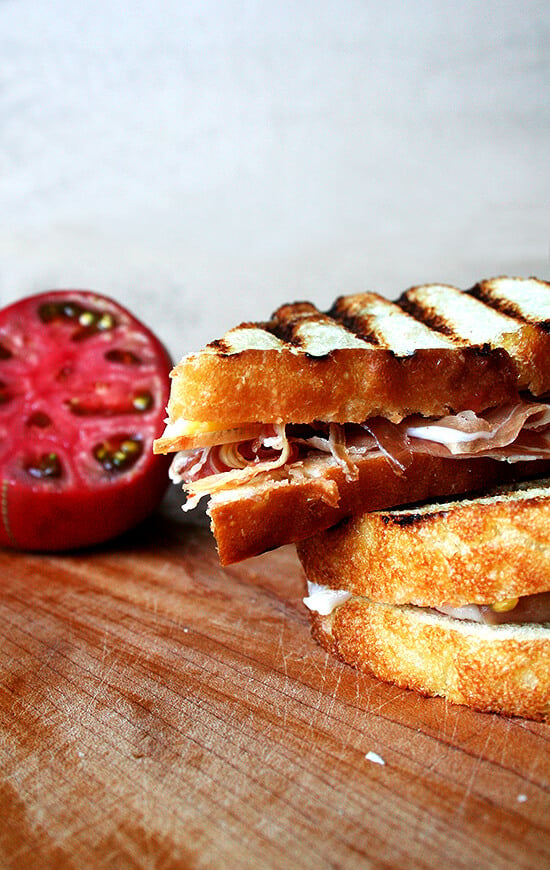 My mother recently described a sandwich an old man prepared for her at a bed and breakfast in Barcelona: toasted bread, rubbed with garlic, drizzled with olive oil, sprinkled with salt, moistened with a squeezed tomato and topped with jamón Iberico. In the mornings, the man tops this concoction with an egg fried in olive oil. Holy cow.
These pigs, the man told my mother, feast on acorns, which impart a nutty flavor into the meat while also making the fat composition of the meat high in monounsaturated fat, the good kind that, like olive oil, helps lower bad cholesterol. I believe it. When Ben and I visited Polyface Farm, Joel Salatin told us roughly the same thing. He described his pork as "olive oil pork" because his pigs' diet consisted of acorns and other nuts from his forest.
I wasn't able to find jamón Iberico at any shop near me, and depending where you live, you might have difficulty, too. Jamón Iberico made its first appearance in this country in December 2007, when the U.S. finally approved a producer in Spain to export the delicacy. LaTienda.com gives a more extensive history about jamón Iberico and jamón Iberico de Bellota, which is the acorn-fed variety. According to La Tienda, the black-hoofed Iberian hog is a prized animal whose lineage stretches back to Christopher Columbus who is said to have had a few of these hogs aboard the Santa María when he set out to discover the New World.
Oh how I long to get my hands on some of this ham. Prosciutto di Parma is a fine substitute but jamón Iberico sounds so exotic and divine. To my sandwich, I added a few slices of Mahón, a cow's milk cheese produced in Menorca, an island off the eastern coast of Spain. Manchego would be nice in this sandwich as well.
Also, I just saw in my Gourmet magazine email newsletter, that Ruth Reichl's "secret weapon" for a no-cook summer meal is the American version of serrano ham produced by the Edwards family of Virginia. Made from humanely raised Six-Spotted Berkshire pigs smoked slowly over hickory, this ham, according to Ruth, pairs nicely with melon or simply with some really good bread. (While this is by no means local to me, this might be a nice alternative for those east coasters looking to eat more locally.)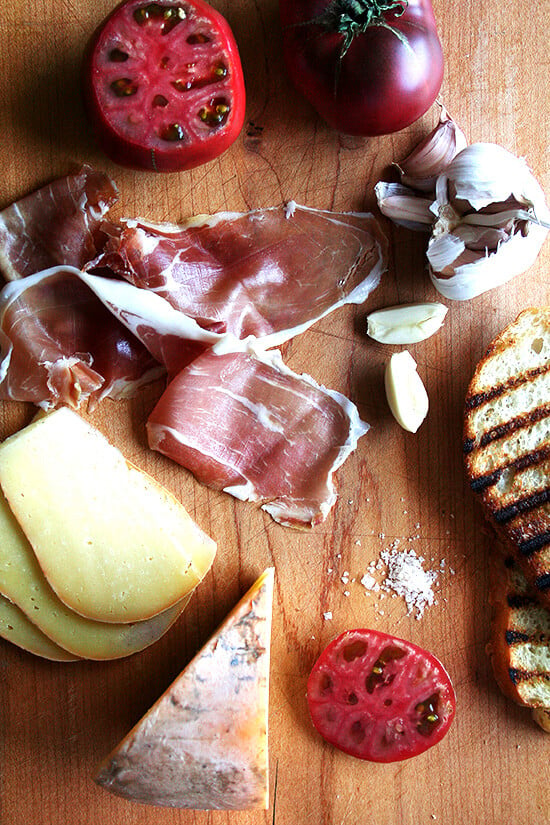 Pigs at Polyface Farm: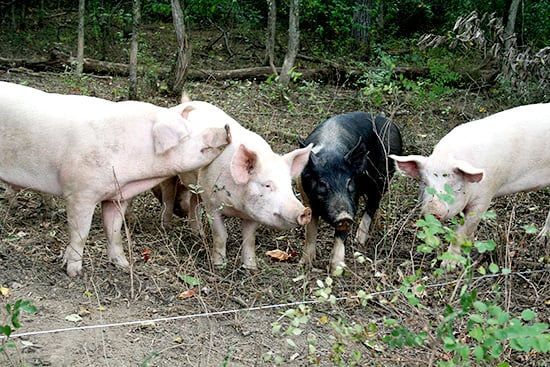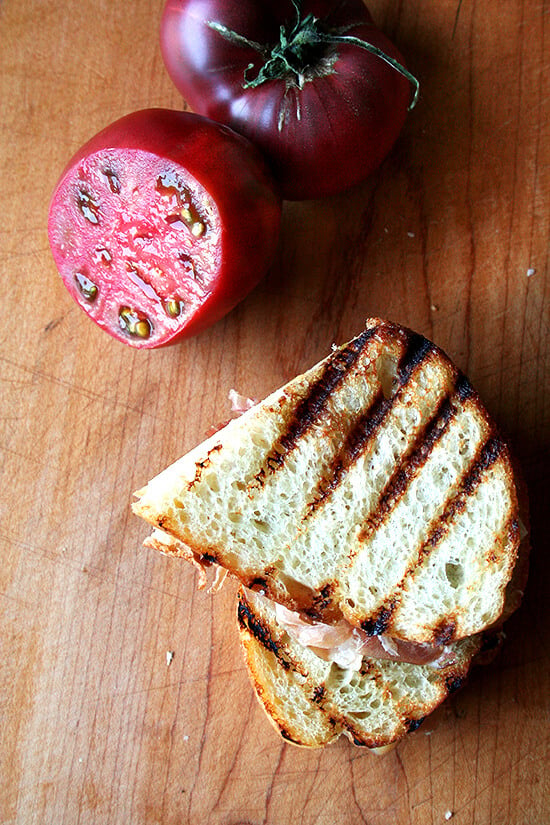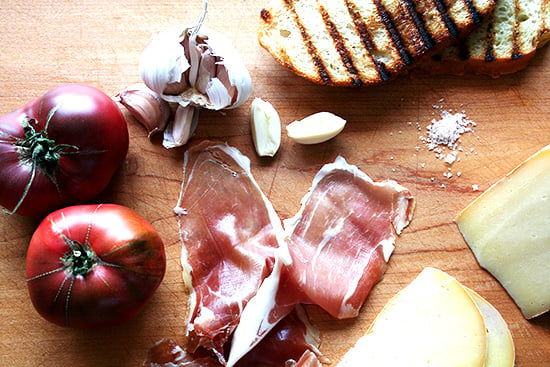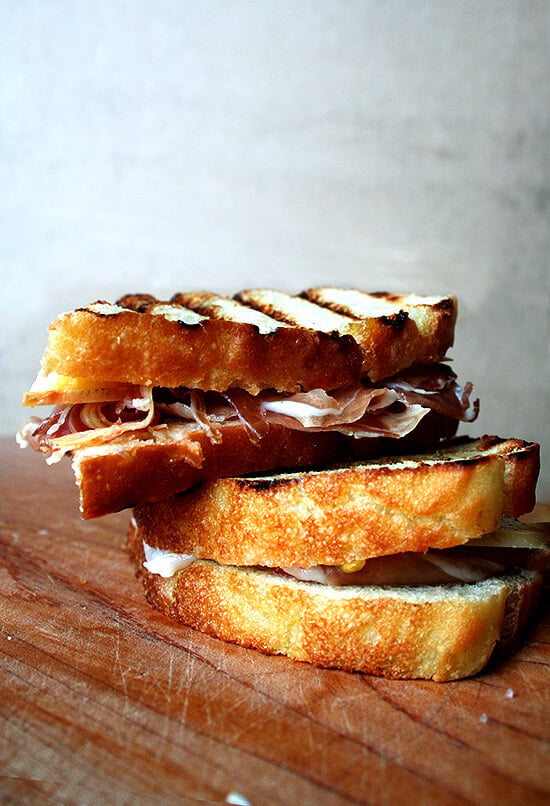 Print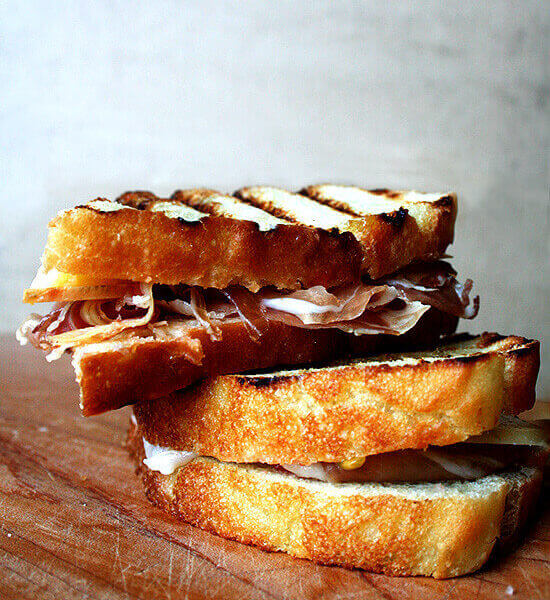 Pan Con Tomate with Prosciutto di Parma
---
two

slices of bread, bakery-style bread (French, Italian)

1

clove garlic, gently smashed and sliced in half

1

tomato
extra-virgin olive oil, use a good one (Temecula Olive Oil Company Citrus Reserve)
nice salt
a few thin slices of jamón Iberico or prosciutto di Parma or Serrano ham
a few thin slices of cheese, such as Mahon or Manchego or Zamorano
---
Instructions
Toast or grill the bread. I grilled it, but that was mostly to get the pretty grill marks for the picture. Toasting would be simpler and just as effective.
Rub each slice of bread with the cut garlic.
Cut the tomato in half (or cut off one-third of it). Squeeze the tomato over each slice making them nice and juicy. Drizzle each slice with olive oil and sprinkle with salt.
Top with a few slices of the ham. Lay each piece down one at a time, allowing the meat to sort of form ripples so air pockets form between the layers. Top with the cheese. Close the sandwich and eat.
Prep Time:

8 minutes

Cook Time:

2 minutes
This post may contain affiliate links. Please read my disclosure policy.