Rosemary Semolina Bread with Sea Salt from Seattle's Macrina Bakery
This post may contain affiliate links. Please read my disclosure policy.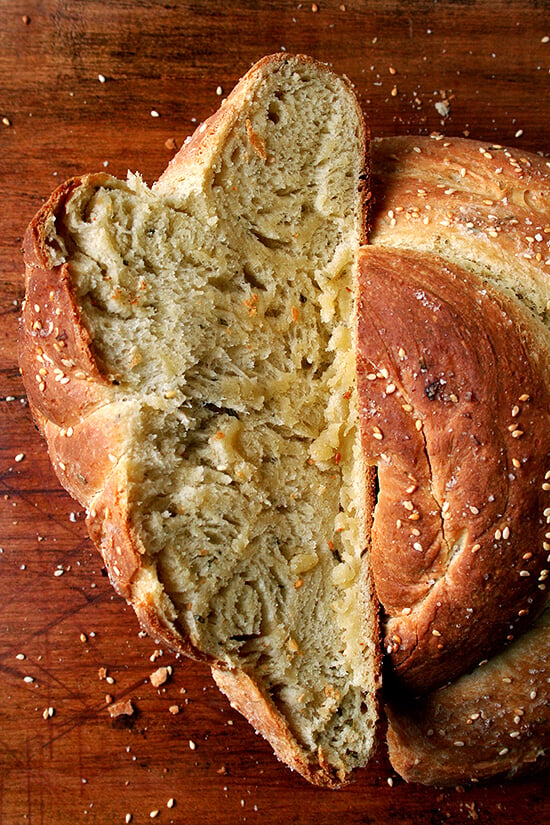 Last Saturday I spotted a sample table in the wine section of Wegmans and made a beeline for it. When I arrived, a nice man asked me if I'd like to try a couple of wines with a slice of chocolate bread. I couldn't think of a more fantastic idea at 10 in the morning. Yes please, I said. One of the wines, a grenache, was quite nice, and while the bread, a cake-like quick bread, was a little bland, I liked the idea of pairing wine with chocolate bread.
The folks at Wegmans were on to something. If the bread had been less sweet and textured more like a yeast-risen bread, could it possibly be topped with a cheese — maybe a soft, honey-infused chévre — and served with wine as a festive Valentine's Day hors d'oeuvre?
Immediately reminded of Metropolitan Bakery's chocolate and cherry bread, I set to work scouring the internet to see if anybody had taken a stab at recreating that loaf at home, an exercise I undertake every six months or so. That recipe, I'm afraid, is still under tight lock and key. It's conspicuously absent from the cookbook, as well. For good reason, I imagine.
Without delving into too much detail, I combined a few recipes, slapped together a nice-looking dough, threw it in a hot oven, and waited anxiously while promising smells wafted from the oven. Unfortunately, the resulting loaf, although edible, was nothing worth sharing. It was good. I found myself eating slice after slice in fact, perhaps hoping each next slice might taste better, but each did not. Chocolate bread, I'm afraid, would not make it to this year's Valentine's Day table.
Alas, maybe forcing chocolate into a savory bread was weird anyway. It was time to get back to basics. Time to try a more natural combination of flavors. Time to break out the rosemary and sea salt and olive oil and share with you all a most delectable bread recipe, one I can say with the utmost confidence will not disappoint. I eat slice after slice of this bread not because I doubt its deliciousness but because I can't hold myself back. Olive oil makes this bread super moist, but it's the presence of semolina flour, an ingredient I am only just discovering, that gives this bread such a unique texture and flavor. The owner of Macrina Bakery, Leslie Mackie, to whom we can thank for this creation, says it best: "Semolina flour gives the bread a hearty texture but also a kind of creamy, almost corn-like flavor." A salty, crusty exterior moreover makes the bread irresistible.
It's perhaps not as dreamy as chocolate bread, but it's far more delicious, and in the event that a romantic dinner for two materializes in my kitchen next Tuesday, it will make an appearance. Happy Almost Valentine's Day Everyone.
Semolina flour is sometimes labeled as "pasta flour."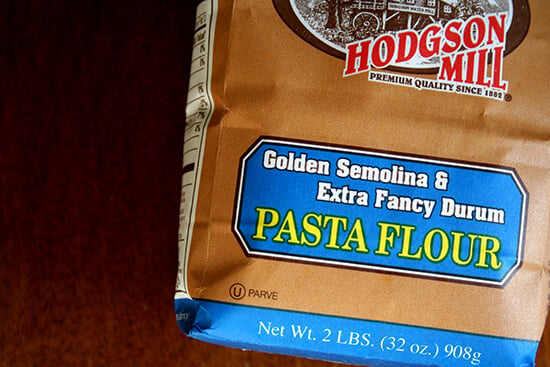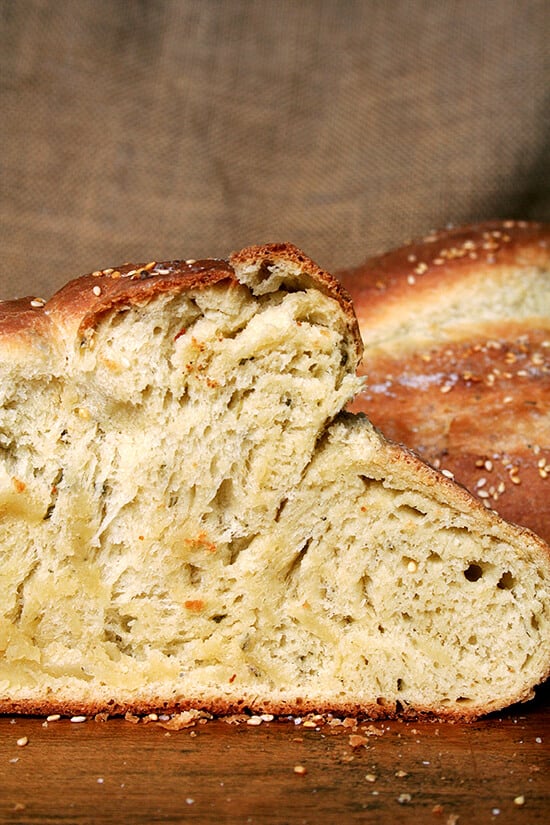 Failed chocolate bread, rising:

Failed chocolate bread, baked: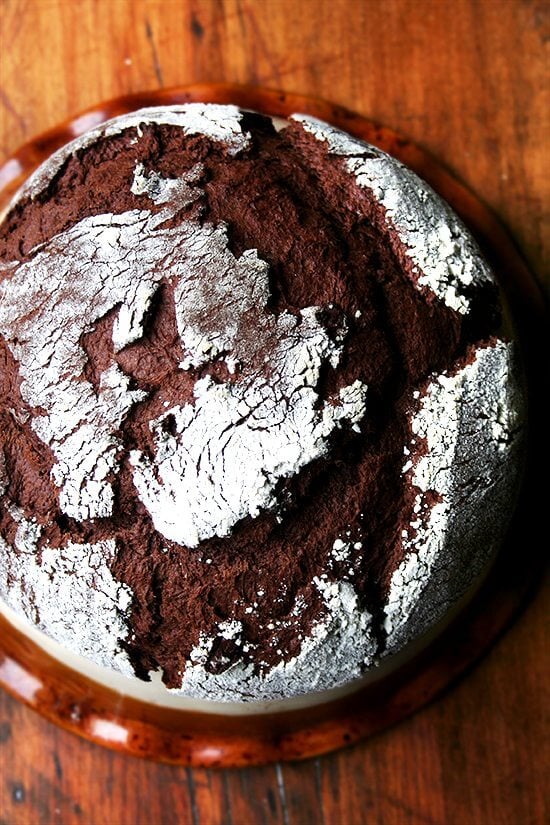 Rosemary semolina bread mixed (left) and risen (right):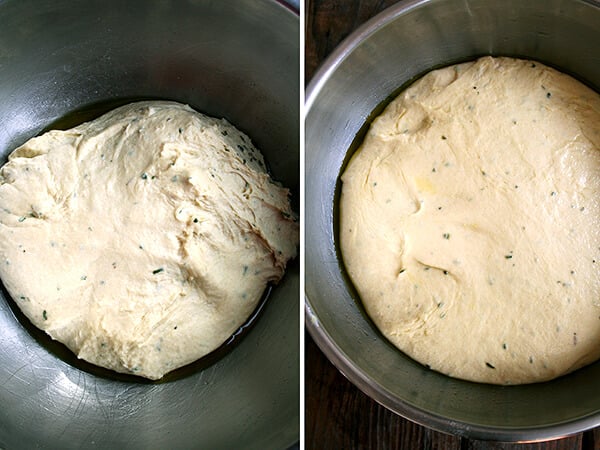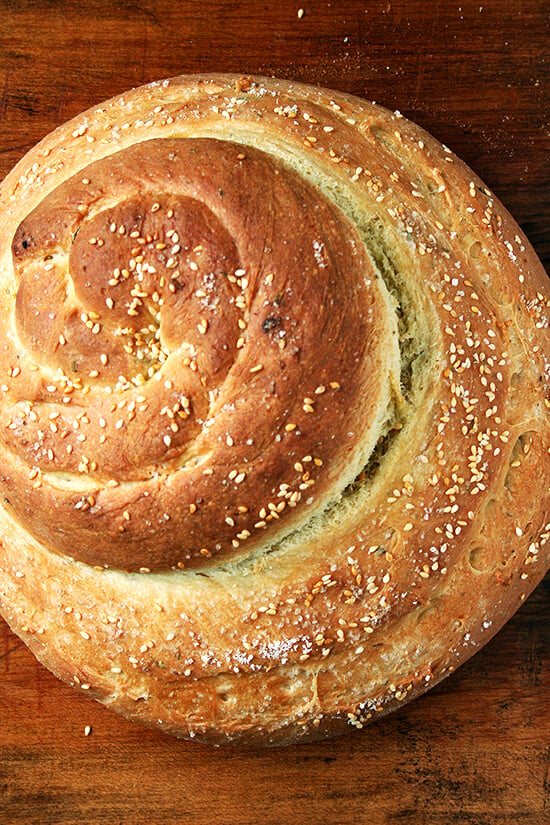 5 Secrets to Foolproof Bread Baking
See how easy bread baking can be in my free ecourse!
Print
Rosemary Semolina Bread
---
Total Time:

3 hours 60 minutes

Yield:

1 very large round
Description
Source: Bon Appetit via Seattle's Macrina Bakery & Cafe
---
1 3/4 cups

warm water (105°F to 115°F), divided

1 tablespoon

active dry yeast (measured from

2

envelopes)

2 1/4 cups

(about) unbleached all purpose flour, divided

1/2 cup

extra-virgin olive oil

2 teaspoons

minced fresh rosemary

2 1/2 cups

semolina flour (pasta flour)*

2 teaspoons

fine-grained sea salt
Additional semolina flour

1 tablespoon

sesame seeds, dividedarkets.
1 teaspoon

coarse-grained sea salt
*Semolina flour is available at specialty foods stores, Italian markets, and some superm
---
Instructions
Place 1 1/4 cups warm water in medium bowl; sprinkle yeast over and stir to blend. Let stand 5 minutes to soften. Whisk to dissolve yeast. Add 1 1/4 cups all purpose flour; whisk until smooth. Cover bowl with plastic wrap. Let stand at room temperature (about 75°F) until bubbles form and yeast mixture has more than doubled in volume, about 45 minutes.
Whisk remaining 1/2 cup warm water, olive oil, and rosemary in large bowl to blend. Using rubber spatula, mix in semolina flour and 2 teaspoons fine-grained sea salt (dough will be very dry). Stir in yeast mixture. Work in 3/4 cup all purpose flour. Turn dough out onto lightly floured surface. Knead until smooth, adding more all purpose flour by tablespoonfuls if sticky. Let rest 5 minutes. Knead until dough springs back when pressed with thumb, about 8 minutes.
Lightly oil large bowl. Transfer dough to bowl; turn to coat. Cover with plastic wrap. Let rise at room temperature until doubled in volume, about 1 hour. Transfer dough to lightly floured surface. Flatten dough into 18×12-inch rectangle. Starting from 1 long side, roll tightly to form 2 1/2-inch-diameter, 20-inch-long log. With seam side down, shape log into ring, inserting 1 end into second end; smooth seam. (Note: As you can see from the photos, I did not make this shape. If I had, my ring would have been massive. I opted to just coil into one mass. Next time, however, I might even divide the dough in half and bake two simple boule-shaped loaves.)
Line baking sheet with parchment paper. Sprinkle sheet with additional semolina flour. Transfer dough ring to prepared sheet, reshaping as necessary to form smooth circle. Sprinkle with 1 1/2 teaspoons sesame seeds, pressing lightly to adhere. Cover loosely with plastic wrap. Let bread rise at room temperature until almost doubled in volume, about 45 minutes.
Preheat oven to 400°F. Remove plastic wrap from bread. Using sharp knife, cut 1/4-inch-deep slit all the way around top of loaf. Spray bread lightly with water. (I did not do this — I don't own a spray bottle.) Sprinkle with 1 1/2 teaspoons sesame seeds and 1 teaspoon coarse-grained salt. Transfer to oven. Bake bread 15 minutes, spraying lightly with water every 5 minutes. (I did not do this either, again because I do not own a spray bottle.) Continue to bake without spraying until bread is golden brown and sounds hollow when tapped on bottom, about 30 minutes longer. Transfer bread to rack and cool completely.
Prep Time:

35 minutes

Cook Time:

45 minutes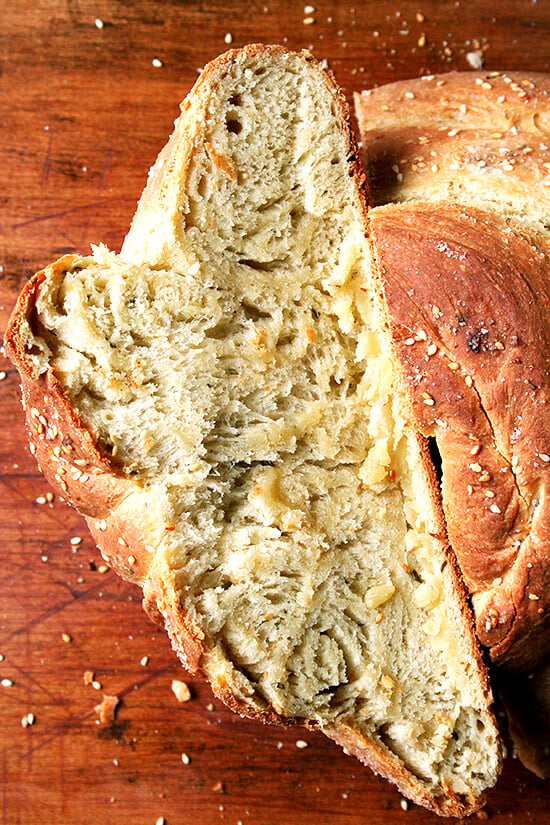 This post may contain affiliate links. Please read my disclosure policy.