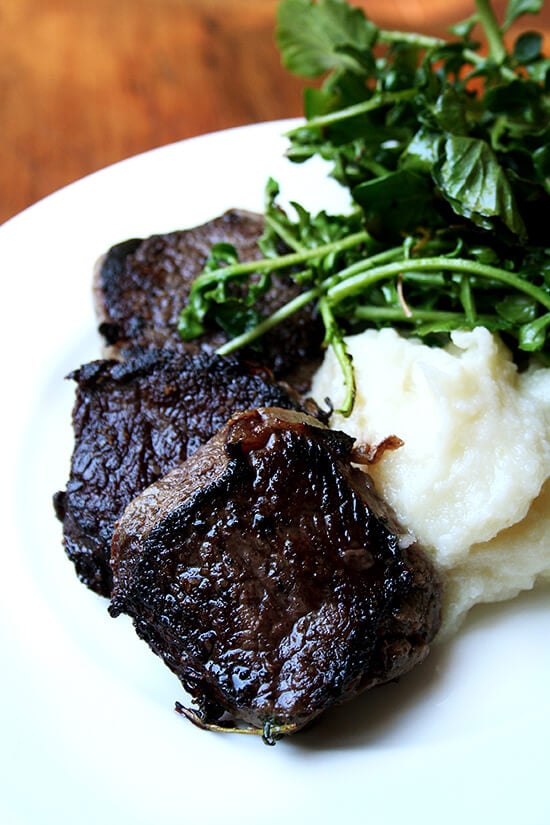 Am I becoming too predictable? Are you sick of seeing vegetables puréed with apples? Do you think I should perhaps explore a cookbook other than this one and this one
?
I hope not, because I'm really loving this latest variation on the vegetable-and-apple-cooked-in-milk-with-a-small-amount-of-starch technique. Similar to the cauliflower purée, the inclusion of an apple in this purée enhances the sweetness of the main vegetable — here turnips — and a small amount of starch — this time white rice — ensures a silky smooth purée, tasting as if it has lots of cream and butter, when it in fact has neither. Sally Schneider credits the technique to chef Michel Guerard and notes that celery root, carrots, rutabaga or beets — any watery or fibrous root vegetable really — could replace the turnips. I love the idea of a beet purée.
While it's delicious on its own — I ate nearly all of it at lunch — this purée becomes exceptionally tasty aside any sort of meat, where it can sop up all of the juices pooling around its base. A drizzling of port wine reduction doesn't hurt either, and together, the meat drippings, mash and sauce just beg to be mopped up by a slice of warm, crusty bread.
So, a Valentine's Day dinner did in fact materialize at our house on Tuesday evening. Dessert happened, too, after a craving for something chocolaty and Valentinesy, something like the beautiful cocoa-powdered topped tart I watched Jean-Georges Vongerichten bake on tv that morning, sent me straight into the kitchen. In this tart, whipped egg whites lighten a fudgy base of dark chocolate, melted butter and egg yolks. Almond flour provides nearly all of the structure as well as a wonderful flavor, and confectioners' sugar sweetens it ever so slightly. It's simple to whip up, bakes for 17 minutes, and tastes just as lovely as it looks. Light and rich at the same time, it demands a dollop of homemade whipped cream. It's not Valentine's Day without some sort of chocolate indulgence, and this tart couldn't be more perfect for the occasion… something to keep in mind for next year I suppose.
Beautiful turnips from our Olin-Fox Farms CSA:
On Black Friday, Ben and I bought a free-standing freezer. Shortly thereafter, Ben started hunting. And before too long, our freezer was filled to the gills with duck and deer. He cleaned one deer himself, but for the rest of the season, let a butcher in Fredericksburg handle the cleaning and portioning. I never imagined eating deer burger on a regular basis, but oh my it is delicious.

This is a deer backstrap (an enormous one) marinating in olive oil, garlic, thyme and sliced onions. Backstrap is a very tender cut — perhaps the most tender after the tenderloin — and extremely flavorful. It tastes best (to us at least) on the rare side. We've been cutting the backstrap into medallions and searing them for just one to two minutes a side. When we haven't made our favorite sauce, we simply deglaze the pan with a little tawny port and let it reduce till it's slightly thickened.

On Tuesday morning's Martha Stewart Show, Jean-Georges Vongerichten whipped up a beautiful, nearly flourless, chocolate cake, a recipe from his latest book Home Cooking with Jean-Georges
. Watch the video here.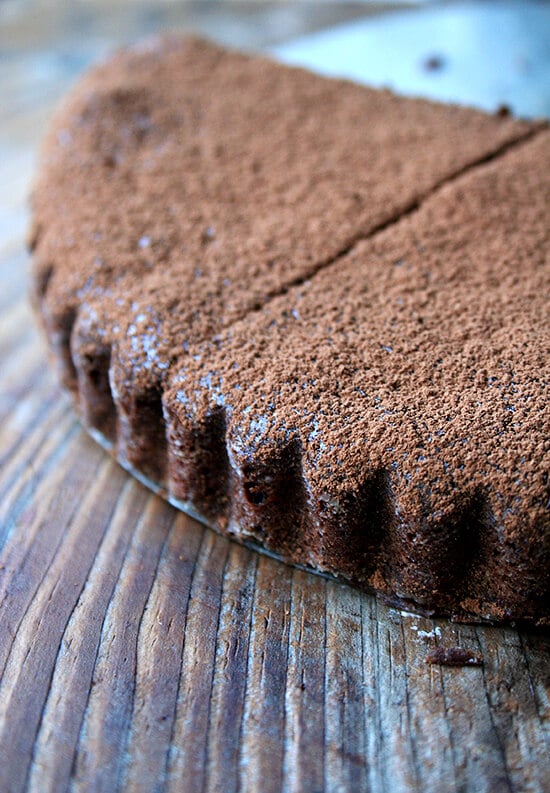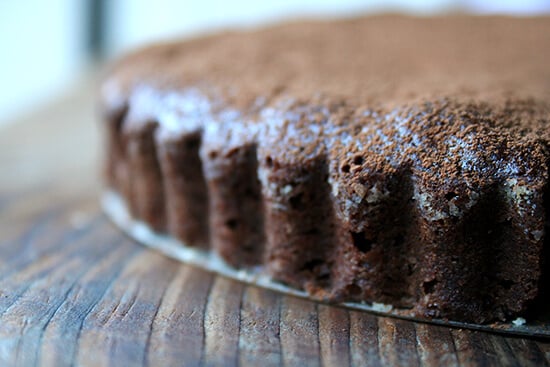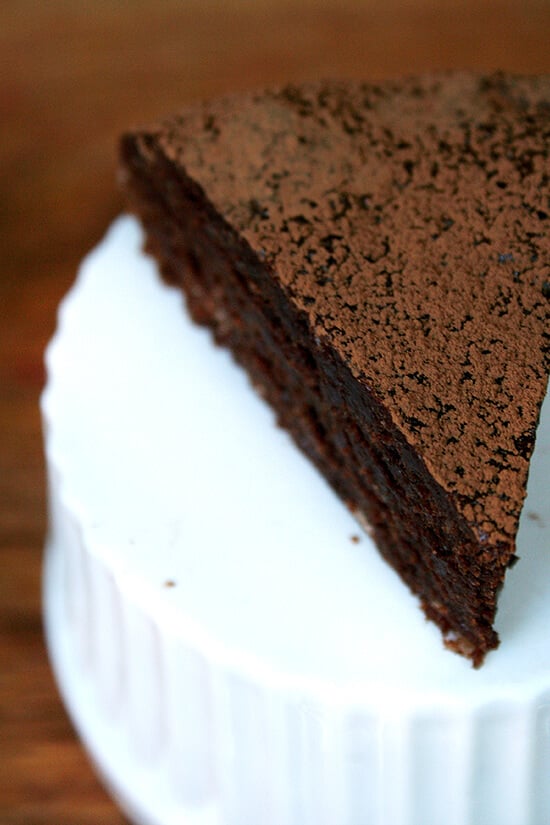 Print
Turnip and Apple Purée
---
Author:

Prep Time:

15 minutes

Cook Time:

30 minutes

Total Time:

45 minutes

Yield:

4 servings
---
Ingredients
1 pound turnips, peeled and cut into 1-inch chunks
3 cups low-fat (1 or 2%) milk* (2 cups will be left over for another use)
3/4 teaspoon kosher salt
Freshly ground black pepper
2 1/2 tablespoons white rice
1 apple, peeled, cored, and quartered
2 teaspoons unsalted butter (optional — I tasted it at the end and thought adding butter seemed unnecessary, so I didn't.)
* I used only 2 cups of milk because I was feeling guilty about using 3. It worked just fine.
---
Instructions
Place the turnips in a medium saucepan, add the milk, 1/2 teaspoon of the salt, and a grinding or two of pepper, and bring to a boil over moderate heat. Stir in the rice, lower the heat, partially cover, and simmer for 10 minutes. Add the apples and simmer for 10 minutes longer, or until the turnips are very tender. (The milk will curdle, but the curds will be incorporated when the turnips are pureed.) Drain the mixture in a colander set over a bowl; save the cooking liquid.
In a food processor, puree the turnip mixture for 1 to 2 minutes, until perfectly smooth, adding a tablespoon or two of cooking liquid if necessary. (Save the remaining flavorful liquid for soup; it can be frozen.) Process for several minutes more, scraping down the sides several times, until you have a fine puree. Season with the remaining 1/4 teaspoon salt and pepper to taste. Taste and add the butter if you wish — I didn't think it needed any.
You can make the puree several hours ahead and reheat it (or keep it warm), stirring frequently, in a covered double boiler.
---
Print
Chocolate Tart
---
Author:

Prep Time:

15 minutes

Cook Time:

27 minutes

Total Time:

52 minutes

Yield:

6 servings
Description
---
Ingredients
4 tablespoons (1/2 stick) unsalted butter, preferably cultured, plus more for pan
1 tablespoon all-purpose flour, plus more for pan
3 large eggs, separated
1 teaspoon granulated sugar
3 1/2 ounces bittersweet chocolate (66% cacao), chopped
1/2 cup confectioners' sugar
1/2 cup almond flour
Dutch-process cocoa powder, for dusting (optional)
homemade whipped cream for topping (optional)
---
Instructions
Preheat oven to 350 degrees. Butter and flour an 8-inch round fluted tart pan with a removable bottom or a springform pan, tapping out excess.
In the bowl of an electric mixer fitted with the whisk attachment, whisk together egg whites and sugar until medium-stiff peaks form.
Meanwhile, melt chocolate and butter in a large heatproof bowl set over (but not touching) simmering water, stirring occasionally until smooth. Remove from heat.
Add 1 yolk to chocolate mixture and beat to combine. Add remaining yolks and mix to combine. Add confectioners' sugar, almond flour, and all-purpose flour; mix until combined. Add 1/3 of the egg white mixture and mix to loosen chocolate mixture. Gently fold in remaining egg white mixture.
Transfer to prepared cake pan and evenly spread. Transfer cake pan to oven and bake until puffed and knife inserted into the center comes out clean, about 17 minutes. Transfer pan to a wire rack and let cool 10 minutes. Invert cake onto wire rack. Carefully re-invert and let cool completely. Dust with cocoa powder, if desired.
WARNING: Ridiculously cheesy Valentine's Day snapshots lie ahead.

I used this template for the birds. I know, I know. Totally ridiculous.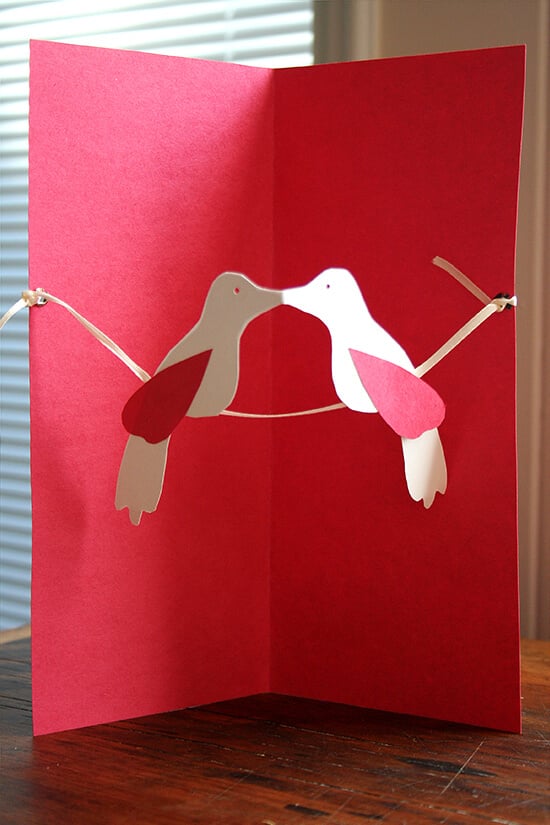 Some snapshots from the evening: