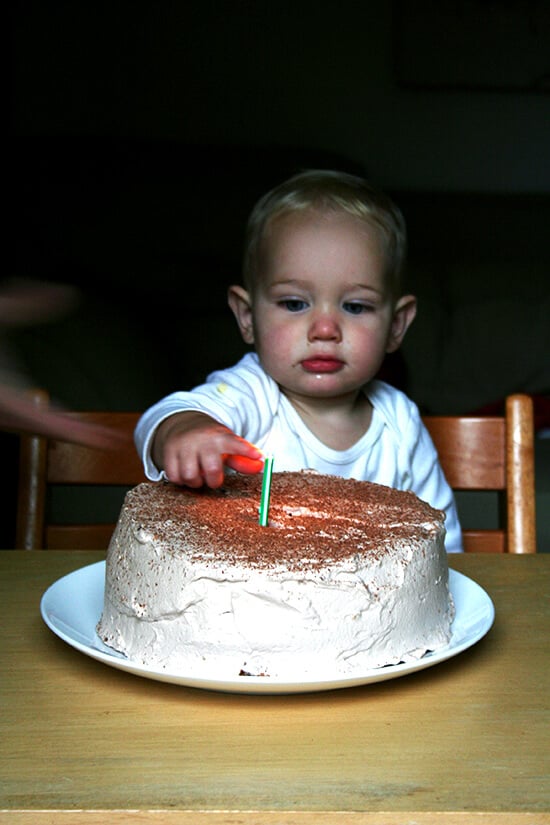 On Monday, Graham turned one, and the four of us celebrated the only way I know how, with an angel food cake, the cake my mother made for me and each of my siblings for nearly the first two decades of our lives. Angel food cake played such a role in celebrations growing up that for many years I assumed it was a Greek tradition — seriously, every aunt and great aunt and cousin seemed to celebrate with it, too.
While the absence of fillo and syrup should have perhaps been a giveaway, I was shocked to learn that the tradition in my family started with my mother's mother who liked everything light light and served her angel cake with a simple chocolate glaze that poured down the cake's sides freezing halfway down in a beautiful scalloped edge. But even more shocking than learning that angel food cake was not invented by the Greeks was discovering that for many years my mother didn't make our birthday cakes from scratch. Yes, the woman who would never consider making soup without homemade broth, the woman who turns her nose at jarred roasted peppers, the woman who thinks nothing is more revolting than bottled salad dressing relied on Duncan Hines to make 90% of our childhood birthday cakes.
But I don't blame her. Boxed cake mixes, particularly angel food cake mixes, are pretty good. And if the ingredients in these mixes were even remotely recognizable, she, and I in turn, would likely be keeping our pantries stocked with them.
But once you make one angel food cake from scratch, it's hard to go back. For one, it's not that difficult. Compared to many cakes, the ingredient list is modest. And if you measure your egg whites accurately and take the time to sift your flour — if ever there's a time to sift, this is it — you are well on your way to success. The key with angel food cake lies in the handling of the egg whites, which must not be overbeaten. I learned this from Florence Fabricant, who offers some nice guidance in the the preface to the angel cake recipe in The New York Times Desserts Cookbook: "It is absolutely essential that great care be taken in beating the egg whites so they remain creamy and do not weep or break from overbeating preventing the cake from rising so magnificently. It's best to underbeat them slightly."
Second, making an angel cake from scratch feels like some sort of culinary triumph. Without any leavening the cake rises to extraordinary heights; without a lick of butter or oil, the cake remains incredibly moist and spongey. It is truly a feat.
And finally, in addition to being light light, angel cake is incredibly delicious. Craig Claiborne, who declared angel cake his absolute favorite dessert, perhaps described it best: "divine, celestial, manna from heaven." I couldn't agree more.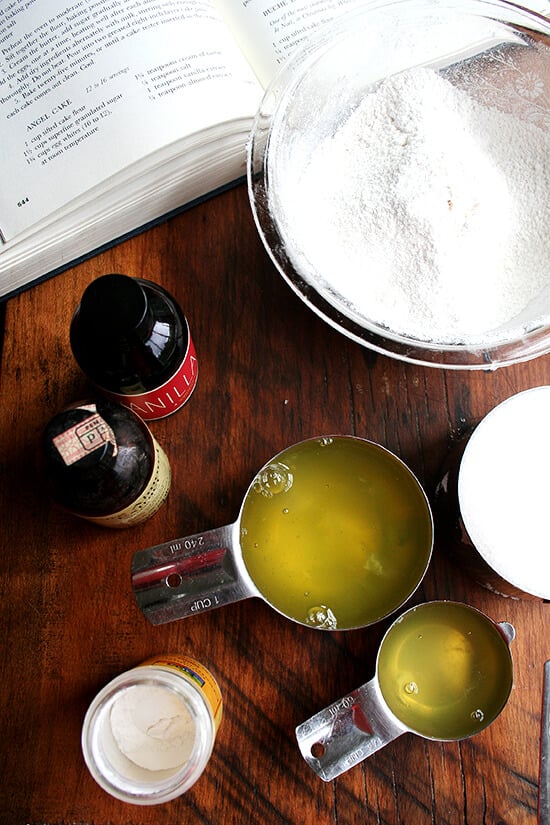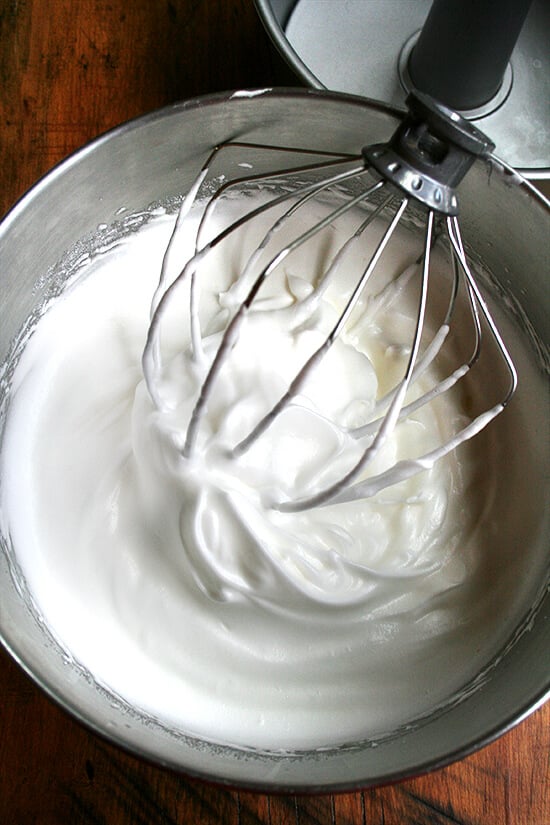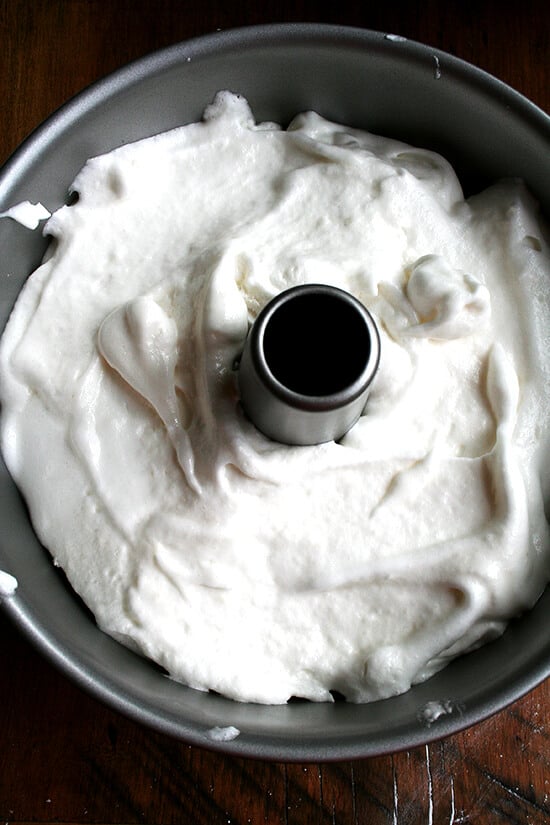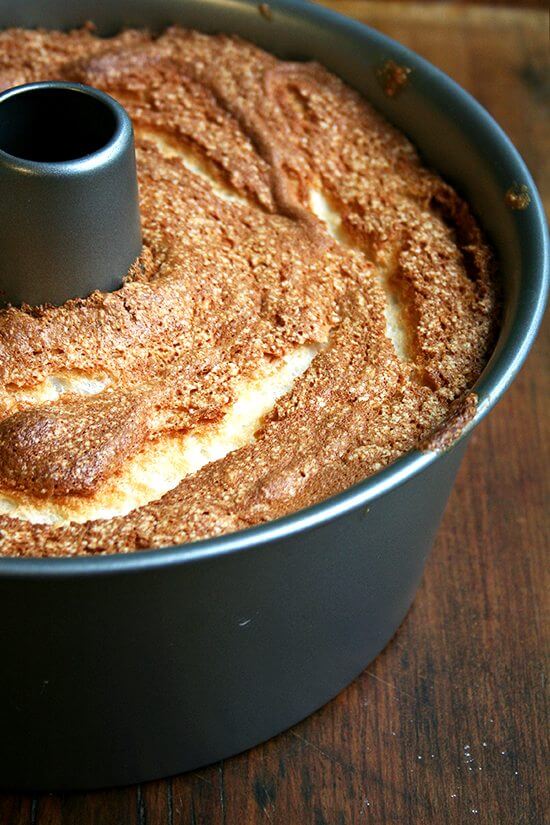 Cooling upside down — this helps prevent falling: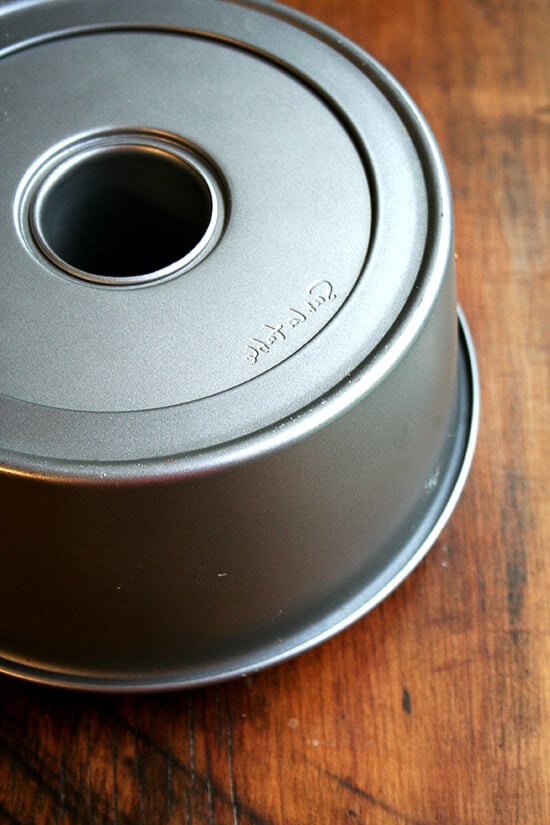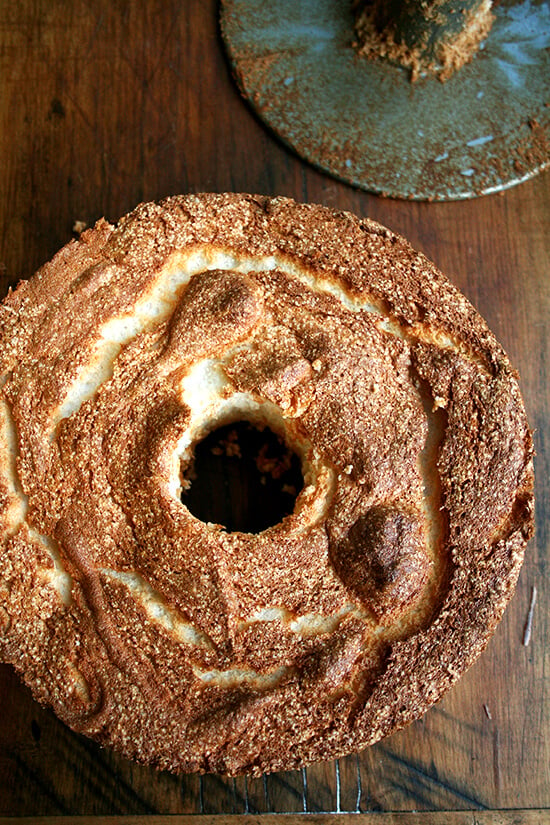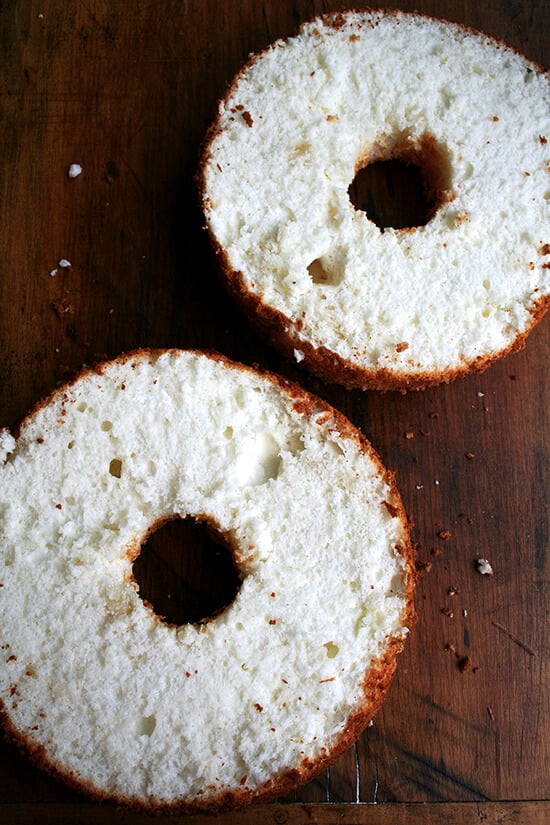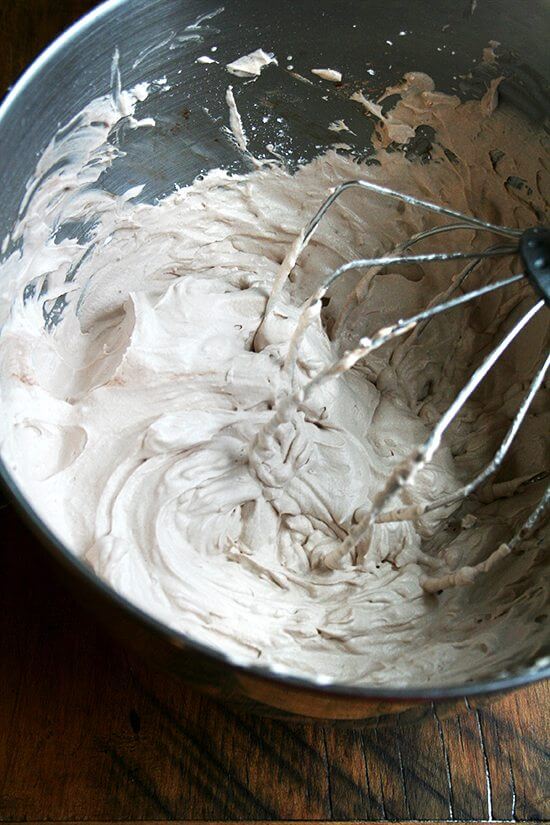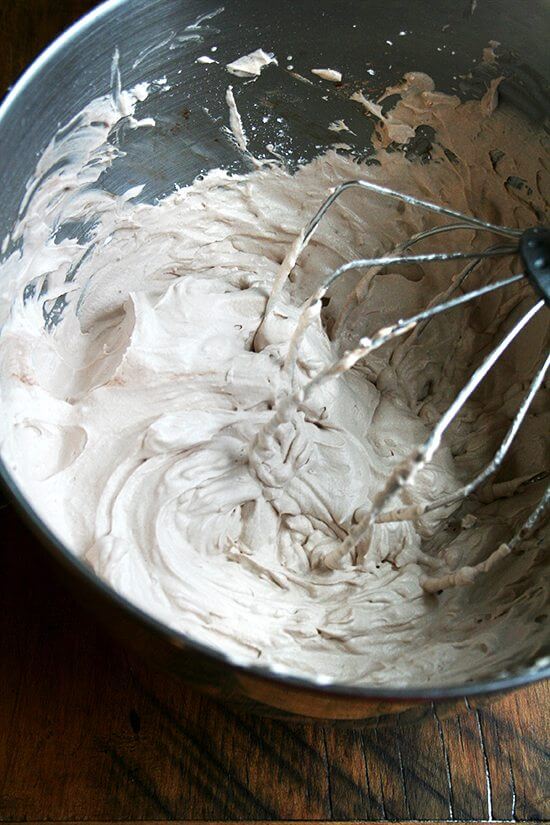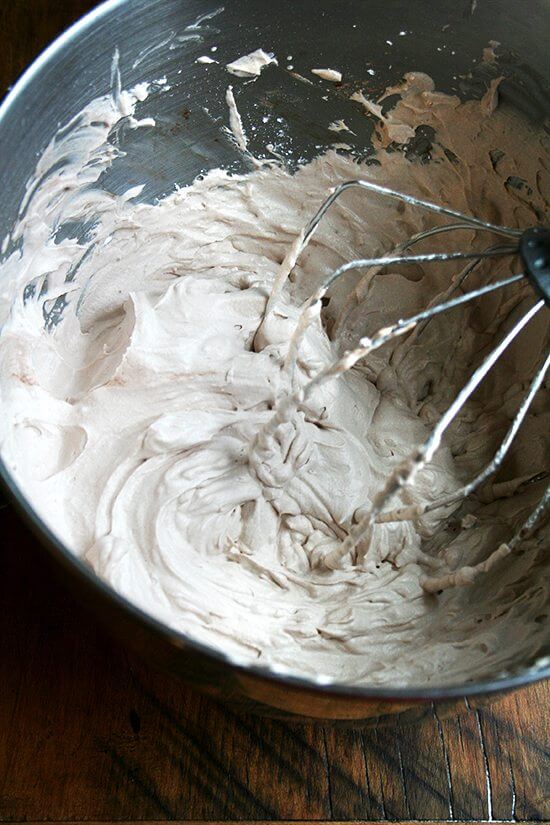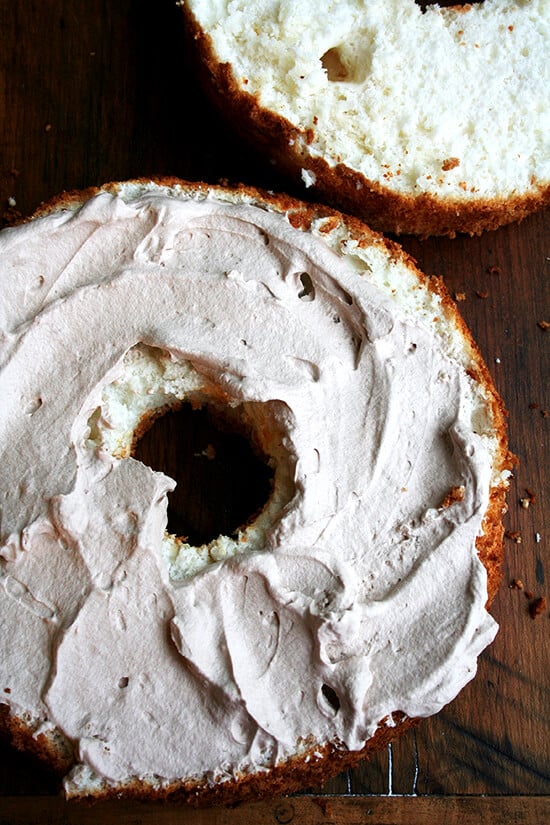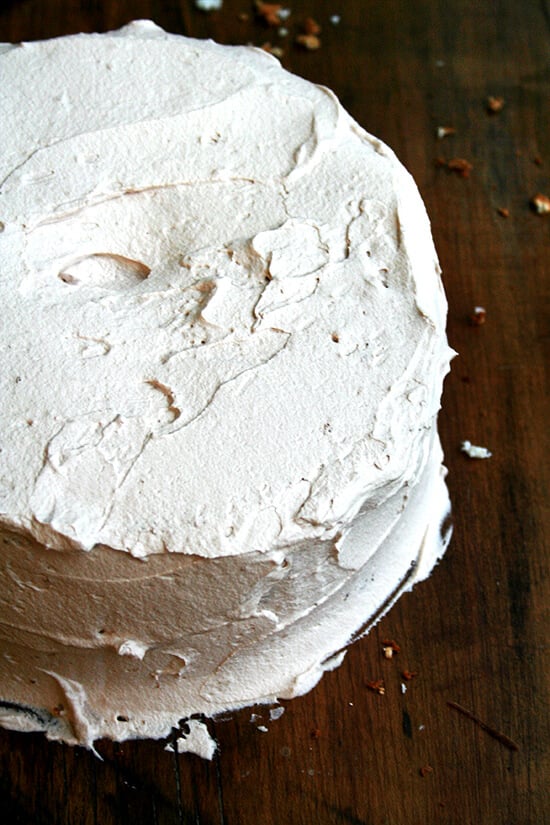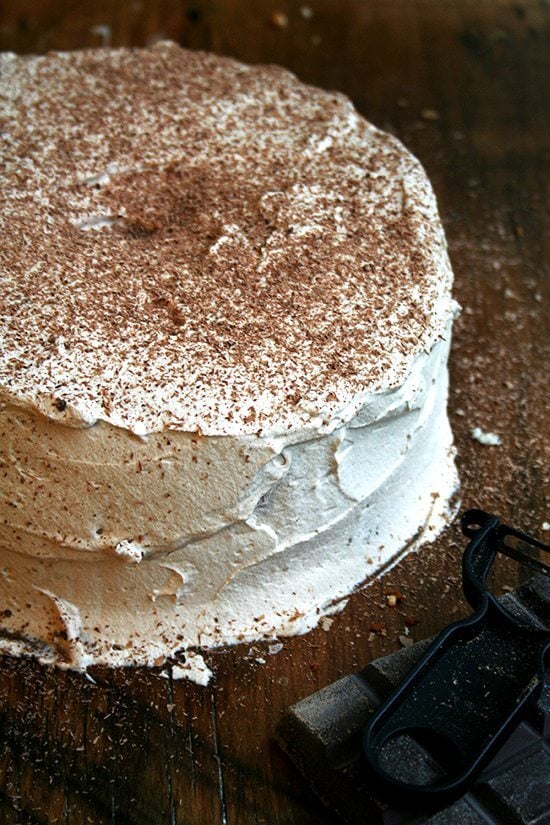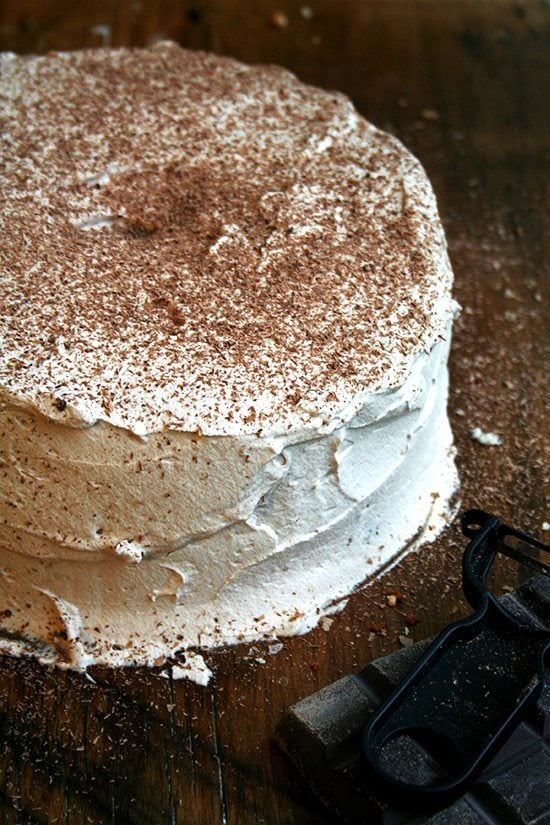 Ella's first birthday: 02-16-2011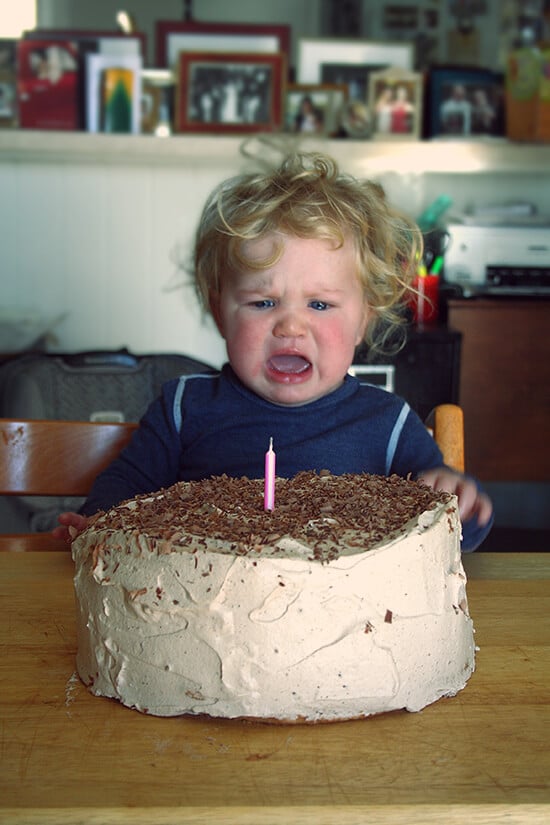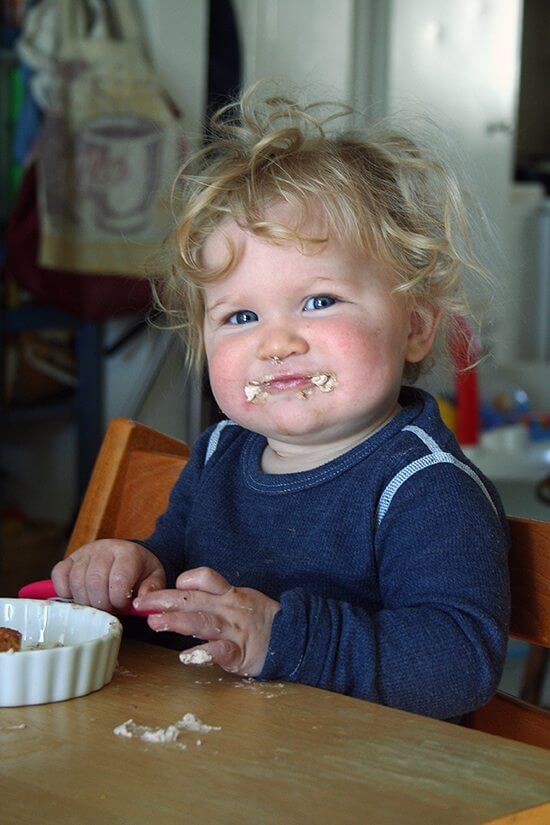 Print
Homemade Angel Food Cake
---
Prep Time:

20 minutes

Cook Time:

45 minutes

Total Time:

2 hours 35 minutes

Yield:

1 cake
Description
Source: The New York Times Cookbook, Craig Claiborne
Notes: I use the recipe from the Craig Claiborne New York Times Cookbook, but I reference the angel food cake recipe from The New York Times Dessert Cookbook (which happens to be credited to Claiborne and differs only in the quantity of sugar), because Florence Fabricant offers some wonderful guidance:
It is absolutely essential that great care be taken in beating the egg whites so they remain creamy and do not weep or break from overbeating preventing the cake from rising so magnificently. It's best to underbeat them slightly. And they will beat best if they are not ice cold. The pan is not greased so the batter easily "climbs" up the sides as it bakes, increasing the loftiness of the cake. Tracing a square in the top of the unbaked batter with a knife also encourages rising. And keeping the cake upside down until it cools is essential to prevent it from falling.
---
Ingredients
1 cup

sifted cake flour*

1 1/2 cup

s superfine granulated sugar (I did not use superfine)

1 1/4 cup

s egg whites (

10

to 12), at room temperature

1 1/4 teaspoon

s cream of tartar

1/4 teaspoon

salt

1 teaspoon

vanilla extract

1/4 teaspoon

almond extract
*I used Lily White because I had it, but I imagine all-purpose will work just fine, too.
---
Instructions
Preheat the oven to 325ºF.
Sift the flour four times with a 1/2 cup of the sugar. (Do take the time to do this. I think it makes a difference. I don't have a sifter — I just use a fine-mesh sieve.)
Beat the egg whites until foamy. Add the cream of tartar and salt and beat until soft moist peaks form when the beater is withdrawn.
Add the remaining sugar, about two tablespoons at a time, beating it in after each addition. Add vanilla and almond extract.
Sift about one-quarter cup of the flour-sugar mixture at a time over the meringue and cut and fold it in just until no flour shows. (This part is kind of tricky. You'll feel you are deflating the egg whites at every fold, but try to be delicate and fold no more than necessary.)
Turn into ungreased nine- or ten-inch tube pan and bake about 45 minutes to an hour, until the cake is lightly browned and springy. Invert pan onto a rack and let cake cool in pan completely, about an hour and a half. Run a knife or metal spatula around the sides of pan to release the cake.
To assemble cake:
Halve cooled angel food cake. Spread a layer of whipped cream frosting (see below) on top of one half. Top with remaining half. Plop a generous amount of frosting on top of the cake and with an offset spatula (if you have one) spread it down and all around the cake covering all sides. Using a peeler, shave a bar of chocolate over top of the cake.
---
---
Print
Chocolate Whipped Cream Frosting
---
Prep Time:

10 minutes

Total Time:

10 minutes
Ingredients
Note: Do this to taste. Add more cocoa and sugar based on your preferences. This is about the proportions I use:
2 cup

s heavy cream

1 teaspoon

vanilla extract

1 tablespoon

cocoa powder

1/4 cup

to 1/2 cup confectioners' sugar
---
Instructions
Beat cream on high until it begins to thicken. Add vanilla. Continue beating until it begins to thicken more. Add cocoa and about 1/4 cup confectioners' sugar. Beat until it starts to thicken more. Taste, add more sugar and cocoa if necessary.
---