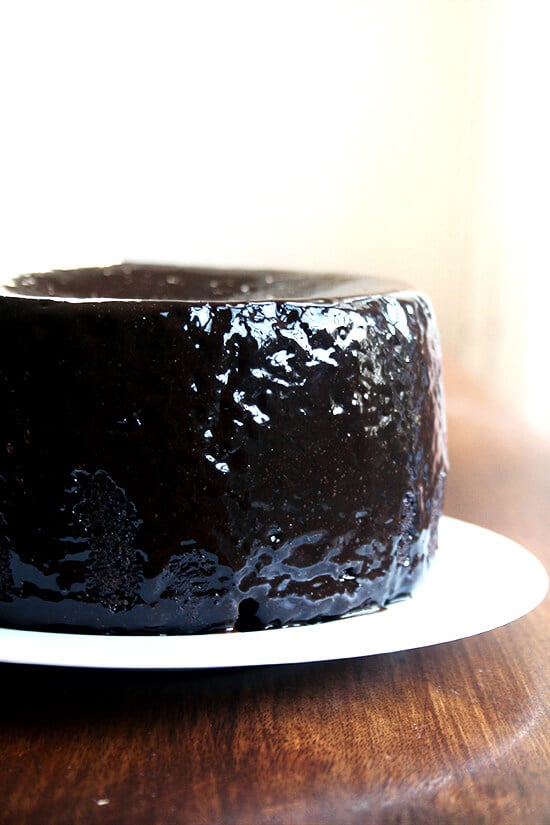 Nearly a decade ago, a pan of brownies emerged from my oven that changed everything. Before discovering this recipe, I couldn't stash enough brownie recipes away, particularly those sounding most outrageous, the ones loaded with chocolate, the more varieties the better.
What inspired me to give this recipe a go, I do not know. There is nothing eye-catching about the ingredient list — unsweetened cocoa powder is the sole chocolate product — or intriguing about the method — it's a simple two-bowl, no-mixer job. But I did, and while I know there are lots of fantastic brownie recipes out there, I have not tried another recipe since. And every time I bite into one of these brownies, I wonder in amazement how unsweetened cocoa powder on its own can impart such a deep, intense chocolate flavor all the while producing a fudgy, moist and utterly delicious brownie.
I still do not know its secret. I am no food scientist. But over the years I have gotten better at eyeing up recipes and am not so eager to bite at the ones sounding most outrageous. In cakes and quickbreads, it's ingredients such as buttermilk and oil (as opposed to butter) and unsweetened natural cocoa powder that catch my attention. So when I saw the ingredient list in this chocolate cake recipe on epicurious, I suspected it would be a good one. (The 1,517 positive reviews and blue ribbon decoration may have played a role in that, too.)
This cake is everything a chocolate cake should be: fudgy, moist, intensely chocolaty. When assembled into layers with chocolate ganache slathered in between, as the original recipe instructs, this cake becomes the perfect birthday finale for any chocolate lover. As a half recipe topped with black velvet icing, as pictured here, this cake becomes an elegant dessert, a perfect treat to whip up if you find yourself hurricane housebound (with any luck with your power still on) or to snack on with your morning coffee.
Fair Trade
But this post is not all about brownies and cake. It is about Fair Trade, foremost, and two wonderful Fair Trade products from the Lake Champlain Chocolates company. Had I been a good girl and posted at the start of the month, I would be encouraging you to do what the wonderful people at Fair Trade have been suggesting you do this month: swap one of your staple grocery items with a Fair Trade certified product, which are available at more than 100,000 locations across the country.
Look for tea, coffee, chocolate, honey — all of your favorite things — with a Fair Trade Certified label and know that with each Fair Trade purchase you make you are supporting sustainable businesses that not only adhere to international environmental standards, but also empower women and support education. Read more about Fair Trade here. (This old blog post may be of interest, too.)
Now, just because October ends tomorrow, doesn't mean you need to stop your Fair Trade purchases. In fact, now is the perfect time to stock up on some some Fair Trade products for the impending holiday gift-giving season. There are many Fair Trade products out there that would make wonderful gifts — Fair Trade products are often organic and always high quality — but I have two in mind: Lake Champlain Chocolates Unsweetened Cocoa Powder and Lake Champlain Chocolates Hot Chocolate. I promise I am not just saying this because LCC is going to send one of you a box of their Dark Chocolate Sea Salt Caramels (details below). I have no doubt that the LCC unsweetened cocoa powder played a role in making this chocolate cake as delectable as it was, and genuinely, the LCC hot chocolate is the best hot chocolate I have ever tasted. I have been on a hot chocolate-drinking binge — sometimes three cups a day — since my LCC hot cocoa arrived earlier this month. I want to send everyone I know a tin. Also, read more about Fair Trade cocoa here.
OK, for the giveaway: As I mentioned above, LCC is going to send one box of their Dark Chocolate Sea Salt Caramels to one of you. And I, too, am going to send one of you a tin of the LCC unsweetened Fair Trade cocoa powder. Readers, if you are interested, leave a comment below. Just tell me your favorite chocolate cake recipe or your favorite recipe that uses unsweetened cocoa powder. Hope you all are safe and sound.
Update 11/2: The Giveaway is now closed. The recipient of the caramels is Emily Teel. The recipient of the cocoa powder is Jolene. I have compiled many of your cocoa-recipe suggestions below.
The difference between Dutch-process and natural cocoa powder:
This info comes from Regan Daley's In the Sweet Kitchen:
"Natural cocoa powder is produced if virtually all of the cocoa butter is removed from the cocoa liquor, leaving a dry cake that is then ground to a fine powder. Natural cocoa powder is quite acidic, so can be used as the necessary acid to activate baking soda in leavened baked goods, if present in sufficient quantity. Because of its high acidity and unpalatable bitterness, natural cocoa powder is best used only in baked or cooked desserts.
Dutch-process cocoa (also called alkalized cocoa powder) has been treated with a small quantity of an alkaline solution to reduce the natural acidity. The process darkens the cocoa's color, making it rich, often redder brown, and gives it a smoother, more mellow flavor.
Both natural and Dutch-process cocoa have had about 75% of the cocoa fat removed.
Although some recipes can be made with wither form of cocoa powder, many rely on the properties of one or the other. For this reason, be careful when substituting Dutch-process for natural and vice versa. In recipes for baked goods using baking soda as the leavener in which no other acid is present, Dutch-process cocoa is not appropriate as it does not contain sufficient acid to activate the baking soda. (You could use Dutch process for natural cocoa but an additional acid such as cream of tartar would need to be added.) Similarly, using natural cocoa powder in a recipe originally calling for Dutch process cocoa may cause the mixture to become overly acidic. Adding a small amount of baking soda, or increasing the amount already called for, will compensate for this.
Natural cocoa is better for brownies, old-fashioned chocolate cakes and simple chocolate cookies. (Up to debate I suppose.) Dutch-process cocoa, more palatable than natural cocoa when raw, is good for icings, custards, creams and sauces that will not undergo further cooking. It has a more subtle, delicate flavor, one well suited to many to many elegant European-style cakes, biscuits, pastries and creams, and in any recipe where an overt, sharp chocolate flavor would overpower more delicate flavors. It is very good in nut cakes and ice creams, where a refined, un-bitter chocolate taste can complement the soft flavors of the other ingredients.
If the cocoa will be tasted raw, as it is when dusted on cakes, cookies or truffles, opt for Dutch-processed. If the recipe is for a traditionally rich and fudgy baked good, use the stronger flavor of natural cocoa powder."
Must-Try Chocolate Recipes
• Gourmet's Devil Dog Cake
• The brownies from Baked: New Frontiers in Baking
• Minny's Chocolate Pie via the Garden of Eden
• Bon Appetit's Cocoa Brownies with Browned Butter & Walnuts
• Flourless Chocolate Cake via House to Haus
• Good Housekeeping's Rich Chocolate Cake
• Grammy's Chocolate Cookies on Martha Stewart Living
• David Lebovitz's chocolate sorbet
• Wacky Cake from The American Heart Association Cookbook
• Smitten Kitchen's Brownie Roll-Out Cookies
• Cook's Country Wellesley Fudge Cake
• Cocoa Almond Granola from Joy the Baker
• Busy-Day Chocolate Cake from Lucinda Scala Quinn's Mad Hungry cookbook
• Double Chocolate Fudge Brownies from the Garden of Eden
• Zoë Francois' Not Your Average Devil's Food Cupcake
• Hershey's "Perfectly Chocolate" Chocolate Cake
• Barefoot Contessa's Beatty's Chocolate Cake
• Molly Wizenberg's Chocolate Cupcakes with Bittersweet Glaze
• Cook's Illustrated Ultimate Chocolate Cupcakes with Ganache Filling
• Jim Fobel's Devil's Food Cake with Fudge Frosting from the Old Fashioned Baking Book.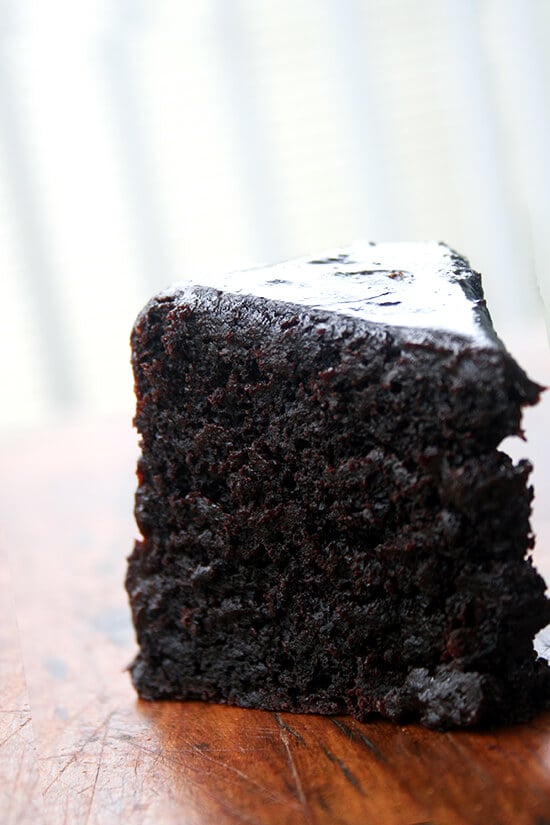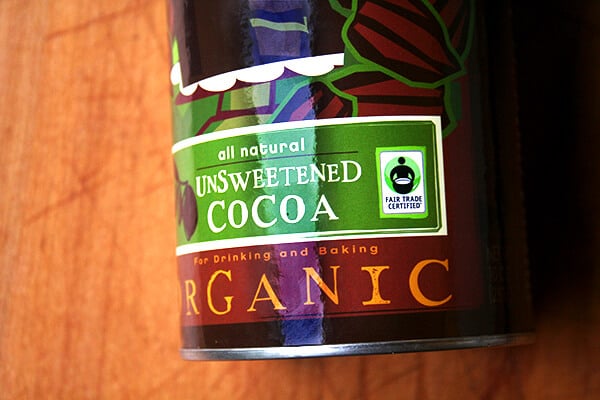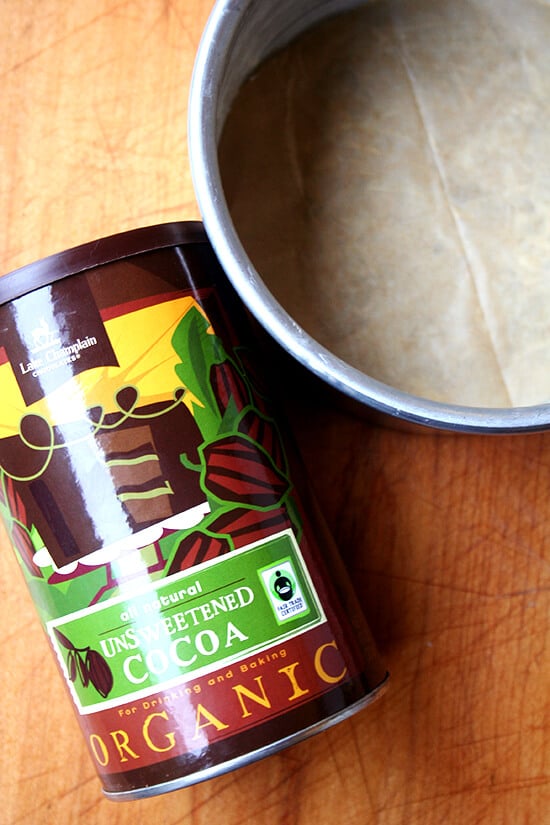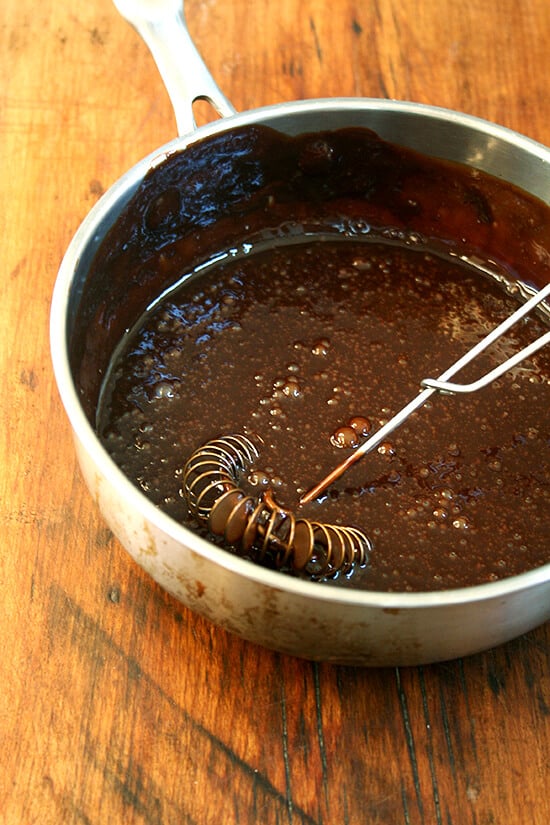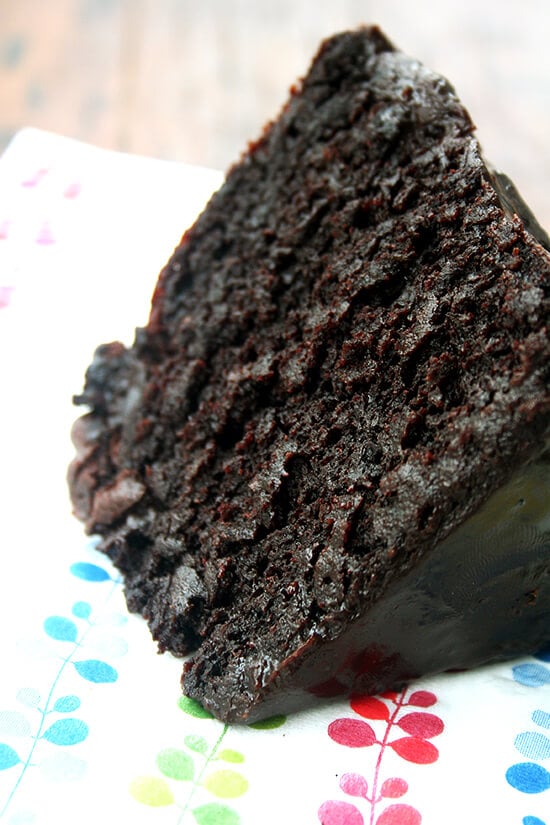 Both of these Fair Trade products from the Lake Champlain Chocolates company would make wonderful gifts for the holidays. They can be found at Whole Foods Market as well as online.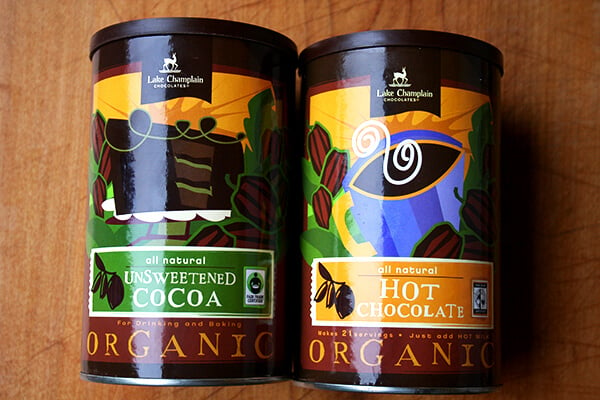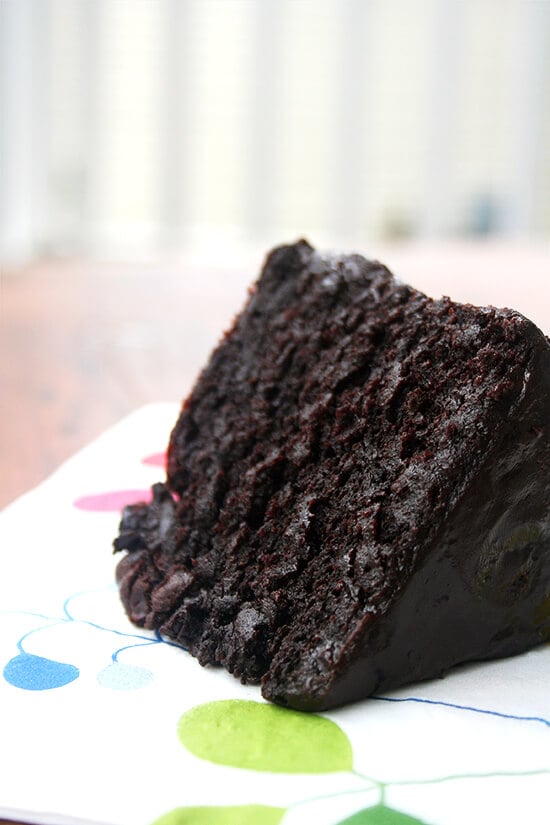 Print
Double Chocolate Cake with Black Velvet Icing
---
Prep Time:

70 minutes

Cook Time:

60 minutes

Total Time:

2 hours 10 minutes

Yield:

8
Description
Source: Gourmet via Epicurious (for the cake) and my grandmother (for the icing)
Notes: The original recipe calls for making a chocolate ganache, which sounds heavenly, but I have always adored my grandmother's chocolate glaze recipe — it's called black velvet icing and it contains eggs, which is odd, but it's so good — so that is the one I use. If you want to use Gourmet's chocolate ganache, find it here.
If you want to make a half recipe, see this post: Gourmet's Double Chocolate Cake, Revisited
---
Ingredients
for the cake:
3 ounce

s fine-quality semisweet chocolate

1 1/2 cup

s hot brewed coffee

3 cup

s sugar

2 1/2 cup

s all-purpose flour

1 1/2 cup

s unsweetened cocoa powder

2 teaspoon

s baking soda

3/4 teaspoon

baking powder

1 1/4 teaspoon

s salt

3

large eggs

3/4 cup

vegetable oil

1 1/2 cup

s well-shaken buttermilk

3/4 teaspoon

vanilla
for the black velvet icing:
4 oz

semi-sweet chocolate
a heaping

1/4 cup

of confectioners' sugar

3

eggs, well beaten

4 tablespoon

s butter, room temperature
---
Instructions
Make the cake: Preheat oven to 300°F. and grease two 9- or 10-inch by 2-inch round cake pans with unsalted butter or nonstick spray. Line bottoms with rounds of parchment paper. Finely chop chocolate and in a bowl combine with hot coffee. Let mixture stand, stirring occasionally, until chocolate is melted and mixture is smooth.
Into a large bowl sift together sugar, flour, cocoa powder, baking soda, baking powder, and salt. In another large bowl with an electric mixer, beat eggs until thickened slightly and lemon colored (about 3 minutes with a standing mixer or 5 minutes with a hand-held mixer). Slowly add oil, buttermilk, vanilla, and melted chocolate mixture to eggs, beating until combined well. Add sugar mixture and beat on medium speed until just combined. Divide batter between pans (being sure not to fill pans higher than 2/3 full—they will overflow if you do; it's not worth it) and bake in the middle of oven until a tester inserted in center comes out clean, 1 hour to 1 hour and 10 minutes.
Meanwhile, make the icing: Because several commenters have had trouble, with the icing, I am suggesting you use a double boiler. If you know how to set up a double boiler, do so; otherwise, fill a pot with an inch of water. Place a medium bowl over top. Turn the heat to medium. Place the chocolate in the bowl. Once it has melted, stir in the confectioners' sugar, whisking until smooth. Stir in the eggs a little at a time, whisking vigorously after each addition — a flat-bottomed whisk is good for this. (I use a whisk until the ingredients are blended and then switch to a heat-proof spatula.) Cook over low to medium-low until thick. Stir in the butter one tablespoon at a time. Set aside to cool. Transfer to a glass measuring cup with a spout for easy pouring or store in whatever vessel you wish.
Cool layers completely in pans on racks. Run a thin knife around edges of pans and invert layers onto racks. Remove parchment paper. Cake layers may be made 1 day ahead and kept, wrapped well in plastic wrap, at room temperature.
If you are making a layer cake, halve each cake round crosswise to create 4 layers. Spread icing over one cake layer. Top layer with other cake layer. Repeat until all layers are stacked. Pour icing on top of top layer and with an off-set spatula (if you have one) spread it all over the sides. Cake keeps, covered and chilled, 3 days. Bring cake to room temperature before serving. (I keep mine at room temperature always…there's never space in the fridge.)