Mascarpone Sorbet
This post may contain affiliate links. Please read my disclosure policy.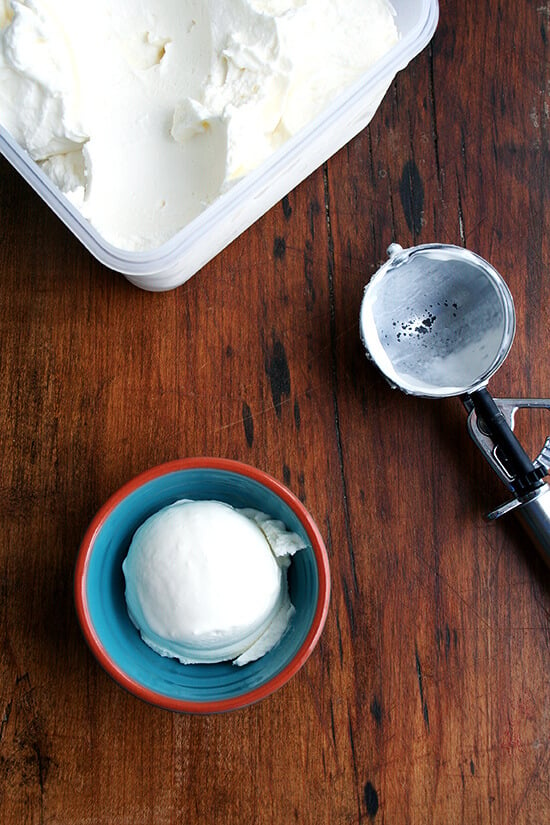 Last week, a series of brilliant ideas led to a series of kitchen mishaps. Not only did I waste some food along the way, I also unjustly (perhaps) lashed out at my three-year old. For this, I feel it my duty to warn you about what could happen should these same brilliant ideas enter your brain, too.
So, upon deciding that it's finally time to try your hand at making ricotta gnudi, you might decide you want to make the ricotta from scratch, because you can't help but think homemade gnudi would be all the more delectable if you were to start with homemade ricotta.
You might even decide, once you make your ricotta, to save that whey — waste not want not! — and to make a couple of loaves of homemade bread with it, because you know that making bread is no big deal, it is adored by all, and it is so nice to have on hand.
In the meantime, you might breeze through the gnudi-assembly process pleasantly surprised to discover there's not much to it — a little mixing, piping, snipping, and flour dusting. You might even photograph the process and with each snap of the shutter get a little more excited to share this project with a few of your friends. But you know, too, you must be patient, because gnudi require some pampering: three-days in the fridge with a quick flip every day to make sure they are nicely coated in that semolina flour.
You might anxiously await day three's arrival. You might read and reread the instructions before you lower those precious ricotta pillows into that simmering water. And even though you believe you've followed the instructions to a T — with the exception of making the ricotta — your gnudi might dissolve in your boiling water and if not there first, afterwards in your sauté pan. And even though you were smart and only cooked off a dozen or so, you might still feel a little crushed — you might wonder: was it the ricotta? — and decide to wait to cook any more until the next day, you know, so you can cool off a bit, get your bearings, regain your composure.
In the meantime, you might munch on that scrumptious bread you made using whey. As you assemble some knockout peanut butter and jelly sandwiches for any tots you see cruising around, yours or otherwise, you might feel pretty awesome about not having wasted one drop of that ricotta-making by-product.
And then you might get another brilliant idea: the next day you'll use some of that bread to make French toast for your family. Better still, you'll make baked French toast which you can assemble the night before and bake off in the morning. You might feel on top of the world when your family rouses to the smell of cinnamon and sugar and the sight of a 9×13-inch pan filled with golden slices of homemade bread and a jug of Vermont maple syrup sitting on the table.
But then, one of your children might say something along the lines of, "I don't like this," before she's even taken a bite. At which point, steam might come shooting out of your ears and nose, and with blood pouring into your face, you might leap across the table with a bite of French toast in your fork and threaten that child with no food, fun, stories or songs for the rest of her life if she doesn't immediately eat the bite resting one milimeter from her mouth.
You might suddenly realize that a lot of things are weighing on you, namely a batch of uncooperative gnudi. You might think that perhaps you are being a little rough on the little being sitting across from you and that perhaps you should take a breather and just enjoy your French toast — so what if that child continues to pout and to play with her food and to make no signs of ever putting it in her mouth?
You might decide to find solace, as you often do, in a cookbook, perhaps one that might help you solve your gnudi-making woes. You remember seeing a chapter of gnudi recipes in your Italian Easy London River Cafe cookbook, and your spirits might lift immediately because surely Rose and Ruth will offer guidance. And then you might just get totally distracted as you always do when you open that book especially when you arrive at the fruit and ice cream chapter.
And just as you begin to cool off and relax a bit, you might open the window to find that spring — everything is in bloom! — has arrived. You might even feel a bit of humidity in the air, and at once nothing might sound more delicious than a sorbet made with only four ingredients — water, sugar, lemon and mascarpone — the recipe for which is staring you in the face.
And then, instead of spending your few moments of peace cooking off the last few gnudis you have saved, you might decide to make mascarpone sorbet instead, because it takes only five minutes to prepare and 20 minutes to churn, which means something cool and creamy will be in your near future.
And you might for a second entertain the idea of making the mascarpone from scratch, because you know how and you can't help but think homemade mascarpone will make homemade mascarpone sorbet all the more delicious. But you don't. Because you've learned your lesson. And when that lemony, perfectly sweet, creamy-textured sorbet amasses in your ice cream maker, you're so happy you didn't, because you've never tasted something so refreshing and so delicious for such little effort.
And as all of your gnudi-making woes melt away with that last spoonful from your first bowl of mascarpone sorbet, you might just resolve to think a little more carefully the next time a brilliant idea pops into your head.
4 ingredients: 1 lemon, 1 cup sugar, 1 1/2 cups mascarpone, 1 1/2 cups water: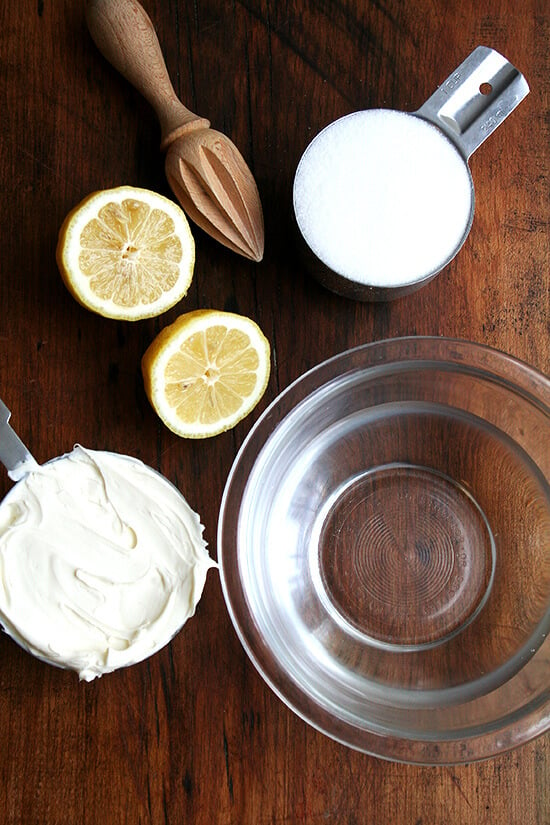 The hardest part of the recipe: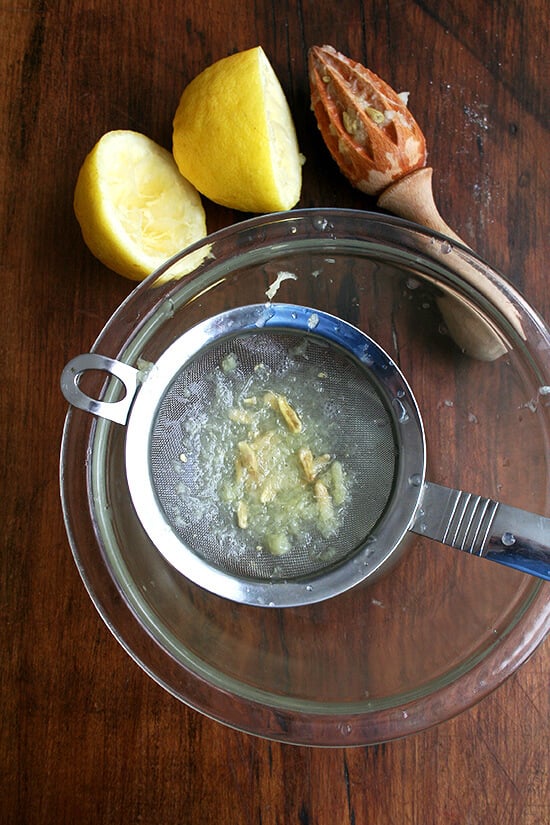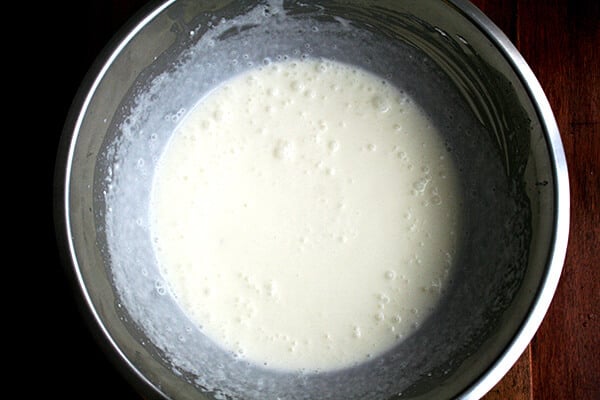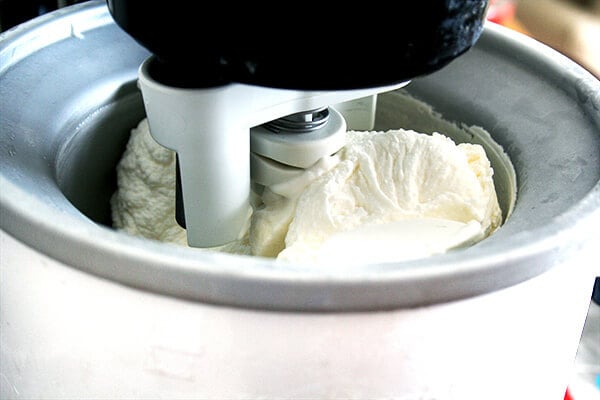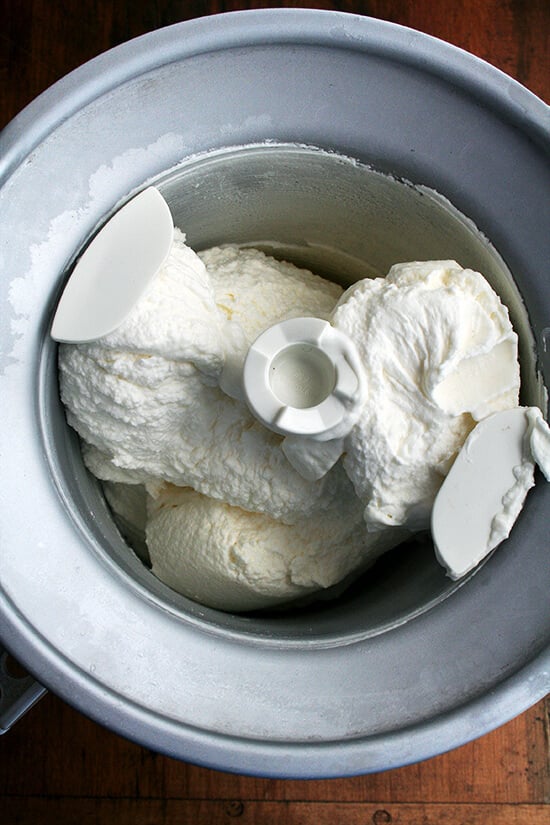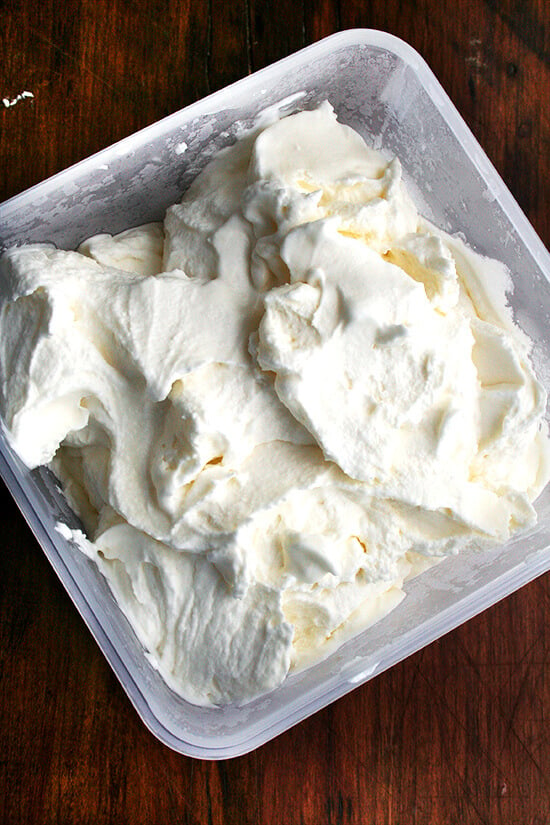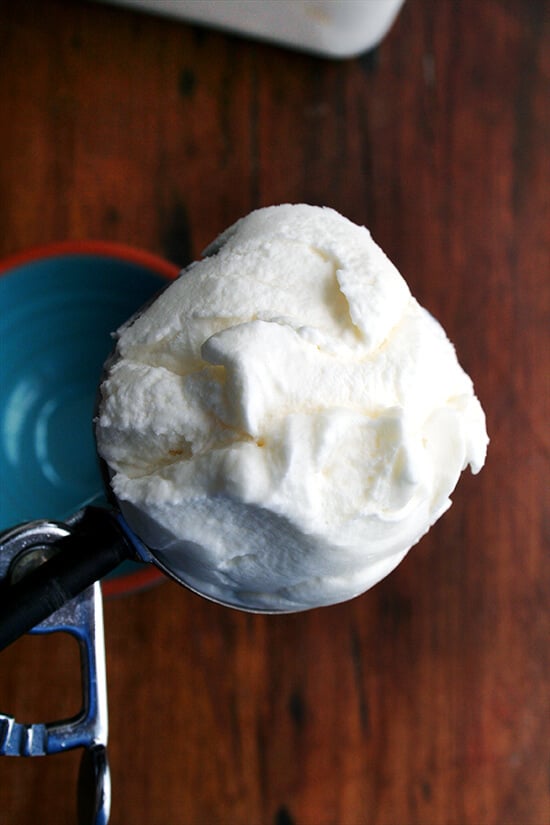 Print
Mascarpone Sorbet
---
Total Time:

30 minutes

Yield:

4 servings
Description
Source: Italian Easy: Recipes from the London River Cafe
Note: After the sorbet is churned, it of course can be eaten right away, but I think the texture is better if it hardens up in the freezer for at least an hour. Also, in case you feel like making this for company, the texture of the sorbet is best the day it is made. It is still delicious on subsequent days but benefits from sitting at room temperature for a few minutes before serving. Update 4-11-2013: I moved my storage container from my free-standing deep freezer to my main freezer (attached to the fridge) and the texture is perfect. So perhaps the deep freezer is just a little too much for the sorbet.
---
1 cup

superfine sugar (I did not use superfine)

1 1/2 cups

water

1

lemon, juiced to yield about

3 tablespoons

1 1/2 cups

mascarpone
---
Instructions
Whisk sugar and water together to form a thick syrup — it's ok if you feel some sugar granules undissolved. It's also ok if the syrup isn't thick — mine wasn't. Add the lemon juice and whisk. In a large bowl, whisk the mascarpone to lighten. Add the water, sugar, lemon mixture and whisk until smooth. Churn in an ice cream machine according to the manufacturer's instructions — I always do about 20 minutes. (Alternatively, freeze in a shallow container stirring three times, every 30 minutes or so — haven't tried this method.) Freeze until ready to serve.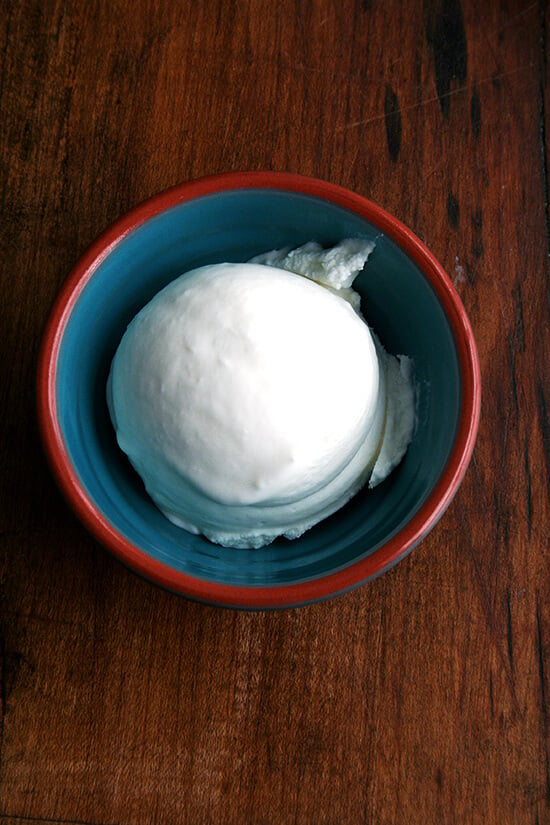 This post may contain affiliate links. Please read my disclosure policy.