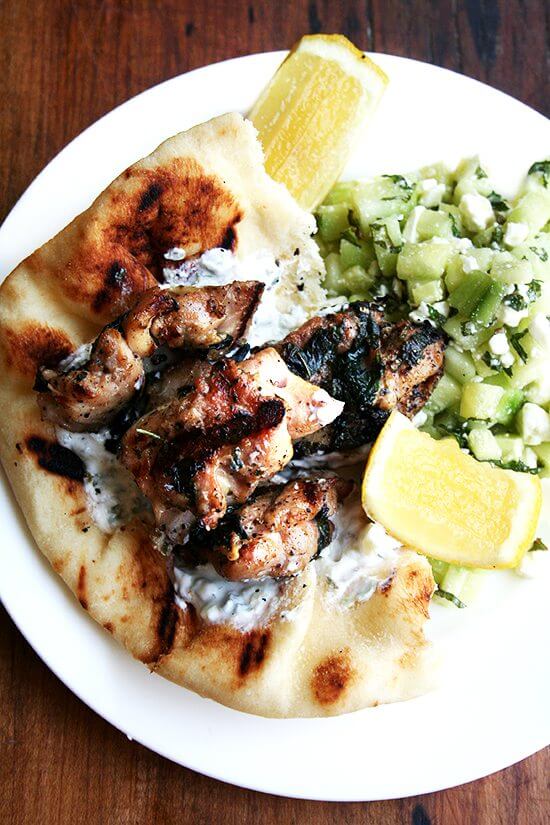 When I think of summer dinners growing up at home, I think of this meal. I think of the smell of charred garlic and basil; I think of my stepfather sweating at the grill, a slave to his stopwatch, the wrath of my mother should the chicken be the slightest bit overcooked driving his utmost concentration; I think of sitting at the table in our screened-in porch with my brother and sister and eventually Ben, too.
I think of eating for hours, a time of considerably faster metabolisms. I think of the candles melting into the tabletop, the humidity just beginning to subside and the buzz of the crickets as we clear the table at the end of the night.
This is one of my favorite meals — grilled chicken, tzatziki, warm pita, and some sort of salad. This couldn't be simpler to throw together: marinate the chicken and make the tzatziki in the morning; skewer the chicken while the grill is preheating; make a simple, refreshing salad somewhere in between.
What is souvlaki?
Souvlaki comes from the Greek word souvla, which means "spit."
Souvlaki is marinated, skewered, cooked cubes of meat (often lamb, beef, pork, or chicken).
Traditionally,  souvlaki is dressed with tzatziki (a cucumber-yogurt sauce), and served with chopped tomatoes and onion, and warmed pita.
Souvlaki Marinade
There's no real need to measure with marinades in general, and souvlaki marinade is no exception. Just be sure the chicken is coated in olive oil; be generous with the basil and garlic; use a teaspoon of kosher salt per pound of meat; grind pepper to taste; a few good pinches of oregano should suffice.
olive oil
garlic
basil
oregano
kosher salt
freshly cracked black pepper
Chicken thighs in souvlaki marinade: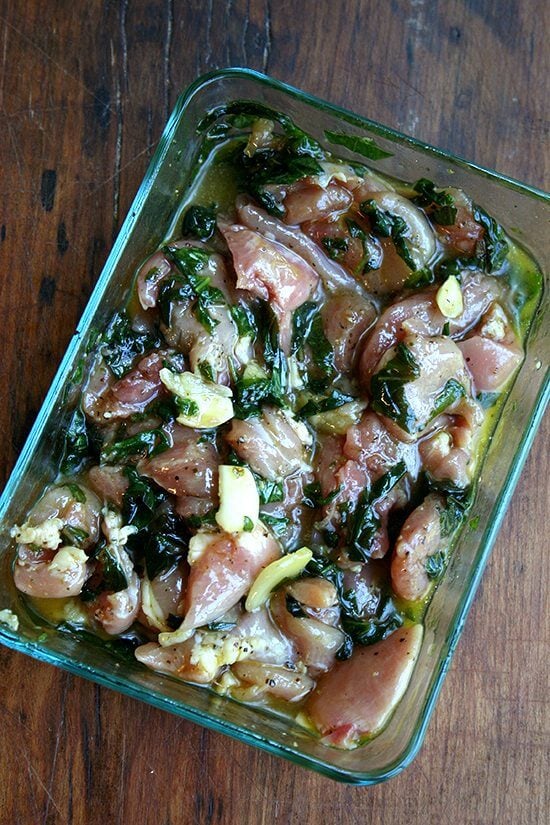 Skewered chicken thighs: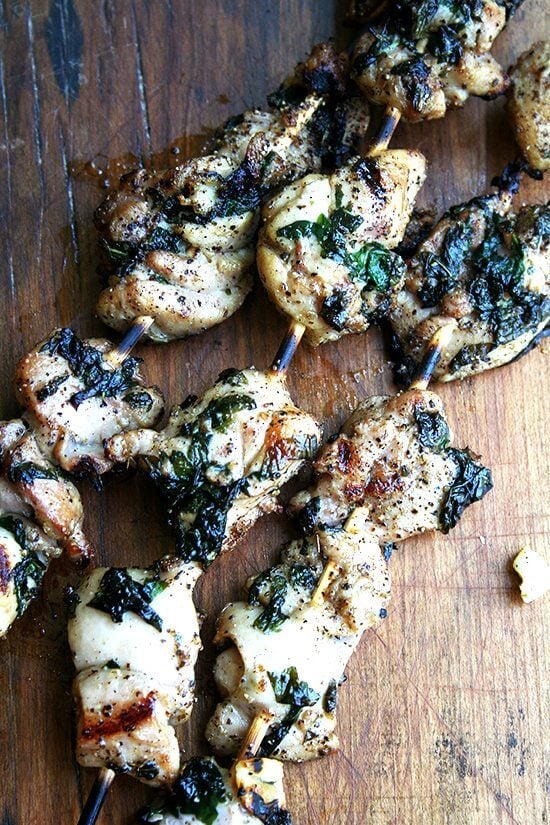 Serve the chicken souvlaki with tzatziki sauce, lemon and naan or pita. A Greek salad or this simple cucumber, feta and mint salad is nice to serve on the side: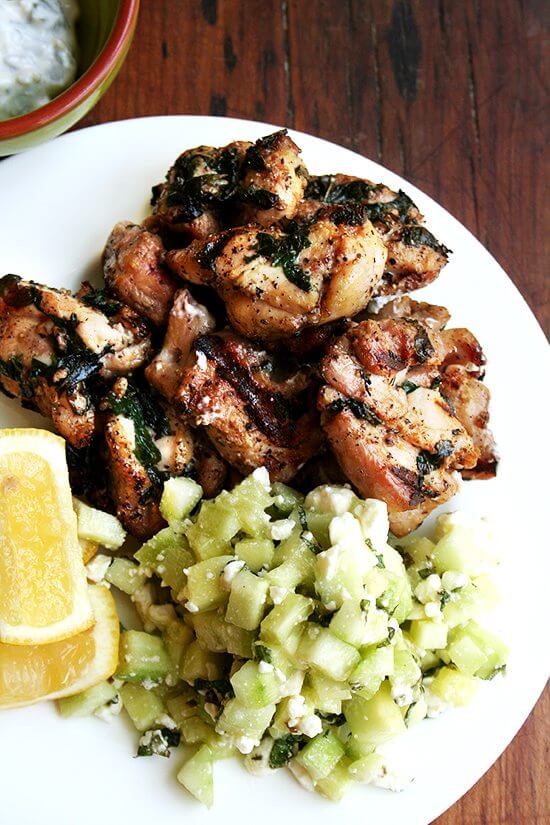 When my mother was in town, she made us this same meal, but served a Greek salad in place of the cucumber, feta and mint salad, and it was so so so delicious: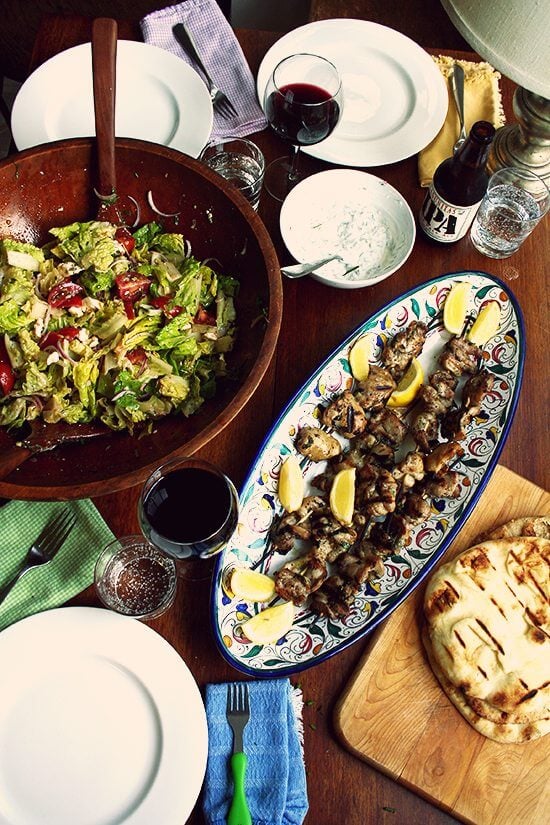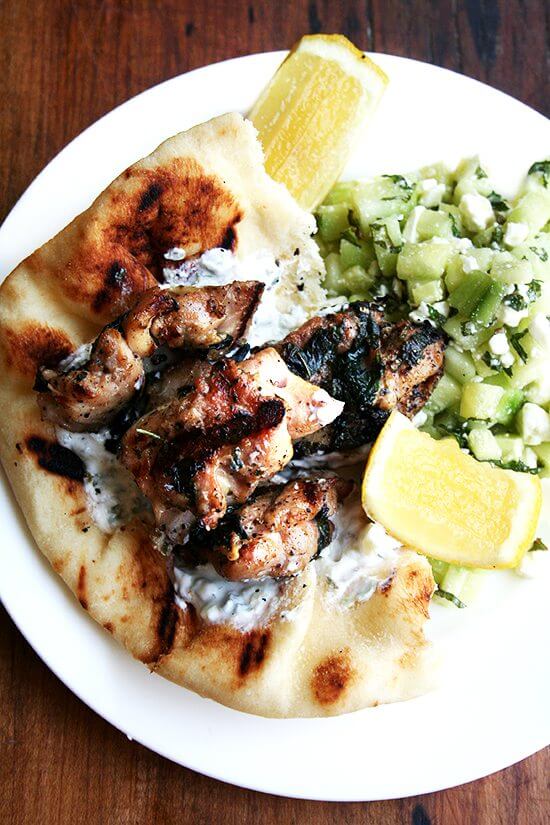 Print
Super-Easy Greek Chicken Souvlaki
---
Author:

Alexandra Stafford

Prep Time:

30 minutes

Cook Time:

10 minutes

Total Time:

40 minutes

Yield:

6 to 8
Description
This Greek chicken souvlaki recipe can be prepared in various ways. In the summer, we always fire up the grill and grill the skewers of meat; in the winter, we don't skewer the meat, and simply broil the meat for a few minutes a side. Either way is delicious.
---
Ingredients
3

lbs. boneless, skinless chicken thighs
kosher salt and pepper
oregano
lots of basil (at least once cup packed), roughly chopped

3

to

6

cloves of garlic, minced
extra-virgin olive oil
for serving:
naan or pita bread
tzatziki (recipe below)
cucumber, mint & feta salad (recipe below)
for the tzatziki:
1 cup

Greek yogurt (or plain yogurt, which will need straining*)

2

T. finely diced red onion

1

T. chopped mint

1

to

2

cloves garlic, minced
kosher salt to taste
squeeze of lemon juice
for the salad:
2 cups

diced cucumbers (if the skin tastes a little tough, peel the cucumber)
feta cheese, crumbled
mint, thinly sliced (a tablespoon or two)
extra-virgin olive oil
white balsamic vinegar
---
Instructions
Marinate the chicken. Wash and dry the chicken. Cut chicken into pieces roughly 2×2-inches in size — it's ok if these are a little bit smaller or larger in size and if they are more rectangular than square, etc. Place chicken in a large bowl (if your fridge has space for it) or a large ziplock bag.
Season chicken all over with kosher salt and pepper — a good rule of thumb is 1 teaspoon of kosher salt per pound of meat. Crumble oregano (about a teaspoon or two) over top. Throw in the basil and garlic. Pour olive oil into bowl or bag to submerge chicken.
Place bowl or bag of chicken in fridge. Marinate for at least four hours if possible.
Meanwhile, make the tzatziki: Stir together the yogurt, onion, mint and garlic. Season with a pinch of salt and a squeeze of lemon juice. Taste. Add more salt or lemon to taste. Chill until ready to use.
Cook the chicken. When ready to cook: Preheat grill to its highest setting (525ºF or 550ºF) or preheat the broiler to high. Meanwhile dump chicken out onto a sheet pan. If grilling, skewer the chicken, trying to place similarly sized pieces on the same skewer if possible. When chicken is skewered and grill is hot, grill skewers for 3 minutes a side. If broiling, set the chicken on a lightly oiled broiler pan. Broil three minutes a side. Transfer to a platter. Let rest at least 5 minutes before serving.
Warm up the naan or pita. Place naan or pita on turned-off grill. Keep an eye on it — it should be warmed through and read to go after 2 or 3 minutes tops. Otherwise, warm in the oven or toaster.
To make the salad: combine cucumbers, feta and mint in a bowl. Toss with equal parts olive oil and white balsamic. As a reference, I use 1 tablespoon of olive oil and one tablespoon of vinegar for about 2 cups of diced cucumbers. Season with salt if necessary — the feta is salty, so go light to start.
Serve chicken with tzatziki, lemon wedges, salad, and warm naan or pita.
---
Category:

Dinner

Method:

Grill or Broiler

Cuisine:

Greek
Keywords: Greek, chicken, souvlaki, marinade, garlic, basil, olive, oil, lemon, tzatziki