Go-To Cucumber Salad
This post may contain affiliate links. Please read my disclosure policy.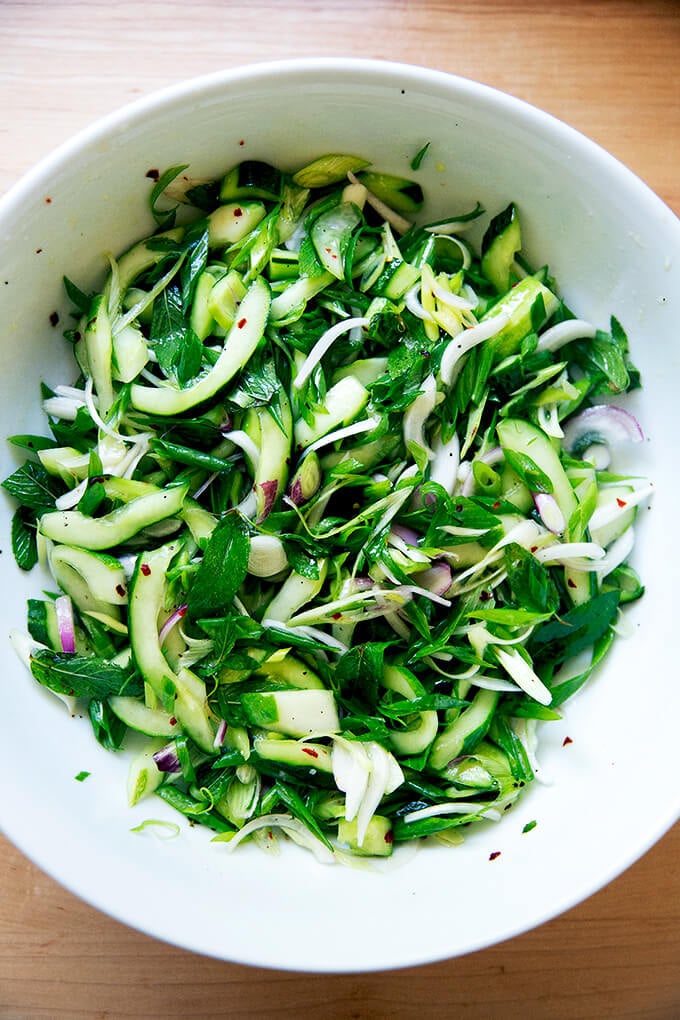 Early last week my dear friend, Bates, and her family traveled from eastern Massachusetts to spend a few days with us. They brought Island Creek Oysters, Farfar's sweet cream (the best), a bottle of Cocchi Americano (for eventides), and an arsenal of recipes for us to make together.
Topping the must-make recipe list was this cucumber salad, a recipe from Six Seasons, one of my favorites, by Joshua McFadden, who describes this salad as his "absolute go-to cucumber dish."
With one taste, I understood why: it's so fresh — crisp and cool, loaded with herbs, and perfectly spicy with a nice acidic bite.
Overall it's a simple salad, but the key to success with this salad is following the method, which most critically calls for salting the cucumbers and letting them drain for 30 minutes before dressing.
This, I would argue, is the difference between making a good and a great cucumber salad, regardless of the seasonings you are using. As Alice Waters notes in Chez Panisse Vegetables, "Cucumbers dressed in advance or used in a sauce may give up too much water and dilute the flavor of the dish. To avoid this, lightly salt the prepared cucumbers, let them sit in a strainer for 10 minutes, wrap them in a clean kitchen towel, and wring out the excess moisture."
This salting step draws out the moisture of the cucumbers, priming them to receive the dressing, which in this case is a simple mix of white balsamic vinegar and olive oil.
In addition to salting the cucumbers, there's one more step I encourage you not to skip, as I was inclined to: soaking the sliced scallions in ice water for 20 minutes. This step not only tempers their bite, but also makes them especially crisp.
I never mind the bite of a raw scallion, so the compelling reason for me to take this extra measure is for the crispness, or rather, the enduring crispness: scallions tend to get a little tired once dressed, but the ice water bath helps them retain their crispness, which is perhaps why this salad tastes so incredibly refreshing.
If you don't have a go-to cucumber salad — or even if you do — I hope you give this a go. It has been the highlight of our summer eats thus far.
PS: Cucumber and Green Grape Gazpacho, another summer favorite.
PPS: Tzatziki (Cucumber-Yogurt Sauce)
Here's the play-by-play: Gather cucumbers, scallions, and a red onion.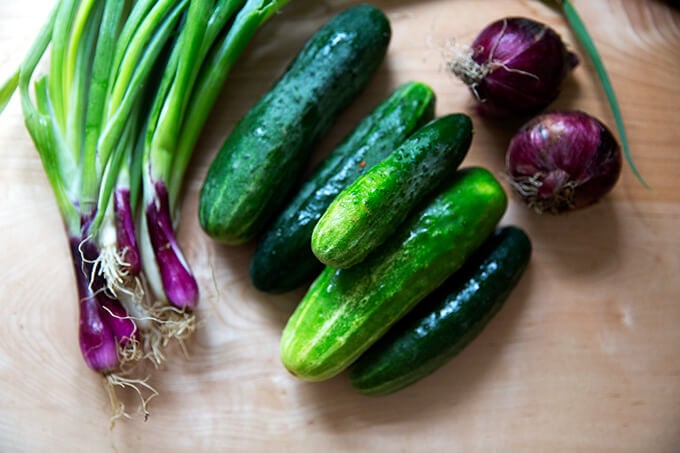 Peel the cucumbers zebra-style (for visual appeal), and scoop out the seeds.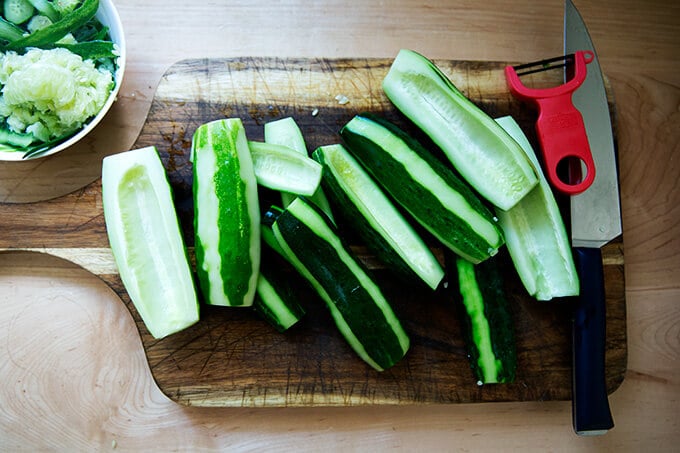 Slice the cucumbers up into various shapes and sizes, again for visual appeal, if you wish.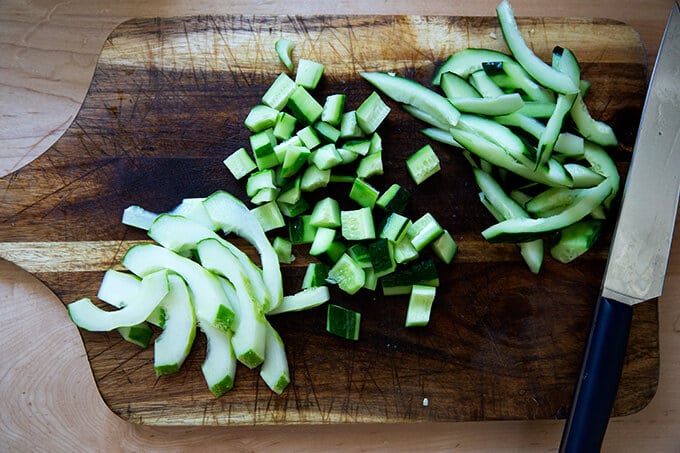 Place them in a colander, sprinkle them with salt, and let stand 30 minutes.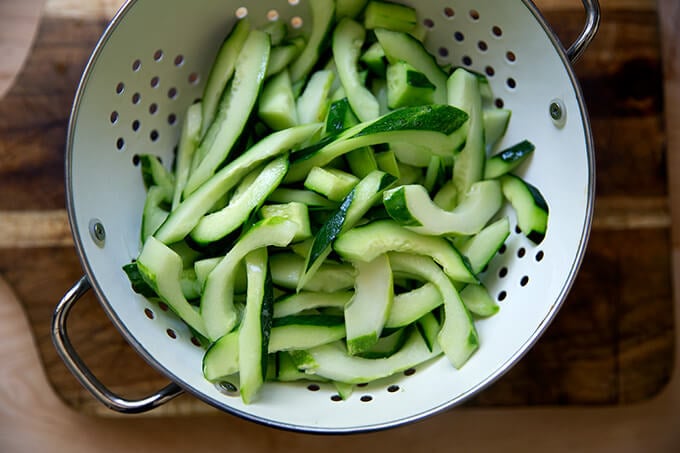 Meanwhile, slice up some scallions.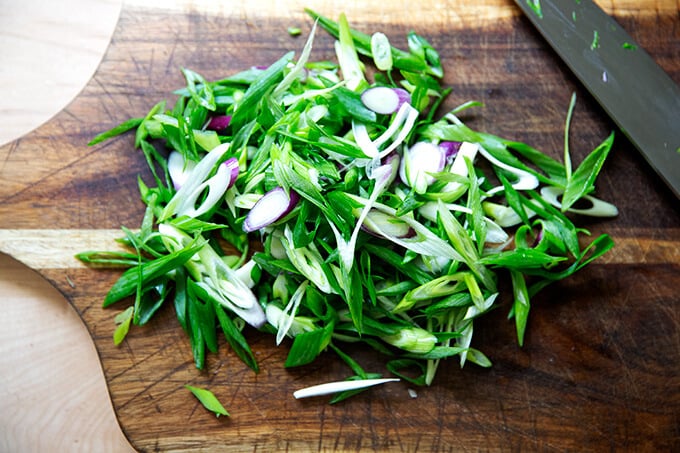 Soak them in ice water for 20 minutes.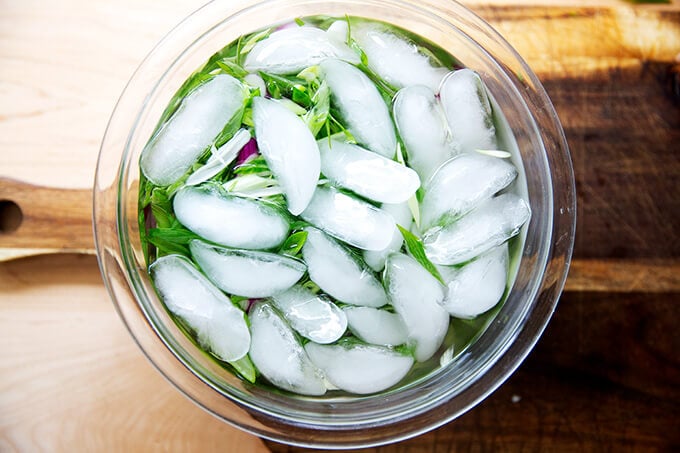 Drain and dry well.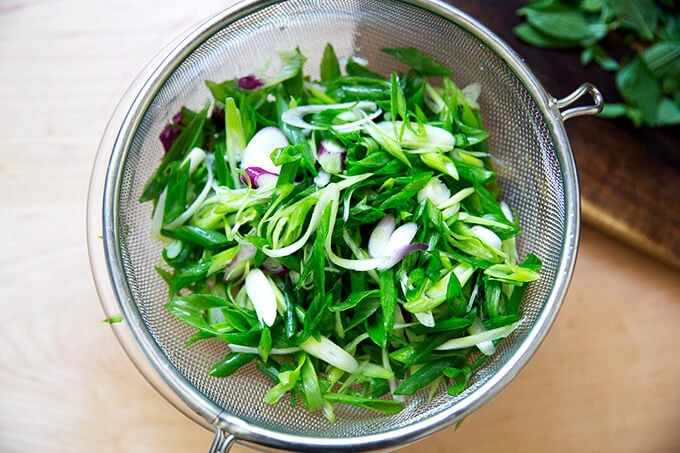 Slice up some red onion.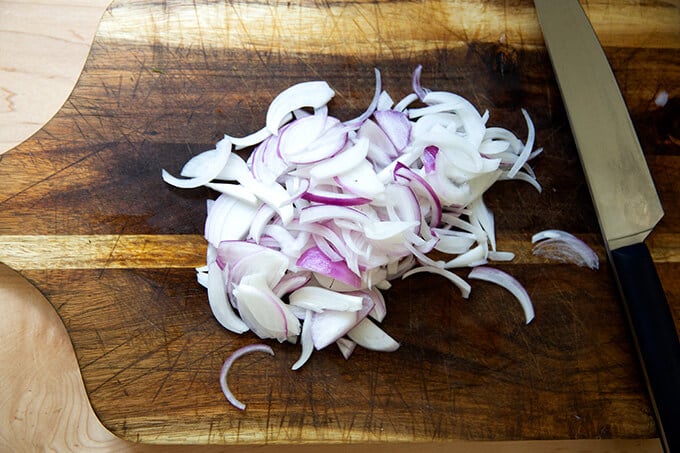 Pick some mint.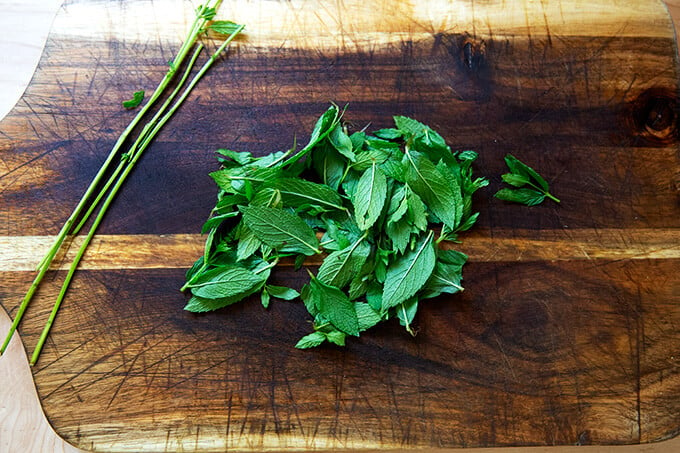 Toss everything together with crushed red pepper flakes, fresh cracked pepper, and white balsamic vinegar (or other). Taste. Add salt to taste; then add olive oil.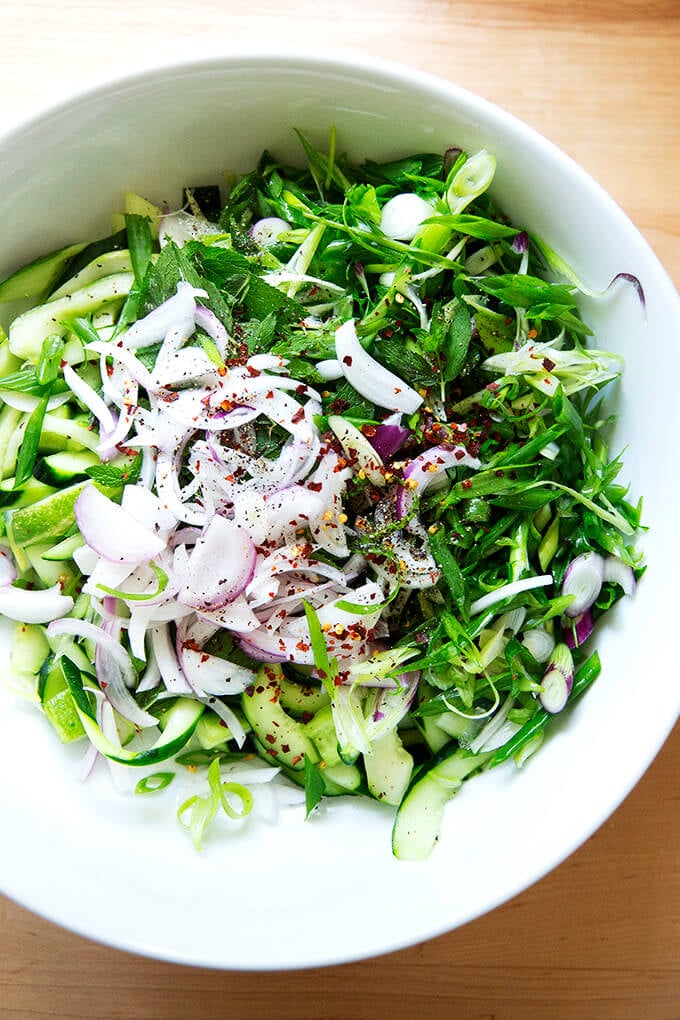 Serve immediately.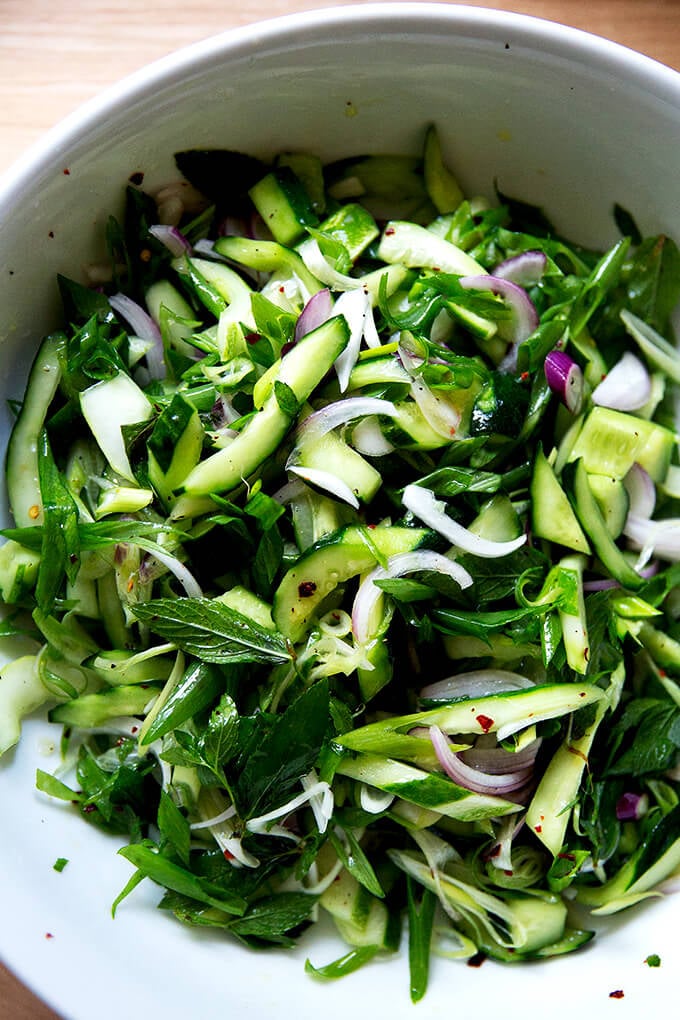 So fresh. So good: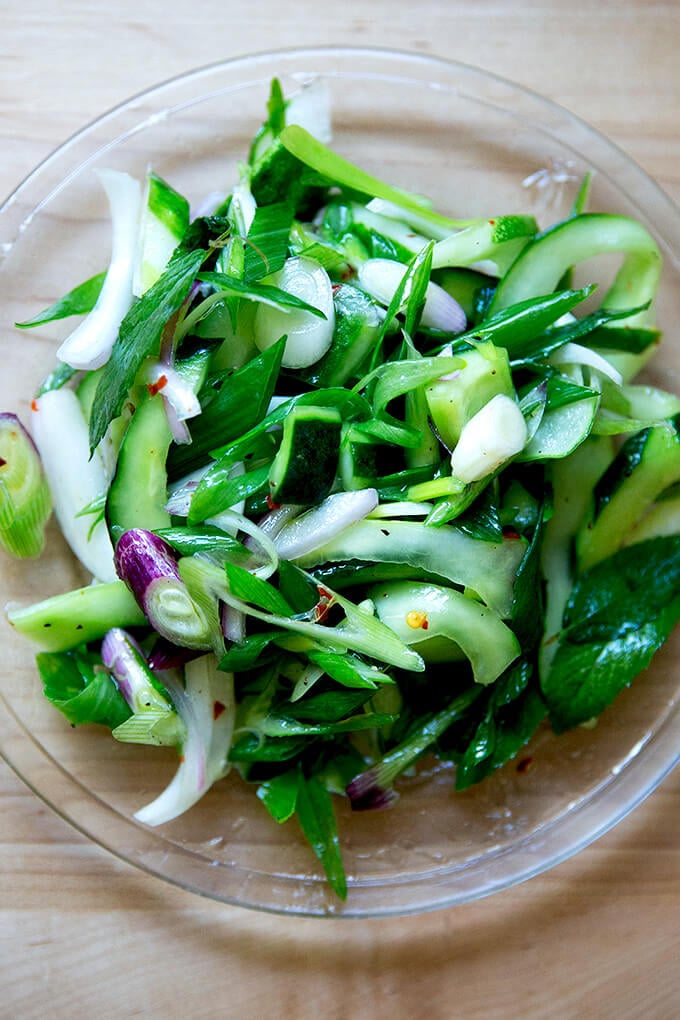 Print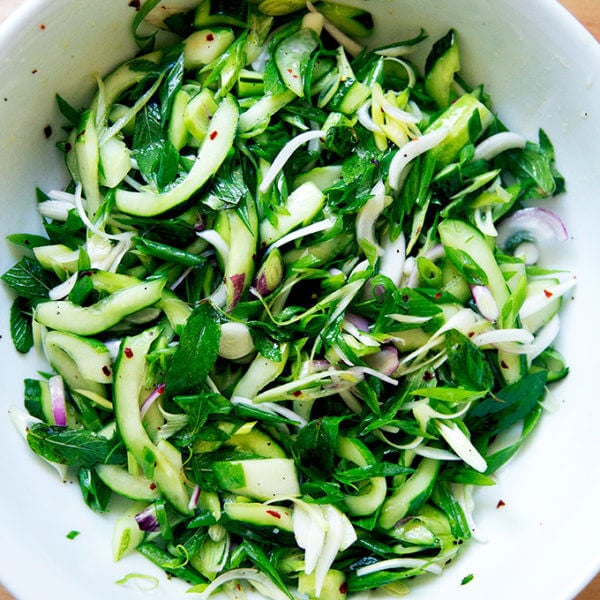 Go-To Cucumber Salad
---
Author:

Alexandra Stafford

Prep Time:

35 minutes

Total Time:

35 minutes

Yield:

Serves 4

Diet:

Vegan
Description
From Joshua McFadden's Six Seasons, a favorite cookbook.
---
1

lb. cucumbers, any variety or varieties you like
kosher salt

1

bunch (about

6

) scallions, ends trimmed, sliced thinly on the bias, whites and green parts

1

small red onion, thinly sliced

1

small handful mint leaves

1/2 teaspoon

crushed red pepper flakes, plus more to taste

3 tablespoons

white balsamic vinegar (or other), plus more to taste

1/4 cup

extra-virgin olive oil
freshly cracked black pepper
flaky sea salt, for finishing, optional
---
Instructions
Peel the cucumbers: for visual appeal, peel the skin in alternating stripes. Trim the ends of the cucumbers, halve lengthwise, and scoop out the seeds. Slice the cucumbers into a variety of shapes, or simply slice thinly on the bias to create half moons. Place the cucumbers in a colander and toss with 1 teaspoon kosher salt. Let sit for 30 minutes. After the 30 minutes, blot dry in a tea towel.  
Meanwhile, place the scallions in a bowl and cover with ice water. Let stand 20 minutes. Drain and dry well in a tea towel.
Combine the cucumbers, scallions, red onion, mint, crushed red pepper flakes, vinegar, and a few generous twists of black pepper in a bowl. Toss gently. Taste. Add flaky sea salt to taste. Add pepper, pepper flakes, and vinegar to taste. Once everything tastes, as Joshua McFadden says, "exciting and balanced", add 1/4 cup extra-virgin olive oil. Toss again. Serve immediately. 
Category:

Salad

Method:

Toss

Cuisine:

American
Keywords: classic, cucumber, salad, simple, scallions, mint, dried chiles
This post may contain affiliate links. Please read my disclosure policy.