Ina Garten's Mustard-Roasted Chicken
This post may contain affiliate links. Please read my disclosure policy.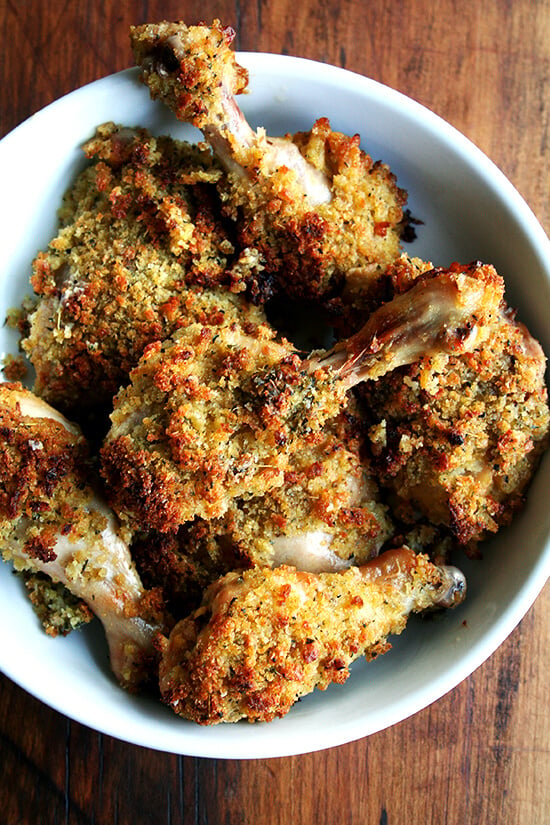 I rarely make bread crumb chicken recipes — the flour-egg-coating assembly line always deters me — but this dijon mustard roasted chicken thigh recipe, from the Barefoot Contessa's Foolproof is simple. A quick dip in a dijon mustard-buttermilk bath provides enough glue for the bread crumbs to adhere, and roasting versus pan-frying makes the hands-on time minimal.
This bread crumb chicken has become a favorite around here, both piping hot right out of the oven for dinner and cold straight from the fridge for lunch. I made a few changes to the original recipe to make it work better for me: I used fresh bread crumbs in place of panko and roasted at a slightly higher temperature for the entire time.
After 40 minutes, the chicken emerges beautifully golden with a coating begging to be devoured. With just a gentle prod of the knife, the meat, steaming hot, falls off the bone, salty, herbed bread crumbs spilling all around. The chicken is incredibly moist, and the flavors of thyme, garlic and lemon permeate the meat. Heaven.
PS: How to Cut up a Whole Chicken
PPS: How to Roast a Chicken (and Make the Most of It)
How to Make Mustard-Roasted Chicken
First: make the seasoned bread crumbs by pulsing garlic, lemon zest, salt, pepper and thyme in a food processor. (I love my 14-cup Cuisinart)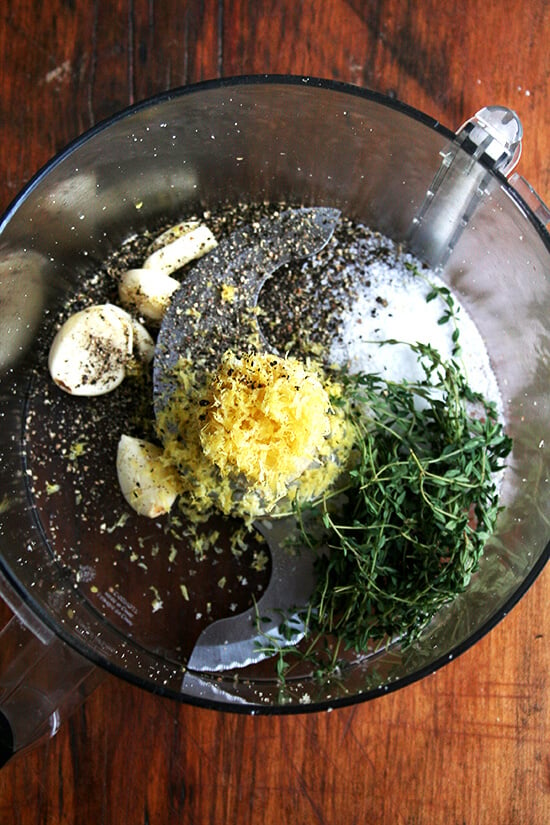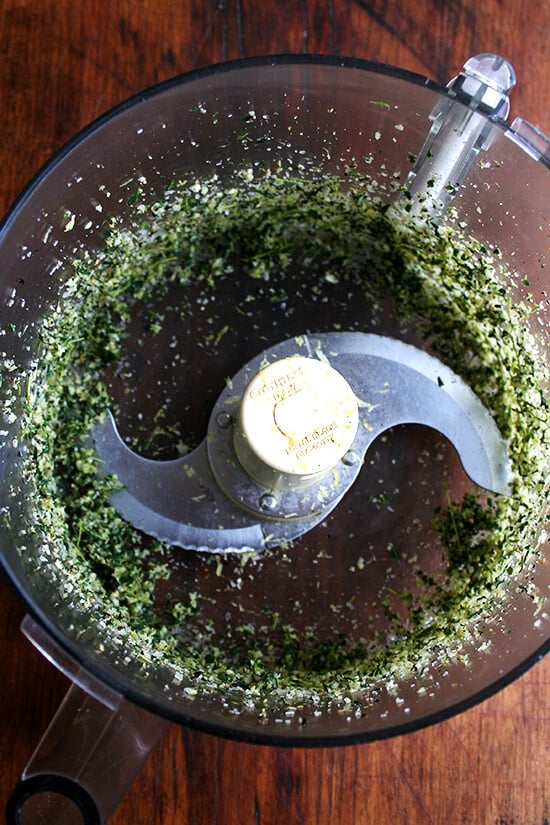 Add day-old bread, and pulse to combine.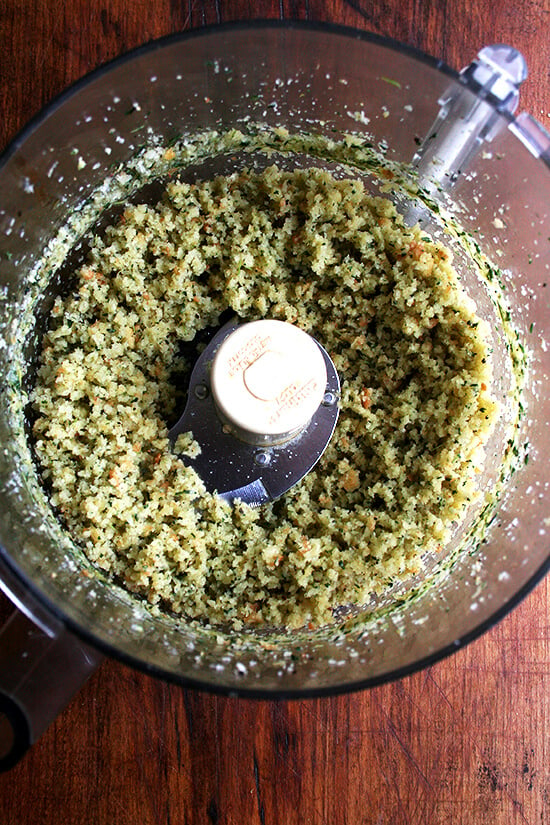 Meanwhile, soak chicken legs in a mix of buttermilk and mustard.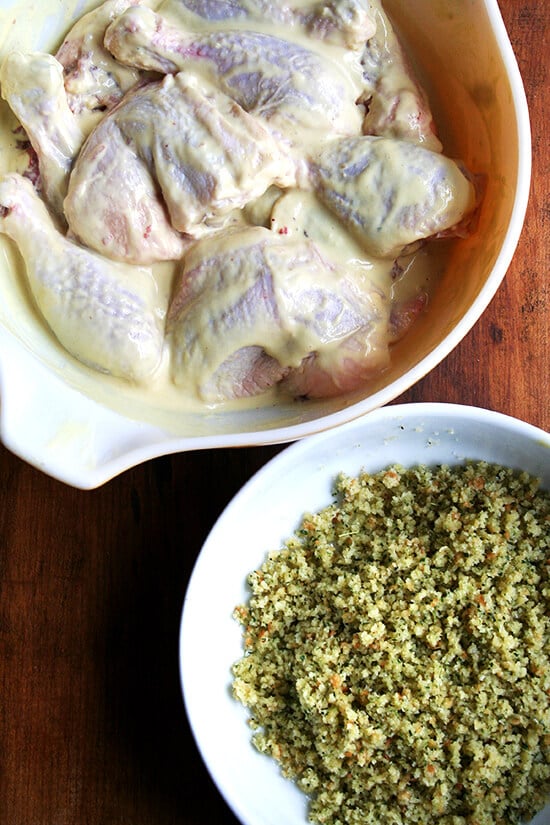 Transfer the chicken legs to a parchment-lined sheet pan, and coat with the seasoned bread crumbs.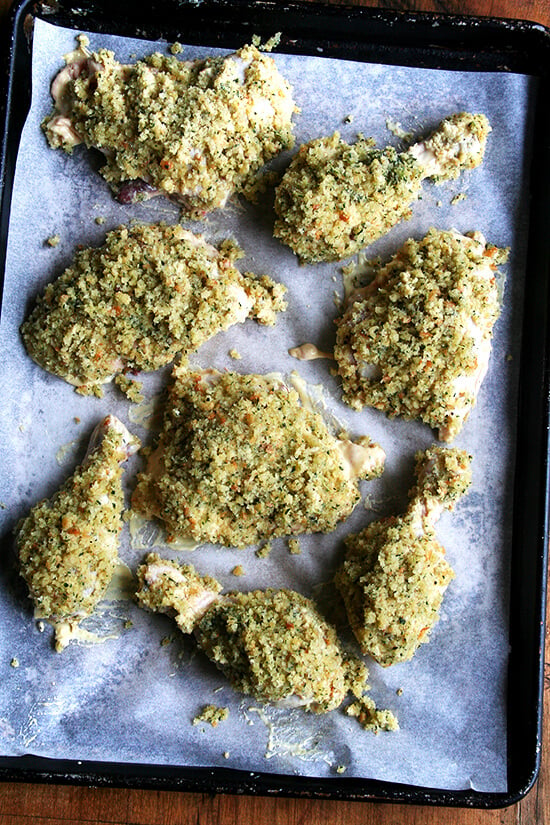 Roast until the crumbs are evenly golden, and the chicken is cooked, roughly 40 minutes.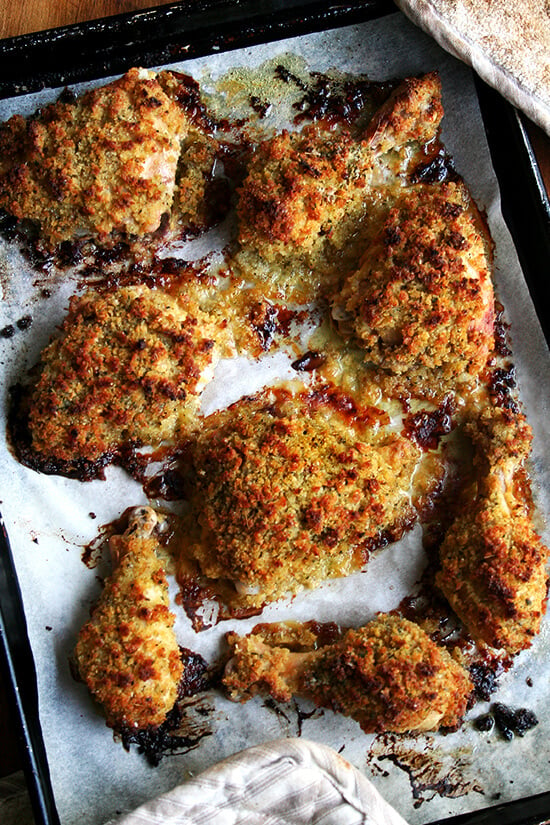 Transfer chicken to a board to rest.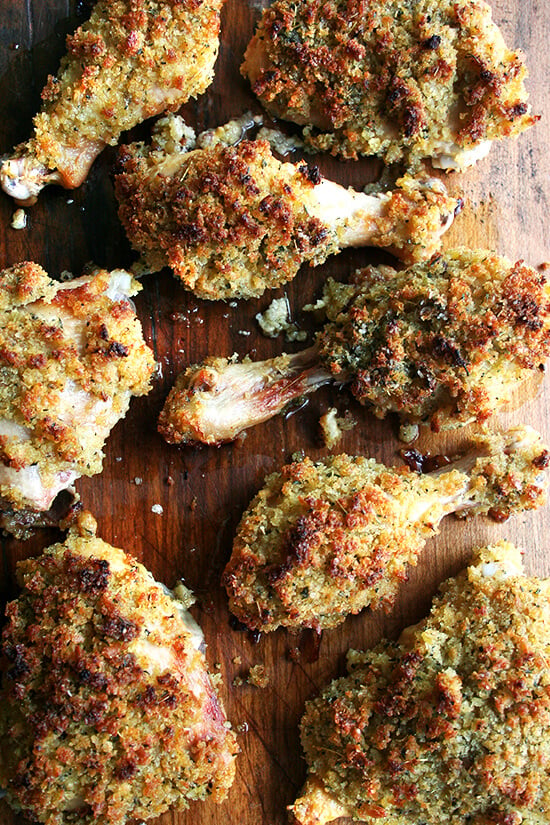 Let rest briefly before cutting and serving.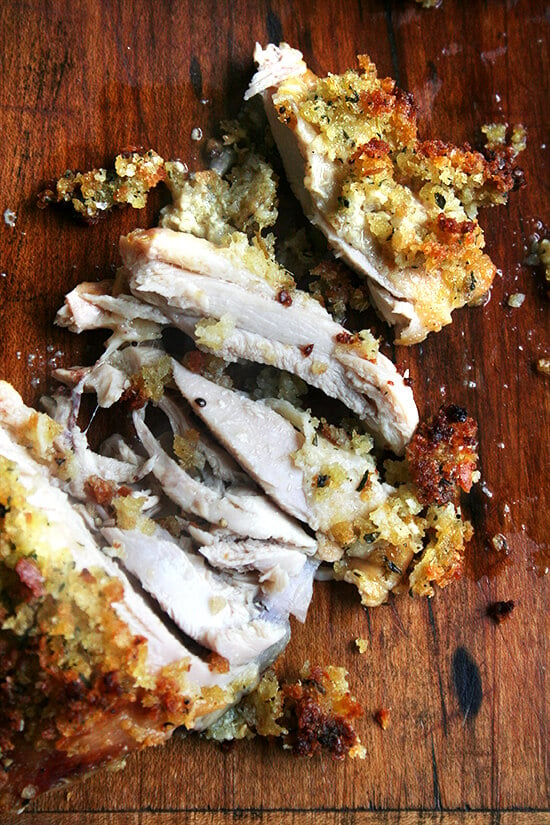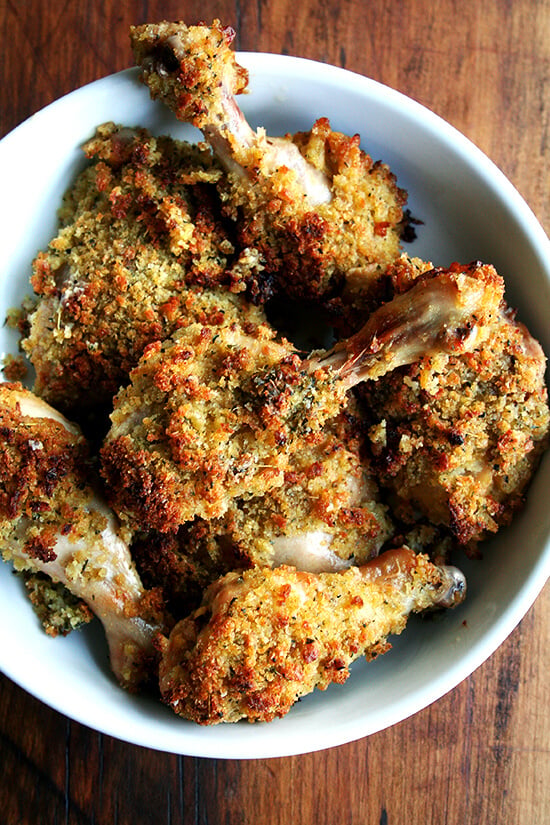 Print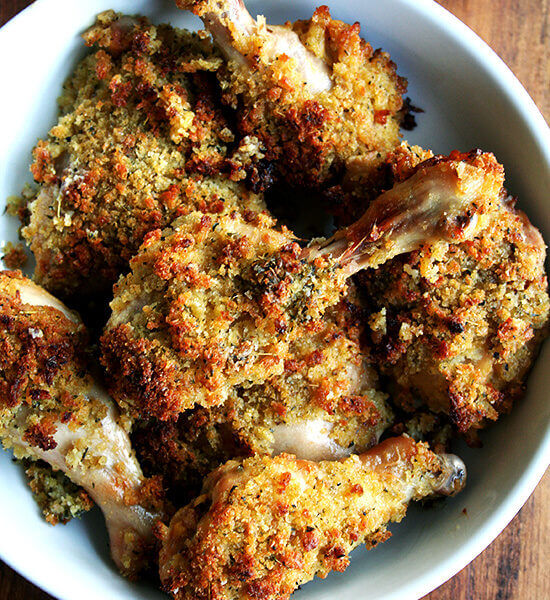 Ina Garten's Mustard-Roasted Chicken
---
Description
Adapted from the Barefoot Contessa's Foolproof
If you feel like getting ahead, you can marinate the chicken in the mustard and buttermilk overnight or for a few hours; if you don't have time, don't worry. I made this for my in-laws without marinating the chicken at all, and they raved. If you marinate the chicken, too, the buttermilk definitely acts as a tenderizer.
You can use any combination of bone-in, skin-on thighs or drumsticks. I love using thighs with this recipe.
A few changes from the original recipe:
You can find the original recipe online in various places, but these are the basic changes I've made: fresh bread crumbs versus panko; 4 tablespoons olive oil versus 2 tablespoons olive oil + 2 tablespoons butter; buttermilk versus white wine (because the buttermilk is thicker than wine, I find the breadcrumbs stick to it better); 4 thighs and 4 drumsticks versus 1 chicken cut into 8 pieces; oven temp at 400ºF the entire time.
If you are up for a little adventure…
… this is what I suggest: Buy two chickens. Cut them up (video guidance here). Use the 4 thighs and 4 drumsticks here. Remove the breasts from the bones and make these tarragon chicken breasts on a subsequent evening. With the wings, necks, backbones, and breast bones, make stock. After two hours of gentle simmering, pull the meat from the stock bones, and make a simple chicken salad: mayonnaise + relish + a squeeze of lemon. Return the bones to the pot and gently simmer for another hour.
---
4

bone-in, skin-on thighs and 4 bone-in, skin-on drumsticks

½ cup

Dijon mustard

½ cup

buttermilk

4

garlic cloves, peeled
a small handful fresh thyme leaves (if the strands are soft, no need to strip the leaves)
zest of

one

lemon
Kosher salt and freshly ground black pepper

2 cups

fresh breadcrumbs

1/4 cup

olive oil
---
Instructions
Preheat the oven to 400ºF and place oven rack in the middle of the oven. In a small bowl, whisk together the mustard and buttermilk. Place the chicken in a large bowl and pour the mustard-buttermilk mixture overtop. Toss to coat.
Place the garlic, thyme strands (stems, if they are soft, and all), lemon zest, 1 1/2 to 2 teaspoons kosher salt (use 1.5 tsp if you are sensitive to salt), and 1 teaspoon pepper (or a few large cracks on the grinder) in a food processor fitted with the steel blade and process until the garlic is finely minced. Add the breadcrumbs and olive oil, and pulse a few times to moisten the breadcrumbs. Pour the mixture into a wide, shallow bowl or onto a large plate — something with sides is best.
Line a sheet pan with parchment paper (for easy clean-up — this is not necessary, but I like using parchment.) Dip each piece of chicken skin-side down only into the crumb mixture, pressing gently to make the crumbs adhere. Place the chicken on the sheet pan crumb-side up. After one or two pieces have been dipped, the crumb mixture might not adhere to the chicken as well. Just use your hands to press the remaining crumbs onto the chicken pieces.
Bake the chicken for 40 minutes. Check on the chicken. If necessary cook another five minutes or until the crumbs are browned. Let rest 5 to 10 minutes before serving. Serve hot, warm, or at room temperature.
Prep Time:

10 minutes

Cook Time:

40 minutes

Category:

Dinner

Method:

Oven

Cuisine:

American
Keywords: bread crumb chicken, dijon mustard, roasted chicken thighs, Ina Garten, Barefoot Contessa
This post may contain affiliate links. Please read my disclosure policy.