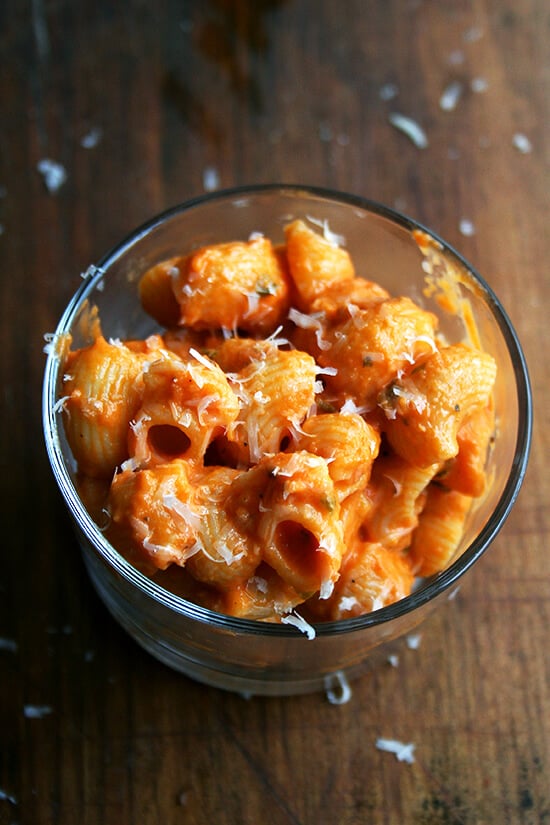 Most often, when I see recipes with quantity-ingredient combos such as one cup heavy cream, two sticks butter, a quarter pound cheese, I don't give them a second look. It just never seems necessary — comfort food can succeed at comforting without heavy doses of heavy ingredients.
But after reading the preface to this pasta alla vecchia bettola recipe in The Barefoot Contessa's Foolproof, I had to make it despite the cup of cream. More than being a mainstay on the menu of one of Ina's favorite restaurants for 20 years, what struck me about the recipe was the method, which calls for sweating onions and garlic, reducing vodka, adding canned San Marzano tomatoes, and baking the mixture in a covered pan for one-and-a-half hours. The recipe originates from a restaurant in Florence, and Ina likens the dish to the classic penne alla vodka "but with so much more flavor."
Few sauces that call for using canned tomatoes leave me satisfied the way this one has. About this time of year ever year, when the tomatoes begin disappearing from the farmstands, I start stocking up on canned tomatoes and preparing for a season of sauces that, while perfectly delicious, pale in comparison to the fresh sauces of summer. But this sauce has the potential to make this winter like no other. During the hour and a half in the oven, liquids reduce and flavors concentrate, and the resulting sweet-spicy mixture needs little more than a few splashes of cream and a handful of cheese to balance it out. Adding the full cup of cream makes for an incredibly delicious sauce, but it can hold its own with much less.
And while I haven't experimented much yet, I could see using the base mixture — the puréed tomatoes and onions before the cream and cheese are added — as a component to so many dishes: thinned out with stock or water for soup; stirred into risotto; combined with other vegetables for baked pastas. This recipe is a little fussier than most of its kind, but the hands-on time is minimal, and the lengthy cooking time really transforms the canned tomatoes. And while a cup of cream seems excessive at first glance, the recipe yields a fair amount of sauce — at least five cups.
If you're a penne alla vodka fan, this one's for you. And I promise to pass no judgement if you use the full cup of cream. Go big. You won't be disappointed you did.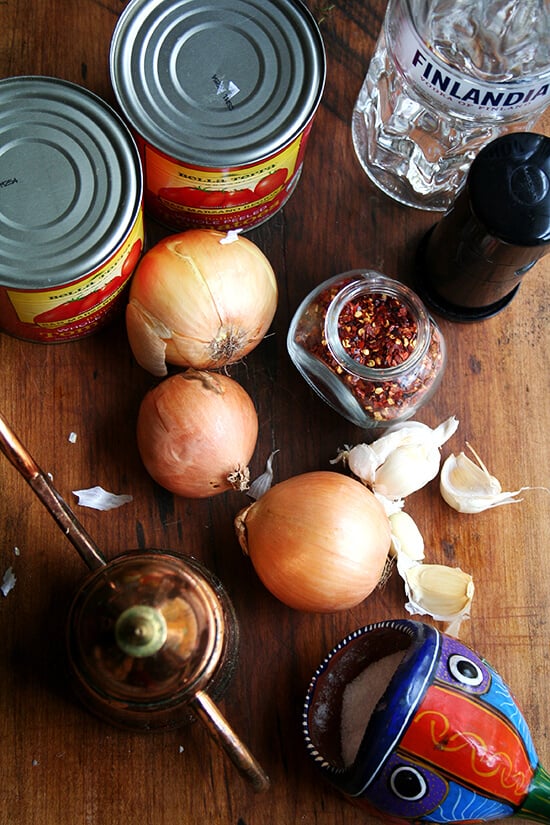 First you sweat the onions and garlic for five minutes: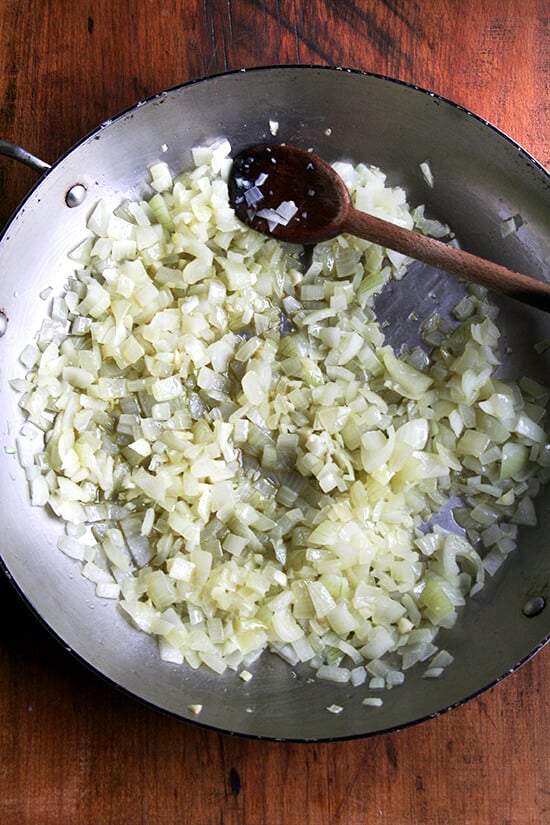 After draining the San Marzano tomatoes…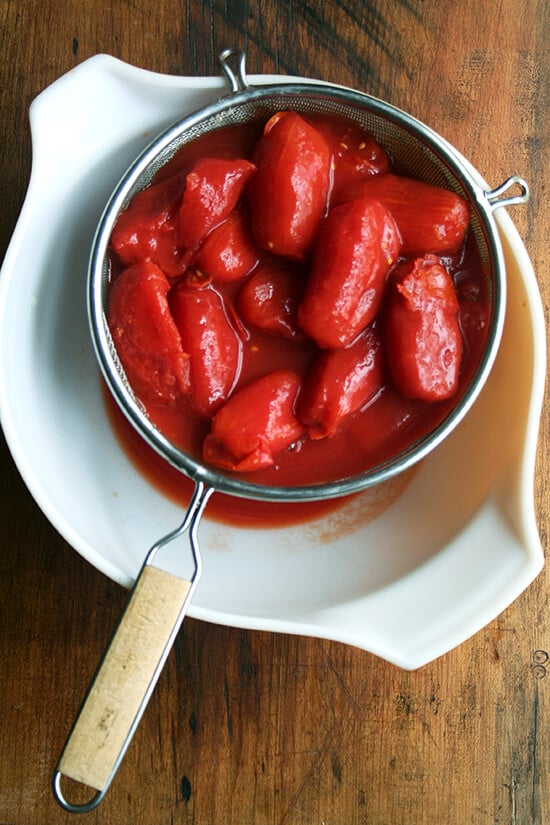 you squeeze them right into the pan: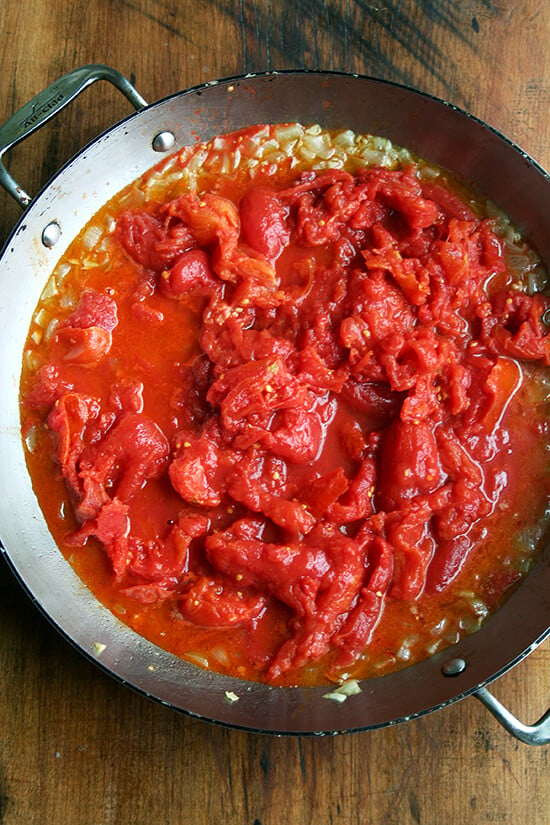 into a blender or food processor it goes: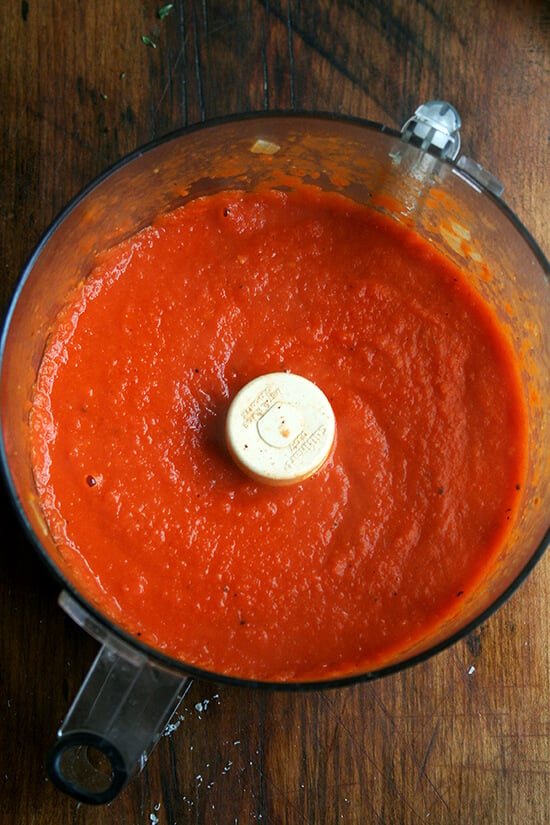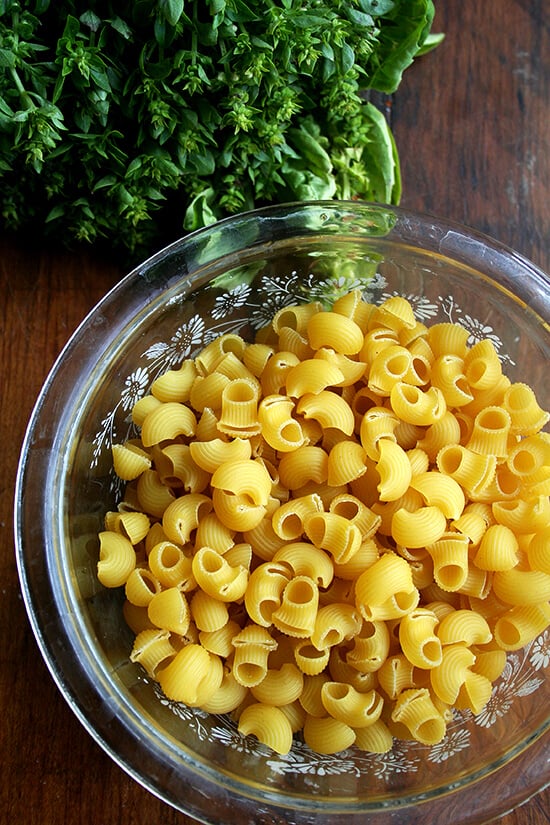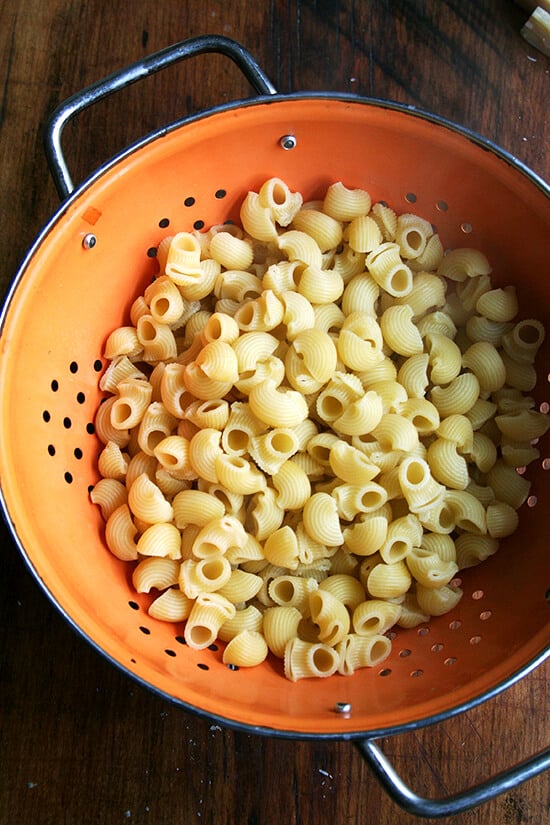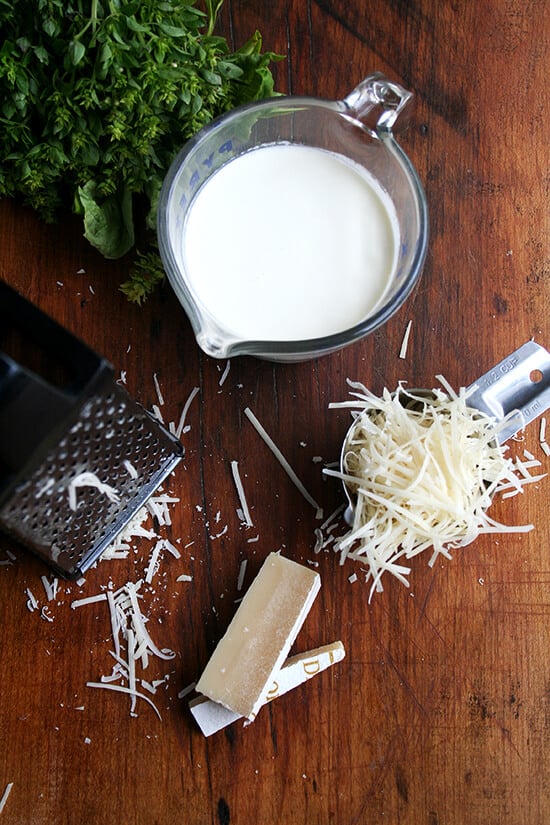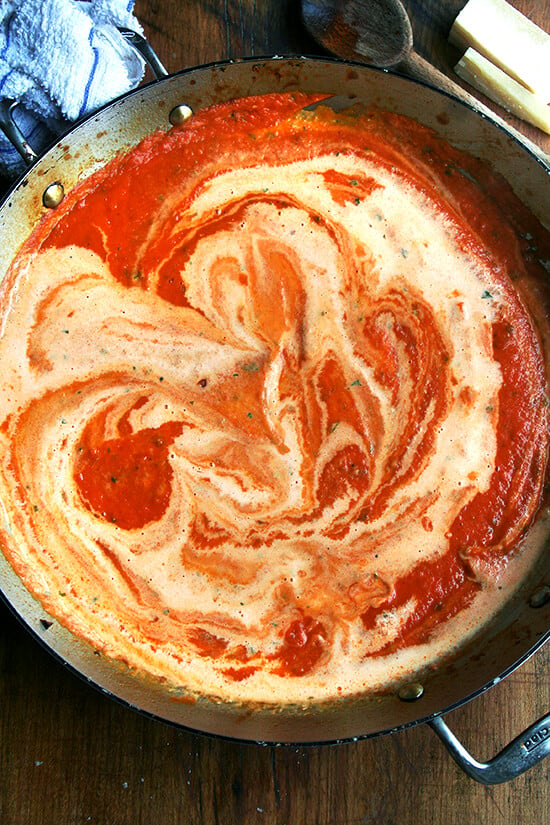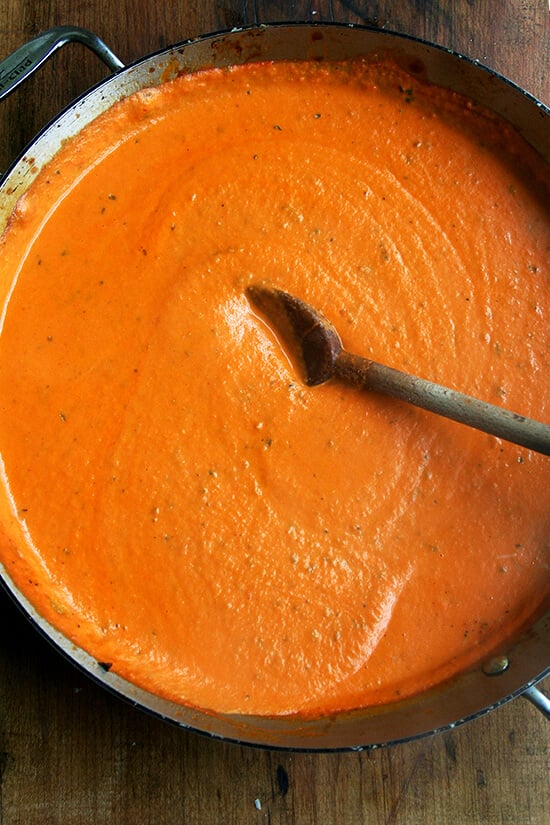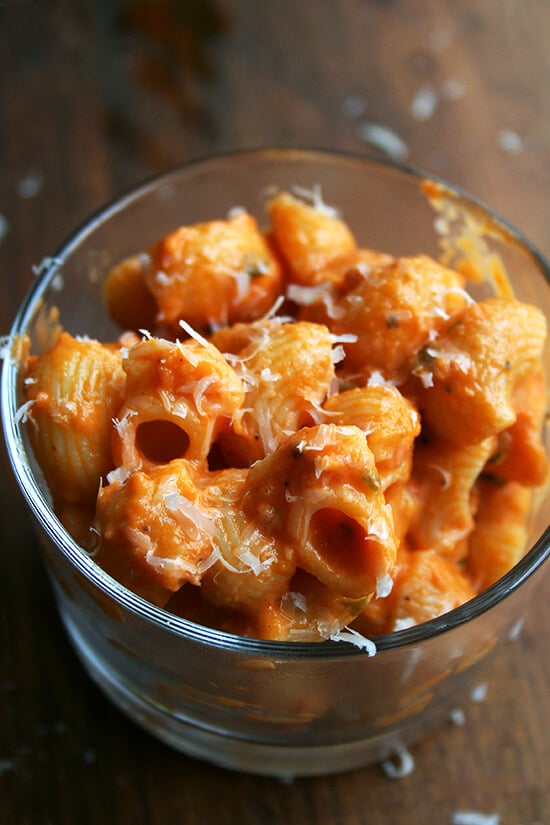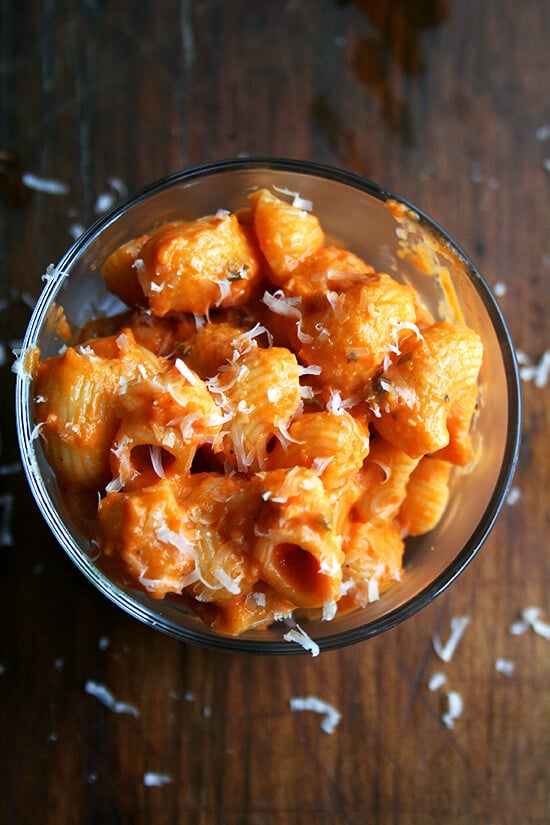 Print
Ina Garten's Pasta Alla Vecchia Bettola
---
Yield:

5 cups
Description
Source: The Barefoot Contessa's Foolproof
---
Ingredients
¼ cup olive oil
1 medium (or a few small) Spanish onion(s), chopped to yield 2½ cups
3 cloves of garlic, minced
¼ – ½ teaspoon crushed red pepper flakes (If you are sensitive to heat, just use a pinch and adjust at the end. The ½ teaspoon makes for a seriously spicy sauce.)
1½ teaspoons dried oregano (optional — I didn't use. I love dried oregano, but I don't always love it in tomato sauce.)
1 cup vodka
2 (28-ounce) cans peeled plum tomatoes
Kosher salt
Freshly ground black pepper
¾ pound penne pasta or whatever shape you like
4 tablespoons fresh oregano (I used basil)
¼ to 1 cup heavy cream
grated Parmigiano or Pecorino
---
Instructions
Preheat oven to 375ºF.
Heat the olive oil in a large oven proof sauté pan over medium heat, add the onions and garlic and cook for about 5 minutes until translucent. Add the red pepper flakes and dried oregano (if using) and cook for 1 minute more. Add the vodka and continue cooking until the mixture is reduced by half, about 5 to 7 minutes more.
Meanwhile, drain the tomatoes through a sieve. (Save the strained juice. I stuck mine in the freezer. It can be used for future sauce-making days as well as for homemade bloody Mary mix, etc. Maybe you have more thoughts for repurposing this strained juice? Would love to hear.) Put on an apron and crush the tomatoes into the pan with your hands — careful hear…you might make a mess all over your oven. Add 2 teaspoons salt and a pinch of black pepper. Cover the pan with a tight fitting lid and place it in the oven for 1½ hours.
Meanwhile, bring a large pot of salted water to a boil and cook the pasta al dente. (Note: Ina adds 2 tablespoons of kosher salt to her pasta water. I did this, too, and found it really seasons the pasta nicely. There is no need to save pasta cooking liquid in this recipe, but if there were, I think the 2 tablespoons would be a little too much — the reserved liquid would be too salty. Just something to keep in mind.) Drain and set aside.
Place the tomato mixture in a blender or food processor and purée in batches until the sauce is a smooth consistency. Place potholders or dishtowels around the handles of your pot to prevent burning your hands in the next step.(Note: I puréed a handful of basil with the sauce at this step and didn't add anymore fresh herbs.) Return sauce to the pan.
Reheat the sauce, add 2 tablespoons fresh oregano (if using) and enough heavy cream to make the sauce a creamy consistency — start with a quarter cup; taste; add more as necessary. Add salt (if necessary) and pepper, to taste, and simmer for 10 minutes. Toss the pasta into the sauce and cook for 2 minutes more. Stir in a generous handful of grated cheese. Serve with an additional sprinkle of cheese and a sprinkle of fresh oregano (if using) on each plate.