Nobu's Chicken Teriyaki Two Ways
This post may contain affiliate links. Please read my disclosure policy.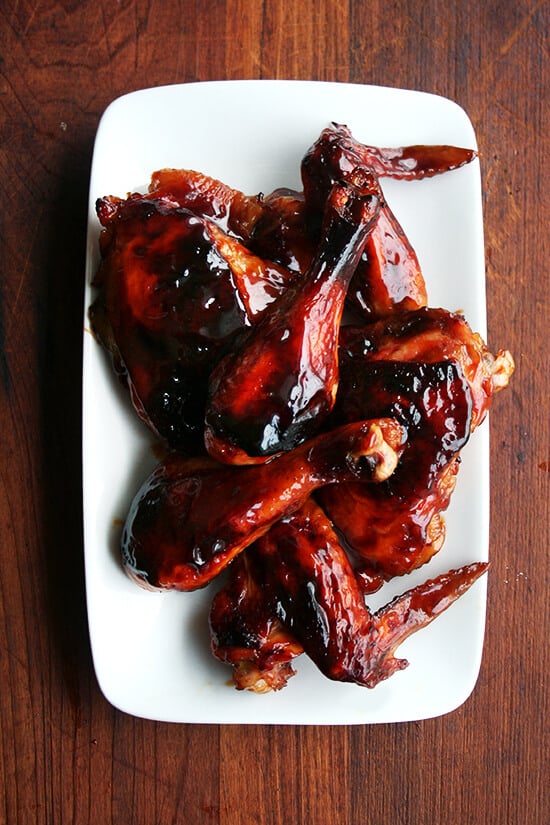 My senior year of college, a Chinese restaurant opened half a block from my apartment, and when I discovered that they used thighs to make their chicken teriyaki, I ran home to tell my roommate.
As you might imagine, my roommate neither shared nor understood my enthusiasm. Her silence spoke volumes: It mostly said, "Why should I be excited about this?" but also, "Only you would be excited about this." (I love you, Chandra.)
I have known for a long time that most people prefer white meat chicken to dark and that no matter how many times I post a recipe featuring bone-in, skin-on thighs and drumsticks, I'm not going to make any converts. And so when I saw in last July's Food & Wine, an issue highlighting mega-talents from the past 25 years and their tried-and-true recipes, that Nobu Matsuhisa's recipe for classic chicken teriyaki called for boneless skinless breasts, I had to try it.
The five-ingredient sauce couldn't be simpler to assemble: chicken stock, soy sauce, sugar, mirin and sake (or white wine) simmer together for 20 minutes or until the sauce has been reduced to a syrupy consistency. The beauty of the sauce is that it thickens based on the principles of reduction not by the addition of a cornstarch slurry, which would give it that icky cornstarchy taste so often found in these takeout-type dishes. Sure, this sauce relies on that unsubtle salty-sweet dynamic, but it is incredibly tasty and versatile, too — I love adding a spoonful to a vegetable stir-fry or stirring a few teaspoons into a pot of jasmine rice.
Once I discovered that I genuinely enjoyed the sliced pan-fried chicken breast drizzled with teriyaki sauce, I had to try the recipe with dark meat. When using thighs and drumsticks, the sauce and meat can cook together, allowing the sauce to thicken initially in the oven and finally on the stovetop once the chicken has finished cooking.
As you might imagine, I'm even more of a fan of the chicken teriyaki prepared with dark meat, and deep down I suspect Nobu might, too. A girl can dream, right?
Who knew making teriyaki sauce was so easy? Five ingredients — chicken stock, soy sauce, sugar, mirin and sake (or white wine) — simmer together for 20 minutes or until syrupy in consistency: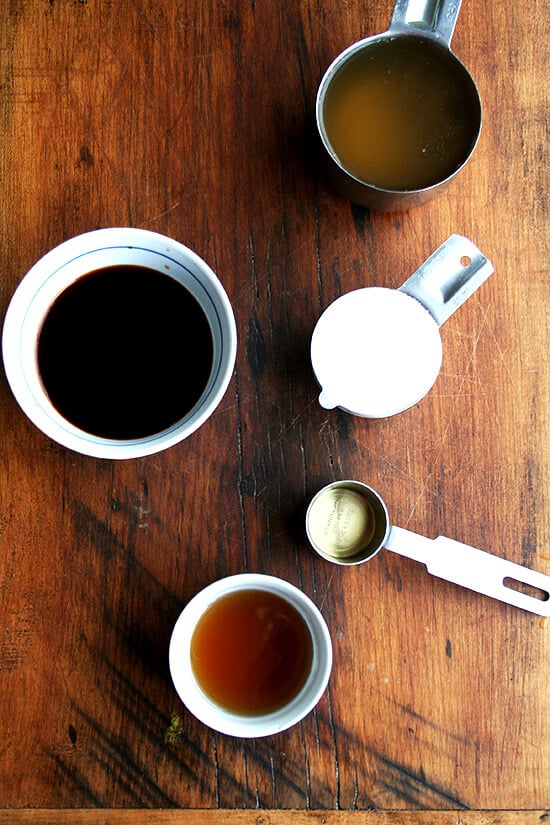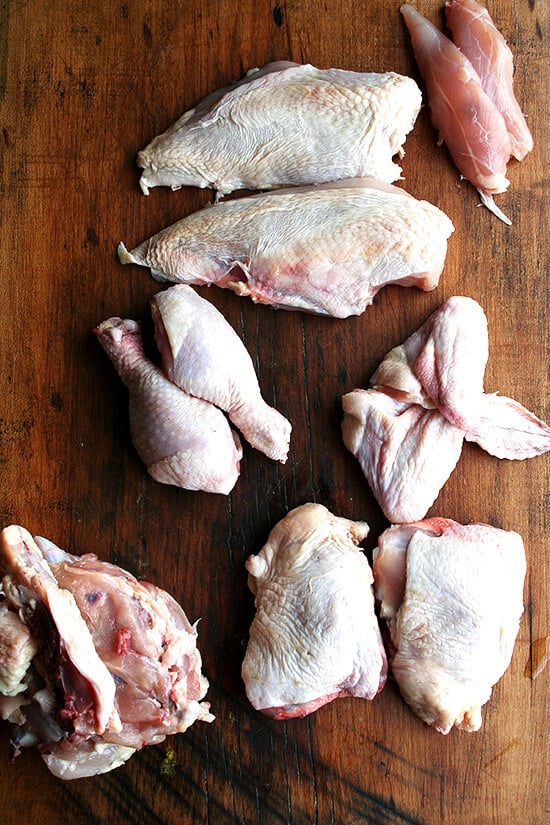 If you feel like marinating, great, but it's not necessary: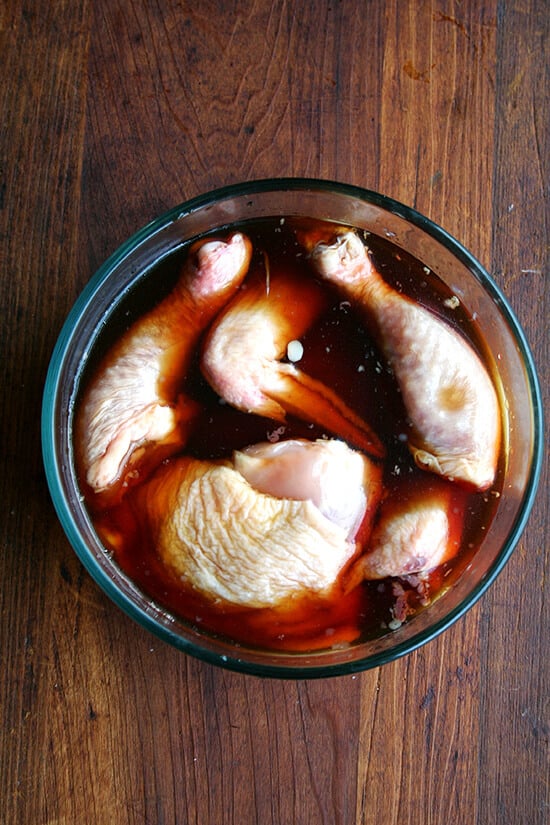 Roasting the chicken with the sauce is best when using thighs, drumsticks and wings: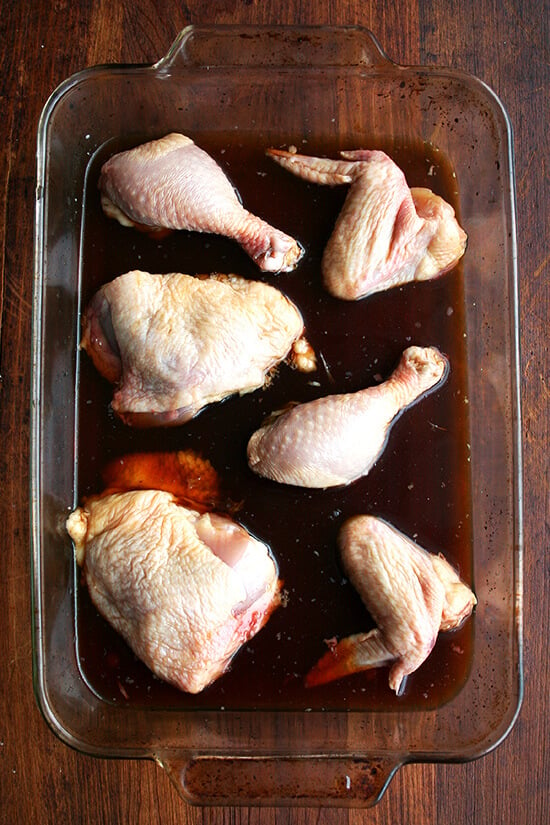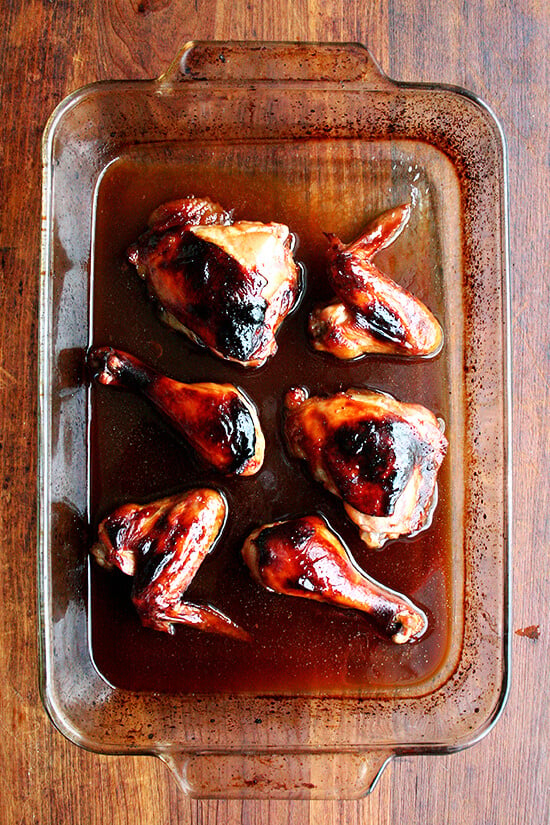 The sauce reduces a little more stovetop once the chicken has finished cooking: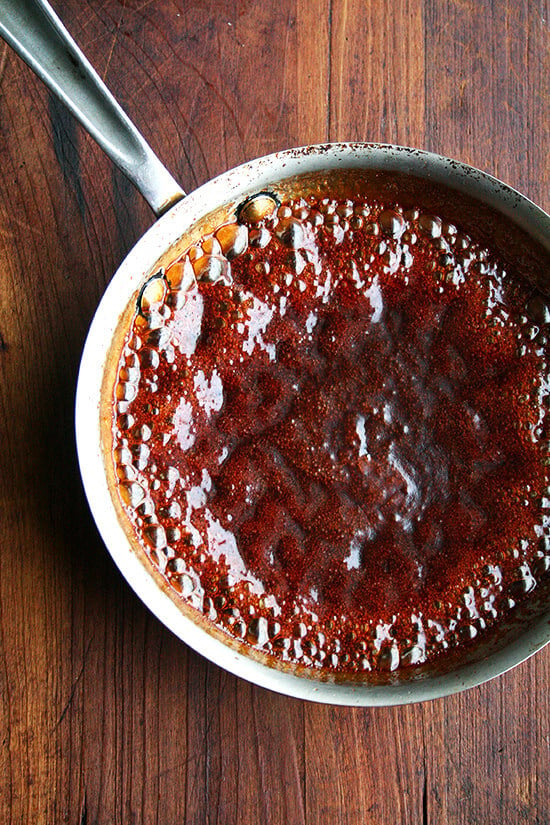 If you are using breasts, simmer the sauce stovetop for 20 minutes…: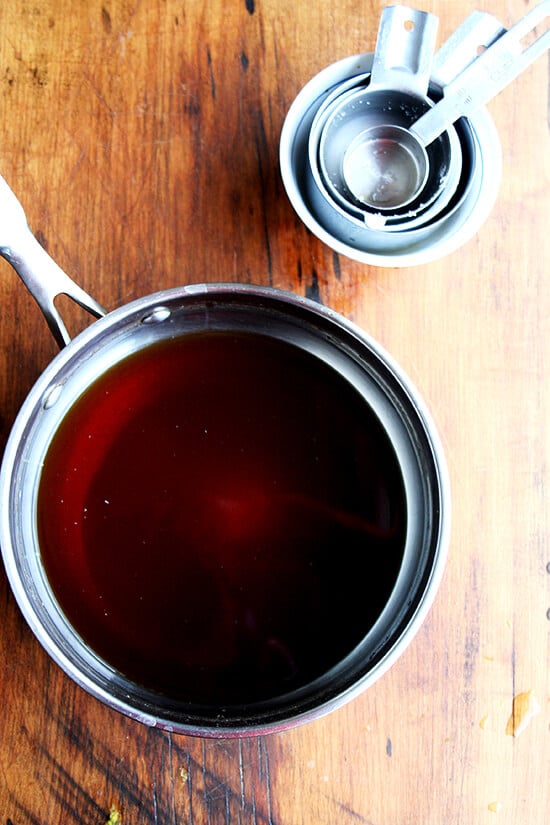 …or until it looks syrupy and thick: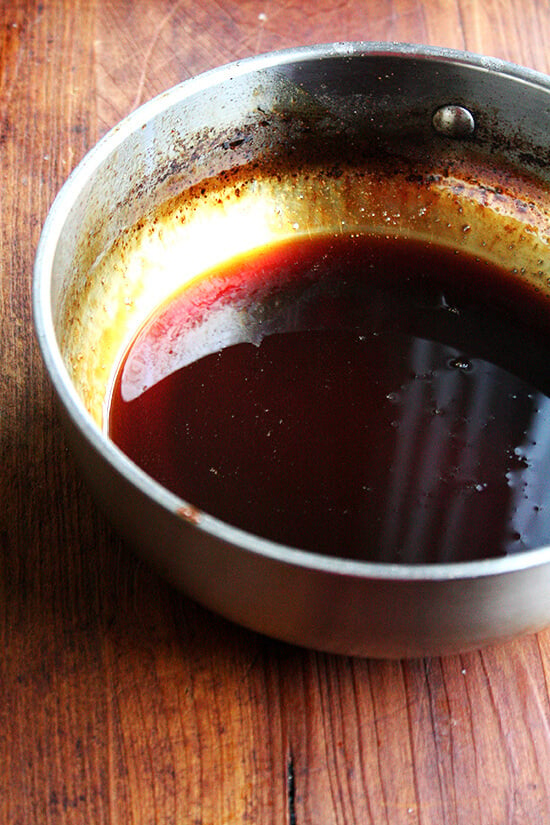 Lightly pound the breasts before pan-frying: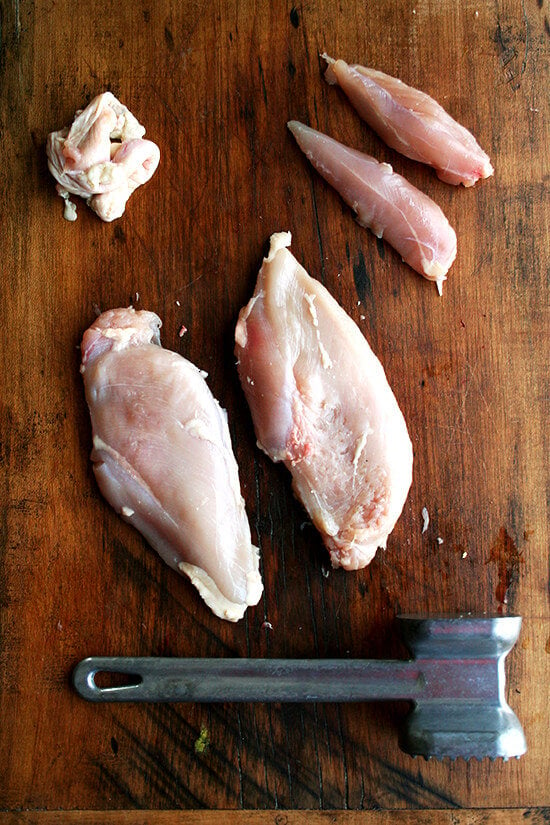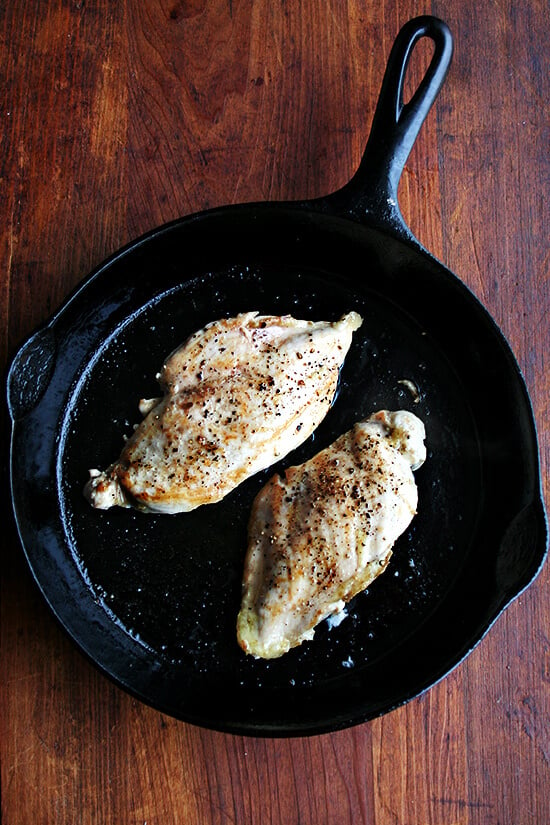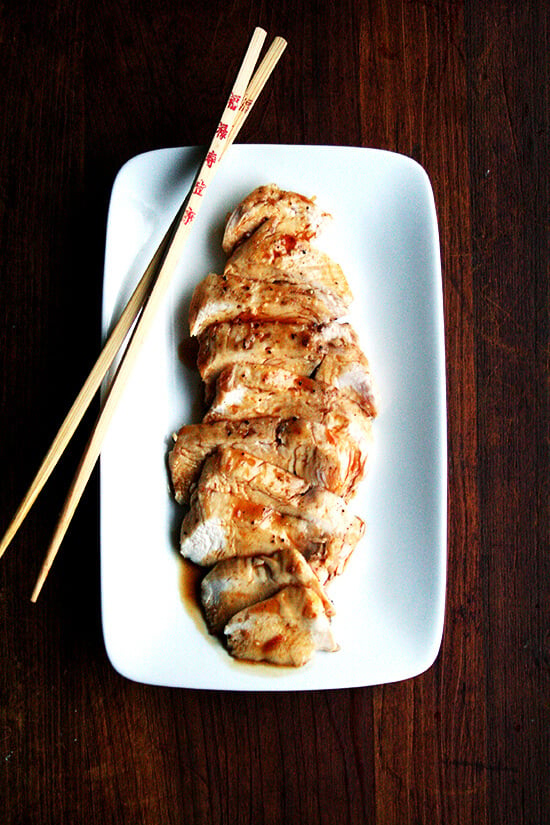 I've posted this video before, but I like to post it whenever we're talking about cutting up chickens. Also, this post has more detailed instructions on cutting up the chicken.
To clean your cast iron skillet, sprinkle kosher salt in an even layer and turn the heat to medium high: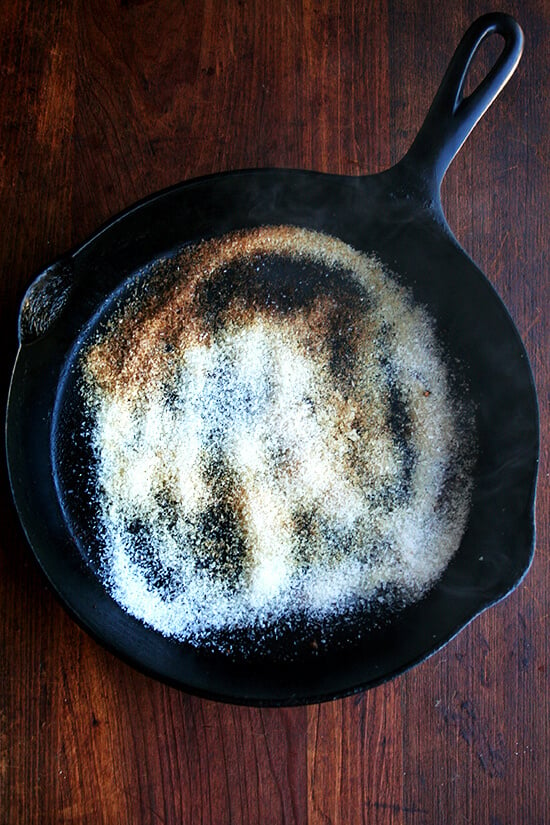 When the salt starts to brown, turn off the heat and let the pan cool briefly. Use a bundled paper towel to wipe out the salt, scraping and food bits stuck to the bottom of the pan. Discard the salt. Drizzle in some oil, and give the pan one last wipe: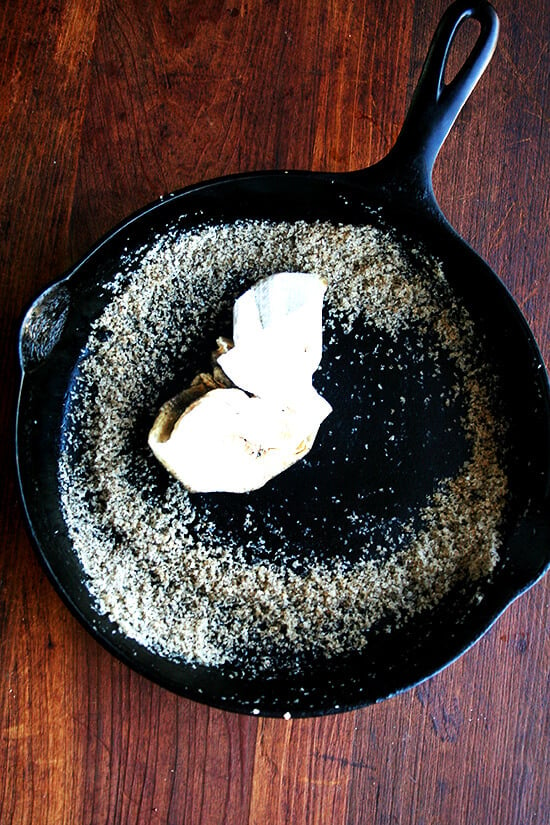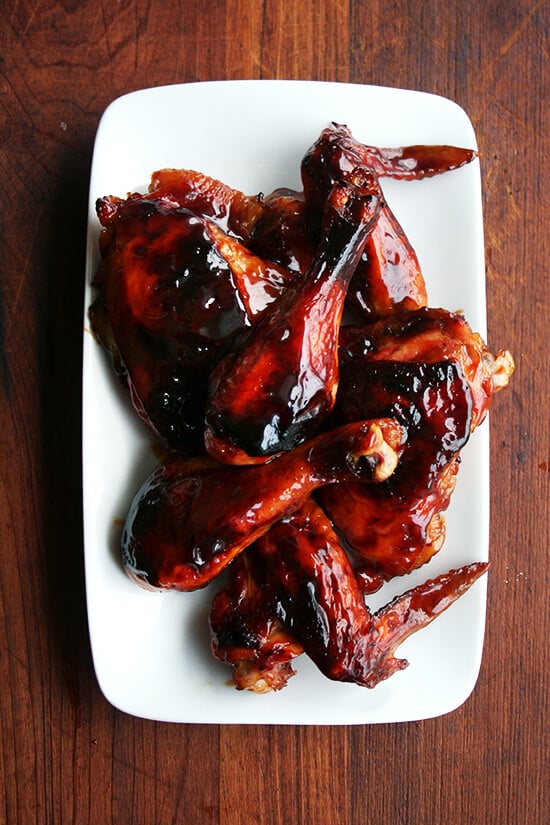 Print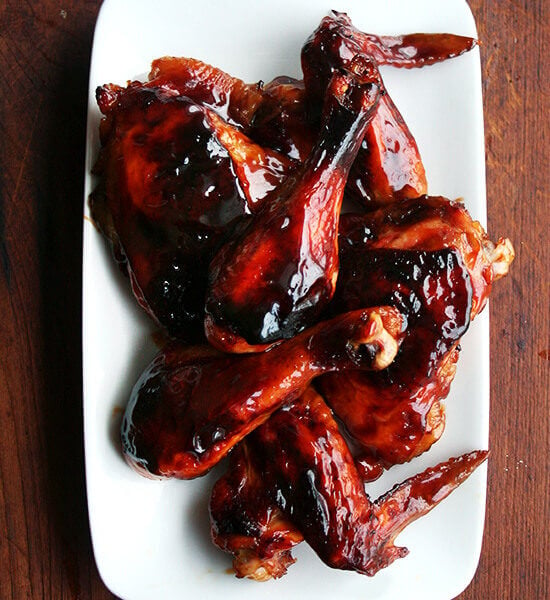 Nobu's Chicken Teriyaki Two Ways
---
Author:

alexandra

Total Time:

60 minutes

Yield:

4
Description
Adapted from Food & Wine. I like to start with a whole chicken and cut it into 8 pieces. See video below. With this recipe, I cook the dark meat the first night, which leaves enough sauce to drizzle over the two breasts on the second night. The sauce can be made in advance, too, and reheated as needed. Serving ideas: Steamed broccoli seasoned with just a teensy pinch of salt and drop of sesame oil; plain white or brown rice — I love Jasmine rice. I have made this with both low-sodium soy and regular soy, and I do recommend using low-sodium — because the sauce reduces so much, the salt concentrates, resulting in a sauce that will be on the salty side especially if you are not using low-sodium soy and stock.
---
1 cup

chicken stock, preferably homemade, low-sodium if otherwise

1/3 cup

low-sodium soy sauce

1/3 cup

sugar

2 tablespoons

mirin

2 tablespoons

sake or white wine

4

to

6

pieces bone-in skin-on chicken thighs, drumsticks or wings or

four

6-ounce skinless, boneless chicken breasts, lightly pounded, or

1

chicken cut into

8

pieces
Salt
Freshly ground pepper

2 tablespoons

olive oil
---
Instructions
If you are using dark meat: Preheat oven to 450ºF. Combine the stock, soy sauce, sugar, mirin and sake (or wine) in a bowl and whisk to combine. If you have time to marinate, place chicken in a storage vessel or plastic bag and pour sauce overtop. Marinate in fridge for as long as you are able.If you are using breasts:In a medium saucepan, combine the the stock, soy sauce, sugar, mirin and sake (or wine) and bring to a boil over high heat, stirring to dissolve the sugar. Reduce the heat to moderate and simmer until the teriyaki sauce is reduced to 1/2 cup and syrupy, about 20 minutes.
If you are using dark meat: Place chicken pieces with sauce in 9×13-inch pan, being sure to leave enough space between each piece. Place pan in the oven and cook for 30 minutes, checking after 15 to make sure the pieces aren't looking too dark — a little charring is good, but if the chicken is looking too dark, turn the oven down to 400ºF. After 30 minutes, reduce heat to 350ºF and cook for another 20 to 25 minutes or until the chicken is done. Remove chicken to a serving dish, bowl or plate. Transfer sauce to a small saucepan and place over medium heat. Simmer sauce until it is reduced to about 1/2 cup or until it looks thick and syrupy. Pour sauce over chicken. If you are using breasts: Season the chicken with salt and pepper. In a large skillet, heat 1 tablespoon of the oil. Add the chicken and cook over moderately high heat, turning once, until browned all over and cooked through, 8 to 9 minutes. Transfer the chicken to a plate and let stand for 5 minutes.
Slice the chicken breasts crosswise at a slight bias and transfer to serving plates. Drizzle the teriyaki sauce over the chicken.
Prep Time:

10 minutes

Cook Time:

50 minutes
This post may contain affiliate links. Please read my disclosure policy.