Preserved Lemons Two Ways: Weekend Project?
This post may contain affiliate links. Please read my disclosure policy.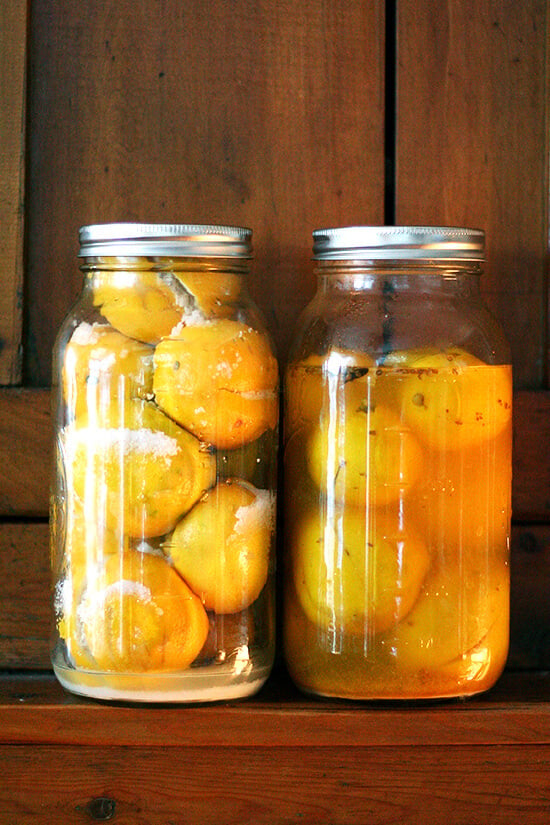 I typically don't/never do this: 1. Post a recipe I've made only once. 2. Suggest you make something I've never tasted.
Why am I making the exception today? Well, this is the thing: preserving, as many of you know, takes time, and while I would prefer to wait a month to tell you how these preserved lemons turn out, I would prefer more if in a month from now you actually had these preserved lemons on hand, so when in the event I post about something else, something perhaps like the chicken tagine with preserved lemons and green olives I had at Tara Kitchen in early December, a dish I cannot stop thinking about and so hope to recreate at home, you'll be able to participate, too.
Make sense? I mean, what if on February 10th, I posted about said tagine and exclaimed: Friends, you HAVE to make this. It is the BEST thing you will ever eat. All you need is a chicken, some stock, a bunch of herbs and preserved lemons. You would be like, are you serious? Oh sure, let me just run to my pantry and pull out my jar of preserved lemons. I mean, doesn't everyone spend all of citrus season slicing and salting and stuffing Mason jars full of lemons? Couldn't you have given us a head's up? How hard would that have been? Am I right? Just making sure I can sleep at night.
And so today I offer you two recipes for preserved lemons, one from Jerusalem, which will be ready in four weeks, and one from the September 2013 Bon Appétit, which will be ready in two weeks. Both sound promising. Fingers crossed?
PS: Moroccan Chicken with Green Olives and Preserved Lemons
PPS: Canal House Chicken Thighs with Preserved Lemons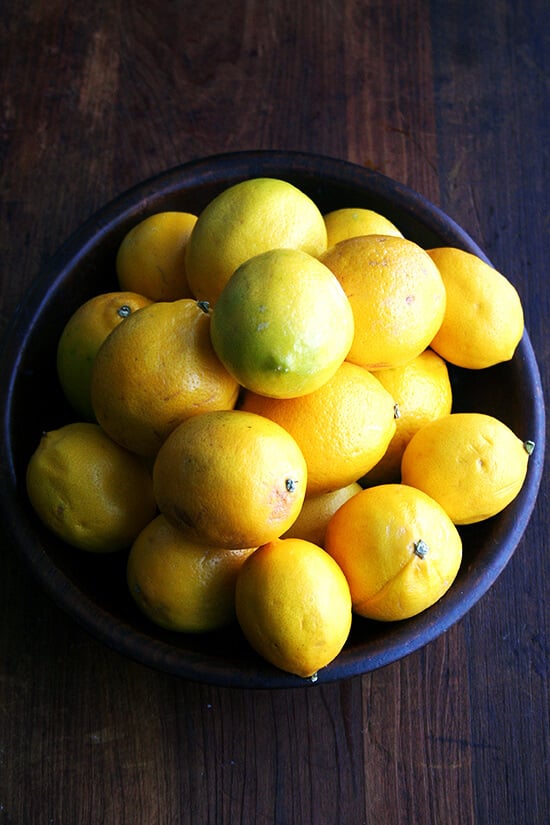 The first method, from Jerusalem, calls for a two phase process. During the first phase, scored lemons stuffed with salt sit for a week in a Mason jar. During the second phase, rosemary, chile, lemon juice and olive oil are added to the jar and everything mingles together for three more weeks.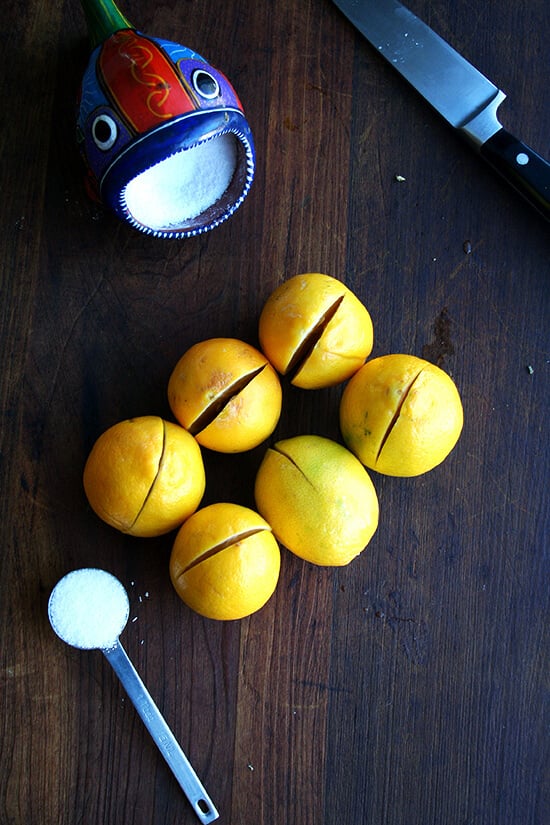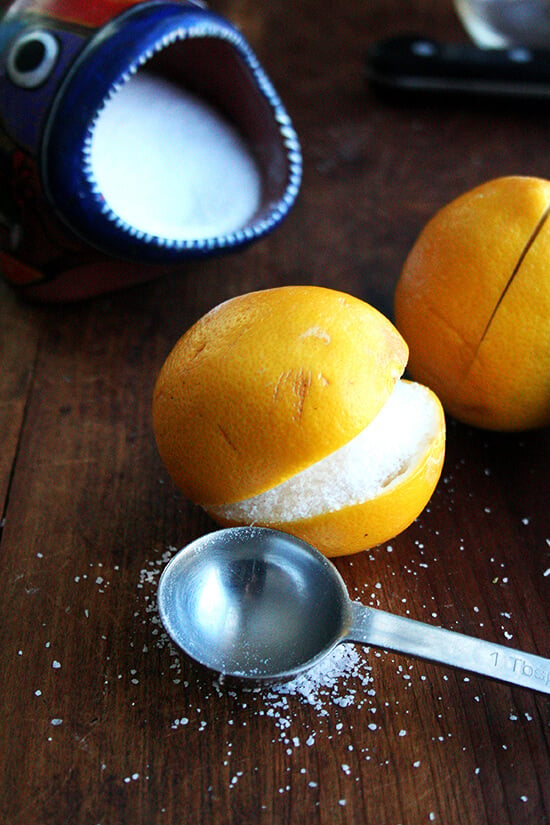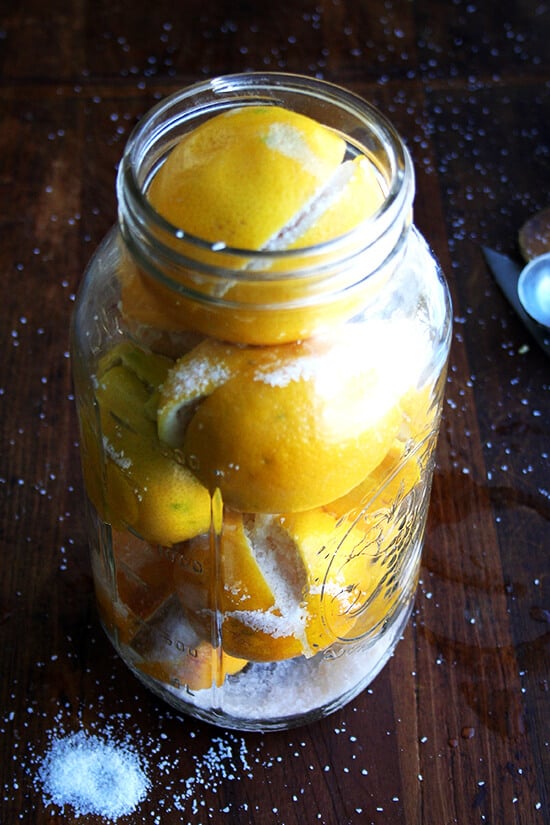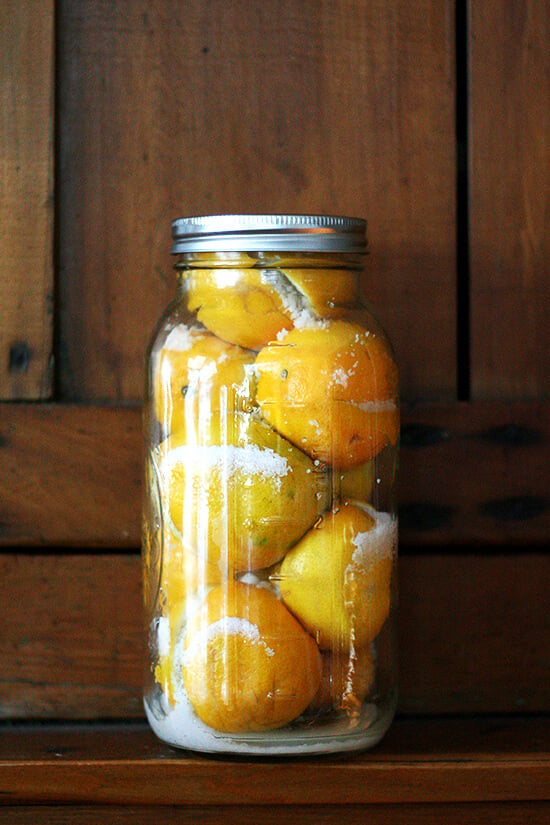 After 1 week, add a dried chili or 1/2 teaspoon crushed red pepper flakes and a sprig of rosemary.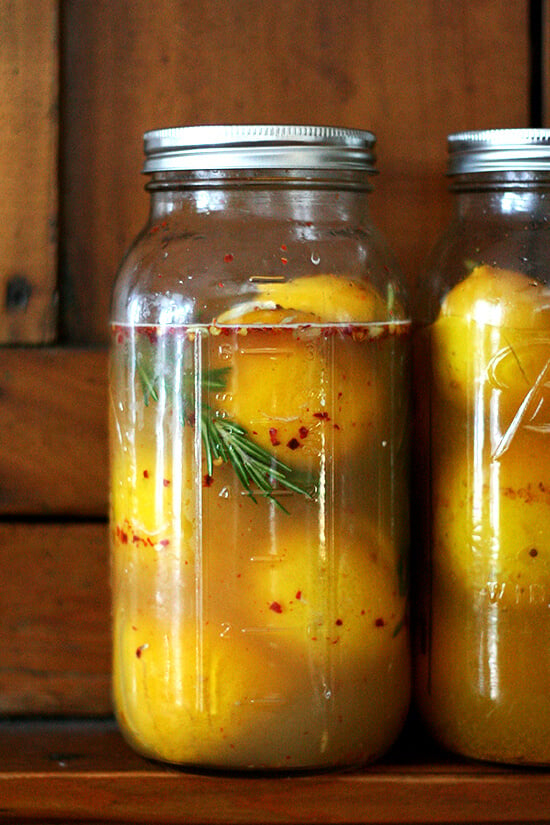 Update: 3/10/2014: Upon returning from a Tara Kitchen cooking class and learning that the owner, Aneesa, purées her preserved lemons — lemons, salt and juice — and uses spoonfuls of the purée in her dishes, I whizzed my whole batch of Jerusalem preserved lemons in the food processor and now have a jar of purée I am certain will last a decade.
Here's a little more I learned from Aneesa about making/using preserved lemons: Aneesa does not use Meyer lemons at the restaurant because of cost, but she believes their thin skin makes them ideal for preserving. She uses the more traditional preserving method (the Jerusalem method vs the BA method). She never rinses the lemons before using because once her lemons are preserved, she purées the whole batch and uses spoonfuls of her puréed preserved lemons in various dishes.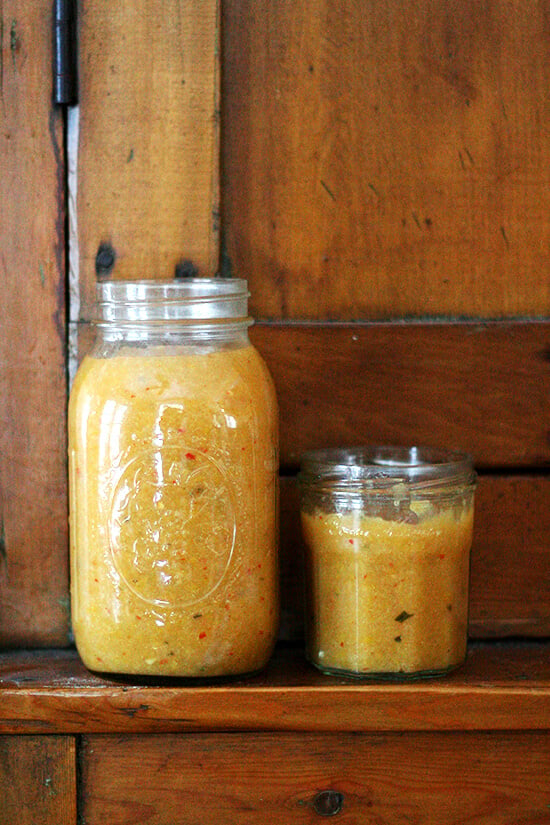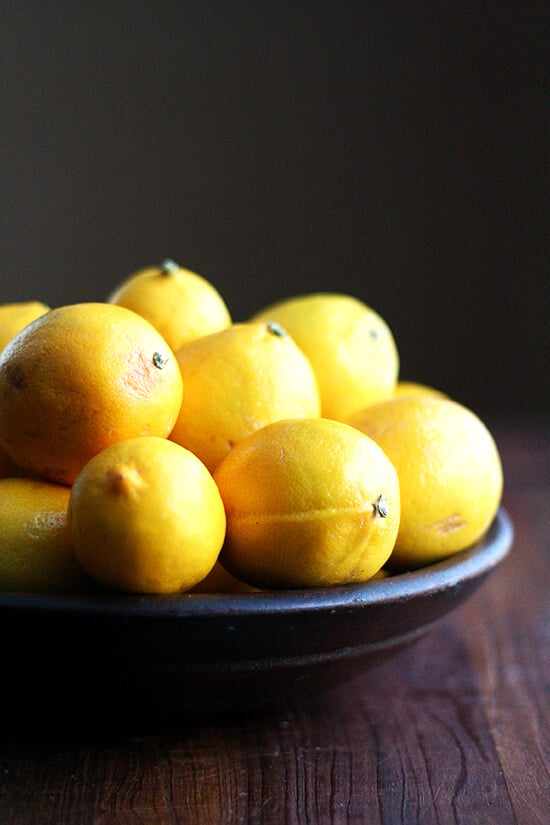 The second method, from Bon Appetit, calls for boiling the lemons first, then submerging them in a brine. From the bit of recipe comparison I did on preserving lemons, this method, which calls for a fair amount of sugar, seems to be a bit unconventional. That said, BA described the lemons as "the best [they've] ever tasted." The recipe comes from Philip Krajeck, chef of Rolf & Daughters in Nashville.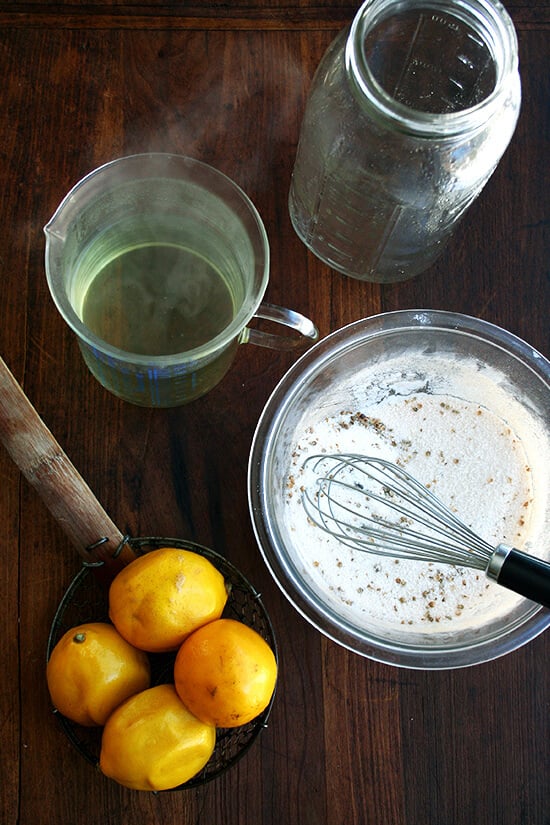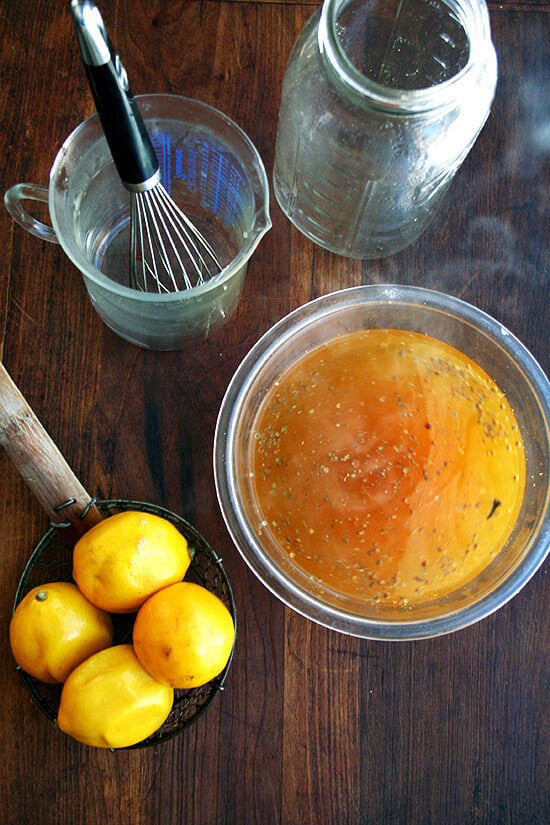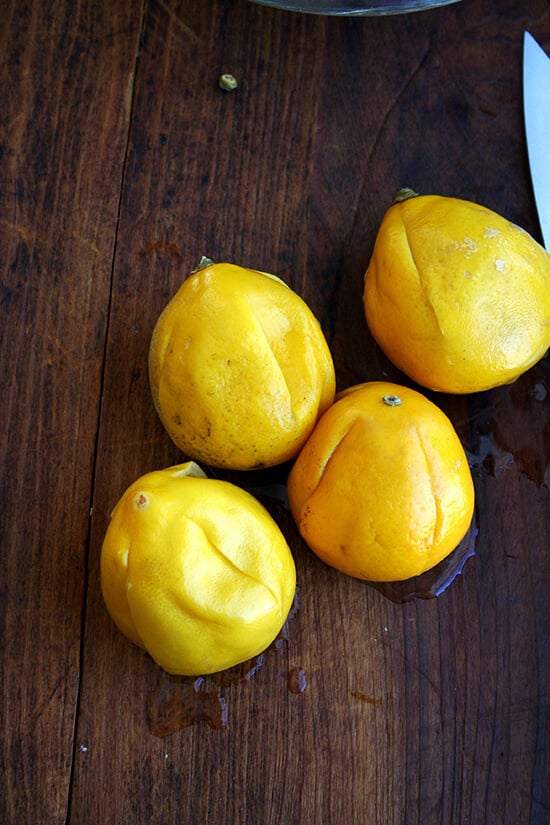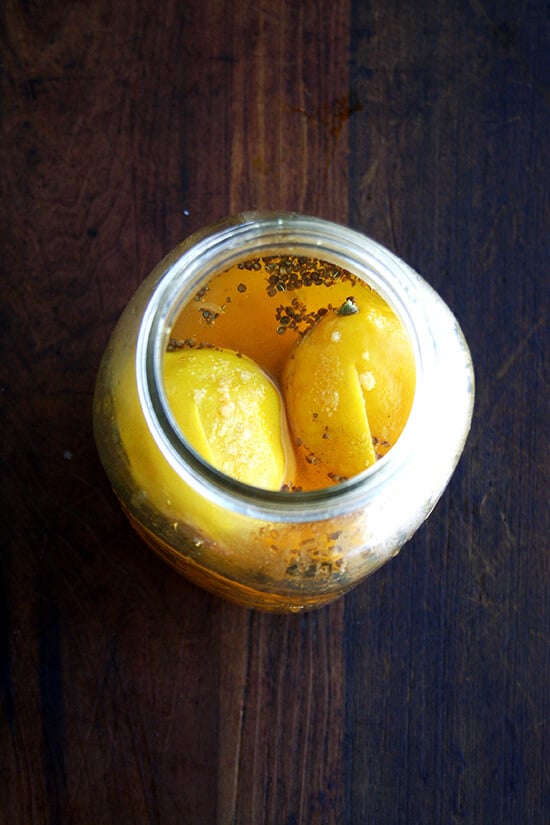 Print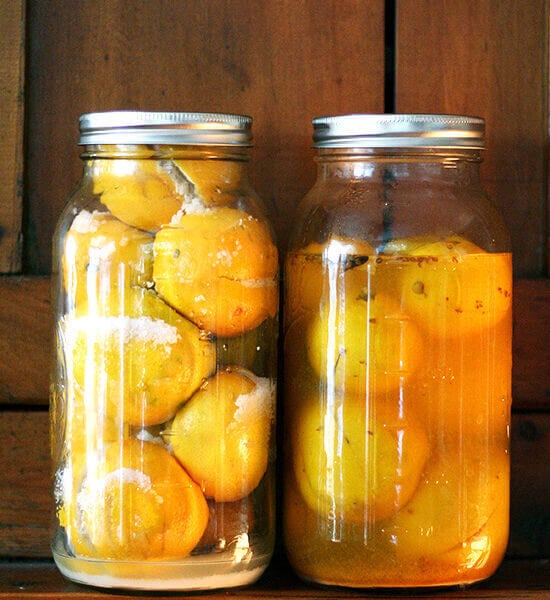 Traditional Preserved Lemons
---
Description
Source: Jerusalem by Yotam Ottolenghi and Sami Tamimi
Having made these several times now, I've made a few teensy changes: I don't add the rosemary and chilies anymore—I only use lemons, salt and lemon juice. After the 4 weeks, too, I purée the lemons, salt, juice and all. This was a tip I learned from Aneesa, the owner of Tara Kitchen in Schenectady. I find having the purée on hand to be much more user friendly.
---
6

lemons (or however many you want to make)

6 tablespoons

coarse sea salt or kosher salt

2

rosemary sprigs, optional (see notes)

1

large red chile, optional (see notes)
juice of

6

lemons
olive oil (see notes)
---
Instructions
Before starting, find a jar large enough to accommodate all of the lemons snugly — I used a 2-quart jar for my 8 lemons. To sterilize it, fill it with boiling water, leave for a minute, and then empty it. Allow it to dry out naturally without wiping it so it remains sterilized.
Wash the lemons and cut a deep cross all the way from the top to within ¾ inch from the base. Stuff each lemon with about 1 tablespoon of the salt (if lemons are small, use 2 teaspoons) and place in the jar. Push the lemons in tightly so they are squeezed together snugly. Seal the jar and leave in a cool spot for at least a week.
After the initial period, remove the lid and press the lemons as hard as you can to squeeze out as much of the juice as possible. Add the rosemary and chile, if using, and the lemon juice, and cover with a thin layer of olive oil—I don'd do this olive oil step. Seal the jar, transfer to the fridge, and leave for at least 4 weeks. The longer you leave them, the better the flavor.
If desired, purée the whole batch—lemons, salt, juice and all.
---
Print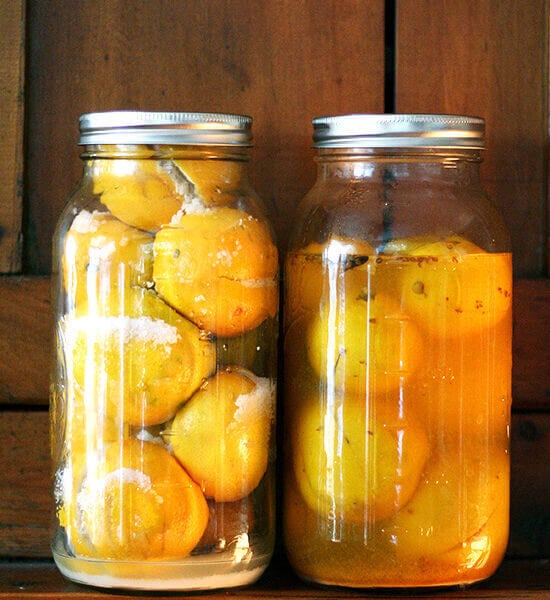 Preserved Lemons in Brine
---
Description
Source: Philip Krajeck via Bon Appétit Note: I started with four lemons and then ended up boiling four more because there was plenty of room in my 2-quart ball jar and plenty of brine as well.
---
4

to

8

lemons, I used Meyer but you can use any kind

⅔ cup

sugar

7 tablespoons

kosher salt

1 teaspoon

crushed coriander seeds

¼ teaspoon

ground turmeric

1

clove
---
Instructions
Boil 4 scrubbed lemons until softened, 10-12 minutes.
Transfer lemons to a bowl of ice water. (Oops, I didn't do this.) Reserve cooking liquid.
Using a paring knife, deeply score lengthwise 4 times, leaving lemons intact.
Whisk ⅔ cup sugar, 7 tablespoons kosher salt, 1 teaspoon crushed coriander seeds, ¼ teaspoon ground turmeric, 1 clove, and 3 cups hot cooking liquid in a bowl. Transfer lemons to a one- or two-quart heatproof jar and add brine. Cover and chill at least 2 weeks. Update: Store these in the fridge. I store the Jerusalem variety at room temp, but I think these (with all that sugar) should be refrigerated unless you keep your house very cold.
This post may contain affiliate links. Please read my disclosure policy.