Favorite Sunday Dinner: Braised Chicken with Sherry & Sherry Vinegar
This post may contain affiliate links. Please read my disclosure policy.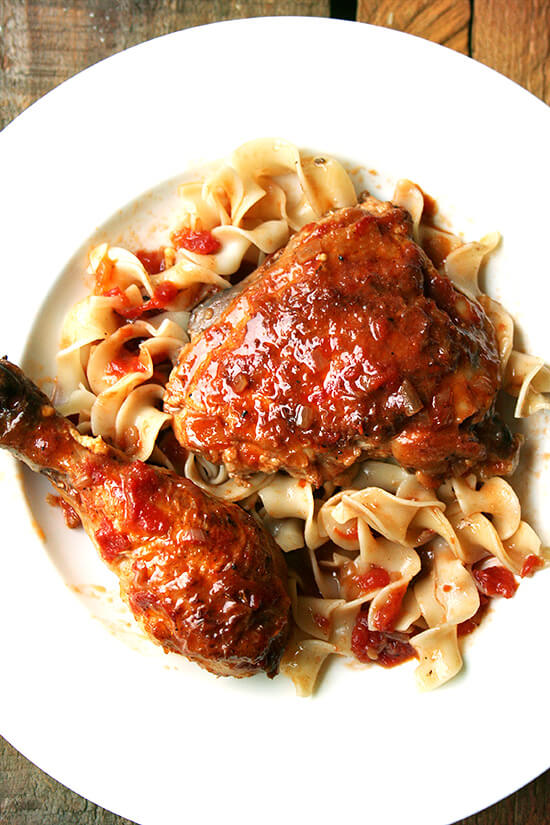 I never imagined an eighth of a cow taking so long to polish off. Seven months after packing our freezer with meat, we have finally made a considerable dent, two pounds of ground beef, one liver, and a few soup bones being all that remain. We have eaten more burgers and tacos than we ever thought possible, and while it has been wonderful having such amazing beef on hand, Ben and I are thinking about our next move.
The thing is is that I miss chicken. I have been spoiled by modern living, by endless variety, by not having to have to buy meat by the quarter animal. This time of year I crave my mother's chicken kapama (Greek red chicken) and these chicken legs baked with white wine and parmesan and the braised chicken pictured here, chicken au vinaigre, another favorite from Sally Schneider's A New Way to Cook.
Subscribing to one of those meat shares that offer lamb, pork, chicken, goat and various other meats would be the ideal. But alas, you can't always get what you want, and I would again be willing to sacrifice variety for grass-fed, local, incredibly delicious beef. It's hardly a tradeoff, really.
Now, back to the chicken. This dish, a classic French preparation, is all about the sauce, a rich concentration of shallots, crushed tomatoes, mustard and reduced sherry and sherry vinegar. As with my mother's chicken kapama, I love serving it with egg noodles, which soak up the delicious sauce so nicely, but a natural (perhaps even more delicious) alternative to the noodles is a hunk of bread. That time of year has certainly arrived, when cleaning dinner plates with crusty bread is more than acceptable.
Lake Champlain Chocolates Giveaway update: Thank you all for sending along so many wonderful ideas regarding recipes calling for unsweetened cocoa powder. I have updated the Double Chocolate Cake post with a list of many of your cocoa-recipe suggestions — so many of which I cannot wait to try — and I have also added a brief explanation on the difference between Dutch-process and natural cocoa powder, which, embarrassingly, is something I had not paid much attention to up until this point. Knowing the difference is something every baker should know — it helped me understand why it was actually OK to use Dutch-process cocoa in that double chocolate cake when the recipe specifically said, "not Dutch-process cocoa powder." The explanation, I believe, is that Dutch-process cocoa (which contains less acid than natural cocoa powder) is OK to use in this recipe because there is enough buttermilk (also an acid) to activate the baking soda — when recipes call for baking soda, there needs to be an acid present to activate it.
Finally, the box of Dark Chocolate Sea Salt Caramels is going to Emily Teel. And the tin of LCC Fair Trade Unsweetened Cocoa is going to Jolene. I have contacted you both for your mailing addresses.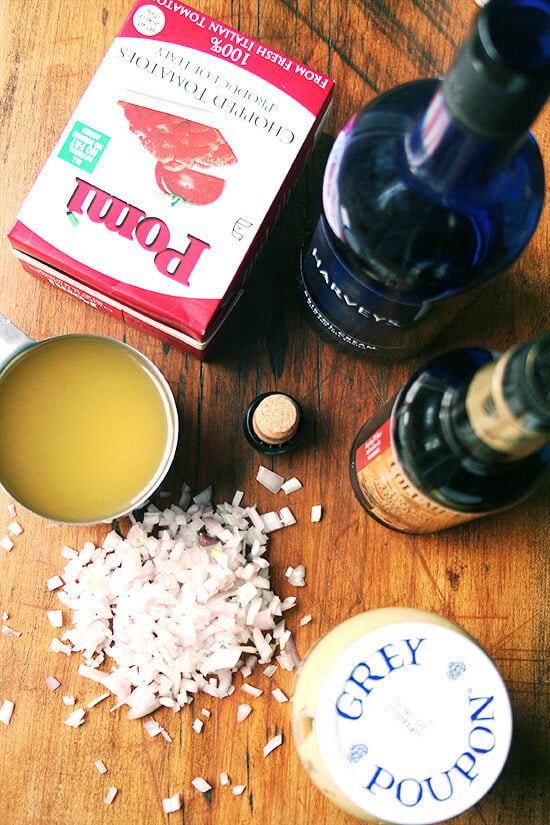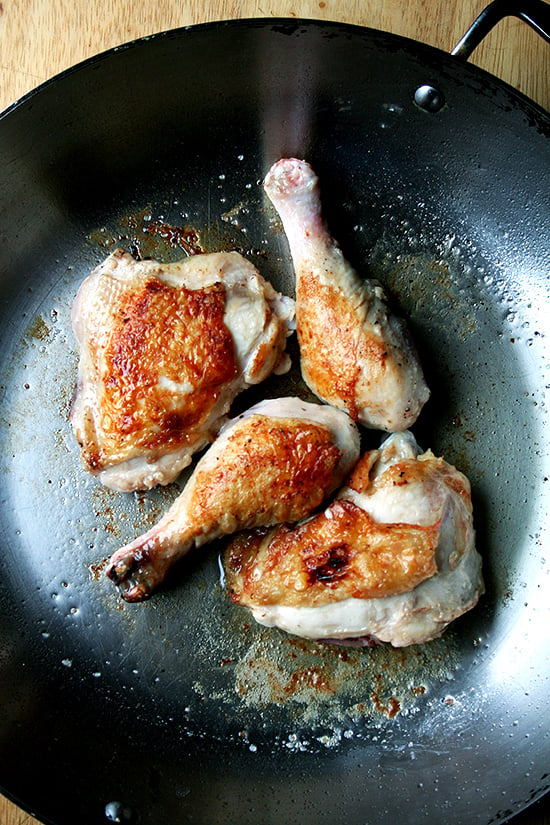 As you know, buying a chicken whole is much more cost effective than buying separate chicken parts (as cheap as you can find chicken these days.) I'm repeating myself, but one chicken can produce two meals for two plus 1.5 quarts of chicken stock (at the very least) plus 3 little snacks — 2 chicken tenders and a liver. Also, I posted a video awhile ago about cutting up a whole chicken, but the angle of the camera makes it kind of hard to see, so I've added a new one below. A couple things to remember:
• A sharp knife makes all the difference — this one was freshly sharpened.
• Set up your station before you begin: Have a stock pot nearby for the backbone, breast bones (if you remove the breast from the bone), neck and wings (kind of wasteful, I know, but my wings often go to the stockpot). Also, clean your sink — when you're finished cutting up your chicken, it's nice to be able to wash your board right away without having to worry about splattering raw chicken over dirty cups and plates.
• Have an open ziplock with the top rolled over for easy access.
• Step 1: Remove the legs from the rest of the bird — this is pretty straight forward. Make slits in the skin that connect the legs to the whole bird. Then, using both hands, fold the bird in half to make it easier to cut through the backbone. Cut through the backbone. Note: smaller chickens (closer to 3 lbs.) are easier to cut up than larger ones. I always look for birds that are as close to 3 lbs as possible.
• Step 2: Remove the legs from the backbone: On both sides of the backbone there is a soft spot — it takes a little bit of practice finding it, but once you do, it's easy. If you nail it on the first whack down, you can remove the leg in one swipe. Careful of your fingers when removing the second leg.
• Step 3: Removing the thighs from the drummies. You can see in the video that there is a white piece of skin/tissue/fat (?) that marks where the thigh and drumstick connect. If you run your knife through this piece, you will make a clean cut.
• Step 4: Remove the wings — pretty straight forward.
• Step 5: Separate the breasts: With the breasts resting on the board, make a slit on either side of the connecting bone. Add it to the stock pot. Using your hands, break the breast gently to allow it to lay flat and to help you with chopping it in two pieces.
Step 6: Remove breasts from bone if desired. Run your knife as close to the breast bone as possible while gently pulling the breast away from the bone.
Step 7: Start your stock. Freeze your liver — if you freeze about 6 you'll be able to make paté for the holidays. Seal your ziplock bag and store it in the fridge. Make this chicken or these baked legs with white wine and parmesan for dinner. Make broiled tarragon breasts tomorrow night — I'm so boring, still have only one recipe for chicken breasts.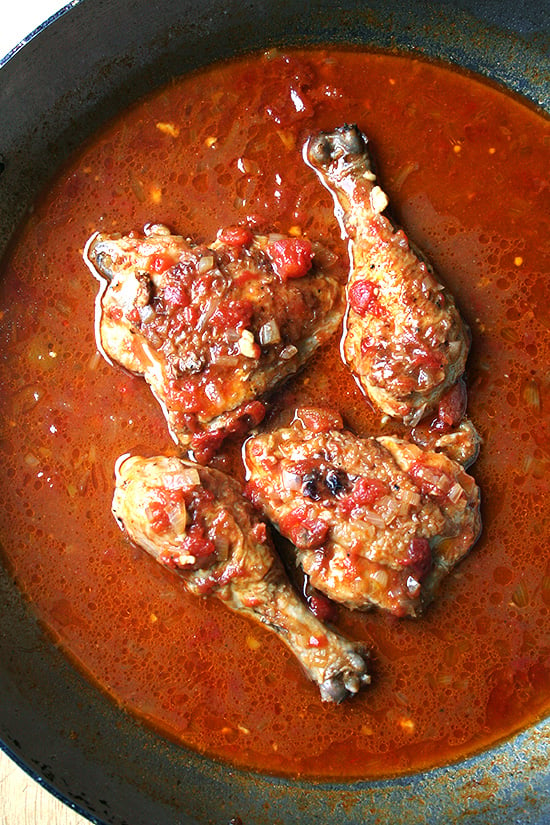 Print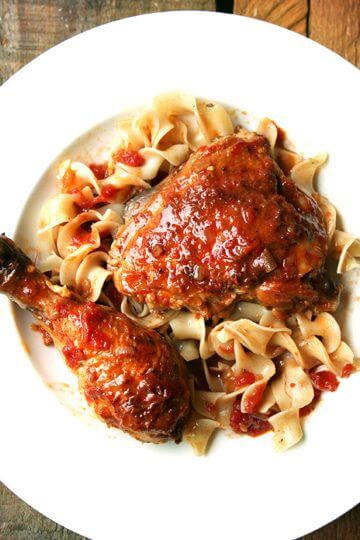 Favorite Sunday Dinner: Braised Chicken with Sherry & Sherry Vinegar
---
Author:

Alexandra

Total Time:

50 minutes

Yield:

4
Description
Adapted slightly from Sally Schneider's A New Way to Cook This is a nice dish to have all of your ingredients prepped ahead: chop your shallots; have your sherry and sherry vinegar measured out; etc.
---
3

lb chicken, cut into

8

pieces
kosher salt, plus more to taste
freshly cracked pepper, plus more to taste

3 tbsp

flour

1 tbsp

+

1 tsp

olive, grapeseed or peanut oil

1/4 cup

+

2 tbsp

shallots, finely chopped

2/3 cup

medium-sweet sherry (I use Harvey's Bristol Cream dry sherry)

1/3 cup

sherry vinegar

1

–

1

-1/2 tsp sugar

2 cups

chicken stock

1 cup

drained and coarsley chopped peeled plum tomatoes (I like Pomi Chopped Tomatoes — see photo)

1 tbsp

dijon mustard
---
Instructions
Season chicken all over with salt and pepper. Dredge chicken in flour and shake off excess.
Heat 2 tsp oil in a skillet and sear chicken until golden on each side. Add more oil as needed waorking in batches.
Reduce heat and sauté shallots, covered until softened; uncover and sauté until golden brown. Add sherry and deglaze; reduce by half. Add vinegar and sugar and reduce by half. Add chicken stock, tomatoes, mustard, salt and pepper. Add chicken thighs and legs, partially cover and cook 7 mins. Add breasts and wings (if using), cover and simmer 20 mins or until chicken is cooked through. Remove chicken to a plate.
Simmer sauce 10 mins or until slightly thickened and flavors are rich and mellow. Return chicken to pan and heat through.
Prep Time:

5 minutes

Cook Time:

45 minutes
This post may contain affiliate links. Please read my disclosure policy.