Orange, Grapefruit & Green Grape Compote
This post may contain affiliate links. Please read my disclosure policy.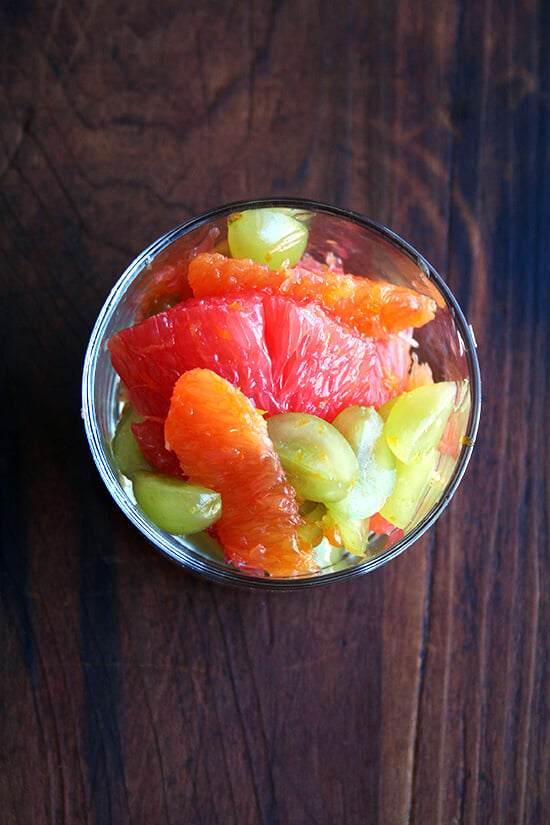 This is the post I meant to write back on January 7th, when I was eating croque monsieur and thought you should, too. I still feel bad about that one.
Is it too late to make things right? I hope not. Because this little mixture of orange, grapefruit and slivered grapes tossed together with citrus sugar and freshly squeezed juice couldn't taste more right than right now. My aunt, the one who makes pies and Vermont Cheddar Cheese soup and baked fontina, discovered it 10 years ago, and we've been making it every winter since.
It's fresh and light and makes an elegant dessert or a nice addition to any breakfast or brunch. And while it's simple in theory to throw together — fruit and sugar are tossed with fresh juice — somehow it takes more time to assemble than you might anticipate. But don't let that deter you. All of the zesting and supreming and slivering are worth every effort. One bite of this compote* will send those winter blues packin'!
Have a great weekend, Everyone.
*Probably not technically a compote since it's not cooked, but that was the title Gourmet gave to it back in 2003, so I'm sticking with it.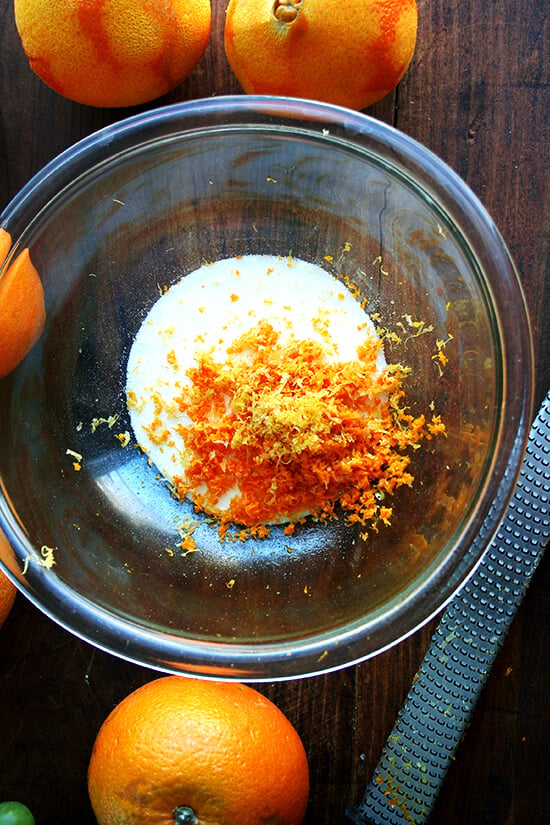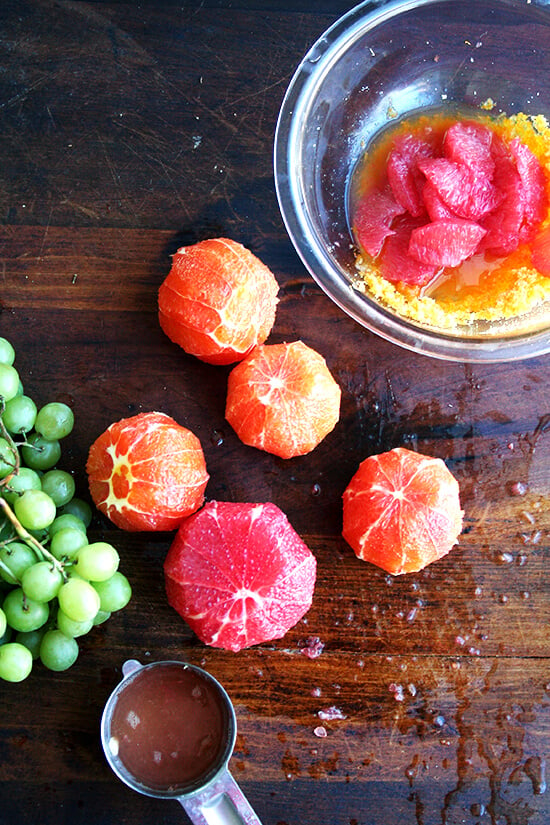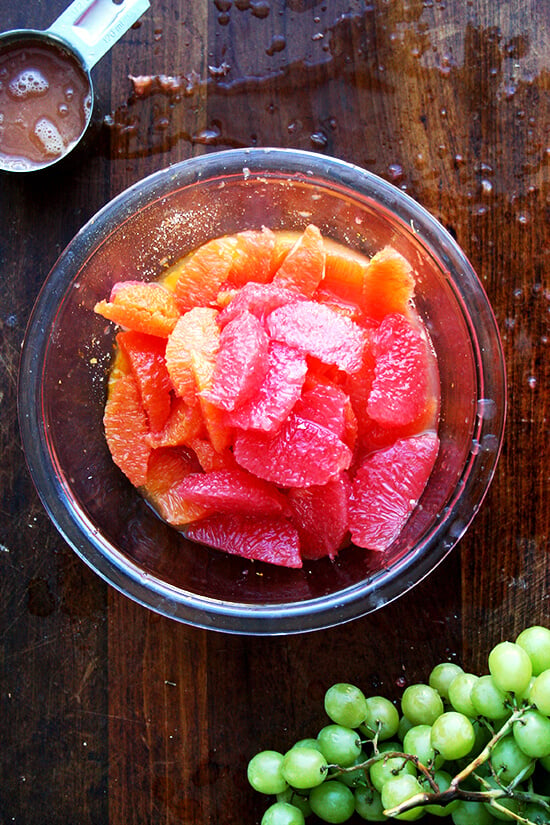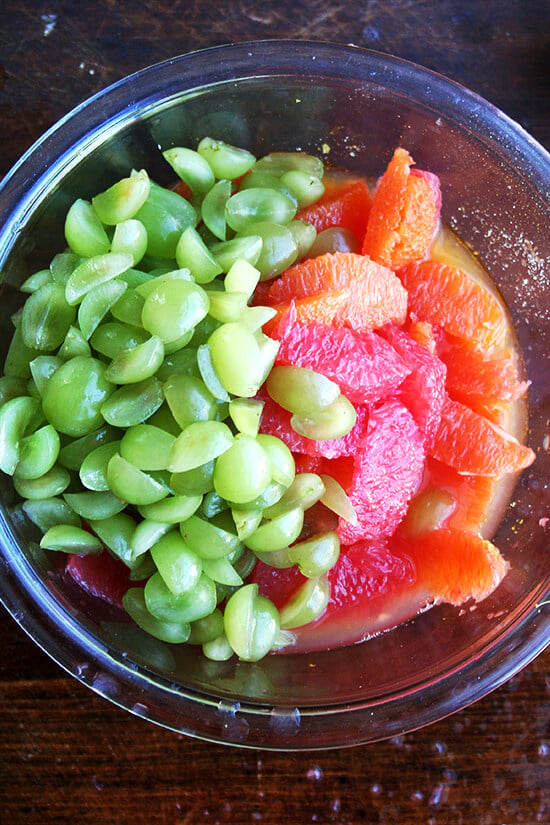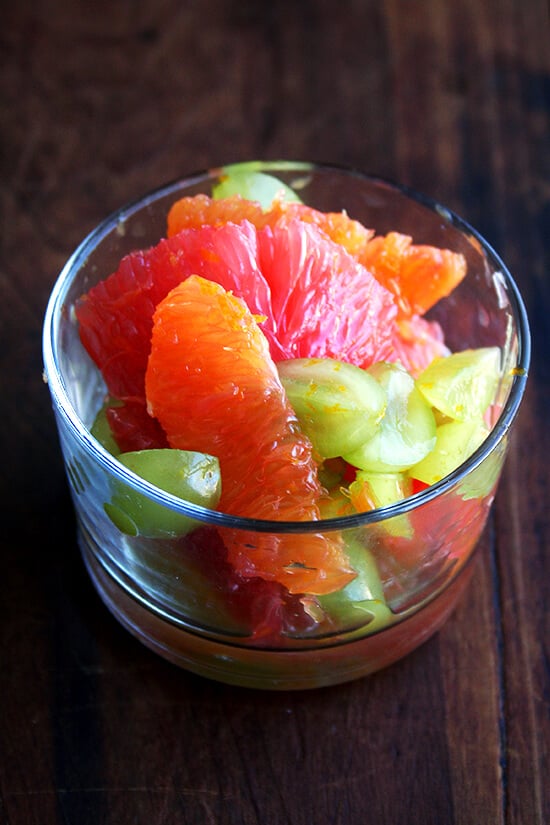 Print
Orange, Grapefruit & Green Grape Compote
---
---
6

navel oranges

2

large grapefruit

6 tablespoons

sugar

1/2

lb. seedless green grapes (

1 1/3 cups

), quartered lengthwise
---
Instructions
Finely grate zest from 2 oranges and 1 grapefruit into a small bowl and stir in sugar. Massage with fingers to incorporate the zest and sugar together. Set aside.
Cut peel, including all white pith, from oranges and grapefruit with a sharp knife, then, working over a large bowl, cut segments free from membranes, letting segments fall into bowl. Squeeze enough juice from membranes to measure 1/2 cup, then add to citrus segments with grapes and 3 tablespoons of the citrus sugar. Very gently toss the fruit — some of the pieces inevitably will fall apart, which is OK — with a large spoon, and serve with remaining sugar on the side.
This post may contain affiliate links. Please read my disclosure policy.