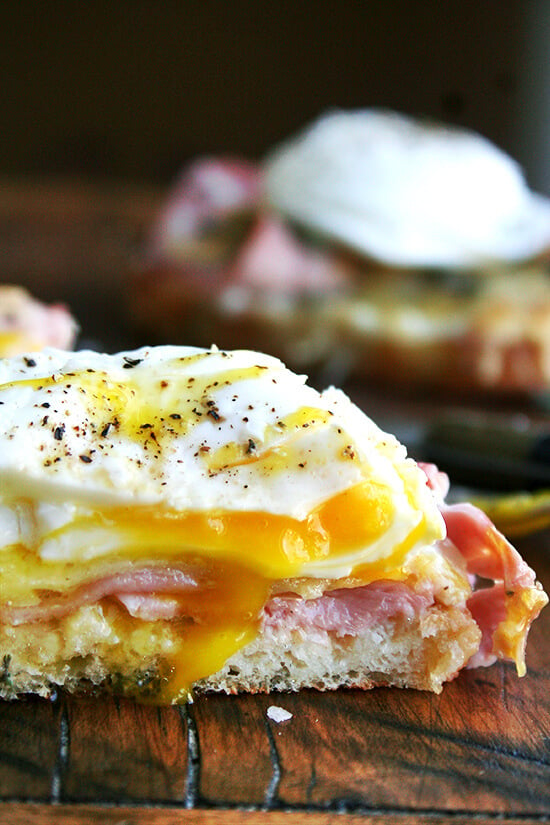 Soooo, I know it's January 7th, and I should be eating kale and tofu and sipping on homemade kombucha, and I probably should not be interrupting your New Years'-resolution-dining regimen with visions of béchamel-slicked toast layered with black forest ham, gruyère cheese, and oozing poached eggs, but, um, well, I'm sorry?
You see, the thing is that it has been bitter cold here and with every degree below zero that the temperature falls, my motivation to enter the outdoors falls even further, which has forced me to get creative at the dinner hour. What started as an answer to what to serve for dinner? with slim pickings in the fridge has evolved into a favorite meal, something I find myself craving every few days, something I don't foresee eliminating from the dinner rotation any time soon.
And really, while this open-faced sandwich looks/sounds a bit decadent, it's not so bad. This is one of those things where a little of everything — a tablespoon of béchamel, a slice of ham, a handful of cheese — goes a long way. A sprinkling of fresh thyme right out of the oven is essential, and while there is something about ham and gruyère that can't be beat, this of course could be made vegetarian with sautéed greens or braised leeks or roasted endive. Served with a salad of wintry greens, shaved fennel, and lots of fresh dill tossed in a clementine dressing, this meal feels surprisingly light.
Yes. I just made a case for croque-monsieur one week into the New Year. Thank you for listening.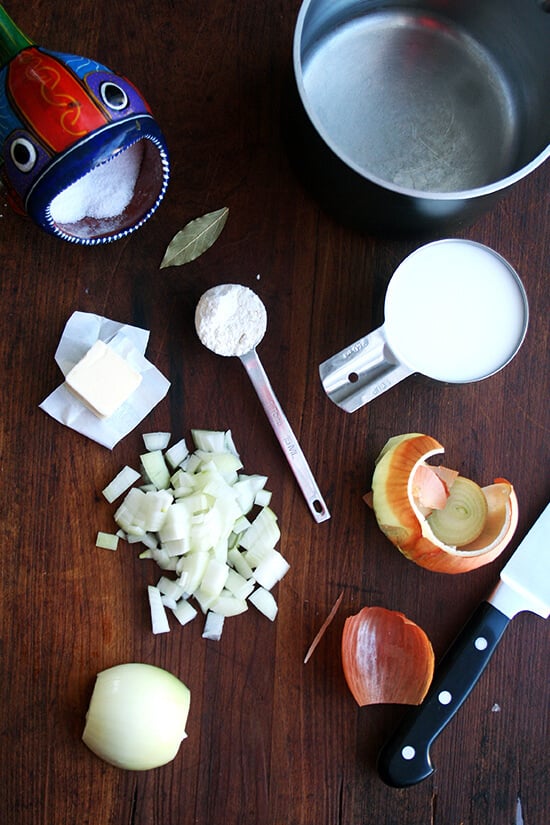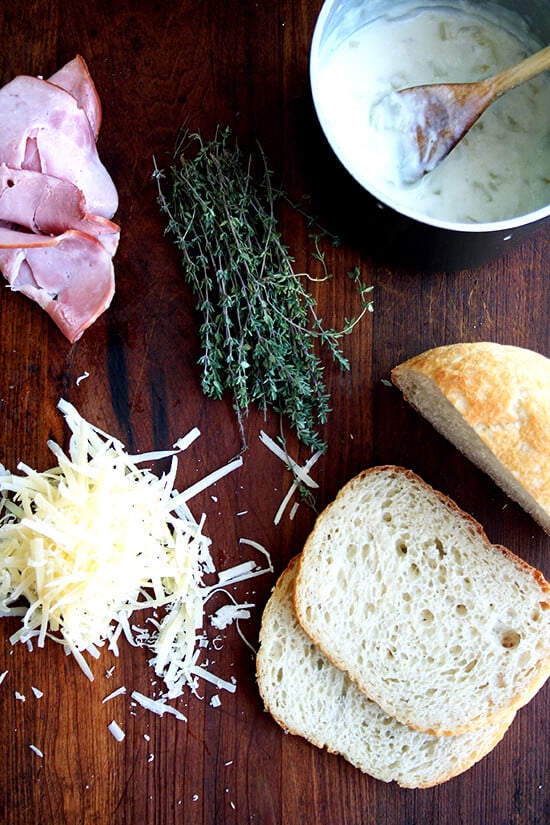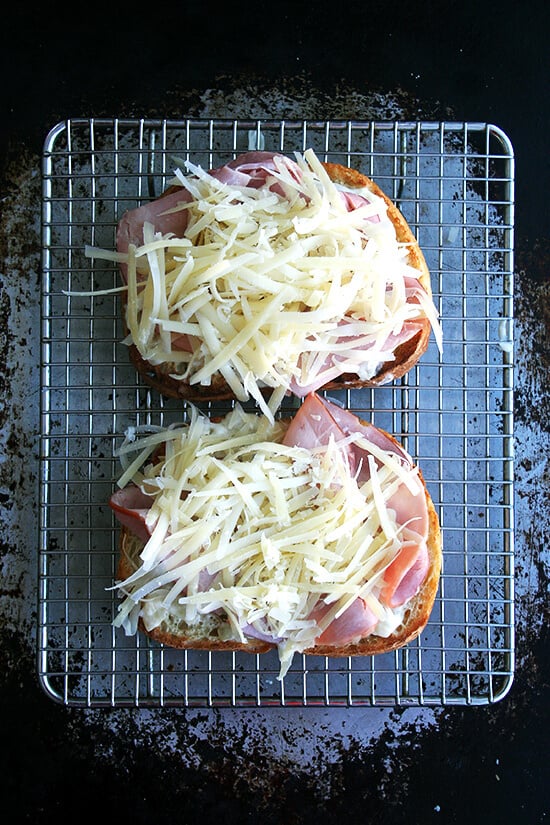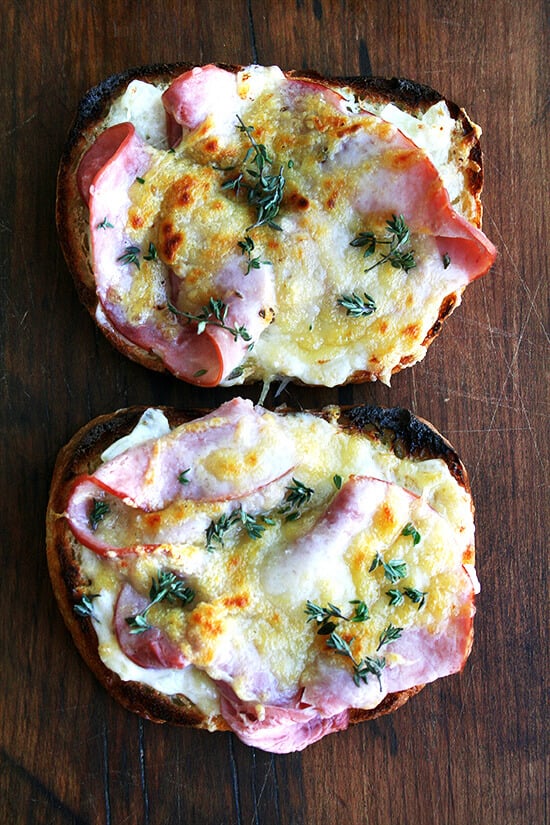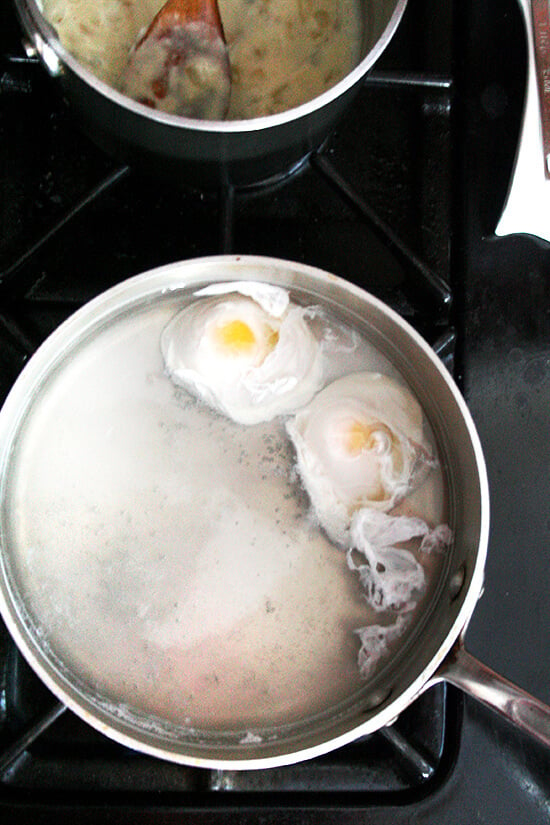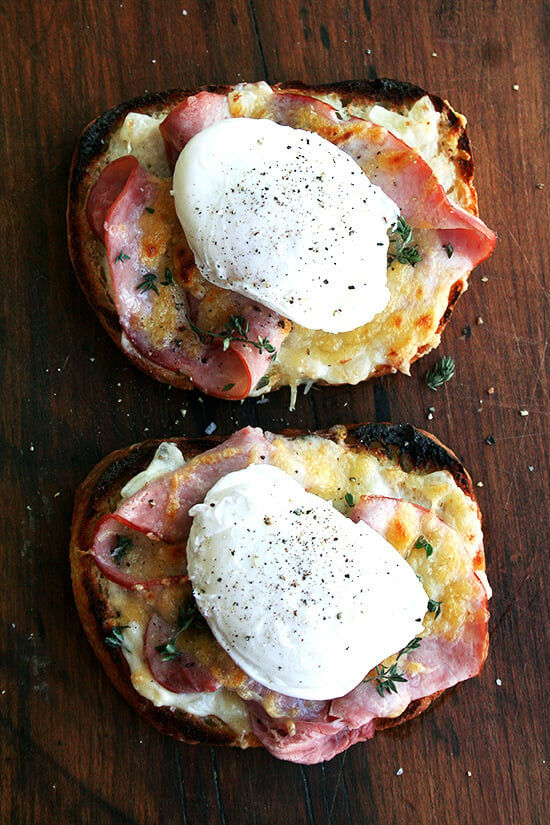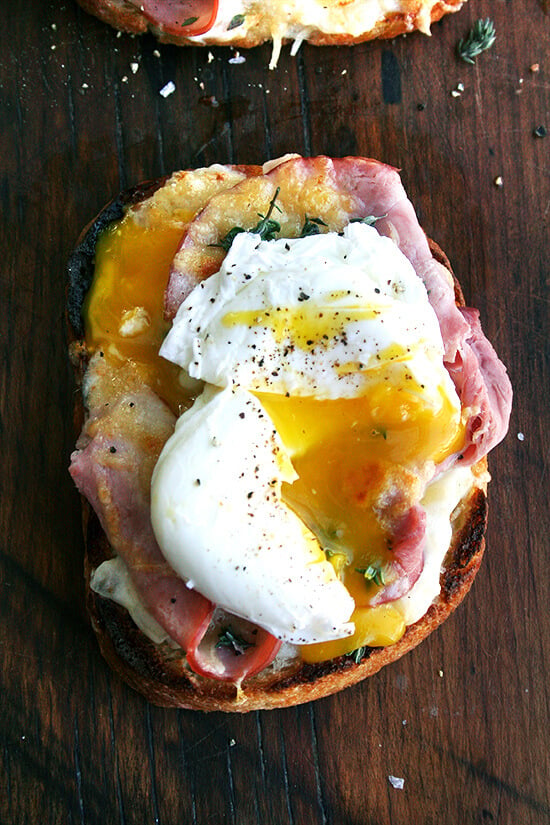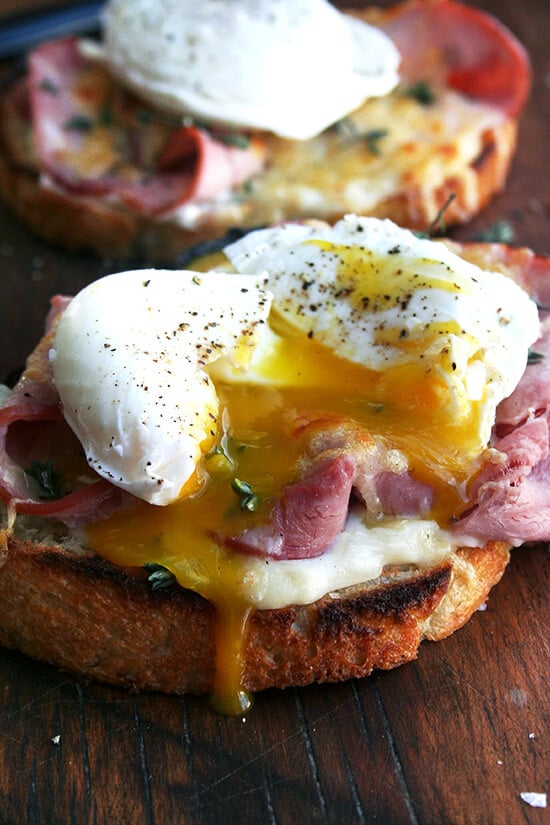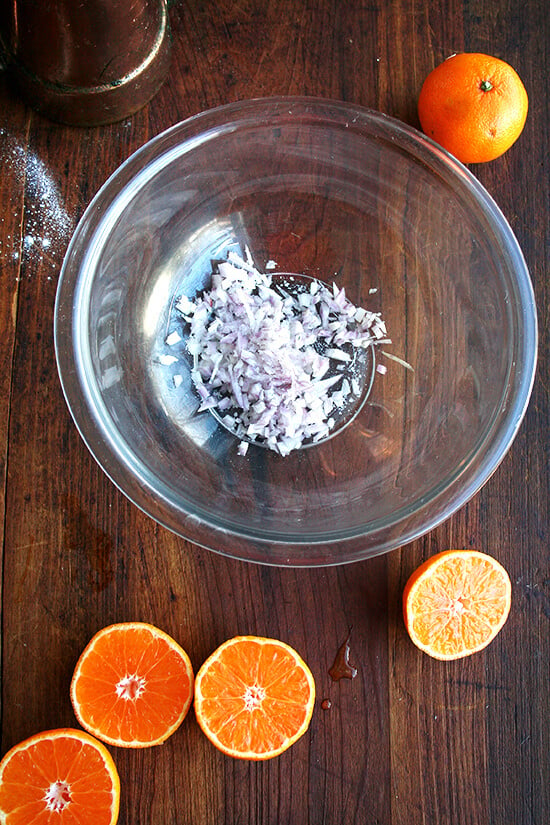 Clementine Salad Dressing:
Place 2 to 3 tablespoons of finely minced shallots in a small bowl. Season with a pinch of kosher salt. Juice three clementines over the shallots and let macerate for 15 minutes. Slowly whisk in at least 1/3 cup of extra-virgin olive oil. Taste, adding more olive oil if necessary and a tablespoon or so of white balsamic vinegar if you need a little more bite.
Simple winter salad: Greens, shaved fennel, sliced endive, and lots of chopped fresh herbs: dill, mint, chives — whatever you like best.
A few more detoxing ideas can be found here.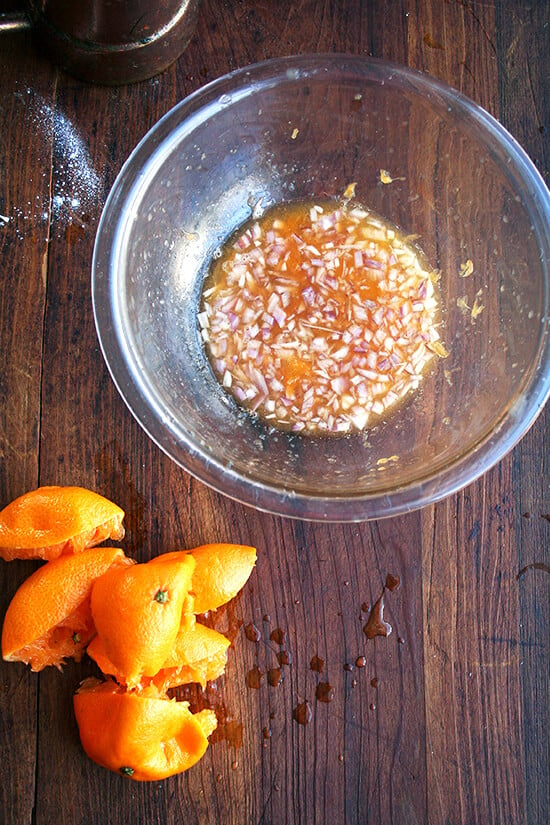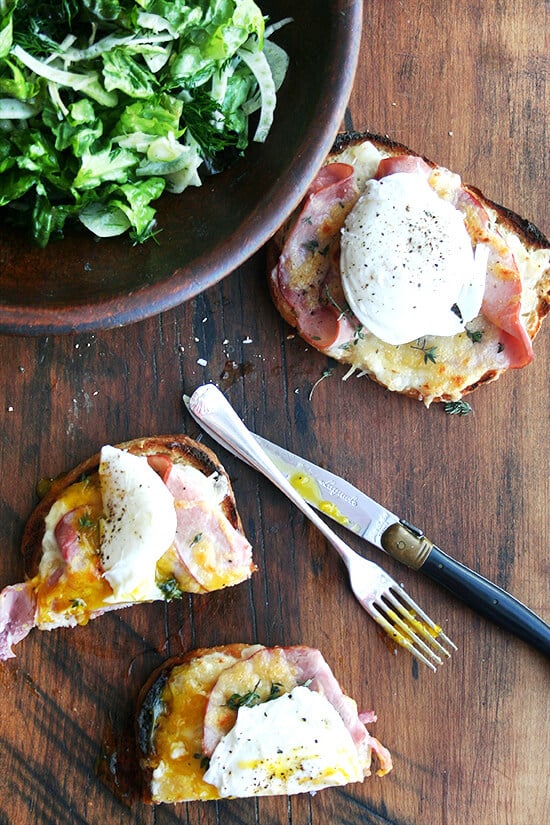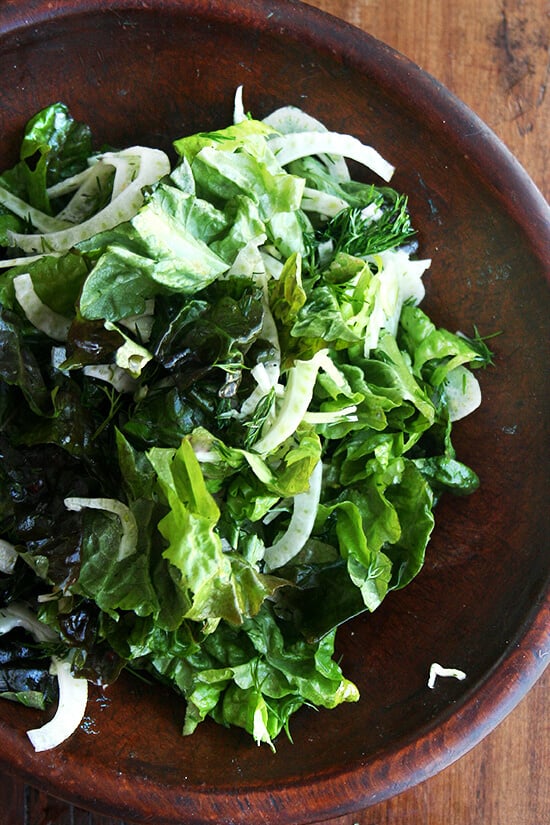 Print
Croque Monsieur with Poached Eggs (Croque Madame)
---
Author:

Alexandra

Prep Time:

10 minutes

Cook Time:

30 minutes

Total Time:

40 minutes

Yield:

2 , with lots of extra bechamel
---
Ingredients
good bread, cut into thick slices
béchamel (recipe below)

3

to

4

slices good ham (figure

1

to

2

per sandwich)
grated gruyère, Comté or Swiss cheese
fresh thyme leavesfor the béchamel:

1 tablespoon

s butter

1/4

to

1/2

medium onion (about

2

to

4

T. finely chopped)
kosher salt

1 tablespoon

s flour

1 cup

whole milk

1

bayleaffor the poached eggs:

2

eggs (count on 1 egg per sandwich)
splash of white vinegar
---
Instructions
First, prepare pot for eggs: Fill a shallow saucepan with two to three inches water and bring to a simmer.
Then, prepare the béchamel: In a medium saucepan over medium heat, melt the butter. Add the onion and a pinch of salt and cook about 5 to 7 minutes or until the onion is soft but has not begun to color. Turn the heat to very low, add the flour, and stir to combine it with the onion and butter. Continue to cook over low heat until the flour is absorbed, stirring constantly so that it doesn't brown, about 2 minutes or so. Slowly stir in the milk. Drop in the bay leaf.
Over medium to medium-high heat, bring the mixture to a boil then reduce the heat to its lowest setting and cook for about 15 minutes, stirring occasionally to prevent the sauce from burning on the bottom of the pan. Taste and cook longer if the taste of raw flour is still detectable. The mixture should be thick, but if it's too thick and becoming difficult to stir, you'll need to whisk in a little more milk. Remove the bay leaf and discard.
Meanwhile, preheat the broiler. Place the slices of bread on a rack on a sheet pan (or a broiling pan) and broil them about a minute on each side. Remove pan from the oven.
Spread about 1 tablespoon of béchamel over each slice of bread. Top with 1 to 2 slices of ham. Top with grated cheese to taste. Set aside.
Crack each egg into a small bowl or ramekin. Sprinkle about a tablespoon of vinegar into the pot of simmering shallow water. Adjust the heat so that the water is barely simmering — get the water to a simmer, then turn it down so you don't see any bubbles. Use the handle of a wooden spoon to make a whirlpool in the water, then drop one egg into the center of the whirlpool. Repeat with other egg. Adjust the heat to keep the water just below a simmer. Set the timer for 3 minutes.
When the eggs have cooked for 3 minutes, place the toasts under the broiler and cook until the cheese is bubbling and starting to brown. Remove from the oven. Sprinkle with the fresh thyme.
Meanwhile, using a slotted spoon, lift one egg up from the water and shake it. The yolk should jiggle a little bit, but shouldn't look too loose. You might have to cook the eggs for a minute longer. Note: Knowing when poached eggs are done is just a matter of practice and preference — personally I don't like the yolk to taste raw, but I still like it runny, and for this consistency, I usually have to cook the eggs for about 4 to 5 minutes. When the eggs look cooked to your liking, remove them with a slotted spoon and transfer to a paper towel-lined plate.
Top each sandwich with a poached egg. Sprinkle with a pinch of salt and freshly cracked pepper to taste.
---