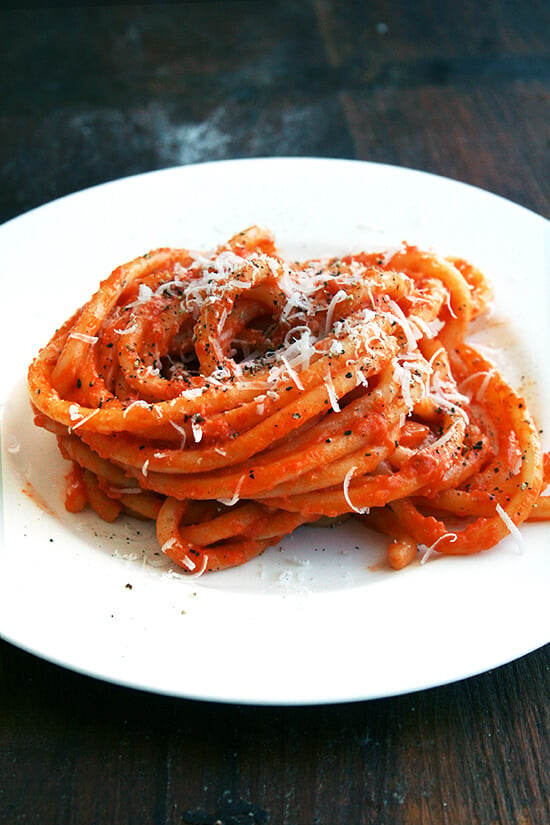 I left Tara Kitchen on Saturday afternoon, my belly filled with chicken and preserved lemons, my bag with jars of harissa, tomato jam, and ras-el-hanout. I had just spent two hours learning about Moroccan cooking, scribbling notes while sipping on mint tea, assembling tagines, photographing each step, savoring every bite and finally departing, only hoping my brain might retain a fraction of what I had learned, already regretting not having purchased a tagine.
But before returning home, I had to swing by the Co-op for one thing — a bag of frozen peas and carrots — an integral mix in Tara Kitchen's chickpea tagine, a dish I would make at home later that evening. Aneesa Waheed, the owner of Tara Kitchen, takes pride in the simplicity of the dishes she serves and noted as class began that all of the ingredients she uses can be found at any market. Her chickpea tagine, a slightly sweet mixture of vegetables and dried fruits mixed with chickpeas and her homemade tomato jam, is one of my favorites.
Never would I have guessed that such a flavorful mixture — a vegan, nut-free one to boot — could be so simple to prepare, but as I learned in class, this is the beauty of tagine cooking. Aneesa fell in love with Moroccan food for this very reason: she could throw a handful of ingredients in a tagine, set it on the stove, go take a shower, make a few phone calls, and return to a steaming hot, delicious and satisfying dinner. And while the success of the finished tagines certainly depends on the sauces and spice mixtures that have been prepped in advance, I can attest to the simplicity of the tagine-making process.
All of Aneesa's tagines begin in the same manner: with sliced onions and minced garlic, a splash of water and oil, and a sprinkling of ras-el-hanout, which translates to "head of the shop," meaning the best spice mixture a seller has to offer. No two ras-el-hanouts are the same, and Aneesa's contains over a dozen spices. What goes into each tagine next varies but a few of my favorite combinations include spinach with lentils and artichoke hearts, fish with honey and nuts, and, as you might recall, chicken with green olives and preserved lemons*. Much to my surprise, the meats are not browned ahead of time, and the onions and garlic are not sautéed. And yet the finished tagines, each with its own unique character, taste far from simple, no doubt a tribute to Aneesa's magical touch with the ras-el-hanout and various sauces.
I spent the rest of the weekend dreaming of those tagines, the distinct flavor of the ras-el-hanout, the steam escaping below each coned lid, the stewy vegetables, the tender meat, and the fish that miraculously retains its heat while not overcooking the slightest. I tried hard to refrain, but by Sunday evening, I had found my way to eBay and to a pair of 8-inch tagines**, which should be arriving today. I couldn't be more excited.
What, might you be wondering does all of this have to do with bucatini with butter-roasted tomato sauce? Well, not much, except that when I began thinking about how I might provide a recipe for Aneesa's chickpea tagine, I realized I would have to provide a recipe for her tomato jam, a mixture of tomatoes and sun-dried tomatoes cooked with garlic, parsley and ras-el-hanout, a sauce that binds all of the elements together and gives the tagine both a sweetness and bite.
Thinking about making tomato jam reminded me of this butter-roasted tomato sauce, a sauce I first tried last November but have made several times since. While nothing, of course, compares to fresh tomato sauce, for as little effort as this sauce requires, it's incredibly tasty thanks to the inclusion of butter, anchovies and a lot of garlic. Furthermore, roasting the sauce (versus simmering) concentrates the flavor of the canned plum tomatoes. I find I always have to add a pinch of sugar at the end to balance the acidity, but otherwise, this is a great, easy-to-make, all-purpose tomato sauce. Here I've made it with bucatini as the original recipe suggests but I've also spread it over pizza. And I haven't yet tried this, but Bon Appetit suggests puréeing the sauce with stock and a splash of cream for a simple tomato soup. Sounds promising.
*This is what I learned from Aneesa about making/using preserved lemons: Aneesa does not use Meyer lemons at the restaurant because of cost, but she believes their thin skin makes them ideal for preserving. She uses the more traditional preserving method (the Jerusalem method vs the BA method). She never rinses the lemons before using. In fact, once her lemons are preserved, she purées the whole batch — lemons, salt and juice — and uses spoonfuls of her puréed preserved lemons in various dishes. Upon returning home, I whizzed my whole batch of Jerusalem preserved lemons in the food processor and now have a jar of purée I am certain will last a decade.
Aneesa sells all of her spices, sauces, preserved lemons, and Moroccan mint tea at Tara Kitchen, and she offers cooking classes once a month: Tara Kitchen: 431 liberty street | schenectady | 518-708-3485
**Tagines did arrive yesterday, but I am returning. SO sorry to any of you who ordered one. Despite the photo, there is no air hole, and from what I learned from Aneesa, that seems to be key. I'm bummed.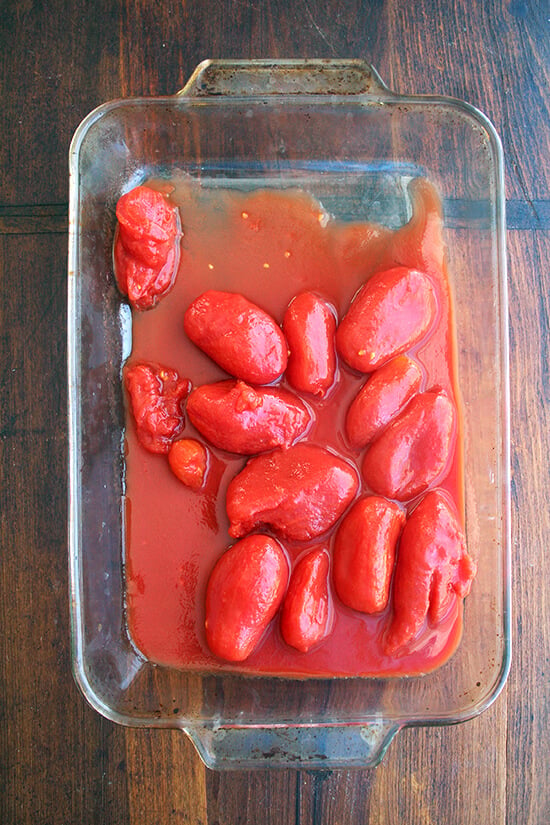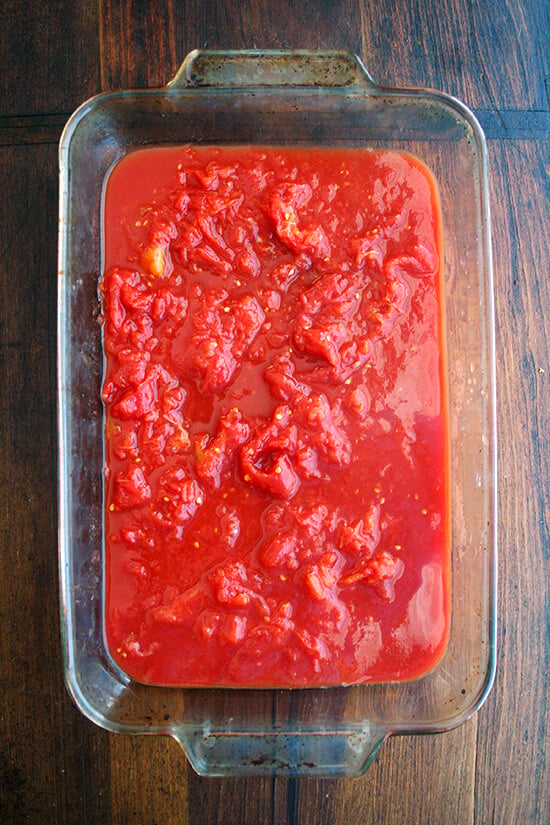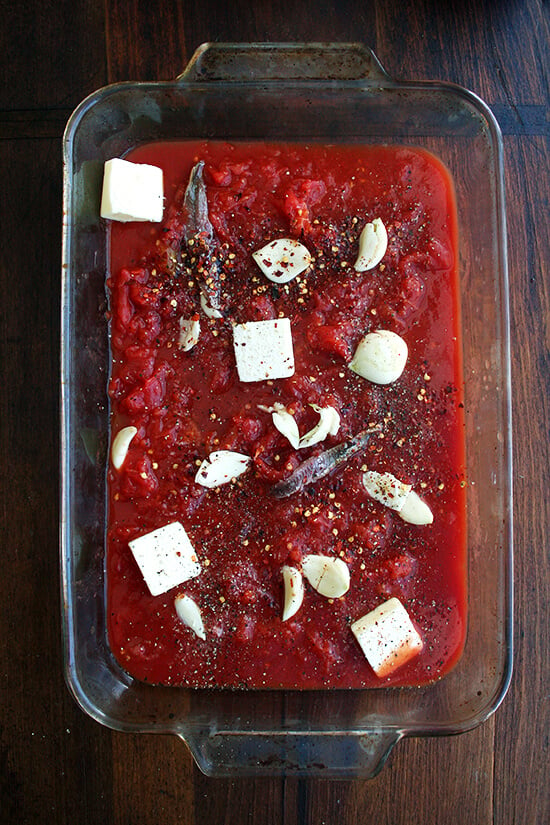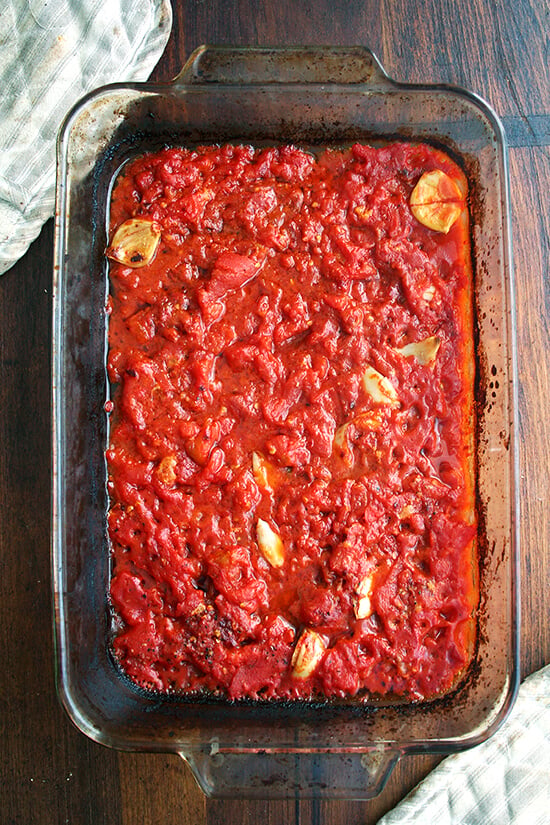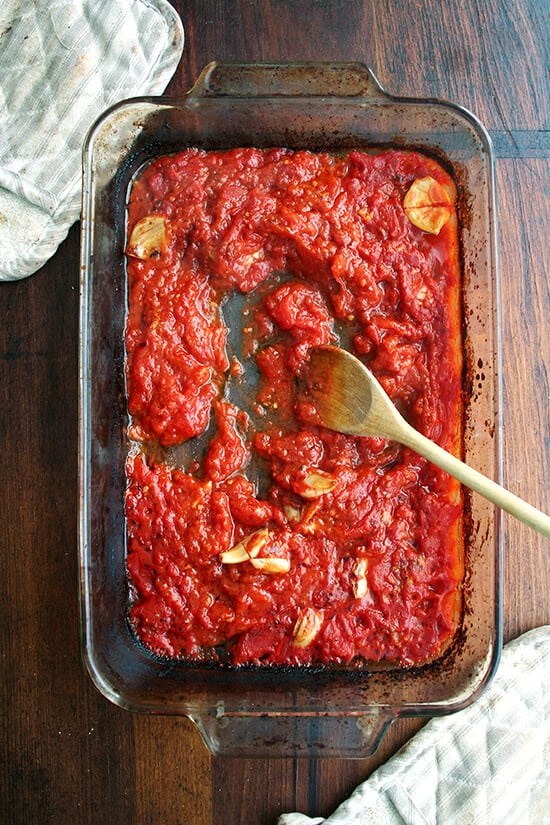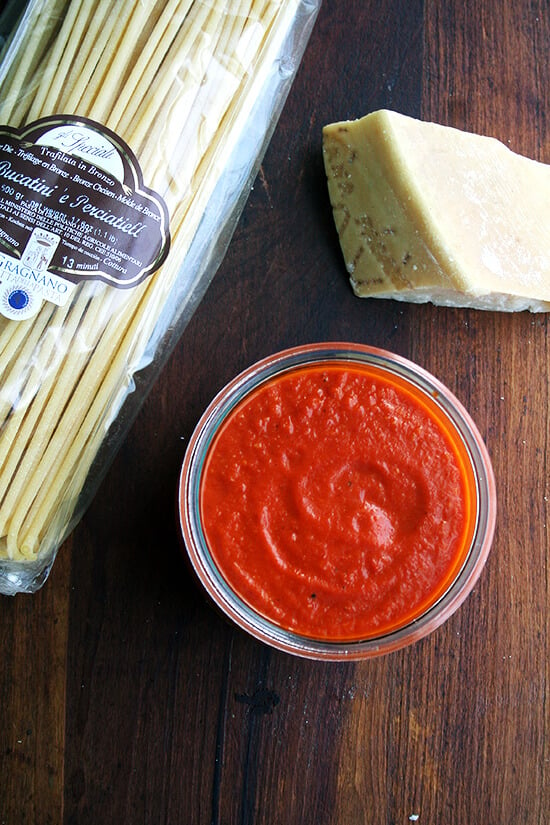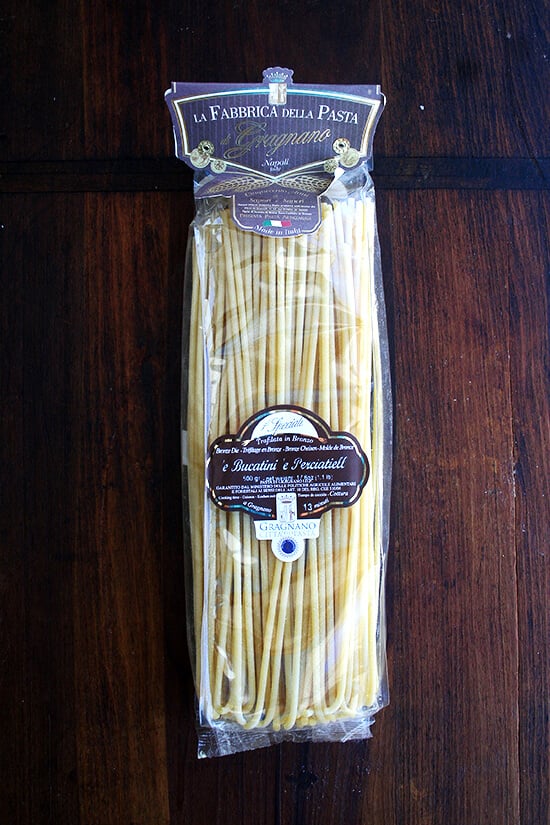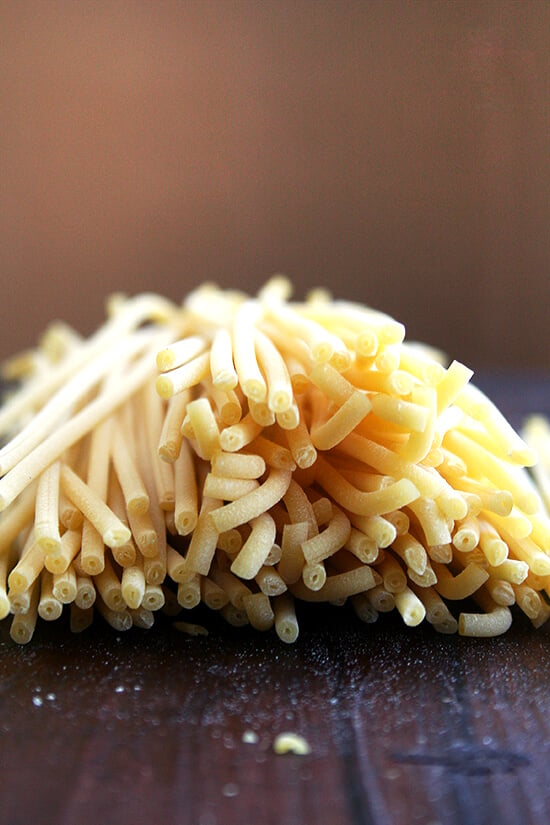 Print
Bucatini with Butter-Roasted Tomato Sauce
---
---
Ingredients
1

28-oz. can whole peeled tomatoes

8

garlic cloves, peeled, crushed

2

anchovy fillets packed in oil

¼ cup

(

½

stick) unsalted butter, cut into small pieces

¼

to

½

teaspoon crushed red pepper flakes plus more for serving
Kosher salt and freshly ground black pepper
pinch sugar (optional)

12 oz

. bucatini or spaghetti
Finely grated Parmesan (for serving)
---
Instructions
Preheat oven to 425°. Combine tomatoes (crushing them with your hands), garlic, anchovies, butter, and red pepper flakes to taste (note: 1/2 teaspoon makes for a very spicy sauce) in a 13×9" baking dish; season with salt and black pepper.
Roast, tossing halfway through, until garlic is very soft and mixture is jammy, 35–40 minutes. Using a potato masher or fork, mash to break up garlic and tomatoes, or, if you live with little people, purée the mixture in a food processor. Taste. Adjust seasoning with a pinch of sugar (1/4 teaspoon or more) if necessary.
Meanwhile, cook pasta in a large pot of boiling salted water, stirring occasionally, until al dente. Drain, reserving ½ cup pasta cooking liquid.
Return pasta to pot and add tomato sauce and pasta cooking liquid (or simply place cooked pasta in a large serving bowl and toss with sauce and a splash of cooking liquid if necessary.) Cook over medium-high heat, tossing until sauce coats pasta, about 3 minutes. Serve topped with Parmesan and more red pepper flakes.
Note: Tomato sauce can be made 4 days ahead. Let cool; cover and chill. Reheat before mixing with pasta.
---