2-Phase Homemade Limoncello Recipe
This post may contain affiliate links. Please read my disclosure policy.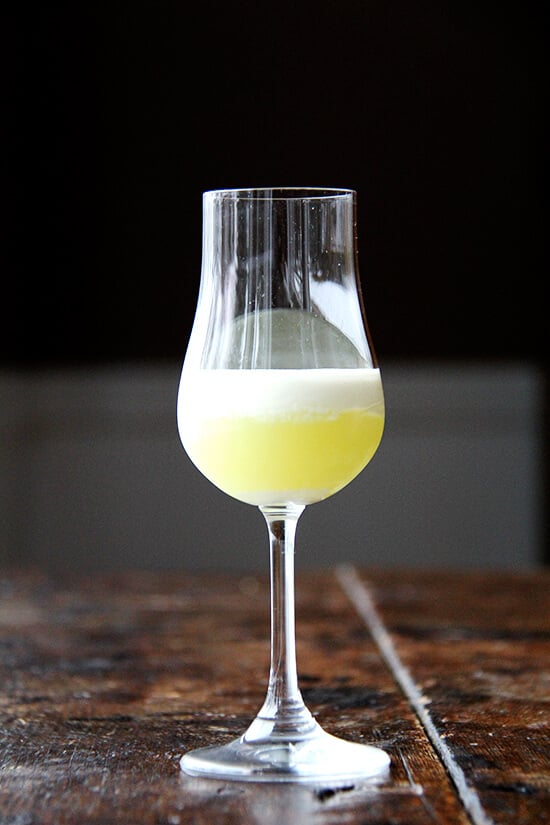 This homemade limoncello recipe hails from an Italian friend's mother, Antonietta. It's a two-phase process, so you'll need to plan 3 to 4 days in advance, but the work is mostly hands off, and the recipe is incredibly simple. Homemade limoncello makes a great gift — it's such a festive drink to have on hand during the holiday season. Top it with heavy cream and serve it after dinner. Cheers!
How to Make Homemade Limoncello
Phase one:
Peel two pounds organic lemons. This is my favorite peeler for this task.
Place in a Mason jar.
Pour vodka or grain alcohol overtop.
Let sit three to four days, shaking every so often.
Phase two:
Strain out the zest.
Make a simple syrup, and pour it over the zest-infused alcohol.
Bottle it all up, store in the freezer.
How easy is that?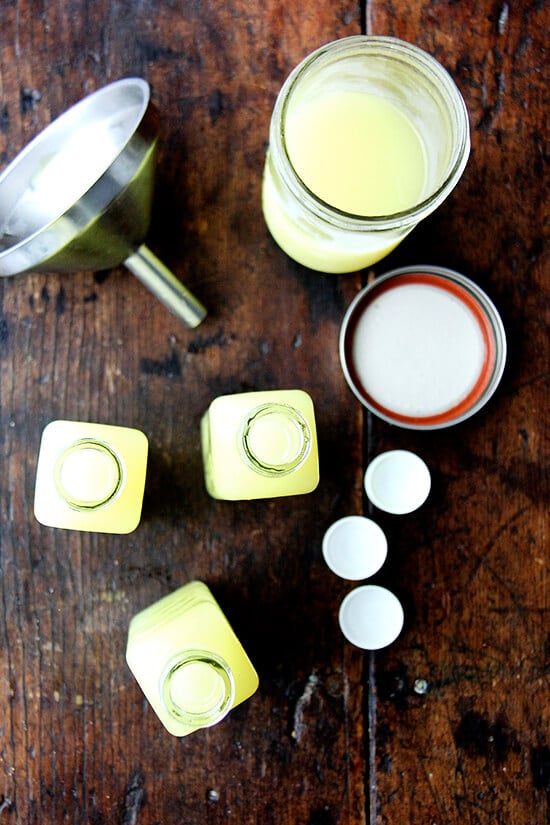 The Story
When my grandmother was alive, I learned to be careful with my words, especially when paying any compliments.
If I told her I liked her raincoat, five minutes later she would have snuck it into the trunk of my car. If I admired her olive bowl, I would later find it wrapped in paper tucked in my suitcase. If I spent too long thumbing through one of her cookbooks, it soon would be mine.
I was reminded of this feeling earlier this month when Ben and I spent the morning at our friend Jim's mother's house learning how to make prosciutto. Before we began, Antonietta showed us the cold room of her basement, where prosciutto, capicola and week-old sausages hung from the ceiling, homemade wine aging in carboys lined the perimeter, and Mason jars of homemade tomato sauce, roasted peppers and pickled vegetables filled a closet floor to ceiling.
I couldn't help but ooh and aah at her work and her incredibly productive little workshop, and before I knew it, a care package had been assembled: a half-dozen links of sausage, jars of tomato sauce, a tub of dried apple slices, a few persimmons, and a baggie of homemade chocolate-almond candies Wren had taken a liking to. With arms full, we said goodbye but not before Antonietta had trimmed a few fresh bay leaves from a tree in her garage and tucked them into our pockets.
I have mentioned Antonietta before, indirectly, through Jim and his wife who arrived at our house for dinner one night with a plate of Antonietta's homemade prosciutto and capicola. As promised, they showed us how to make prosciutto, and one night after dinner at their house, they taught us how to make limoncello, too. Antonietta's recipe is below.
PS: If you're making a ham for Christmas, don't forget the ham sauce!
Zest sitting in alcohol: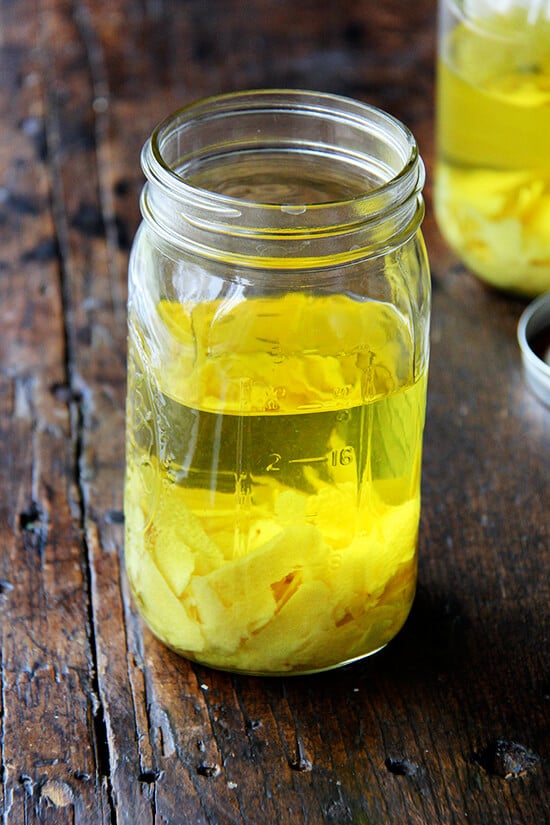 Strained zest — after three or four days, the zest petrifies in the alcohol: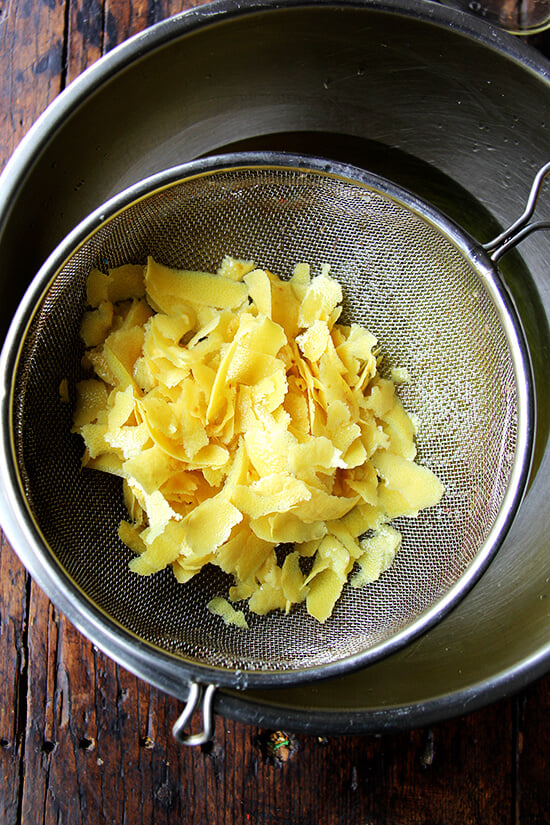 When the simple syrup is added to the zest-infused alcohol, the mixture instantly glows: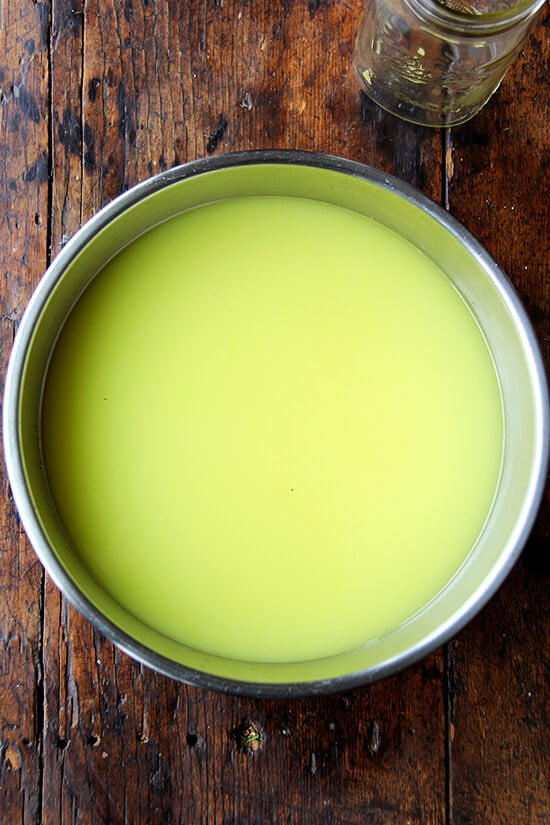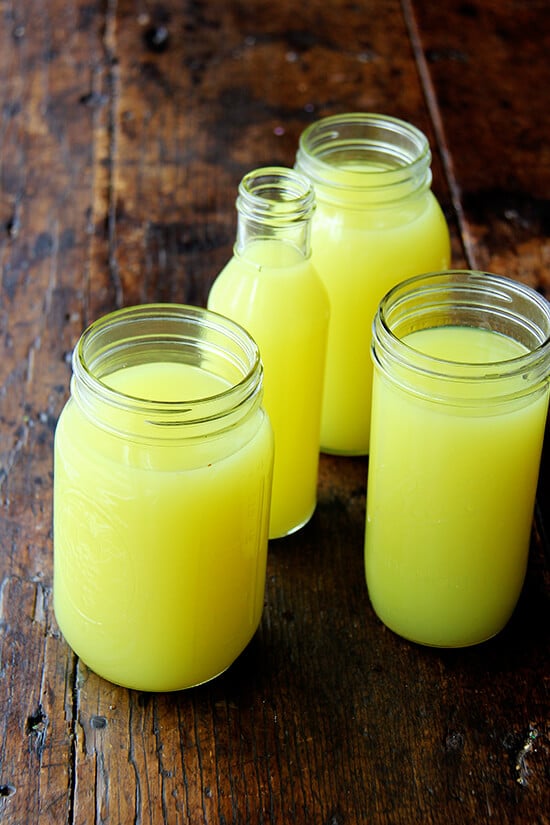 If you live in the area, Honest Weight Food Co-op in Albany sells these glass jars in a variety of sizes for a little over a dollar a piece: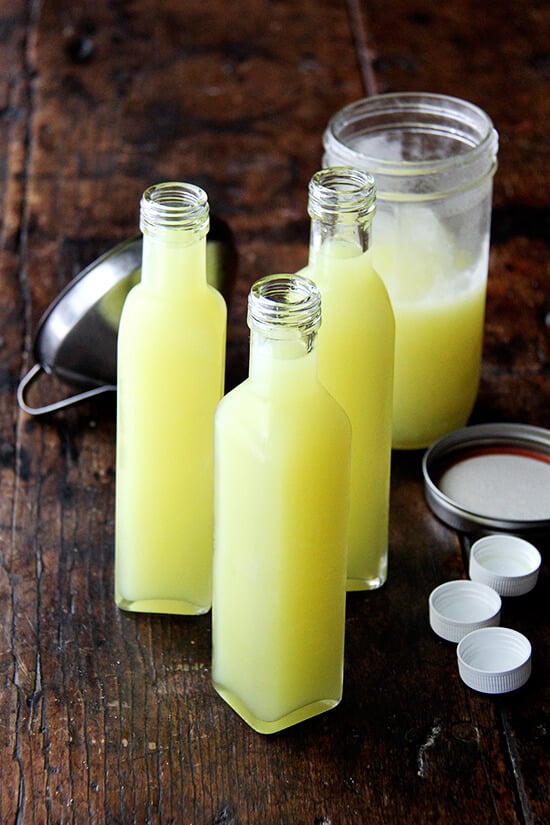 Antonietta, sharpening her knife: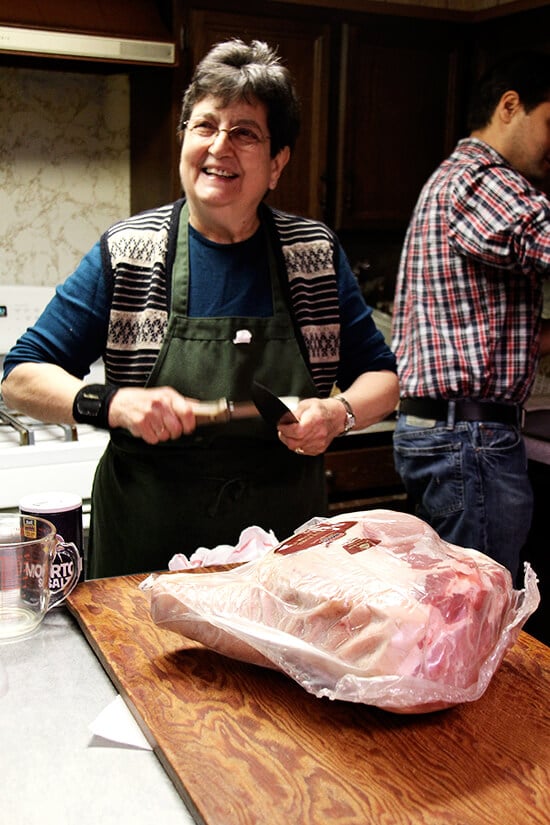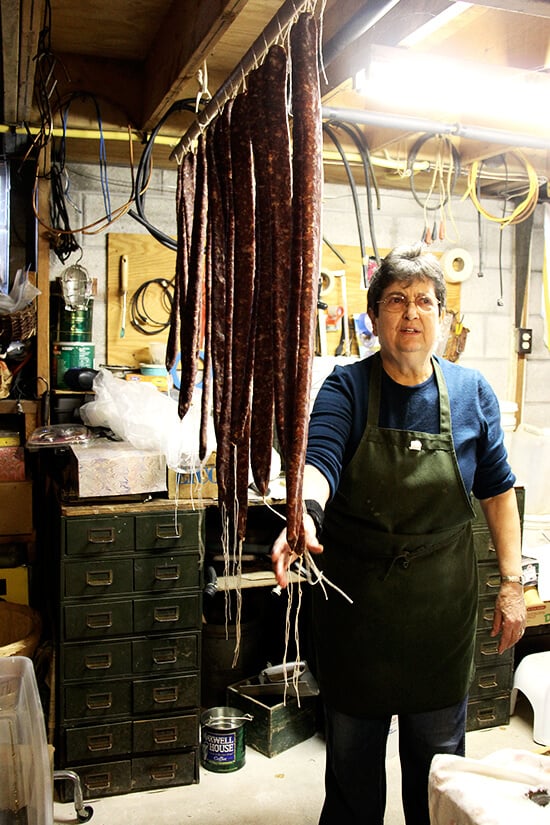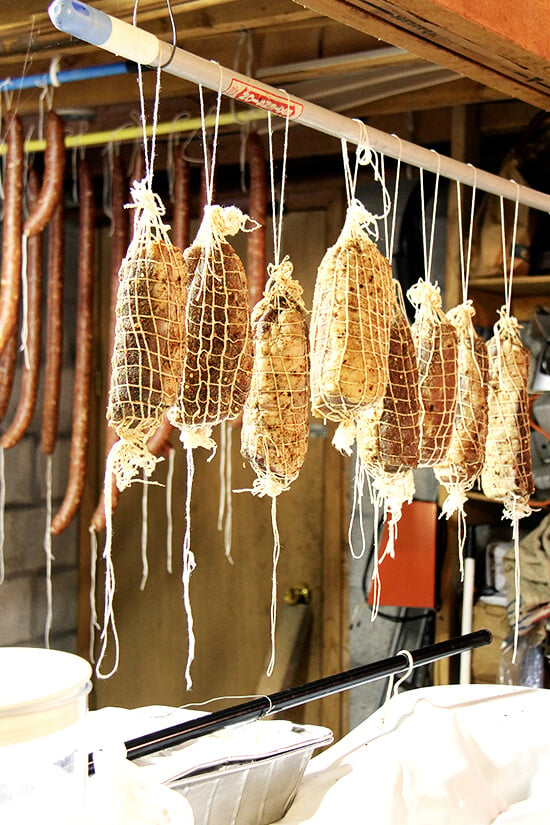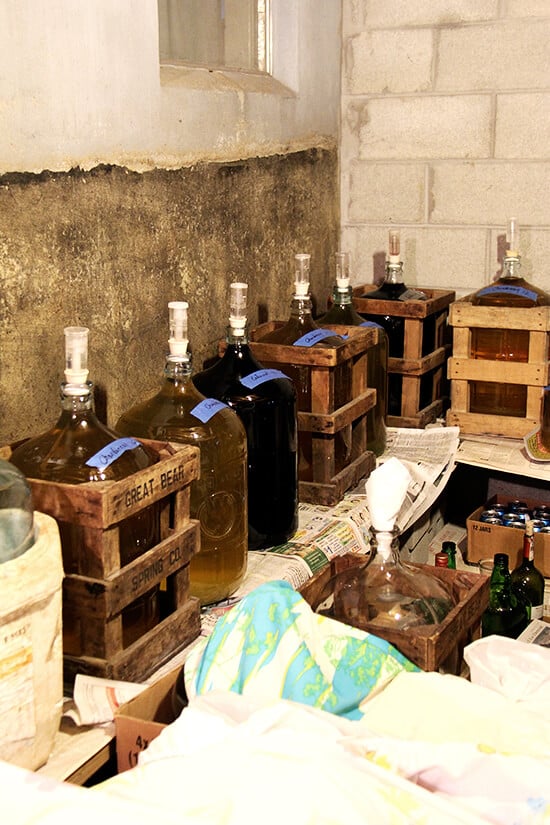 Print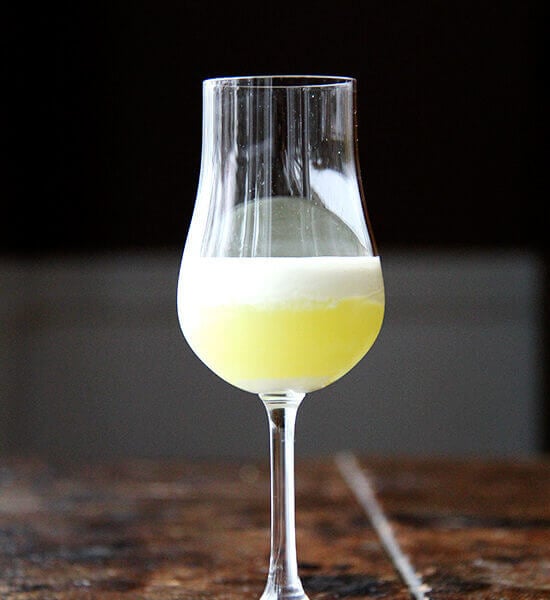 2-Phase Homemade Limoncello Recipe
---
Author:

Alexandra Stafford

Prep Time:

10 minutes

Cook Time:

10 minutes

Total Time:

72 hours 20 minutes

Yield:

4 servings
Description
Note: Vodka or grain alcohol? I have used both. Vodka is less potent, less body warming, and more subtle in flavor than grain alcohol. Both work well, but my preference is vodka. Unfortunately, vodka doesn't cause the finished limoncello to glow the way grain alcohol does.
---
Ingredients
2

-lbs organic lemons

1

750-ml bottle vodka or grain alcohol

6 cups

water

2 ½ cups

sugar
---
Instructions
Peel lemons with peeler, trying to avoid white pith if possible.
Place the zest in one or two large glass mason jars and pour vodka over top.
Let the zest sit in the vodka for 3 or 4 days shaking every so often. Strain the vodka, which will feel petrified, into a large bowl and discard the zest.
Next, heat the water and sugar until the sugar is completely dissolved. Let cool completely. Add sugar-water mixture to strained vodka. Pour into bottles and store in freezer.
Serve as is or topped with heavy cream.
---
Category:

Drink

Method:

Steep and Stir

Cuisine:

Italian
Keywords: limoncello, homemade, recipe, vodka, grain, alcohol, lemons, organic
This post may contain affiliate links. Please read my disclosure policy.