Vanilla Bean Pots de Crème
This post may contain affiliate links. Please read my disclosure policy.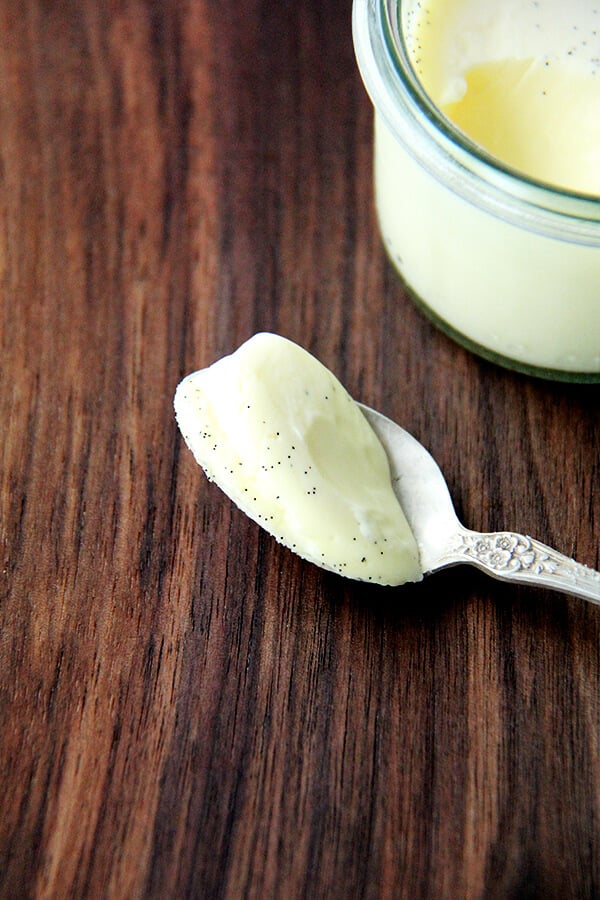 A few weeks ago, I snuck up to see my auntie in VT, where I spent most of the time on the couch in front of the fire, dogs at my feet, cookbook in my lap.
I was in a baking sort of mood and found myself engrossed in the dessert chapter of Bouchon, drooling over images of bouchon au chocolat (cork-shaped, brownie-like cakes) and dreaming of crème anglaise-soaked French toast.
As I flipped through the pages, I drafted an ambitious grocery list, along with a mental wishlist of gadgets, including pots de crème vessels, flexi-timbale pans, and this Bouchon Mold, which I can't stop thinking about.
Lucky for me, my aunt has an arsenal of mini ramekins and espresso cups, which worked beautifully for the two recipes I settled on: vanilla bean pots de crème and dark chocolate mousse, both of which were wildly well received, the pots de crème in particular. Heavy cream, sugar, vanilla bean, egg yolks — it would have been a serious let down if it hadn't been anything but spectacular, which it was, tasting like untorched crème brulée, but better, with the smoothest, most velvety texture, perfectly sweet, deeply satisfying in every which way.
When I returned home, I almost placed an order for lidded pots de crème molds, which couldn't be cuter but which I suspect might be uni-taskers, and I've made that mistake before. Instead, I placed an order for these mini Weck jars, which I've had my eye on ever since my mother gave me one filled with paté that had been packaged and sold in the Weck jar. It's the cutest size — would be perfect for jams, chutneys, homemade face scrubs (if you're into that sort of thing?) — and thinking ahead to next holiday season, I would love to have a stash on hand to package as gifts the paté I discovered this winter.
You, of course, can use 4- or 6-oz ramekins here, which is a nice size, too, but there is something really nice about this teensy size, which won't allow you to think twice about eating two (or ten).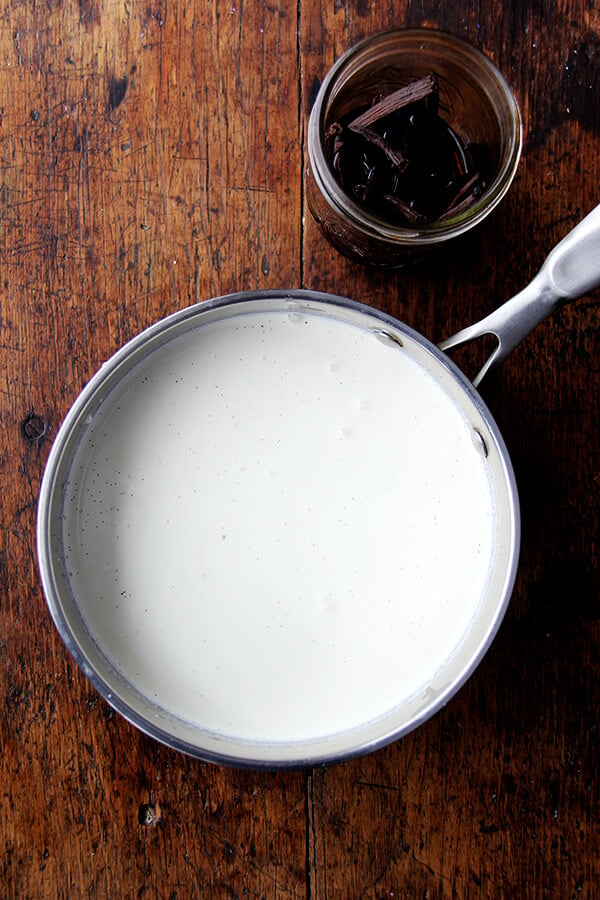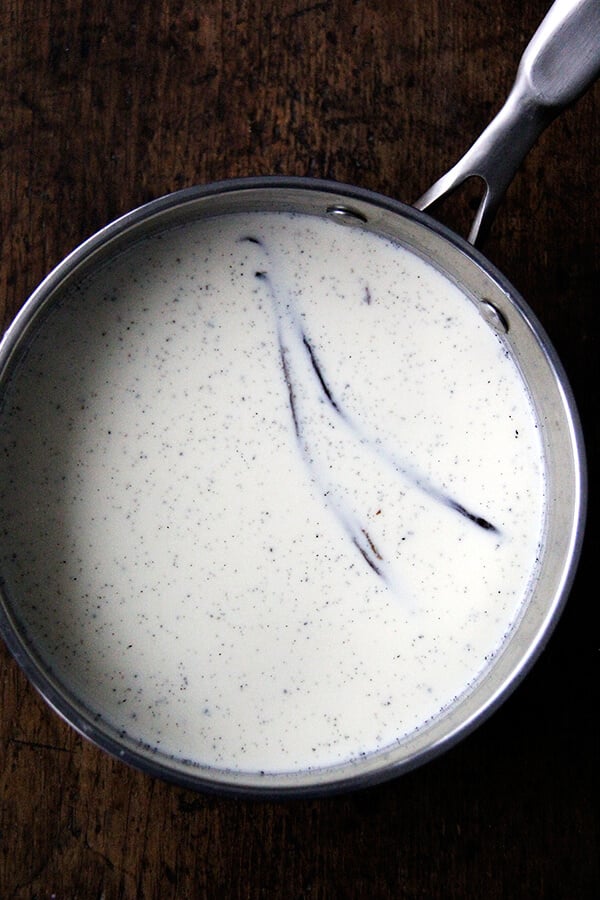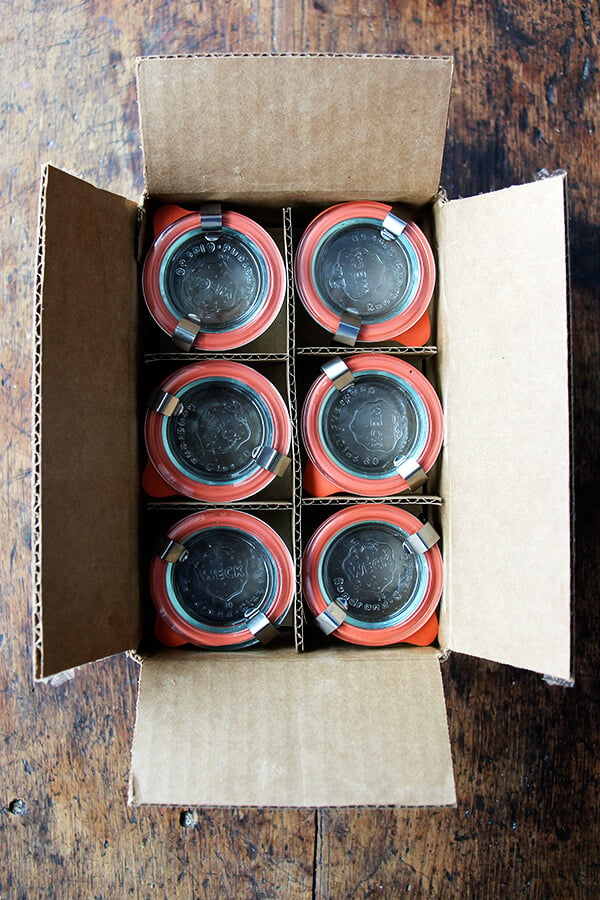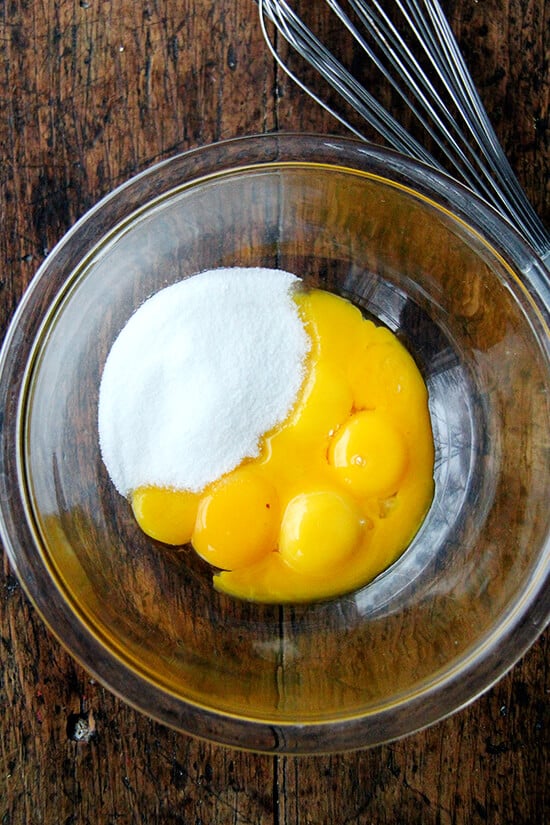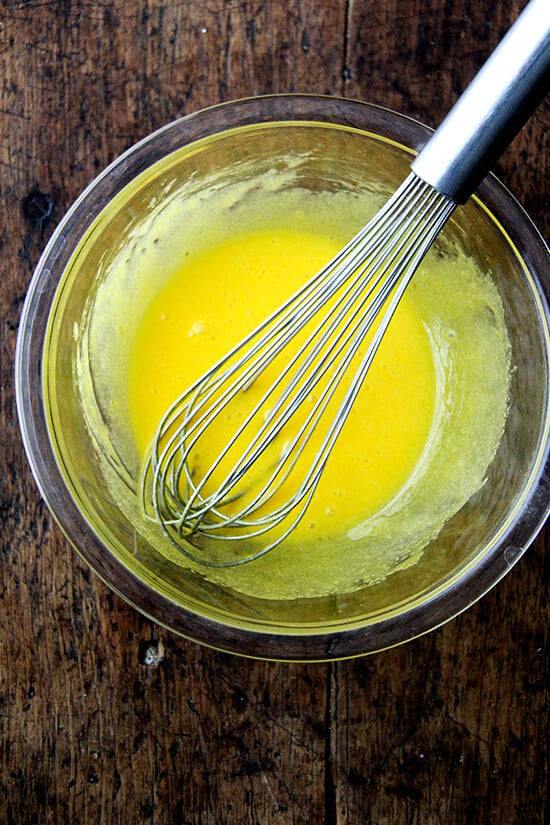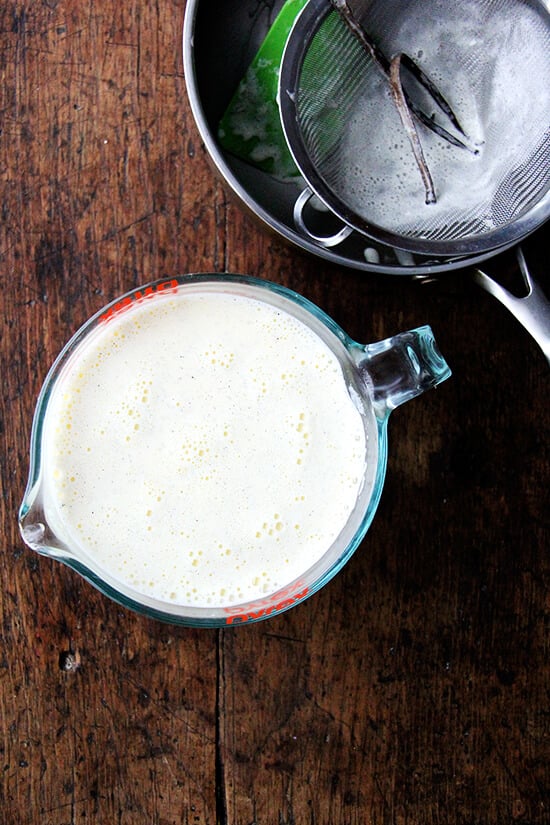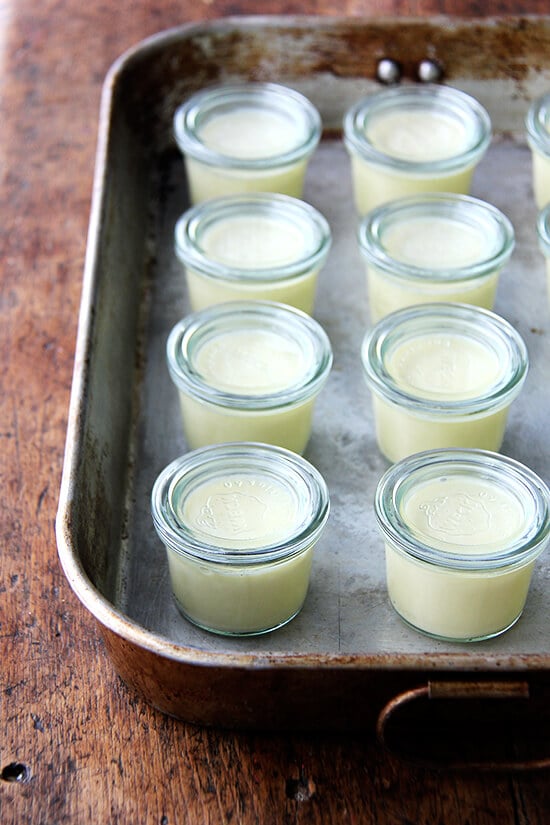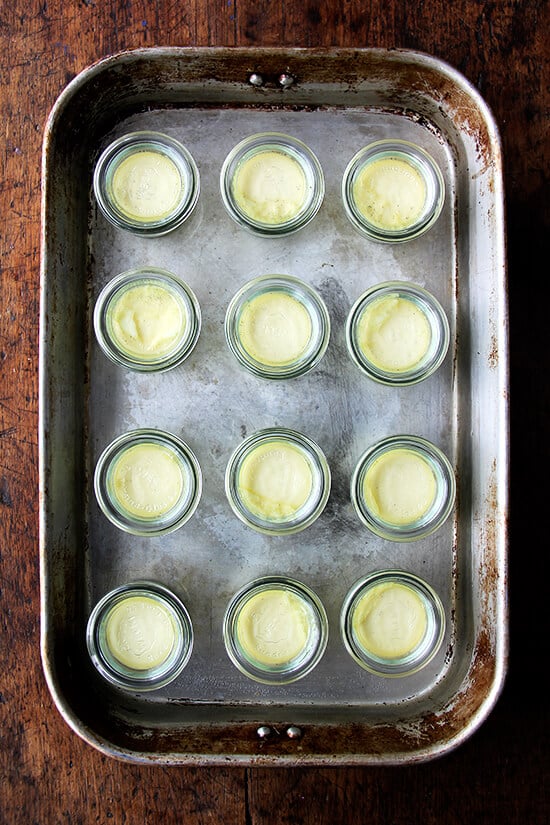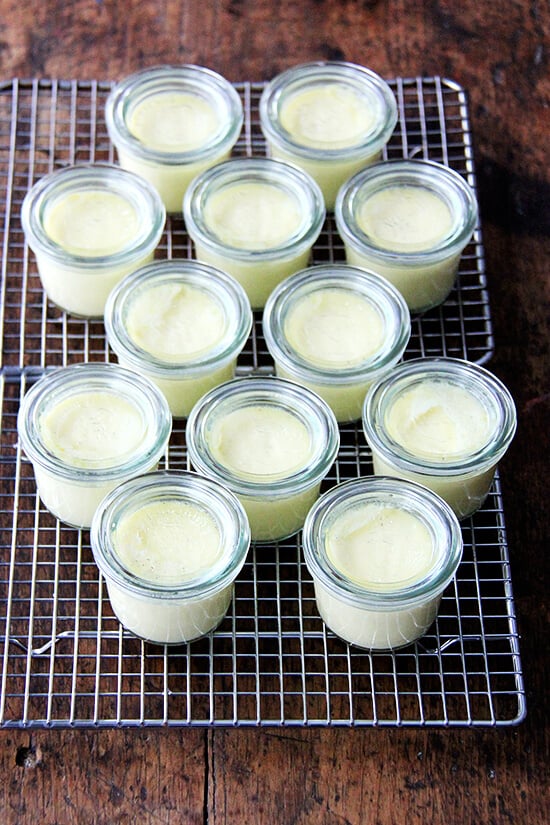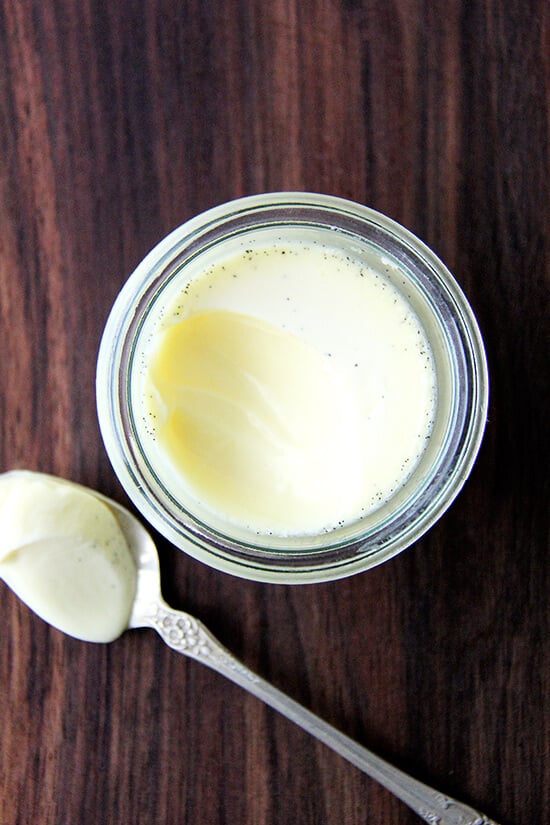 Print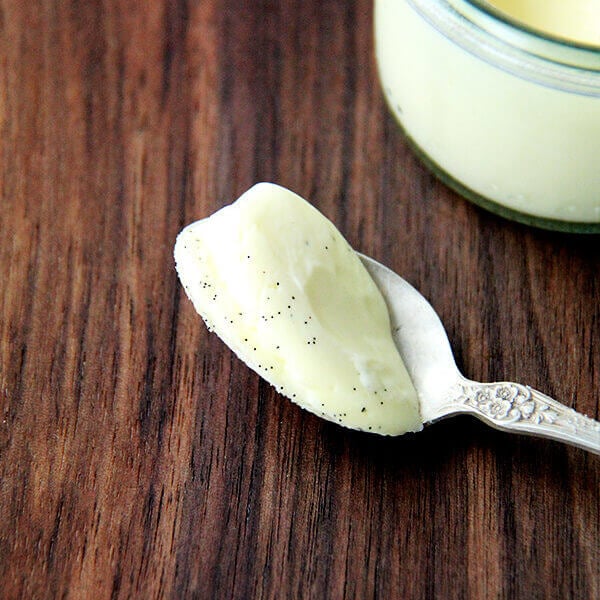 Vanilla Bean Pots de Crème
---
Description
Source: Thomas Keller's Bouchon
Notes: 
I just purchased a set of these mini Weck jars and love them especially for these pots de crèmes, which are traditionally baked in lidded vessels. The original recipe calls for using eight 5- or 6-oz pot de crème molds. Of course, if you have 4- or 6-oz ramekins, those will work, too. The mini Weck jars are much smaller (2.7-oz), which is kind of nice for such a rich dessert, but again, use what you have.
Chocolate variation: Finely chop 6 ounces semisweet chocolate and place in a metal bowl. Then, in step 2, when you strain the mixture, strain it into a saucepan instead of a measuring cup. Heat the custard until it is warm, then pour it over the chocolate, let it sit to melt, then whisk it together until it has combined. Proceed with recipe.
---
2½ cups

heavy cream

⅔ cup

milk

½ cup

plus 1 tablespoon sugar

1

vanilla bean

6

egg yolks
---
Instructions
Combine cream, milk, and 5 tablespoons (1/4 cup + 1 tablespoon) of the sugar. Split the vanilla bean in half lengthwise, scrape the vanilla seeds into the cream, and drop in the empty pod as well. Heat mixture until it's hot to touch and sugar has dissolved, then remove the pan from the heat, cover, and let it steep for an hour (if possible).
Whisk the egg yolks and remaining ¼ cup sugar together. Re-heat the cream mixture till it's warm to the touch — not hot. Slowly whisk a small amount of the cream mixture into the yolks to temper them. Continue adding the warm cream until all of it has been added. Strain the entire mixture through a fine mesh strainer into a pitcher or large measuring cup. At this point, the mixture can be refrigerated for several days.
Place rack in center of oven and preheat oven to 300º. Bring a teapot filled with water to a boil. Place pot de creme molds (see notes above) in a large deep baking pan (a 9×13-inch pan should fit all of the molds). Place the baking pan on a sheet pan: This will provide double the insulation so the custards can cook evenly and slowly. Gently stir the custard, then fill each vessel with it. Cover each mold with a lid or wrap each ramekin in plastic wrap — if this worries you, can simply bake the ramekins uncovered. It works fine. 
Place pan in the oven leaving a few inches sticking out to allow you to pour in the hot water from the teapot: pour in water to come in halfway to two-thirds up the sides of the molds. Place in the oven and bake for 30 to 55 minutes — the cooking time will vary depending on the size of the vessel and if the custard was refrigerated or not. To test, reach into the oven and using a tea towel to protect your hand, gently shake one of the molds — the custard should be set, but will still jiggle slightly, like gelatin. Remove the molds from the hot water and place on a cooling rack.
Let cool, then refrigerate for at least 8 hours before serving.
Prep Time:

1 hour

Cook Time:

30 minutes

Category:

Dessert

Method:

Oven

Cuisine:

French
Keywords: vanilla, bean, pots de crème
This post may contain affiliate links. Please read my disclosure policy.