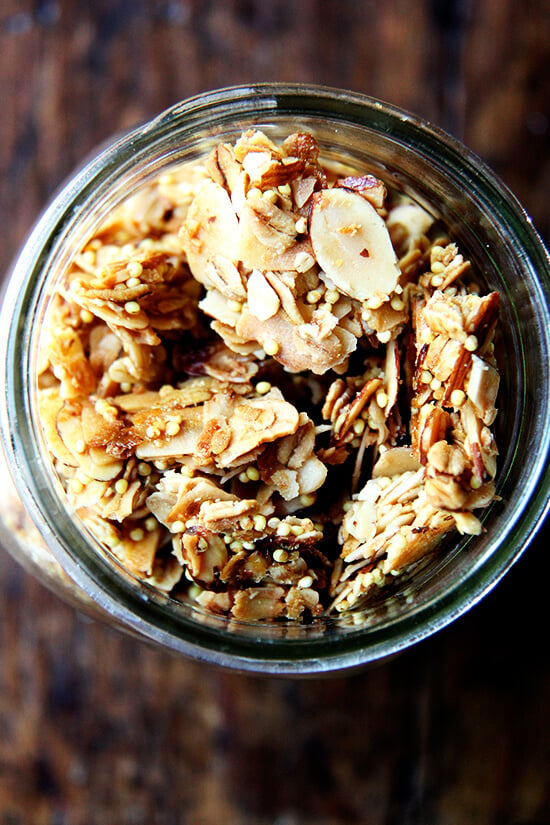 There are some recipes I feel I could spend the rest of my life tweaking. I have been making this granola (referred to as toasted muesli in the past) for almost two years now, and just this past week, I made my favorite version to date.
Before making this latest change, I had made two others that I felt considerably improved the flavor and cooking process:
1.) In place of the olive oil, I started using grapeseed oil or canola oil, whose neutral flavors I find preferable in this application.
2.) I turned the oven down to 300ºF (from 325ºF) and now bake it for 40 minutes without stirring once. Once it has been pulled from the oven, it cools completely on its sheetpan, which allows the granola to clump, not so much into clusters, but into ragged shards, which I like. Baking at a lower temperature is liberating — I no longer feel a slave to my timer and oven during the last 10 minutes of cooking, and I've yet to burn a batch.
Despite my satisfaction with the granola as it stood, just this week, in an effort to create a recipe for this year's Fair Trade Brunch event, I made a batch with coconut oil. The difference is subtle — more flavor, lighter texture — but noticeable enough for me to want to always have coconut oil on hand. As I mentioned a few weeks ago in the Bircher muesli post, this granola is a staple in our house — a double batch never lasts a full week — and while sometimes it's tempting to buy granola at the store, I've yet to find a good one. Have you? Seriously, I'd like to know.
Anyway, just like last year, Mother's Day and World Fair Trade Day fall during the same weekend, and the theme this year is: "Moms Make a World of Difference." One of the founding principles of Fair Trade is Women's empowerment. In addition to freedom from harassment, Fair Trade certification ensures that women have a voice, a vote, and a leadership role in the community. You can read more here.
Many of you know what Fair Trade means, but to review:
• Fair Trade helps farmers (more than 1.2 million worldwide) in developing countries build
sustainable businesses 
that positively influence their communities.
• Products that bear the Fair Trade logo come from farmers and workers who are justly compensated.
• Fair Trade ensures that farmers follow internationally monitored environmental standards and also provides financial incentives and resources for organic conversion, reforestation, water conservation and environmental education.
• Fair Trade empowers women to play an active role in their families and in their co-ops by starting businesses with guaranteed access to health care, certain job rights and freedom from harassment.
• Fair Trade supports education with revenues set aside to build schools and maintain enrollment.
Just like last year, to help tell the stories about the people behind their food, Fair Trade paired every blogger participating in this event with a farmer. Meet my match: Guadalupe Intriago Mera, a cocoa farmer in Ecuador:
Guadalupe Intriago Mera has been a cacao grower all her life and is currently the president of Chone's Fortaleza Co-Op, one of five smaller associations that feed into Fortaleza del Valle. Guadalupe, a mother of three, declares: "I want everyone to know and feel the beauty of cacao, its traditions. It is my heritage that I want to pass on to my children, one that has given me a way of life." She teaches them everything she knows about growing cocoa, so that they can someday be members of the cooperative too. Fair Trade has given Guadalupe and her community the stable prices and market access needed to improve their living conditions and invest in their future.
_______________________
Finally, attention Pinners: This coconut oil granola is entered in a Fair Trade Pinterest competition – if you feel like participating, pin it from the Fair Trade pinboard.
Thank you to Fair Trade and to all of the Fair Trade vendors for donating the contents of this giveaway! UPDATE: GIVEAWAY IS CLOSED. WINNER IS ILONA
Fair Trade Nutiva coconut oil: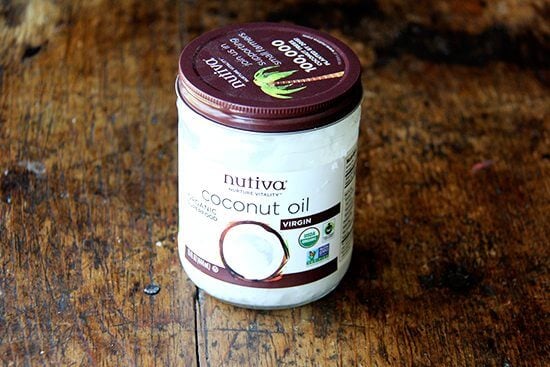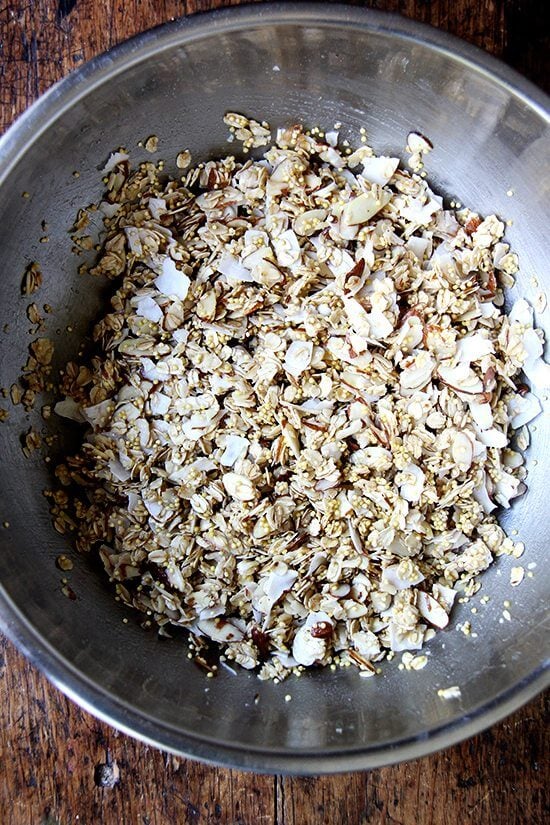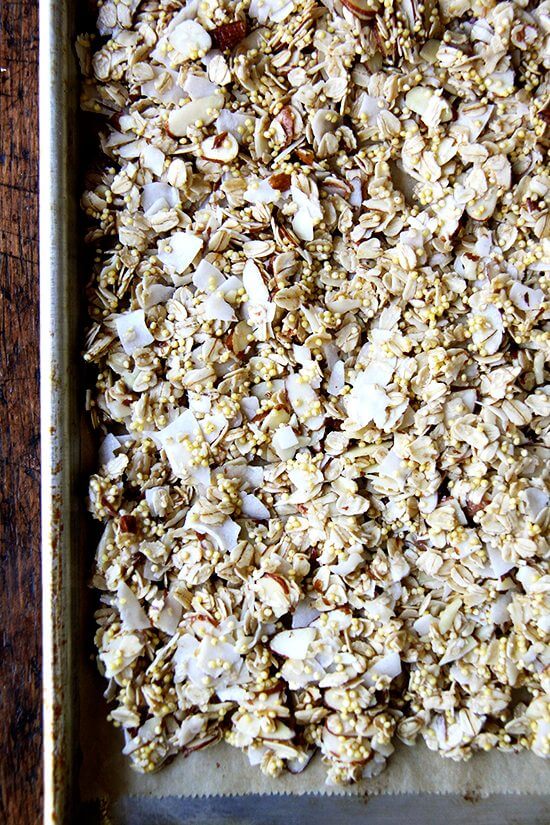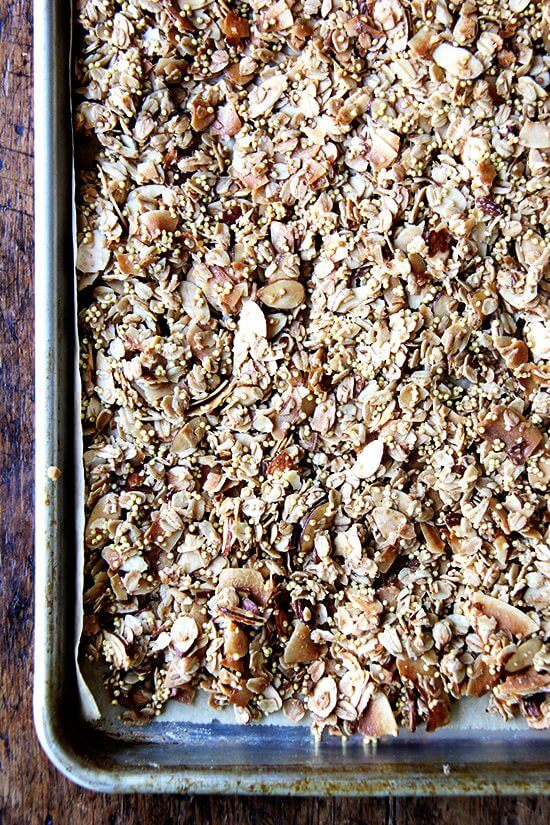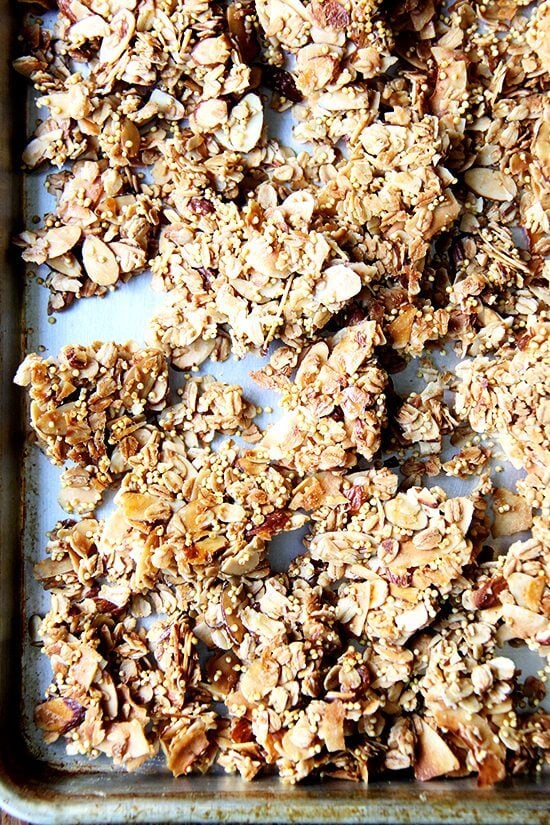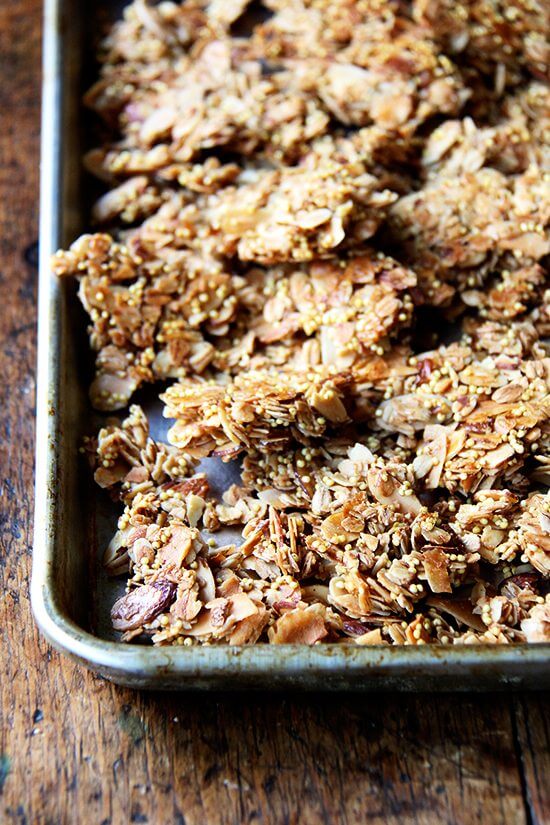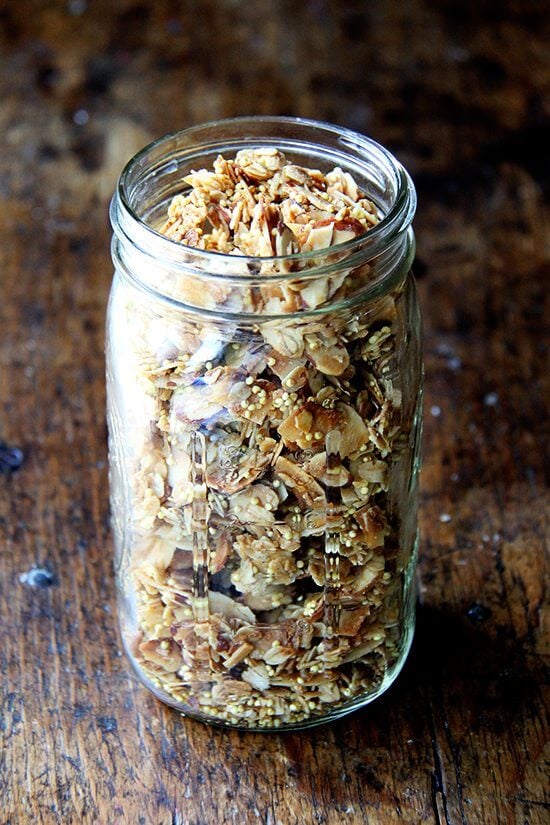 Print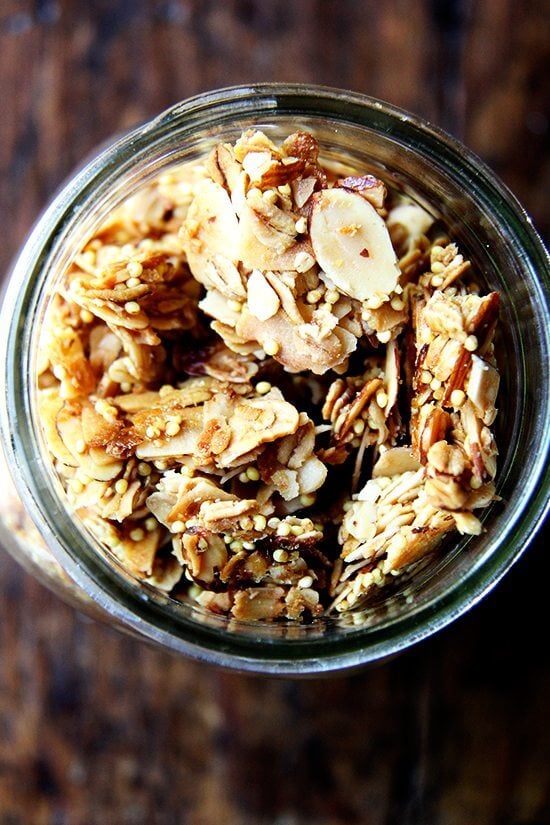 Coconut Oil Granola
---
Author:

Prep Time:

5 minutes

Cook Time:

40 minutes

Total Time:

45 minutes

Yield:

10 servings
Description
If you feel like making substitutions and bulking this up with dried fruit and puffed cereal, view the original recipe.
I highly recommend making a double batch and baking on two sheetpans. Rotate them halfway through the cooking. OR, make a double batch on a single large sheetpan: love these 15x21x1-inch sheetpans. For a double batch, I use 1/3 cup oil (as opposed to 6 tablespoons—1/3 cup is just a wee bit more than 6 tablespoons), and I bake the granola without stirring at 275ºF for about an hour and 20 minutes. Often, I use grapeseed oil for simplicity. I've also been cutting the millet back by a little bit. For a double batch I use 160 g. 
Parchment paper sheets — can't say enough about them. Save them and use them again and again — I fold mine up and stick them in a ziplock bag.
---
Ingredients
1/2 cup (102g) whole millet
2 cups (204g) oats (not instant)
3/4 cup (48g) unsweetened coconut flakes
1 1/4 cups (128g) sliced almonds
1 tsp sea salt
1/2 cup maple syrup
3 Tbsp coconut oil (melted), grapeseed oil or canola oil
---
Instructions
Preheat the oven to 300ºF.
In a large, toss together the millet, oats, coconut flakes, almonds and salt. Pour in the maple syrup and coconut oil. Stir to coat.
Line a baking sheet with parchment paper and spread the oat mixture out on it. Place it in the oven and bake for 35 to 40 minutes, or until the edges look slightly dark. Do not stir.
Let the mixture cool completely on sheetpan. When ready to store, lift up edges of parchment to loosen the granola — this will create nice big shards. Transfer shards to storage container. Pour in remaining granola — it will inevitably break into smaller pieces.