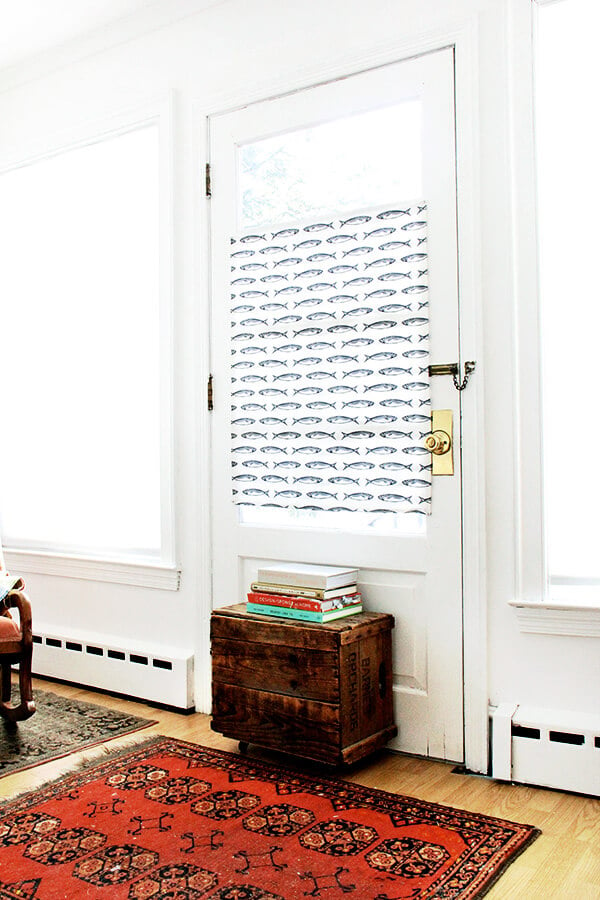 A little while ago, my dear friend Darcy, the source of all things stylish in the world, turned my attention to Fabric by Minted. I immediately fell in love with all of the designs but it wasn't until last summer, when my parents moved and passed along a fabulous blue leather chair, that I had a real reason to seriously browse the Minted selection.
I took the opportunity to buy a few yards of the "spring beauties" pattern and found a local man to recover the seat cushion, which needed a little help. I've been happier ever since.
The success of the chair led me to buy a few yards of "minnow," which I turned into a panel to cover the window of a door in our bedroom, and the success of this curtain has led me to search for a few more yards of another pattern to do the exact same thing to the door of our mudroom, but it's so hard to decide! Aren't the prints so much fun?
Minted is generously giving away a $150 gift certificate to one of you! Leave a comment below. Tell me what you would do with a few yards of Minted fabric on hand. Thank you, Minted, for the giveaway! UPDATE: Giveaway is closed. Winner is Celeste. Thank you, Everyone, for sharing so many great ideas. Loved reading all of them!!
Chair before:

Chair after: