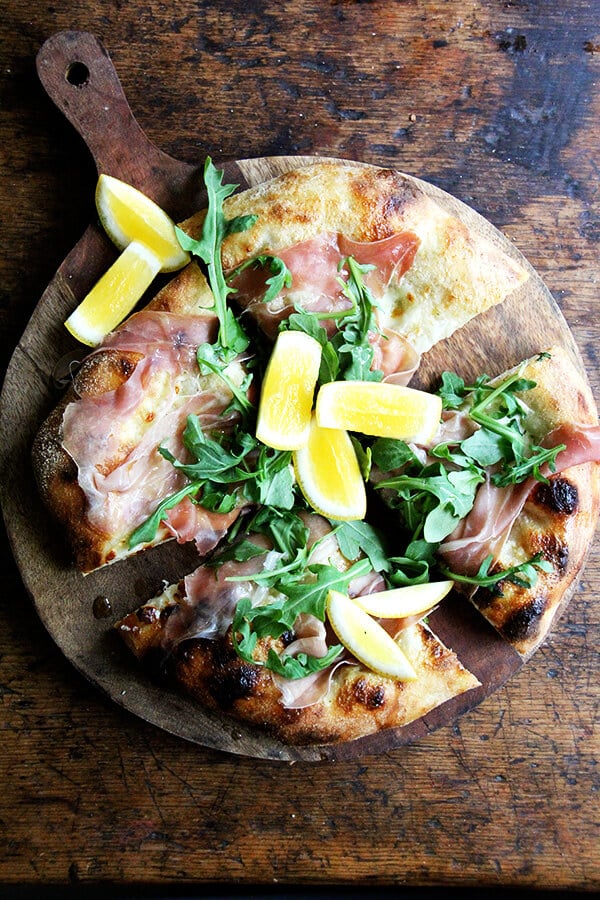 Friends, it's Thursday afternoon, which means it's almost Friday, which means it's almost Pizza Friday, which means, if you're feeling up for it, you could mix up a batch of dough tonight, portion it up tomorrow, and have dough on hand for pizza all weekend. My dough recipe preference, as you might know, is Jim Lahey's, which takes all of five minutes to mix up, but which requires a long, slow rise.
Every time I make an arugula and prosciutto pizza, I am taken back to my Philly days and dinners at my favorite BYOB, Melograno, which always began with a salad, which consisted of a mound of arugula dressed with a lemon vinaigrette atop a plate lined with prosciutto and shavings of Parmigiano Reggiano all around. It was almost as heavenly as the pappardelle with mushrooms and truffle oil that invariably followed.
Anyway, this pizza is baked with a smear of crème fraîche and a layer of mozzarella, then topped with prosciutto and arugula out of the oven. It's very simple and very delicious. Little video here and below.
PS: More pizza recipes here.
Print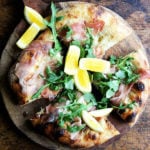 Arugula & Prosciutto Pizza
---
Author:

Alexandra

Prep Time:

18 hours

Cook Time:

5 minutes

Total Time:

18 hours 5 minutes

Yield:

2
Description
Pizza Dough: Jim Lahey My Pizza
Feel free to use your own dough recipe or store-bought dough. This recipe halves well, too. This is very similar to one I made over on the Baking Steel blog a few years ago: Arugula, Prosciutto, and Pecorino
Love my Baking Steel. This little video may help with the instructions or watch below.
---
Ingredients
for the dough:
1000 grams

(

7.5 cups

) flour, preferably tipo 00, plus more for shaping dough

4 teaspoons

fine sea salt

1/2 teaspoon

active dry or instant yeast

3 cups

of water
for each pizza:
a few spoonfuls of crème fraiche
fresh mozzarella
extra-virgin olive oil
sea salt
prosciutto
handful of arugula
lemons for serving, optional
---
Instructions
Whisk flour, salt, and yeast in a medium bowl. Add 3 cups water; stir until well incorporated. Add more water if necessary, a tablespoon at a time — dough should not be stiff. Cover with plastic wrap and let dough rise at room temperature in a draft-free area until surface is covered with tiny bubbles and dough has more than doubled in size, about 18 hours (time will vary depending on the temperature in the room).
Transfer dough to a floured work surface. Gently shape into a rough ball. Divide into 6 equal portions. Working with 1 portion at a time, quickly shape into a ball. Dust dough with flour; set aside on work surface or a floured baking sheet. Repeat with remaining portions.
Let dough rest, covered with plastic wrap or a damp kitchen towel, until soft and pliable, about 1 hour. Proceed with recipe or transfer each to a plastic quart container, cover, and store in fridge (or wrap each dough ball separately in plastic wrap and store in fridge.)
For the pizzas: Place Baking Steel in oven and preheat it to 550ºF. Let preheat for at least 45 minutes. When you are ready to bake, gently stretch one round into a 10- to 11-inch circle. Transfer to a parchment paper lined pizza peel. Spread a few tablespoons of crème fraîche over the surface of the dough. Scatter mozzarella over top. Drizzle with olive oil. Sprinkle with sea salt.
Shimmy the pizza, parchment paper and all, onto preheated Steel. Bake for 5 minutes. Remove from oven. Top with prosciutto and arugula. Drizzle with olive oil. Sprinkle with sea salt. Serve with lemon if desired.
---