Huevos Rancheros with Blistered Salsa Roja
This post may contain affiliate links. Please read my disclosure policy.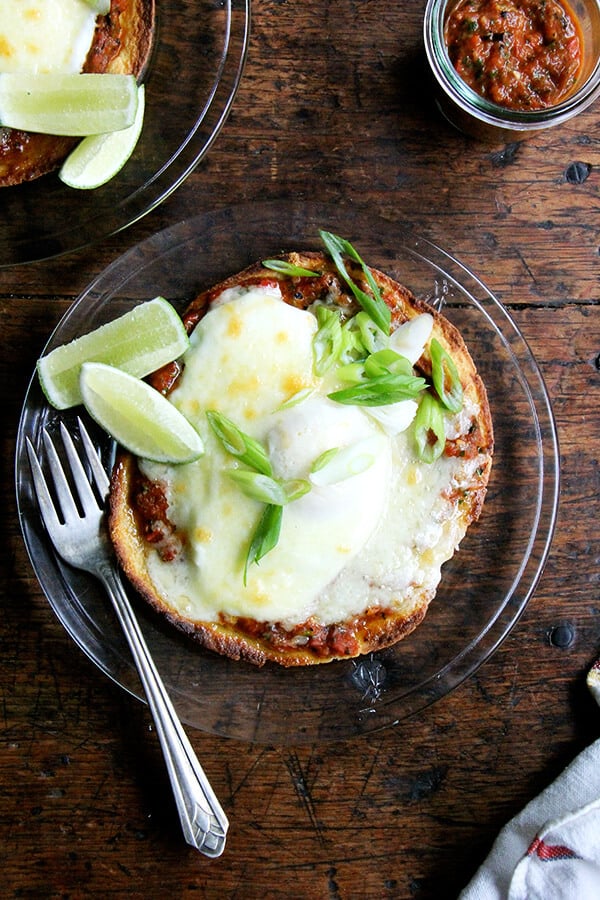 For the first time ever, we've started tomato plants from seeds. The two-inch sprouts, basking under a heat lamp in our basement, look strong and mighty, and every time I pass them, I think about this miracle of life and how, come September, these little stems, with any luck, might be giant vines laden with Cherokee Purples and Sweet 100s, fruit to feed us morning, noon, and night.
But I also am reminded that many many days still remain before that first tomato, bagel, and cream cheese breakfast, that first tomato salad with dinner. Friends, I cheated on my seedlings. But there is an incredibly delicious and happy ending. My confession is up on Food52; recipe is now below.
Wishing you all a poached egg-, salsa roja-, and huevos rancheros-filled weekend.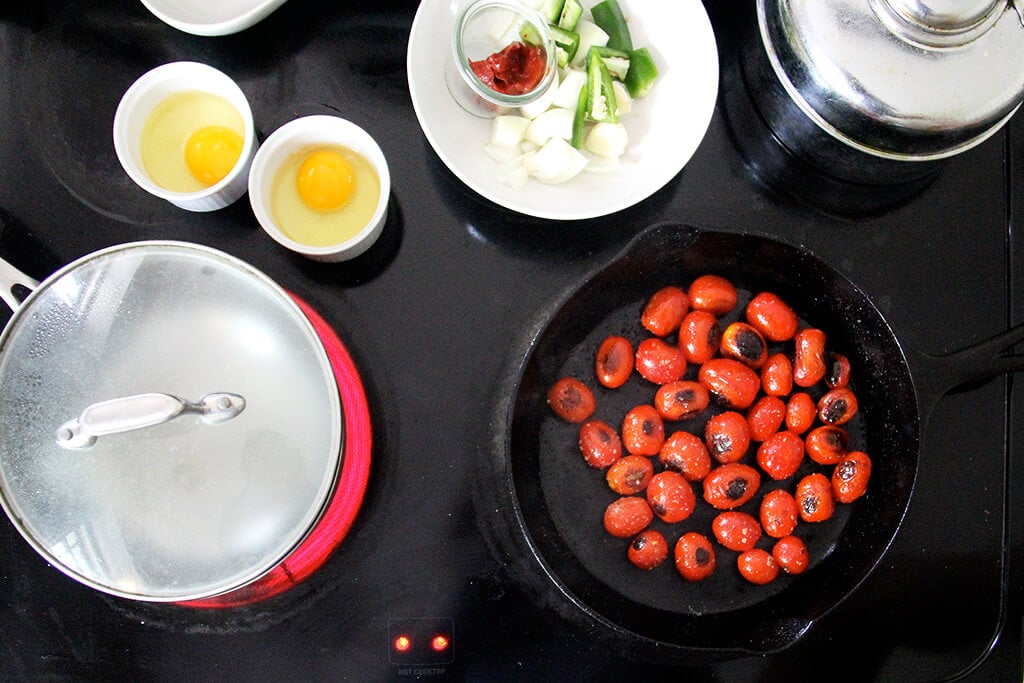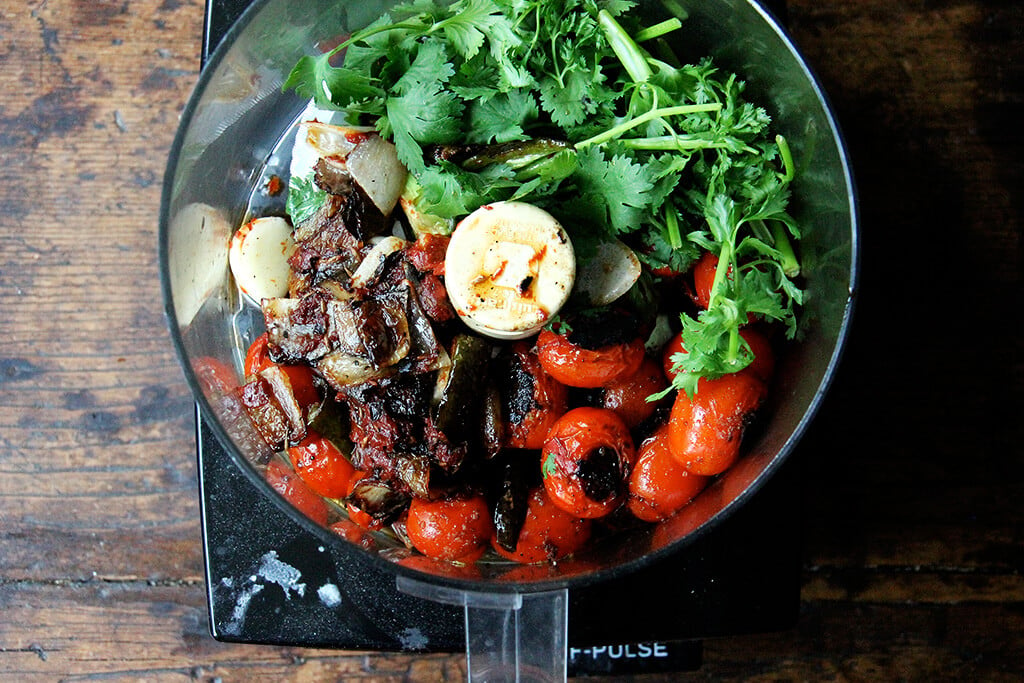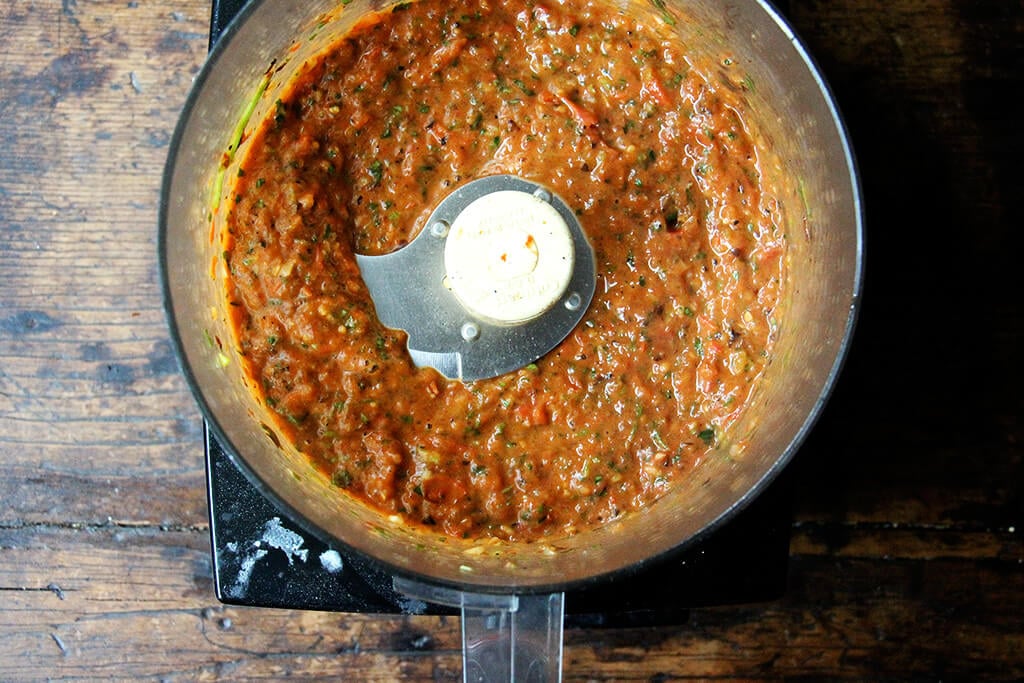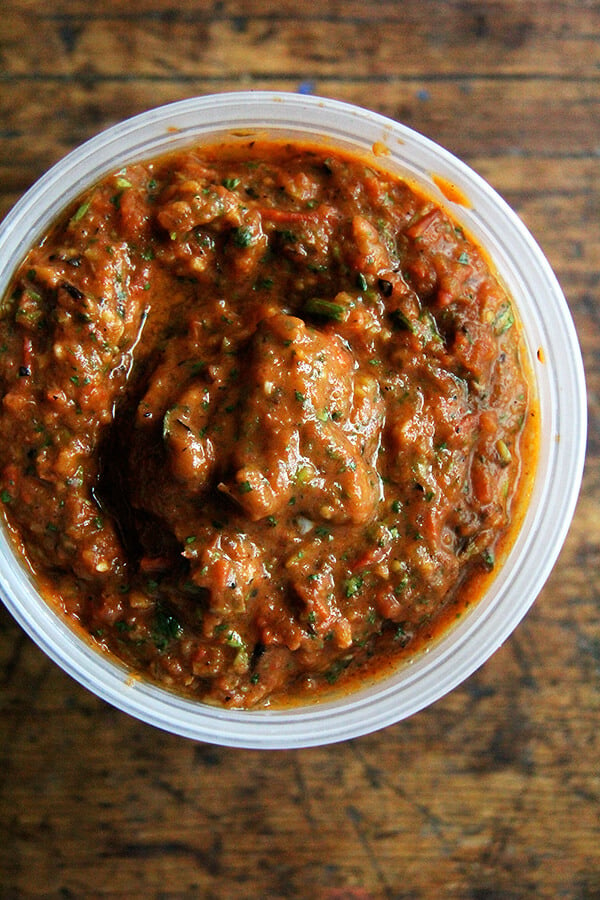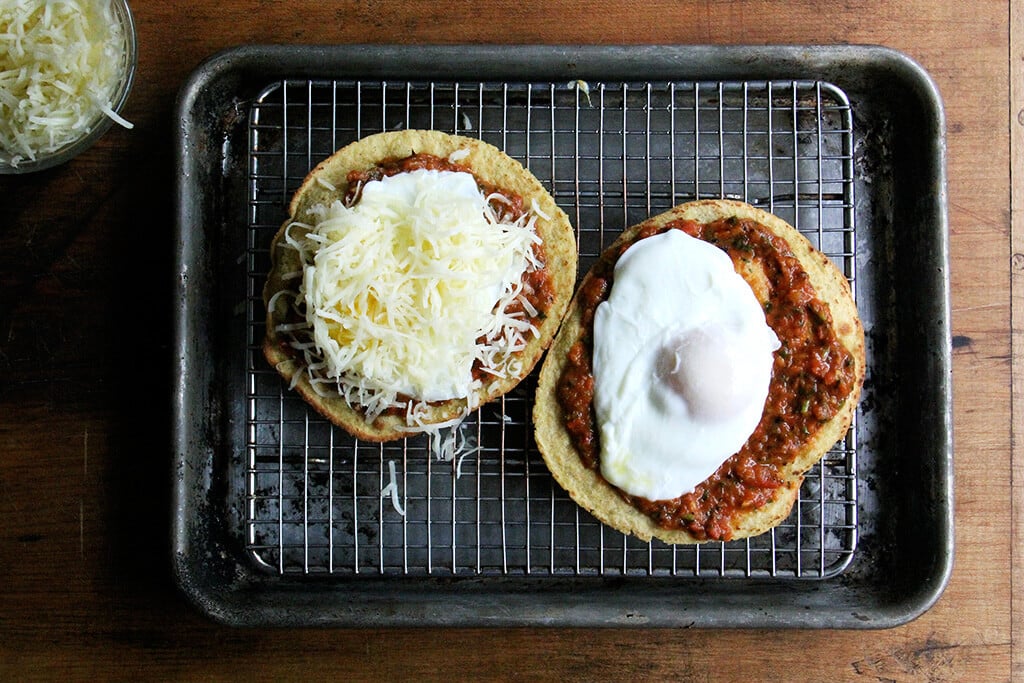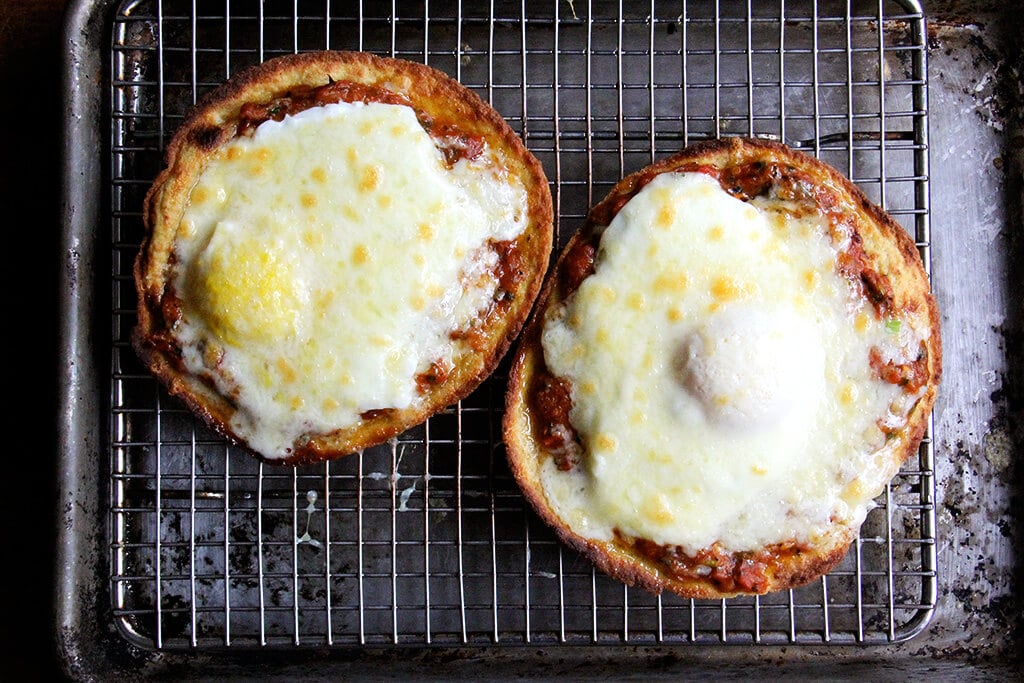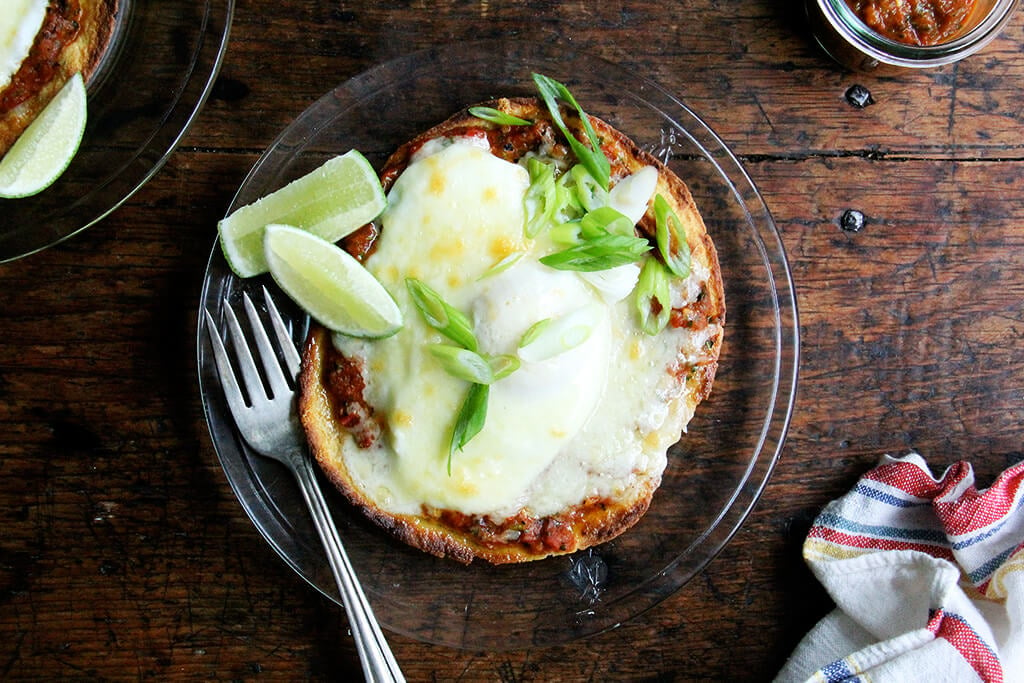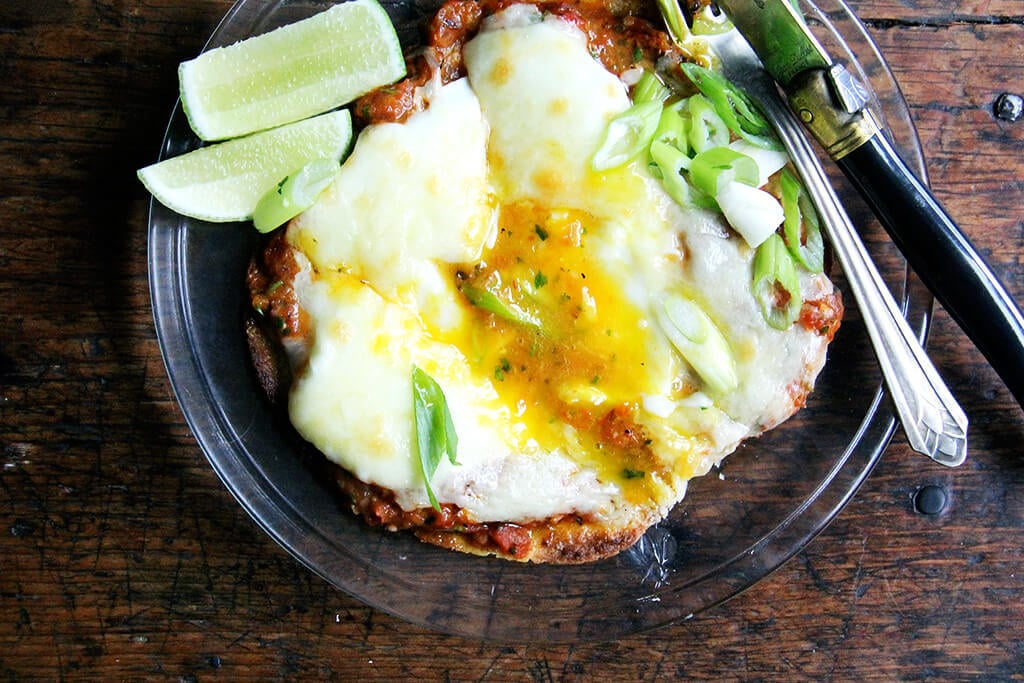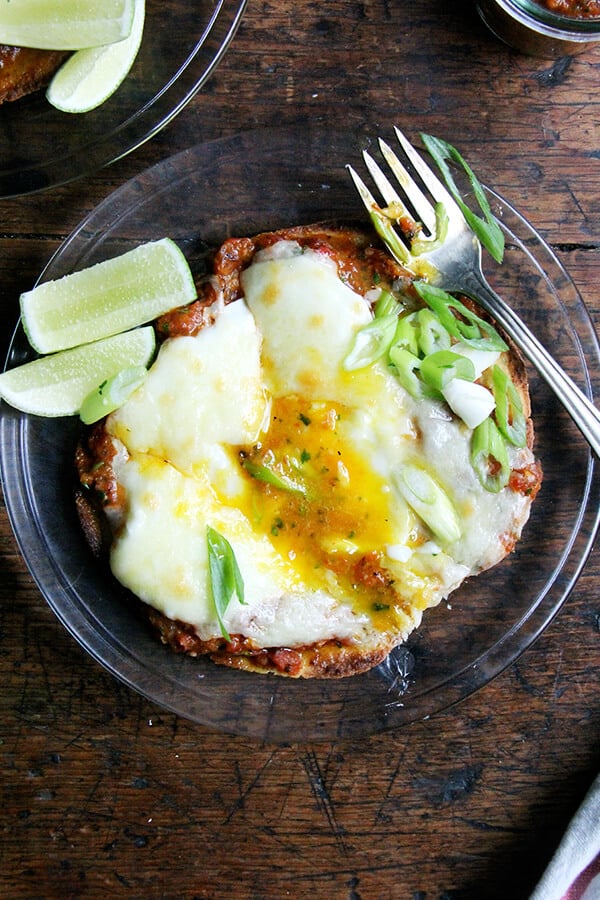 Print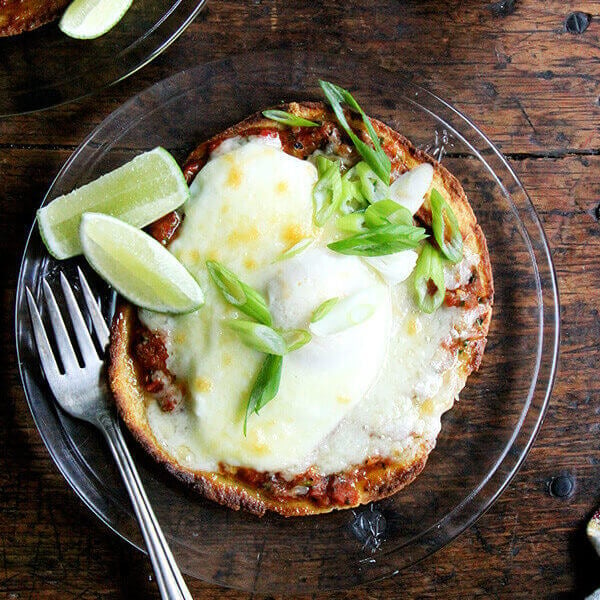 Huevos Rancheros with Blistered Salsa Roja
---
Description
This salsa recipe has been adapted from one in America's Test Kitchen's Cook It In Cast Iron.
Tortillas: I like the tortillas made from a mix of cornmeal and flour. Both Whole Foods and Trader Joe's sell this hybrid variety, which has a nice corn flavor without a gummy texture.
Avocado, sour cream, and beans would all be welcomed here, but keeping it simple also keeps these huevos rancheros light and fresh-tasting. Once you have the salsa made, which will keep for several days in the fridge, these take no time to whip up.
---
Blistered Tomato Salsa
3 

tablespoons grapeseed oil


1 1/2 

pounds grape tomatoes

Kosher salt


1 

small onion, roughly chopped into 1-inch pieces


1 

jalapeño, stem removed, seeds left intact, quartered


1 

tablespoon tomato paste


2 

cloves garlic, smashed


1/2 

teaspoon whole cumin seeds or ground cumin


1/4 

cup cilantro, stems and all


1 

tablespoon fresh lime juice, plus more wedges for serving

For Serving
Eggs, however many you wish

Tortillas, however many you wish

Grated cheese, such as Cheddar or Monterey Jack


Sliced scallions, optional
---
Instructions
Heat a large cast-iron skillet over medium heat for 5 minutes. Add 1 tablespoon of the oil, the tomatoes, and 1 teaspoon kosher salt. Cook, stirring occasionally, until lightly charred and blistered, about 10 minutes. Transfer to food processor or blender but don't blend just yet.
Heat remaining 2 tablespoons oil in now-empty skillet over medium heat until shimmering. Add jalapeño and onion and cook until lightly charred, about 8 minutes—it's okay if the seeds and skins are looking brown and blistered. Stir in the tomato paste, garlic, 1 teaspoon salt, and cumin and cook until fragrant, about 30 seconds. Transfer to the food processor or the blender holding the tomatoes. Add the cilantro and lime juice. Process until smooth. Set aside.
Bring a medium-sized, covered pot of water to a boil. Preheat the broiler to high. Crack as many eggs you are using into individual ramekins. Remove pan of water from heat source. Drop eggs one at a time into pot. Cover pan and set aside for 3 minutes, or until whites are set but yolks are still runny—test by lifting egg from water with slotted spoon and touching gently. Transfer to a paper-towel lined plate.
Meanwhile, lightly rub each tortilla with oil on each side, and set on a broiler pan or on a cooling rack set on a sheetpan. Broil for 2 minutes, watching closely, or until lightly golden. Remove pan from broiler, flip tortillas, and broil again for 1 to 2 minutes or until lightly golden. Remove pan from broiler. Top each with 2 tablespoons of the salsa. Top each with a poached egg. Sprinkle with cheese to taste. Return pan to broiler and cook 1 to 2 minutes or until cheese has melted.
Remove pan from oven. Sprinkle with scallions, if using, and serve with lime wedges and more salsa on the side.
Prep Time:

20 minutes

Cook Time:

5 minutes

Category:

Breakfast

Method:

Stovetop

Cuisine:

Mexican, American
Keywords: huevos, rancheros, blistered, salsa, roja
This post may contain affiliate links. Please read my disclosure policy.