Simplest Cabbage Slaw + 10 Other Useful CSA Recipes
This post may contain affiliate links. Please read my disclosure policy.
How does this happen? How is it the end of June? Will life ever not be a blur? Is it just me?
Anyway, I hope you all are well! It finally feels like summer here in upstate New York — the kids are out of school, the weather has been glorious, the motivation to do anything but be outside is waning. All good things. Last year I chronicled as best I could my deliveries from Roxbury Farm CSA, and this year I'm trying to better organize everything.
Below are 11 recipes I find myself turning to often throughout the CSA season. Up above in the navigation under Recipes → CSA Recipes, you will find tabs for Cabbage, Kale, Potato, Radish, Sweet Potato, Swiss chard, and Zucchini. I'll add other vegetable categories soon.
What have you all been cooking? Let me know! Loved hearing your CSA-recipe ideas last summer.
This is the dressing I make most often, and these days I only make the large batch version, as it is so nice to have on hand for salads throughout the week. (A small batch version is included in the recipe.)
Year round, CSA subscribers are inundated with greens, from kale, chard, collards, and broccoli rabe to those attached to roots: beet, turnip, kohlrabi, carrot, onion.
Sometimes it's nice to eat these greens raw dressed in a creamy vinaigrette or simply sautéed in garlicky oil, but a really handy recipe to know is Cal Peternell's fried greens meatless balls, which I've made with onion and carrot greens, kale and chard, beet greens and broccoli rabe, mustard greens, and most recently with the kohlrabi and turnip greens. Every green works.
Turnip and kohlrabi greens from last week's CSA: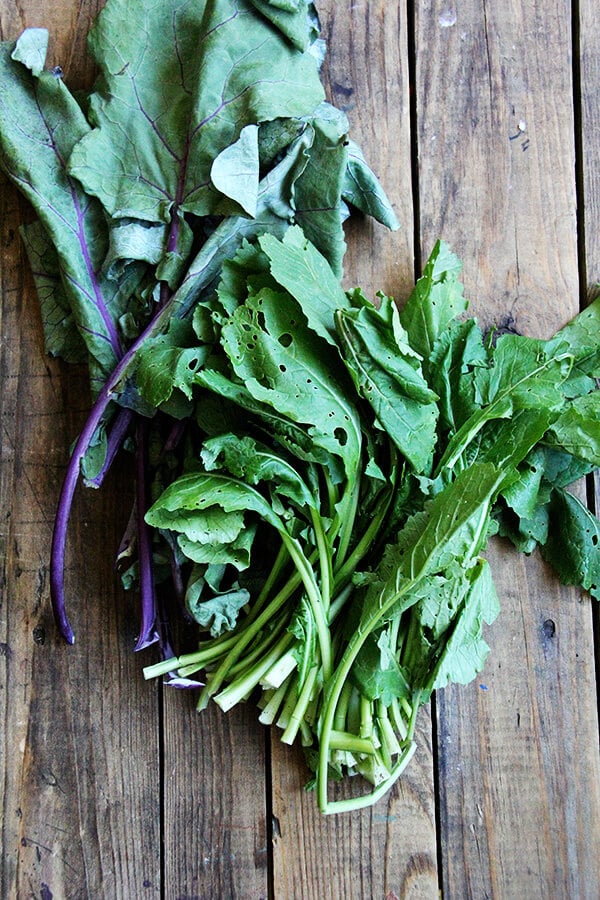 3.Swiss Chard Fritters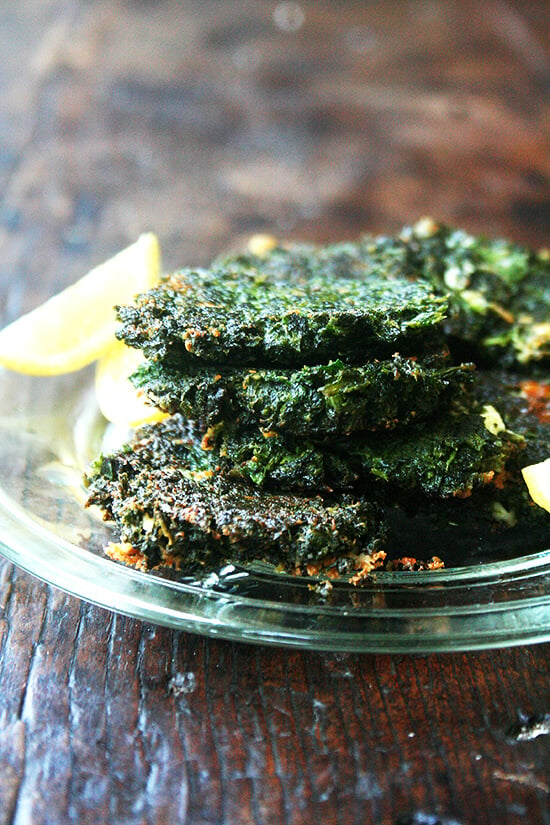 Swiss Chard Fritters.
These fritters, a Yotam Ottolenghi recipe, are in the same vein as the fried greens meatless balls. The recipe should be used as a guide and adapted to whatever greens or seasonings you have on hand.
More Swiss chard recipes here.
4. Swiss Chard Salad with Lemon, Parmesan, and Breadcrumbs.
Swiss Chard Salad.
It never occurred to me to eat chard raw until I found this Merrill Stubbs recipe on Food52. It's light, lemony, delicious. I find it addictive, and while I haven't experimented with other dark leafy greens, I imagine they would take well to this same treatment.
More Swiss chard recipes here.
5. Pickles.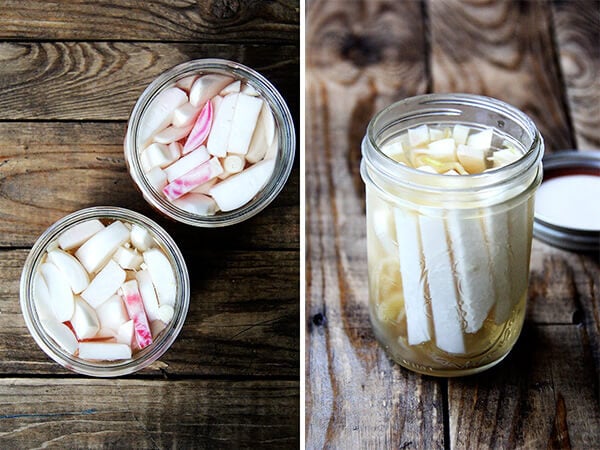 Pickles.
Here's my favorite simple quick-pickle recipe, which I've used with kohlrabi, carrots, radishes, and watermelon radishes (Warning: pickled watermelon radishes are incredibly stinky (but delicious)).
Here's another simple pickle for turnips and beets from the My New Roots cookbook.
These zucchini pickles from the Zuni Cafe Cookbook require a little more preparation but are so nice to have on hand during the summer. Apparently, they accompany every hamburger at Zuni Café.
Regarding storage: I've never properly canned pickles — I've always just stashed them in the fridge, where, I'll admit, they've been forgotten. So, what I try hard to do now, is to — wait for it — eat them! If I take out my jar of pickles while I'm preparing dinner or set them on the table no matter what I am serving, I find they get eaten.
6. Oven Fries.
Oven Fries.
Potatoes might be my favorite CSA vegetable. It wasn't till very recently that I discovered how good fresh, summer potatoes are, how different from the potatoes I'd been eating for years. Oven fries and oven fries alone often is dinner especially in the winter, when we have pounds of them on hand thanks to the Roxbury Farm winter CSA.
More potato recipes here.
7. Sweet Potato Quesadillas.
Sweet Potato Quesadillas.
Often with sweet potatoes, I, like many, cut them into wedges, toss them with olive or coconut oil, and roast them at high heat until their edges caramelize. What I love about these sweet potato quesadillas is that the sweet potato is the main ingredient — for once, sweet potatoes are not a side dish. A long time vegetarian friend of my aunt passed along this recipe, and it has become one of my favorites, too.
More sweet potato recipes here.
8. Roasted Kale and Coconut (with or without tofu)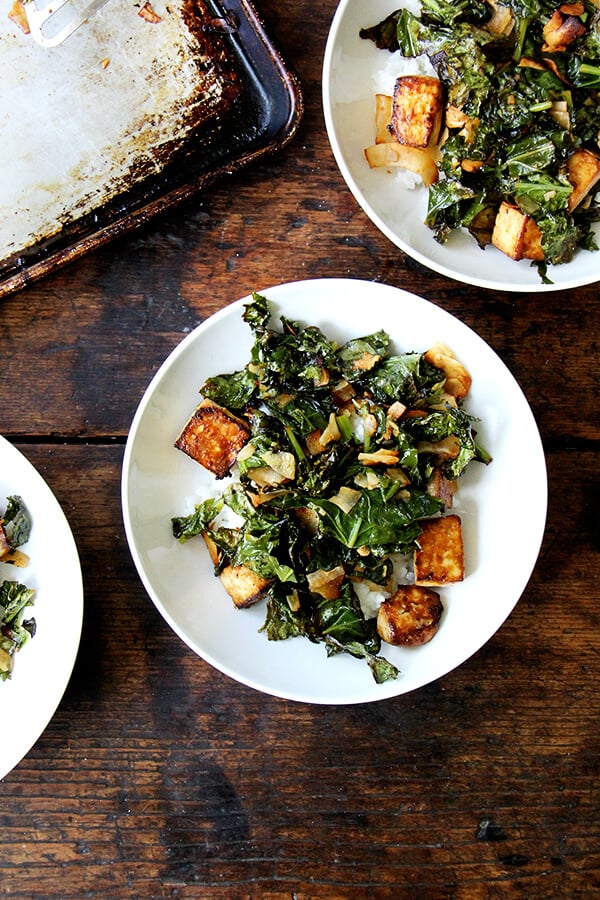 Roasted Kale and Coconut (with or without tofu)
I wrote about this sheet pan supper recently, but before I discovered that tofu could be added to the mix to make it a meal, I had been simply roasting the kale and coconut alone. Truthfully, I've only ever tried this recipe with various types of kale, but one commenter noted that she had had success with cabbage, and I imagine many a dark leafy green could replace the kale. Here's the recipe.
More kale recipes here.
9. Zucchini Bread.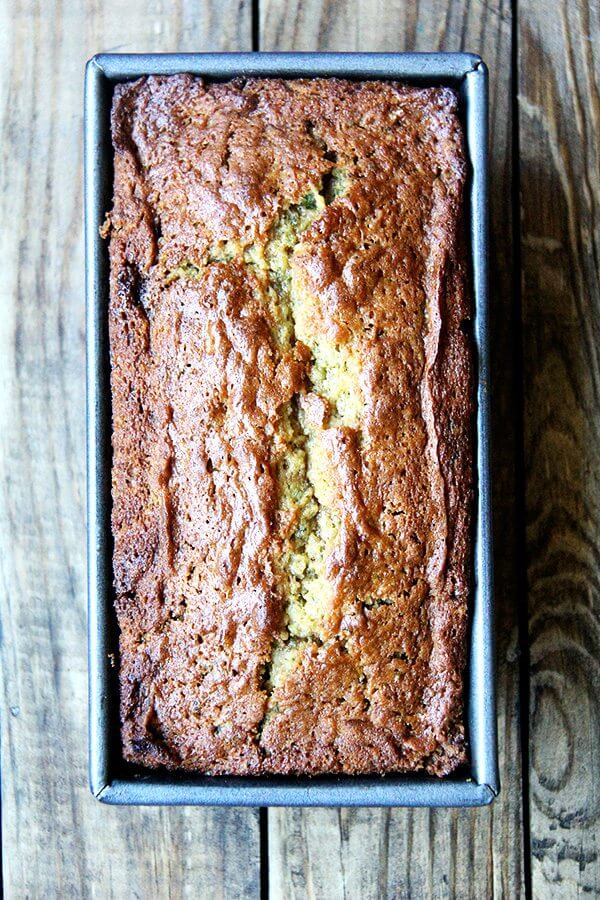 Zucchini Bread.
From fritters to pizza to sautées, many recipes make good use of an abundance of zucchini, and quick-bread is no exception. This is a longtime favorite recipe: The Best Zucchini Bread, (right up there with Mrs. Myer's Banana Bread, aka The Best Banana Bread. Really, it is.)
More zucchini recipes here.
10. Roasted Vegetables with Tahini and Za'atar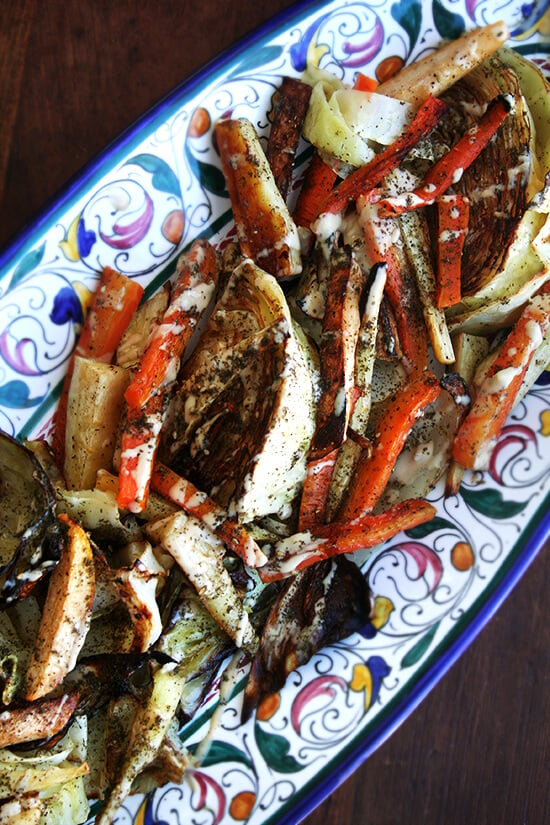 Roasted Vegetables with Tahini and Za'atar.
When late fall and winter hit, root and storage vegetables make up the bulk of the farm share deliveries. With Roxbury Farm's winter CSA, we get three 30-lb. deliveries of root vegetables, a mix of potatoes, sweet potatoes, beets, carrots, watermelon radishes, rutabaga, and sometimes a head of cabbage. Roasted vegetables are always a treat, but the addition of tahini sauce and a sprinkling of za'atar is such a nice way to spruce them up. We live on these vegetables (and oven fries) during the winter.
11. Simplest Cabbage Slaw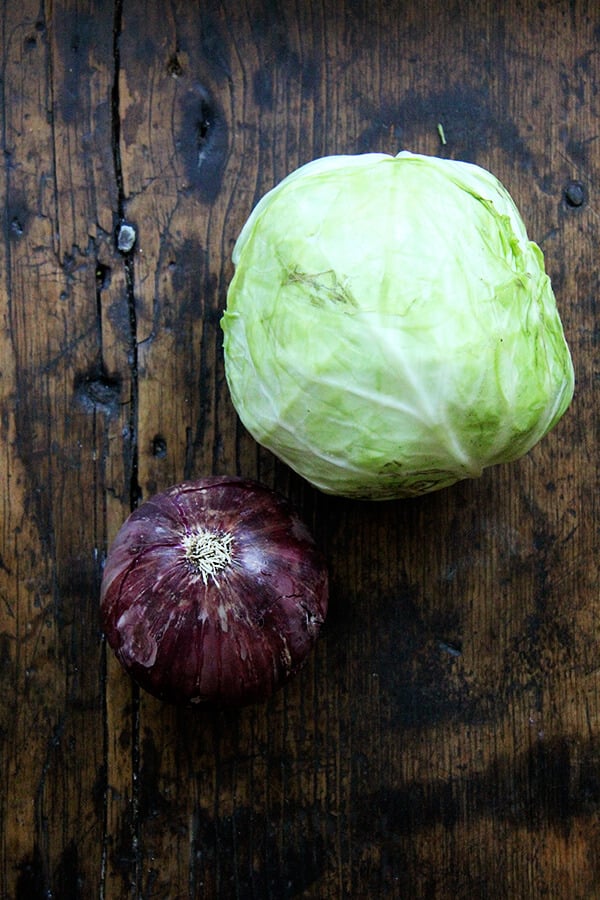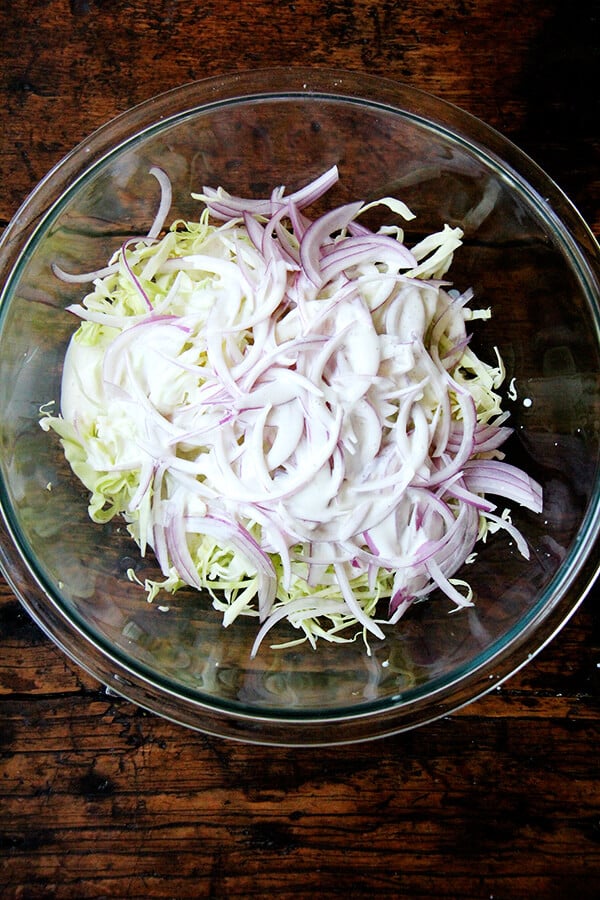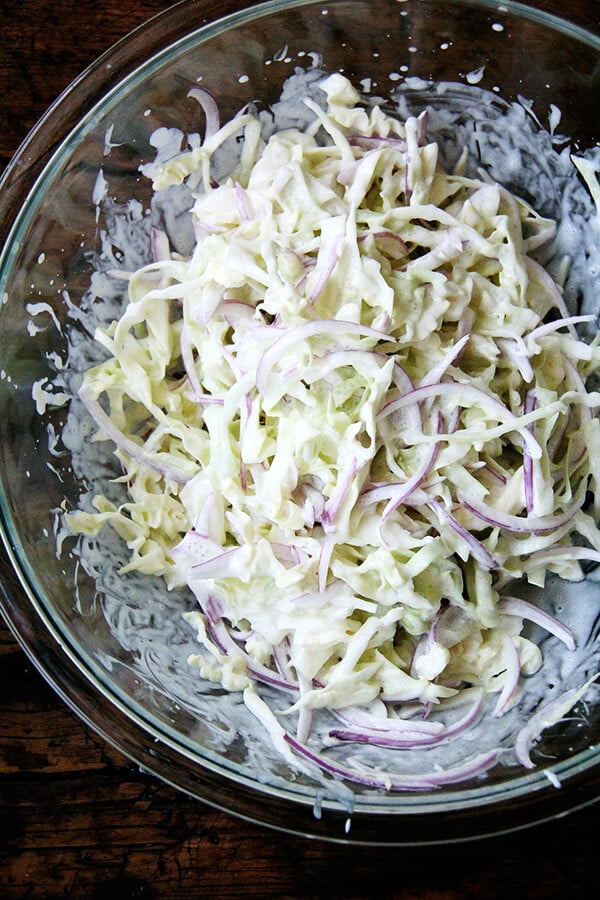 Simplest Cabbage Slaw.
Last but not least: slaw. Cabbage arrives as early as those tender greens and continues through the fall and early winter. The recipe below is a simplified version of this favorite Sally Schneider recipe. Make it spicy with a few dashes of Tabasco, add herbs, add other vegetables, or just keep it simple.
More cabbage recipes here.
Print
Simplest Cabbage Slaw
---
½ cup

sour cream

½ cup

buttermilk

2 tablespoons

apple cider vinegar, plus more to taste

1 tablespoon

sugar

1 teaspoon

kosher salt, plus more to taste

1

small head cabbage, cored and finely shredded

1

small red onion, thinly sliced
---
Instructions
Whisk together the sour cream, buttermilk, vinegar, sugar, and salt. Taste. For more bite, add another teaspoon of vinegar. Stir and taste again. Adjust with more salt if necessary.
In a large bowl, toss together the cabbage and onion. Add the dressing and toss to coat. Taste. Adjust with more salt if necessary.
This post may contain affiliate links. Please read my disclosure policy.