Okonomiyaki: Cabbage Pancakes
This post may contain affiliate links. Please read my disclosure policy.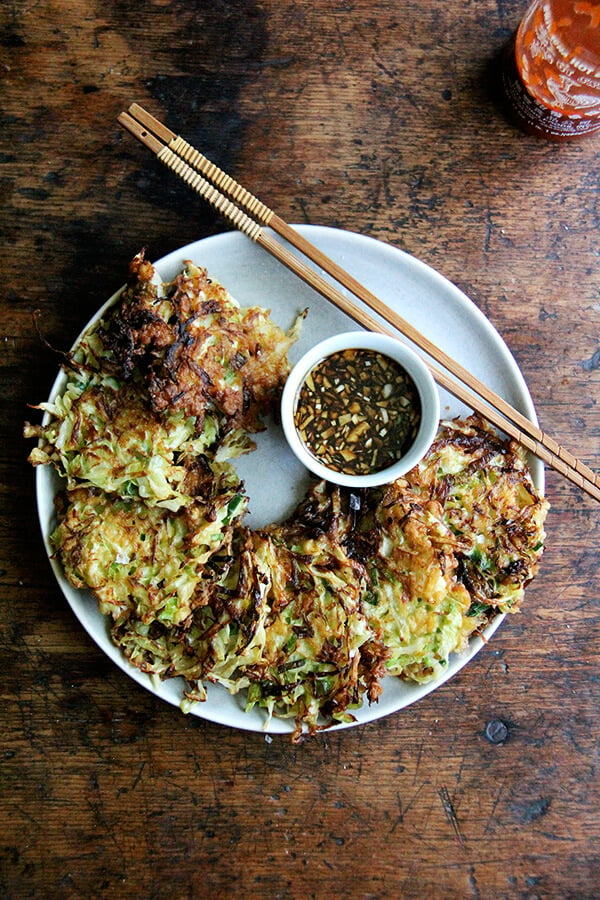 "It's the size of a bowling ball!" my mother exclaimed, holding a head of cabbage before me. She's joined a CSA for the first time, which I'm sensing is a little overwhelming.
These feelings — What is a kohlrabi?! What do I do with 4 beets?! Cabbages to feed the village! — are natural, but lucky for her, there exists a little something called okonomiyaki, Japanese cabbage pancakes, which can be made in countless ways: okonomiyaki essentially means prepared "as you like."
I first made this okonomiyaki recipe from Food52 last summer, and I've made many variations since. Below is the simplest version I've made yet (and maybe my favorite), but know that you can add to it "as you like" with shrimp or chicken, sesame seeds or bonito flakes, other vegetables, etc. I prefer a soy-based dipping sauce to the more traditional mayonnaise-based, and, like the corn fritters, find these as irresistible freshly fried as cold straight from the fridge.
Have a wonderful weekend, Everyone.
PS: More cabbage recipes here.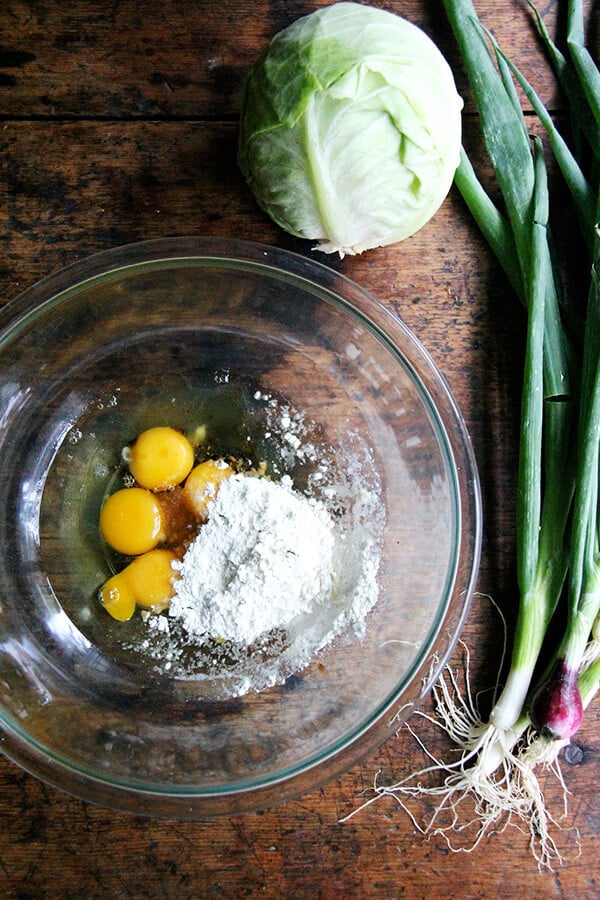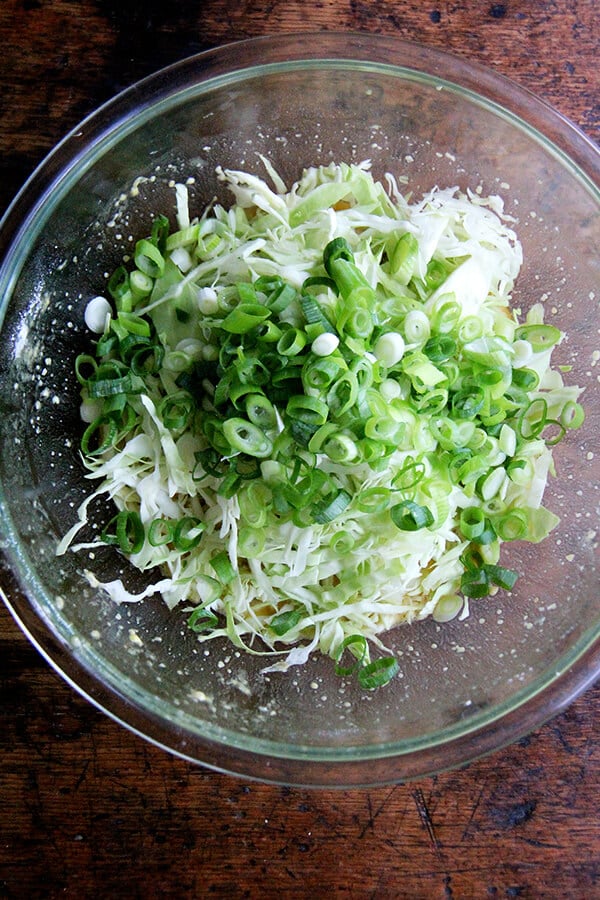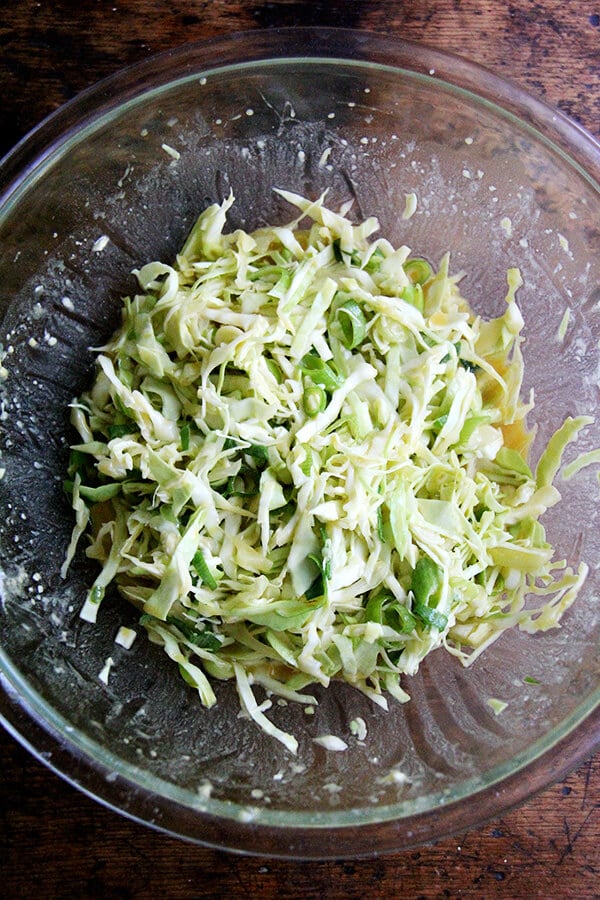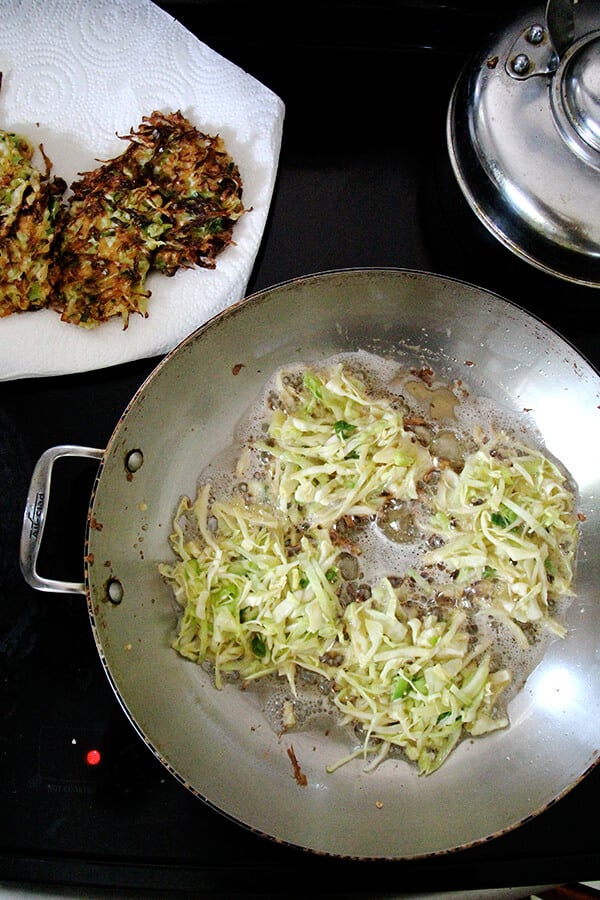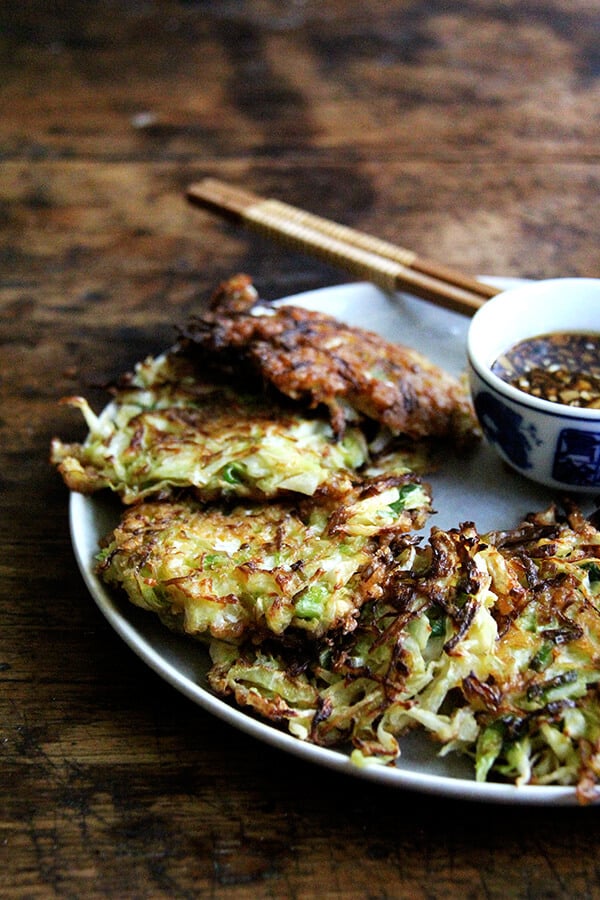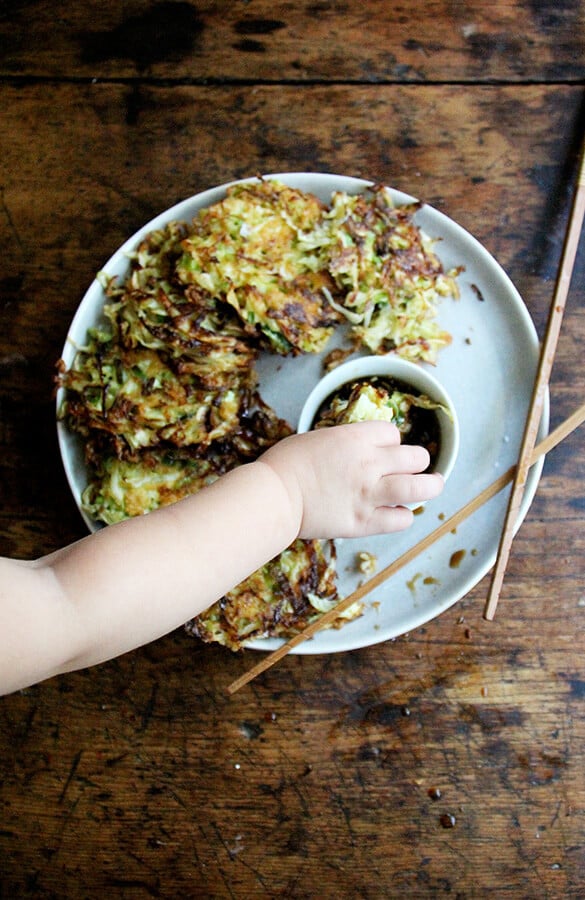 Print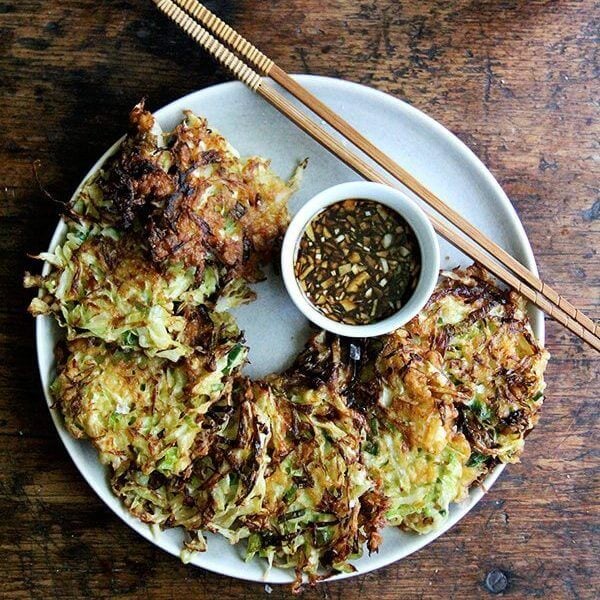 Okonomiyaki: Cabbage Pancakes with Soy Dipping Sauce
---
Description
Adapted from Food52, these pancakes are simple to throw together and make delicious use of an abundance of cabbage. I use 4 times the amount of cabbage called for in the original recipe (8 cups as opposed to 2), and I omit the shrimp, though I imagine the addition of shrimp would be very tasty.
I like to serve these with a soy dipping sauce (as opposed to a mayonnaise-based one). The one below is one I've been using for years, but feel free to use your own.
---
For the pancakes:
5

eggs

1 teaspoon

soy sauce

1 teaspoon

sesame oil

1 teaspoon

sea salt, plus more for seasoning

1/3 cup

flour

8 cups

finely shredded cabbage

1

bunch scallions, trimmed and chopped, to yield about a heaping cup
For the soy dipping sauce:
¼ cup

soy sauce

2 tablespoons

rice vinegar

2 tablespoons

mirin

1 teaspoon

hot chili sauce or Sriracha, optional

½ teaspoon

sesame oil

1 teaspoon

sugar
Grapeseed or other neutral oil for frying
---
Instructions
In a large mixing bowl, whisk eggs with the soy sauce, sesame oil, and salt. Gradually add the flour until incorporated. Fold in cabbage and scallions.
Make the sauce: combine all ingredients in a small bowl. Add 1 tablespoon of water. Set aside.
In a large sauté pan, warm a couple tablespoons of oil over medium-high heat until glistening. Pinch batter with hands and carefully drop the mounds into the oil—in a large skillet, you should be able to fry 4 at a time. Lower the heat to medium. Cook on each side for about 3 minutes or until golden brown. Transfer to a paper-towel lined plate and season lightly with salt. Serve with soy-dipping sauce.
Prep Time:

10 minutes

Cook Time:

20 minutes
This post may contain affiliate links. Please read my disclosure policy.