Sheet Pan Chicken and Cauliflower "Shawarma"
This post may contain affiliate links. Please read my disclosure policy.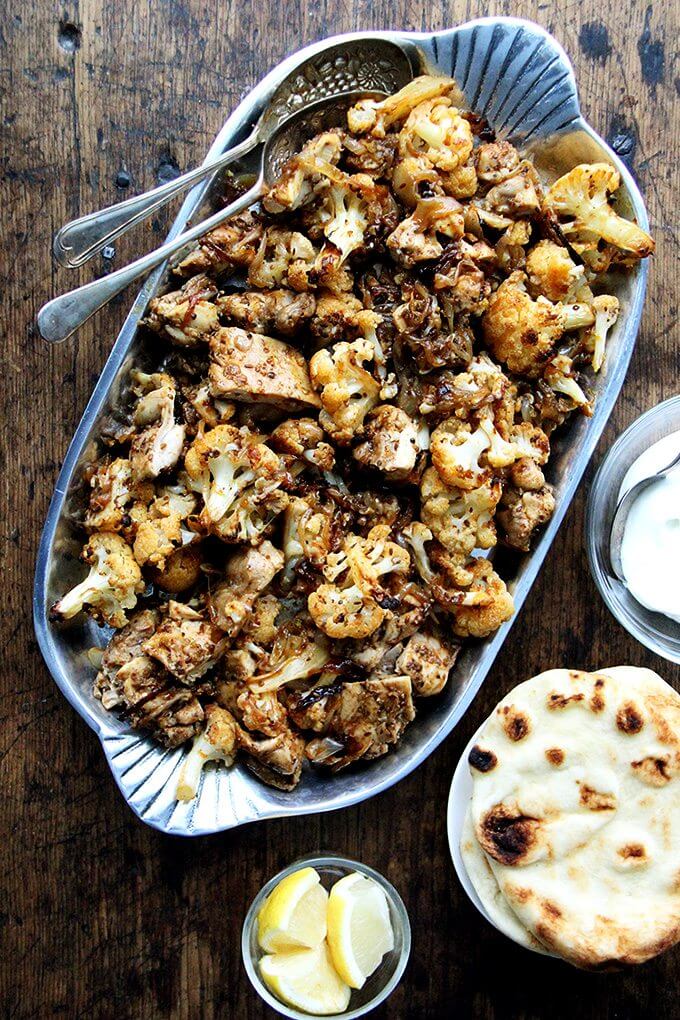 It's been about three years now that I've been making Bon Appetit's parmesan-roasted cauliflower, a recipe Molly Wizenberg wrote about on her blog and described as a "go-to". Here's the gist: cauliflower florets, a sliced onion, and a few unpeeled garlic cloves dressed with olive oil and a few thyme sprigs roast for 40 minutes on a sheet pan, where they caramelize before they meet a showering of salty, grated parmesan. The combination of sweet and salty, as you can imagine, is incredibly delicious.
For years I never strayed from the recipe — why mess with a good thing? — but recently I've been using it as a jumping-off point for sheet pan suppers. This latest version, inspired by spices typically used in shawarma, calls for toasted cumin and coriander seeds, smoked paprika, and cayenne. You can read more about this recipe's genesis here or find it below.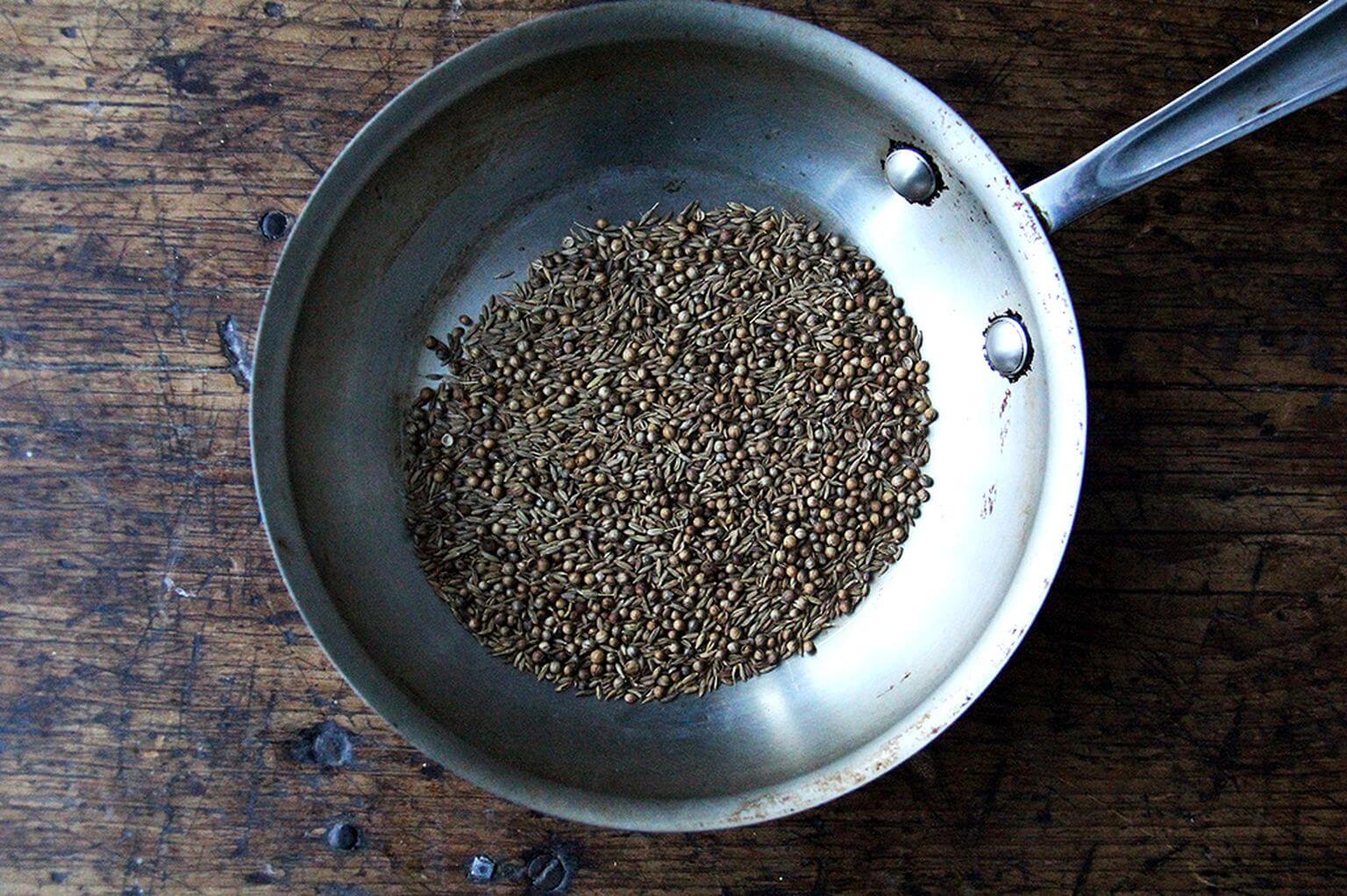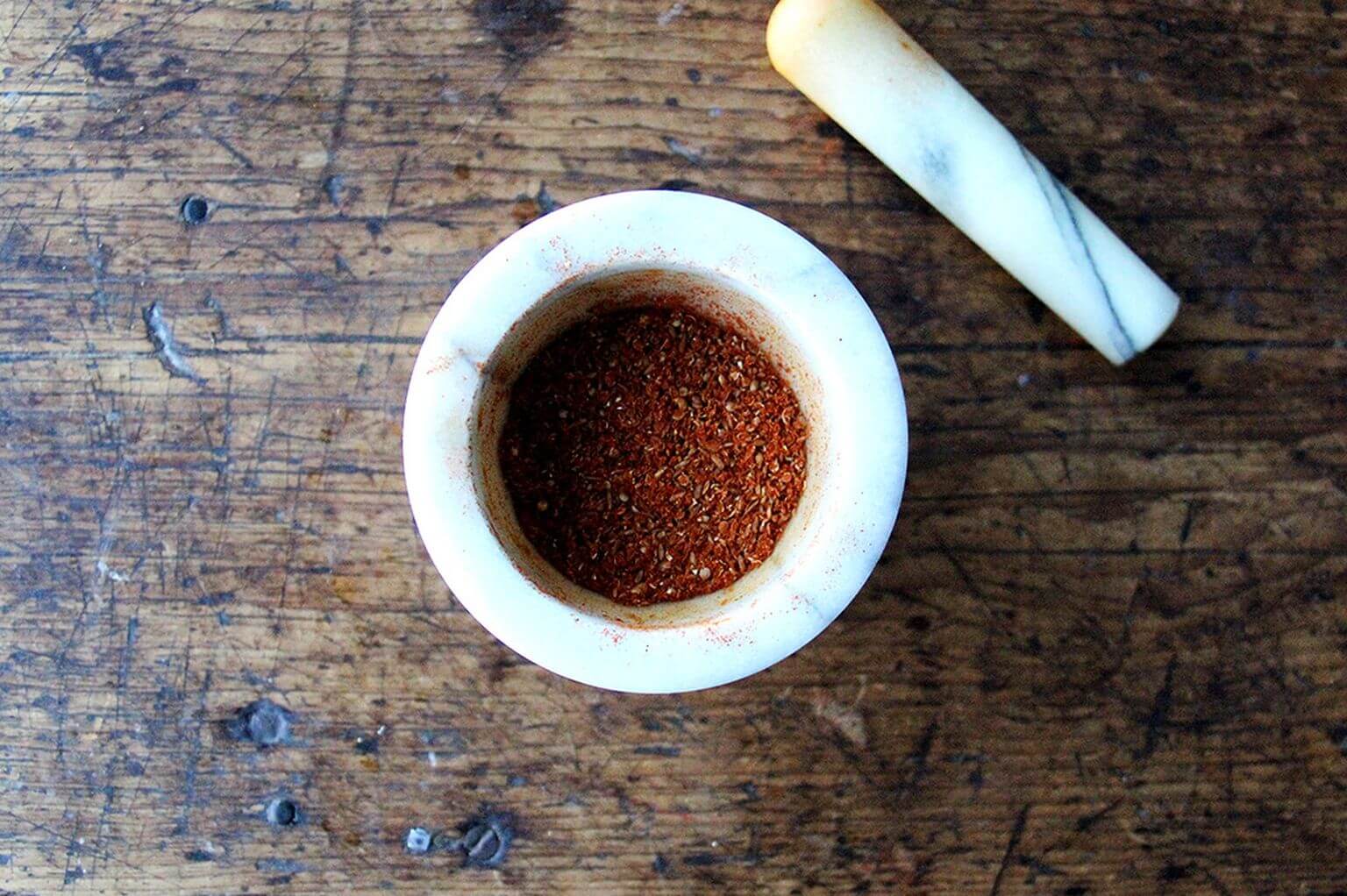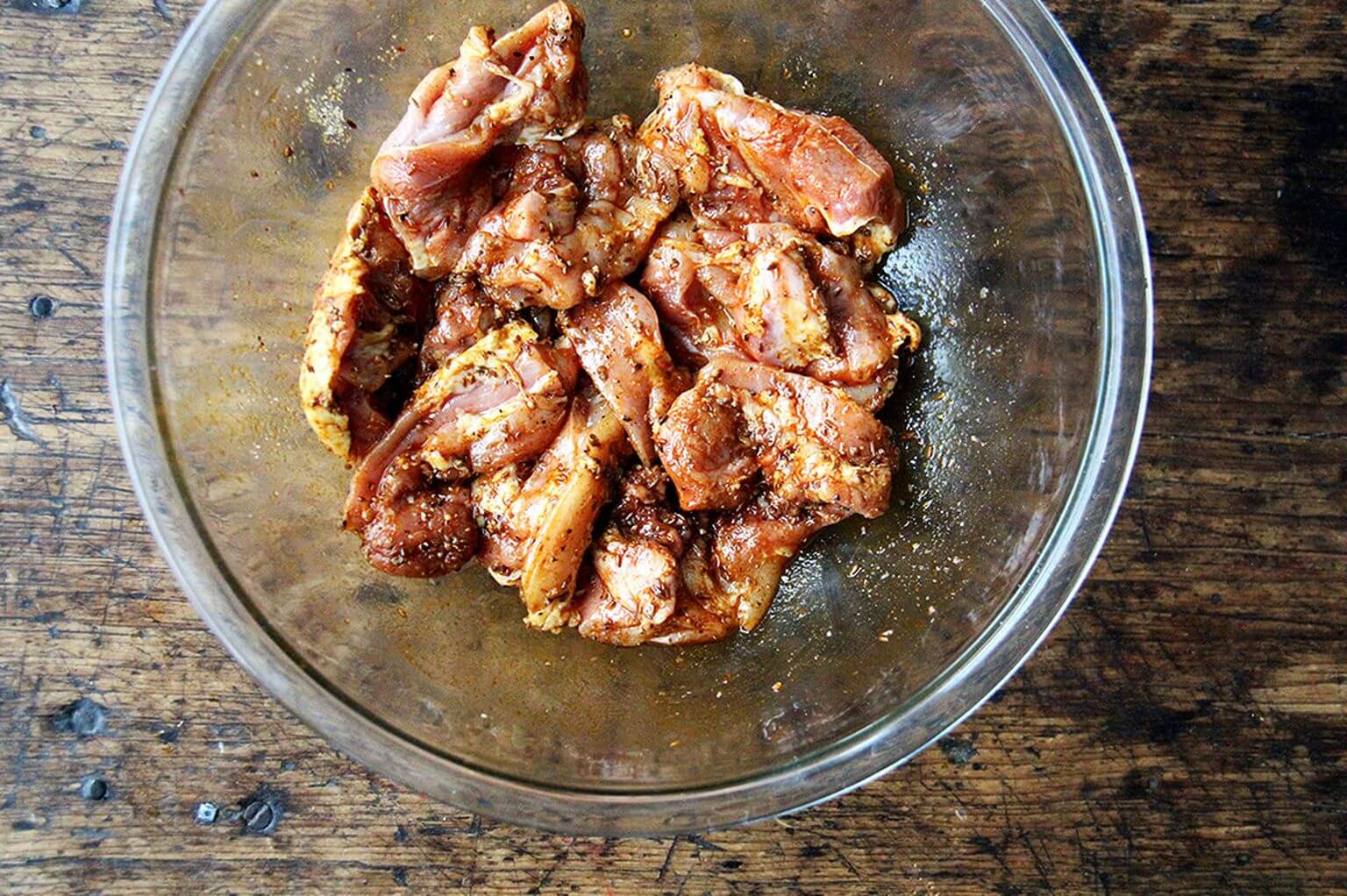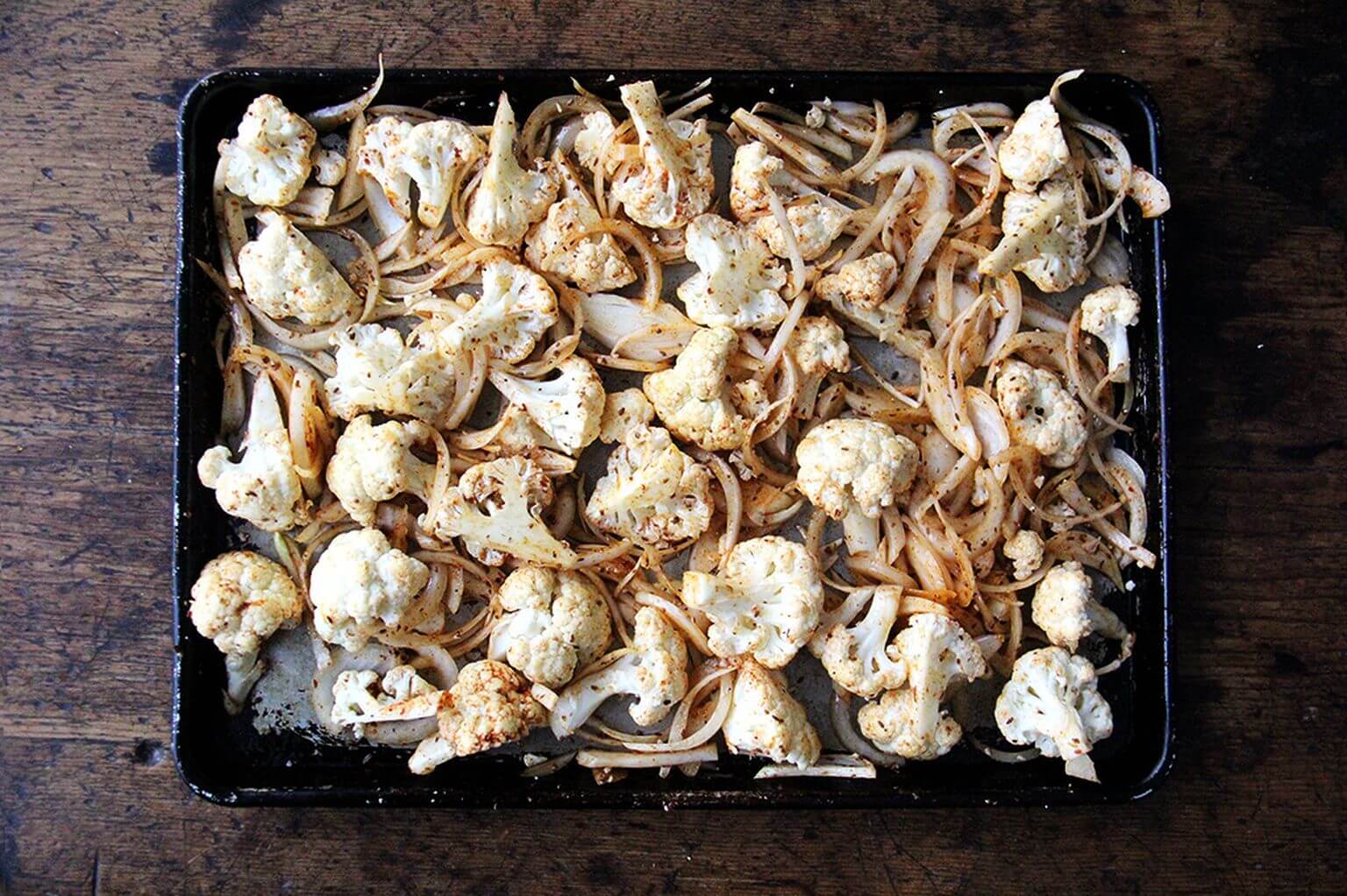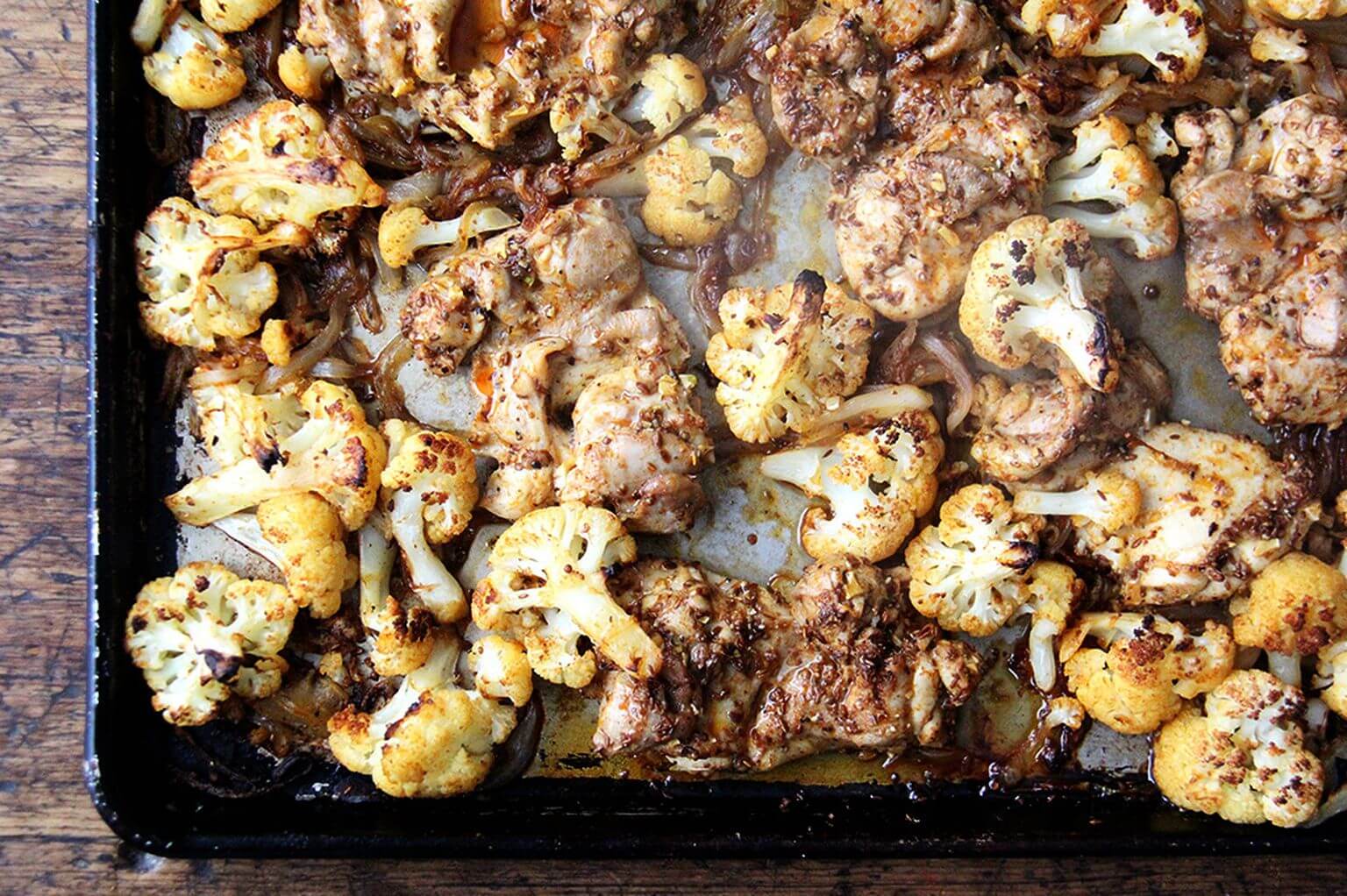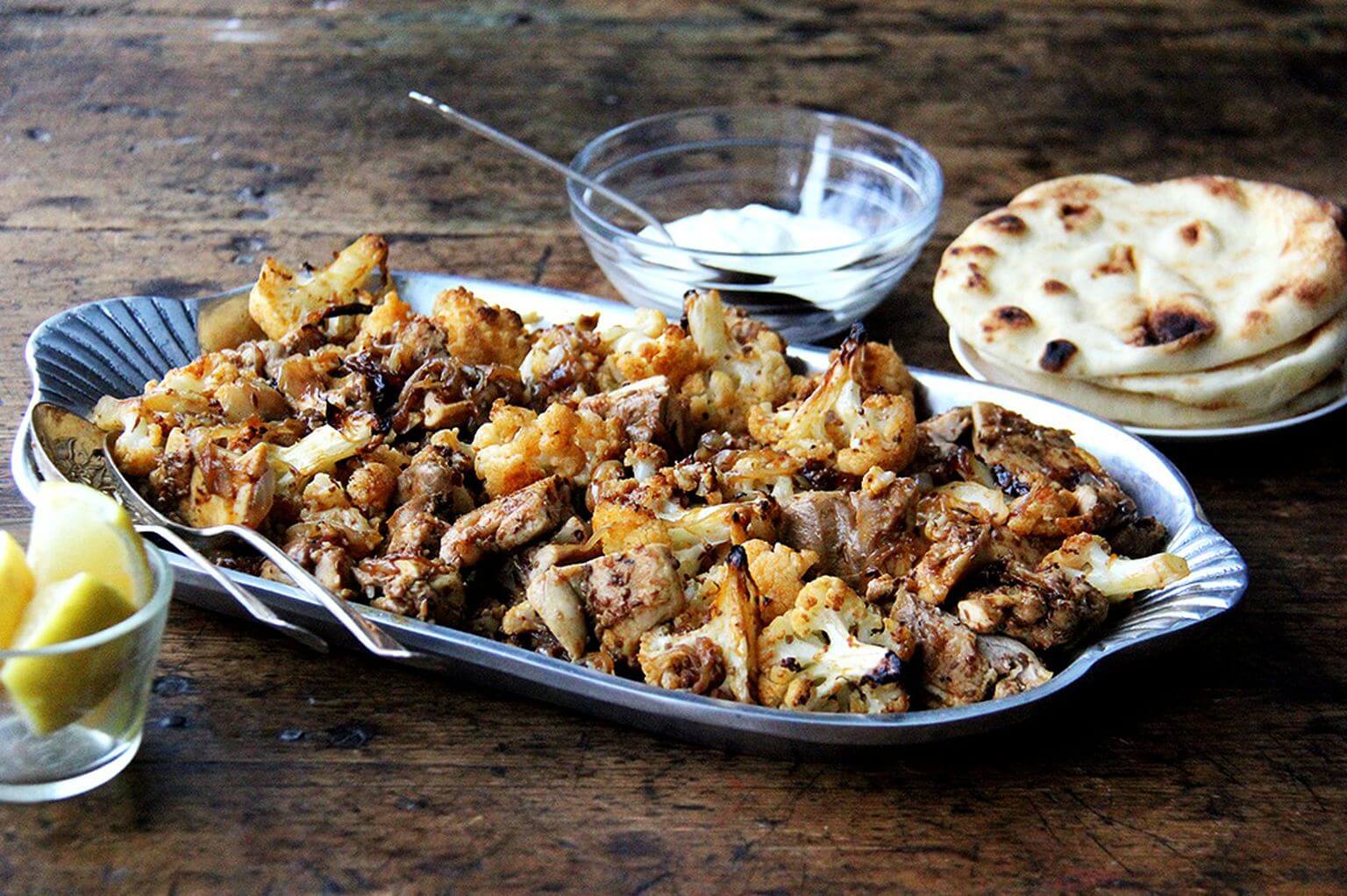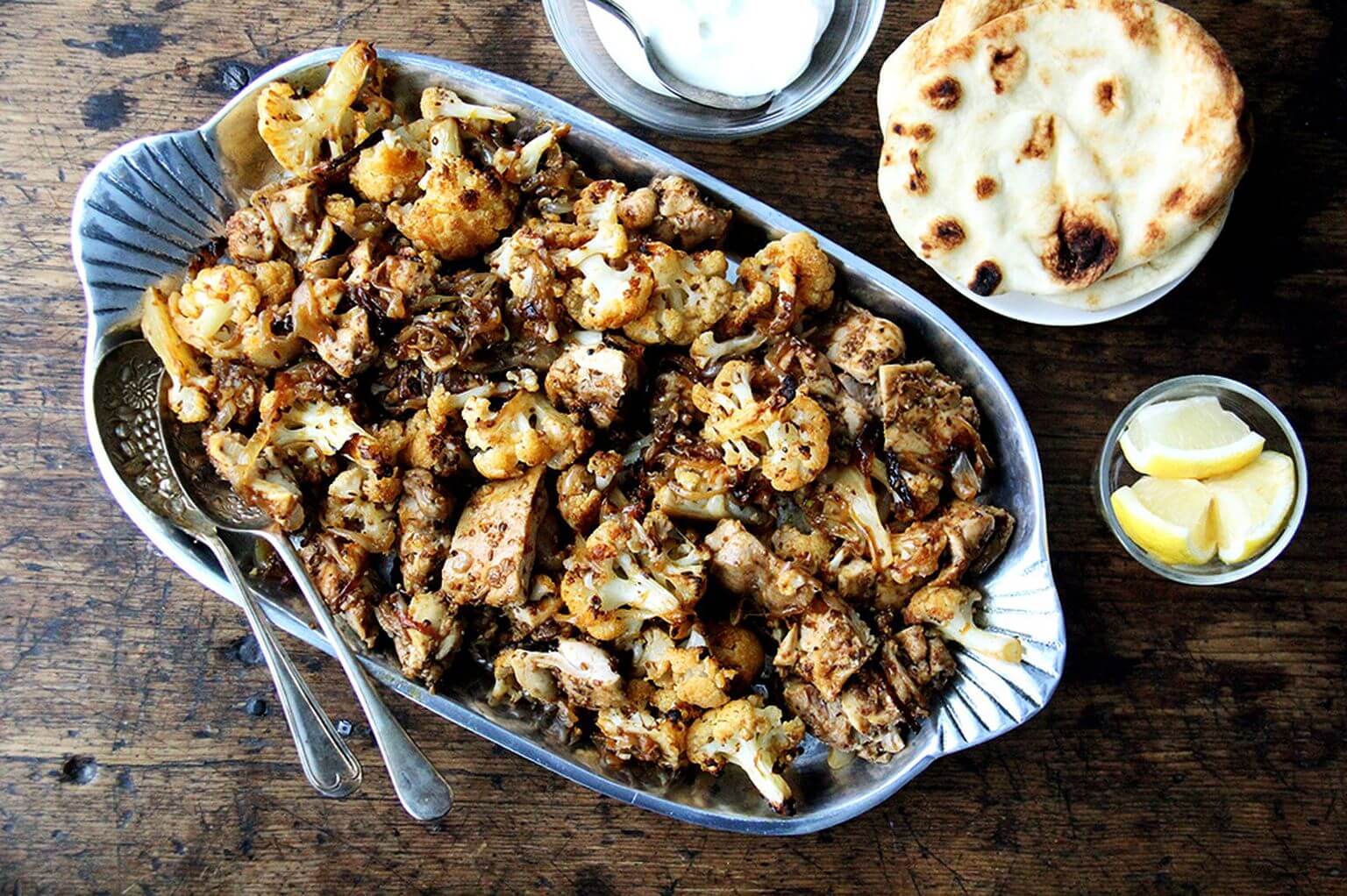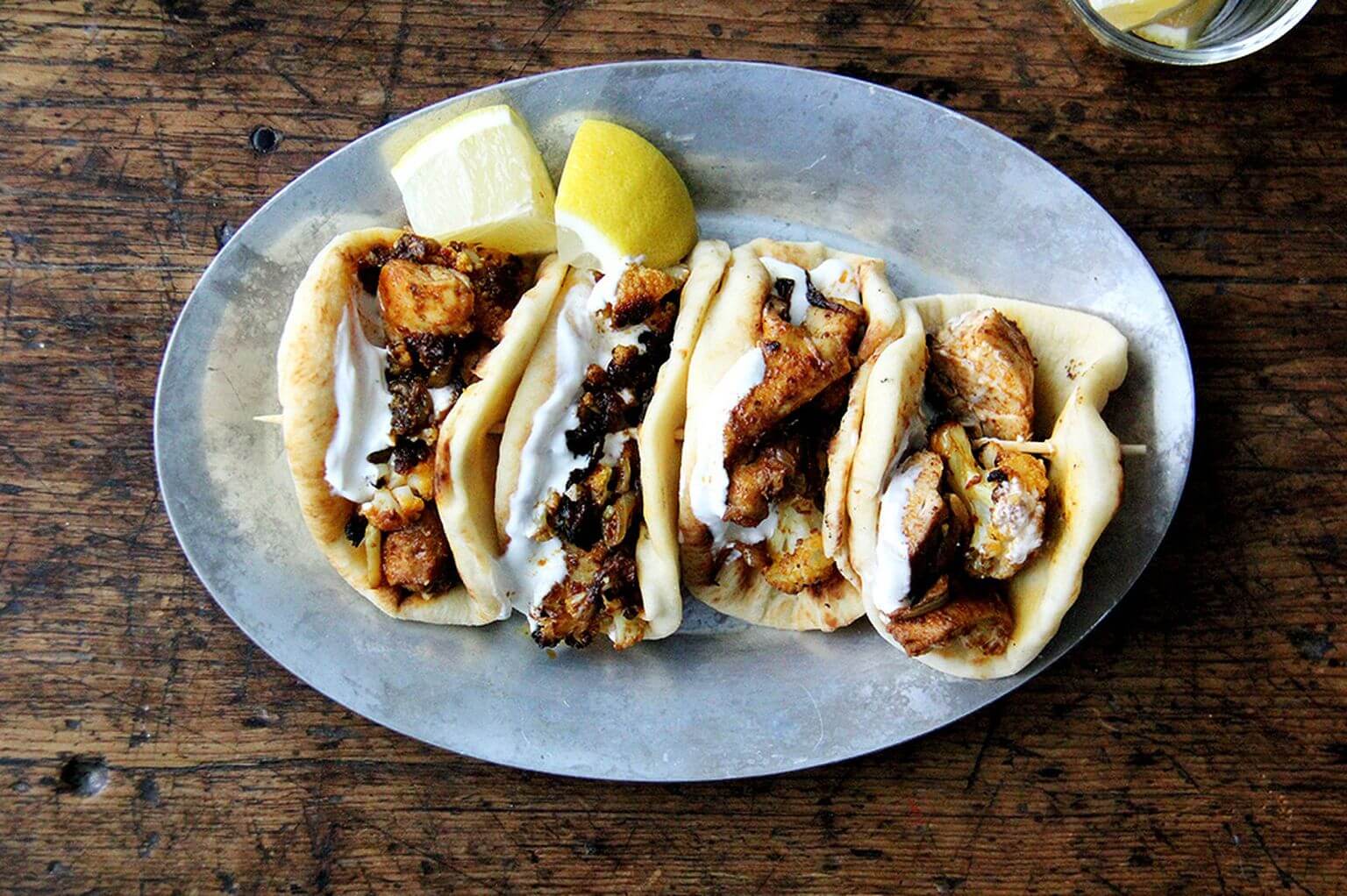 I love these mini naan: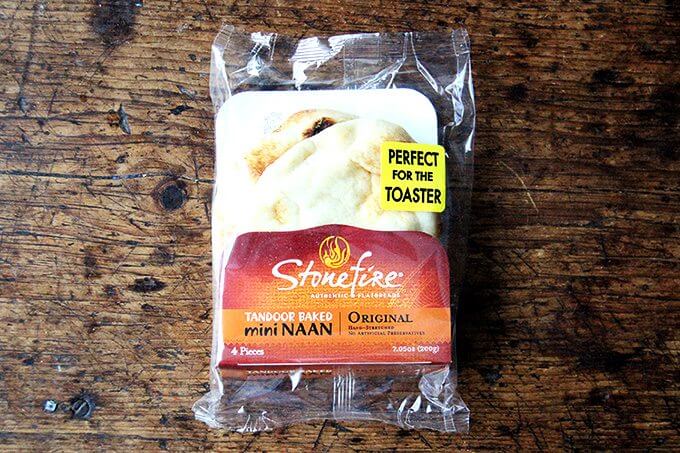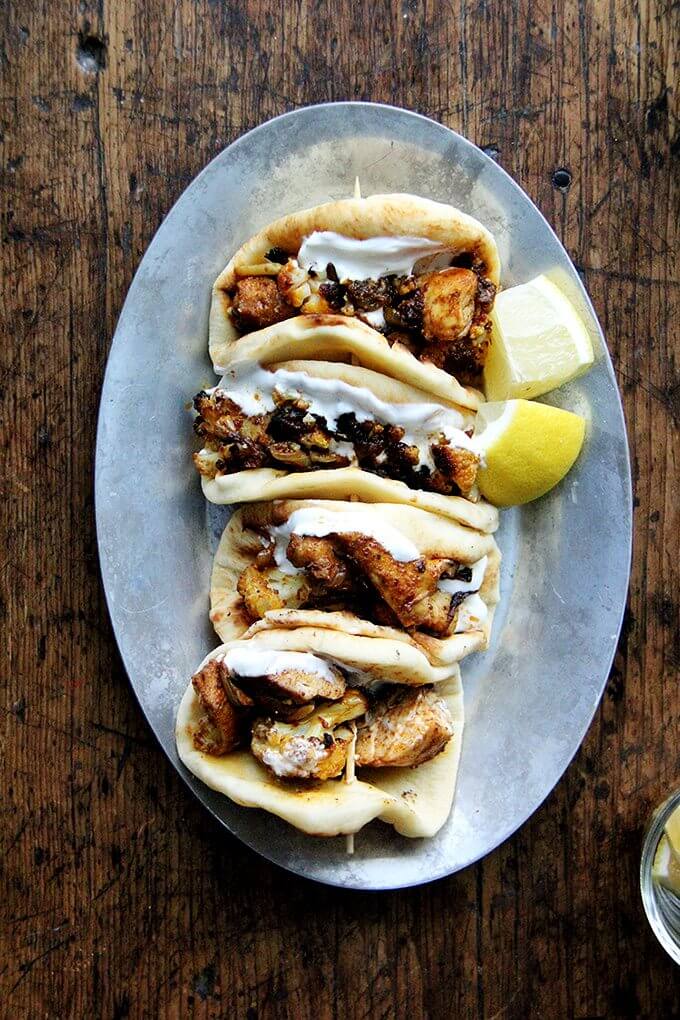 Print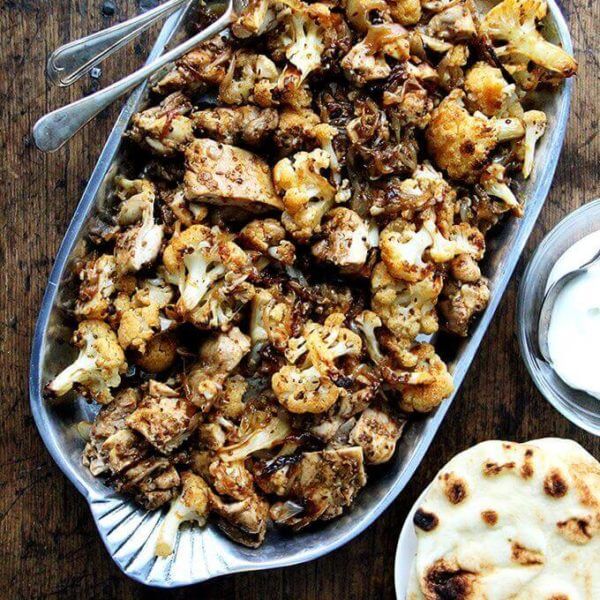 Sheet Pan Chicken and Cauliflower "Shawarma"
---
Description
Notes: This is not traditional shawarma, which is typically made with chicken or lamb and cooked on a vertical rotisserie for hours, then sliced thinly.
Spices: If you are up for it, toast whole cumin and coriander seeds in a small skillet over medium-high heat until they turn light brown and smell fragrant, 3 to 5 minutes. Grind in a mortar and pestle with the smoked paprika and cayenne.
To make a simple yogurt sauce: Stir together 1 cup Greek yogurt, 1 tablespoon fresh lemon juice, 1/4 teaspoon kosher salt. Taste and adjust with more salt or lemon to taste.
To use boneless breasts instead of thighs, check them after 8 minutes—depending on their size, they may take more or less time than the thighs.
---
Neutral oil, for greasing


1 

large head cauliflower (about 2.5 lbs pre trimming), cut into florets, large florets halved or quartered if necessary (see photo above as a reference)


1 

large onion, sliced


5 

tablespoons olive oil, divided

Kosher salt and fresh pepper, to taste


1 

tablespoon whole cumin seeds or ground cumin, see notes above


1 

tablespoon whole coriander seeds or ground coriander, see notes


2 

teaspoons smoked paprika


1/2 

teaspoon cayenne


2 

cloves garlic, minced


6 

boneless, skinless chicken thighs, about 1.5 lbs.


Lemon wedges, naan, and yogurt sauce (see notes) for serving
---
Instructions
Preheat the oven to 425ºF and position a rack in the center. Rub a sheet pan with about a teaspoon of neutral oil. Place cauliflower florets and onion on top. Season all over with a teaspoon of kosher salt and pepper to taste, and 3 tablespoons of the oil.
In a small bowl, stir together the cumin, coriander, smoked paprika, and cayenne. (If using whole seeds, see notes above.) Pour half (about 1 tablespoon and a scant teaspoon) of this mixture over the cauliflower. Use your hands to toss the cauliflower and onions evenly with the oil and spice mix. Transfer pan to the oven and roast for about 30 minutes, tossing once after about 20 minutes.
Meanwhile, place chicken thighs in a large bowl. Season all over with salt (at least another teaspoon). Add the remaining spice mix, remaining 2 tablespoons of oil, and minced garlic. Toss to coat. Let sit at room temperature while vegetables roast.
Remove the sheet pan from the oven. Toss everything around. Nestle the thighs around the vegetables. Return pan to the oven and cook for 10 minutes—if thighs are large, they may need 5 more minutes or so. Cut into one to check. Remove pan from the oven and let everything rest on the sheet pan for 10 minutes.
Meanwhile, stir together the yogurt sauce (see notes), warm up some naan, cut the lemons, etc. When chicken has rested, transfer it to a platter to cut or cut directly on the sheet pan, taking care not to ruin your pan. The chicken should be in 1- to 2-inch cubes or so—about the same size as the cauliflower. Return chicken to sheet pan or to a serving platter along with the cauliflower. Toss everything together. Taste. Adjust with more salt and pepper if necessary and squeeze a lemon over everything, if desired. To serve, spread naan with yogurt sauce, nestle chicken and cauliflower inside, and eat taco-style. Alternatively, serve the naan on the side and eat with a knife and fork. Serve lemon wedges on the side.
Prep Time:

15 minutes

Cook Time:

45 minutes

Category:

Dinner

Method:

Oven/Sheet pan

Cuisine:

Middle Eastern
Keywords: sheet pan, chicken, cauliflower, shawarma, cumin, coriander, weeknight, dinner
This post may contain affiliate links. Please read my disclosure policy.