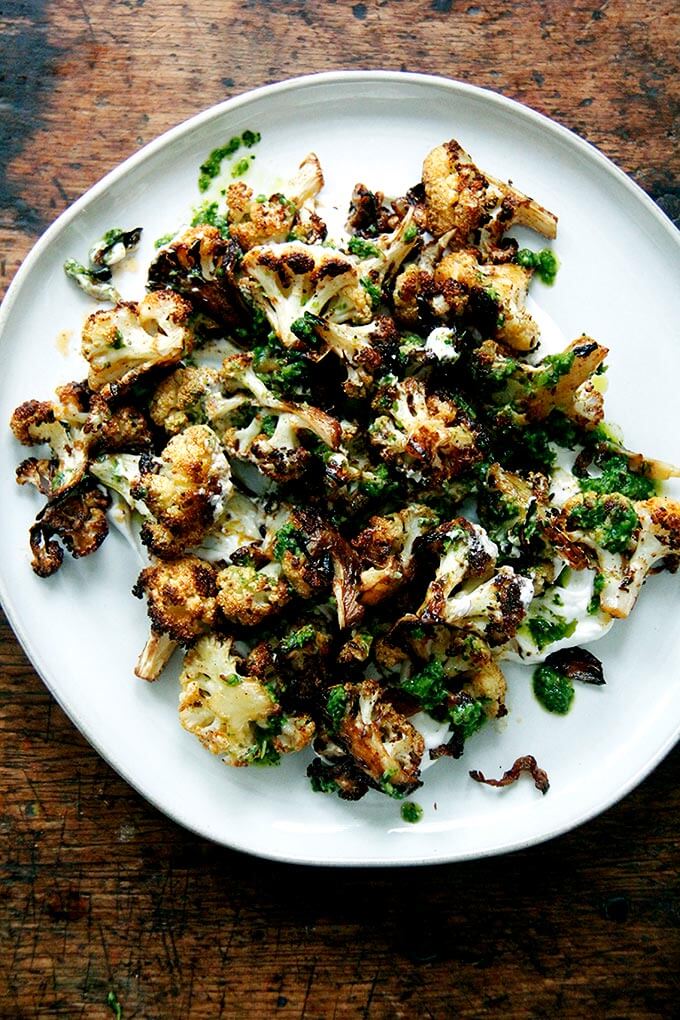 A few weeks ago, I wrote about Joshua McFadden's twice roasted carrots, one of many delicious vegetable dishes I had made from his cookbook, Six Seasons. I've since discovered another one: roasted squash with yogurt, walnuts and spiced green sauce.
The spiced green sauce, I learned, is called skhug (pronounced skoog, sometimes spelled zhug), a Middle Eastern blend of herbs, chilies, and toasted spices. Josh describes it as a "workhorse recipe," and notes that at his restaurant, Ava Gene's, they use it on everything: vegetables, grilled meats, and snacks of all kinds.
With one taste, I could see why. Of all the green sauces I have made — from pesto to salsa verde to green goddess — skhug is most similar to a green harissa, but it's even more spiced: there's cumin and coriander (and cardamom and cloves, too, which I've yet to use) as well as a heap  (1/2 cup) of hot chilies. Because the chilies are seeded, the sauce is not impossibly spicy—it's, in fact, bright with lemon, as these sauces often are, and it has a bit of texture thanks to the mass of chilies, garlic, and herbs.
It's a perfect match for sweet, roasted delicata squash, but Josh has other serving ideas, too: spread over grilled flatbread, seasoned in a pita pocket with sliced leg of lamb, and drizzled over roasted red peppers and crumbled feta, all of which sound delicious. I can endorse two other applications: 1. spread over toasted bread and layered with sliced salt-and-vinegar beets and 2. drizzled over roasted cauliflower and onions, as here.
The recipe below is in fact the same formula as the roasted squash recipe: roasted vegetables + skhug + lemony yogurt sauce. Here, the cauliflower and onions are tossed with olive oil, cumin, coriander, smoked paprika, and cayenne, but you could roast them simply with olive oil and salt. What I love about this dish is that you can replace the cauliflower or squash with any vegetable you like that takes well to roasting—flanked by creamy yogurt and herby skhug, anything will taste good.
A few notes: If you want to make it vegan, you could replace the yogurt sauce with a tahini sauce; if you want to bulk up this dish, you could serve it with some chickpeas; for a meaty variation, you could throw some chicken, rubbed in the same spice mix, on the sheet pan and roast it alongside the cauliflower.
The possibilities are endless. I'm dreaming of making falafel, drizzling it with skhug, tahini sauce, and pickled turnips (more very soon). As always, I'll keep you posted.
Skhug ingredients: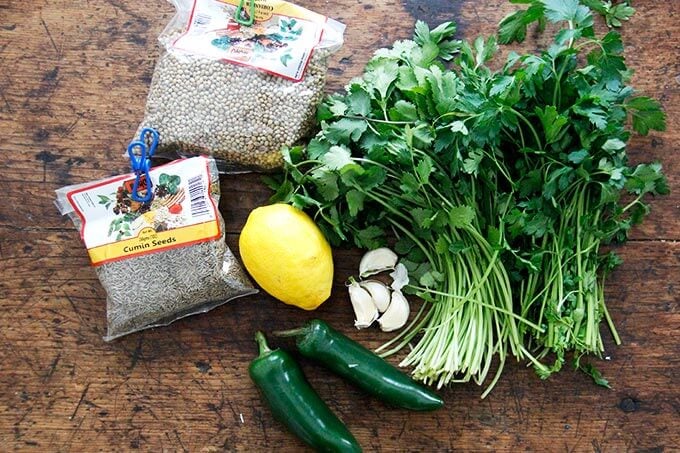 I like to toast whole cumin and coriander seeds, but if you don't have a spice grinder or mortar and pestle, you can use ground: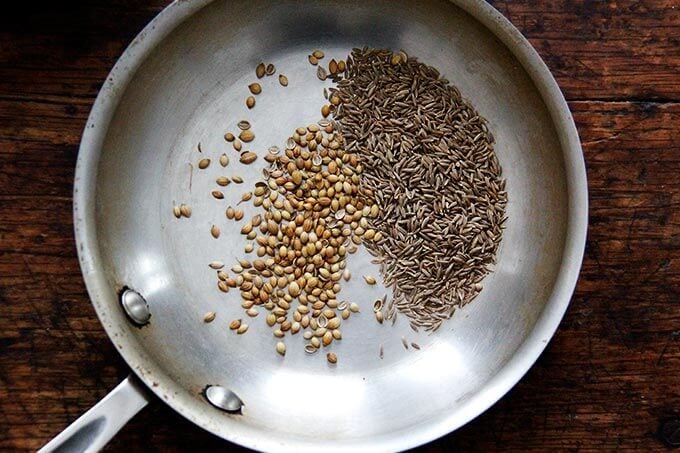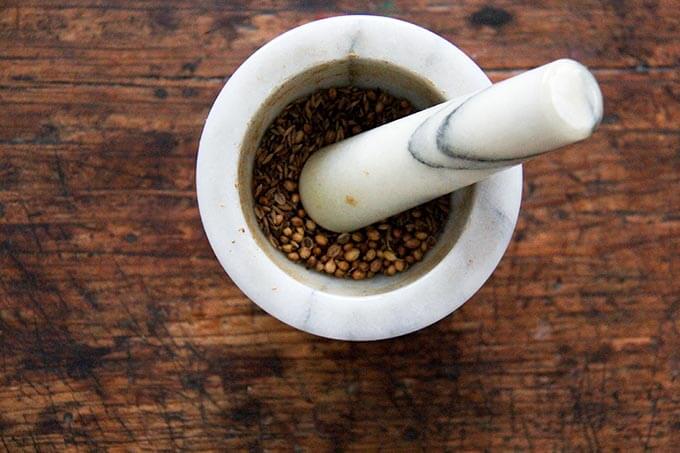 You use some of this spice mix for the skhug and some for the roasted cauliflower.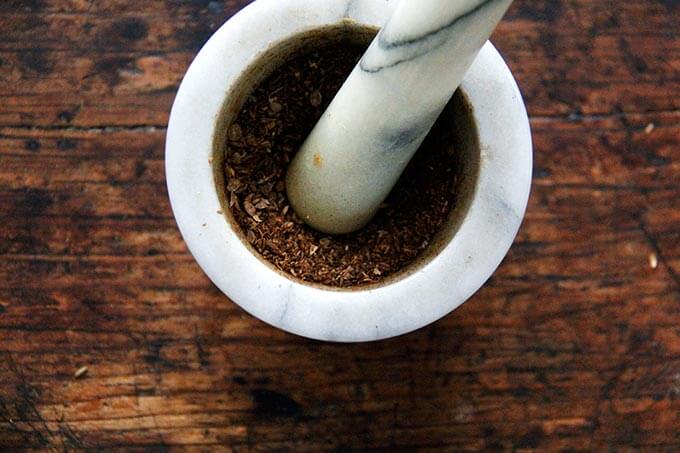 Cut up 1 head of cauliflower.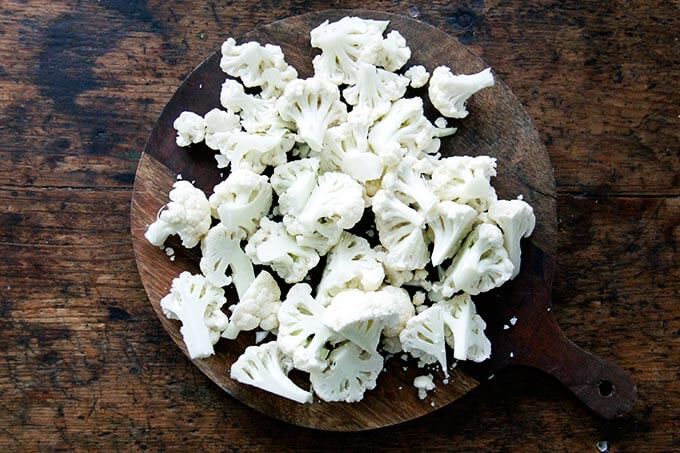 Toss it on a sheet pan with a sliced onion, some of the ground cumin and coriander, along with smoked paprika, cayenne, salt, and olive oil.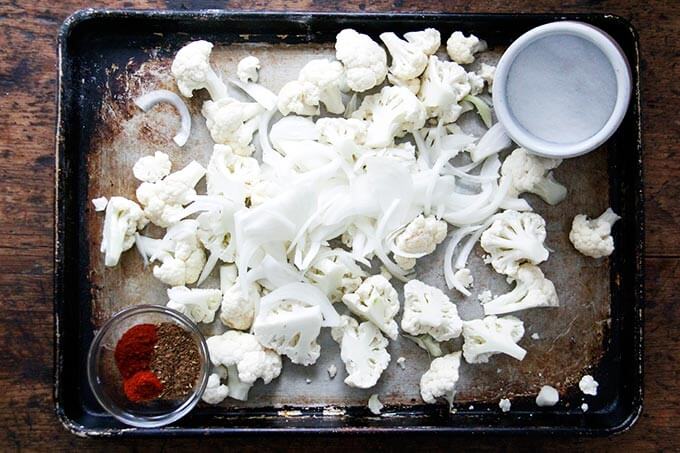 Toss; then transfer to the oven.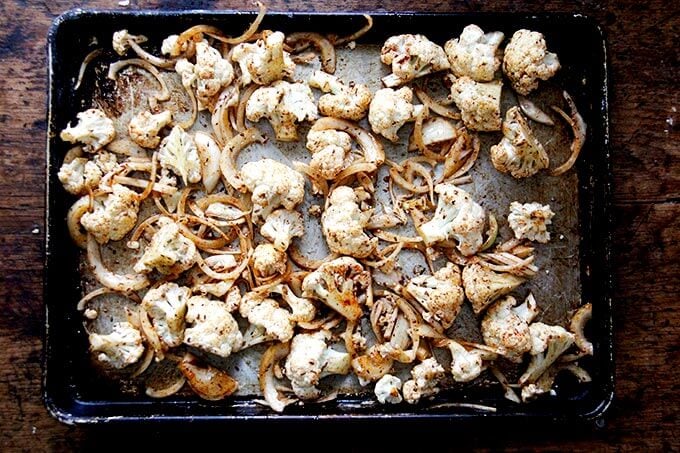 To make the skhug, remove the ribs and seeds from a few hot chili peppers.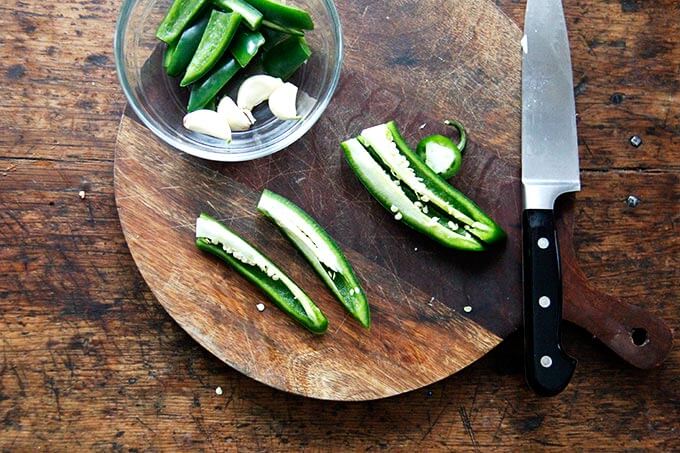 Zest and juice a lemon; you'll use some of the juice in the skhug, some in the yogurt sauce.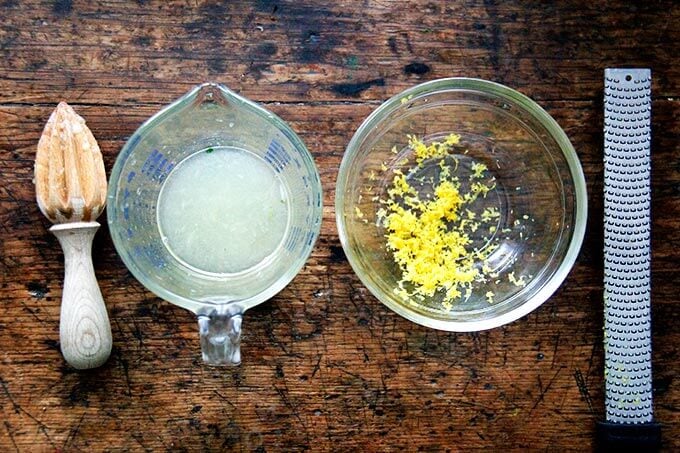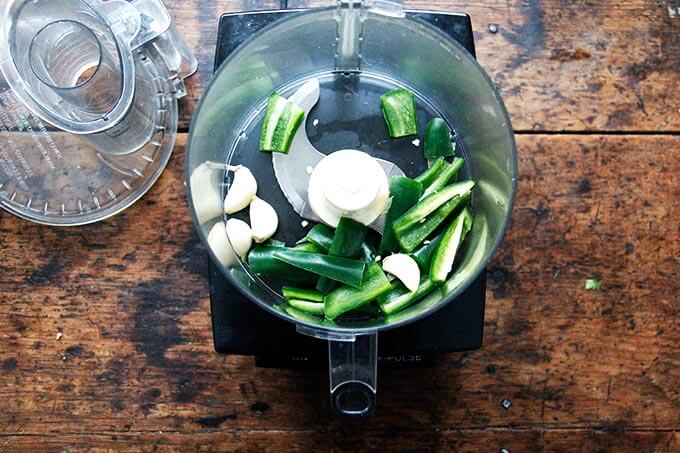 Pulse the chilies and garlic.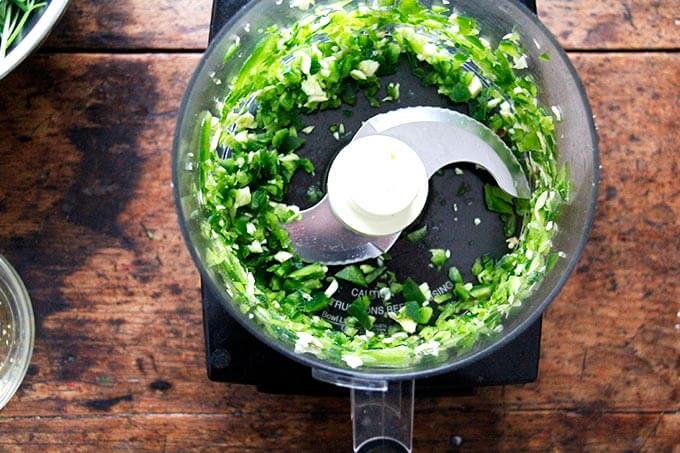 Add cilantro, parsley, ground cumin and coriander, lemon zest and juice, and salt.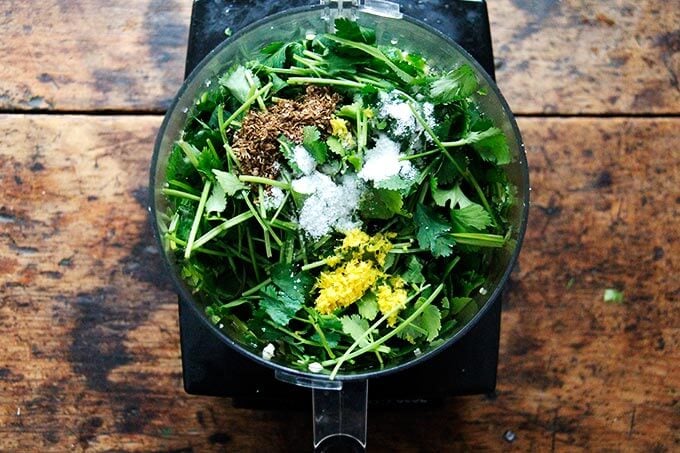 Process till fine.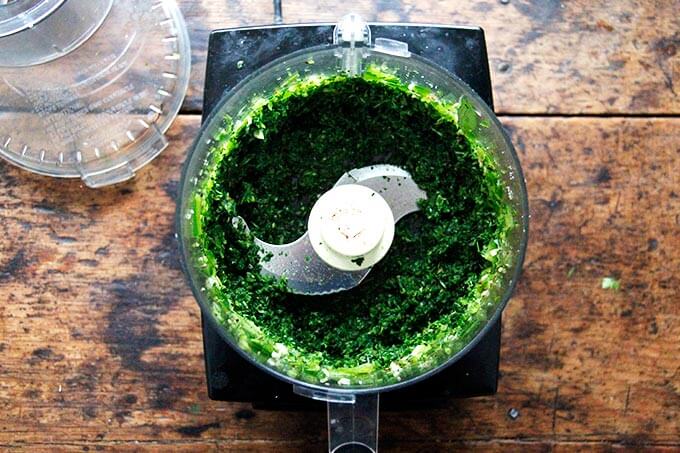 Add olive oil, and process more.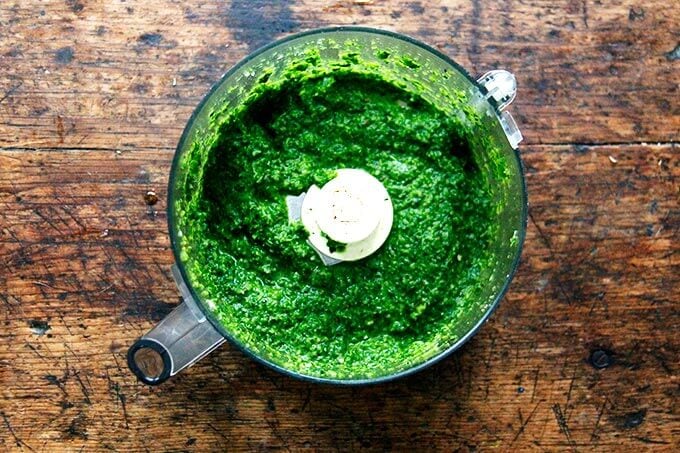 Skhug: you'll want to put this on everything.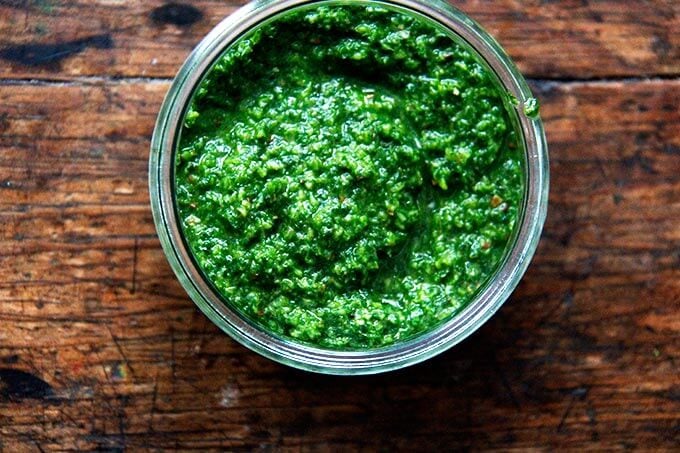 Meanwhile, stir together yogurt, lemon juice and salt.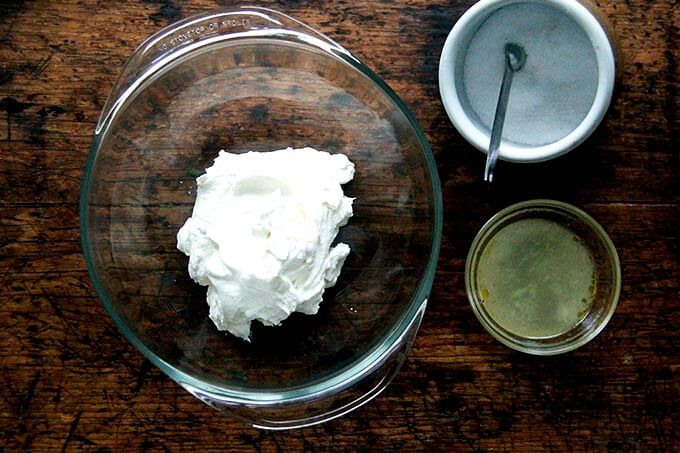 Ready to assemble?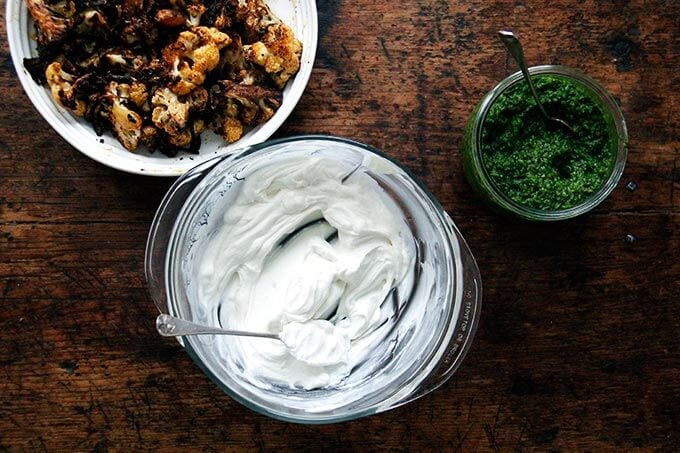 Smear some yogurt sauce over a plate.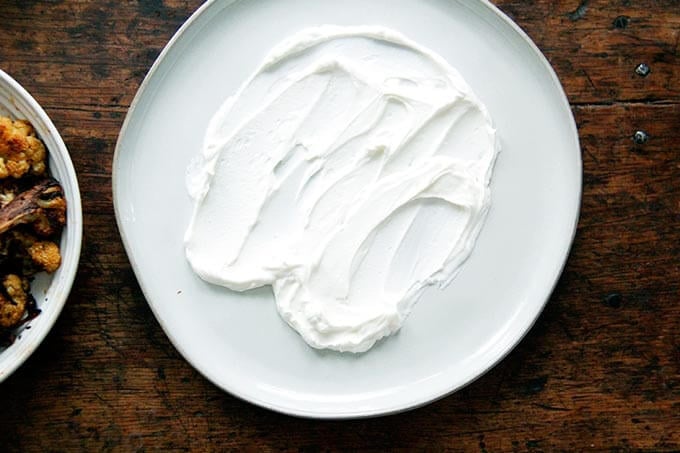 Pile the roasted cauliflower over top and drizzle with skhug.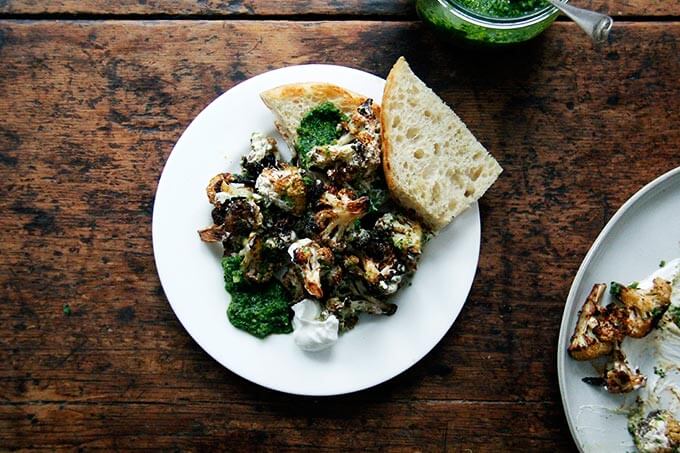 Serve with bread, of course.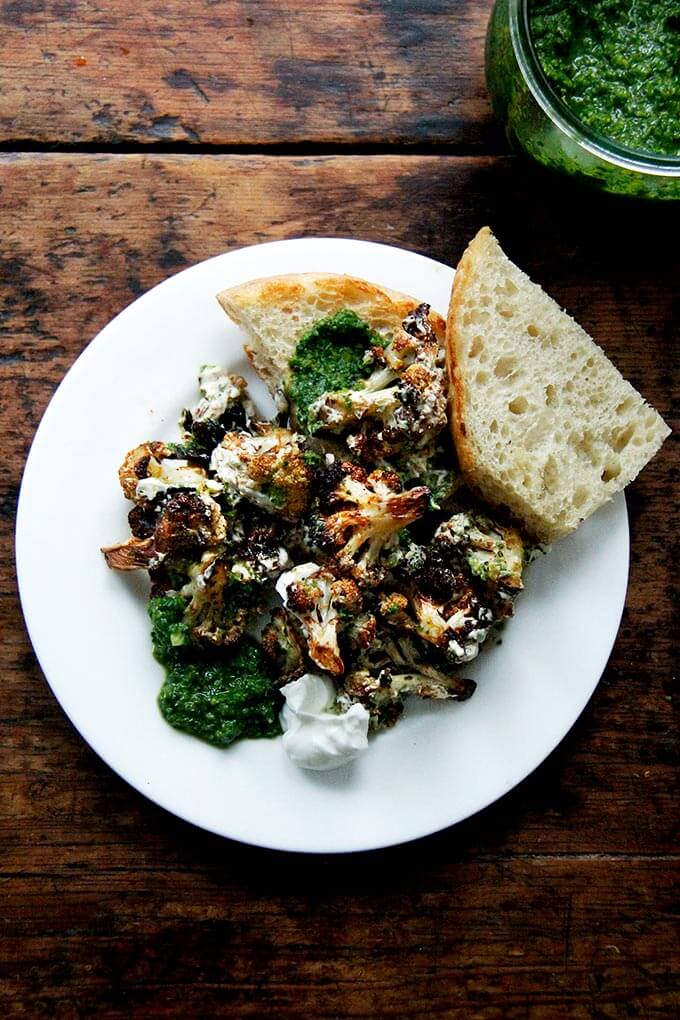 Print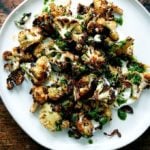 Cumin- and Coriander-Roasted Cauliflower with Skhug and Lemon-Yogurt Sauce
---
Description
Inspired by a roasted butternut squash with yogurt and skhug in Joshua McFadden's Six Seasons. 
I've simplified the skhug (pronounced skoog, sometimes spelled zhug) recipe a bit, but you may like to add some of the original elements into the sauce: seeds from 4 green or black cardamom pods + a pinch of cloves.
If you don't feel like toasting and grinding whole spices, you can use ground. And if you just want to make the skhug (not the cauliflower), use 1/2 teaspoon coriander and 1 teaspoon cumin. 
Regarding parsley and cilantro: I have simply been using 1 standard (vague, I know) grocery store bunch of each. In other words, each is not massive, each is not tiny. I measured the first time I made it; I haven't measured since. For cilantro, you can use stems and all. For parsley, I cut off the thick stems at the end of the bunch, but otherwise, I don't worry about plucking off each leaf. 
If you don't have green chilies, I've had success making this without them and a pinch of crushed red pepper flakes, adding more to taste.
I served this with toasted day-old overnight focaccia, but naan or pita would be particularly good —  all of this bundled in a wrap would be delicious. Chickpeas would be nice alongside here, too. 
Skhug will keep in the fridge for up to one week. Bring to room temperature before serving.
---
Ingredients
1.5 teaspoons coriander seeds
1 tablespoon cumin seeds
1 teaspoon smoked paprika
1/8 to 1/4 teaspoon cayenne pepper
1 head cauliflower, cut into florets
1 onion, sliced
3 tablespoons extra virgin olive oil + 1/2 cup
1/2 cup deribbed, seeded, and roughly chopped fresh hot green chilies, such as serrano (2 to 4)
2 to 3 garlic cloves, smashed and peeled
2 cups lightly packed cilantro leaves, see notes
2 cups lightly packed flat-leaf parsley leaves, see notes
zest from one lemon
juice from one lemon, about 3 tablespoons, divided
salt and freshly cracked black pepper
1 cup Greek yogurt
naan, pita, or other bread for serving
---
Instructions
Preheat the oven to 425ºF. In a small skillet, toast the cumin and coriander seeds until they smell fragrant and have turned a shade darker in color. Transfer to a spice grinder or crush with a mortar and pestle. Transfer 1.5 teaspoons of the mixture to a small bowl. This is for the skhug. Transfer the remaining spice mix (you should have a heaping tablespoon) to another small bowl and stir together with the smoked paprika and cayenne—this is for the cauliflower.
Get the cauliflower in the oven: Rub a small amount of olive (or neutral) oil over a rimmed sheet pan. Transfer the cauliflower, onions, and smoked paprika spice mix to the sheet pan. Add 3 tablespoons of olive oil and a teaspoon of salt. Toss to coat, spread in an even layer, transfer pan to the oven, and roast for about 30 minutes, tossing once after about 20 minutes.
Meanwhile, finish making the skhug: Put the chilies and garlic in a food processor and pulse a few times until they are fairly fine. Add the cilantro, parsley, lemon zest, reserved toasted spiced, 1 tablespoon of lemon juice, 1/2 teaspoon kosher salt, and a few twists of black pepper. Pulse until all is finely chopped into a rough purée. With the motor running, drizzle in the olive oil. Stop the processor before the sauce is completely blended and smooth—you want some texture. Taste the sauce and adjust the seasoning with another 1/2 teaspoon salt (I always do), and pepper and lemon to taste.
Make the yogurt sauce: Stir together the yogurt, 1 tablespoon lemon juice, and 1/4 teaspoon kosher salt. Taste. Adjust seasoning to taste.
To finish: smear the yogurt sauce over a large platter. Top with the roasted cauliflower. Drizzle some of the shkug over top. Serve immediately, passing more shkug on the side. 
Here's the roasted delicata squash with the skhug and yogurt sauce: