Potato Gnocchi with Brown Butter, Crispy Prosciutto and Sage from Jessica Battilana's Repertoire
This post may contain affiliate links. Please read my disclosure policy.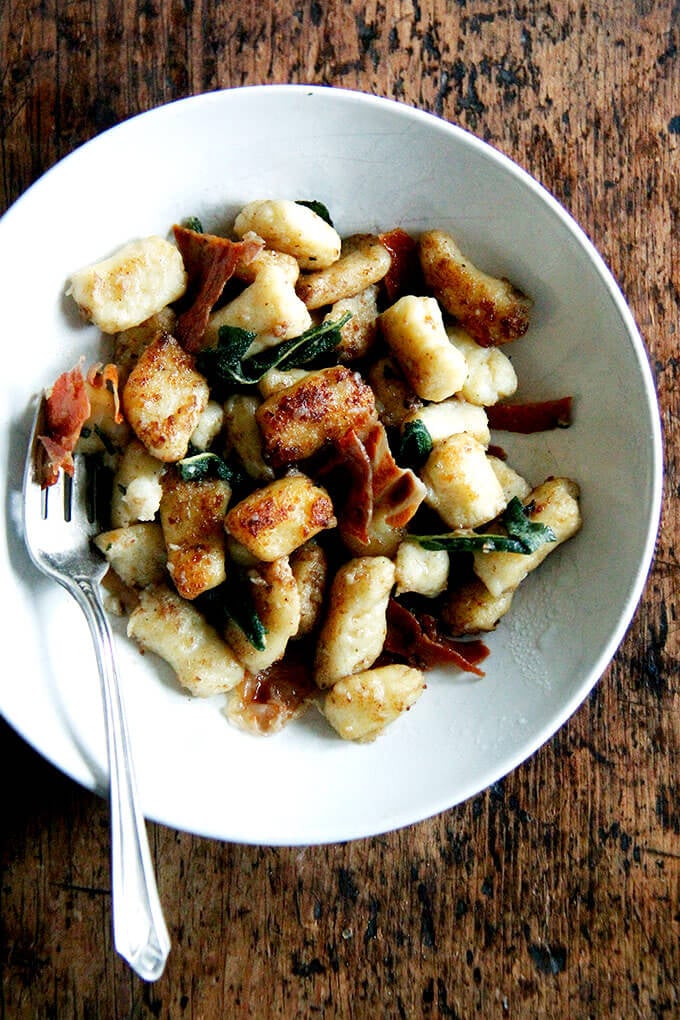 At the end of February, I spent a weekend in NYC with my mother at a food conference. Upon entering one of the large banquet halls for a food sampling from local restaurants, my mother disappeared. I eventually found her at the Fork table, eating gnocchi tossed with a lamb ragu and fermented sunchokes*. The scent of the lamb no doubt had percolated her Greek blood, leading her to the table, but I am convinced she would have lingered there regardless of what the gnocchi were tossed with—they were, as they say, light and pillowy, and just so darn good.
After my third plate, I asked the chef, John Patterson, if he could offer any gnocchi-making tips, and while I can't remember all of the details, I do remember him telling me to roast the potatoes at high heat for a considerable amount of time and to work the riced potatoes into a dough when they are still warm.
I returned home thinking I would replicate those pillowy gnocchi immediately, but a month passed and so did the motivation. Until, that is, Jessica Battilana's cookbook, Repertoire, arrived at my door.
I had met Jessica last fall when I visited California Olive Ranch, so I knew what Repertoire was about: Jessica's collection of never-fail recipes, the ones she serves for both weeknight meals and dinner parties alike, the recipes she turns to when it's time to celebrate. But I didn't know the specifics. I didn't know there would be a gnocchi recipe, and when I came to it and read the method, which sounded so similar to John's, instead of dreaming about those potato pillows, I raced to the grocery store to pick up a couple pounds of russets, sage leaves, and prosciutto.
Jessica, if you are unfamiliar, writes the "Repertoire" column for the San Francisco Chronicle and has co-authored half a dozen other books. She is an expert recipe writer: detailed, precise, thoughtful. She notes why things can go wrong, e.g.: "Adding too much flour to gnocchi dough can cause them to be leaden and dense, but if you don't add enough, they'll fall apart when boiled." And offers visual cues, too: "You're looking for a dough that is soft but not sticky, and the amount of flour that you add to each batch may change, since the moisture content of the potatoes (and flour) can vary."
For the cooks that can channel their inner nonna, making gnocchi may feel intuitive, something to be made by feel. But for the rest of us, the details are so helpful: exactly how many pounds of potatoes, exactly how much flour, exactly how much salt, etc. I followed Jessica's recipe to a T and felt confident every step of the way, which is not a feeling I've ever experienced when making gnocchi. And the result? Potato pillows of my dreams.
* UPDATE: GIVEAWAY IS CLOSED: WINNER IS CARA SIU.* Friends, I'm so looking forward to exploring Repertoire further. As always, I'll keep you posted, but in the meantime, I'm giving away a copy of Repertoire: All the Recipes You Need to one of you. To enter, leave a comment below. Answer this question: When you think of your repertoire, what comes to mind?
*If you live in Philly, these gnocchi are still on the Fork menu. Woohoo!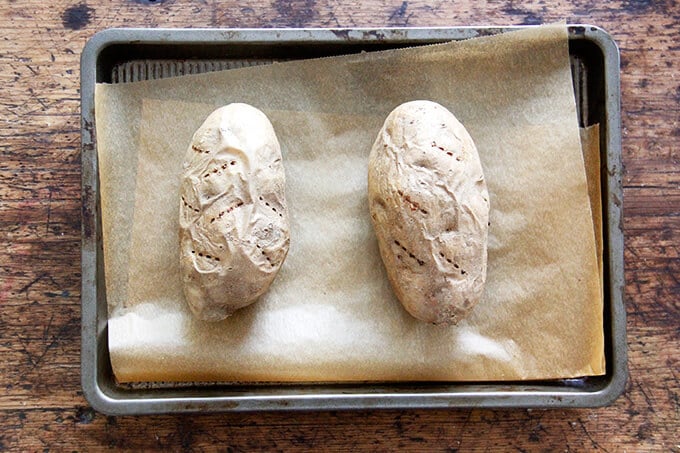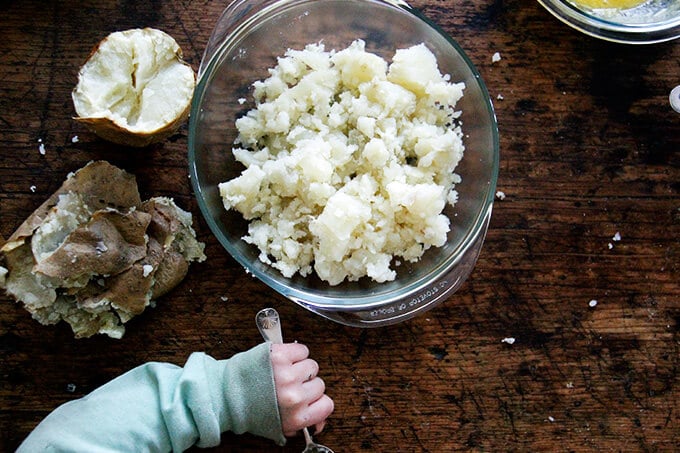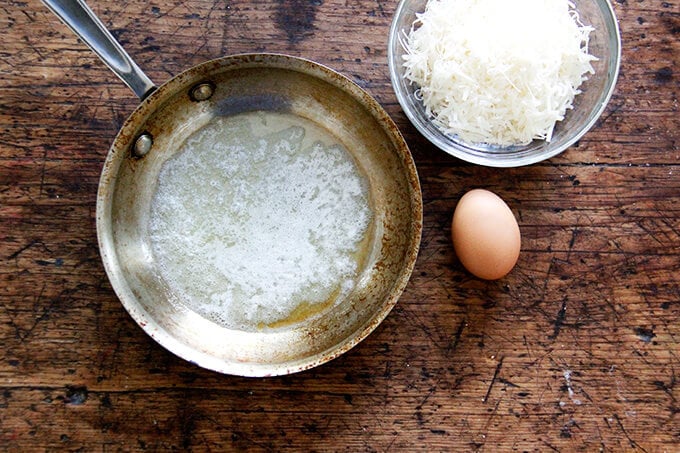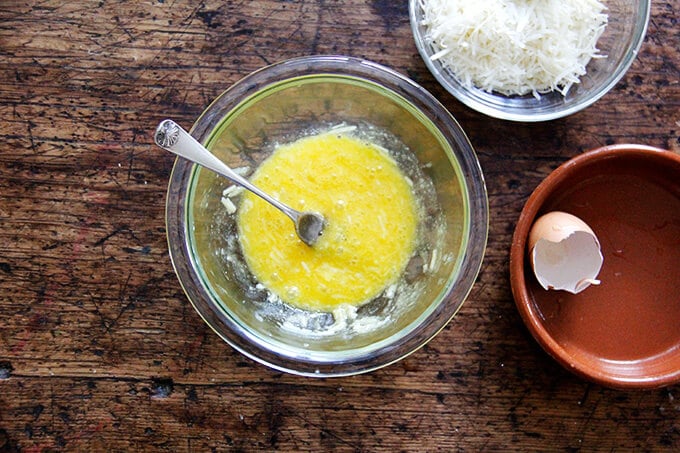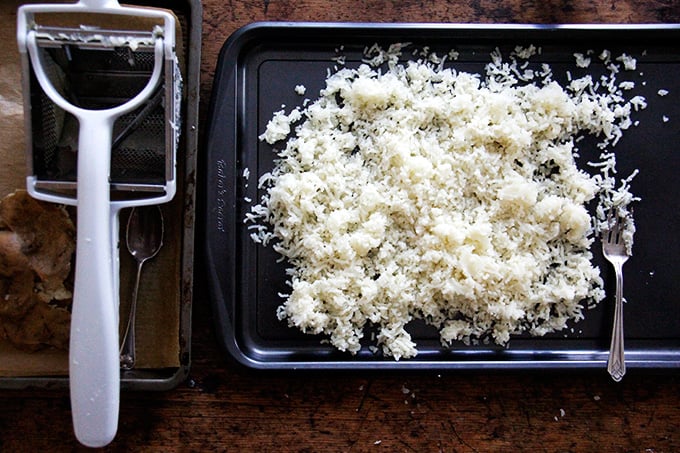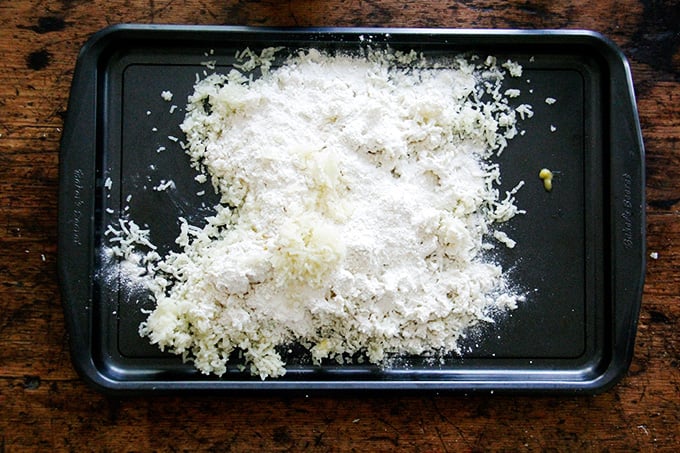 Missing a photo! Confession: I was photographing this while Instagram storying the process, and I got distracted and forgot to photograph the formed ball of dough. If you are on Instagram, you can watch the whole gnocchi-making process: the story is saved in my highlights (found in my profile … let me know if you are having trouble finding it. It's only accessible from your mobile phone.)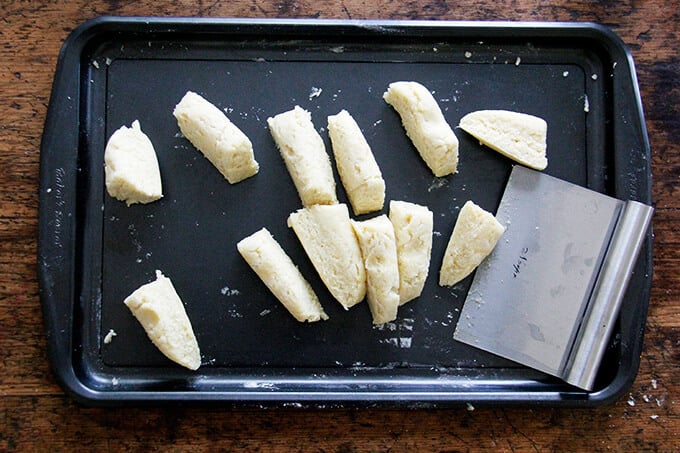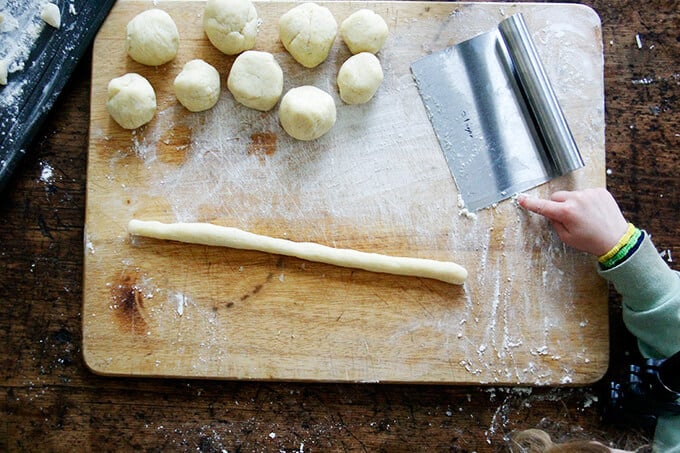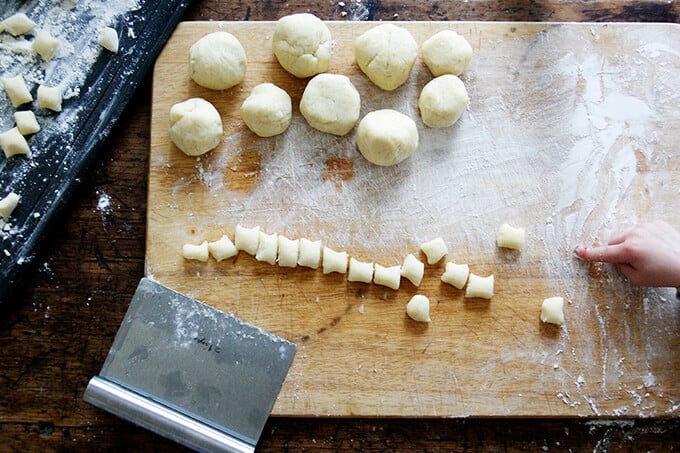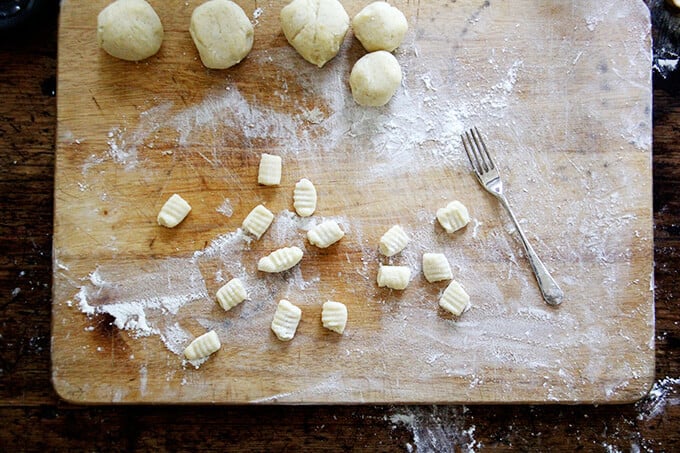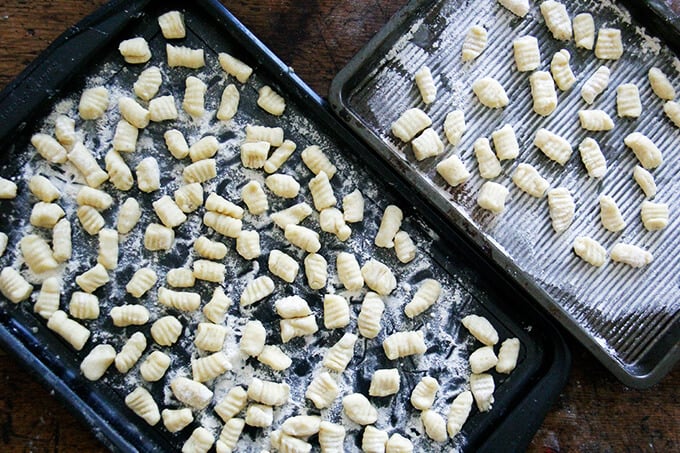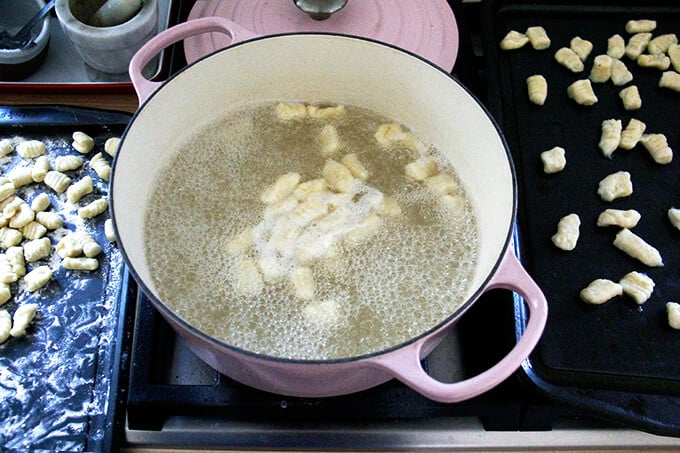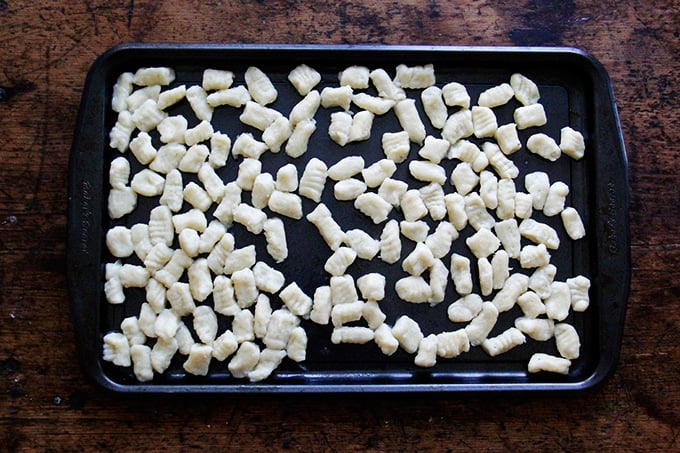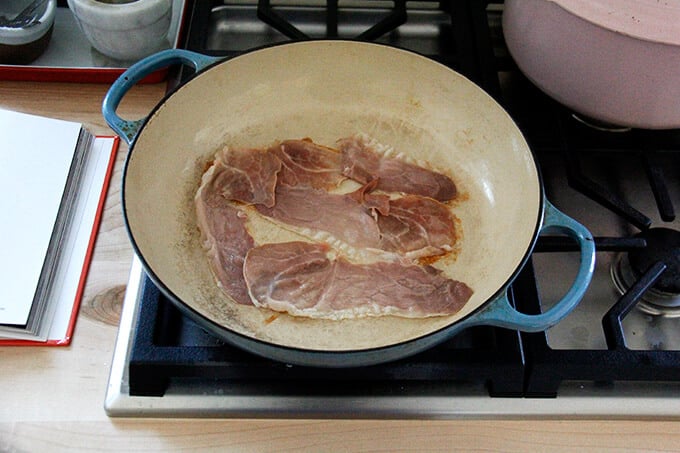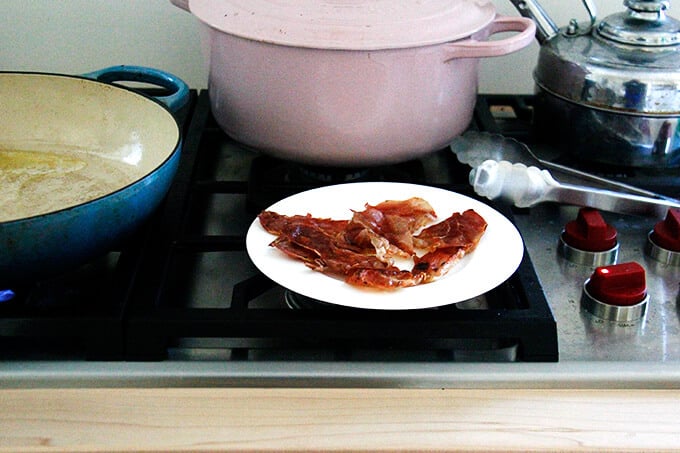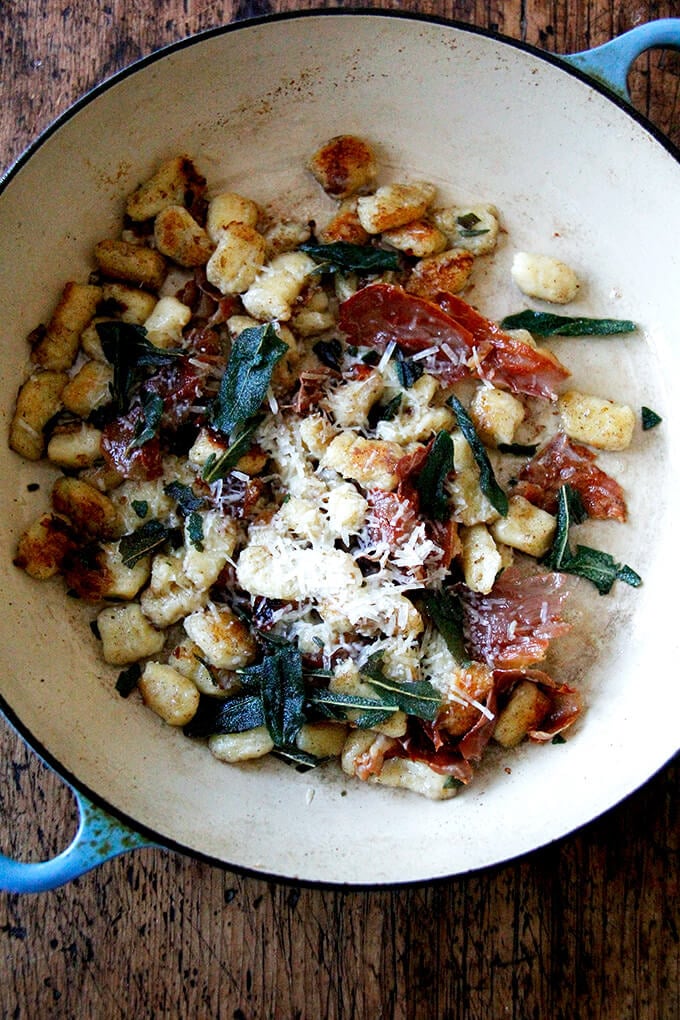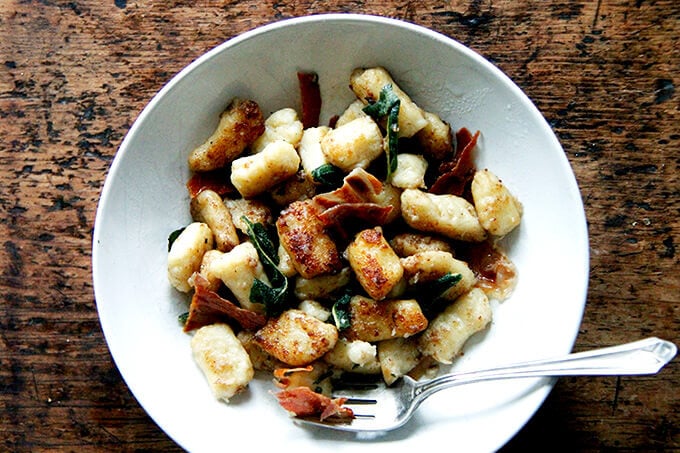 Print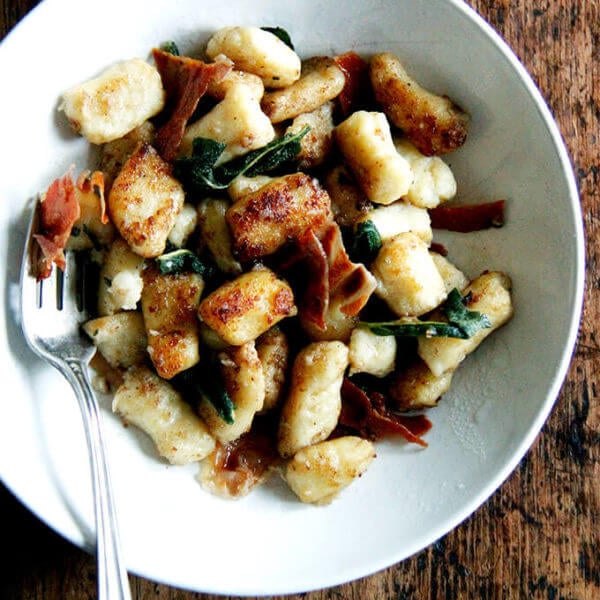 Potato Gnocchi with Crispy Prosciutto and Sage
---
Description
From Jessica Battilana's Repertoire
Notes:
Gnocchi can feel like a real task: roast potatoes, rice them, make a dough, shape them, boil them, sauté them, eat them. There are a few things you can do to make the endeavor not feel like so much of a process:
You can can freeze the shaped unboiled gnocchi; then boil them directly from the freezer.
You can boil them; then stash them in an airtight container in the fridge until you are ready to sauté them.
---
2

pounds russet potatoes (about

2

to 3)

6 tablespoons

unsalted butter

1

egg

1/4 cup

plus 2 tablespoons finely grated Parmigiano-Reggiano

1 teaspoon

kosher salt

1 cup

all-purpose flour
Extra-virgin olive oil

4 ounces

thinly sliced prosciutto

15

sage leaves
Freshly ground pepper
---
Instructions
Preheat the oven to 400°F. Rinse the potatoes and place them on a rimmed baking sheet. With a fork, poke 
holes in each potato. Bake until tender, about 1 hour. Remove from the oven and when just cool enough to handle but still very warm, split the potatoes in half and scoop out the flesh. Discard the skin. Pass the potato flesh through a ricer onto a rimmed baking sheet and spread in an even layer.
Melt 2 tablespoons of the butter. In a small bowl, whisk together the melted butter, egg, 2 tablespoons of the Parmigiano, and the salt. Drizzle over the warm riced potatoes, then sprinkle about 3/4 cup of the flour over. With your fingertips, gently work the mixture into a ball. The dough should be soft but not sticky; if it's sticky, add some of the remaining flour by the tablespoonful. Form the dough into a disk and cut the disk into 1-inch slices. Roll each slice into a ball.
Lightly dust a rimmed baking sheet with flour and set nearby. On a lightly floured work surface, working with one ball of dough at a time, roll into a snake about 3/4 inch around. Cut each snake crosswise into 3/4-inch pieces. Using your thumb and working with one piece of dough at a time, roll each piece across a gnocchi paddle or the tines of an overturned fork, pressing down lightly so the gnocchi curve around your thumb slightly, then drop onto the prepared baking sheet. Repeat with the remaining balls of dough until all of the gnocchi have been formed. (You can make the gnocchi to this point, freeze them on the baking sheet, and then transfer them to plastic freezer storage bags. They can be boiled from frozen.)
Bring a large pot of salted water to a boil. Drizzle a rimmed baking sheet with a small amount of olive oil. When the water is boiling, add the gnocchi to the water in batches. The gnocchi will sink and then float; when they rise to the top, boil them for 2 minutes. With a spider or slotted spoon, transfer the gnocchi to the baking sheet.
Heat a large nonstick frying pan over medium heat. Lay a few slices of the prosciutto in the pan in a single layer and cook, turning once, until crispy, about 2 minutes. Transfer to a plate and repeat until all of the prosciutto has been fried. Add the remaining 4 tablespoons butter to the pan and, when it melts, add the sage leaves and fry until crisp. Transfer the fried sage to the plate with the prosciutto.
Let the butter continue to cook until it's light golden brown and has a nutty aroma. Slide the gnocchi into the pan and, with a rubber spatula, stir gently to coat the gnocchi in butter. Cook without stirring until the gnocchi are heated through and beginning to develop a golden-brown crust on the bottom, about 2 minutes. Crumble the prosciutto into the pan and stir gently with the rubber spatula to combine. Season to taste with salt and pepper, then transfer to a platter and garnish with the fried sage and remaining 1/4 cup grated Parmigiano. Serve immediately.
This post may contain affiliate links. Please read my disclosure policy.