Rhubarb Schnapps, Updated
This post may contain affiliate links. Please read my disclosure policy.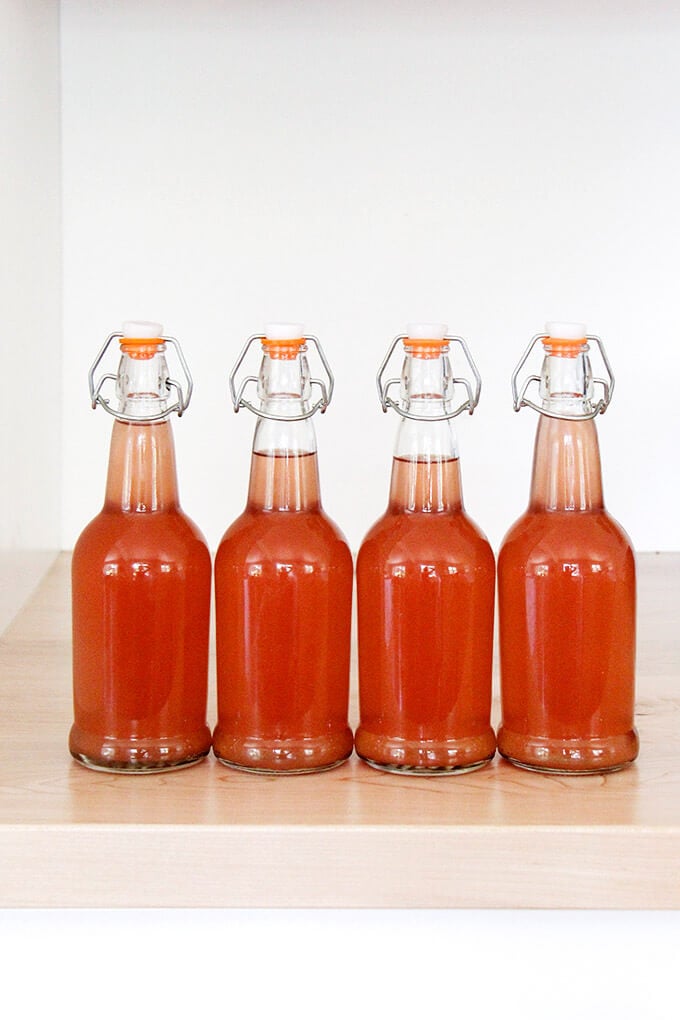 In the past, this has happened: I blink, and rhubarb season passes. But in recent years, rhubarb season hasn't been so fleeting. Rhubarb, in fact, is still in abundance at our little co-op, and I keep buying bundles of it because I found a rhubarb cake I absolutely love (more soon), but also because I love rhubarb schnapps: it is so refreshing poured over ice, topped with seltzer, spritzed with lime.
I'm on my third batch this summer, and I've discovered a few things:
In about 3 to 4 weeks (as opposed to 6, which is what the original recipe suggests), it's done and ready to be bottled.
These grolsch-style bottles are a nice way to store the finished schnapps in.
If you find, after a few days, the hue of the schnapps is barely pink, go find some more rhubarb with pink stalks. Chop it up, and add the pieces to your brew. I did this with my most recent batch. Note: To avoid the hassle, start with the pinkest rhubarb stalks you can find.
If you're going through the effort, you may as well make a double or near-double batch (see notes in recipe).
Rhubarb schnapps is such a pretty hue and makes a beautiful gift.
I first wrote about this schnapps, (a Nigella recipe), in June four years ago, which still feels late for rhubarb season. The season seems to get longer and longer every year — not sure if this is a good thing or not? — but I can't say I'm sad to still have access to it. I hope you do, too.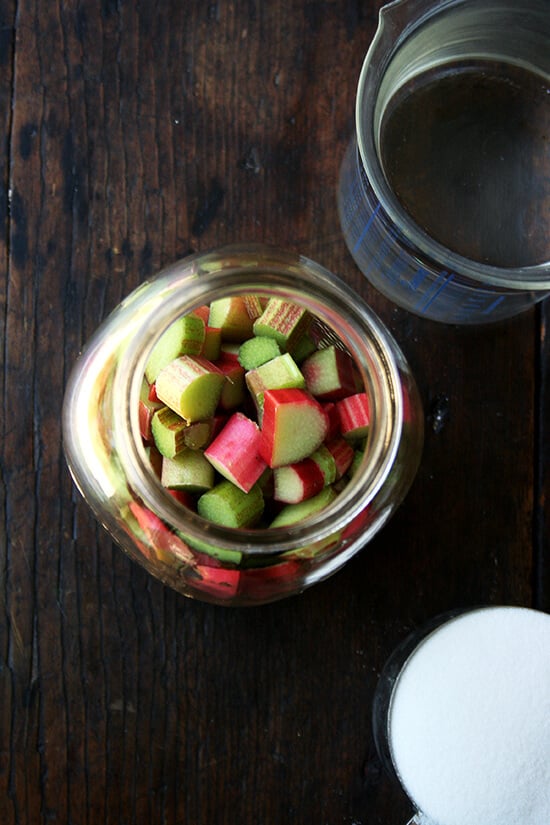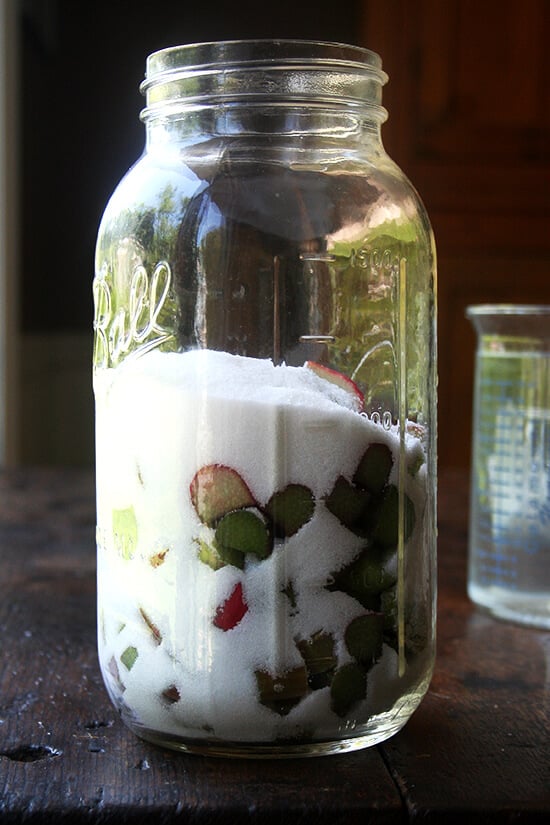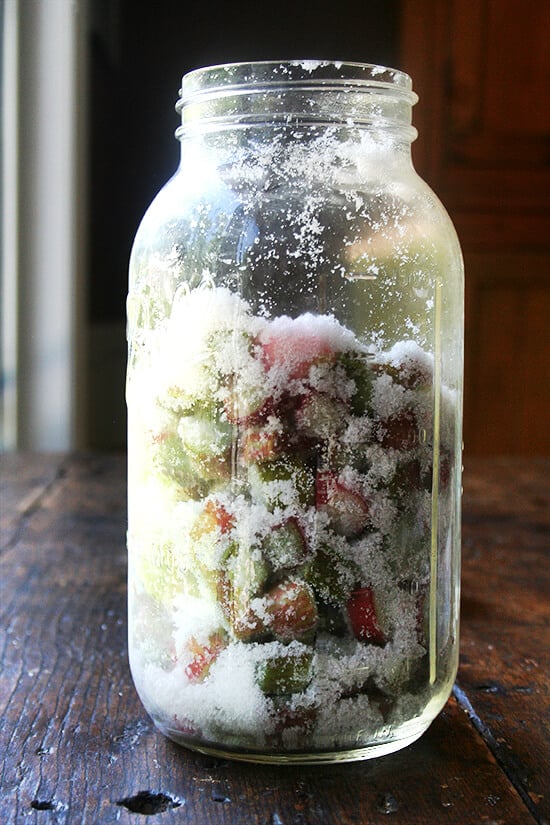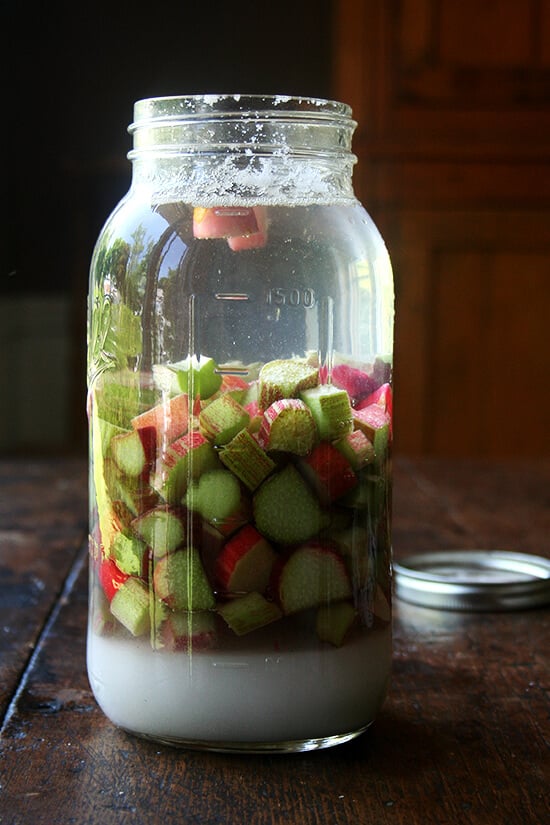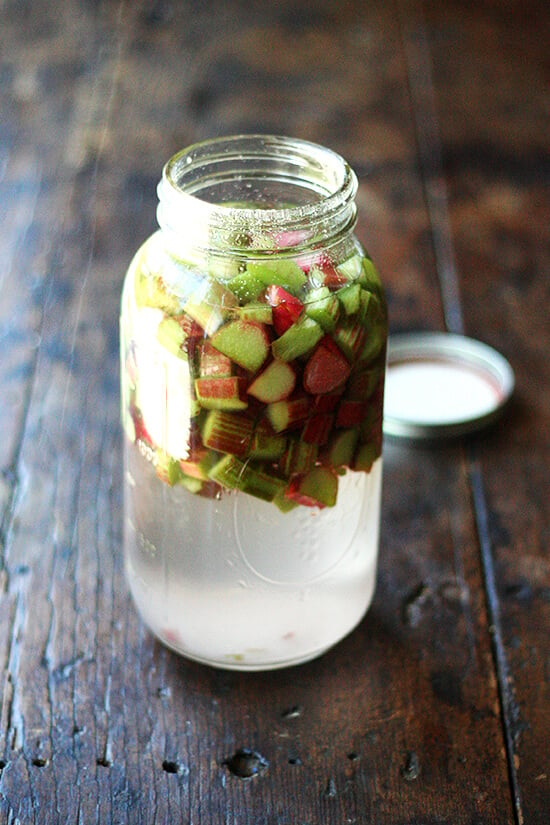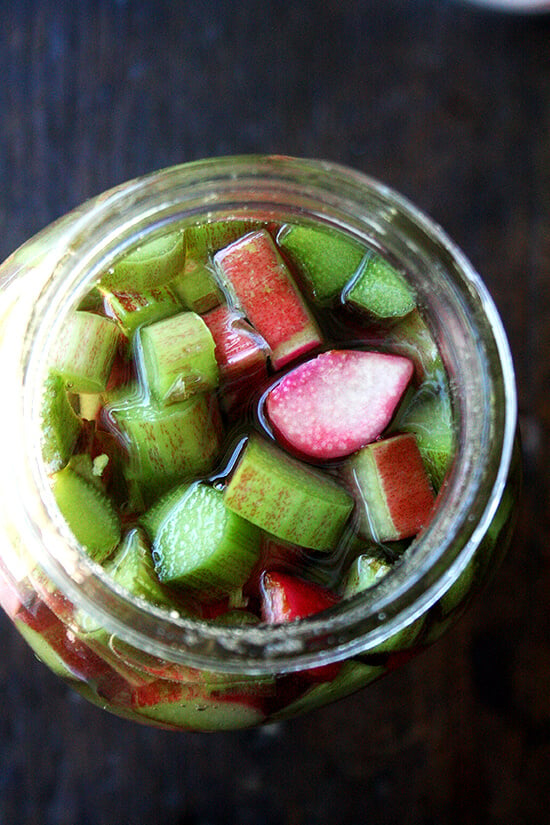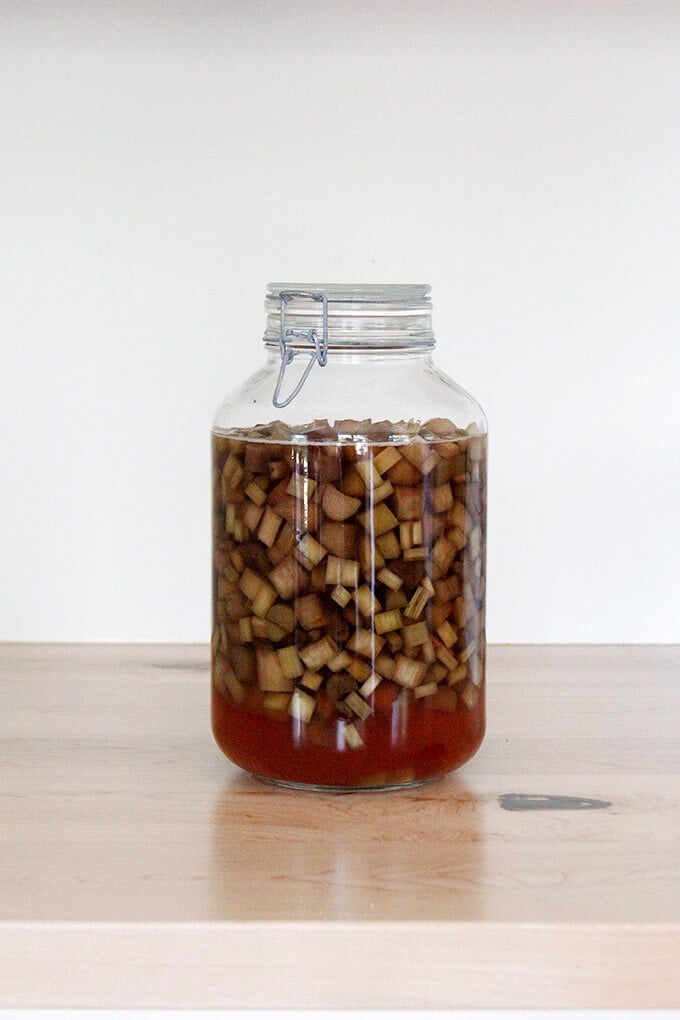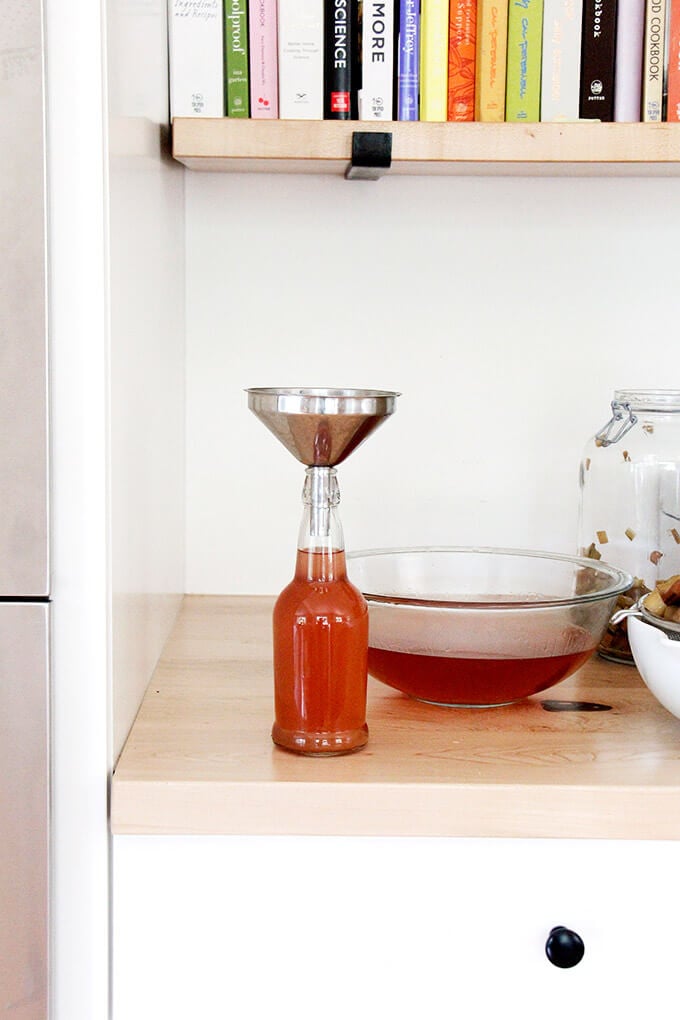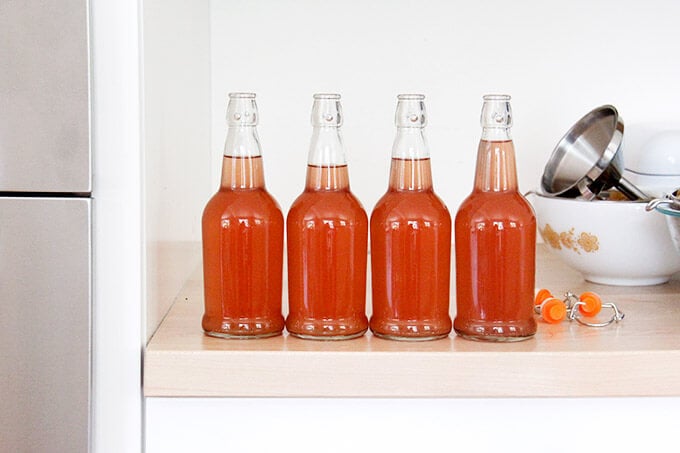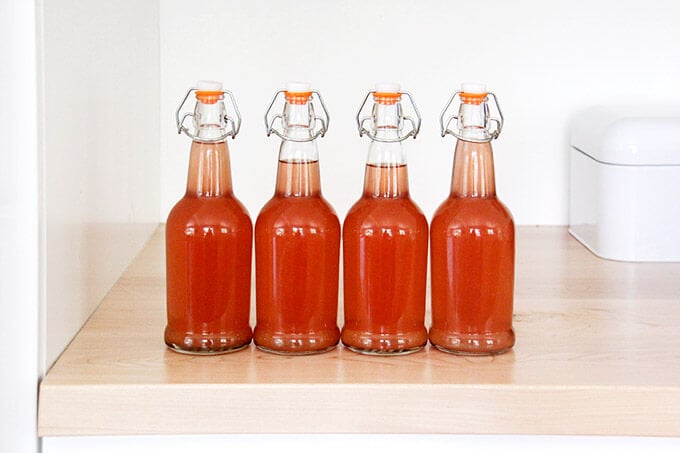 Print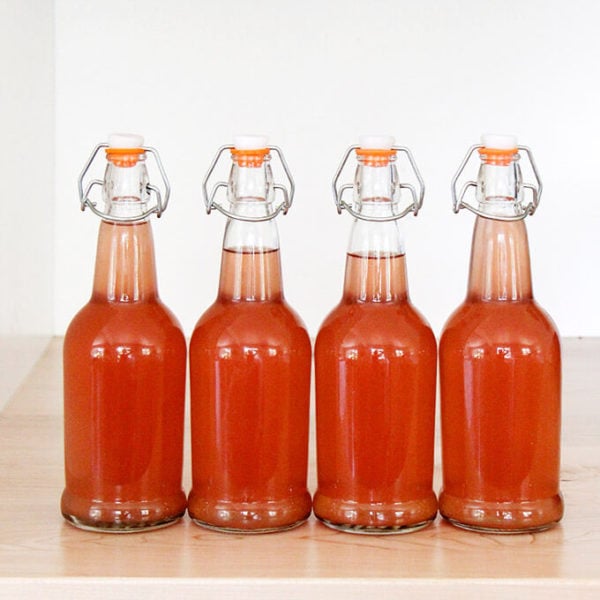 Rhubarb Schnapps (Double or Single Recipe)
---
Description
From Nigella Lawson's How to Be a Domestic Goddess 
Recently I made a double batch, which filled 4 of these bottles nicely. It is so pretty and makes such a nice gift—people are always so thrilled.
Here are the proportions for a near-double batch:
3+ lbs. rhubarb to yield about 2.25 lbs. trimmed/cut
2.5 cups sugar
1.75 L bottle vodka
Notes: When I made this recently, I realized after a few days the color had been leeched from the rhubarb but the hue of the schnapps was not very vibrant. This was because I had started with rhubarb that wasn't very pink to begin with. So, I bought some more rhubarb—the brightest pink stalks I could find—chopped them up and added them to the jar… worked like a charm. SO, try, if you can, to start with pink stalks.
---
2

lbs. rhubarb* to yield about 1 1/4 lbs. once cleaned and trimmed

1 1/2 cups

sugar

1

liter vodka, cheap is just fine
* Try to buy the brightest pink stalks you can find. See notes. See notes, too, for a double recipe.
---
Instructions
Chop the rhubarb and place in a large, sealable jar. Add the sugar. Shake. Add the vodka.
Close the lid, put the jar somewhere cool and dark 3 to 4 weeks and up to 6 months. If you remember, shake the jars every so often.
Strain schnapps into a pitcher; then pour into a bottle or bottles.
This post may contain affiliate links. Please read my disclosure policy.