Rhubarb Schnapps | Rhubarb Cake
This post may contain affiliate links. Please read my disclosure policy.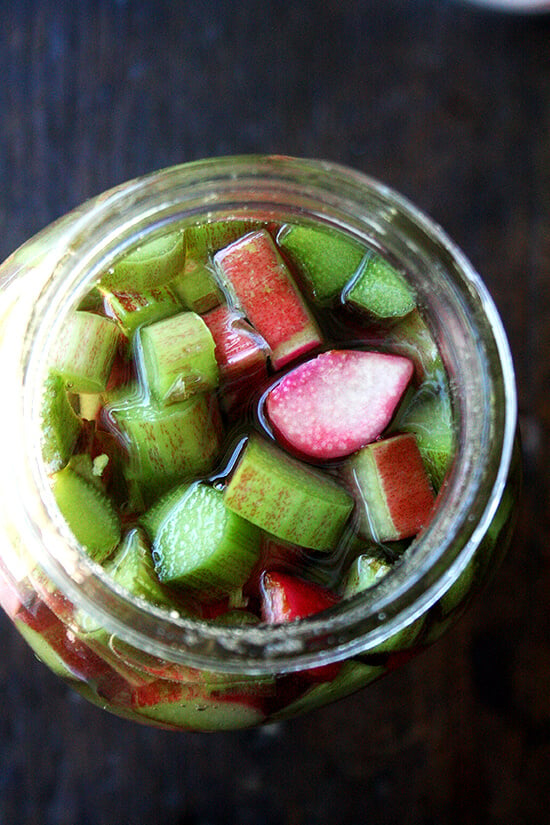 Every spring this happens: I blink, and rhubarb season passes. And in one second, my to-make list of rhubarb recipes dissolves, my thoughts shifting to stone fruits and no-cook dinners and popsicles. Before we know it, it will be the Fourth of July, and I, my mother's daughter, will be declaring summer over. Ugh, depressing.
I think I might, however, have a solution to these time-passing-too-quickly woes: rhubarb schnapps, a mixture of chopped rhubarb, sugar and vodka, the cheapest you can find, Nigella insists. Sounds like a win, right?
Let's hope. Unfortunately, this is another one of those recipes whose success I cannot guarantee. In six weeks, I will report back, but as with the lemons, won't it be more fun come mid-July to open our Mason jars together?
Perhaps I'm taking a chance. But at this present moment, I can't imagine a better union of three ingredients to bet on. And at this present moment, could there be a kitchen task more worth its risk, the upshot being rhubarb liqueur, the most-adored flavor of spring captured in high-octane, liquid form? In just one day, the vodka has leached most of the pink from the rhubarb, giving the schnapps-in-progress a beautiful, rosy hue. I am so looking forward to tapping into this jar in just a few short weeks.
Friends, I urge you: don't blink. Scrounge for those rhubarb stalks languishing in your nearest market; forage in your neighbor's backyard. We'll toast your efforts in six weeks. Nothing will taste sweeter. Cheers, and best of luck.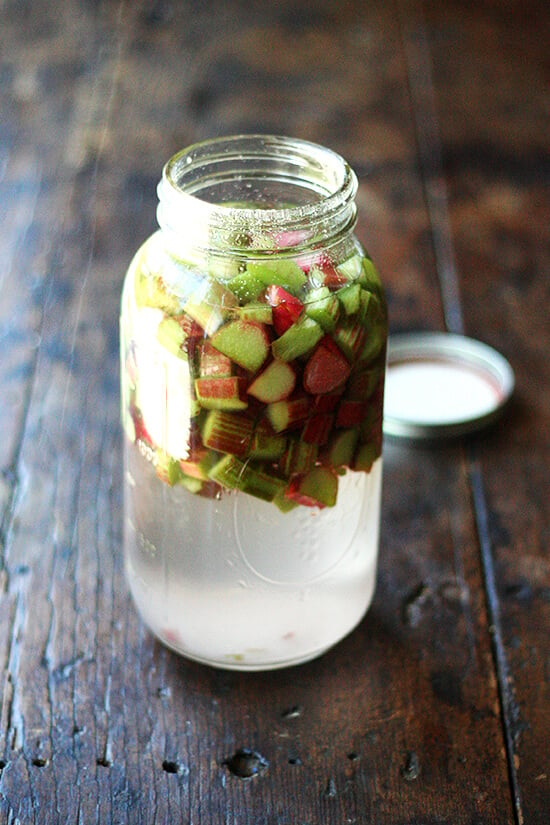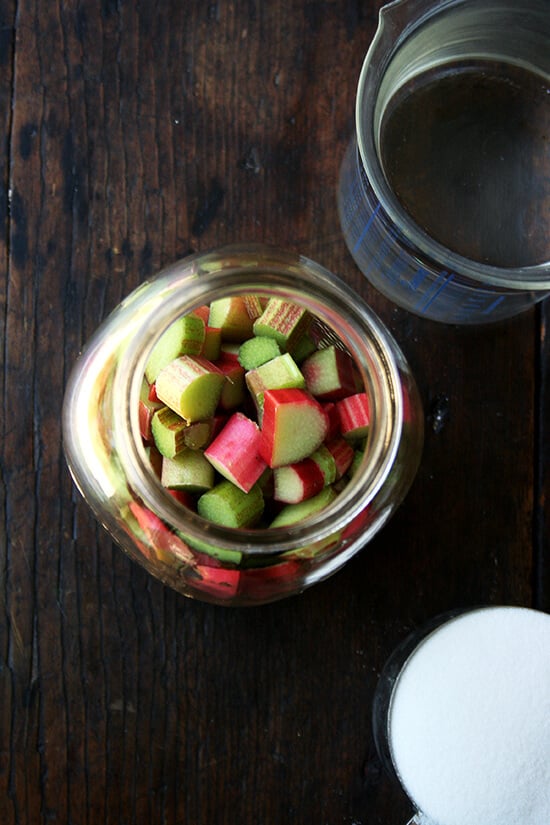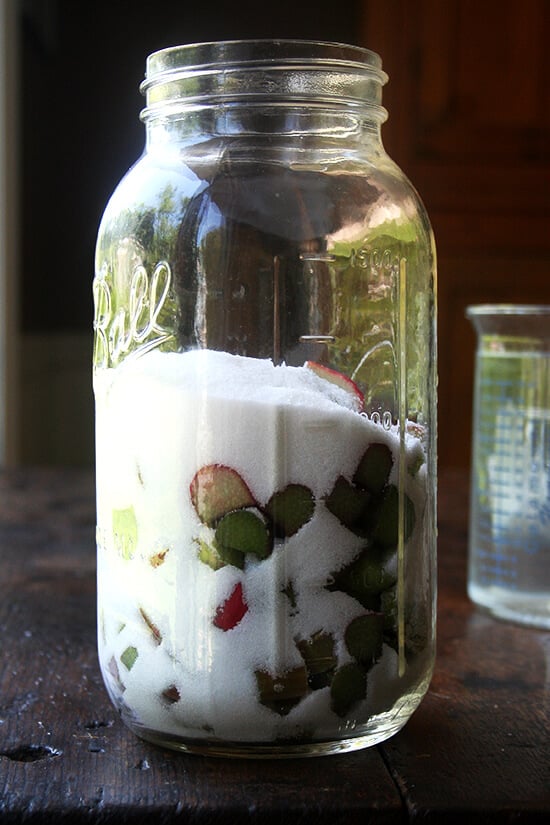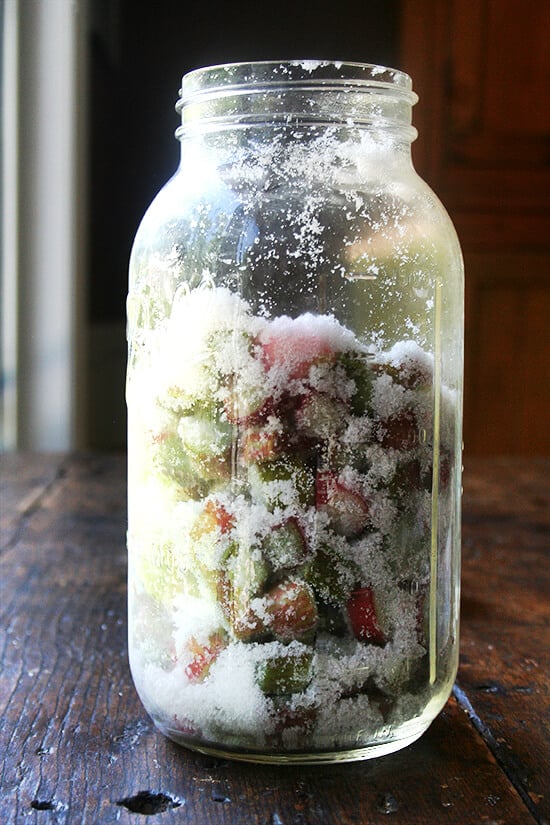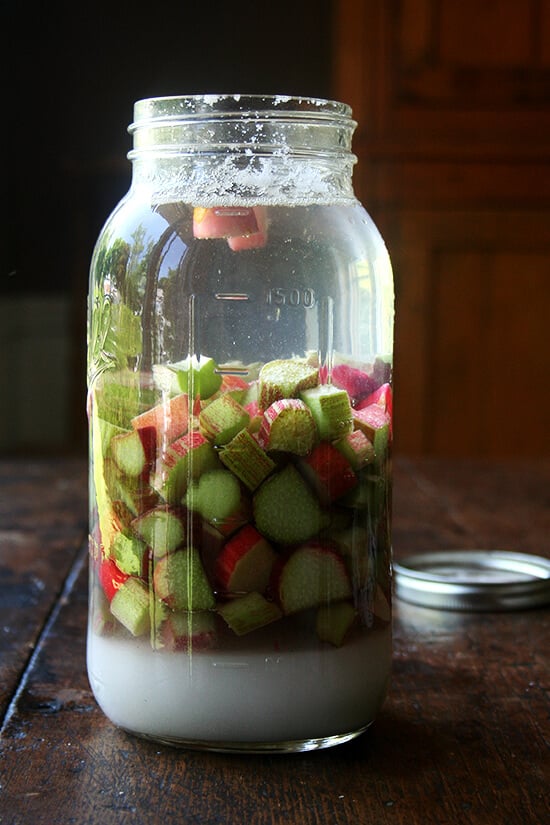 Another one of my favorites from How to Be a Domestic Goddess: rhubarb cornmeal cake: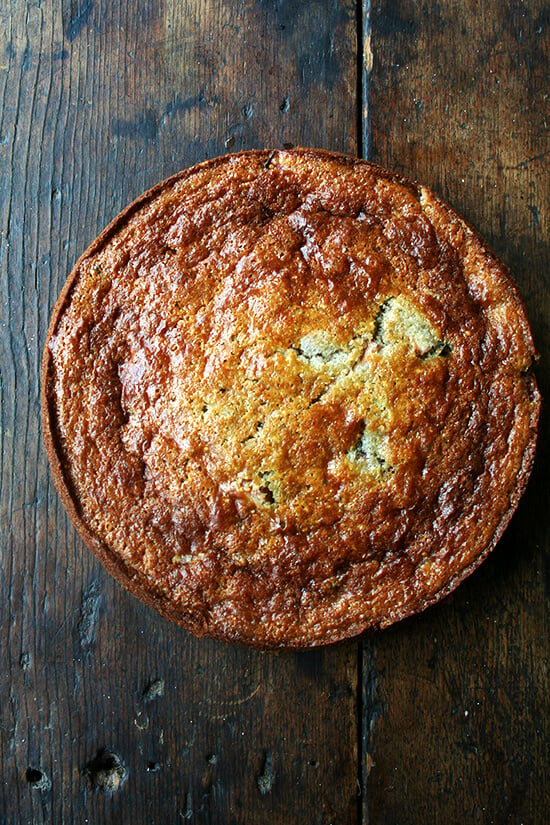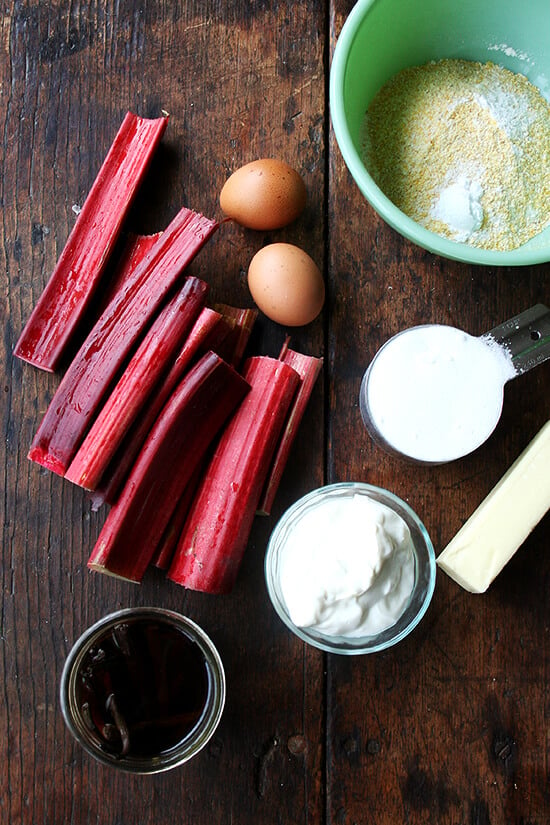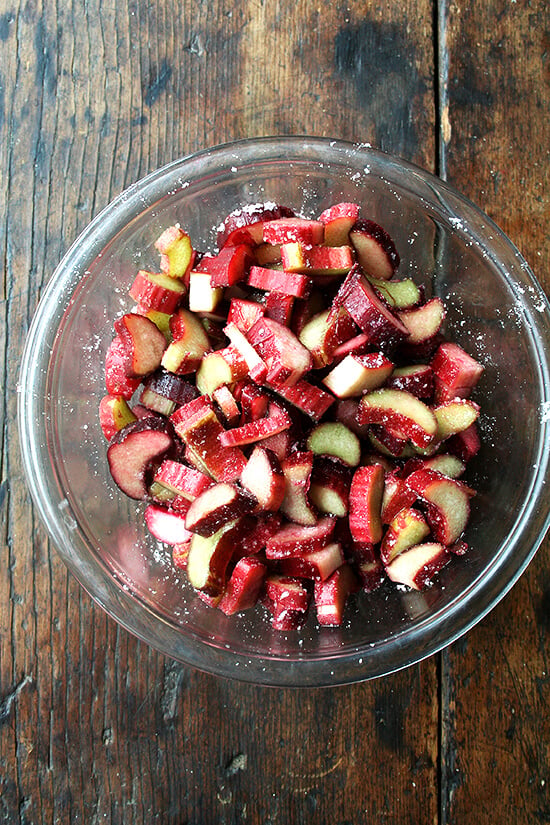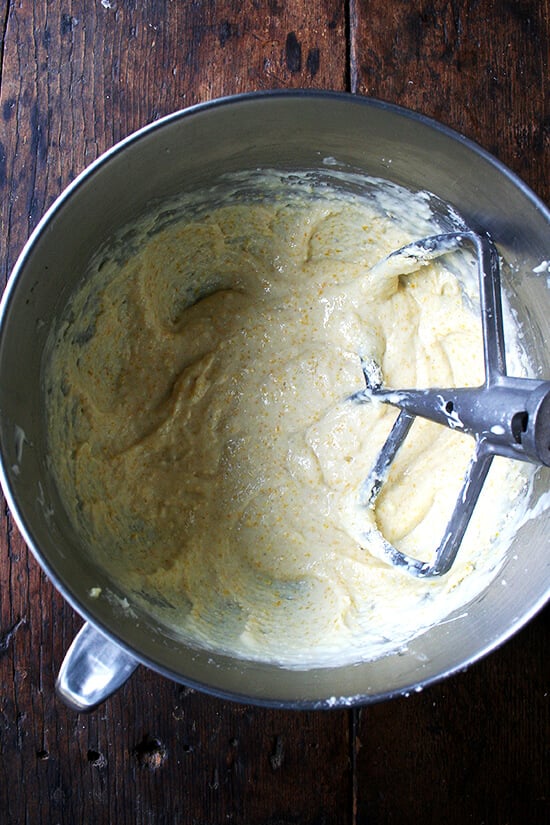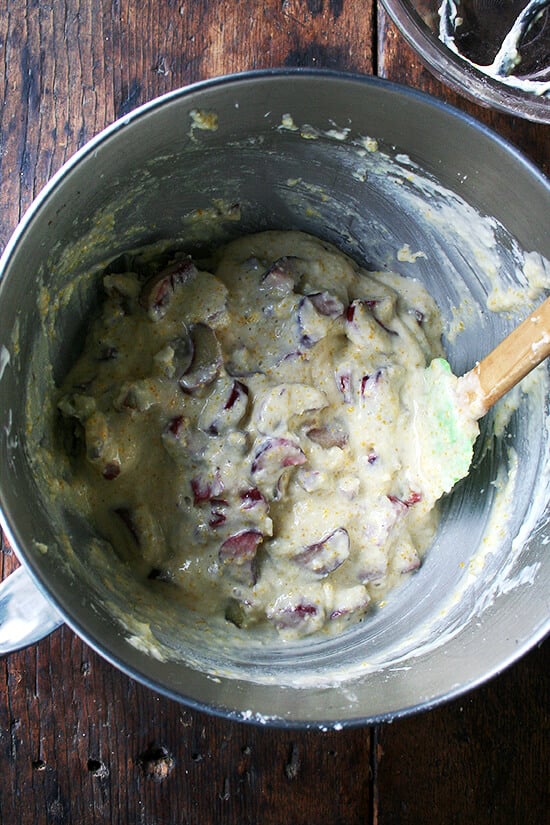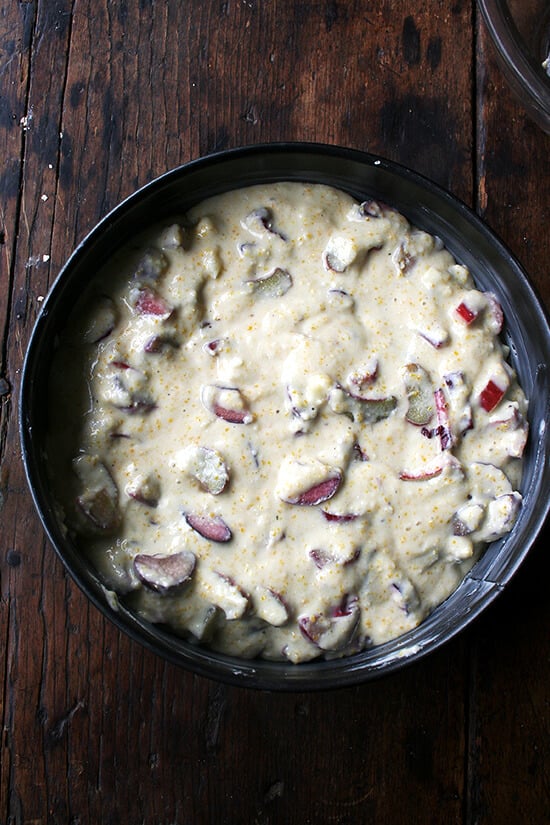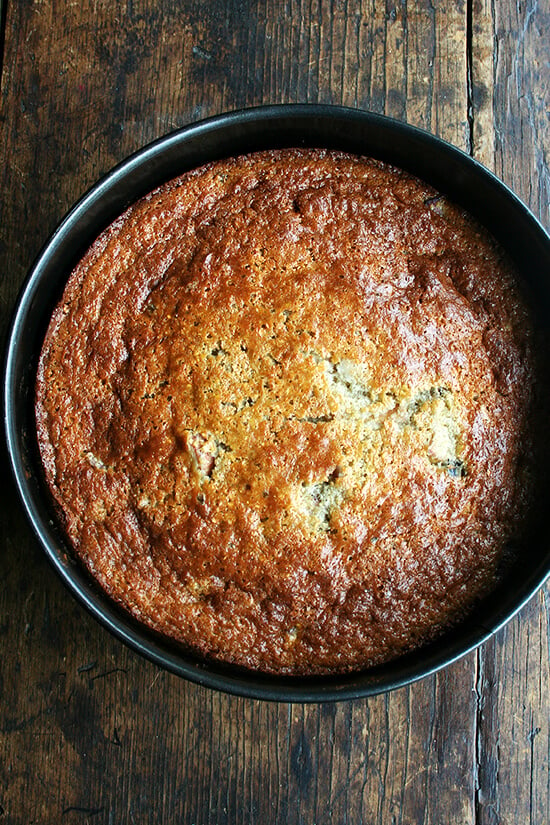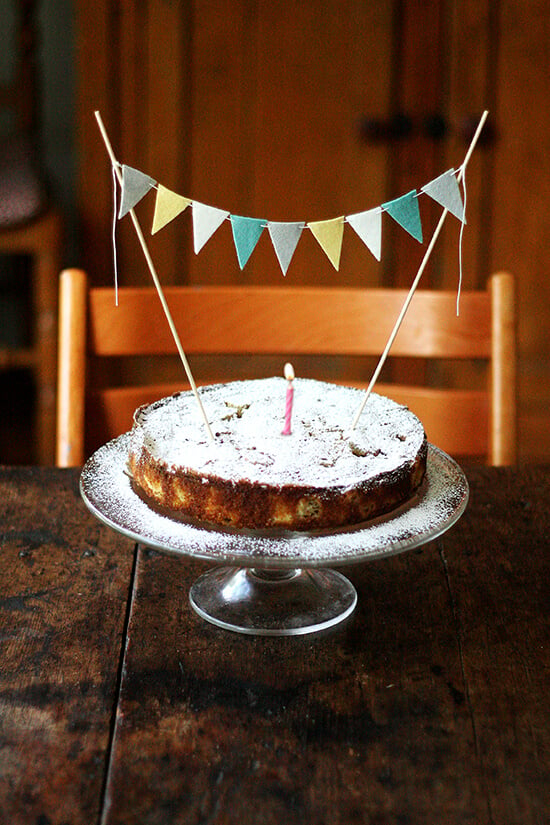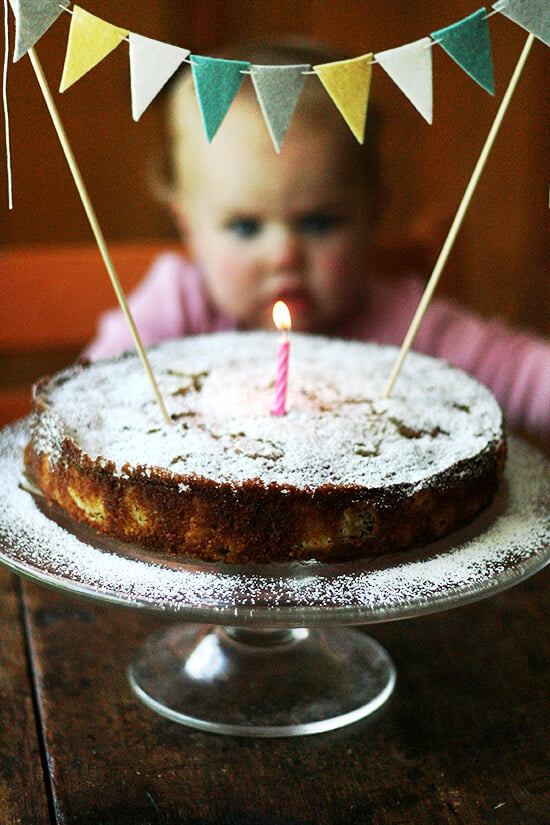 Print
---
1 1/4

lbs. (about) rhubarb, cleaned and trimmed

1 1/2 cups

sugar

1

liter vodka, cheap is just fine
---
Instructions
Chop the rhubarb and divide it between two 1-liter jars or one 2-liter jars. Add 3/4 cup sugar to each jar or all of the sugar to the 2-liter jar, put the lids on and shake well. Unscrew the lids and pour 2 1/4 cups of vodka into each to fill or all of the vodka into the larger jar.
Close the lids, put the jars somewhere cool and dark for at least 6 weeks and up to 6 months. If you remember, shake the jars every day or every other day for the first month or so.
Strain into a pitcher, then pour into a bottle.
---
Print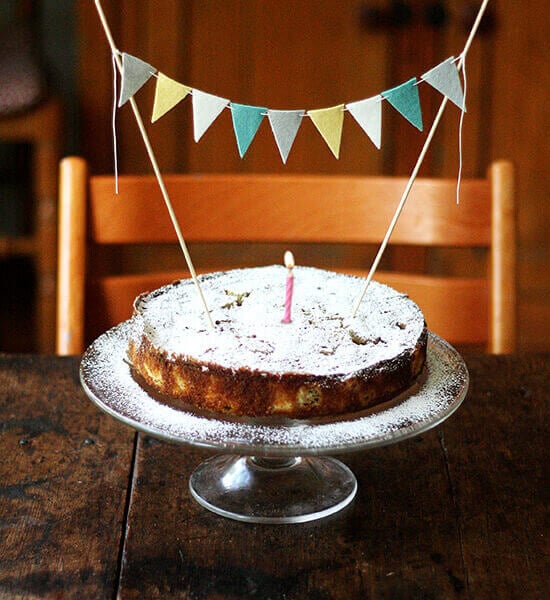 Rhubarb Cornmeal Cake
---
Total Time:

1 hours 15 minutes

Yield:

8 servings
Description
Adapted from How To Be A Domestic Goddess
Note: Original recipe included cinnamon, which I omit. I have increased the salt and vanilla, too, but otherwise I follow the recipe. I love this cake — the cornmeal adds a creaminess as well as a lovely crunchy texture, and it's a snap to throw together.
---
1

pound 2 ounces (

510 g

) rhubarb

1 cup

(

232 g

) sugar

1 cup

(

128 g

) all-purpose flour

1 tsp

baking soda

1/2 tsp

salt

1/2 cup

plus 2 Tbsp (

90g

) fine cornmeal

2

large eggs

1 tablespoon

vanilla extract

1/2 cup

(

4 oz

|

113 g

) unsalted butter (soft)

1 cup

plus 2 Tbsp plain, whole milk yogurt

9

-inch springform pan, buttered and lined with parchment or wax paper
---
Instructions
Preheat oven to 350 F.
Wash and dry the rhubarb if necessary, and then trim, removing and stringy bits, and cut into 1/2 inch slices. Put into bowl and cover with 1/3 cup of the sugar, while you get on with the rest of the cake. Don't let the rhubarb stand for more than half an hour or the sugar will make too much liquid seep out.
Mix the flour, baking soda, salt, and cornmeal together. With a fork, beat the eggs with the vanilla in a measuring cup or small bowl. In a large bowl (I used my stand mixer), cream the butter and the rest of the sugar, then gradually add the egg and vanilla mixture, beating while you do so. Then add the flour-cornmeal mixture alternately with the yogurt. They just need to be combined: don't overmix.
Finally, add the rhubarb together with its sugary, pink juices, folding in to mix, and then pour the speckled batter into the prepared pan. Put in the preheated oven and bake for about 55 minutes to 1 hour or until springy to the touch. You may need to cover it with foil after about 40 minutes so that the top doesn't scorch. Let cool in the pan on a wire rack for a while before unmolding.
Prep Time:

20 minutes

Cook Time:

55 minutes
This one might have preferred angel food cake.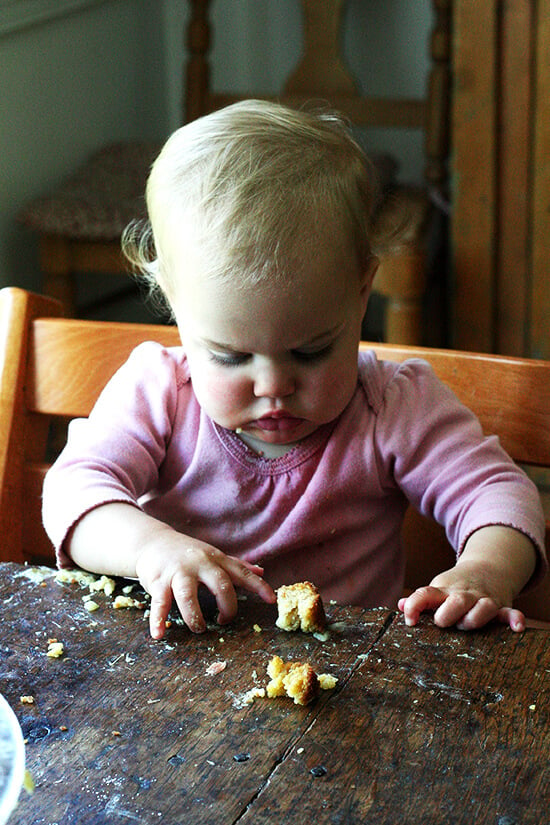 This post may contain affiliate links. Please read my disclosure policy.