Charlie Bird Farro Salad with Beets, Scallions & Pistachios
This post may contain affiliate links. Please read my disclosure policy.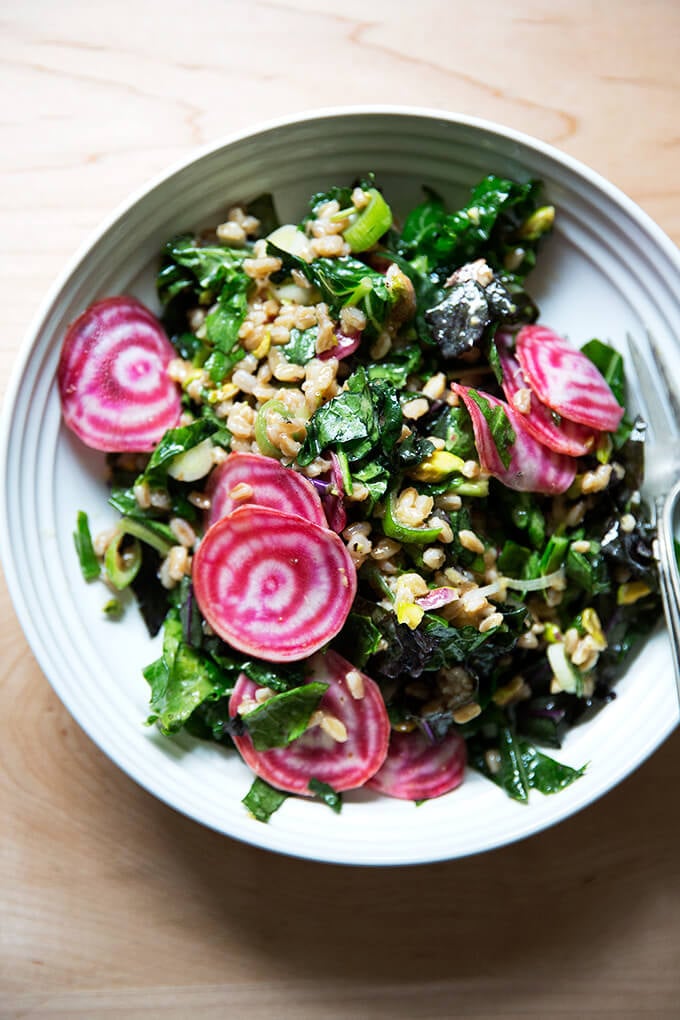 I have had this apple cider-cooked farro recipe in my to-make file ever since tearing it from the November 2014 Bon Appetit. The recipe notes mentioned the apple-cider-boiling technique hailed from Charlie Bird, a restaurant in NYC, which meant nothing to me, but which sounded interesting all the while.
Over the years, I've seen this farro salad pop up on various blogs and food sites, and when I read in Ina Garten's latest book, Cook Like A Pro, that Melissa Clark had written about the salad it in The Times in December 2013, things started to make sense. Sometimes I feel I live under a rock.
In any case, this salad has many admirers, me now included. Like many grain salads, it is endlessly adaptable to tastes and preferences as well as to what's in season. Unlike many grain salads, this one begins, as noted above, by cooking the farro in a well salted mix of apple cider and water. As the farro cooks, it absorbs the flavors of both the salt and the cider, and it emerges slightly sweet and very well seasoned.
Ina has made some tweaks of her own to the recipe, including having you dress the warm farro with the dressing, which perhaps maximizes absorption, and she ups the amount of lemon juice as well, which I think is nice. Given the season, I've omitted the tomatoes, and after spotting Chioggia beets at my little co-op, I used them, peeled and uncooked, in place of the radishes—they are so pretty! Other changes, such as adding dried currants plumped in vinegar (a Zuni Cafe move), are noted in the recipe below.
Ina says she could happily eat this salad for lunch every day. I would agree, adding that it makes a lovely dinner as well aside a bowl of soup with a hunk of bread on the side.
PS: 10 Favorite Ina Garten Recipes.
Here's a play-by-play: Gather your ingredients.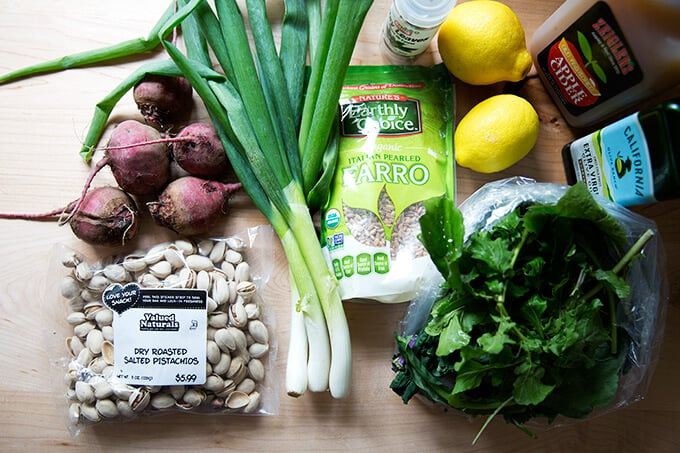 Cook the farro in 1 cup cider, 2 cups water, 2 teaspoons kosher salt, and a bay leaf or two.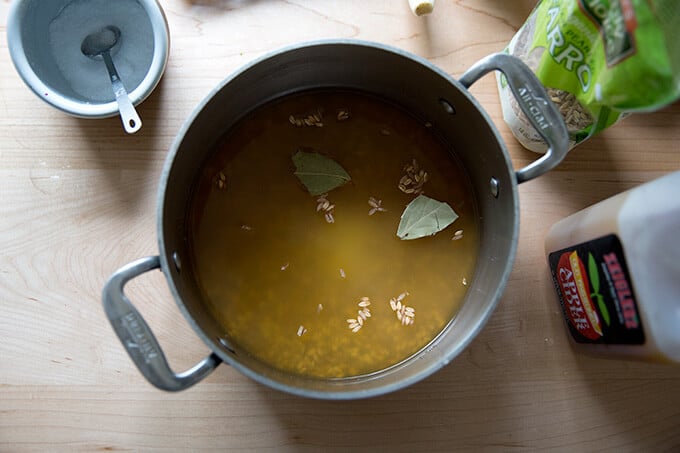 Cook 25 to 30 minutes or until the farro is done, adding more water as needed.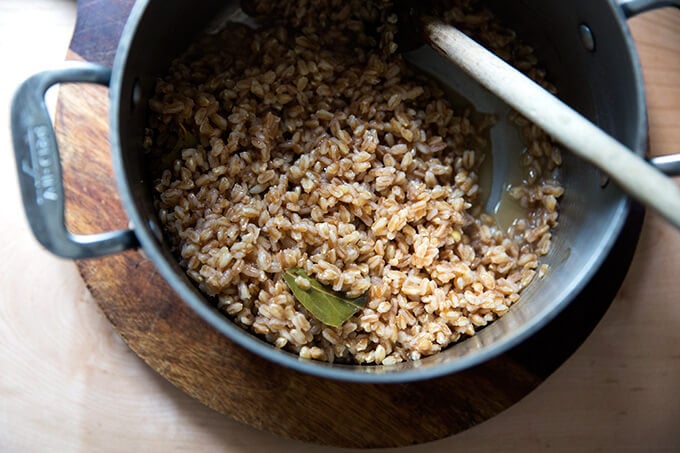 Meanwhile make a dressing with fresh lemon, olive oil, and salt.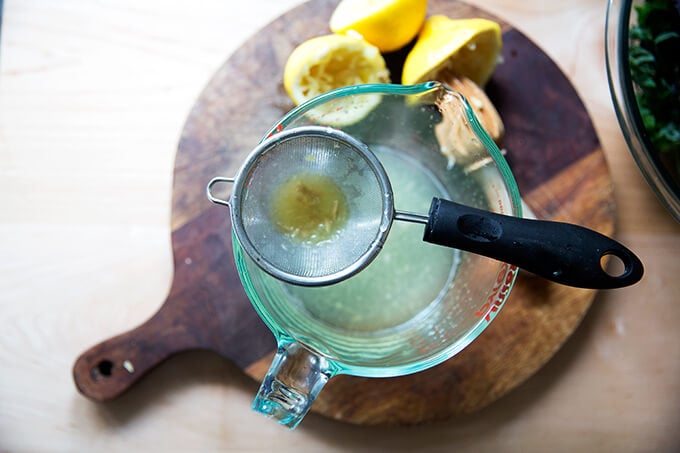 Whisk it together.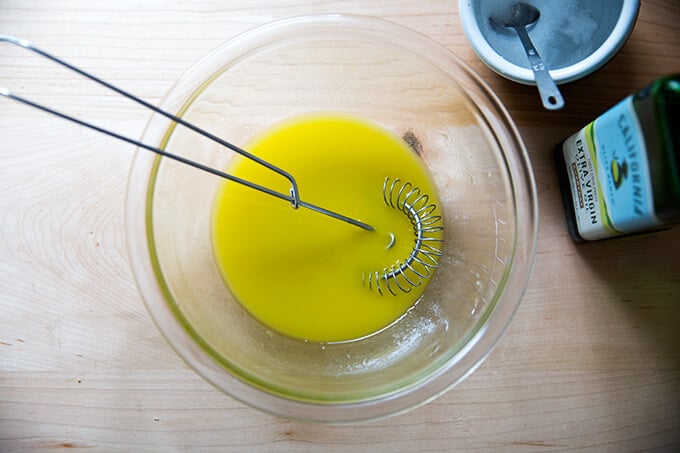 Toss the dressing with the warm farro and let it cool for at least 15 minutes.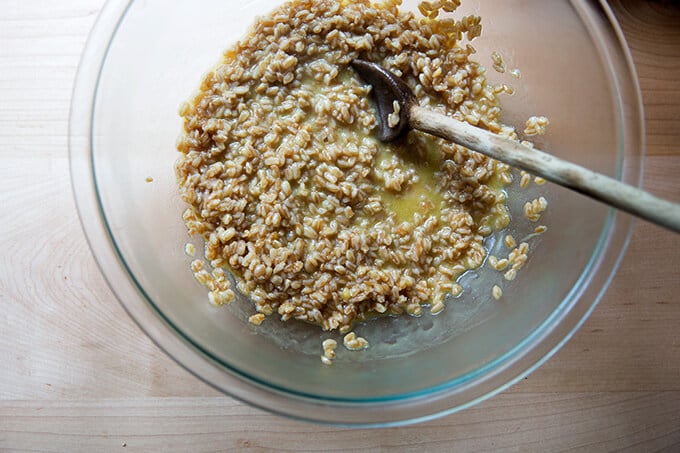 Meanwhile, peel and slice some beets or radishes.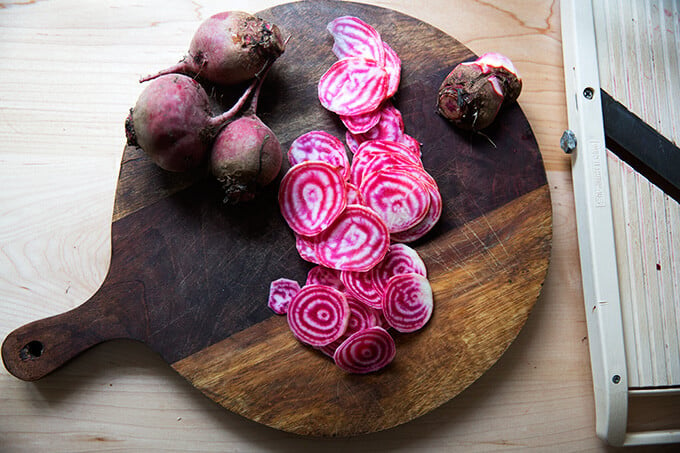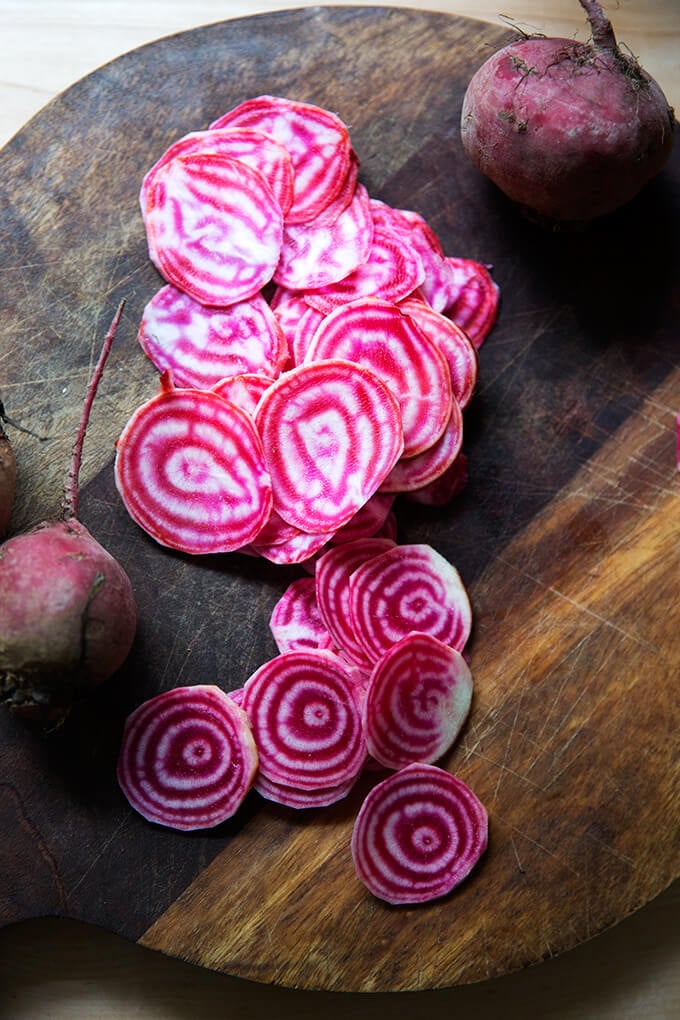 Pile your vegetables (arugula, scallions, herbs, beets — whatever you are using) and chopped pistachios into a large bowl.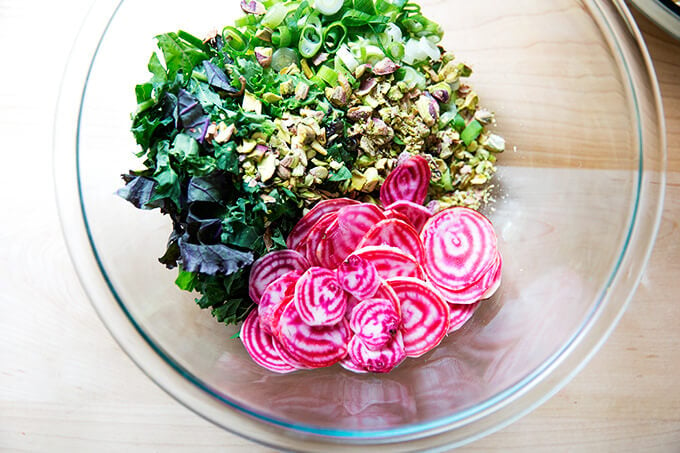 Toss it together.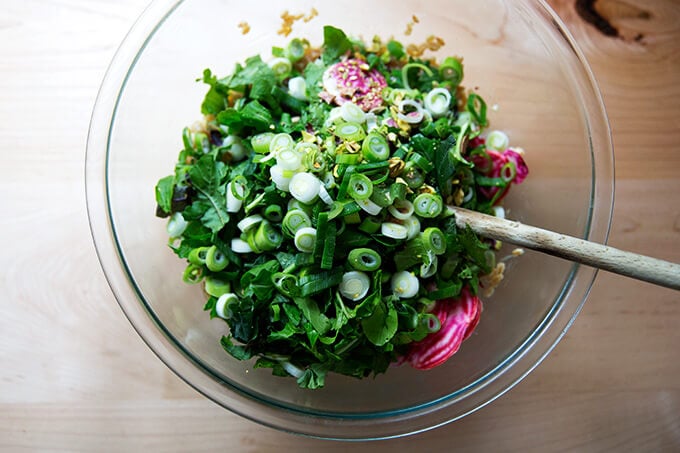 Serve.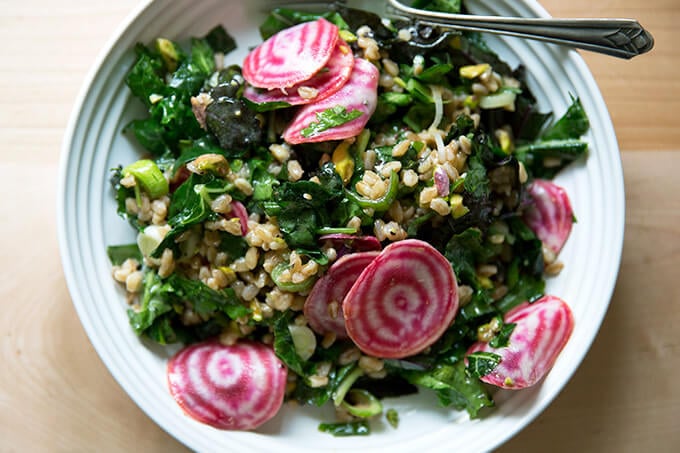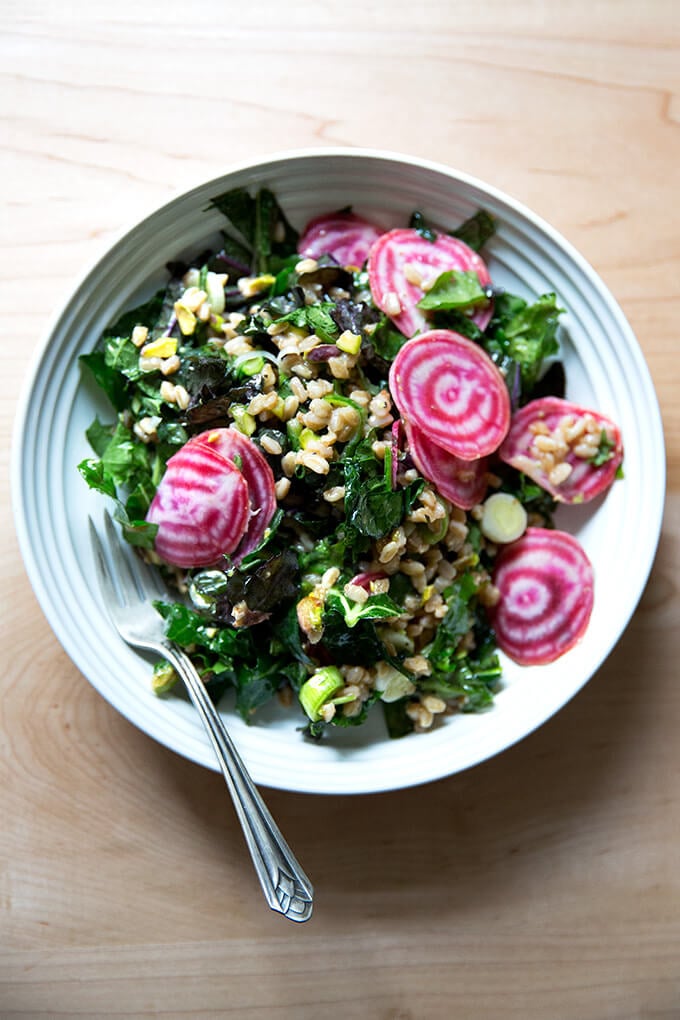 Print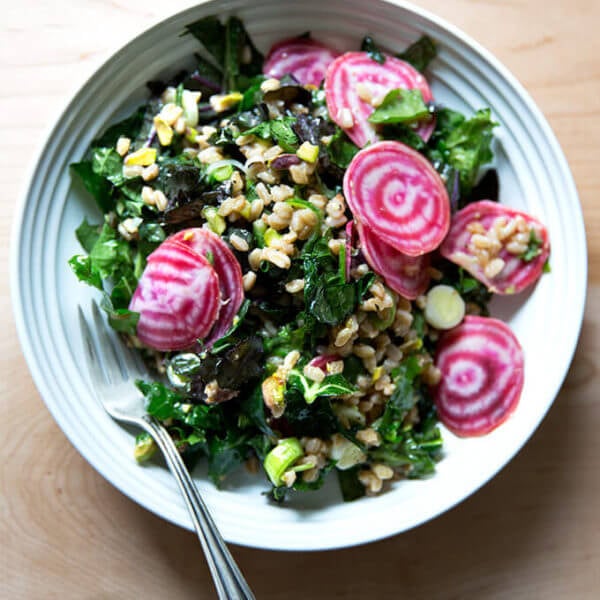 Charlie Bird Farro Salad with Beets, Scallions & Pistachios
---
Description
Melissa Clark popularized this recipe when she wrote about it in The Times in 2013. Ina Garten included an adaptation of the recipe in her latest book, Cook Like a Pro, and when I saw it in there, I had to make it immediately. It is as delicious as promised and endlessly adaptable. Here are a few changes I've made:
Omitted the tomatoes, though I would certainly include them if it were summer.
Used raw, peeled Chioggia (candy cane) beets in place of the radishes.
Used scallions in place of parsley and mint, though the herbs would be lovely additions/substitutions.
Added 1/4 cup Zante currants soaked in 2 tablespoons of white balsamic vinegar — the first time I made this, I found myself missing the sweetness of something like a currant or golden raisin. Totally optional.
A few other notes:
Farro: Pearled farro will cook in 25-30 minutes; if you are using un-pearled farro, the cooking time may be much, much longer. So, be sure to look at the package and adjust cooking time and liquid amounts as needed.
If you don't have apple cider, you can simply cook the farro in water, but the cider does lend a subtle and nice sweetness to the cooked farro.
If you are sensitive to salt, consider reducing the amounts suggested both when cooking the farro and making the dressing. I am a salt fiend and did not find this too salty, but a handful of commenters on The Times recipe noted that they found the salad too salty.
If you like video guidance, you can watch the whole process in Instagram Stories.
---
1

 

cup pearled farro, see notes above

1

 

cup apple cider

3

 

teaspoons kosher salt, divided

1

to

2

 

bay leaves

1/2 cup

extra-virgin olive oil

1/4 cup

 

 fresh lemon juice

1/4 cup

Zante currants, optional

2 tablespoons

white balsamic vinegar, optional

1/2 cup

chopped pistachio nuts

2

 

cups arugula leaves, plus more to taste

2 cups

sliced scallions or a combination of herbs such as basil, parsley, and mint

⅓

 

cup thinly sliced radish or peeled beets

shaved parmesan cheese, to taste, optional

freshly cracked black pepper to taste
 

Maldon or other flaky sea salt, for finishing, optional
---
Instructions
In a medium saucepan, bring farro, apple cider, 1 to 2 teaspoons salt (see notes above), bay leaves and 2 cups water to a simmer. Simmer until farro is tender and liquid evaporates, about 30 minutes—simmer it gently and pay close attention after 20 minutes, because the water begins to evaporate quickly. If all the liquid evaporates before the farro is done, add more water as necessary. Drain farro, if necessary, or transfer to a large bowl if very little water remains in the pot. Discard bay leaves.
Meanwhile, whisk together the olive oil, lemon juice and another teaspoon salt (or half a teaspoon if you are sensitive, see notes above). In a small bowl, pour the vinegar over the currants, if using.
Pour the lemon dressing over the warm farro and let stand for at least 15 minutes to cool. Add pistachios, arugula, scallions or herbs, radishes or beets, and soaked currants, vinegar and all. Season with pepper to taste. Toss. Add flaky salt to taste, if necessary. Shave parmesan over top, if using.
Prep Time:

20 minutes

Cook Time:

30 minutes
This post may contain affiliate links. Please read my disclosure policy.