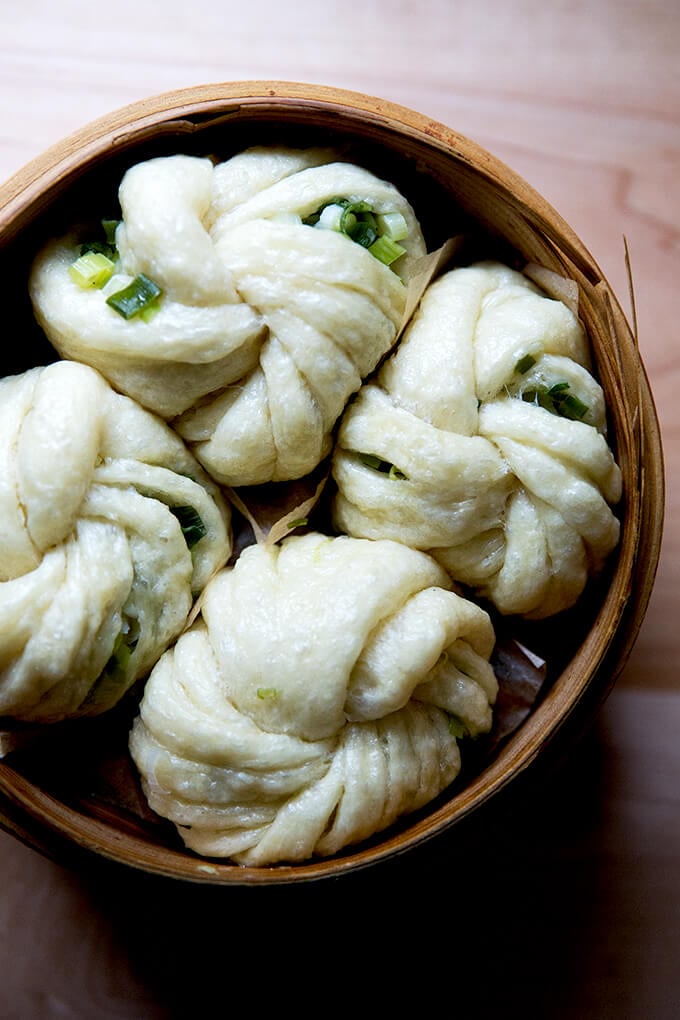 A few years ago I found myself in San Francisco trying to get into the Slanted Door for lunch. Deterred by the hour-long wait, I headed instead to Out the Door, the Slanted Door's takeaway outfit, and before long found myself, pork bun in hand, strolling the streets just as happy as ever.
I still dream about that bun: the warm, springy bread; the sweet barbecued pork nestled inside. It was perfect.
I haven't had one quite so good since, and until earlier this week, I never considered attempting them at home because I feared the process would be time consuming and the result likely not worth the effort.
But shortly after opening Cynthia McTernan's A Common Table, I found myself reading about steamed buns, mainstays of Chinese breakfasts and snacks, fluffy white vehicles to be eaten on their own or stuffed with countless fillings from barbecued pork to egg custard. And the recipe looked simple and surprisingly familiar, not unlike making a brioche roll: knead together a slightly sweet yeasted dough, let it rise, punch it down, divide, shape, and … steam! Unlike a brioche bun, steamed buns are, well, steamed.
It was time to give them a go. Lured by a photo of spiraled knots, I made the scallion buns, which emerged from the steamer puffed and bouncy, feathery light in texture with a nice chew and an onion-y flavor permeating every bite. My family, or, I should say, Ben, me and two of the four children (50%, hey, I'll take it) gobbled them up.  I served them with okonomiyaki, a favorite, and a soy dipping sauce, which we used for both the buns and the cabbage pancakes.
Friends, I've been a long-time follower of Cynthia's blog, Two Red Bowls, and her book, A Common Table, is a beautiful extension of that space, a mix of stories and recipes inspired by both her and her husband's cultural and geographical roots. With this new knowledge of steamed-bun making in hand, I feel confident that pork bun of my dreams is closer to becoming a reality. As always, I'll keep you posted.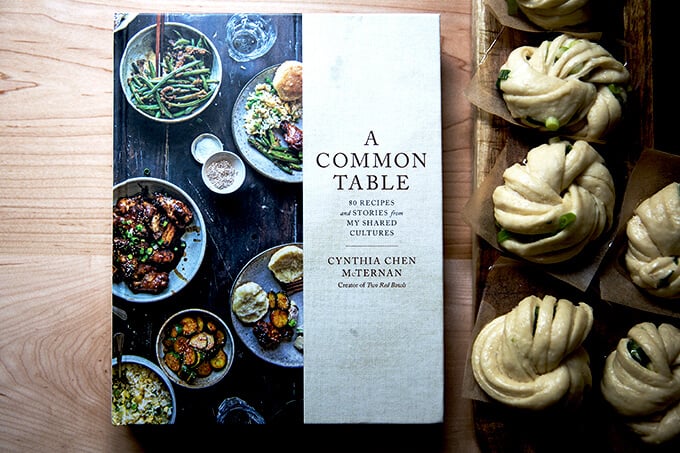 Here's a steamed-bun-making play-by-play: Whisk together flour, sugar, salt, and yeast.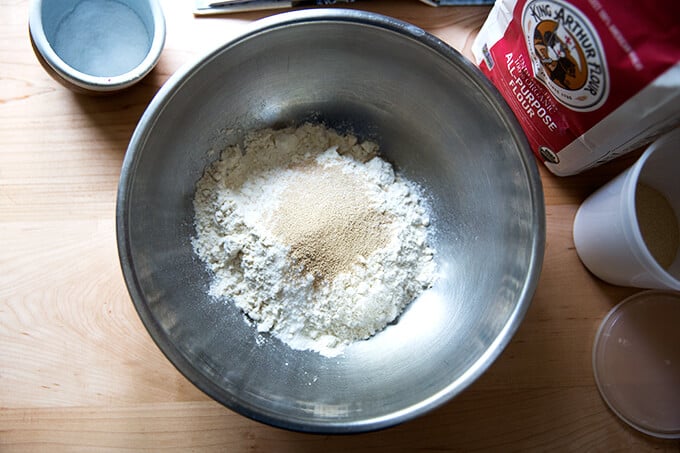 Add warm milk and oil.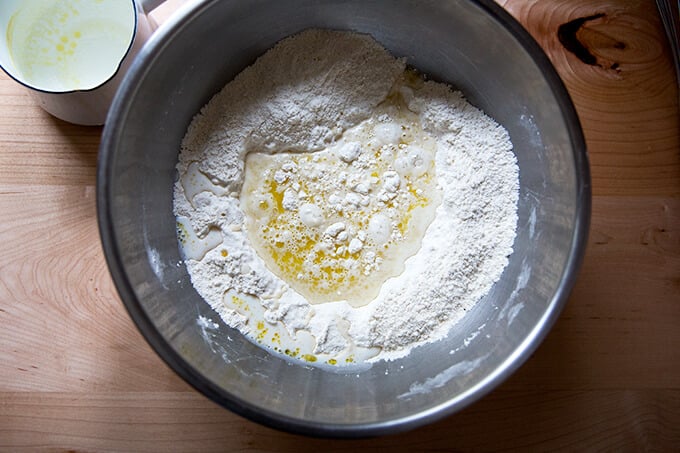 Form into a dough ball.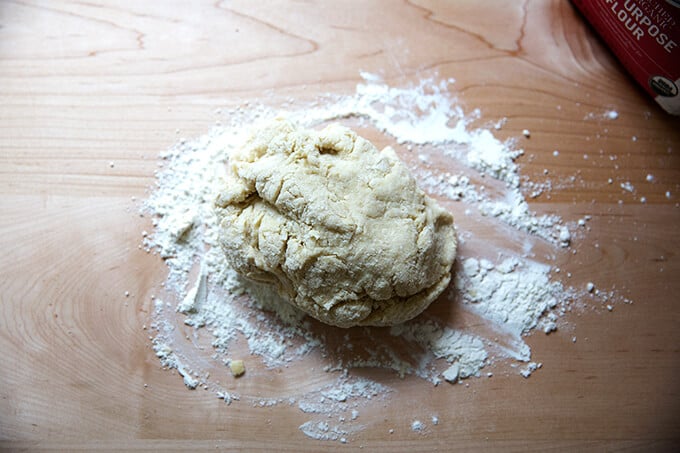 Knead until smooth and elastic.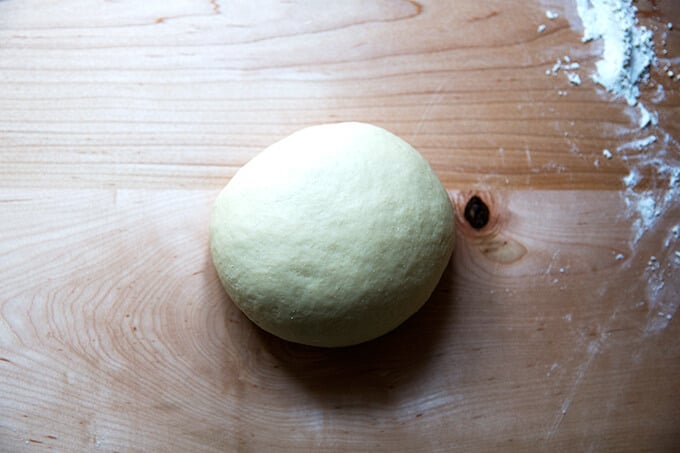 Let rise until doubled, at least 2 hours.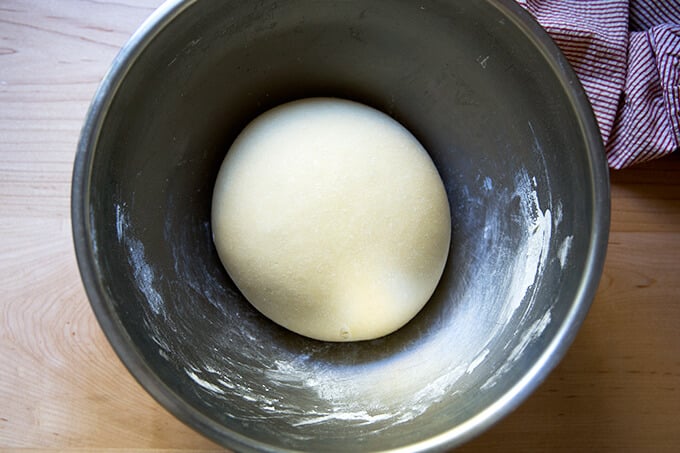 Divide into 12 pieces, then roll each into 4×6-inch ovals.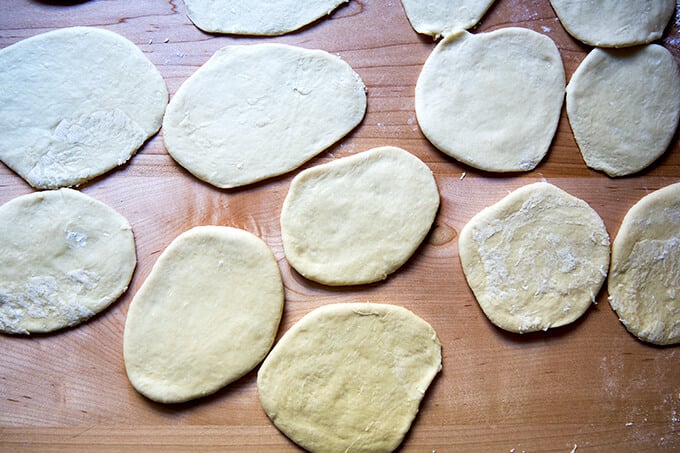 Gather some scallions.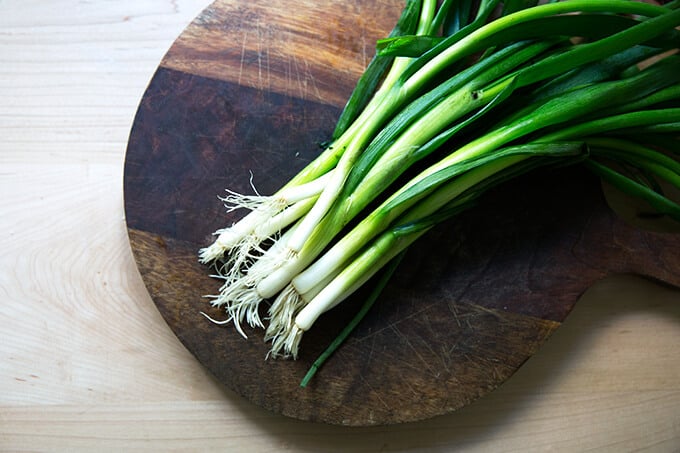 Slice them finely, then mix with oil and salt.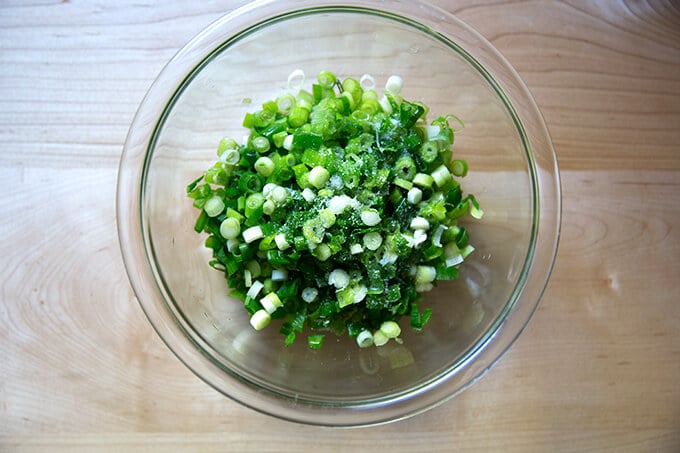 Make slits in the ovals and top with the scallion mixture. Then …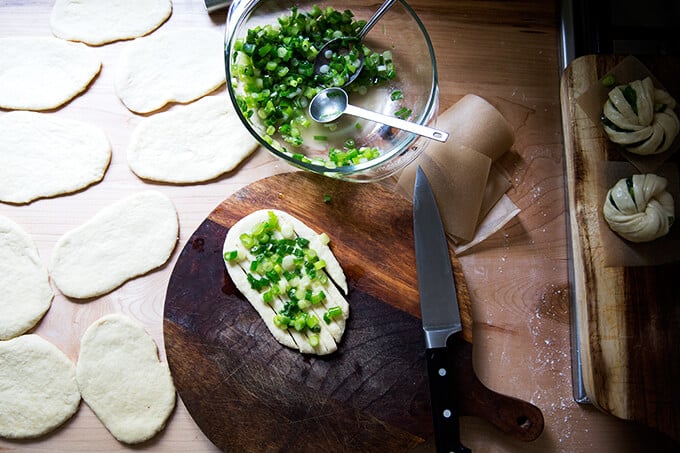 …twist into knots. Video guidance is very helpful with this step—skip ahead to frames 14-16 for shaping guidance.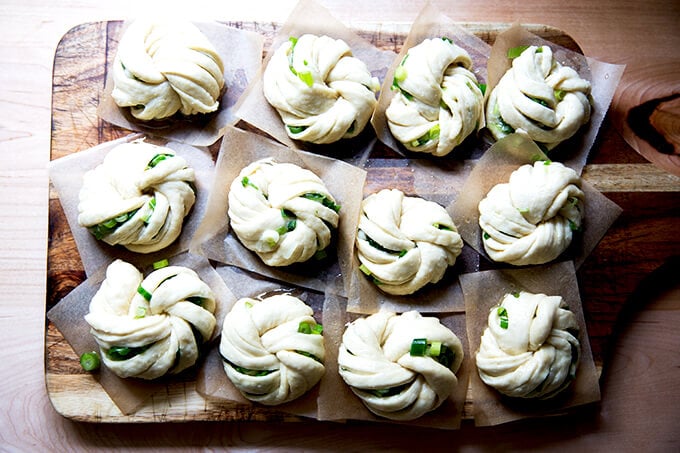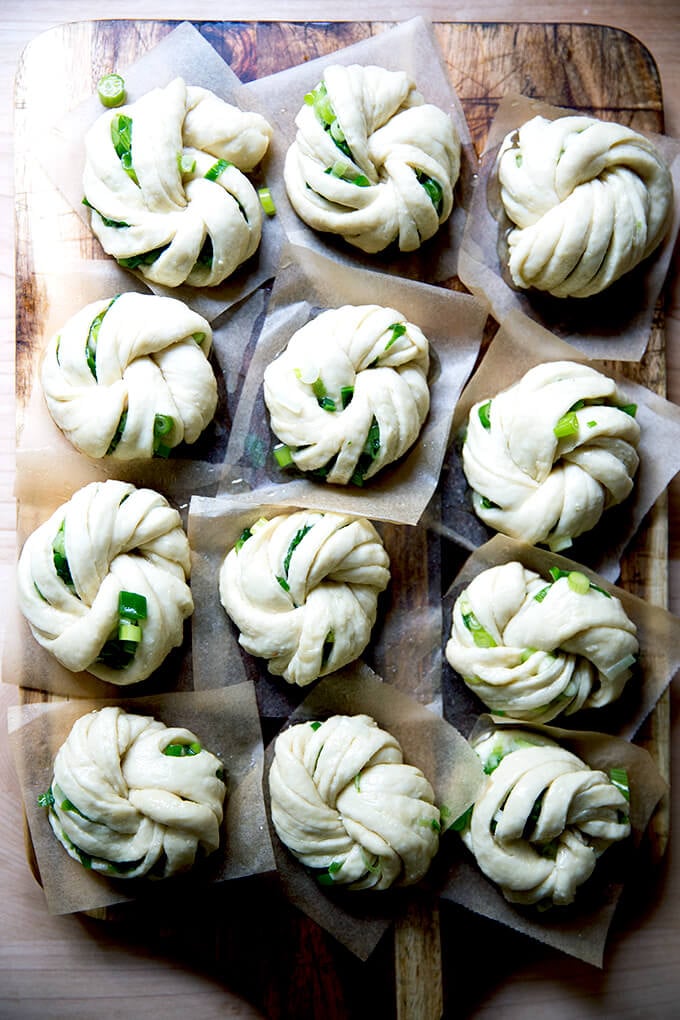 After 30 to 40 minutes of resting, the buns are ready to be steamed.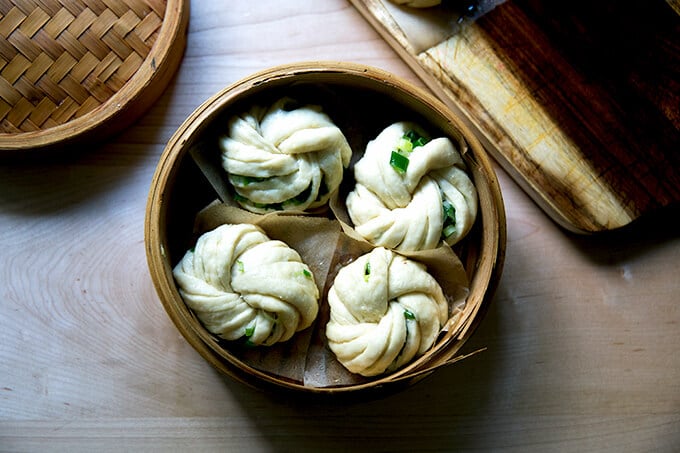 After 15 minutes in the steamer …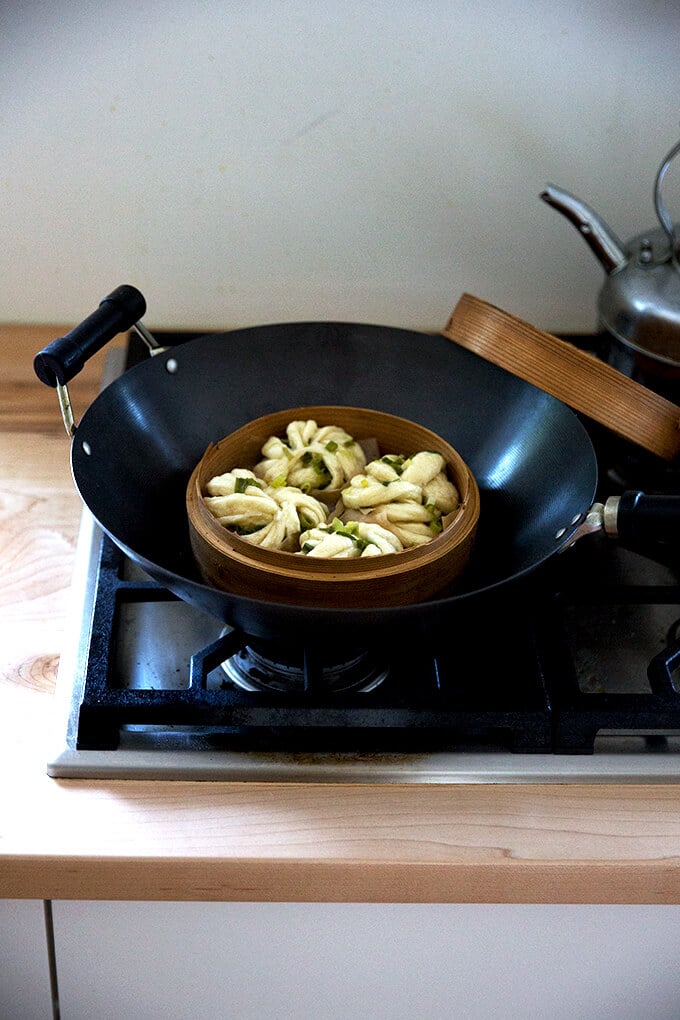 … they puff way up and are ready to be served with a sprinkling of sea salt or a simple soy dipping sauce. Yum.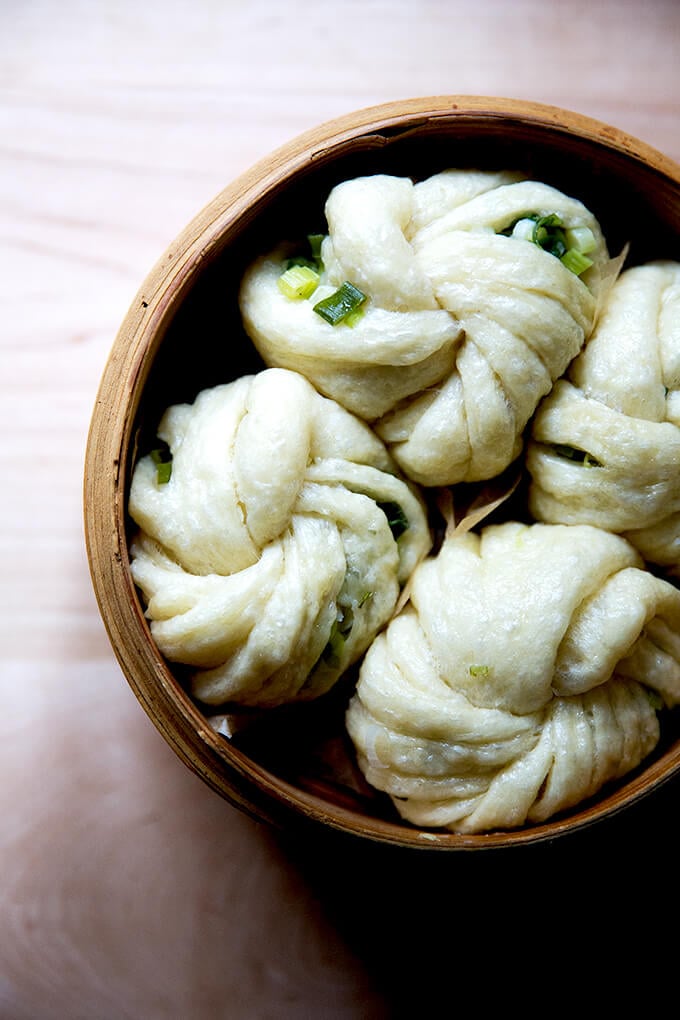 Print
Steamed Scallion Buns
---
---
Ingredients
for the dough:
1 cup

milk

1 tablespoon

oil

3 cup

s (

375

g) all-purpose flour, plus more for kneading

2 teaspoon

s instant yeast

1/4 cup

sugar

1/2 teaspoon

salt

1 tablespoon

nonfat dry milk powder (optional)
for the buns:
1 cup

finely sliced scallions, from 8 to 10

1/4 cup

oil

1/4 teaspoon

salt
for serving:
sea salt, optional
soy dipping sauce, I like this one, optional
---
Instructions
In a small saucepan over medium heat, bring the milk to a gentle boil. Remove pan from heat. Let cool till 100ºF to 110ºF. Stir in the oil.
In a large bowl, whisk together the flour, yeast, sugar, milk powder (if using), and salt. Add the milk-oil mixture to the flour bowl, and stir to form a dough ball.
Turn the dough out onto a lightly floured work surface and knead until smooth and elastic, about 6 to 8 minutes. Return dough to bowl and let rise in a warm spot for at least 2 hours or as as long as 24 in the refrigerator.
In a small bowl, stir together the scallions, oil, and salt. Cut out twelve 6-inch square pieces of parchment paper. Lightly flour a work surface.
Turn dough out onto prepared work surface. Punch down to deflate. Using a knife or bench scraper, divide the dough into 12 pieces and shape each roughly into a ball. Using a rolling pin, roll each into a 4×6-inch oval. Working with one oval at a time, slice ribbons lengthwise into the oval, leaving about 1/2 inch at the top of the oval intact—video guidance for this cutting/shaping process can be found here; skip ahead to frames 14-16 for shaping guidance. Brush or spoon about 1 tablespoon of the scallion mixture across the dough. Pick up each end of the oval, gently pull outward, then twist into a coil. Then, twist the coil into a knot. Place the knot on a sheet of parchment paper. Repeat process with remaining ovals until all 12 knots are shaped. Let rest 30-40 minutes.
Prepare a steamer basket. If using a wok with a bamboo insert, bring 2 inches of water to a boil, being sure water does not touch the bottom of the steamer basket. If using a pot with steamer insert, fill with water, again being sure water does not touch the bottom of the steamer basket, and bring to a boil.
Place 3 to 4 scallion knots with parchment paper into steamer. Cover. Reduce heat so that water is just simmering. Steam for 15 minutes.
Serve warm sprinkled with sea salt, if you wish, or a soy dipping sauce.
Leftovers can be frozen and reheated in a steamer or microwave (about 15 seconds).
---