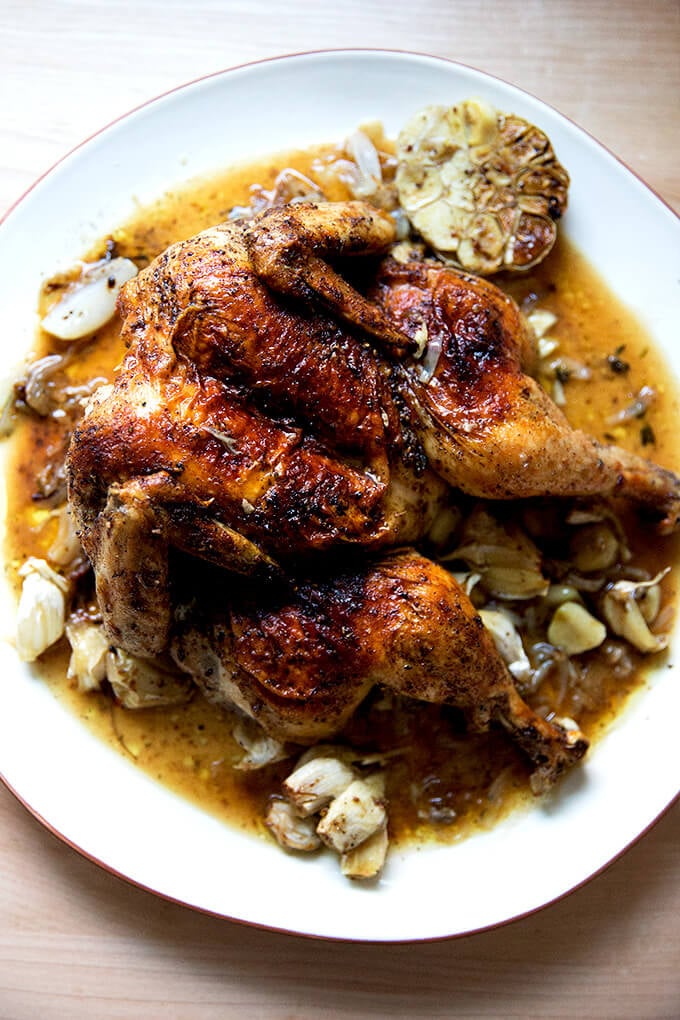 In early December in preparation for a chat with Margaret Roach, I cooked furiously through as many new cookbooks as I could. I discovered some gems in the process, namely this spatchcocked chicken recipe with lemon and za'atar from Dorie Greenspan's latest book, Everyday Dorie.
It came together effortlessly, cooked quickly, and looked stunning, yielding an abundant and flavorful sauce, perfect for dunking crusty bread into. I served it as Dorie suggested, right out of the skillet, "for a very casual grab, dip, and dunk dinner." With bread in hand, not a buttery clove of garlic, a melting sliver of shallot or a drip of sauce was spared.
[Related: How to Roast A Chicken and Make the Most of it.]
The beauty of this dish as Dorie notes is its adaptability: "If you fall in love with the technique," she says, "you can put it in the rotation and fiddle with the flavors each time."
I've been enjoying the suggested combination of za'atar, cumin, coriander, and lemon, but I'm looking forward to trying her French variation with fresh tarragon replacing the spices entirely.
[Related: What to do with Leftover Roast Chicken? Make a Salad]
Everything in Everyday Dorie looks and sounds so inviting: roasted squash hummus, black bean chipotle dip, chicken Milanese with celery salad, slow-roasted tomatoes for everything, so-good Miso corn, oven-charred tomato-stuffed peppers.
Friends, have you cooked from Everyday Dorie? Have you discovered any gems? Let me know in the comments. Hope the start of 2019 is treating you well.
How to Spatchcock a Chicken
Remove the backbone. A pair of sharp kitchen shears makes this an easy task. Tip: If you find your scissors getting stuck, try cutting even closer to the backbone.
Place chicken in cooking vessel. I love using my Le Creuset braiser for cooking spatchcocked birds but you could use a rimmed sheet pan or 9 x 13-inch pan — something on the shallow side is ideal.
Use the heel of your hand to press down hard on the breast to flatten the bird. It's OK if you break the breast bone when you flatten it. (See video above or here.)
Here's a play-by-play. If you remember, salt your chicken ahead of time—it helps keep the breasts from drying out, and generally helps keeping the chicken juicy.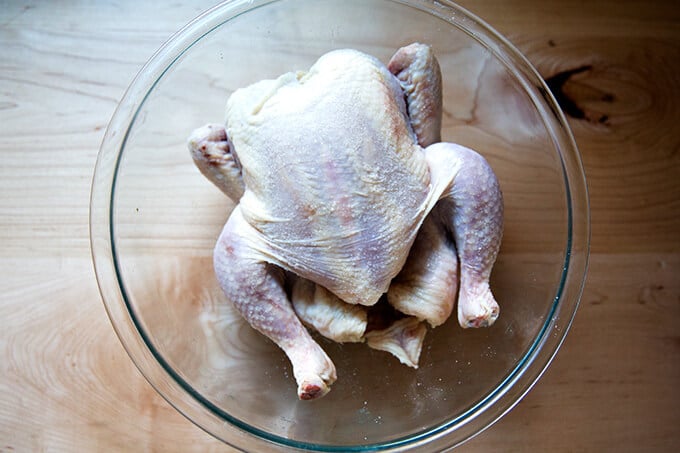 Gather your ingredients.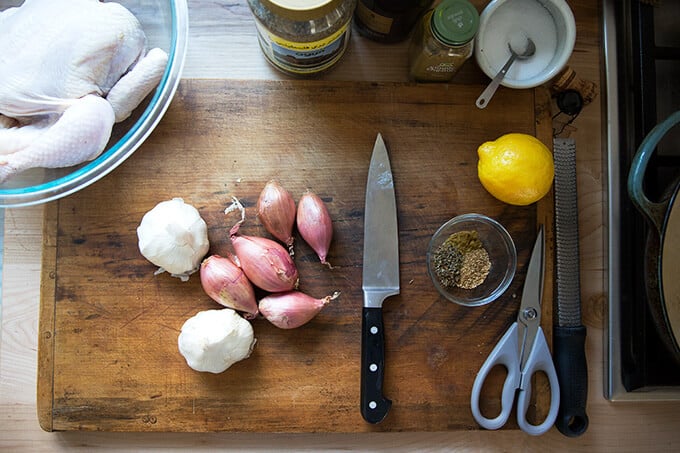 Halve the heads of garlic. Slice the shallots.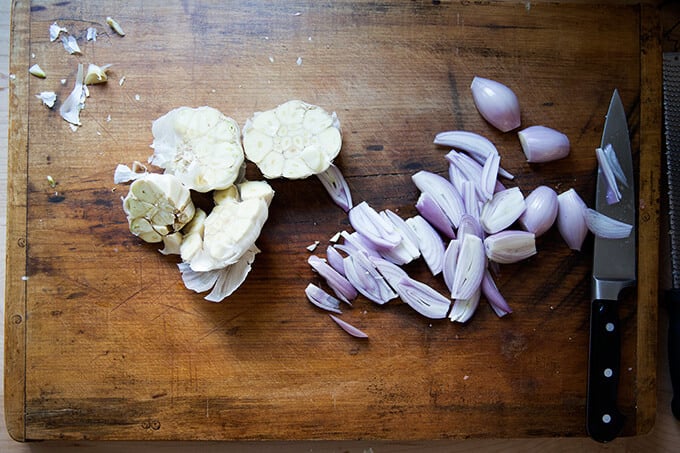 Place them in a skillet with thyme or other herbs. Add white wine and stock (or water).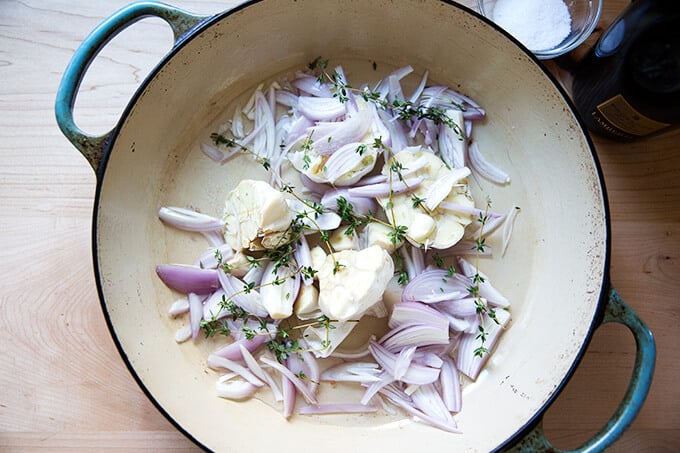 Make a seasoned butter. You can do this with softened or melted butter. I prefer to melt.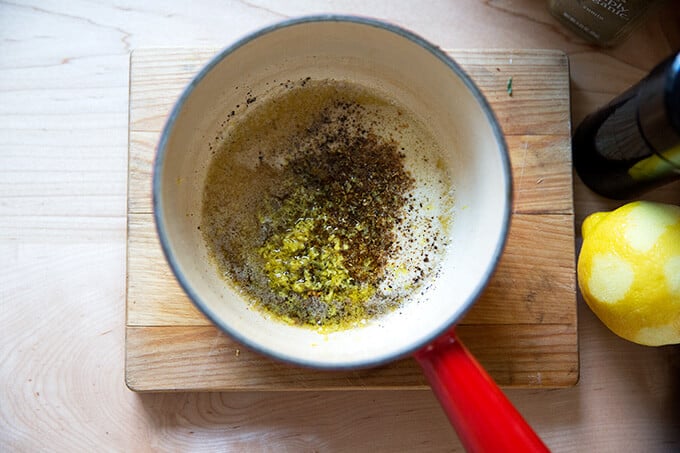 Brush it all over the chicken, then chuck the whole thing in the oven for 45 minutes.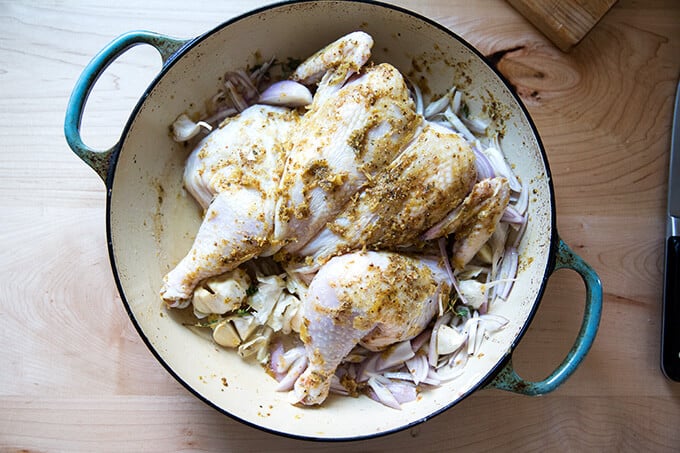 Let it rest briefly, then serve with lots of crusty bread.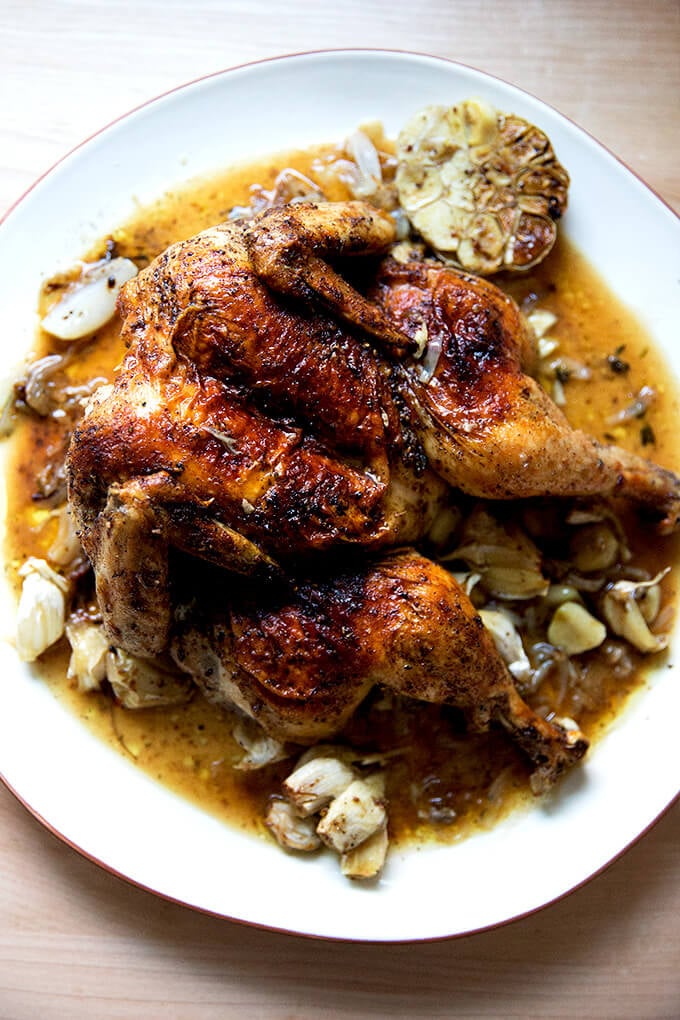 Print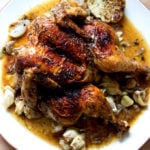 Spatchcock Chicken Recipe with with Za'atar & Lemon
---
Author:

Alexandra Stafford

Prep Time:

15 minutes

Cook Time:

45 minutes

Total Time:

1 hour

Yield:

4
Description
Adapted from Everyday Dorie
Salting in Advance: Salting the morning you plan to cook chicken or other meat is sufficient, but it's best if you can do it the day before or even two or three days ahead of time. I find this makes a big difference especially when I'm cooking a whole chicken — it helps keep the breast juicy — and less as important, when I'm roasting a spatchcocked bird, which generally cooks more evenly.
Spices: If you don't have sumac or za'atar or any of the others, don't worry — lemon zest, salt, and pepper would suffice as would any combination of the spices listed. Dorie's French variation calls for omitting the spices and using fresh tarragon and lemon zest in their place.
One change: Dorie calls for using softened butter, which she mixes with the spices and rubs all over the chicken including under the skin and over the breast and other parts. I use melted butter instead, which I stir the spices into and brush over top.
---
Ingredients
1

chicken, 3 to 4 pounds
kosher salt

1

to

2

heads of garlic, cut in half horizontally

1

small onion or

5

to

6

shallots, sliced
a few sprigs of thyme

¾ cups

water or chicken stock

¼ cup

white wine or Prosecco
freshly cracked black pepper

4 tablespoons

unsalted butter

1 teaspoon

za'atar or dried oregano crumbled between your fingers after measuring

¾ teaspoon

ground cumin

¾ teaspoon

ground sumac or finely grated zest of one lemon (I use lemon)

½ teaspoon

ground coriander
Crusty bread for serving (optional)
---
Instructions
If you remember, salt the chicken in advance. Place chicken in a large bowl, sprinkle all over and inside with kosher salt — 1 teaspoon per pound is a good rule — cover bowl, and place it in the fridge until ready to cook.
Center a rack in the oven and preheat it to 425ºF. Choose a large cast-iron skillet, a 9×13-inch roasting pan or a small baking sheet. (I use this braiser.)
Place the garlic, shallots, and thyme in the center of your pan. Season with salt and pepper to taste. Pour the water and wine over top.
To spatchcock the chicken, use kitchen shears to cut alongside the backbone. If your shears are sharp, this should be easy. If you get tripped up, try cutting closer to the backbone. Alternatively, use a chef's knife on a cutting board. Remove the bone (save for stock making if you wish), and turn the chicken over so the breast is facing up.
Place chicken in your pan over the garlic and shallots. Use the heel of your hands to press down on the breast and flatten it as much as you can. It's OK if you break the breastbone. Pat the chicken very dry with paper towels. Season with pepper to taste.

Melt the butter in a small skillet. Stir in the za'atar, cumin, sumac or lemon zest, and coriander. Brush this seasoned butter all over the chicken.

Transfer pan to the oven and cook for 45 minutes or until done—the time will depend on your bird. The chicken should be golden brown and the juices should run clear when the thigh is pricked. An instant read thermometer should register 165ºF. Transfer the bird to a carving board to rest for at least 10 minutes for cutting and serving.
Dorie's Notes: "If you've roasted the bird in a skillet, it's nice to return the pieces to the pan and bring the whole thing to the table for a very casual grab, dip, and dunk dinner. Otherwise, put the chicken on a platter and pour the cooking juices into a serving pitcher. Either mash the garlic cloves and serve them as a spread instead of the butter for the bread, if you're serving it, or place the garlic halves alongside the chicken and encourage everyone to squeeze the roasted garlic onto the bread or chicken."
Category:

Dinner

Method:

Roast

Cuisine:

Middle Eastern
Keywords: spatchcock, chicken, butterfly, za'atar, garlic, shallots