Carrot-Ginger Soup with Curry and Coconut Milk
This post may contain affiliate links. Please read my disclosure policy.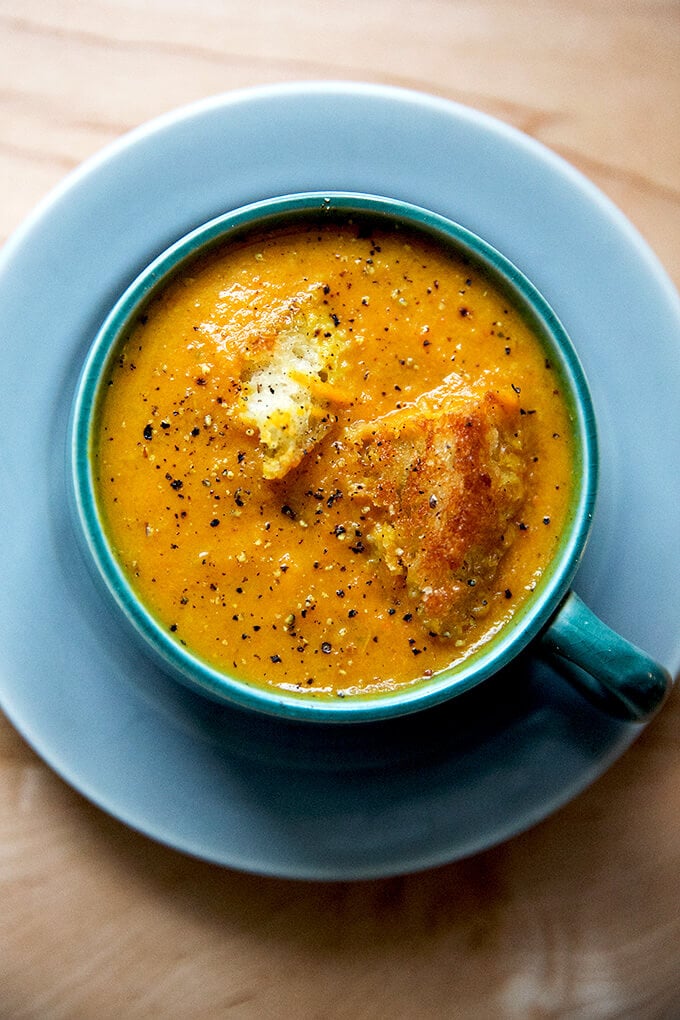 Last week a friend and I met for lunch at The Placid Baker in Troy. We did as we always do: ordered a lot, shared everything, contemplated dessert — macaron? frangipane tart? chocolate cake? — then split that, too. Everything, as always there, was delicious but the soup of the day, a curried coconut-ginger number, had me scraping the bowl, wiping the crock's creases with the last of the freshly baked baguette. Heaven.
Several days later, I called to see if I could get some details. Tom, the owner, answered and kindly shared: they roast the carrots with curry, coriander and turmeric; they cook celery, onions, and ginger stovetop; and they use coconut milk for creaminess. The soup, incidentally, is vegan.
I set to work scrubbing the carrots, sweating the aromatics, toasting the coriander seeds and before long, the soup was nearly done. Before puréeing it, I borrowed a trick from Julia Turshen's recipe for curried lentils: after dumping the can of coconut milk into the pot, I used the empty can as a measure, filling it up twice with water and adding it to the pot.
There is nothing unusual about the flavors in this soup — carrot and ginger, a common match, often are found with curry and coconut — but I still find this extraordinarily good and exactly what I want to be eating right now. It's a reminder, too, how layers of flavors — slowly sweated aromatics, roasted vegetables, toasted spices, big-flavor ingredients such as coconut milk — can build into something more than the sum of its parts. There is no stock in this soup, and there is no need for it.
This soup comes together in about 45 minutes and you can prep as you go: while the carrots roast, chop the onions onions, celery, and ginger; and while those vegetables sweat, toast the spices. The carrots should finish roasting at about the same time the aromatics finish sweating. Once all the vegetables are cooked, you are minutes from completion.
PS: ALL the soup recipes right here → Soup
Here's the play-by-play: gather your ingredients: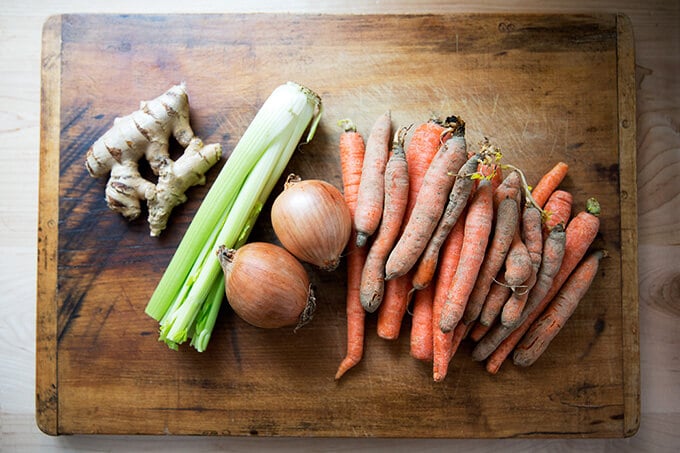 Give your carrots a scrub; peel them if they are especially dirty.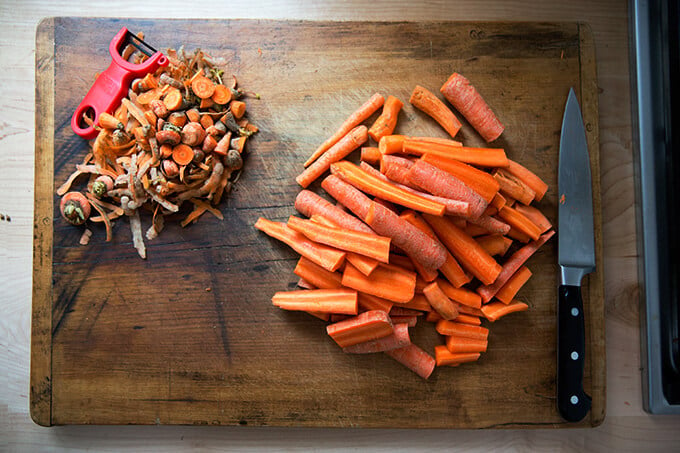 Roughly chop the carrots; toss with olive oil, salt, and pepper; roast at 425ºF for about 25 minutes.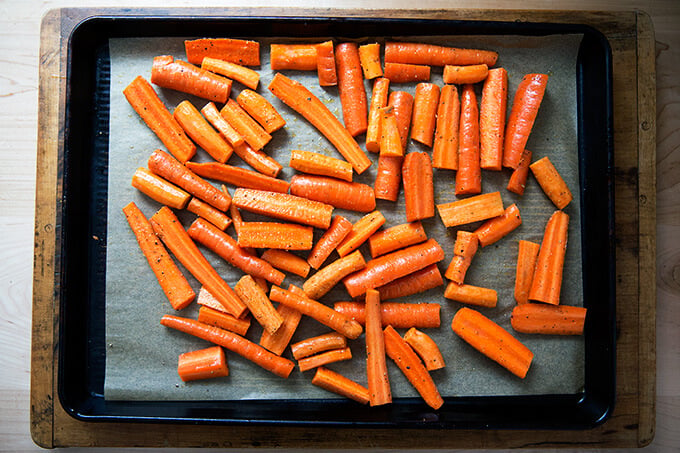 Meanwhile, finely chop the onions, celery, and ginger.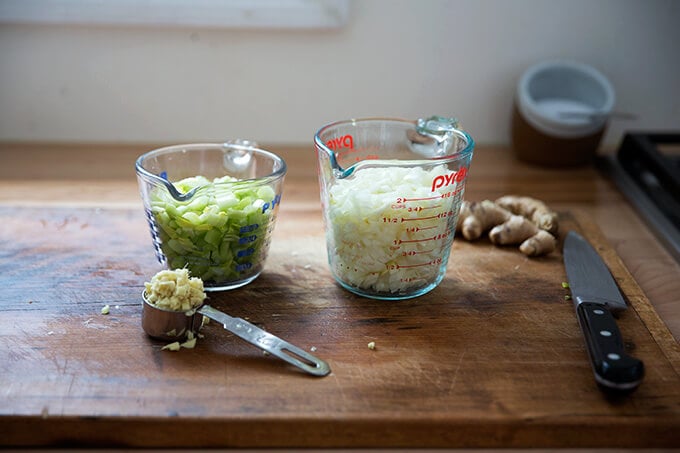 Sweat them slowly in a few tablespoons of olive oil.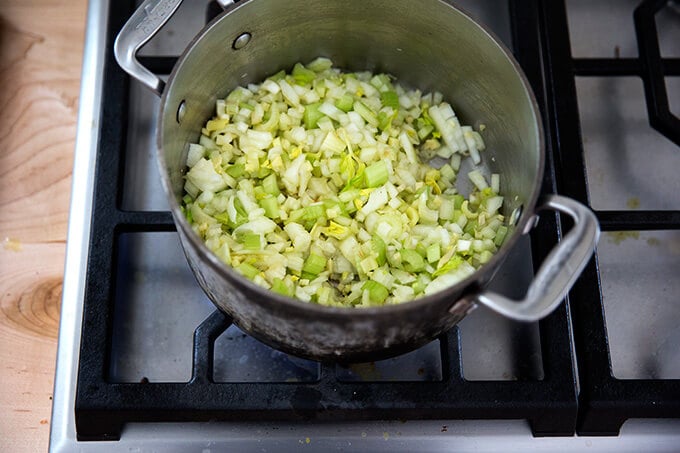 Meanwhile, gather your spices and …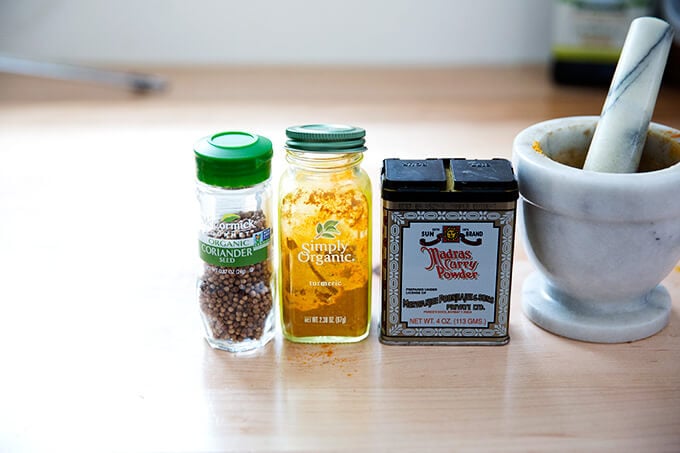 … toast some coriander seeds, if you wish.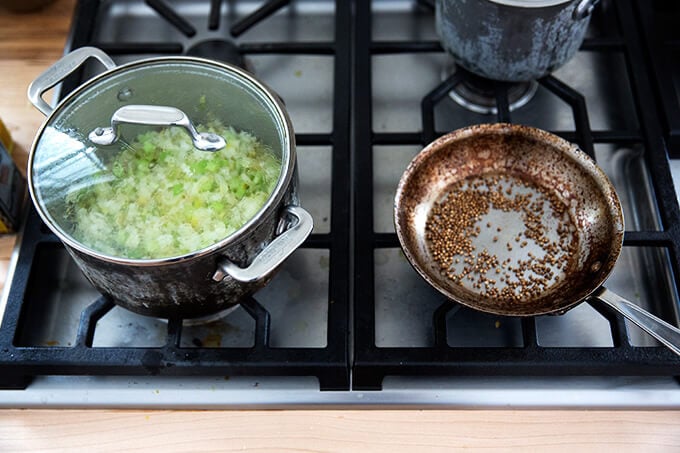 Add the spices to the sweated vegetables.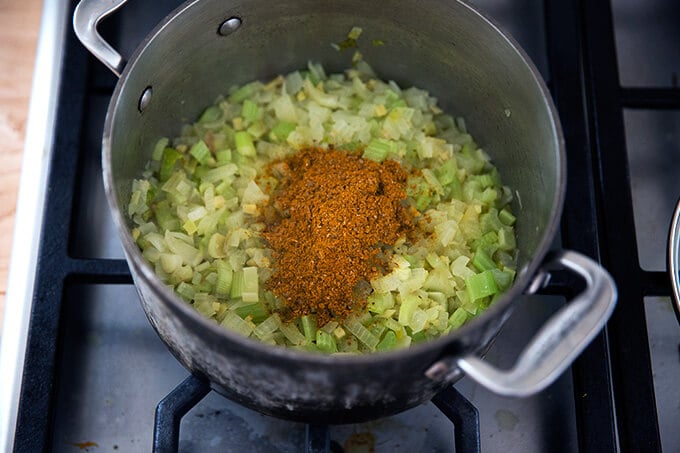 When the carrots begin caramelizing at the edges…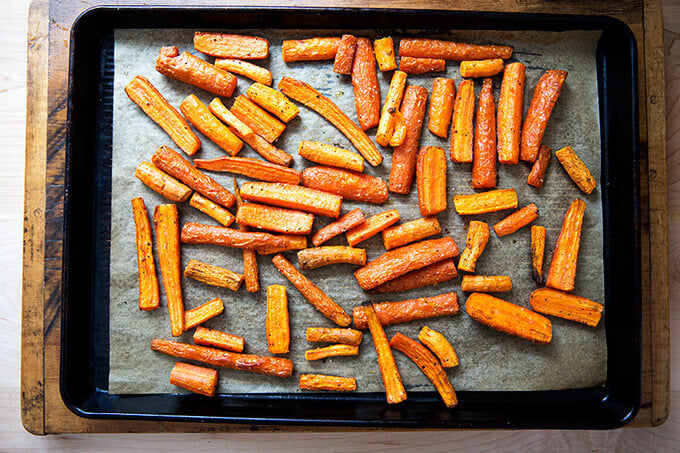 …add them to the pot.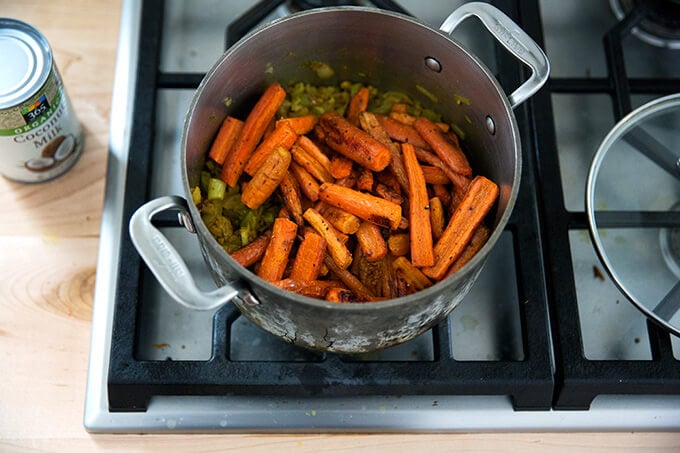 Add a can of coconut milk, then fill it up with water and add it to the pot, too. (Do this twice).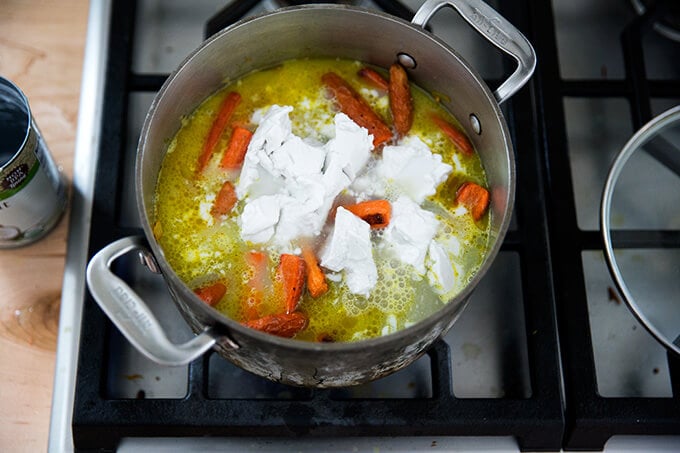 Bring to a simmer…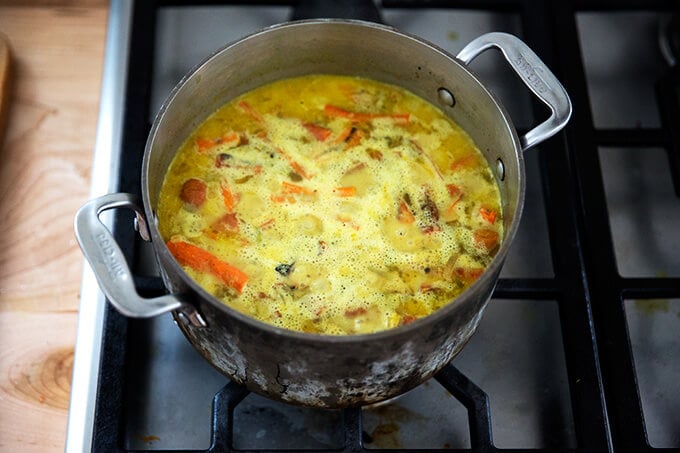 …then purée.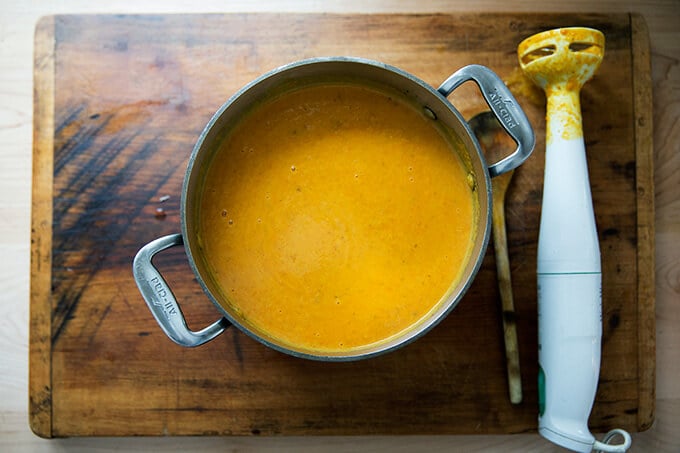 Serve with lots of bread, olive-oil toasted if you wish.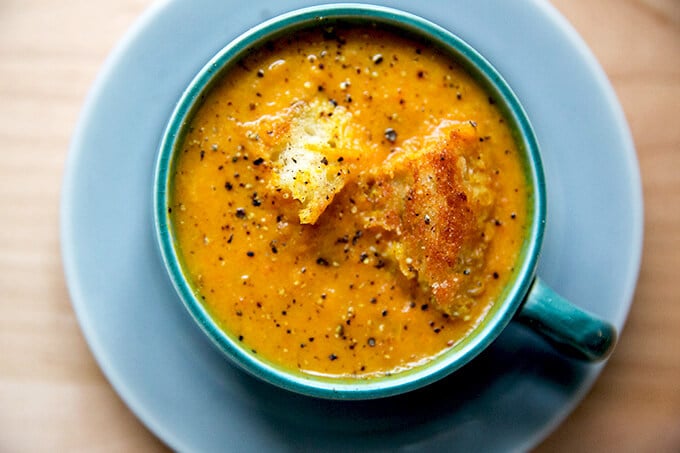 Print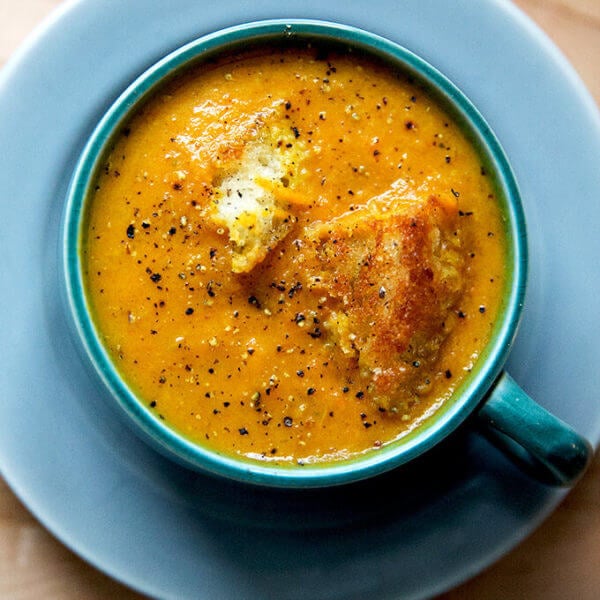 Carrot-Ginger Soup With Curry & Coconut Milk
---
Description
Inspired by a soup served at The Placid Baker in Troy.
*Only peel the carrots if they are especially dirty. My CSA carrots, even with a good scrubbing, must be peeled before using. Post peeling and trimming, my carrots weigh around 1.5 lbs.
If you don' have curry powder on hand or don't feel like buying it, you could probably get away with this mix: 1 tablespoon turmeric, 1 tablespoon ground or whole coriander, 2 teaspoons ground or whole cumin, 1/2 teaspoon paprika. If using whole spices, toast first in a dry skillet, then crush with a mortar and pestle.
---
1.5

–

1.75

pounds carrots, washed well and unpeeled*, see notes above

3 tablespoon

olive oil, divided

2 teaspoons

kosher salt, plus more to taste, divided
freshly cracked black pepper to taste

2

small onions, finely diced to yield 2 cups

4

–

5

stalks celery, finely diced to yield a heaping cup
a small knob ginger, peeled, and minced to yield 2 tablespoons

1 tablespoon

coriander seed or ground coriander

1 tablespoon

curry powder, such as Madras

1/2 teaspoon

turmeric

1

can unsweetened coconut milk
---
Instructions
Heat the oven to 425ºF. Trim the root end off each carrot. Roughly chop the carrots into 2-inch pieces. Cut lengthwise through the carrots at the thicker parts. Transfer carrots to a rimmed sheet pan. (I line mine with parchment paper, because they are in bad shape.) Toss with 1 tablespoon olive oil, 1 teaspoon kosher salt, and freshly cracked black pepper to taste. Transfer pan to oven and roast for 25 minutes or until edges begin to caramelize in places.
Meanwhile, in a large pot, heat 2 tablespoons of olive oil over high heat with the onions, celery, and ginger. As soon as you hear a sizzle, turn the heat down to low, season with a pinch of salt, stir, cover, and cook for 15 minutes. Remove lid every so often, letting the condensation drip back into the pot, to check on the vegetables; stir to be sure the vegetables aren't sticking or browning — the goal here is to get the vegetables soft, not to brown them (though a little browning is fine).
If you are using whole coriander seeds, toast in a small skillet until fragrant and beginning to brown. Use a mortar and pestle to grind them into a fine powder. Once the onions, celery, and ginger have cooked for 15 minutes, add the coriander, curry powder, and turmeric. Stir to combine.
Add the roasted carrots and the can of coconut milk. Fill up the empty can with water and add to the pot. Do this once more. Add the remaining teaspoon kosher salt. Bring to a simmer. Use an immersion blender to purée until smooth. Alternatively transfer to a food processor and purée in batches.
Taste. Adjust taste as desired. Simmer to thicken if necessary; add more water if too thick.
Prep Time:

20 minutes

Cook Time:

25 minutes

Category:

Soup

Method:

baked, sauté

Cuisine:

Indian
Keywords: soup, curry, coconut, ginger, carrot, vegan
This post may contain affiliate links. Please read my disclosure policy.