Dessert Repertoire: Essential Recipes
This post may contain affiliate links. Please read my disclosure policy.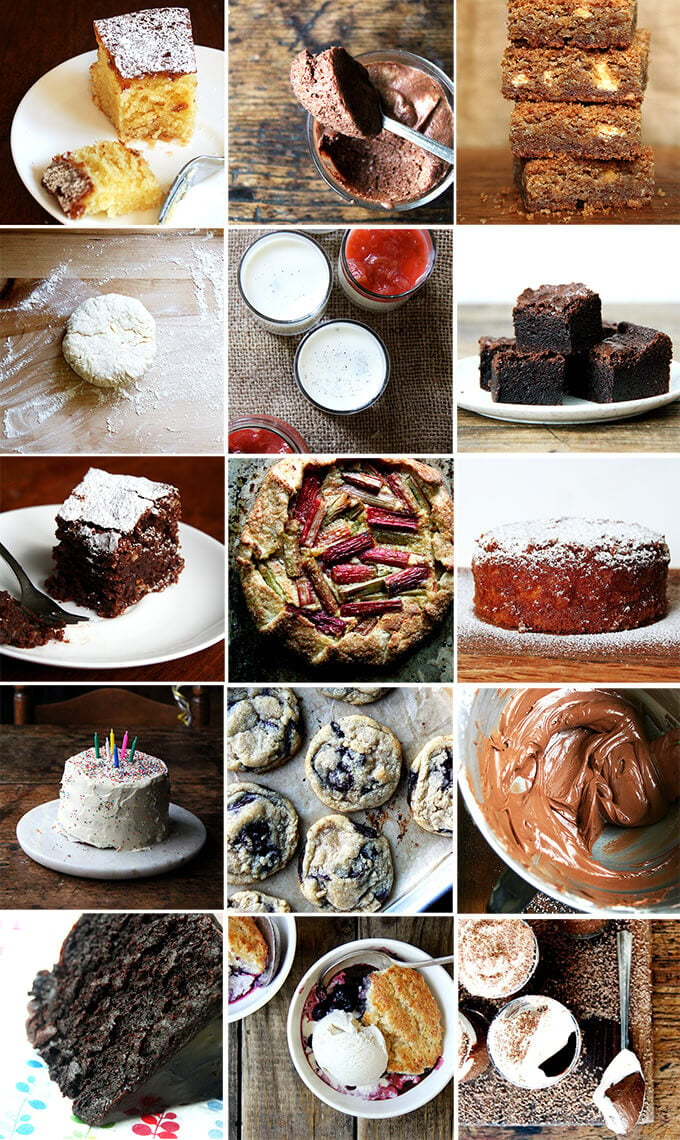 A few weeks ago we had over dear friends and their son for dinner. For dessert, I threw a few dark chocolate bars* on the table and let the adults help themselves. For the children, I baked off chocolate chip cookie dough balls I had portioned earlier and stashed in the fridge.
But when the children finished their cookies and ran off to play, leaving a few unclaimed cookies on the sheet, all four sets of adult eyeballs zeroed in. We shared the remaining few, and then I immediately baked off half a dozen more (and later, half a dozen more).
My point is not that, when entertaining, there should always be dessert on the table; my point is that dessert can be simple. No one would have been disappointed with the chocolate alone. But who can pass up a warm chocolate chip cookie? Sometimes I wonder why I bake anything else.
Confession: I love baking but I bake less often these days. As life gets busier and busier, sweet endeavors are the first slashed from my never-ending must-try list. With less time to experiment, I find myself turning to my reliable favorites. I've included them below.
Friends, what are the essential recipes in YOUR dessert repertoire? I'd love to make something new for Valentine's Day. Tell me your dessert staples in the comments.
*Dark chocolate bars: I have two favorites: this one and this one.
PS: Do you love to bake?
Dessert Repertoire: 16 Essential Recipes
1. Foolproof Pie Dough: There is nothing tricky about making pie dough. This one is made in the food processor and relies on a cool trick to prevent over processing. This is the only pie/tart/pastry dough I make anymore.
2. A good brownie: My Favorite: Fine Cooking's Rich, Fudgy Brownies
3. A good blondie: Brown Butter Blondies with Sea Salt
4. A good chocolate chip cookie: My Favorite: Soft and Chewy Chocolate Chip Cookies
5. Something fruity and summery, like this blueberry Cobbler from Cook's Illustrated
8. A Good Flourless Chocolate Cake
9. A very good almond torte: Chez Panisse Almond Torte
10. A good olive oil cake, such as this Orange and Olive Oil Cake + many other cakes made with oil: The Case for Baking with Olive Oil (as Opposed to Butter)
11. A good apple cake: This is my favorite: Teddie's Apple Cake
12. A Fruit Galette: Foolproof Pastry Dough + Frangipane + Fruit (all made entirely in the food processor). I've made countless variations of this theme from apple to rhubarb to peach to pluot.
13. Pots de Crème Two Ways: Chocolate (stovetop method) and Vanilla Bean (water bath method)
14. A good chocolate buttercream.
15. One-Bowl Buttermilk Birthday Cake with Cream Cheese Frosting.
16. Vegan Chocolate Mousse — astonishingly light and satisfying, this one is made with whipped aquafaba (chickpea cooking liquid) and almond milk. In addition to being vegan, this one is dairy-free, too.
This post may contain affiliate links. Please read my disclosure policy.