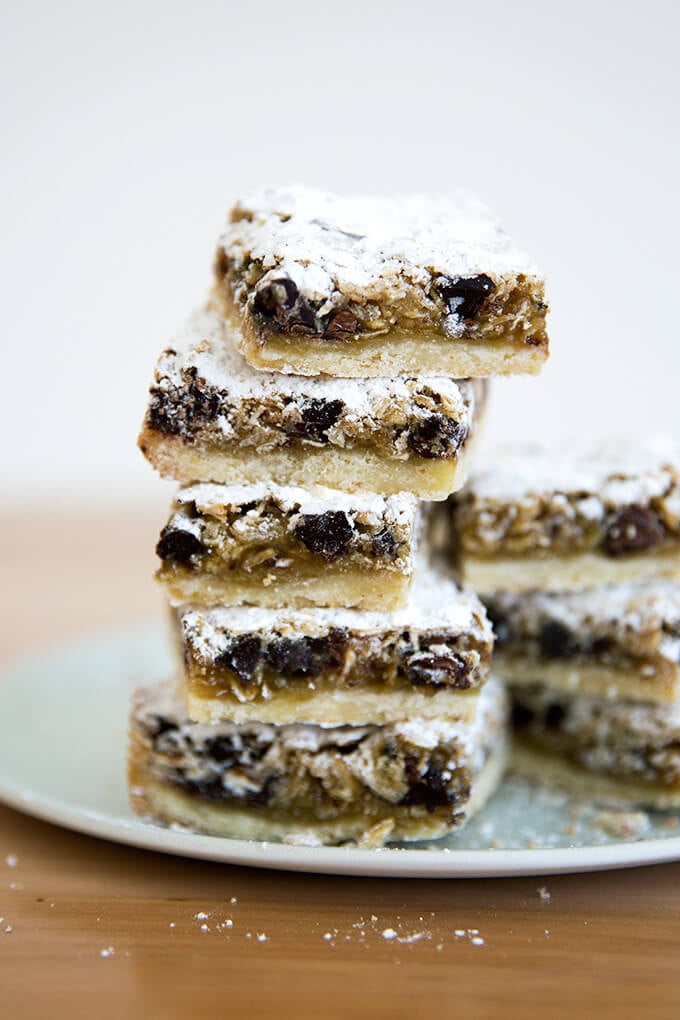 Do you procrastibake?
I meant to do many things this week, but instead I baked. I baked slow-rise refrigerator focaccia. I baked slow-rise, sourdough focaccia. I baked fast-rise, yeasted, freshly milled flour focaccia. I baked slow-rise, yeasted, freshly milled flour focaccia.
And when I tired of the focaccia genre, I made these bake-sale winningest gooey oat bars from Deb Perelman's Smitten Kitchen Every Day. I baked them late at night, stashed them in the fridge, and awoke the next morning ready to face the potentially troubling task of slicing, which turned out to be a cinch thanks to the rest in fridge. Ben and I each had a bar with our coffee — an especially good match — then I sent him to work with (nearly) all that remained. By 10am, I was receiving text-message requests from his coworkers for the recipe.
These bars are a snap to throw together: a buttery shortbread crust comes together in seconds in the food processor, which then bakes alone while you stir together the gooey topping, a mix of melted butter, sugar, eggs, oats, chocolate, and coconut. Once crust and topping unite, the pan returns to the oven for a quick final bake.
Deb says these bars taste like "brown butter and caramel… like an old-school magic bar, but possibly even more delicious." This is all true, except for the "possibly" bit — these are so much better than magic bars.
If you find yourself overwhelmed by your to-do list this weekend, I suggest you bake instead. You can bake bread or cookies or muffins or these gooey oat bars, an effort guaranteed to earn you street cred with any neighbors, colleagues, or friends you share them with or, at the very least, bring you complete and utter bliss when you hanker for that afternoon pick-me-up.
Happy procrastibaking, Friends.
Here's the play-by-play: blend flour, sugar, and salt in a food processor.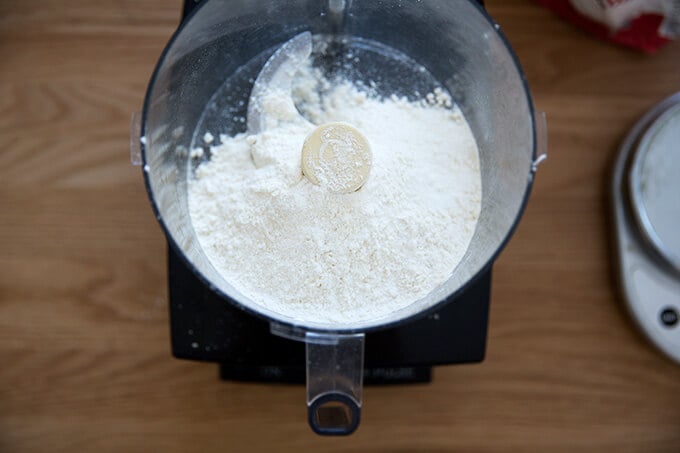 Add butter.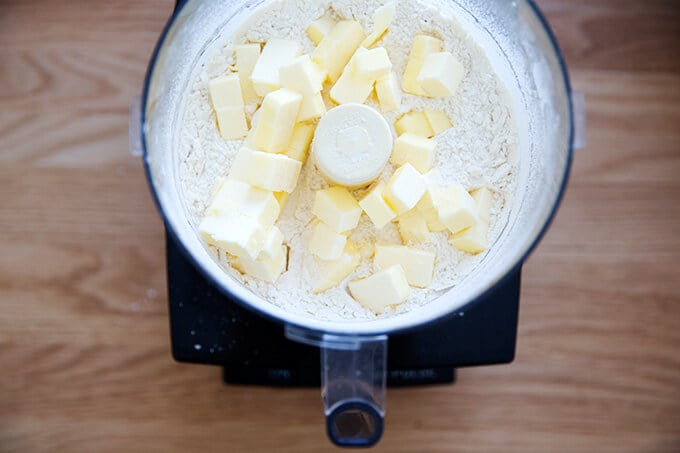 Purée until big clumps form.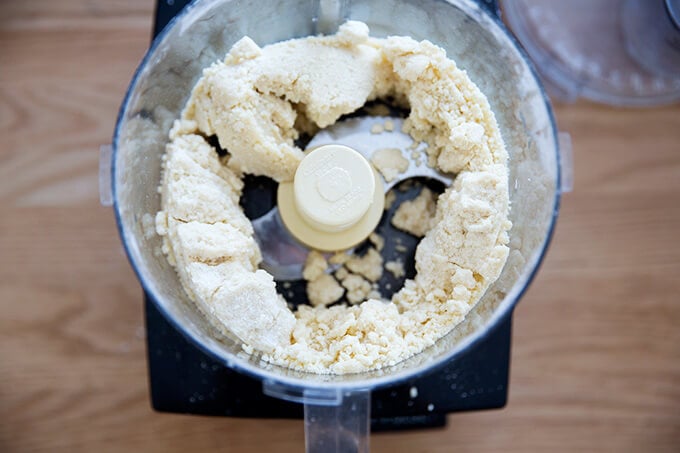 Press it into a 9×13-inch pan. (Love this 9×13-inch USA Pan.)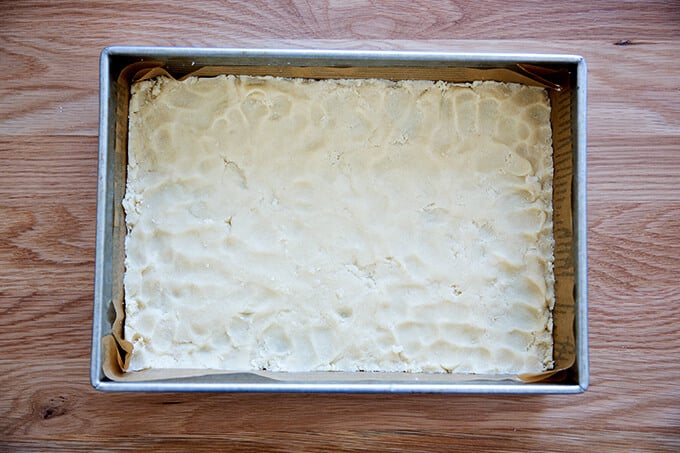 Bake until lightly golden.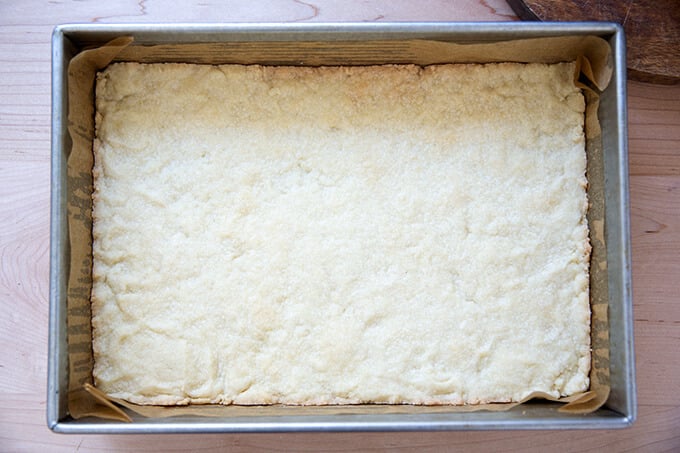 Meanwhile, melt butter till it begins to brown.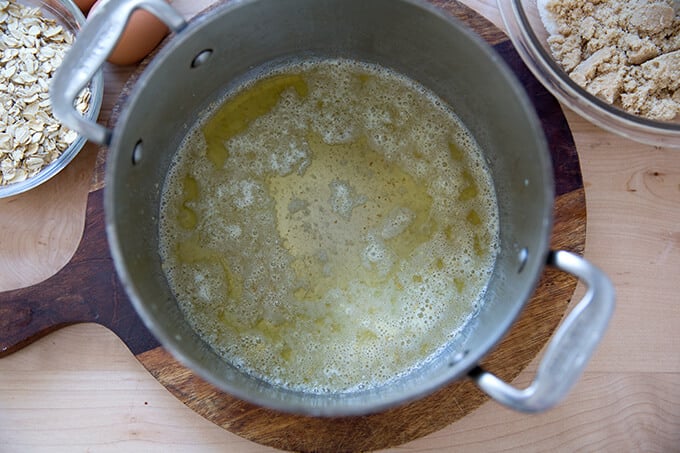 Gather your remaining ingredients: eggs, sugars, oats, chocolate, and coconut.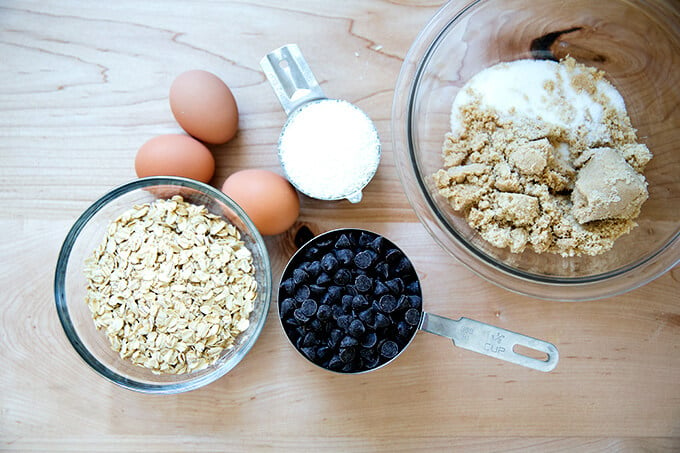 Stir the sugars into the butter.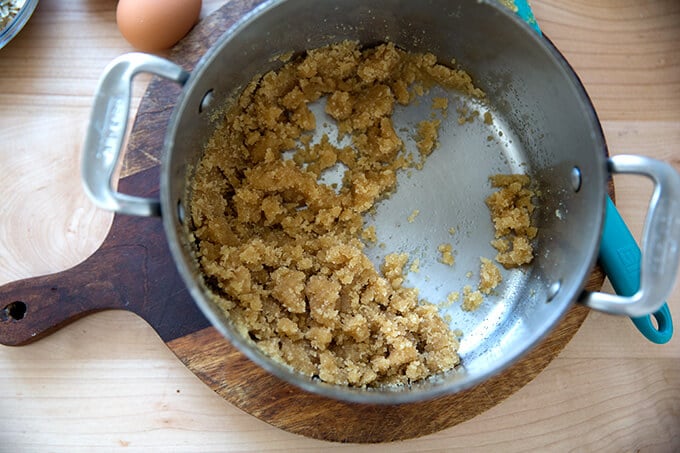 Add the eggs one at a time.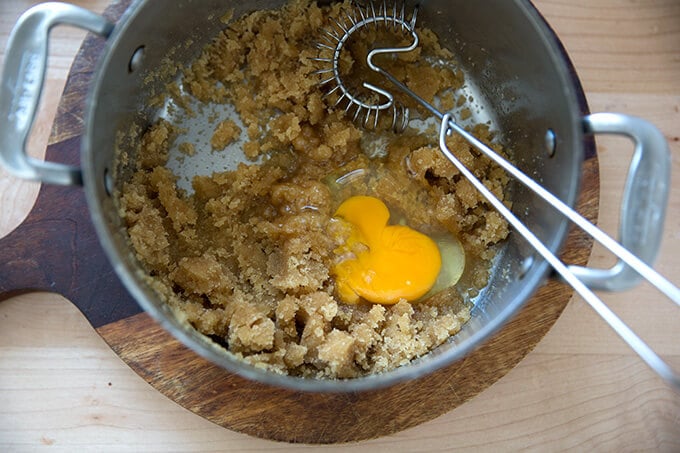 Whisk till blended. (I get asked about this whisk a lot.This one (the large, not the small) is similar.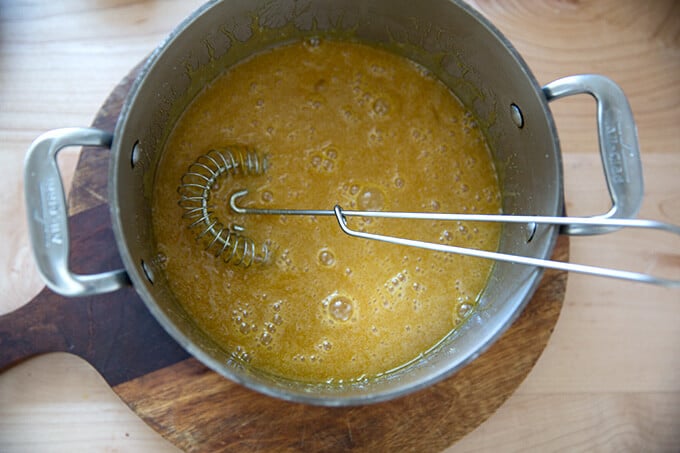 Add the coconut, oats, and vanilla.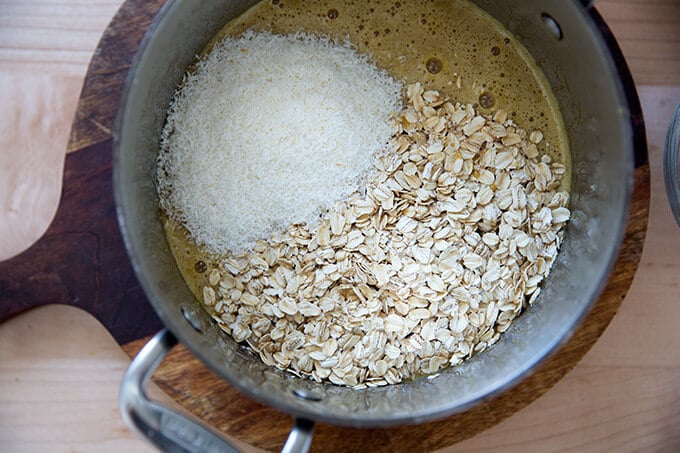 Stir in the chocolate chips.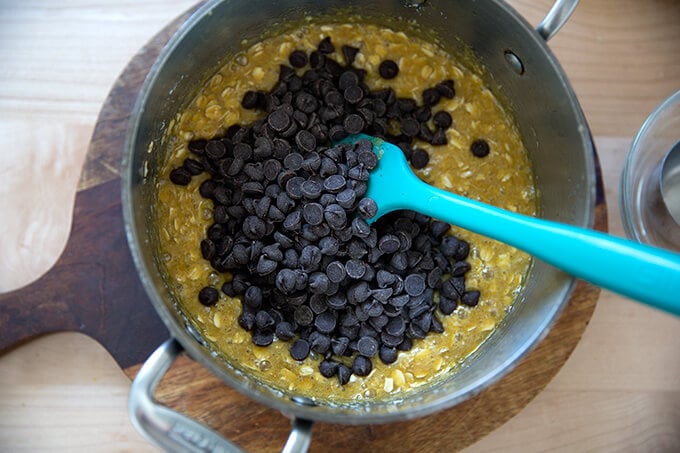 I like these Guittard dark (63% cacao) chocolate chips.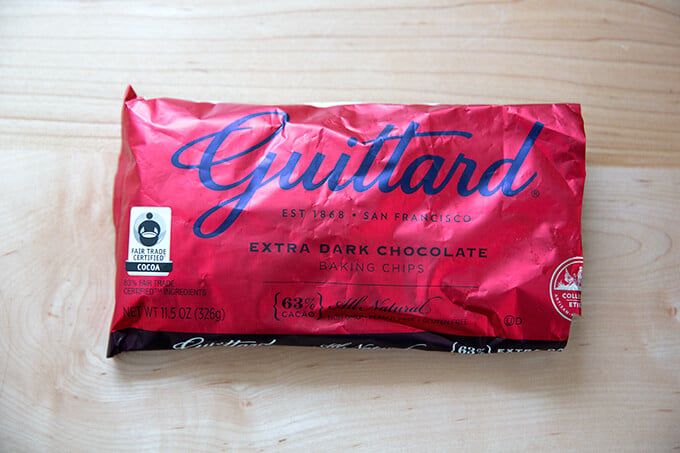 Stir to combine.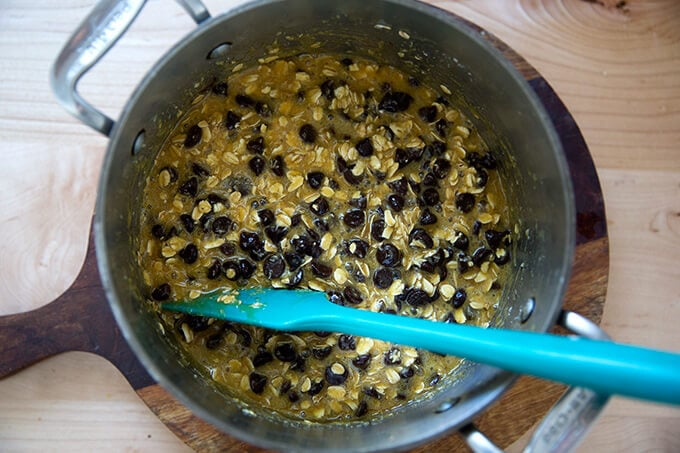 Pour over the baked crust. Return to the oven.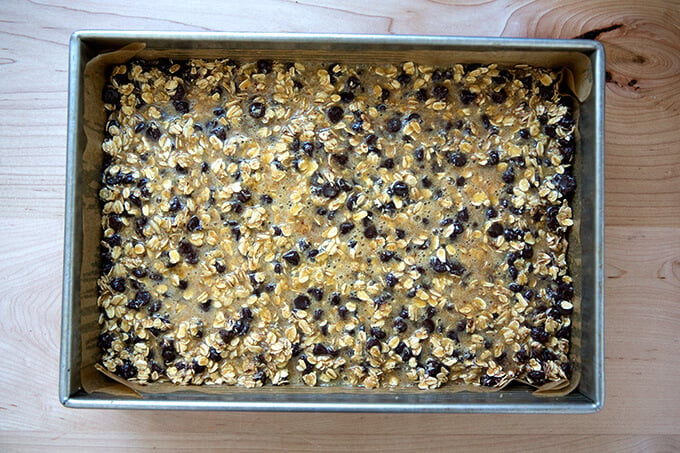 Bake until lightly golden.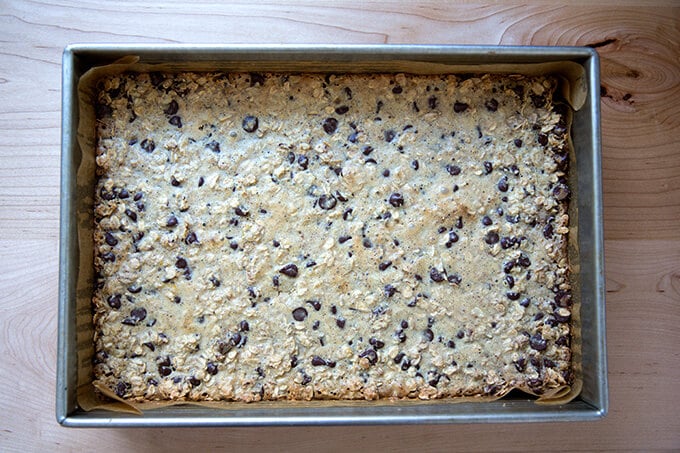 Cut the bars — this is especially easy if you let the bars set up in the fridge.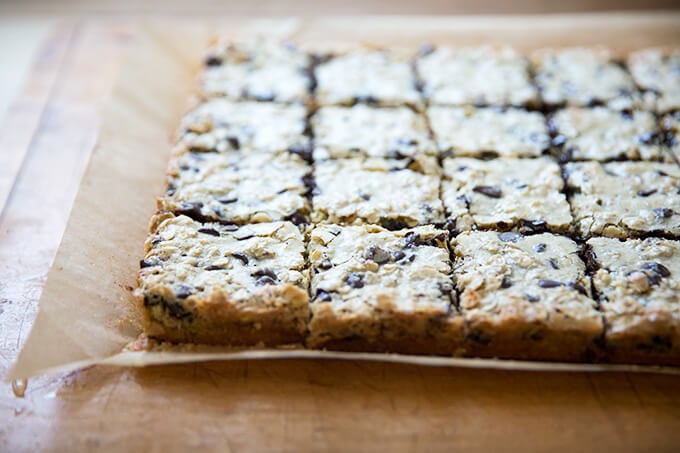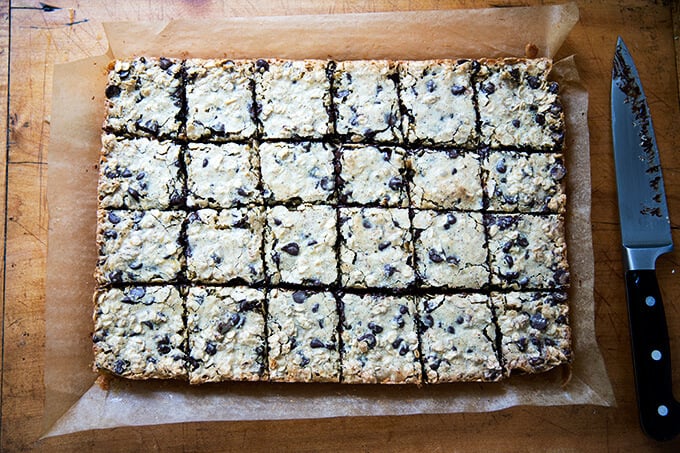 Dust with powdered sugar. Store in the fridge.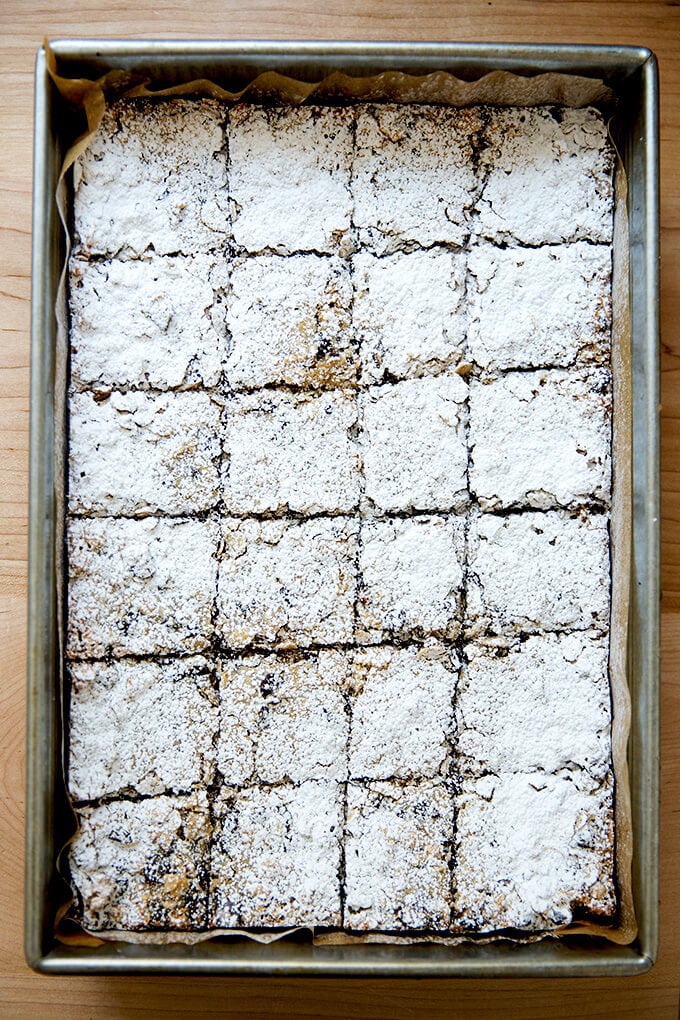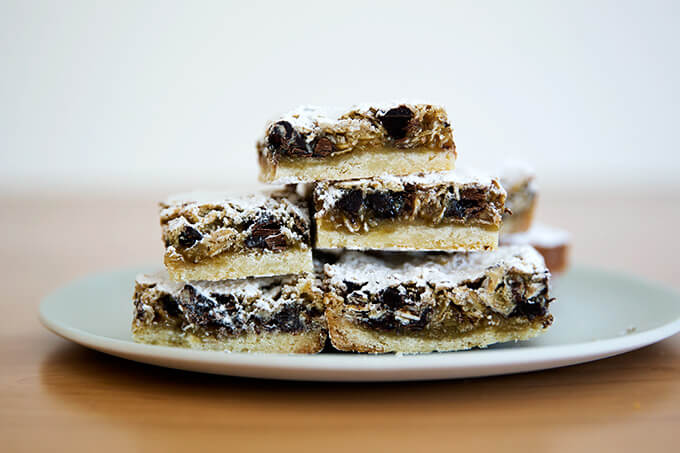 The best afternoon treat: gooey oat bar + espresso.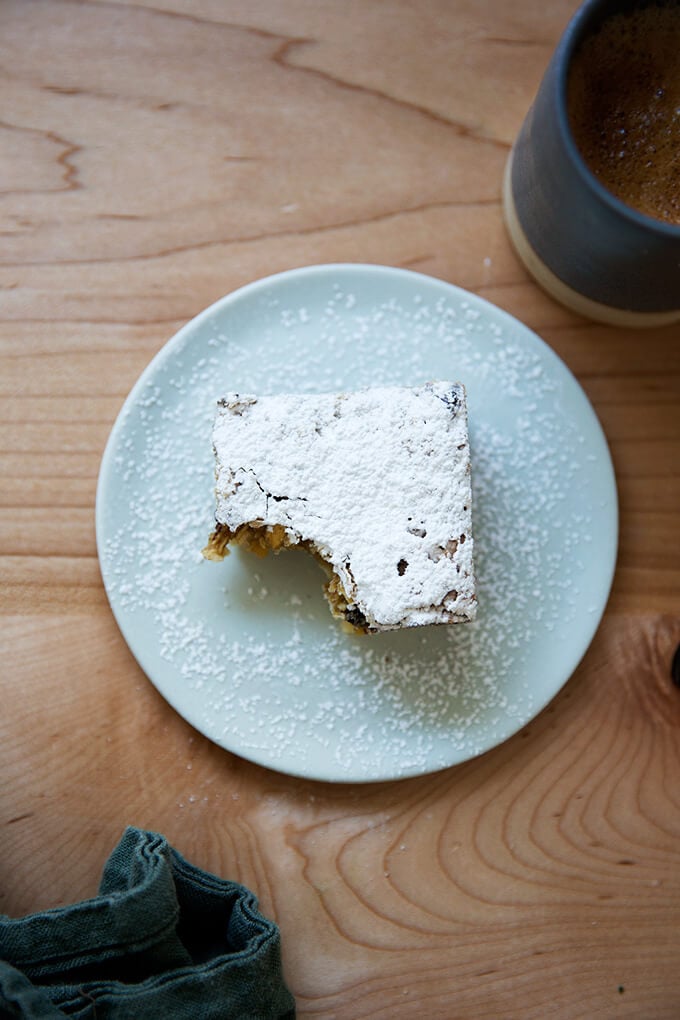 From Smitten Kitchen Every Day: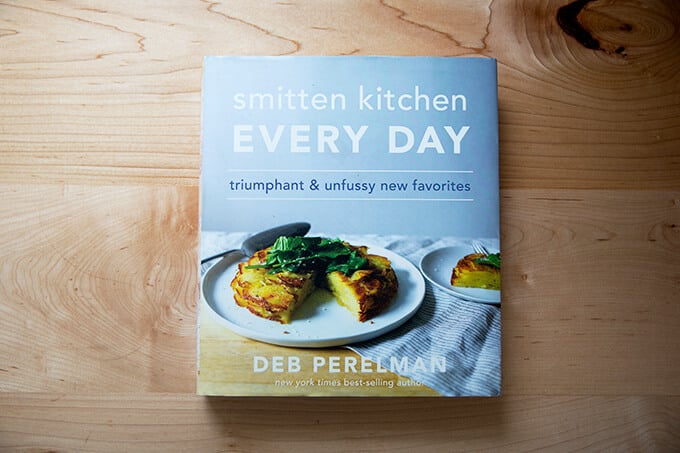 Print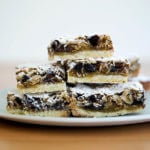 Bake Sale Winning-est Gooey Oat Bars
---
Author:

Alexandra Stafford

Prep Time:

10 minutes

Cook Time:

40 minutes

Total Time:

50 minutes

Yield:

24 squares
Description
From Smitten Kitchen Every Day, these bars are heaven to me: good with morning coffee, great with afternoon espresso, friendly for adults and children alike.
---
Ingredients
For the crust:
1 3/4 cups

(230g) 

all-purpose

 

flour

1/2 teaspoon

 

fine

 

sea salt 

or table salt

3/4 cup

plus 2 tablespoons (200g) 

cold unsalted

 

butter

1/3 cup

(65g) 

granulated

 

sugar
For the topping/filling:
1/2 cup

(115g)  

unsalted

 

butter

1/2 cup

(100g) 

granulated

 

sugar

3/4 cup

(145g) 

dark

 

brown sugar

1/4 teaspoon

 

fine

 

sea salt

 or table salt

3

 

large

 

eggs

1 1/2 teaspoons

 vanilla

1 1/3 cups

(105g) 

rolled

 

oats

1/2 cup

 

finely shredded unsweetened

 

coconut

1 1/2 cups

 

chocolate chips (I like a dark chocolate chip, 63% cacao or so)

, chopped white or dark chocolate, candy bars, dried fruit, or a mix thereof (with the dried fruit, a mix with chocolate is best or the sweetness of the fruit will be overwhelming)

powdered sugar, to finish
---
Instructions
Prepare your pan: Heat the oven to 350ºF. Line the bottom of a 9-by-13-inch baking pan with parchment paper (if using a cake pan, hang the parchment over the sides so the bars are easier to remove). Lightly coat the sides with nonstick spray.
Make the crust: Combine the flour, salt and sugar in the bowl of a food processor. Cut the butter into chunks, and add it to the bowl, then run the machine until the mixture forms large clumps—that's right, just keep running it; it might take another 30 seconds for it to come together, but it will. Transfer the dough clumps to the prepared baking pan and press them evenly across the bottom and 1/4 inch up the sides. Bake for 15 to 20 minutes, until very pale golden.
Meanwhile, prepare the filling: Melt your butter in a medium saucepan over medium heat. Continue to cook the butter, stirring frequently, until golden brown bits form at the bottom, about 5 minutes. Remove from the heat and stir in the sugars and salt. Let cool for 5 to 10 minutes, then whisk in the eggs, one at a time, and the vanilla, and stir in the oats, coconut, and chocolate, fruit, and/or candy. Pour over the parbaked crust, spreading evenly.
Bake the bars: Bake for 15 to 20 minutes, until the top is firm and golden and the bars are set or, at most, barely jiggle if shimmied. The bars are much easier to cut cleanly from the fridge, but they are gooiest when warm. Dust with powdered sugar before serving or selling for the prettiest finish.
Do ahead: Store in the fridge for many days.
---
Category:

Desserts

Method:

Oven

Cuisine:

American
Keywords: oats, bars, brown butter, chocolate, coconut, bake-sale, smitten kitchen