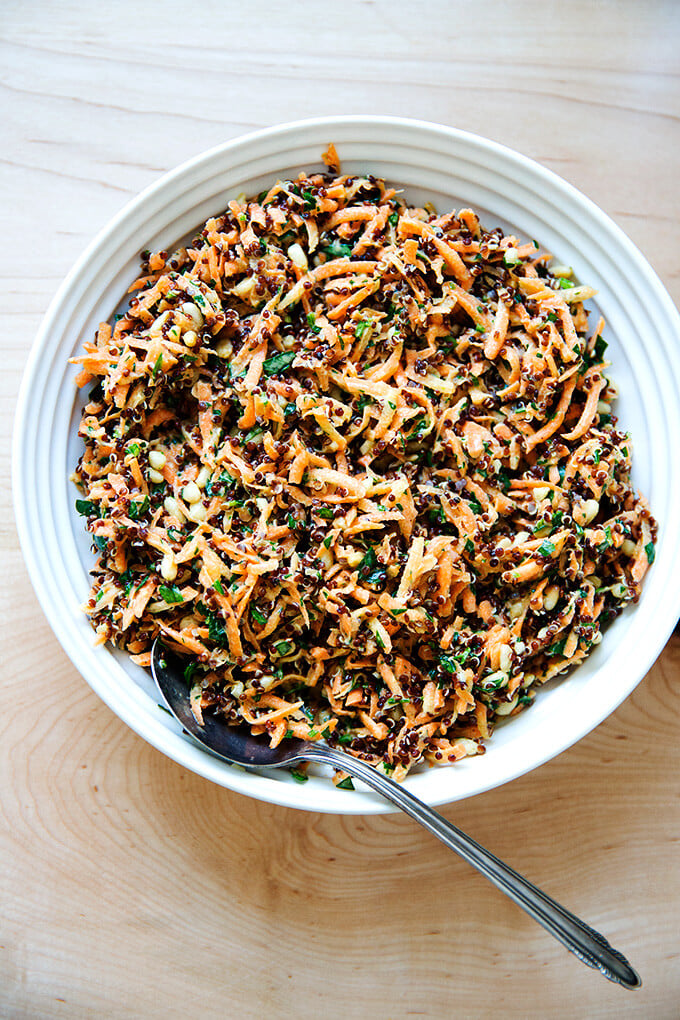 A few weeks ago, after I bemoaned feeling uninspired by the current between-season vegetables, one of you told me I would love the Adventure Bowl at Life Alive, a small-chain of organic cafés in the Boston area. I looked at the menu online and immediately thought of my friend Gena and her book, Power Plates, which is filled with similar* fare: plates and bowls of vegetables, grains, beans, pulses, nuts, spices and herbs, often dressed in some sort of bright, tangy sauce.
Feeling inspired, I made a double batch of Gena's Everyday Lemon Tahini Dressing, a mix of tahini, water, fresh lemon juice, garlic, salt, and a little maple syrup. I tossed the dressing with the last of my winter CSA carrots (shredded in the food processor), along with parsley, toasted pine nuts, and some leftover cooked quinoa I found in the fridge. The whole combination tasted so fresh and nourishing, reminding me once again that carrots can be exciting.
This combination of raw, shredded vegetables, herbs, toasted nuts, and cooked grains can be used as a template. Substitute cabbage, Brussels sprouts, cauliflower, broccoli, (maybe beets? sweet potatoes?) for the carrots; use any nut you wish; change up the herbs; add dried fruit; swap farro, bulgur, wheat berries, or any grain you like for the quinoa.
The only non-negotiable is the dressing, which I hope you make immediately and use lavishly on anything you find in the crisper needing a bit more life.
*Every recipe in Power Plates is macro-nutrient balanced, meaning each includes quality protein, fat and carbs, as well as a ton of fresh produce, with the goal of increasing satiety and energy and, in turn, preventing cravings and midday hunger. Read more about her book here: Kimchi Fried Rice.
Here's the play-by-play: If your carrots are especially dirty, peel them; otherwise, there is no need to peel.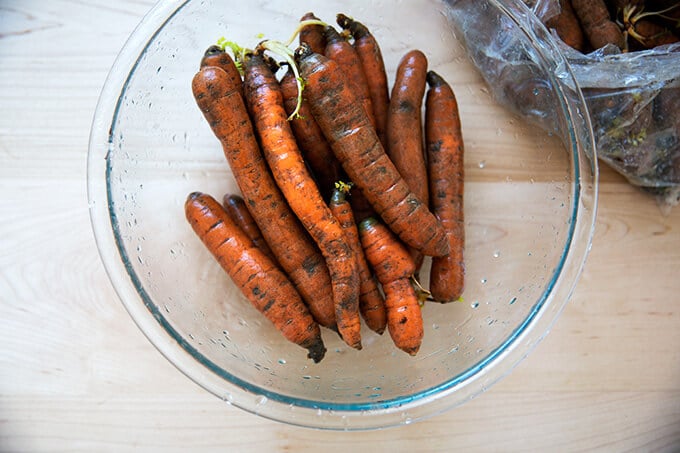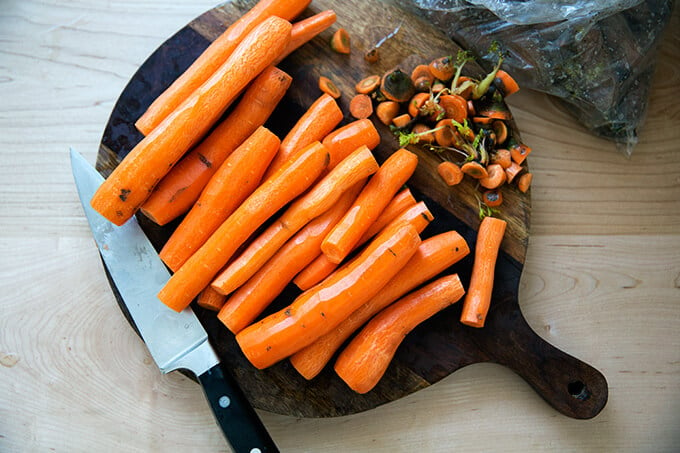 Grate the carrots in your food processor fitted with the shredder attachment.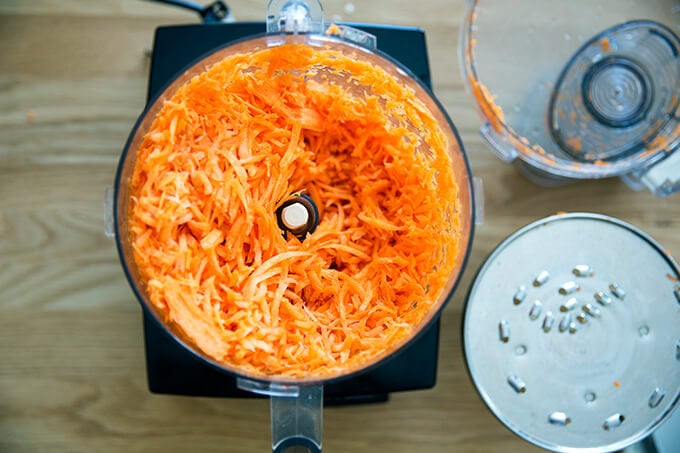 Cook some quinoa. I like red for its color.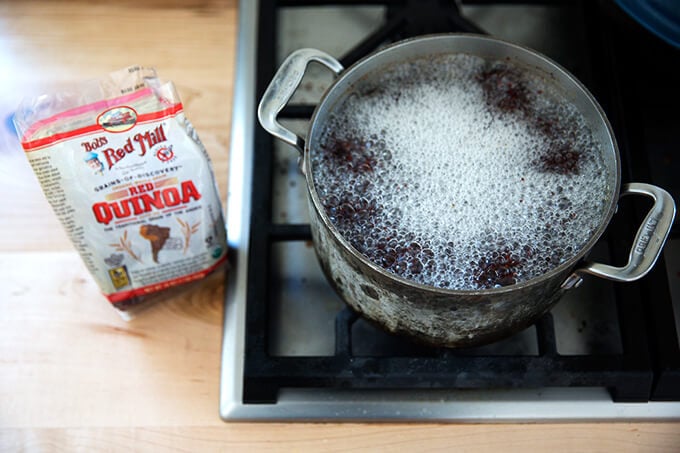 Drain through a fine-meshed sieve.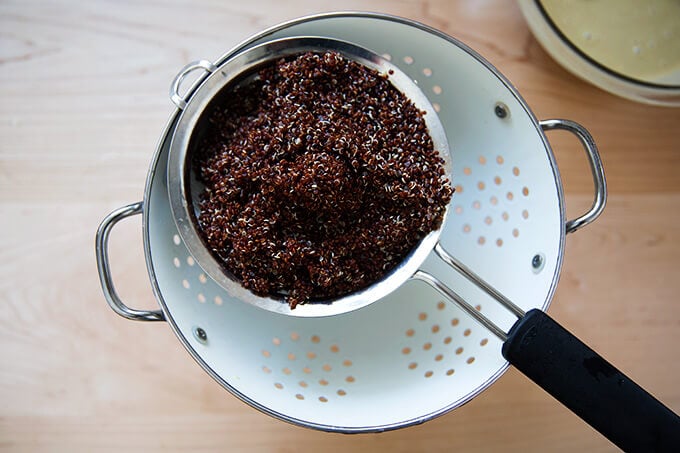 Chop some parsley.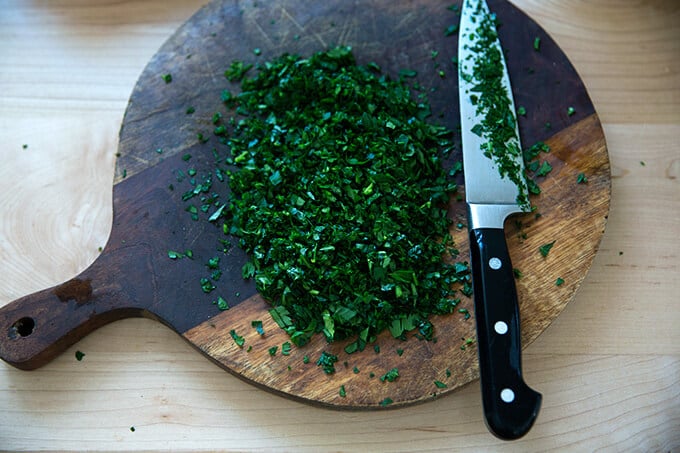 Whisk together the dressing, a mix of tahini, fresh lemon, water, garlic, salt, and maple syrup.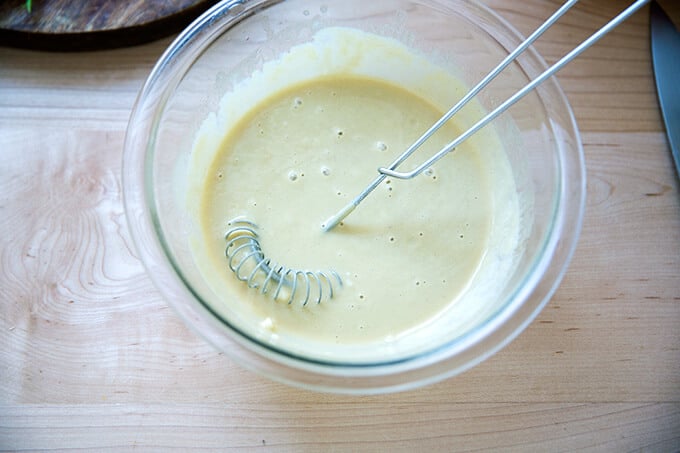 I love this Soom tahini.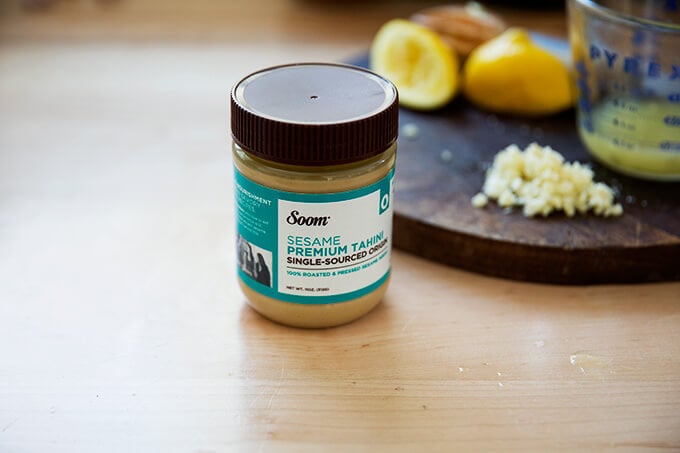 Combine all of the elements.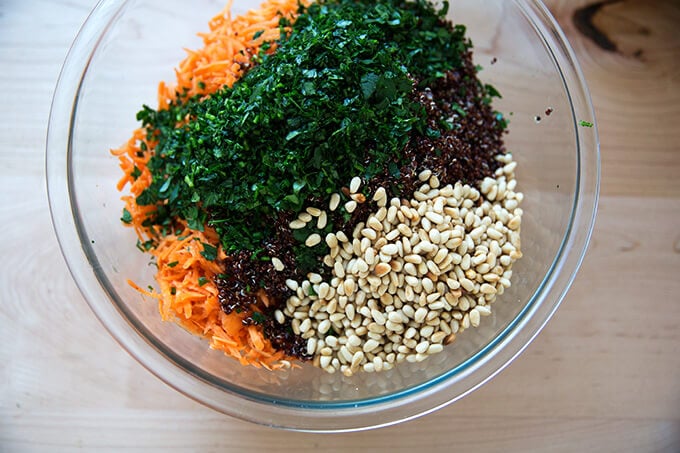 Toss with the dressing.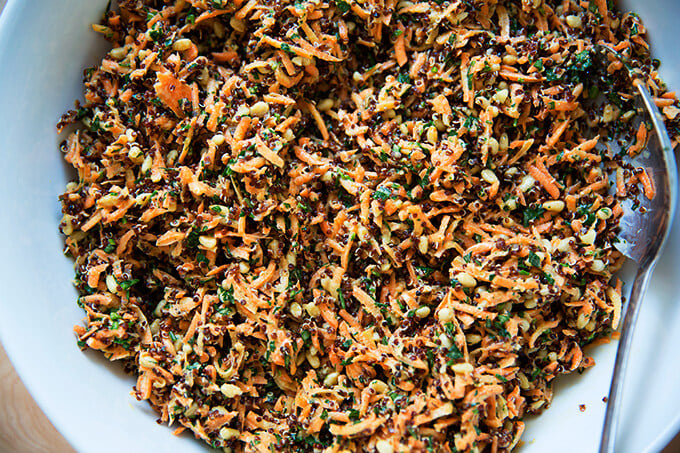 Serve immediately.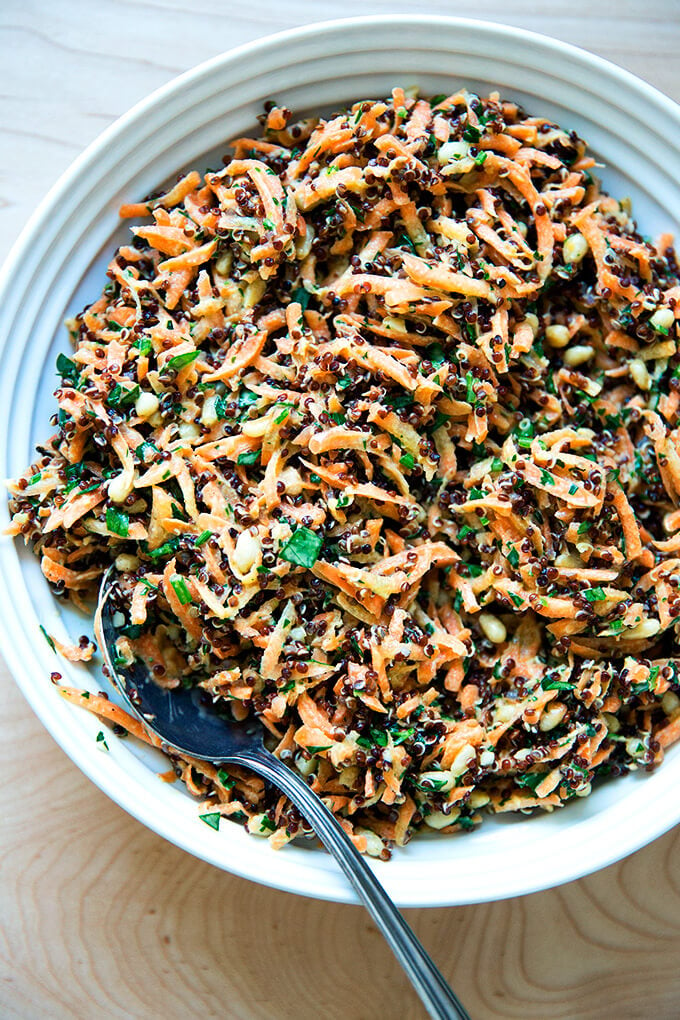 Or pack away — this salad keeps really well in the fridge for days.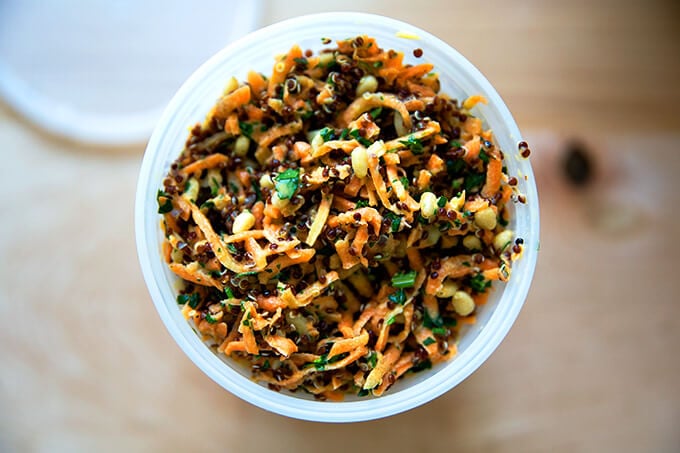 Everyday Lemon Tahini Dressing from Gena Hamshaw's Power Plates: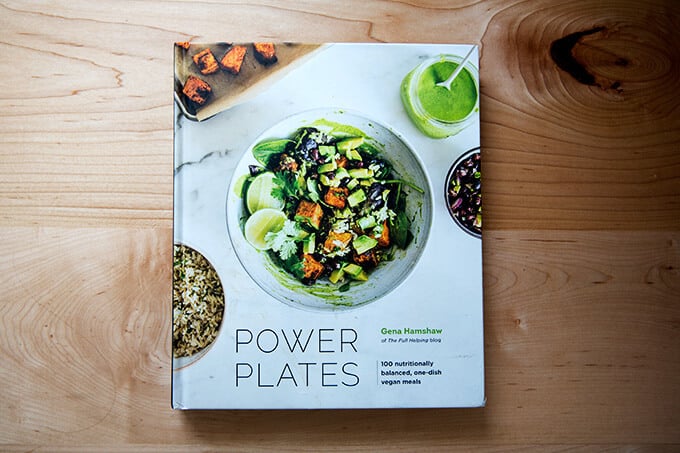 Print
Addictive Carrot-Quinoa Salad with Lemon-Tahini Dressing
---
Author:

alexandra

Prep Time:

20 minutes

Cook Time:

15 minutes

Total Time:

35 minutes

Yield:

serves 6-8
Description
This is a simple salad that can be adapted to your liking. The lemon-tahini dressing is from Gena Hamshaw's Power Plates, and there's nothing it wouldn't taste good on.
This recipe halves well (both the dressing and the salad as a whole).
I also like this salad without the quinoa all together, which is how I made it initially. The quinoa bulks it up a bit — makes it a bit more filling — but if you just want a vegetable salad on the side, it's nice without any grain.
The pine nuts are optional, but I like the crunch. Any other nut would be good here as would some currants or other dried fruit. Cilantro in place of or in combination with the parsley would be good, too.
Tahini: I like the Soom brand.
---
Ingredients
1/2 cup

quinoa, I like red for color, optional, see notes above
kosher salt
For the dressing:
1/2 cup

water

1/2 cup

well-stirred tahini

1

–

2

cloves garlic finely minced

1/4 cup

fresh lemon juice

1 teaspoon

maple syrup, plus more to taste

1/2 teaspoon

kosher salt, plus more to taste
To finish the salad:
1.5

lbs. carrots, scrubbed well, ends trimmed, peeled if very dirty (about a pound post trimming)

1 teaspoon

kosher salt plus more to taste

2/3 cup

pine nuts or other nut, optional

1 cup

finely minced parsley, plus more to taste
---
Instructions
Bring a medium pot of water to a boil. Add 2 teaspoons kosher salt. Add the quinoa and cook for 10-12 minutes or until you see the white tail begin to pop from the kernels. Drain through a fine-mesh sieve. Set aside.
Meanwhile, whisk together the dressing ingredients. Taste. I like to add another teaspoon of maple syrup and more salt to taste. Set aside.
If your carrots are especially dirty, peel them. Otherwise, simply wash them. Trim the ends. Send them down the chute of your food processor fitted with the shredder attachment. Transfer to a large bowl. Season with a teaspoon of kosher salt and toss. Set aside.
In a medium skillet, toast the pine nuts over medium heat watching closely the entire time. Stir frequently. When the nuts are toasty, remove the skillet from the heat.
Add the quinoa, pine nuts, and parsley to the bowl with the carrots. Add the dressing. Toss to coat. It may be easiest to toss with your hands. Taste. Adjust as needed with more salt or lemon. Serve immediately or pack into containers and stash in the fridge.
---
Category:

Grain Salad

Method:

Stovetop/Food Processor

Cuisine:

Fusion
Keywords: quinoa, carrots, tahini, lemon, salad