Spring Fattoush Salad
This post may contain affiliate links. Please read my disclosure policy.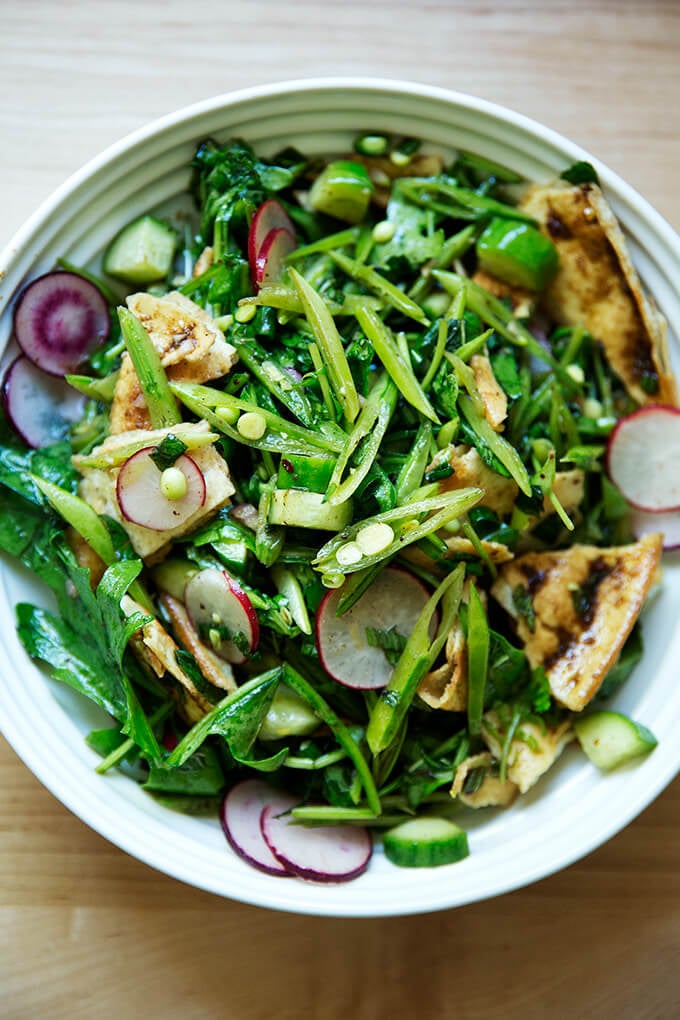 An attempt to make an authentic fattoush salad could easily send someone down the YouTube rabbit hole. I found myself nearly there a few weeks ago, when I remembered the exceptional fattoush salad my Lebanese friend Liliane made for lunch a few summers ago at her house.
It was simple, too: good tomatoes, cucumbers, and lettuce, good crispy pita bread, a simple dressing, a drizzle of pomegranate molasses, and a sprinkling of za'atar. I remember thinking: I could live on this salad.
The version featured here is not Liliane's, but it includes many of the same elements. I bought the pita and pomegranate molasses from Nora's Grocery in Albany, a spot Liliane has been encouraging me to visit for years. The shop in general is filled with goodies, but it's worth the visit alone for the pita, which is flown in from Montreal every Thursday morning. (Incidentally, Nora, the owner, is as charming as ever, and I ended up walking away with a ball of her homemade cheese, a tub of her favorite labne, and a jar of rose jam, which Nora likes to eat with the labne spread across toast. More on this soon.)
Because tomatoes are not yet in season, I've altered the classic fattoush makeup, using slivered snap peas, radishes, and cucumbers instead, and I encourage you to do the same: use what vegetables you have on hand or that are currently in season.
If you stick to the basic fattoush formula: chopped fresh vegetables + lots of herbs + crispy pita + fattoush dressing, you'll end up with something delicious no matter what. Let's break down the fattoush elements:
Fattoush Salad Dressing
I've adapted my favorite shallot vinaigrette recipe to include garlic as well as sumac and pomegranate molasses, two ingredients typically found in fattoush salads. Sumac is not in fact a spice, but rather the ground berry of a shrub. It lends a unique acidic and lemony flavor. Pomegranate molasses is reduced pomegranate juice. It is thick in texture, like a syrup, and its sweet-sharp flavor is not unlike a reduced balsamic vinegar. Most bottles you find will have the addition of sugar, too. I am really loving the Cortas brand Nora recommended.
Because I love white balsamic vinegar, I'm using it here, but some or all of it could be replaced by fresh squeezed lemon juice, which may be more traditional. Use what you like. The exact proportions are included in the recipe box below, but here are the elements:
minced shallots and garlic
white balsamic vinegar (I like the Colavita brand)
salt
olive oil
Fattoush Vegetables
Tomatoes and cucumbers are classic, but as noted above, use what is in season. Any of the below vegetables in any combination would be nice throughout the spring and summer.
slivered snap or snow peas; slice them on the bias for a pretty presentation
cucumbers
radishes
Romaine or other sturdy lettuce
tomatoes
thinly shaved fennel
bell peppers
thinly sliced red onion
raw corn
What else? Anything you would put in a chopped salad would work here.
Fattoush Herbs
Mint, for me, is essential, but any of the below herbs in any combination would be nice.
mint
chives
parsley
cilantro
dill
scallions (not really an herb, but herb-like in what it offers)
Fattoush Pita
If you cannot find the above mentioned ARZ pita, use whatever you can find. The ARZ pita is very thin, and for this reason I don't split it before toasting. If you are using thicker pita, split the rounds crosswise before toasting.
The pita can be toasted without any oil or seasonings, but the oil and spices and salt make it so, so tasty. Here I've used cumin and crushed red pepper flakes, but any number of spices could work. Next time, I'm trying za'atar, which Lilian uses in her fattoush salad.
As noted above, this whole combination is not authentic, but authenticity is not the goal here. The sweet-sharp flavor of the pomegranate molasses along with the tart, lemony sumac in combination with all of the herbs and vegetables give this salad a brightness and liveliness that's just irresistible.
After making the salad yesterday on Instagram Stories and posting the photo in my feed, I was so happy to see Liliane's comment, which read: "The salad looks delicious and refreshing, which is what fattoush is all about." Amen, Liliane. Amen.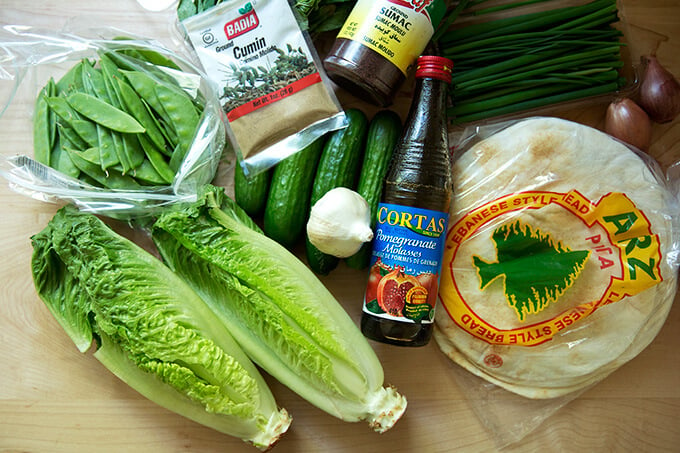 This is the pita that is flown in from Montreal every Thursday morning to Nora's.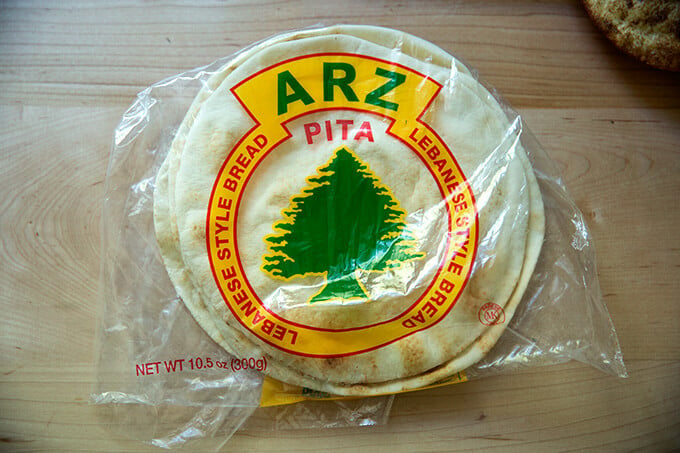 Brush it with olive oil, cumin, salt, and crushed red pepper flakes, if you wish.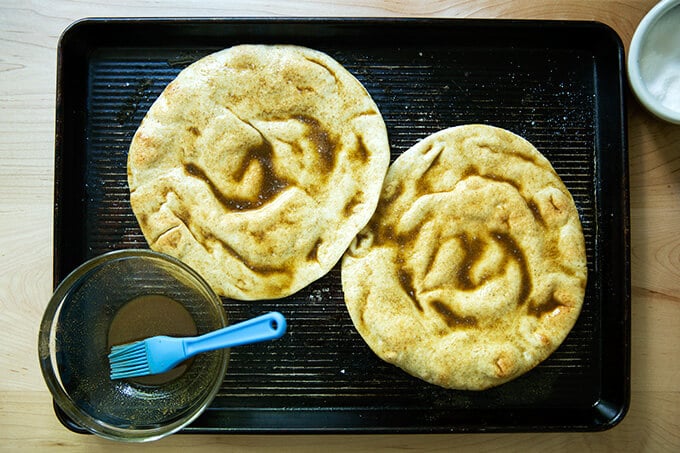 Crispy pita = so good. This fattoush salad experiment has sent me on a little homemade-pita chip bender. My kids like them brushed with olive oil and salt. If you cut the pita into wedges before you toast them, you could make chips that are really nice to serve with hummus.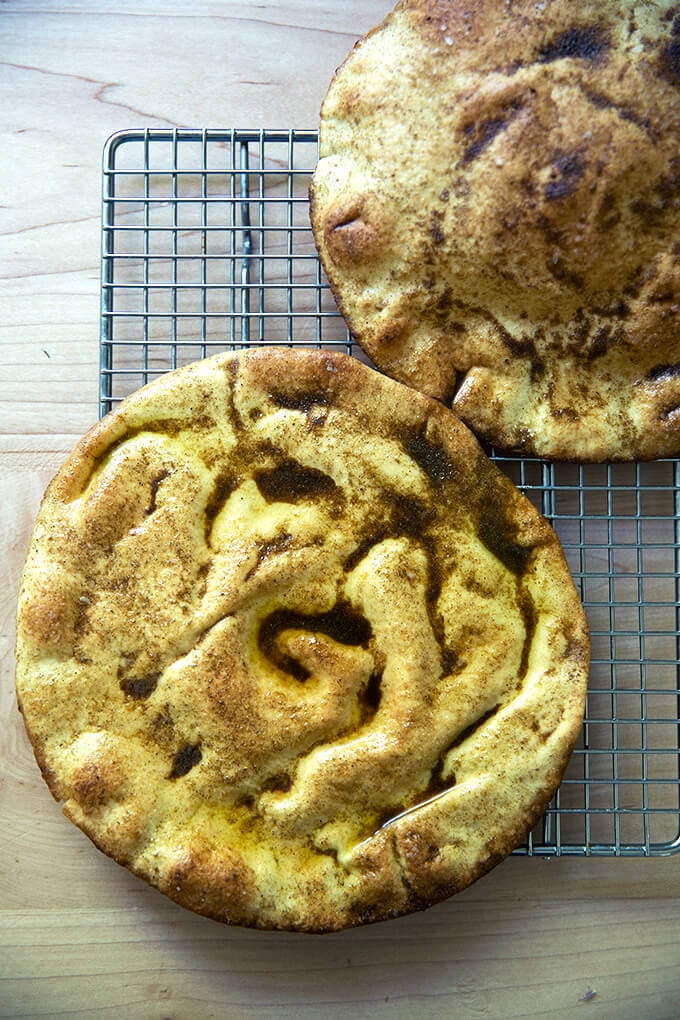 The two ingredients that give fattoush salad that unique sharpness and tartness: sumac and pomegranate molasses.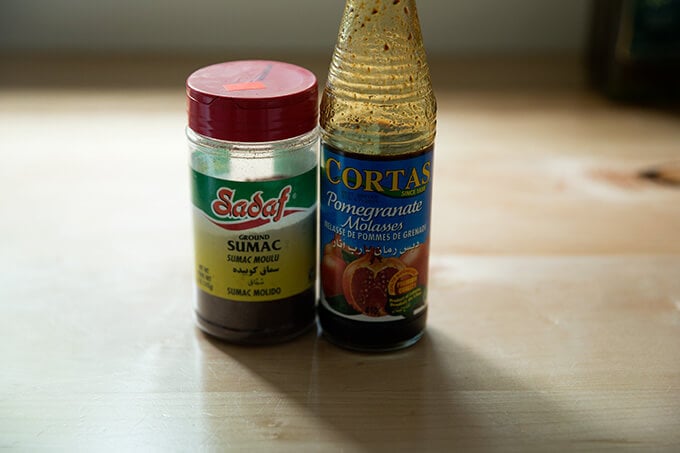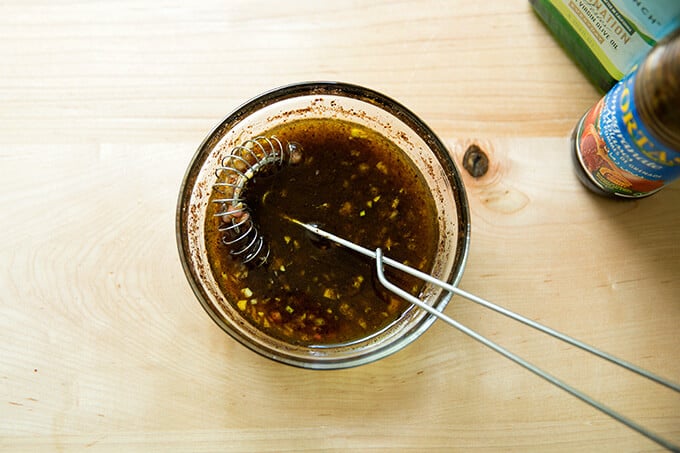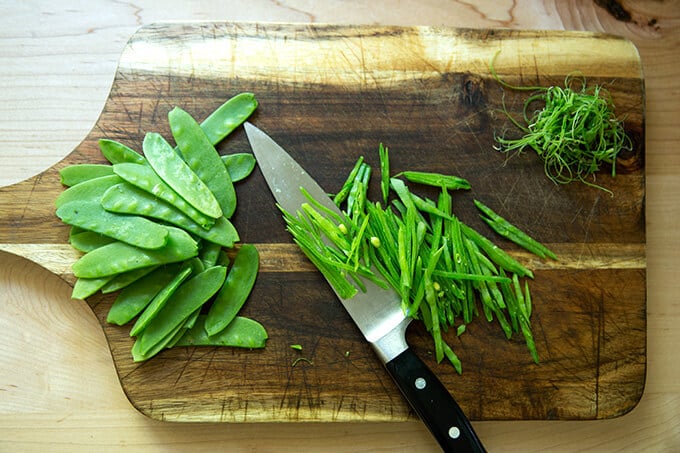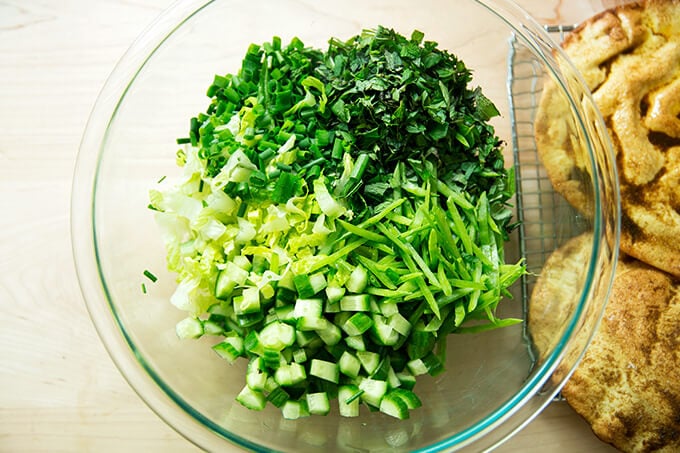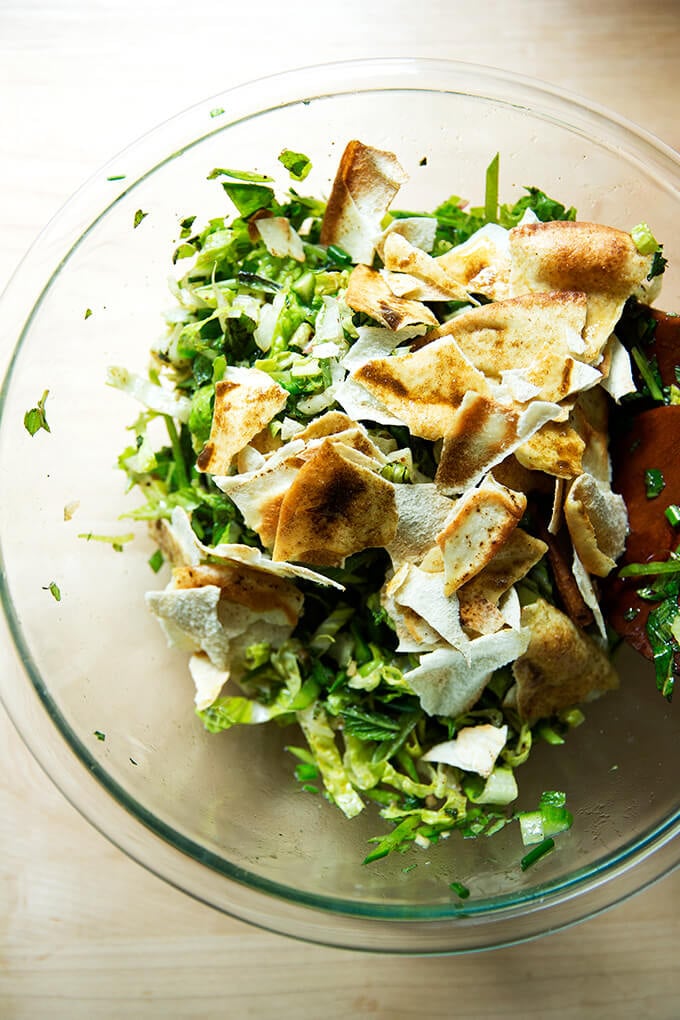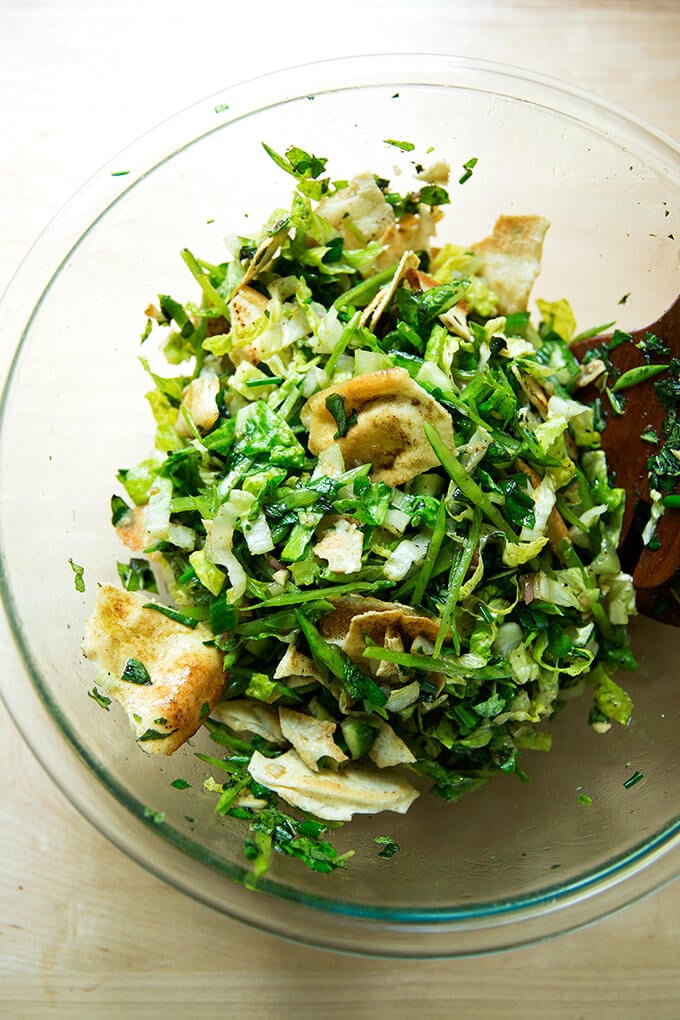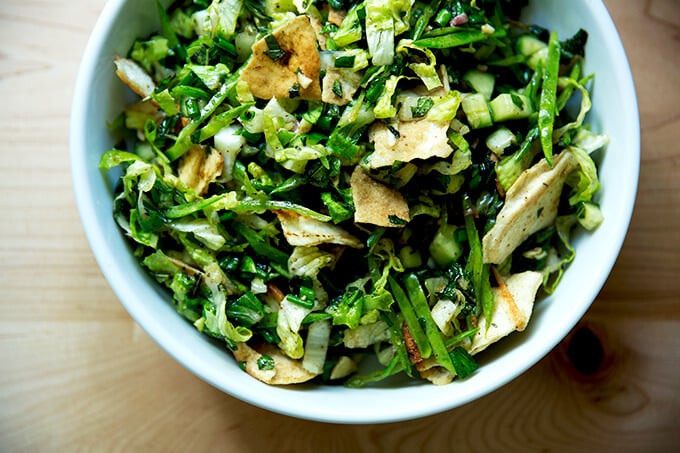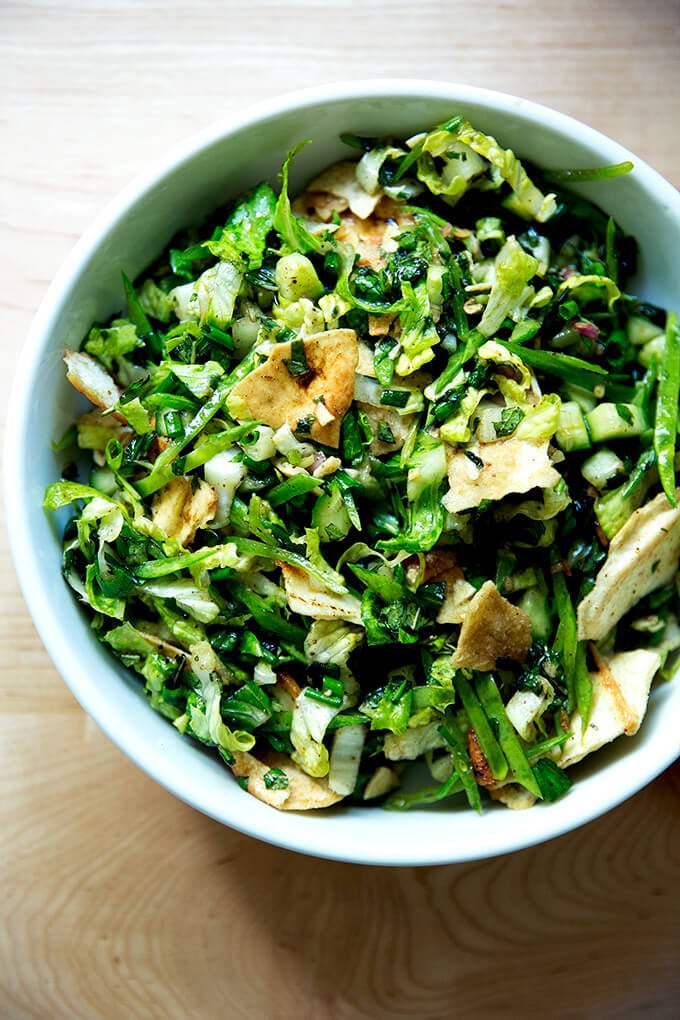 Print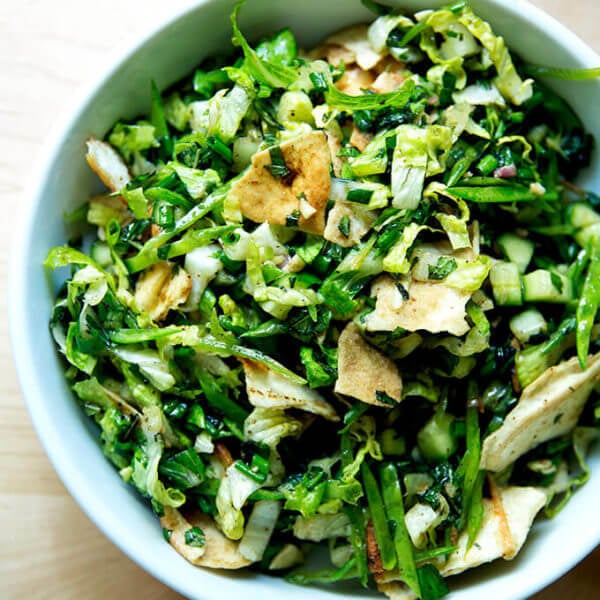 Spring Fattoush Salad
---
Description
Notes:
Use the recipe below as a guide. Come summer, I 100% will add tomatoes, but right now, this mix of snap peas, radishes, cucumbers, lettuce, and herbs, is doing the job. Use whatever vegetables and herbs you like and have on hand.
The salad dressing is simply an adaptation of my favorite shallot vinaigrette with the addition of sumac and pomegranate molasses. It can be scaled up as needed.
Not all pomegranate molasses are created equal. I bought this Cortas pomegranate molasses from Nora's Market in Albany — Nora recommended this bottle, and I trust Nora. Because the sweetness/tartness/flavor of pomegranate molasses can vary from bottle to bottle, start with a tablespoon and add more to taste.
Sumac can be hard to find. I see it more and more in shops and always in Middle Eastern markets, but if you have a hard time finding it, order a jar.
This pita, (purchased from Nora's Market, flown in from Montreal every Thursday), is very thin — separating it into two halves, in fact, is torture. Because of this, I don't separate it — I simply leave it whole, brush it with olive oil and seasonings, and bake it. It works beautifully. If you are using thicker pita that is easy to separate, do so.
---
for the fattoush dressing:
1

small shallot, minced

1

clove garlic, minced

1/2 teaspoon

kosher salt

1 teaspoon

sumac

1/4 cup

white balsamic vinegar

1

to

2

tablespoons pomegranate molasses

1/3 cup

extra-virgin olive oil
for the pita:
2

rounds pita, see notes above

1

to

2

tablespoons olive oil

2 teaspoons

ground cumin
pinch crushed red pepper flakes
kosher salt to taste
for the salad:
2

heads Romaine, finely chopped

4

small cucumbers, diced

1/2

lb. snap or snow peas, strings removed, sliced thinly on the bias

4

radishes, optional, thinly sliced

1/2 cup

finely chopped chives

1 cup

mint, finely chopped
---
Instructions
Make the dressing. Place the shallots, garlic, salt, sumac and vinegar in a small bowl. Let stand at least 15 minutes. Add 1 tablespoon of the pomegranate molasses and the olive oil. Whisk to combine. Taste. Add another tablespoon of pomegranate molasses if you wish — I always use 2 tablespoons.
Make the pita. Heat the oven to 400ºF. If you are using thin pita (see notes above), simply lay the two rounds of pita on a sheet pan. If you are using thick pita, separate each into two halves and place each half smooth side up on a sheet pan. In a small bowl, stir together 1 to 2 tablespoons of olive oil, the cumin, and the crushed red pepper flakes — if you are brushing the oil over only two halves, 2 tablespoons will feel like a lot of oil (but it's delicious and I say go for it); if you are brushing the oil over four halves, it may not feel like enough. Adjust accordingly — you want the surface of the pita to be coated in the cumin oil. Season generously with salt all over. Transfer pan to oven and bake for 6 to 8 minutes — keep an eye on it! These quickly turn from perfectly toasty to overdone. Remove pan from oven and transfer pitas to a rack to cool.
Make the salad: In a large bowl, combine all of the salad ingredients. Pour most of the dressing over top. Toss. Taste. Add more dressing — you'll likely need all of it. Break the pita into shards over the salad. Toss again. Serve.
Prep Time:

25 minutes

Cook Time:

8 minutes

Category:

Salad

Method:

Toss

Cuisine:

Middle Eastern
Keywords: fattoush, salad, dressing, sumac, pomegranate molasses, Lebanese, spring
This post may contain affiliate links. Please read my disclosure policy.