Rhubarb Custard Cake
This post may contain affiliate links. Please read my disclosure policy.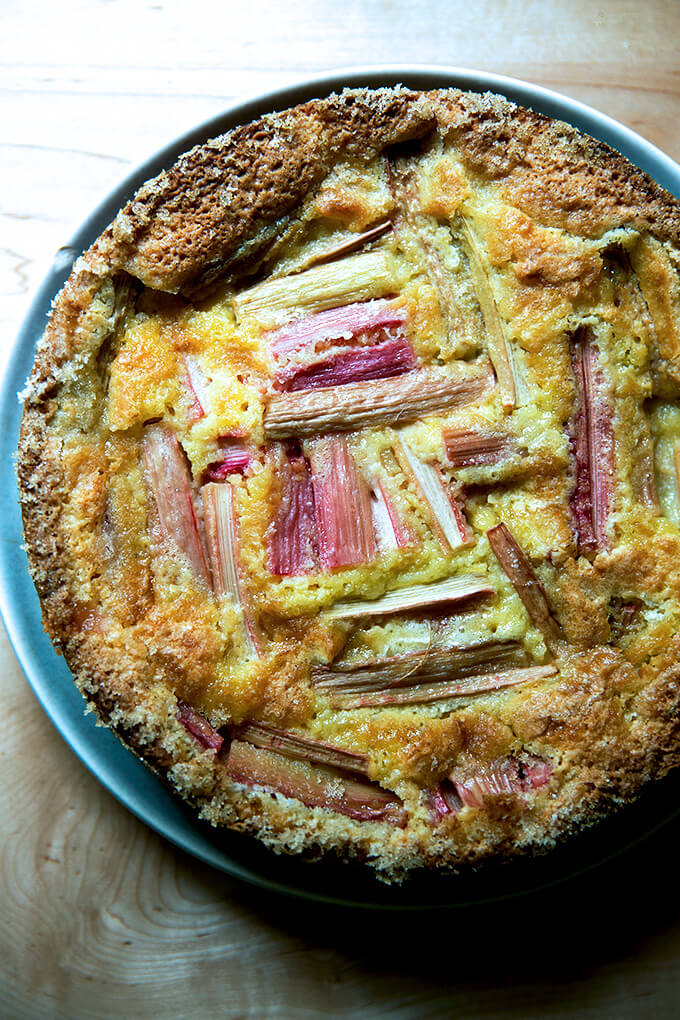 At the first sighting of rhubarb last week at the market, I loaded up my cart with two visions in mind: 1. Rhubarb Schnapps, a spring tradition. 2. Bon Appetit's Rhubarb Custard Cake, one of the most delicious things I made last summer.
I discovered the recipe last July, late-ish as far as rhubarb season goes, and managed to make it a few times before summer ended and my attention turned to Brussels sprouts, sweet potatoes, and all the winter squashes. But I dreamed about this cake all winter, contemplating many a variation with apple or pear or quince, none of which materialized.
When I made this cake last week for the first time in months, I was reminded why I love it so much: its custardy texture, its sugary crust, its perfect sweet-tart flavor profile. Plus: rhubarb. Is there anything better?
This cake comes together relatively quickly, too, requiring three basic steps: 1. Mixing the dry ingredients. 2. Beating eggs with sugar. 3. Whisking wet ingredients. After you combine these three elements, you arrange rhubarb slices on top and pop it to the oven. Forty-five minutes later it's done, emerging with sugary rhubarb slices bobbing in a custardy but cake-y base.
I find this cake tastes best the day it is made, though it makes a fine breakfast on day two. With that in mind, I wouldn't hesitate to serve this as part of a festive spring brunch.
A Few Tips
If you've seen the BA photo of this cake, you may feel inspired to arrange your rhubarb slices artfully atop the cake batter, perhaps in a chevron or herringbone motif. I encourage you mostly not to bother — most of the slices will sink below the surface of the batter, rendering your efforts fruitless. But if you are eager to try, here are a few things I have found helpful for keeping those rhubarb slices afloat:
Chill the batter longer than the recommended 10 minutes.
Let the butter cool to room temperature — not so that it begins to firm up, but so that it is in fact cool to the touch.
Cut wide slices of rhubarb lengthwise in half or into thirds before cutting them crosswise to ensure the pieces are as light as possible.
Use all 13 oz. of rhubarb, laying the pieces of rhubarb that do not fit in a single layer on top of the first layer.
That's it! I hope you make and love this one.
PS: Rhubarb-Frangipane Galette | Rhubarb Schnapps | Buttermilk Panna Cotta with Rhubarb Compote
Here's the play-by-play: Steel yourself for a three-bowl job — don't worry; it comes together quickly.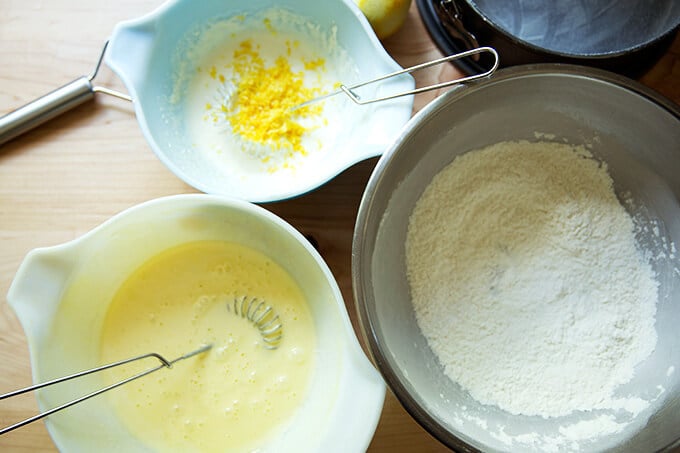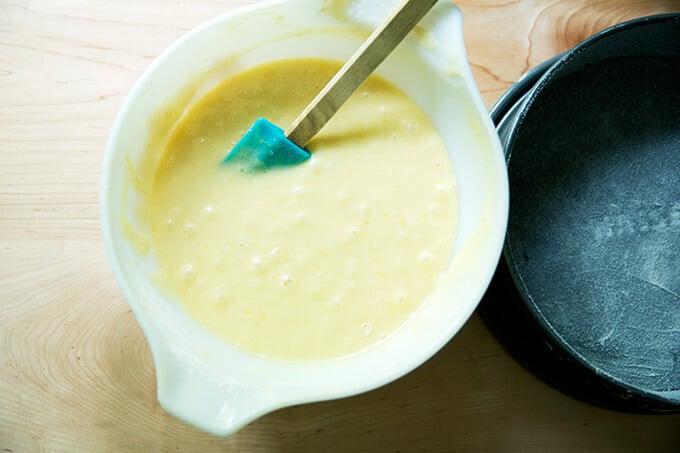 The batter needs to rest for at least 10 minutes in the fridge before receiving its rhubarb topping.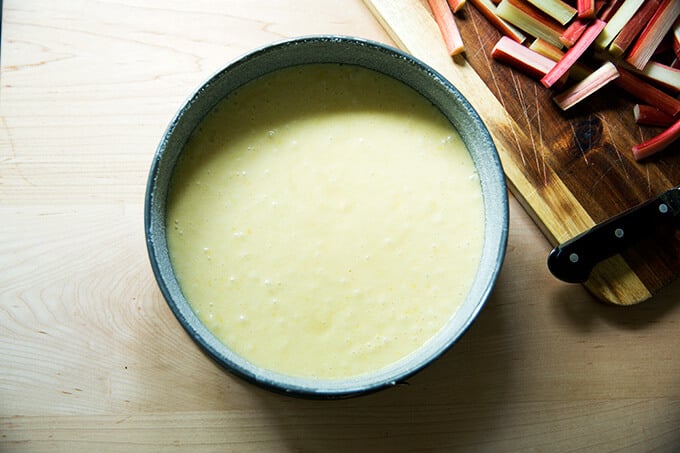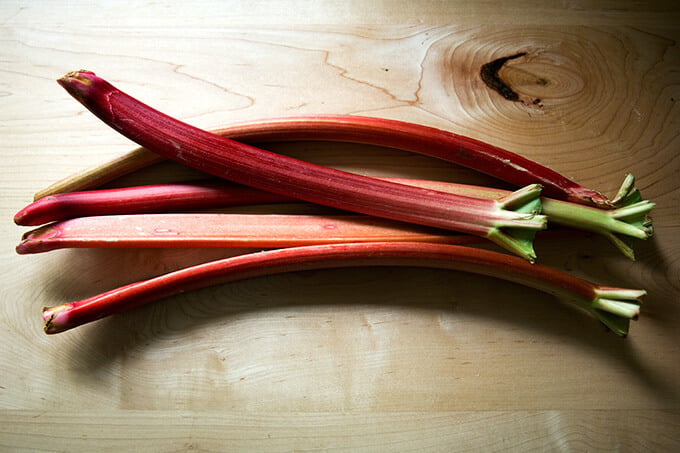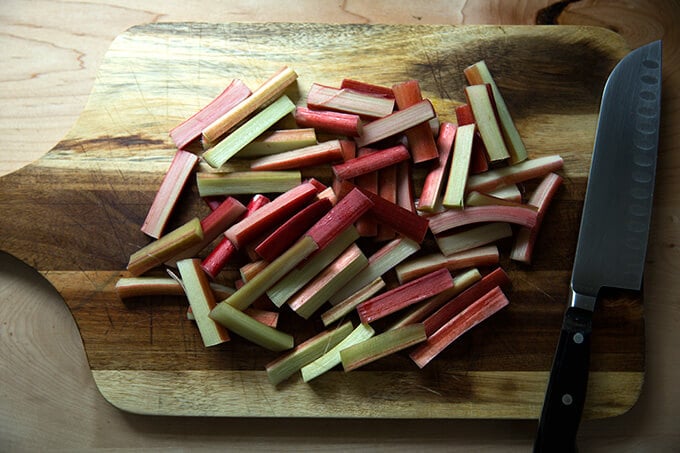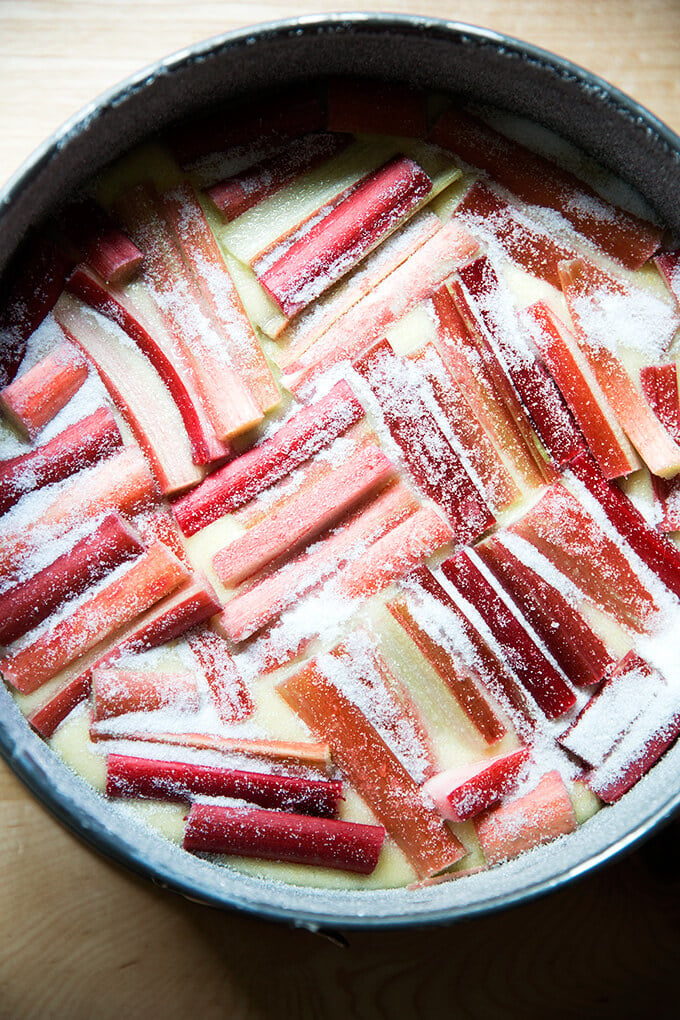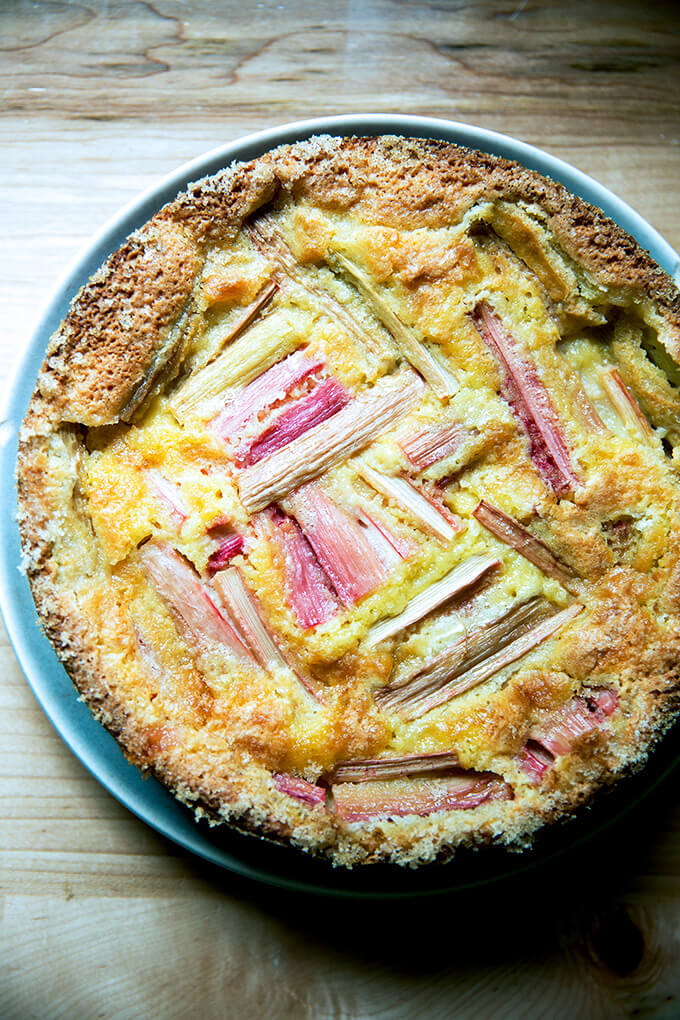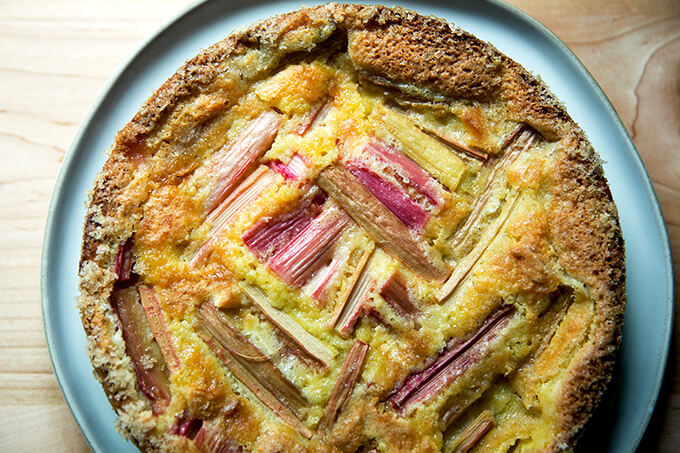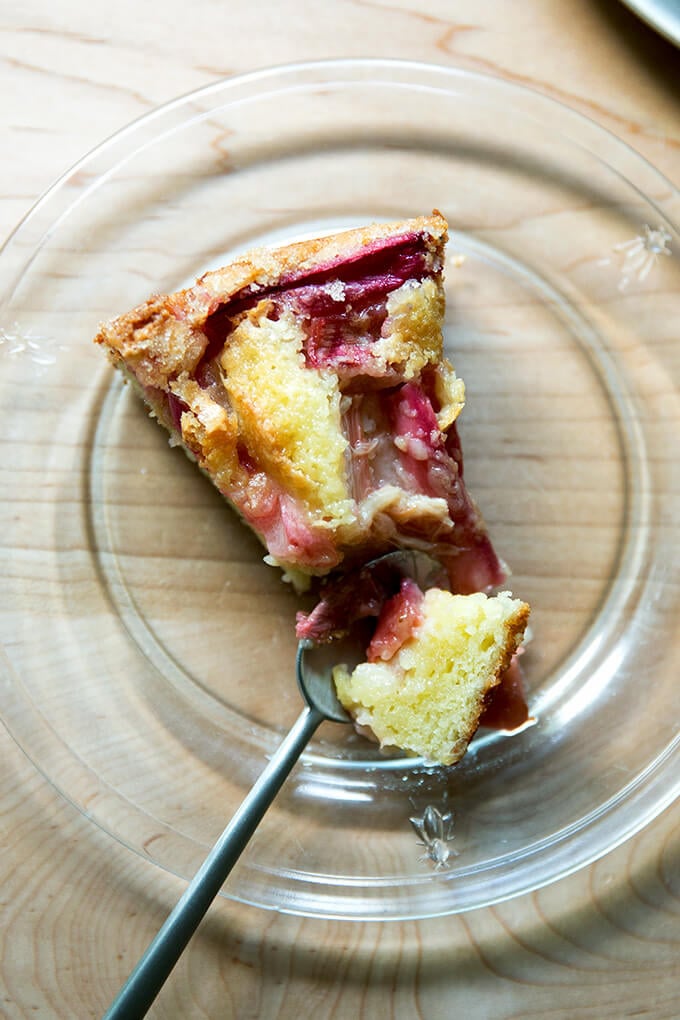 Print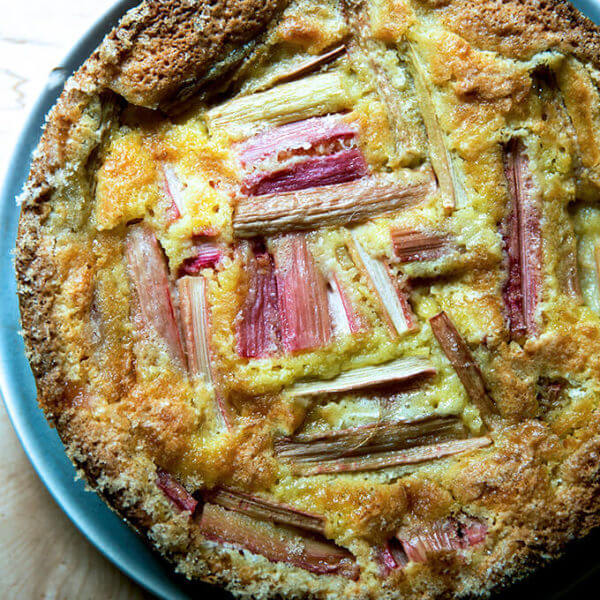 Rhubarb Custard Cake
---
Description
Source: Bon Appetit
Notes: 
It is not recommended to mix the batter for this cake in a mixer, and there is no need — with about a minute of vigorous beating with a whisk, the eggs and sugar become lemony in color and thick and ribbony in texture.
If you are avoiding alcohol, substitute a tablespoon of vanilla for the rum.
Your rhubarb slices, no matter how lightly you place them atop the batter, will mostly sink. A few things I have found that help keep them afloat: 1. Chill the batter for longer than the recommended 10 minutes. 2. Let the butter cool to room temperature. 3. Use all 13 oz. of rhubarb, laying the pieces of rhubarb that do not fit in a single layer on top of the first layer.
Original recipe calls for buttering and flouring the pan, but I like to use sugar — it creates an irresistible crust.
---
4 tablespoons melted unsalted butter, cooled, plus more room-temperature for pan

1 cup (128 g) all-purpose flour, plus more for pan

¾ teaspoon baking powder

½ teaspoon kosher salt

2 large eggs

1 large egg yolk

1½ cups (328 g) sugar, plus more for sprinkling

¼ cup sour cream

2 tablespoons dark rum or Brandy, see notes

zest from one lemon

13 oz. rhubarb stalks, cut in half or thirds lengthwise if thick, then cut crosswise into 2-inch pieces
---
Instructions
Preheat oven to 350°F. Butter and sugar (see notes above) a 9-inch springform pan — (to sugar: sprinkle about a tablespoon of sugar into the buttered pan, shake it all around to distribute the sugar evenly, tap out excess.)
Whisk the baking powder, salt, and 1 cup all-purpose flour in a medium bowl. Whisk the eggs, egg yolk, and 1½ cups sugar in a large bowl until very pale and thick, about 1 minute. Whisk melted butter, sour cream, rum, and lemon zest in a small bowl. Whisk butter mixture into egg mixture just to combine. Add dry ingredients and fold in until batter is smooth; scrape into prepared pan. Chill 10 minutes (or longer) to let batter set.
Arrange rhubarb over batter however you like, trimming as needed. Don't press fruit into batter—just place over top and let it rest on the surface. Don't fuss too much about how you arrange the rhubarb on top because most of it will sink into the batter. Sprinkle with more sugar — I use a tablespoon — and bake until cake is golden on top and browned around the sides, about 45 minutes. If you have an instant read thermometer, it should register at least 210ºF. This make take more or less time depending on your oven temperature and material of your pan.
Transfer pan to a wire rack and let cake cool in pan 10 minutes. Slide a knife around sides of cake to loosen and unmold. Slide directly onto rack and let cool completely.
Prep Time:

15 minutes

Cook Time:

45 minutes

Category:

Dessert

Method:

Oven

Cuisine:

American
Keywords: rhubarb, cake, custard, sour cream, lemon
This post may contain affiliate links. Please read my disclosure policy.