Tabbouleh with Cilantro, Lime & Grilled Shrimp
This post may contain affiliate links. Please read my disclosure policy.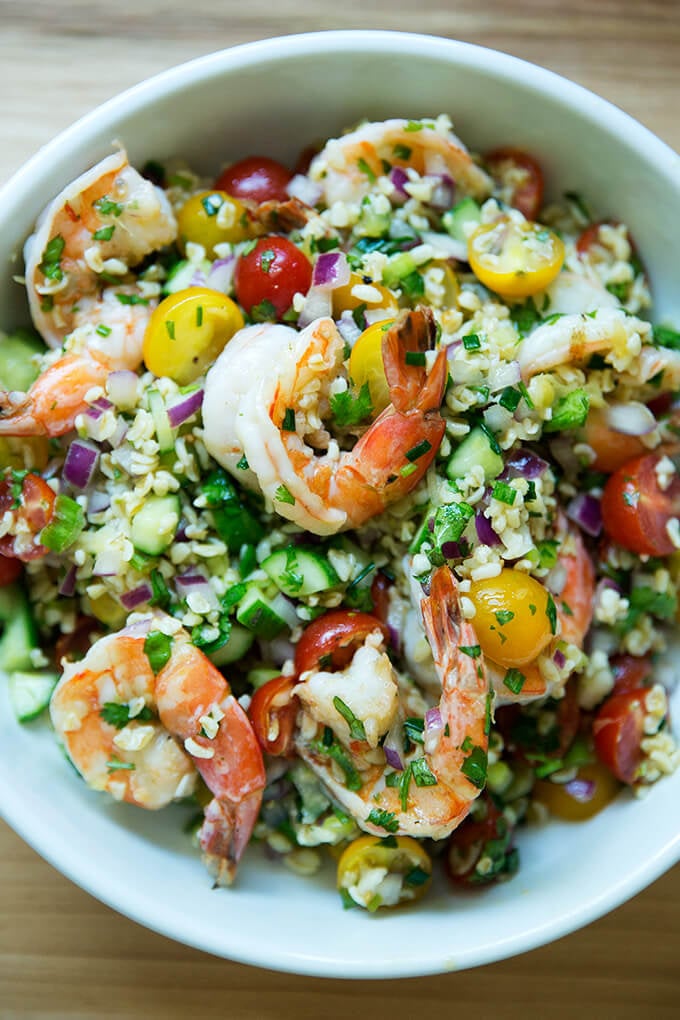 About this time of year every year, I crave tabbouleh, a mix of bulgur, cucumbers, tomatoes, and herbs, all tossed in a lemony dressing, a dish my mother made all summer long for as long as I can remember.
Here, the bones of my mother's tabbouleh are intact, but I've switched up a few of the ingredients, using fresh orange juice and lime in place of the lemon, substituting cilantro for the parsley, and adding grilled shrimp to the mix to make it more of a meal.
Friends: this meal is so summery! It has been hot (finally!) here in Upstate New York, and I am finding tabbouleh alongside anything coming off the grill to be doing just the job. I hope you do, too.
Tabbouleh Tips:
It is worth seeking out extra-coarse bulgur to make this tabbouleh. Greek and other international markets typically sell it, as does Amazon. The texture is so nice — light but chewy — and it holds up well in the fridge.
Consider upping the acid. I'm using a 2:1 ratio of citrus-to-oil (1/2 cup fresh juice, 1/4 cup olive oil), but I'm using a mix of lime and orange juice, the latter offering a nice sweetness. If you are using a higher amount of lemon or lime, you may need to use more olive oil. Adjust to taste.
Use the recipe as a guide: I typically use parsley, but here I'm using cilantro. Later in the summer, raw corn would be a nice addition. Add diced peppers or a hot chile to spice it up. I love adding avocado to this one as well. Use what you like and what you have on hand!
Here's the play-by-play: Find extra-coarse bulgur if you can: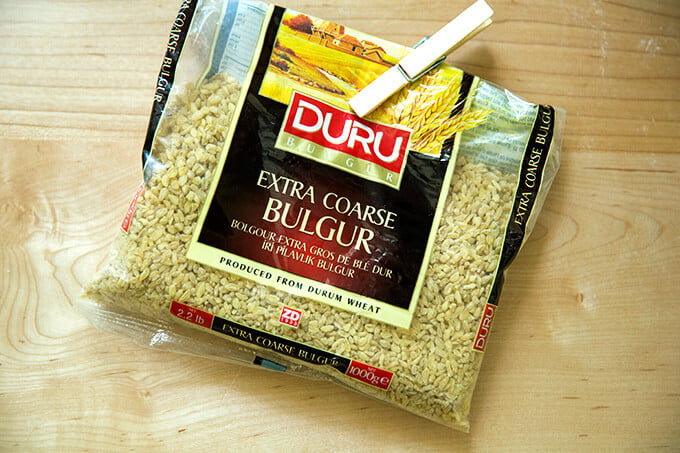 Soak 1 cup of bulgur in cold water for 1-2 hours.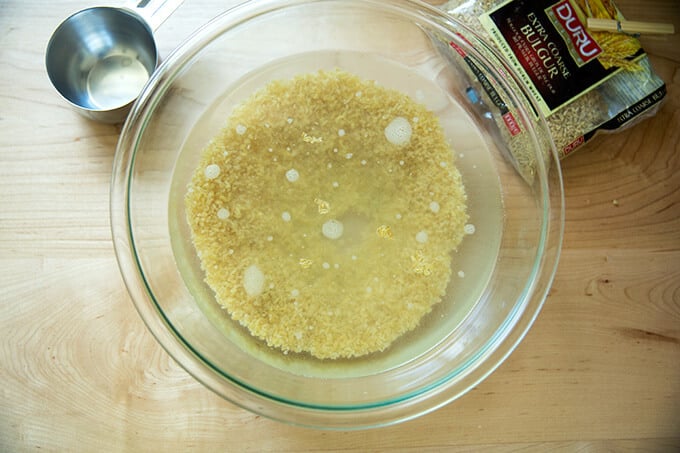 Drain the bulgur.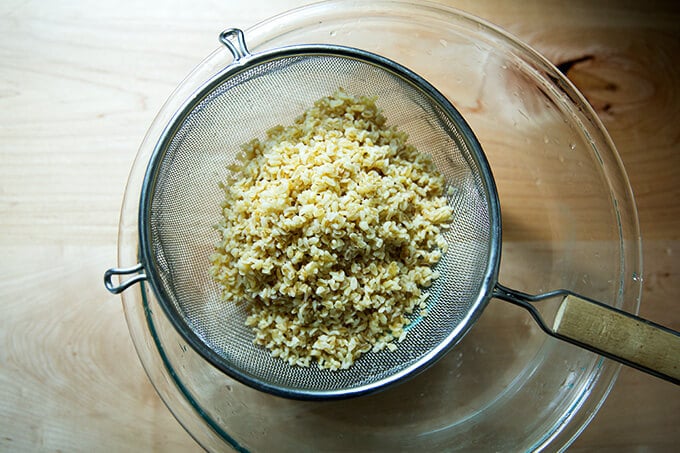 Gather your vegetables and …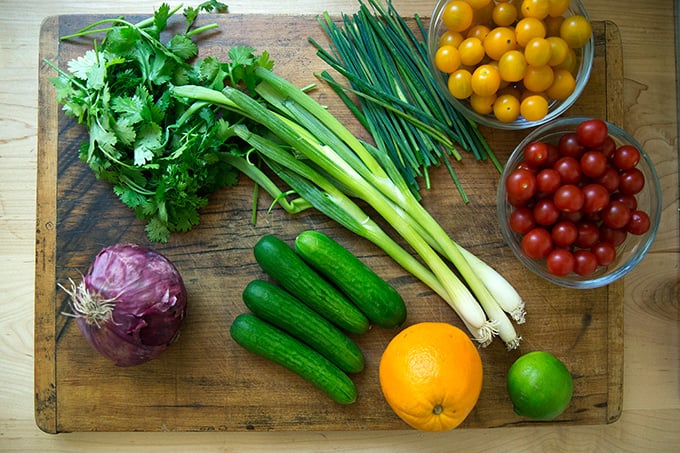 …chop them.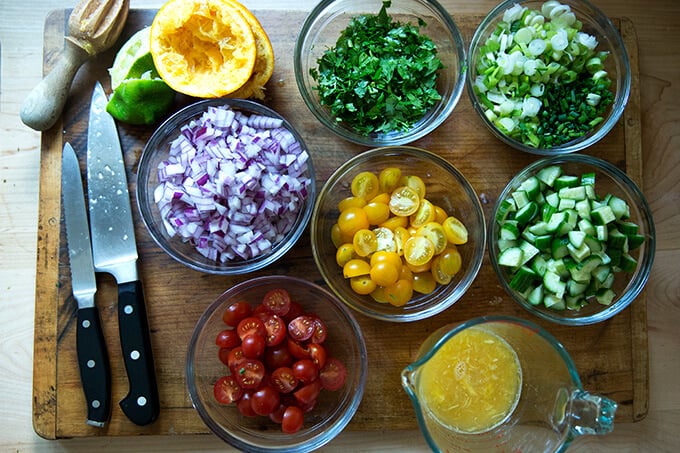 Combine the bulgur with the vegetables, herbs, olive oil, and fresh citrus.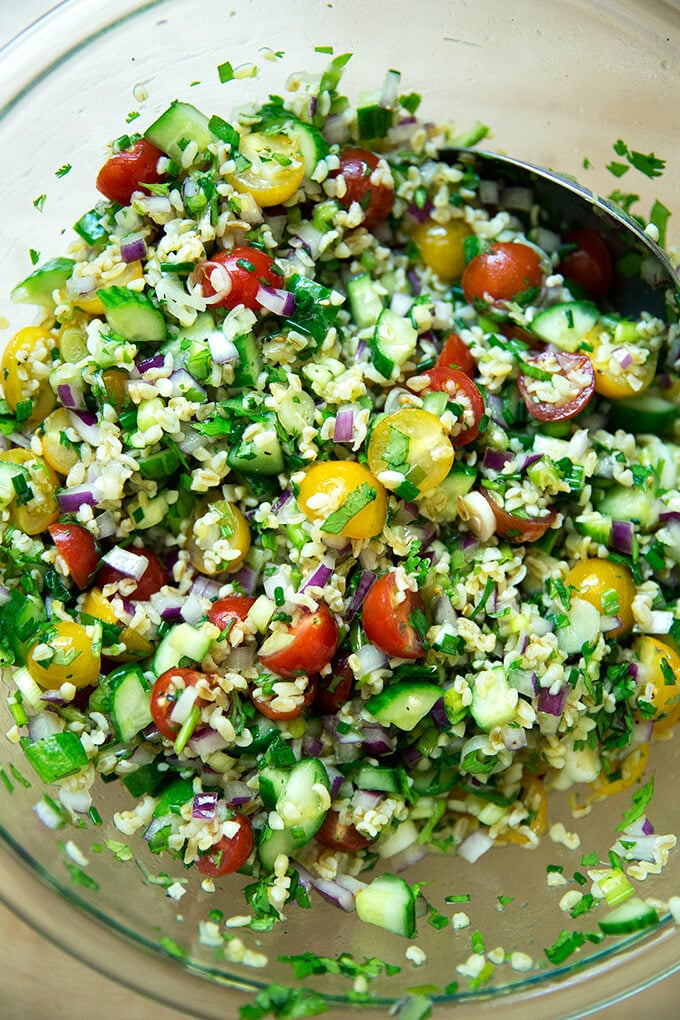 If adding shrimp, prep them by removing their peels while keeping their tails intact.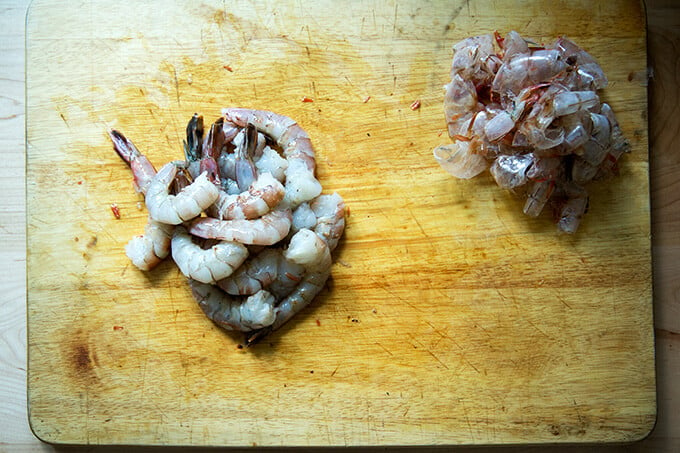 Butterfly them, if you wish.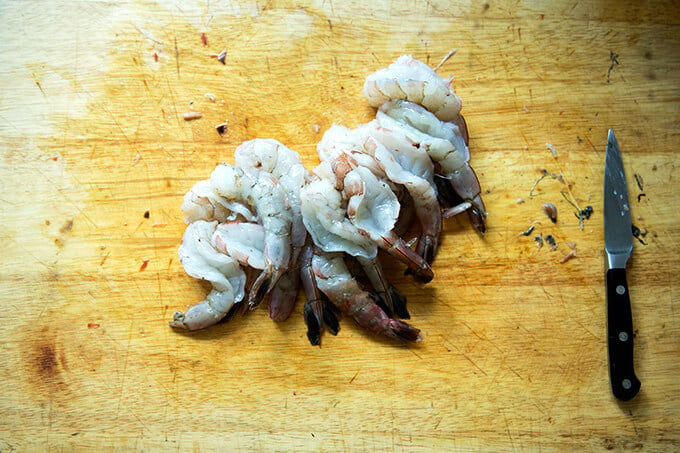 Grill the shrimp for about 3-5 minutes over hot coals.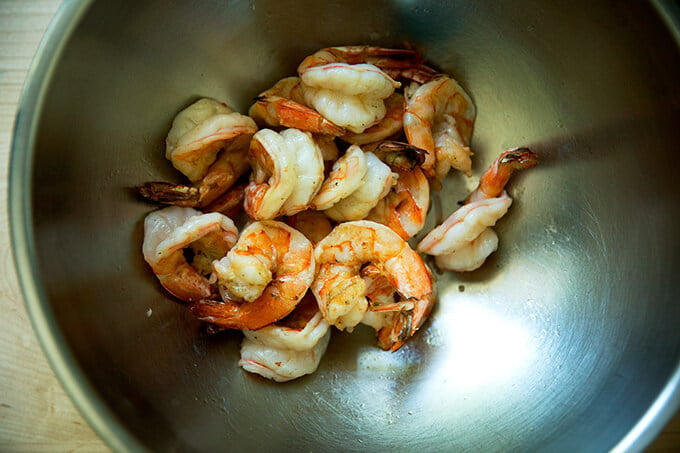 Toss the shrimp with the tabbouleh.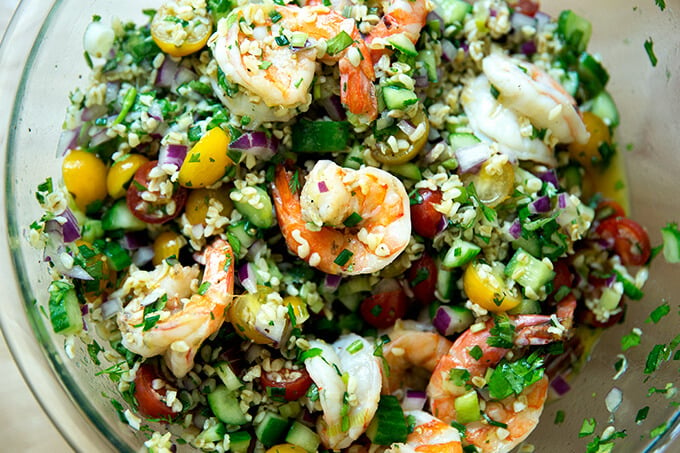 Serve.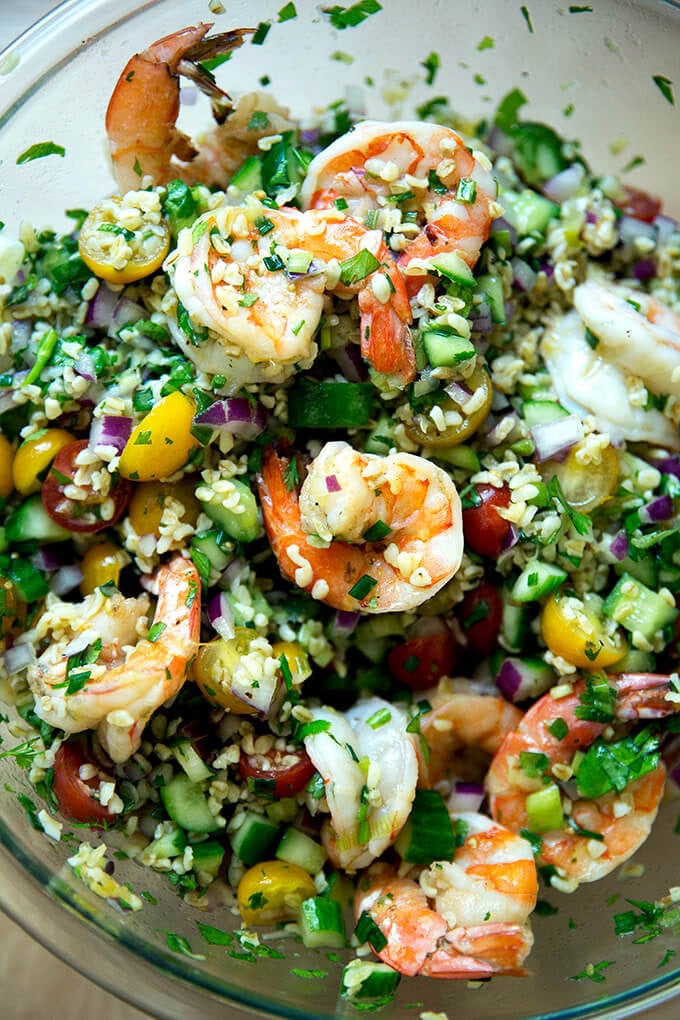 Print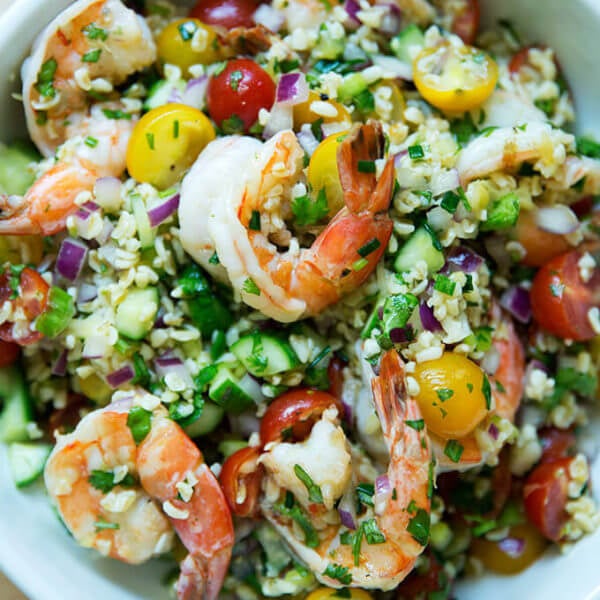 Tabbouleh with Cilantro, Lime, & Grilled Shrimp
---
Description
This is adapted from this more traditional Tabbouleh recipe.
Use the recipe as a guide: Typically I use lemon with tabbouleh, but I was looking for a change, and I thought orange and lime sounded nice with the addition of grilled shrimp.
Other ideas that might be nice here: a minced jalapeño or other bell pepper, avocado, raw corn … so many things.
Bulgur: If you have never tried extra-coarse bulgur, I encourage you to make the effort to get your hands on some — the texture is so nice. You can find it at Greek and other international markets. I almost always order it (Duru Extra-Coarse Bulgur) because I have a hard time finding it.
Shrimp: I'm using Wild American Shrimp (15-20 count) here, which I bought from Hooked in Latham. Hooked always sources fish from sustainable fisheries and if you are looking for more information on sustainable sources of shrimp, check out Seafood Watch.
---
1 cup

bulgur, extra-coarse* if possible, see notes above

1

small red onion, finely diced to yield a cup or more to taste

1

English cucumber or

3

Persian cucumbers, finely diced

1

to

2

cups cherry tomatoes, halved or quartered if large

2 teaspoons

kosher salt, plus more to taste

3

to

6

scallions, thinly sliced, white and light green parts

1

small bunch of chives, finely chopped

1

bunch cilantro or parsley, finely minced to yield a heaping cup

1/4 cup

extra-virgin olive oil, plus more for the shrimp

1

orange, juiced

2

limes, juiced
freshly cracked black pepper, to taste

1

lb. 15-20 count (large-ish) shrimp, devained and butterflied
---
Instructions
Place bulgur in a large bowl. Cover with cold water. Let stand for one to two hours. Drain through a fine-meshed sieve. Place in a large bowl. (Note: If you are not using this extra-coarse bulgur, cook bulgur according to package instructions.)
Heat a gas grill to high or prepare a charcoal grill for high heat (guidance here if needed: Grilling 101).
Add the onions, cucumber, tomatoes, and salt to the bowl of bulgur. Toss. Add the scallions, chives, and cilantro or parsley, and toss again.
Combine the orange and lime juice. You should have at least 1/2 cup of juice. If you don't, juice another lime. Pour 1/2 cup of juice into the bowl of bulgur and vegetables. Add the olive oil. Season with pepper to taste. Toss. Let sit for 10 minutes before adjusting the flavor — the salt draws out the moisture in the vegetables, and you may not need additional juice/oil. Taste and adjust seasoning as necessary with more salt, lime, olive oil, or pepper as needed. Set salad aside.
Place shrimp in a large bowl and season all over with salt and pepper. Drizzle with olive oil or neutral oil and toss to coat. When grill is hot, dump the shrimp on top of the grates. Let cook for about a minute. Flip. By the time you finish flipping, the shrimp likely will be nearly done. (If your grill is very hot, the shrimp should take 3-4 minutes to cook.) Transfer the shrimp to a clean bowl, piling the hot shrimp on top of one another. I like to err on the side of taking the shrimp off the grill when they might not look completely cooked and allowing the residual heat of the heap of shrimp to finish the cooking of the shrimp. Let the cooked shrimp sit in their bowl for 2 to 3 minutes.
Add shrimp and their juices to tabbouleh bowl. Toss and serve.
Prep Time:

1 hour

Cook Time:

5 minutes

Category:

Dinner

Method:

Grill

Cuisine:

American
Keywords: shrimp, grilled, tabbouleh, summer, salad
This post may contain affiliate links. Please read my disclosure policy.